In order for you to get a beautiful wooden tabletop, it is important to choose the right material, familiarize yourself with the installation rules and the features of caring for the finished product.
Selection of materials
The owners of apartments, country houses and summer cottages dream of creating a cozy and beautiful space using natural materials.
If natural stone countertops seem too massive and expensive for you, you can make them out of wood. The advantages of a wooden tabletop are obvious, because it:
fits easily into any interior;
quickly manufactured and assembled;
with proper care it retains attractiveness for a long time.
When making a wooden kitchen countertop, you don't have to limit your imagination: its shape and color can be of any kind. It is only important to choose the right wood.
Material requirements for the manufacture of a kitchen work surface concern both appearance and performance.
First of all, the boards must be well dried (humidity – no more than 12%). They should also be free from serious defects – wormholes, resin pockets, rotten knots.
Wood species also matters… In the working area of ​​the kitchen, a high level of humidity is constantly maintained, so the wood must be moisture resistant or undergo special treatment to make it water-repellent.
Siberian larch, linden, oak, birch, spruce or pine can be an excellent material for boards or furniture boards. You can find high-quality sawn timber for making wooden countertops from Siberian larch here.
In order to make the tabletop durable, it is worth using lumber thick not less than 25 mm… This will allow you to put any small household appliances, electric stoves, heavy pots or containers of water on it.
Depending on the size of the frame, you can use a furniture board or straight plank in such a way that you get a solid, even surface into which you can embed a sink or hob.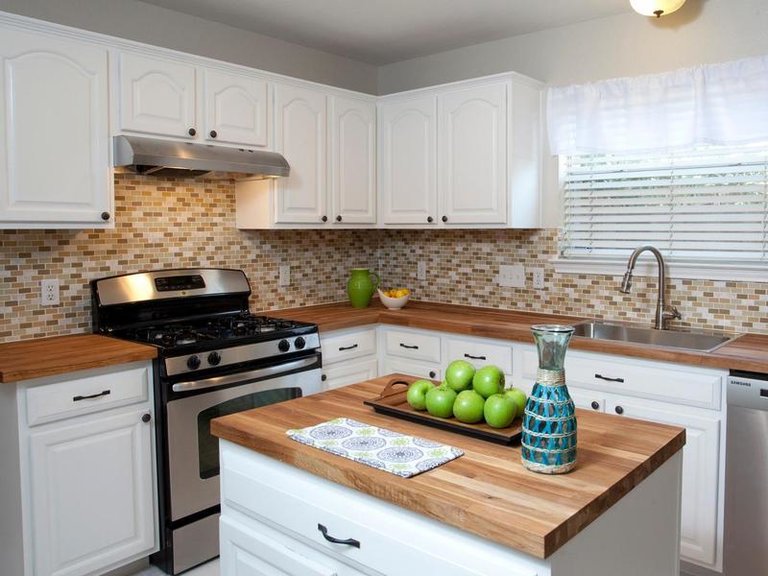 With significant dimensions and high density of wood, the weight of the tabletop will turn out to be quite large. So you have to take care of securely attaching the product to the wall and the body of the elements located under it (legs, cabinets or pedestals).
Installing the countertop
The installation of a wooden work surface, made by hand, can be done in two ways.
In the first case, the product is completely assembled in the workshop or directly in the kitchen, and then installed. However, stage-by-stage assembly is also allowed, when the boards are fixed alternately.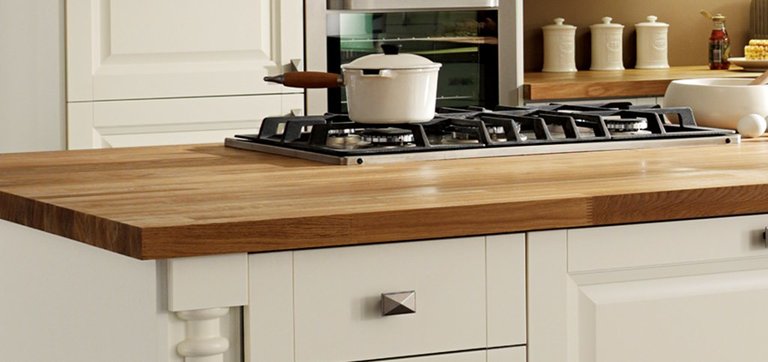 If you are making a wooden work plane alone, it may not always be convenient to assemble it as a whole. In this case, guides from a bar are installed on the body, then precise cutting of parts is performed according to the drawing.
To do this, you can use a jigsaw (if you need to cut curved parts) or a circular saw with a guide rail.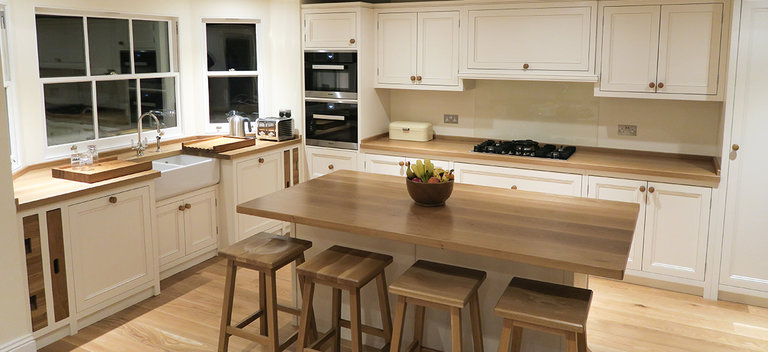 Particular attention is paid to the ends: they must be rounded and well processed, otherwise the owners will not be able to avoid minor household injuries. In the place where the boards meet the wall, it is recommended to install a skirting board.
This simple operation will prevent liquids or crumbs from entering the space under the countertop.
Experts recommend leaving a small gap between the wall and the edge of the product to compensate for thermal expansion.
Installation can be carried out using different types of fasteners: self-tapping screws, dowels, fix-systems, overhead corners.
In some cases, the tree is planted with glue. But whichever method of fastening you choose, before installation, it is recommended to process the wood with special compounds to protect it from moisture and the appearance of fungus.
Features of using the countertop
Despite the fact that the wood undergoes a special treatment and is varnished, do not leave wet sponges on the work surface… If splashes get on the countertop during cooking, it is best to wipe them up immediately.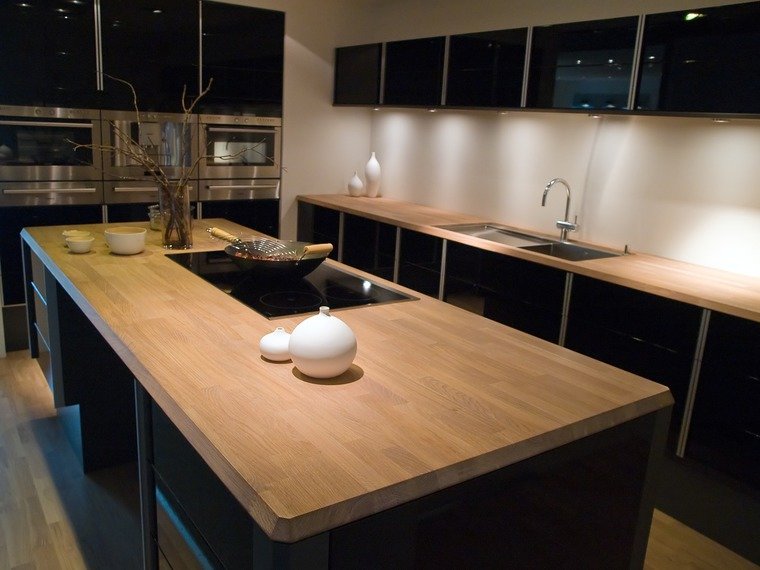 Also it is not recommended to cut food directly on the surface: it is better to use special boards, otherwise you will have to deal with the elimination of small scratches and cuts.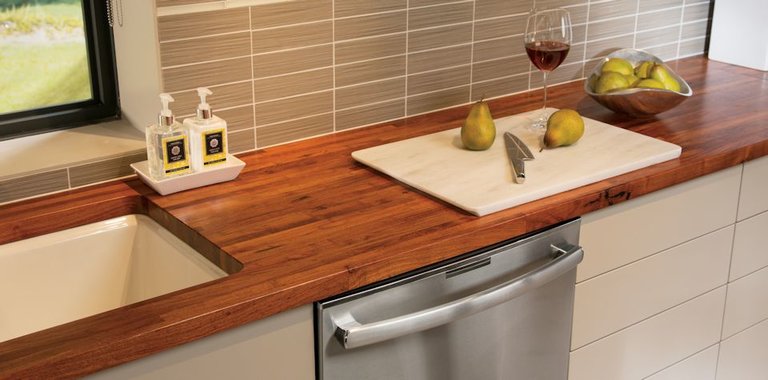 Wood is considered a relatively heat-resistant material. However, placing a freshly boiled kettle or a frying pan on its surface can result in ugly round-shaped stains.
To avoid damage, use stands made of ceramics, metal or other materials.
Proper care is the key to the durability of your wooden countertop. If you keep it clean and not exposed to extreme temperatures, the wood will last for many years.