Welcome to our recent post 45 photos and layout ideas
.
We propose to consider the design features of a kitchen combined with a loggia, using real examples with a photo. Modern ideas, practical ideas and non-standard features are at your service!
Advantages and disadvantages
Often in standard-type apartments, especially in Khrushchev, kitchens are not designed too large – on average 5-10 sq.m. Most of this area is not enough.
But if the room is adjacent to the loggia, you have a chance to expand the territory by combining them. This solution has its pros and cons.
Per

Against

The room becomes noticeably larger;
Due to the loggia window, the amount of natural light increases;
Facilitates zoning (dining area);
There are many interesting design ideas out there.

Legalization procedure;
Repair costs (demolition, heating, lighting, if necessary – wiring sewerage and water supply).
If you are not afraid of the above costs, then we advise you to do a redevelopment – the benefits are worth it.
However, there is a simpler, but no less beautiful option.
Partial merge
If you did not manage to get a permit or you live in a panel house where this wall is load-bearing, it is not necessary to remove it completely.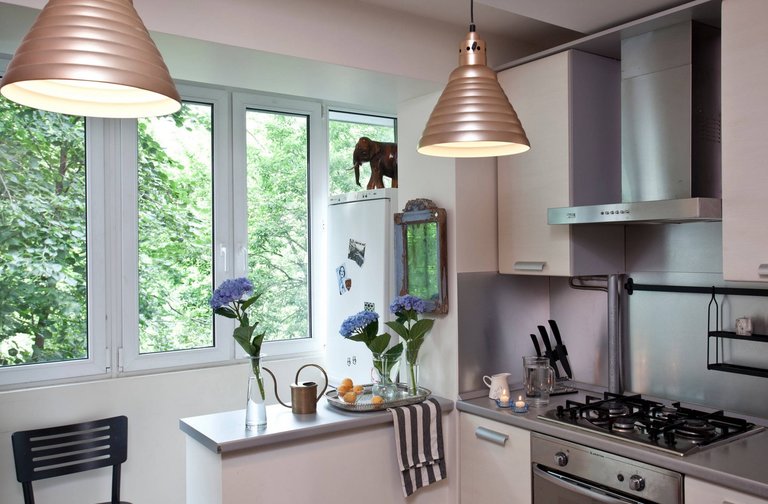 It is enough to remove the window and door… This will create a visually unified area where the vacant window sill can be used as a countertop.
Basically, if you don't need a single space, this is the best method. In addition, such a non-standard configuration provides additional design opportunities and allows you to conveniently zone the room.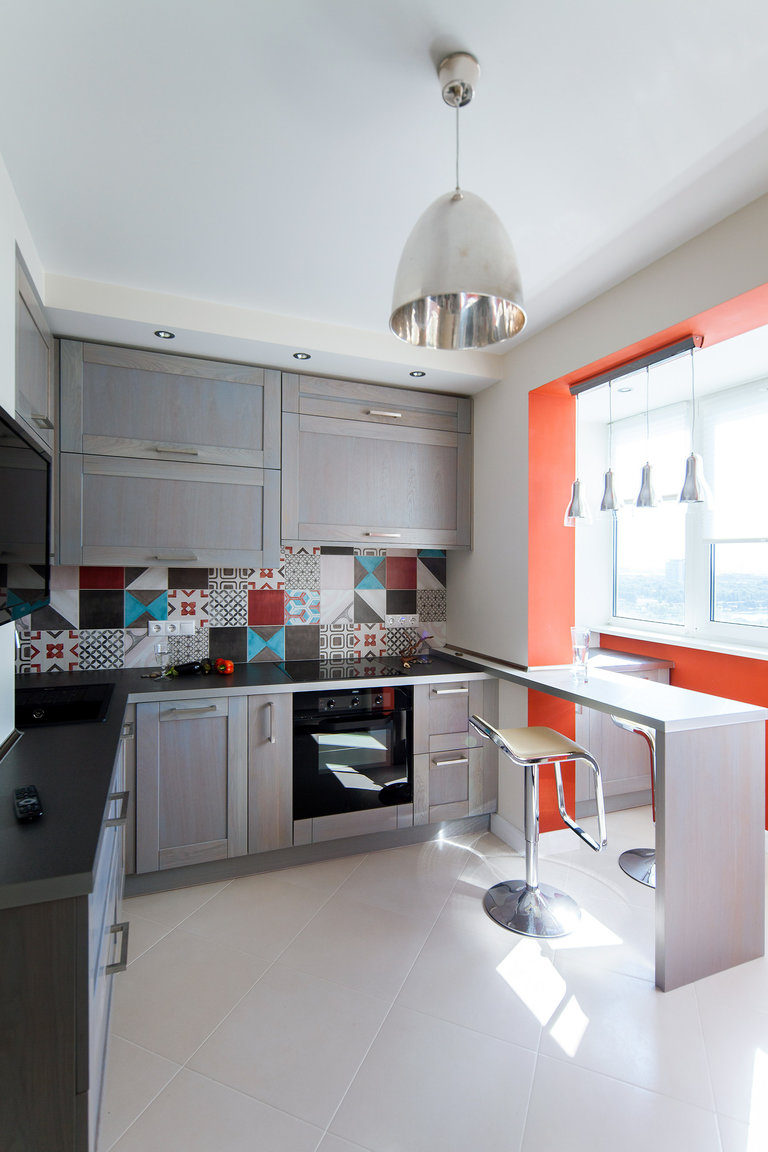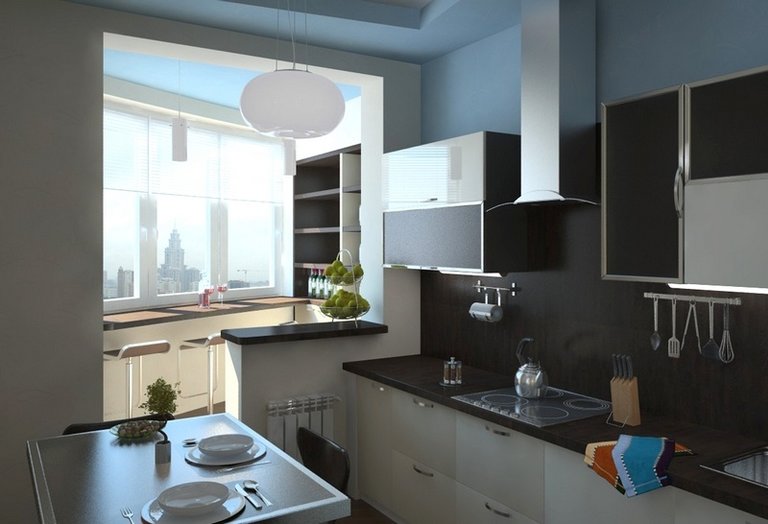 Do not think that an empty door and window opening is only suitable for the loft style – you can always decorate them to your liking. There are many original edging: arches, plasterboard structures, various panels, which we will talk about below.
Full unification
For those who want a fully integrated kitchen with a loggia, a lot of work will have to be done.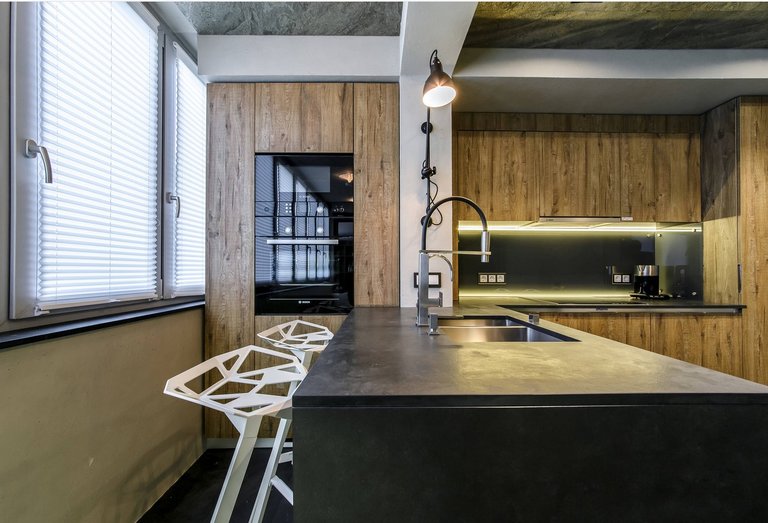 It will be necessary to demolish the walls, make wiring to the former loggia, and, if necessary, carry out all communications and sewerage. However, if at this place you decide to make a dining area, then everything will be a little easier.
It is imperative to insulate the room, otherwise the power of stationary radiators may not be enough.
In addition, it is necessary to level the walls, floor and ceiling from the consequences of dismantling before laying the fine finish.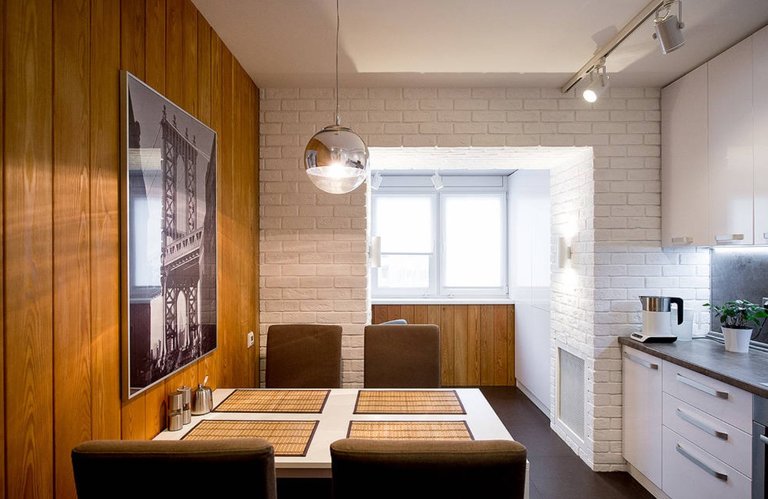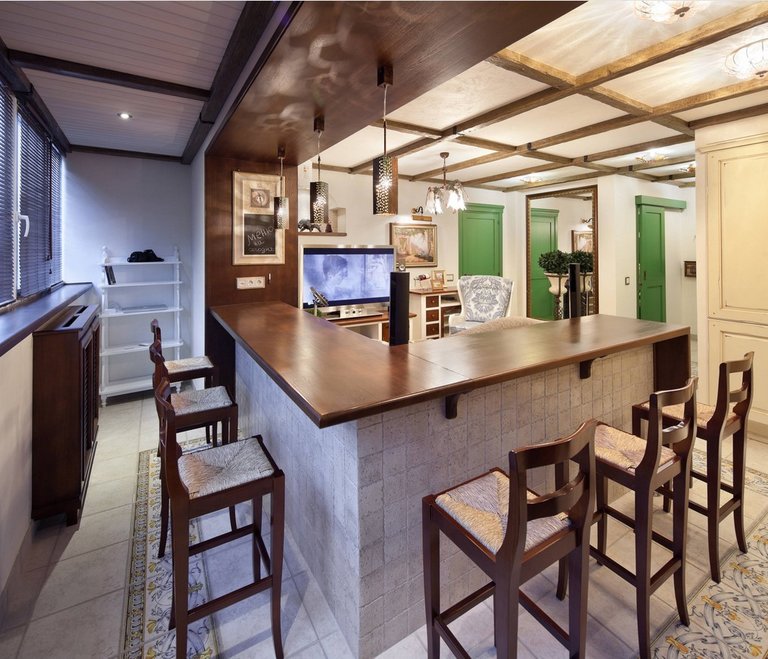 However, the result is worth it: as a result, the room will almost double in size, depending on the size of your extension.
By the way: If you live in a studio apartment, try combining the living room with the kitchen and the loggia. Then you will have a really spacious room.
We take out the kitchen to the balcony
Sometimes an entertaining idea is encountered in Runet: completely transfer the kitchen to the loggia, and use the vacant room as a dining room. There are also variations with abandoned walls, and with a complete redevelopment and subsequent rearrangement of the headset and equipment.
Of course, from a technical point of view, all this can be done. But why? This solution has many disadvantages:
It is not a fact that you will be able to get permission for such a redevelopment.
Due to the complexity of the work, especially the wiring of communications, this venture will be very expensive.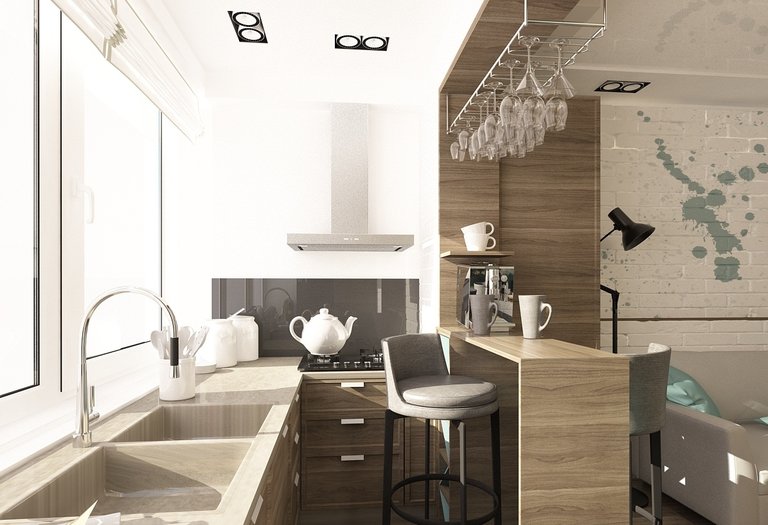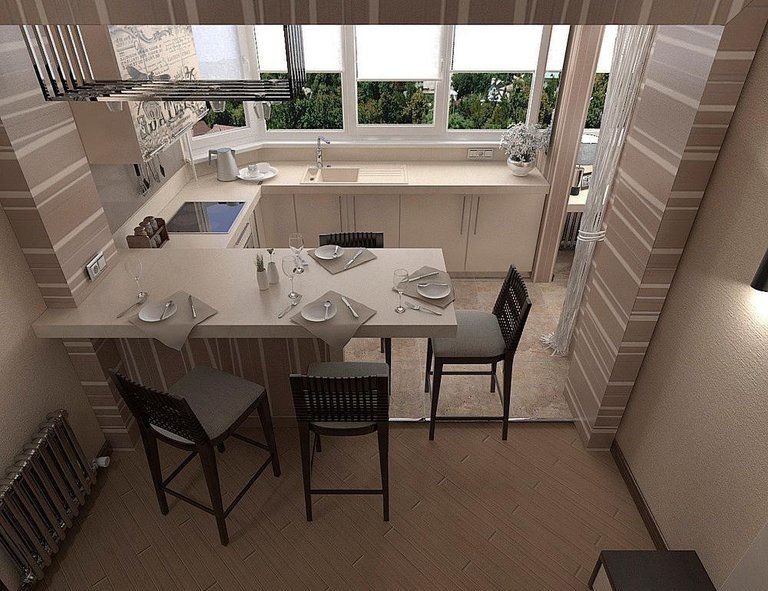 So it is theoretically possible, but, in our opinion, the result does not correspond to the effort expended.
It is better to use the loggia to accommodate additional cabinets, a refrigerator and small appliances, and leave the sink, stove and dishwasher in the places provided for this.
Regarding insulation
You cannot do without this stage – if you neglect it, it will be cold in the room, and heating bills will increase significantly.
There are some nuances here:
It is better to insulate the loggia outside, not inside. This will save usable interior space;
Warm floors and hidden fan heaters will also help to ensure a comfortable temperature. Then even at the beginning of autumn you will not be dependent on district heating.
In case of successful approval of the redevelopment, additional heat batteries can be installed.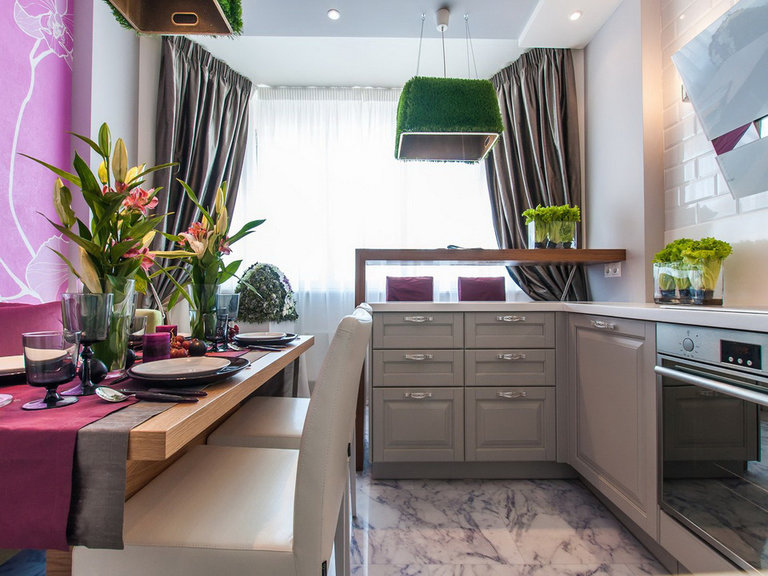 And one more important point. Warming a kitchen with a loggia is meaningless if you glaze it with windows with a poor level of heat retention. Let's talk about this further.
Glazing
In fact, there are two options – only special aluminum or PVC profiles are suitable – their width should be at least 70 mm. These are three- or five-chamber profiles that will not allow heat to escape. Forget about wooden and other frames, this is yesterday.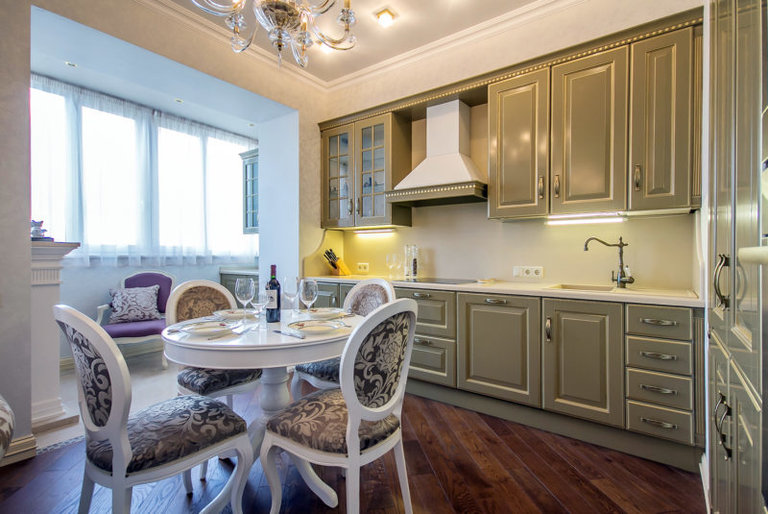 Regarding the configuration of the window, standard openings or panorama, then make a choice based on your taste and … the location of the apartment. Still, it's not worth making a huge aquarium from a room on the first floor.
Lighting
The location of the lighting fixtures over such a large area, especially in the kitchen area, will need some thought. Believe me, even with panoramic windows, daylight will not be enough.
Alternatively, install lamps both in the room and on the loggia. In addition, we recommend mounting spotlights around the perimeter, and illuminate the working area with LED strip.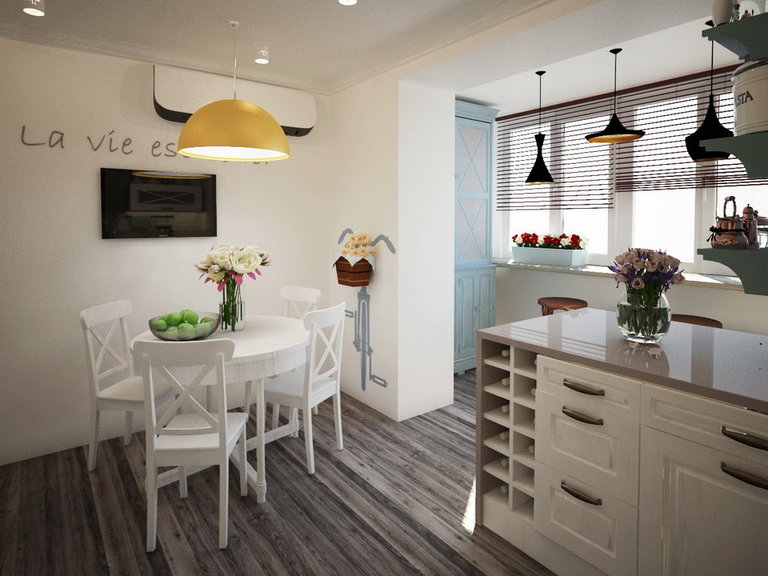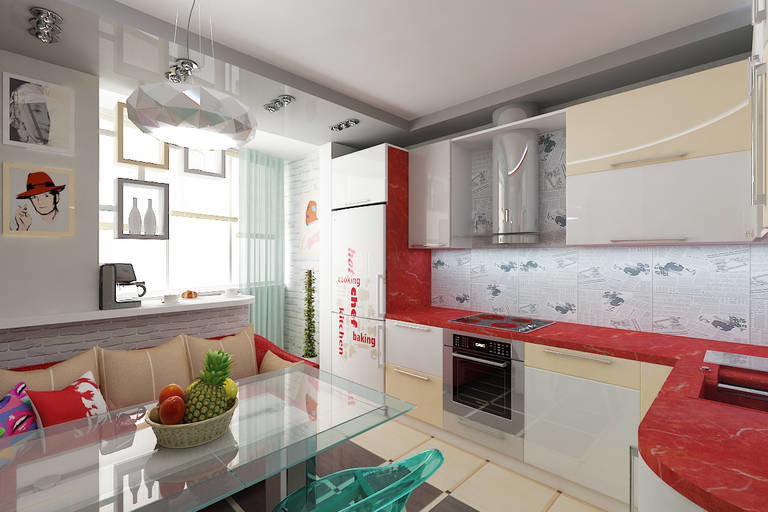 Speaking about the models of chandeliers or lamps, they should be selected based on the style in which the repair was made. You can read more about this in this section.
Given the number of windows in a room, it is very important to choose the right curtains. We recommend starting from the side they face: the southern one is made of thick fabric or blinds, the rest are tulle or translucent Roman curtains.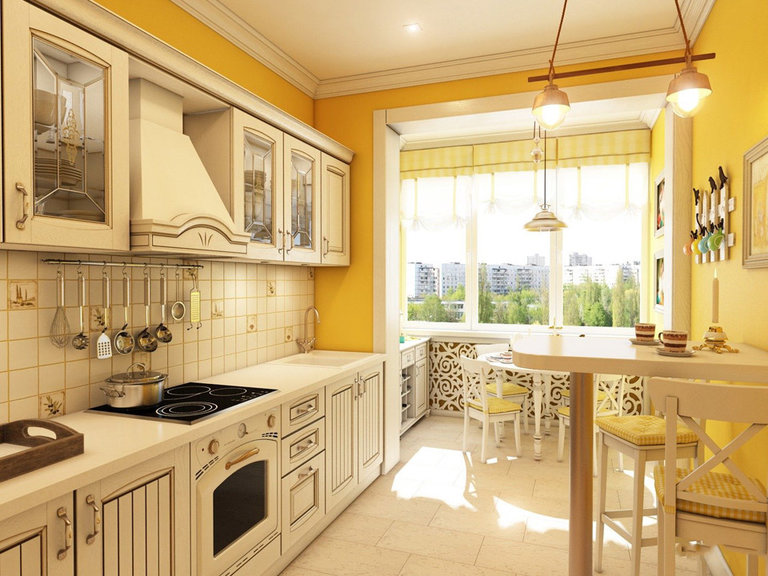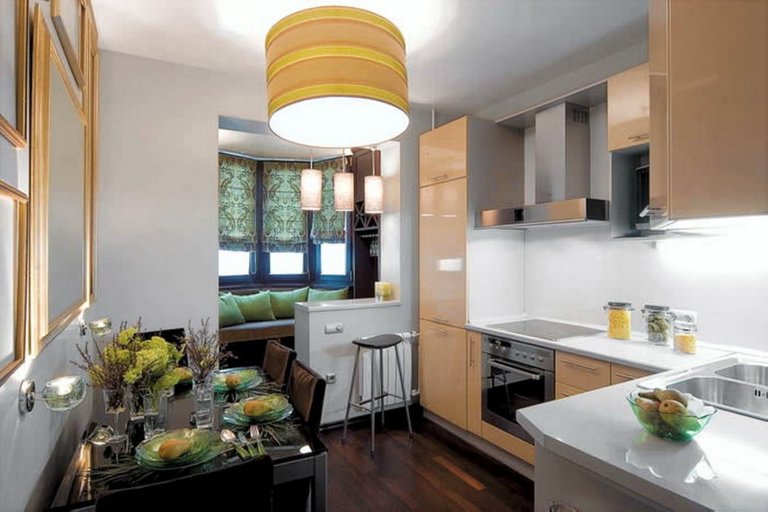 Are you planning to achieve the integrity of your interior? Avoid chandeliers – install spotlights instead. LED strips will also help achieve this goal: mount them around the perimeter of the resulting room.
Zoning methods
It doesn't matter what size the room turned out to be – 16 sq.m. or 30. If you do not know how to properly distribute it into functional zones, a comfortable and beautiful kitchen will not work.
Here are some placement options furniture and appliances in the interior of the kitchen, combined with the loggia.
1. The most popular method is taking out the dining room to the territory of the former loggia… For example, you place chairs and a dining table there, and a stylish lamp above it.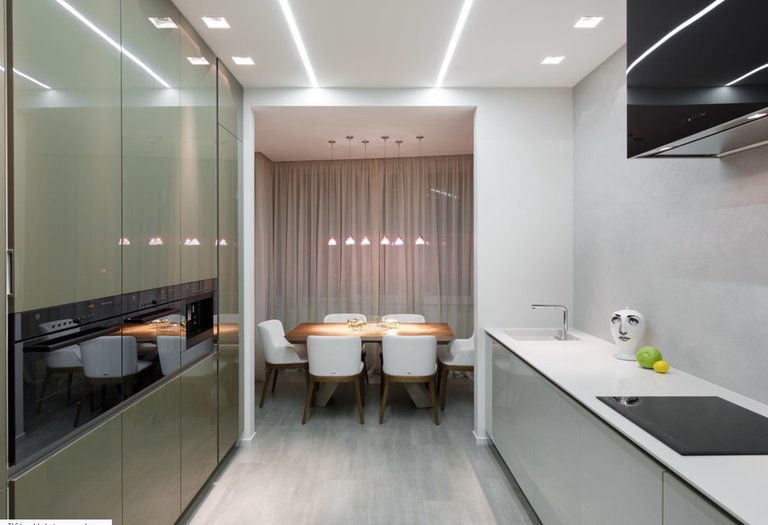 In this case, it is better to free this area from cabinets and shelves. Instead, we advise you to make a place to relax with a sofa or armchairs, if the area allows.
By the way, differences in floor level do not have to be masked, thereby reducing the overall height of the walls. Better use this to bring one part of the room onto the podium.
2. Sometimes in a small kitchen of 4-6 sq.m. there are problems with refrigerator placement… Unification will help solve them. Just move it to the loggia.
If you have completely demolished the wall, then we advise you to put it close to the corner headset. Thus, you visually divide the room diagonally – it remains to arrange the dining area in free space.
3. Dreaming about kitchen in a modern style with a bar? In small apartments it is sometimes difficult to put it even after redevelopment. The window sill left after partial alignment will completely cope with this role.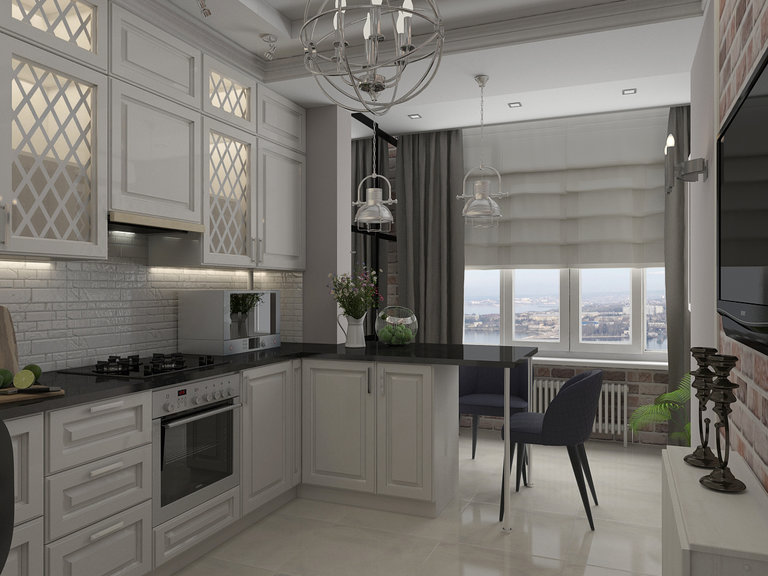 Practical advice: If the batteries are not located underneath, install small cabinets with flat doors on both sides. So your bar counter will be not only beautiful and fashionable, but also practical.
4. Sometimes most of the kitchen equipment is transferred to the loggia… This is justified for those who want a spacious dining room. But, as we have already said, we do not recommend putting a gas stove and plumbing there – it is unsafe. But a straight kitchen set, a refrigerator and small gadgets are quite. So part of the room will be freed up for the dining area.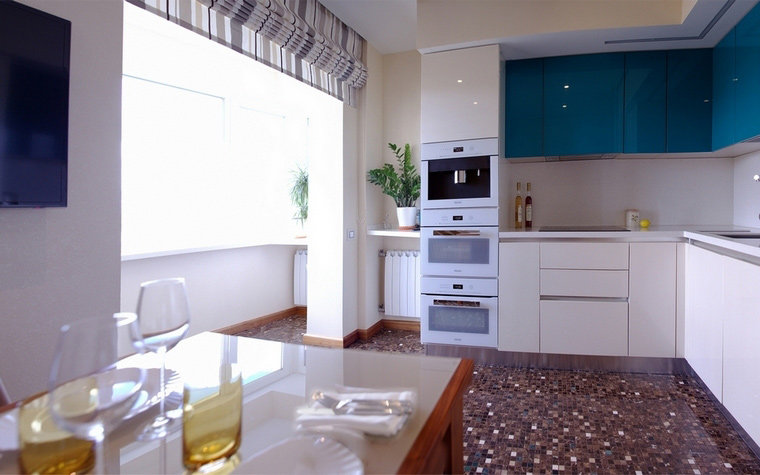 five. Combining a kitchen with a loggia is sometimes the only way out for those who like American-style interiors. Place the kitchen table in the center of the room, on the border. Place a cozy dining area on the balcony, and a suite with the necessary appliances along the inner wall.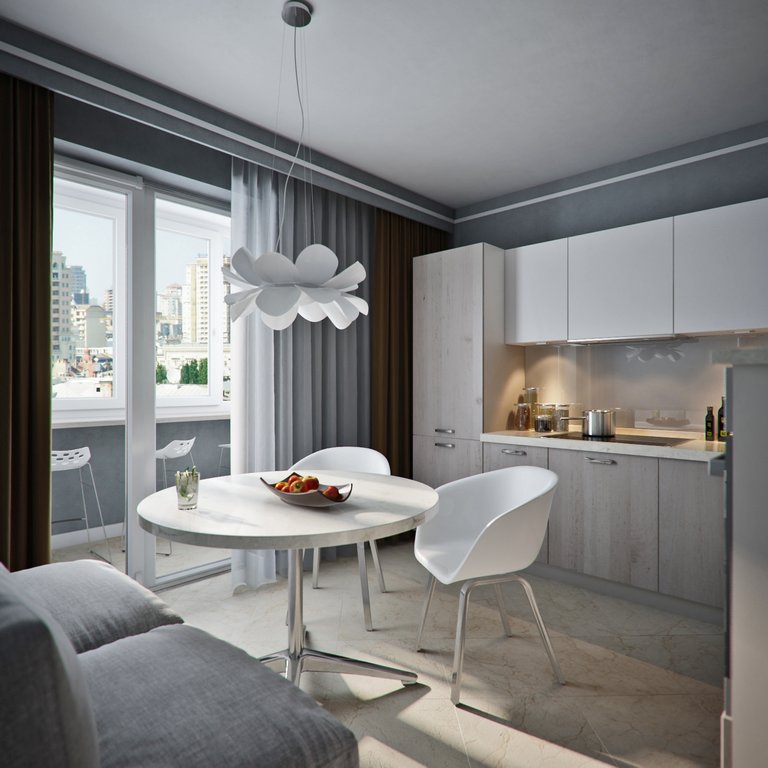 6. If the kitchen and the loggia together form a rather large room, you can try to implement the latest fashion in interior design – imitation of a winter garden… It looks especially good with classic kitchens.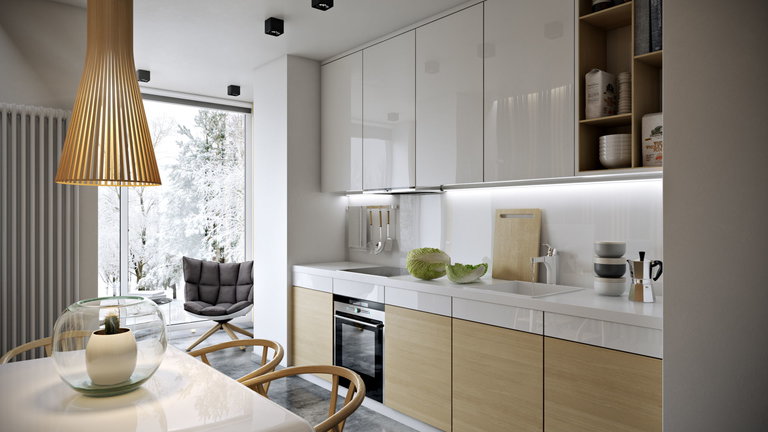 To do this, you don't even need to demolish the wall – on the contrary, a small separation is appropriate. If the redevelopment has already been completed, put a sliding screen, bar or arch… And, of course, pick plants that are appropriate in the kitchen.
7. By the way, the previous version shows that it is not necessary to use the resulting space exclusively for "kitchen purposes". Now many are trying to equip a small lounge area with a bar or a library, especially if the kitchen-dining room is combined with the living room.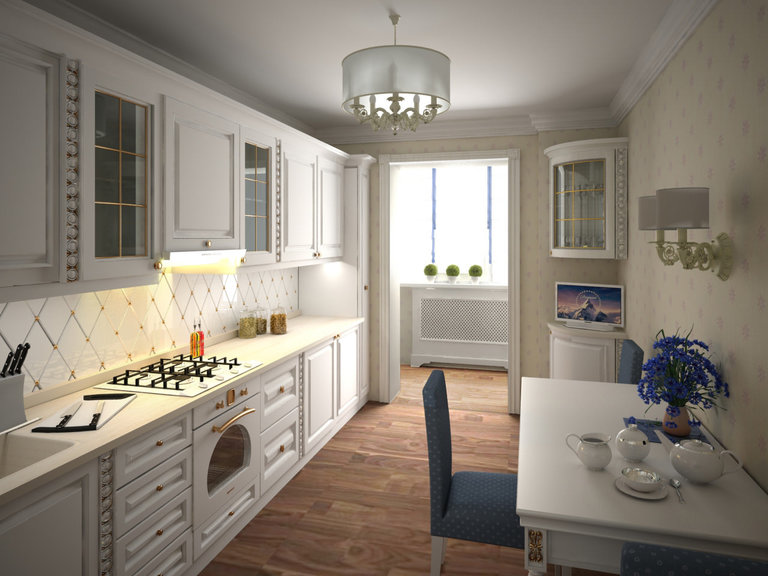 8. Exit to the loggia can be done arch or columns… Drywall in this regard is universal – you will be able to create a structure in any style. For example, in Greek for classic interiors. Or make a complex high-tech abstraction.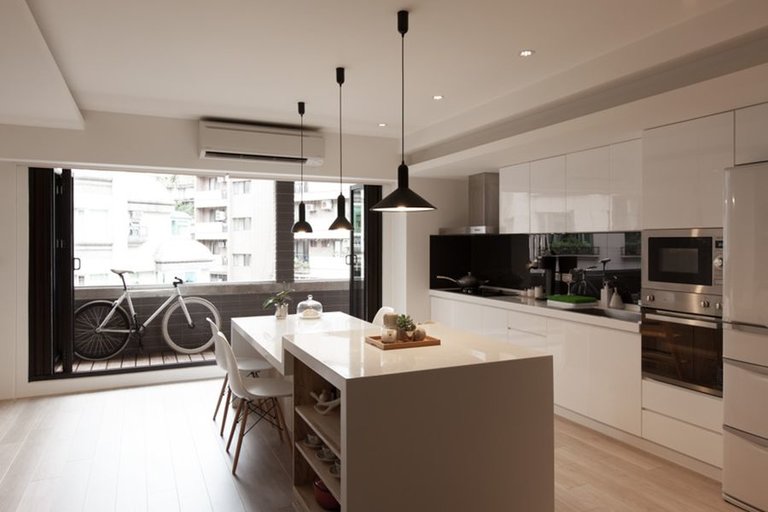 For those who do not like monumental elements, we can recommend glass doors, low partitions or screens that can be easily hidden if desired. However, this is relevant for those who still want to divide the kitchen and loggia into conditionally separate zones.
These are perhaps the most commonly used zoning solutions. It remains to emphasize the interior with finishes and decorative elements.
Decor
As for the design and use of various decorations, it is difficult to give any specific advice. Still, a lot depends on the chosen style.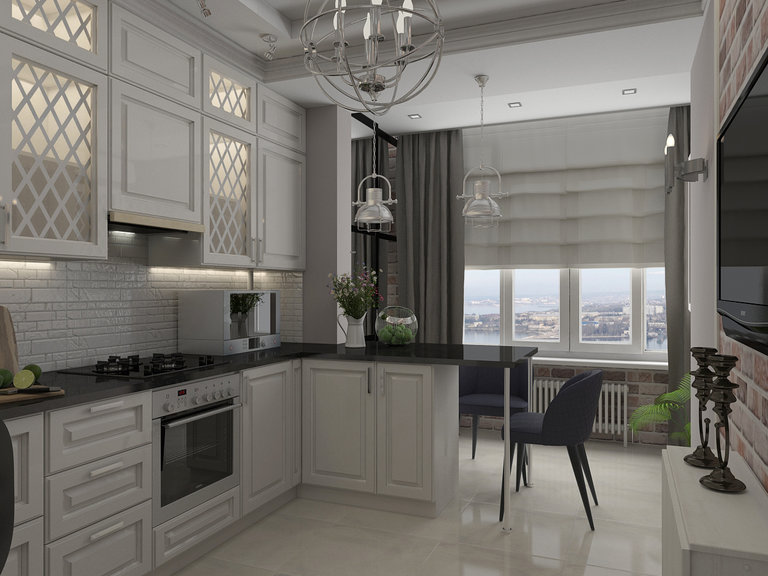 In addition, consider your needs: maybe someone does not need a dining room, but the chair and the TV seem like a surprisingly good idea. Or there is a desire to put a carpet on the floor of the recreation area – why not?
There are also universal options: beautiful decanters, plates, salt shakers and pepper shakers are always appropriate. As well as high-quality textiles suitable for the interior of the kitchen. Do not forget about these little things, they help create an atmosphere.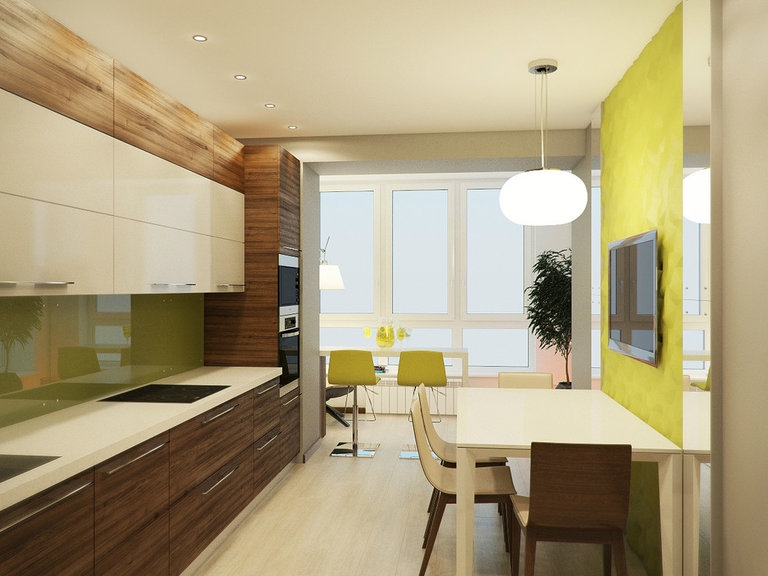 As you can see, there are many opportunities to decorate the kitchen, connected to the loggia, beautifully and functionally. Should I do it?
On the one hand, such a solution requires a lot of effort, time and money. On the other hand, it allows you to create a truly unique spacious room, which is especially important in small apartments. Therefore, we advise you to prioritize when making a decision.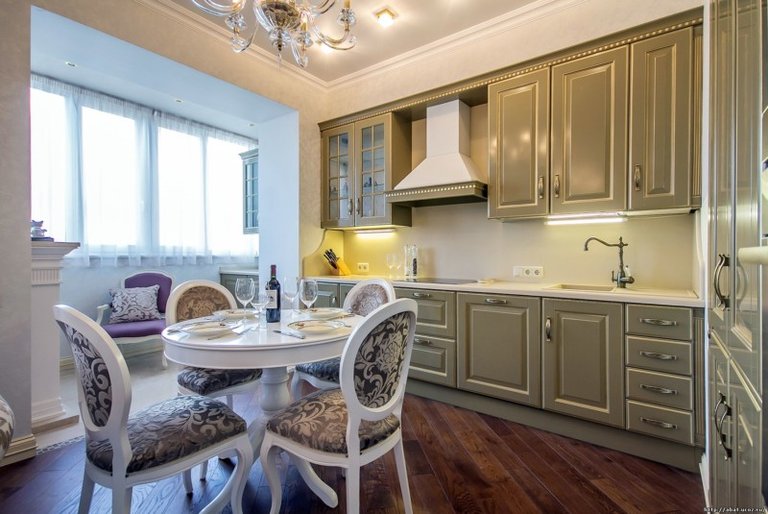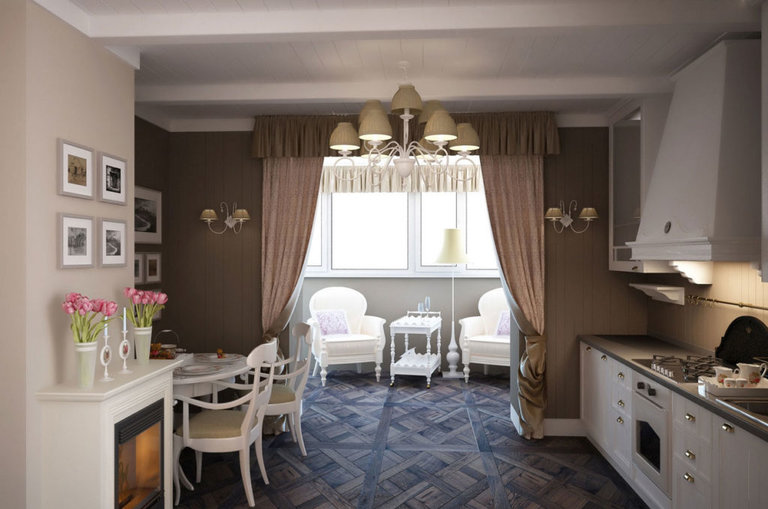 If you decide that this is too time-consuming process, look at the design options for small kitchens without combining with other rooms.