Let's talk in more detail about all the delights of such projects.
Expanding space
Designers often use white in the interior because it is able to fill the surrounding space with lightness, cleanliness and freshness. But these are not all of its benefits.
White is ideal for a modern small kitchen, as it is able to visually change the dimensions of the room, make it more spacious and light.
In order to expand the space to the maximum, choose this color when decorating the floor, ceiling, walls, when buying a kitchen unit and other interior items, household appliances.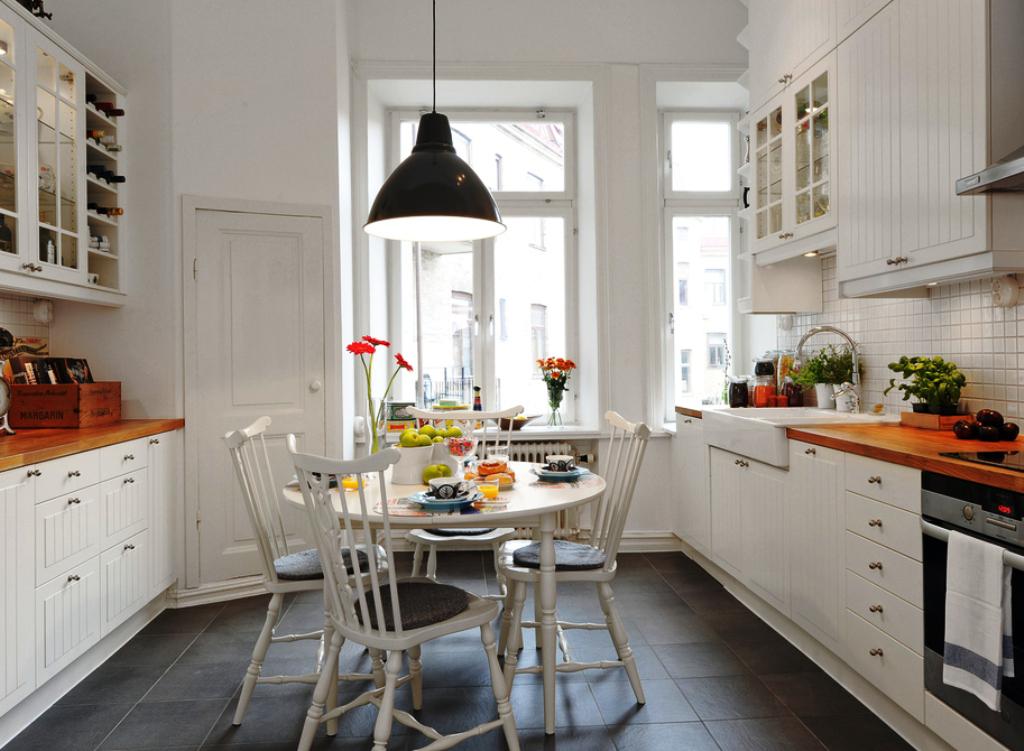 White will create a similar effect in spacious kitchens. In this case, you can not strictly adhere to the specified color range. Slight dilution with other colors, several bright decorative elements are allowed.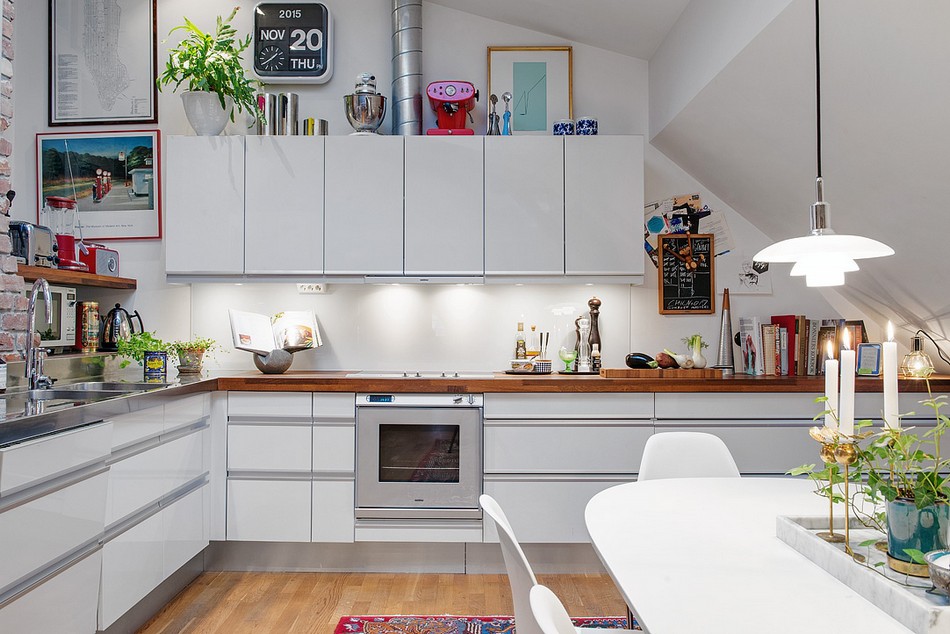 A wooden tabletop is one of the most versatile solutions that allows you not only to get a spectacular interior, but also to save the surrounding space from unnecessary monotony. It will look decent both in small and spacious rooms.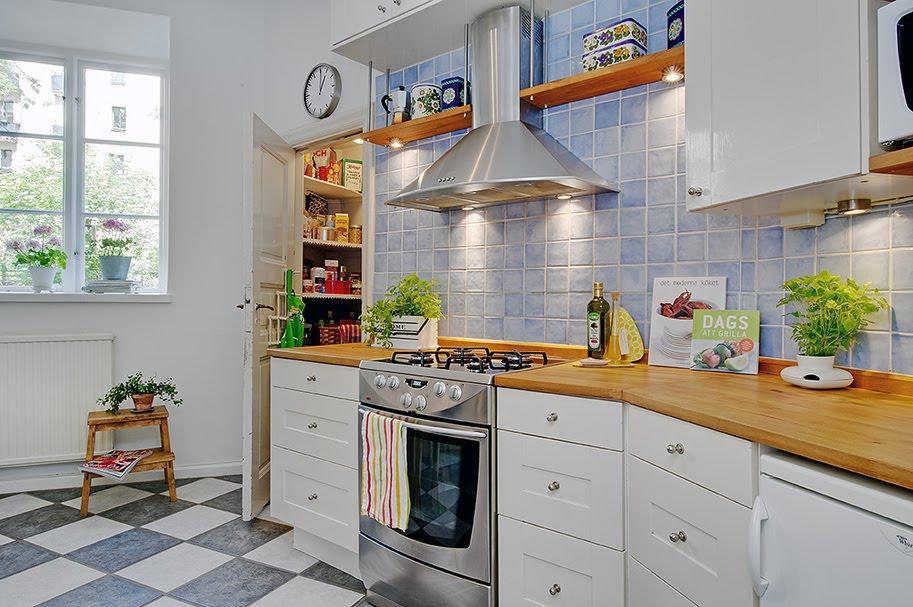 Also white significantly increases illumination premises. The effect will be especially noticeable if you choose glossy facades for yourself.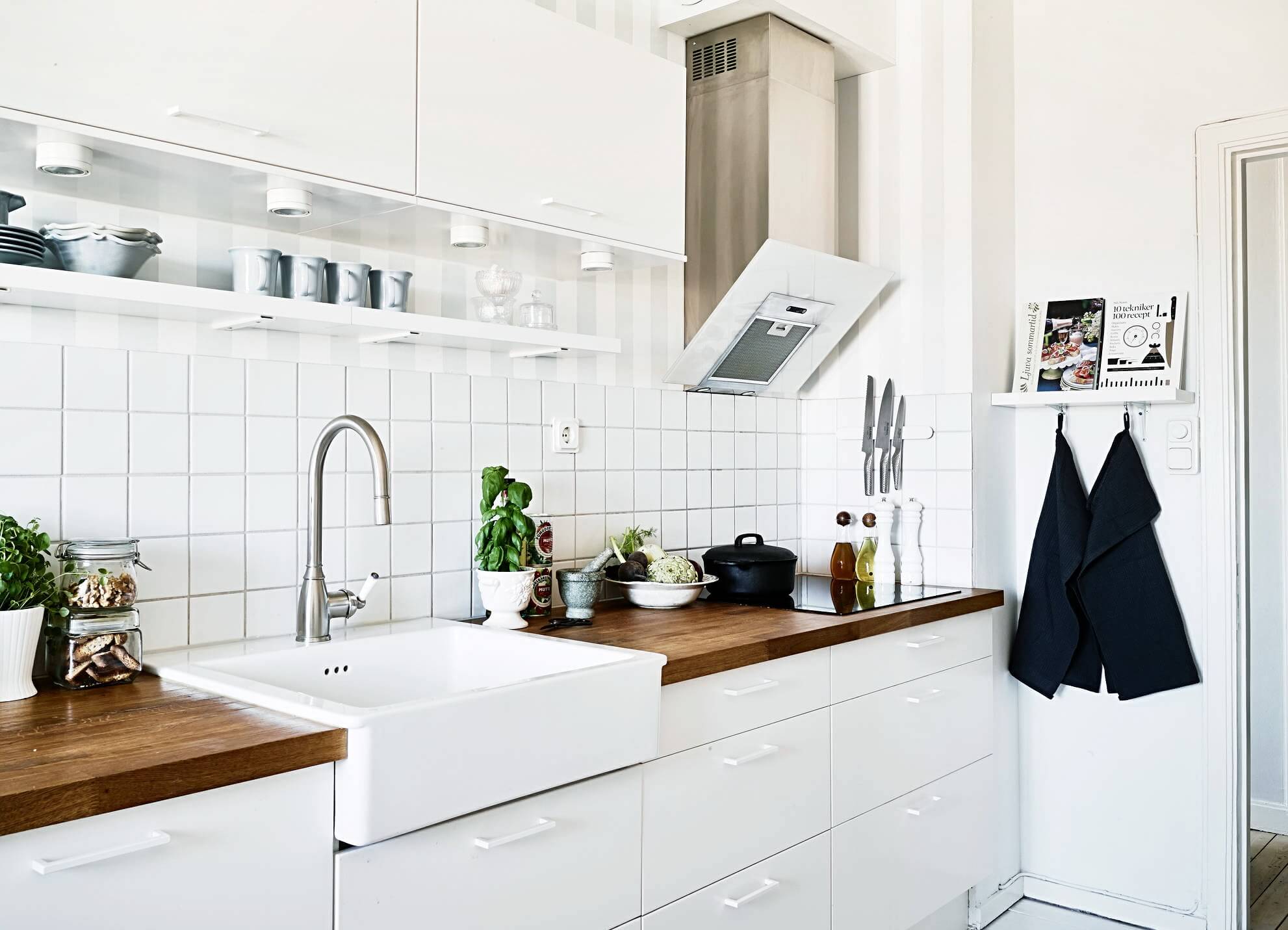 Practicality
In reality, caring for a white kitchen is no more problematic than a set made of a material of a different color.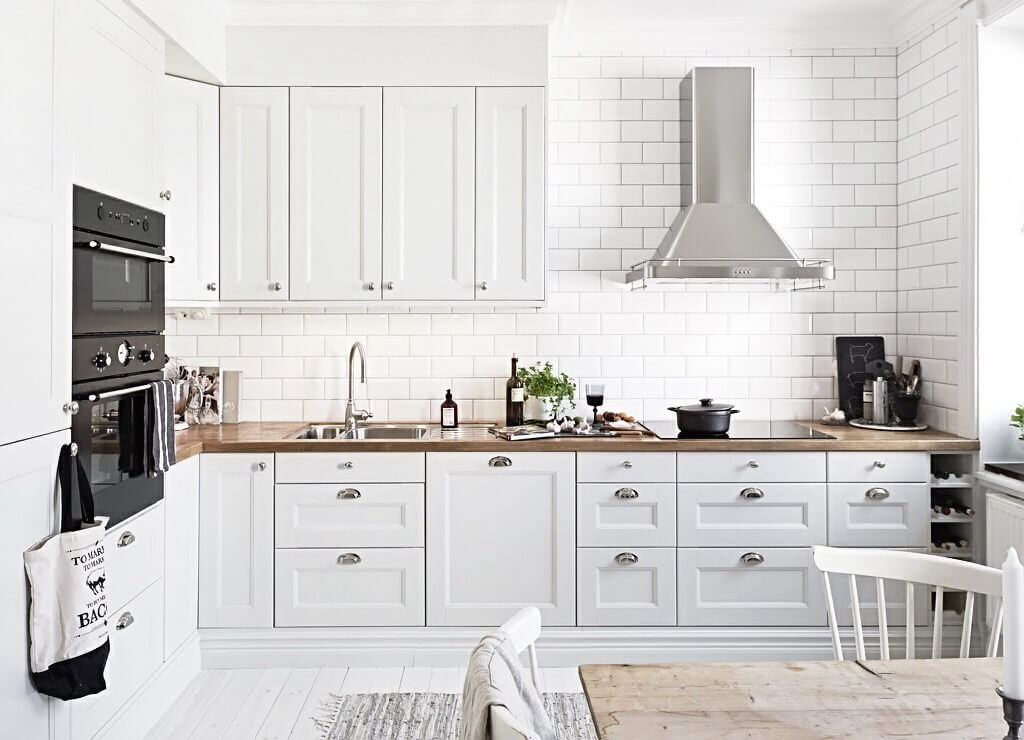 The dirt will be visible everywhere, so regular cleaning cannot be avoided.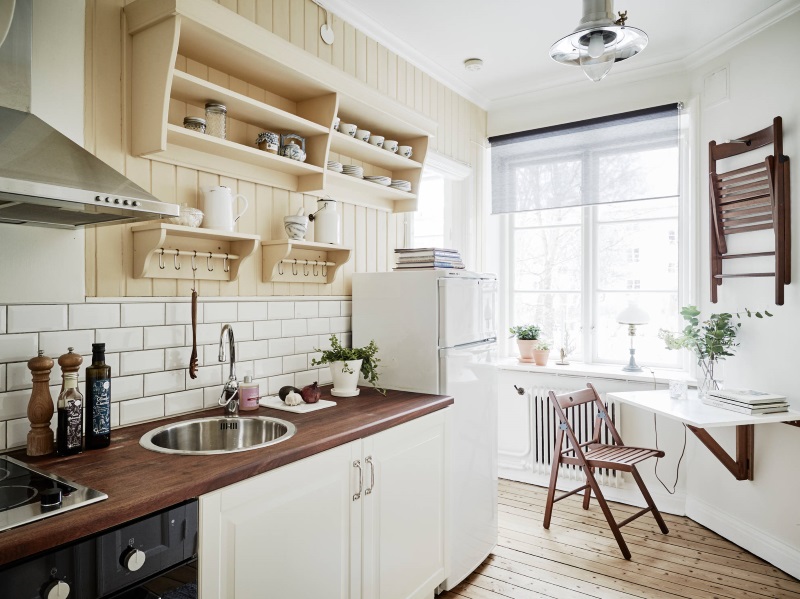 Fingerprints will not be as noticeable on white facades. You will see any contamination immediately after they appear, that is, you can quickly remove it, without waiting until they turn into old and difficult to remove.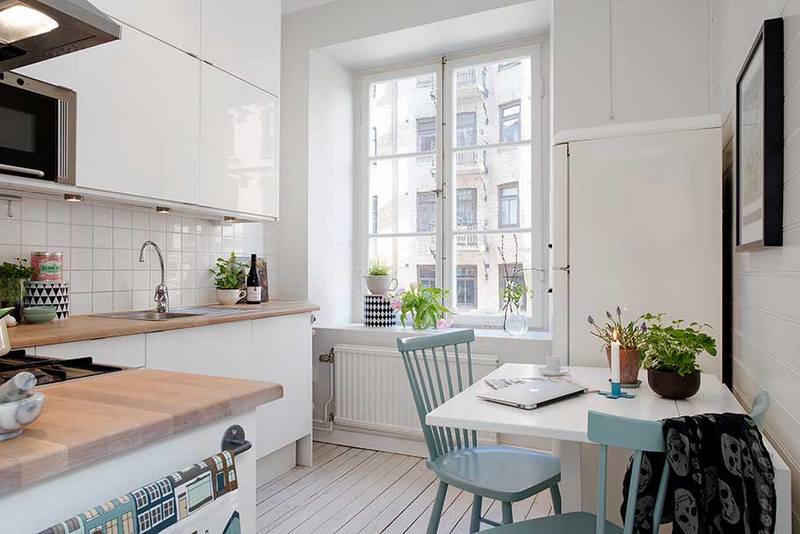 The most problematic area is the countertop, but by choosing natural wood with its natural texture and color for its decoration, you can reduce many of the disadvantages to naught.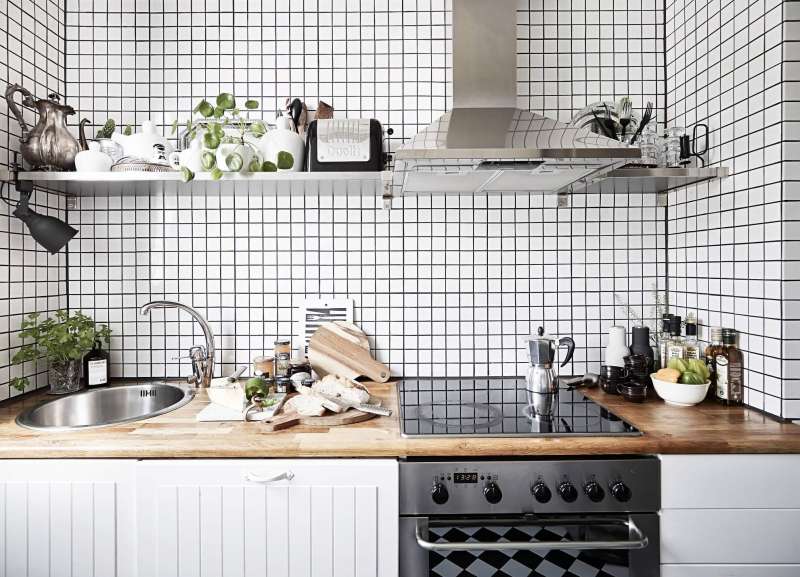 Matching style
White is a fairly versatile color that effectively combines not only with a variety of tones and shades, but also with all kinds of interior styles.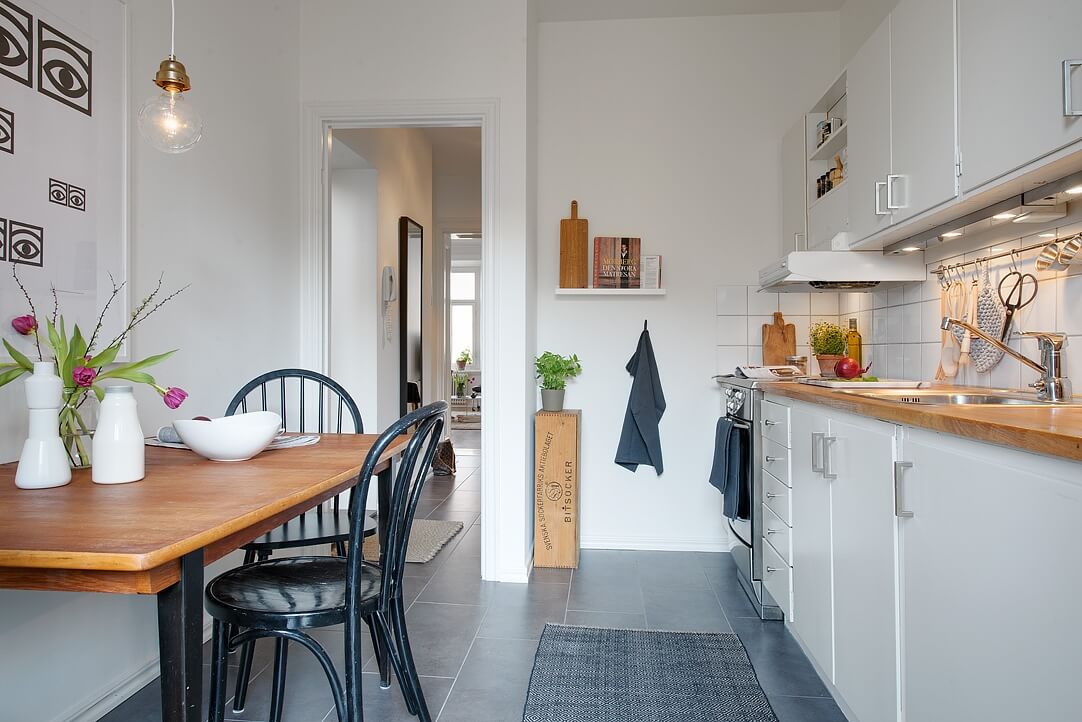 A solid wooden worktop will become a bright accent, effectively emphasizing the belonging of the kitchen to the classic design direction.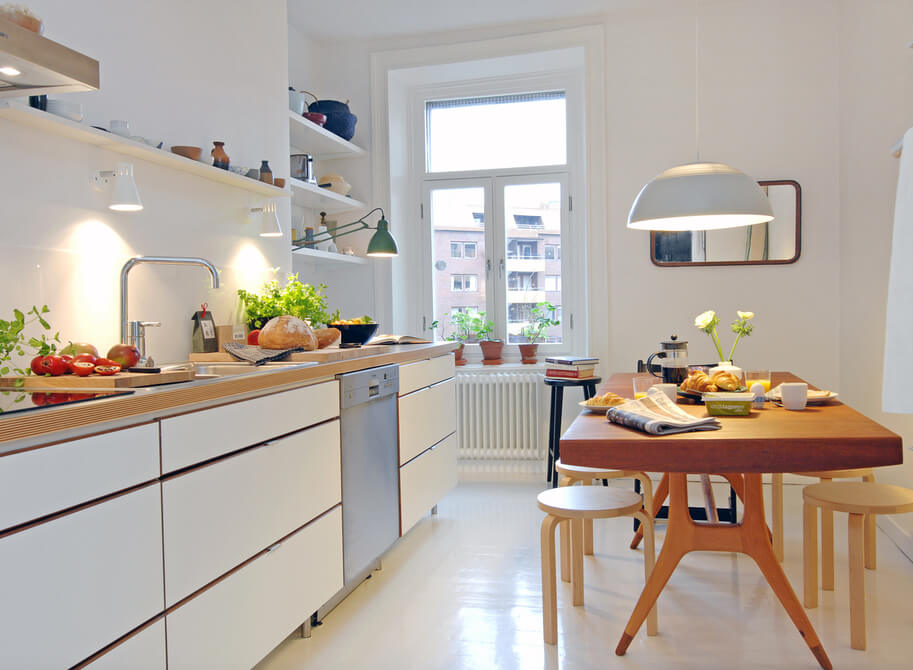 This combination will look great in other design directions: shabby chic, country, Provence.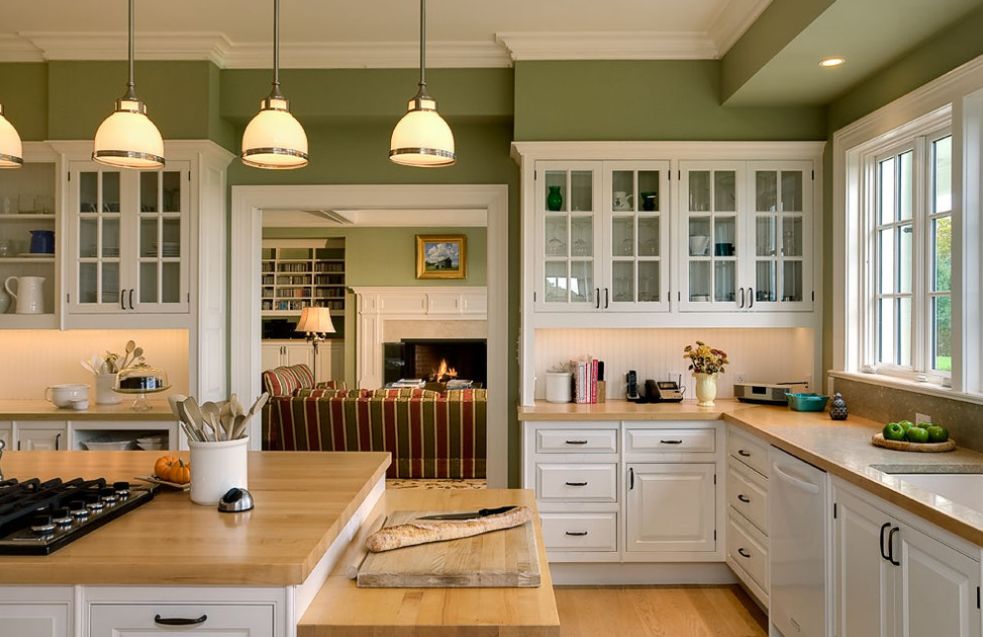 The combination of these colors can be used in modern interiors, giving them uniqueness, originality and sophistication.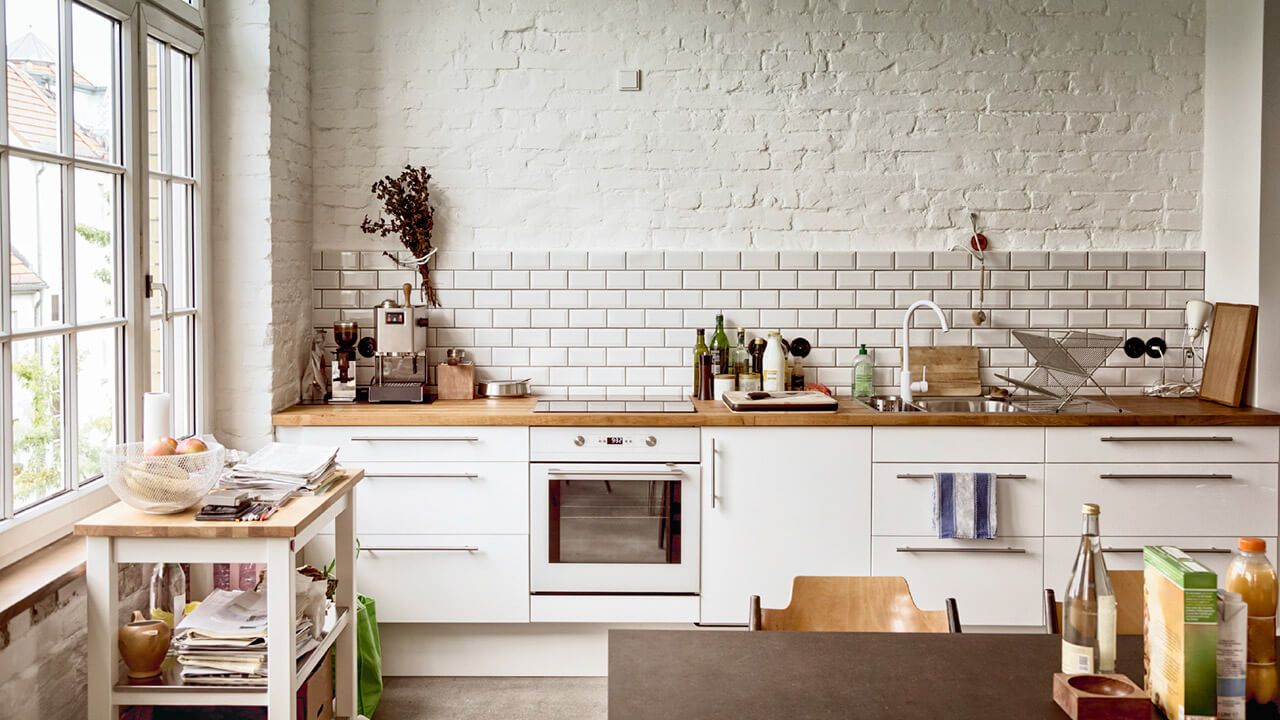 A vivid confirmation of this is the Scandinavian style, which is gaining momentum in popularity today.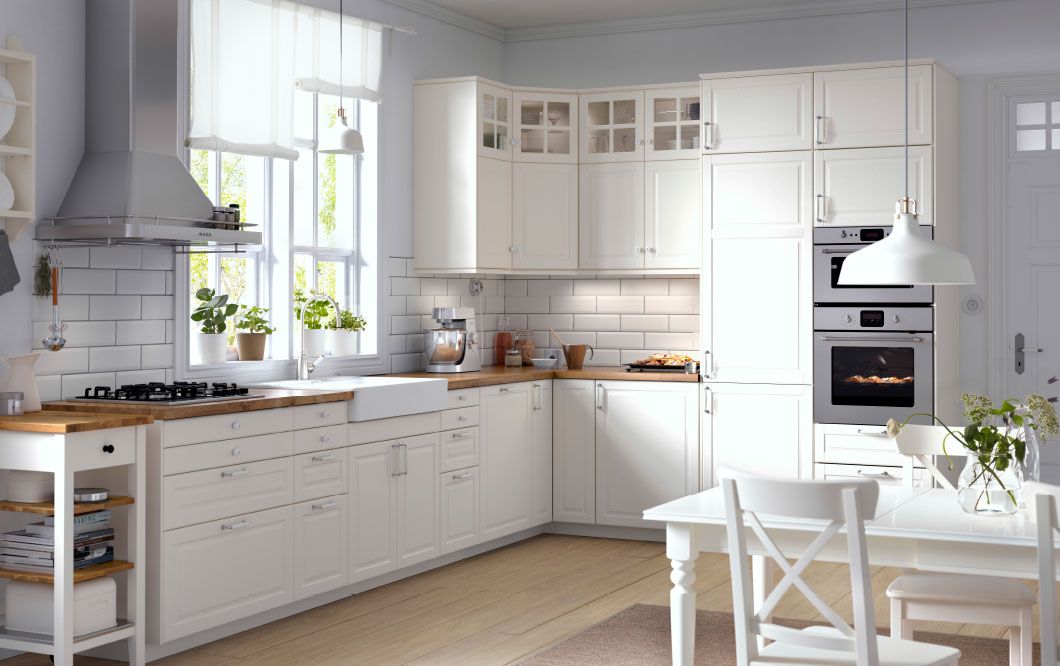 The perfect foundation
This color is the ideal base for any interior design. Against such a simple and laconic background, all other objects will look more vivid and expressive.
Background shades will draw attention to small details, emphasize the uniqueness of the design, and present the interior in a more favorable light. In such a kitchen everyone, even the smallest object, will be noticeable.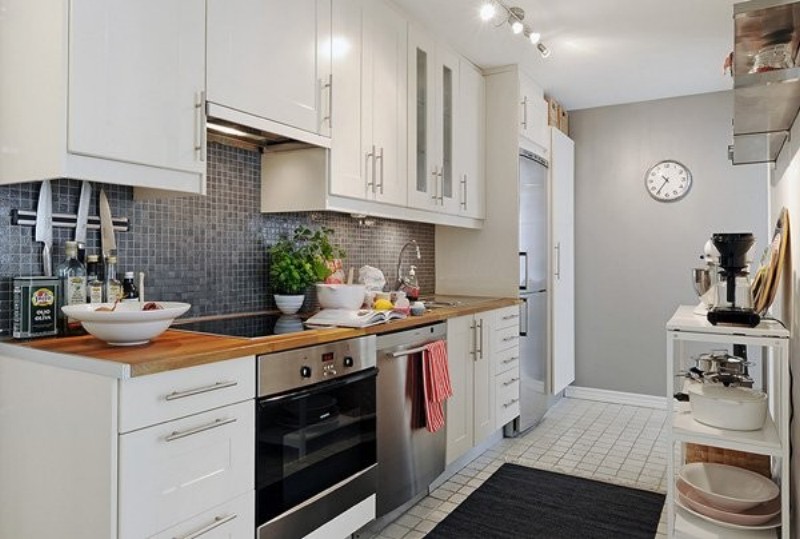 If you are adherents of laconic classic solutions, then it is difficult to find a better solution than a combination of white and natural wood.
Afraid that such a move will turn out to be too contrasting, play with shades. White color today is represented by a great variety of tones: baked milk, ivory, flaxseed, creamy, eggshell, cream, pearl, etc.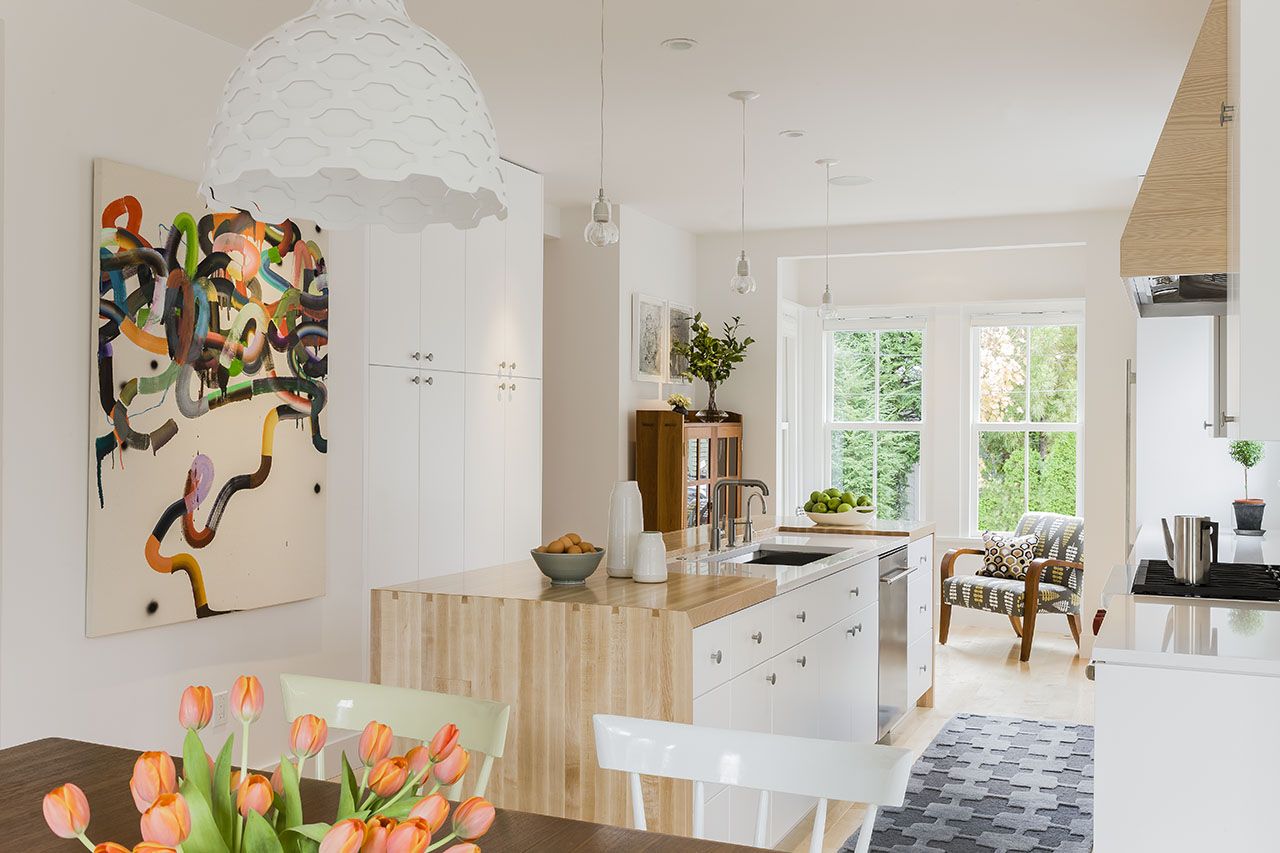 The same variety awaits you when choosing the material for the countertop: oak, ash, cherry, mahogany, alder, linden, etc.
All this wood is distinguished not only by its special shade, but also has a unique structure, making the kitchen set more individual and unique.
Design secrets
A wooden countertop can effectively complement not only linear and corner kitchens, but also island or peninsular modifications.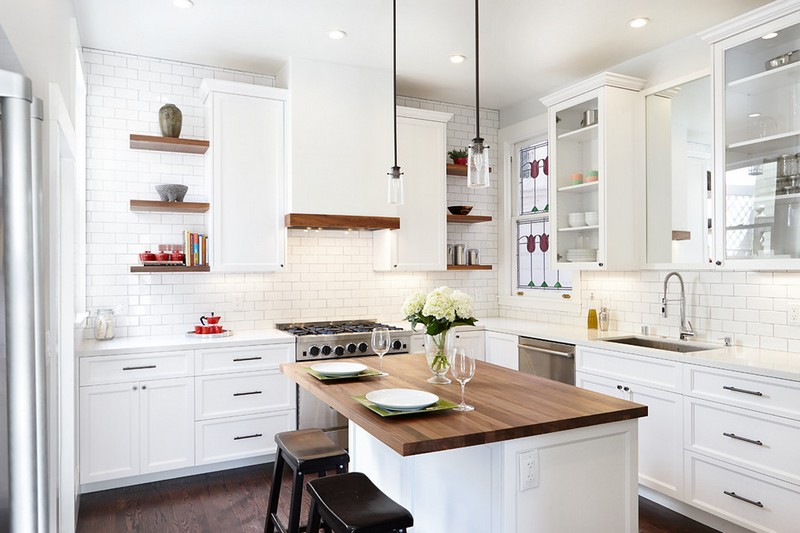 Combination a white kitchen set with a wooden worktop is capable of:
add dynamism to the interior;
contribute to competent zoning;
create a depth effect;
combine all the colors in your kitchen into a single harmonious picture;
it is beneficial to emphasize the uniqueness of a given style.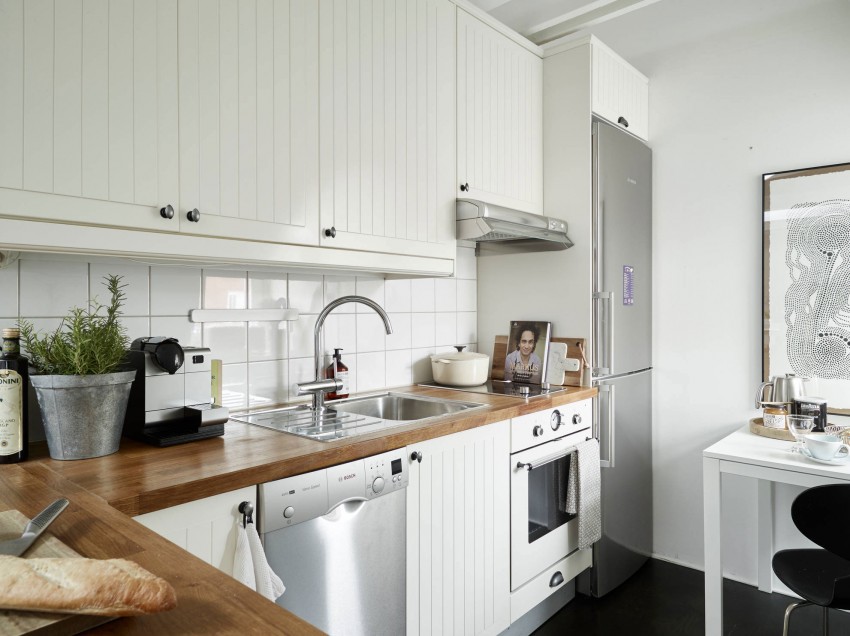 To make a white kitchen with a wooden worktop please you with its non-triviality, thoughtfulness, practicality and comfort, use the following recommendations:
If you want to warm up your kitchen interior

, for home cozy, choose light shades of wood for yourself. Darker colors are colder. They are ideal for modern designs in minimalism, hi-tech or Scandinavian styles.

Pay due attention to the choice of flooring material.

The most worthy solution is an array of natural wood, which in its color and texture is combined with the material used in the manufacture of countertops.
If this option is too expensive for you, look for alternative solutions: ceramic tiles, linoleum, laminate. Today, these materials are on sale in an incredibly wide range, so you can easily find suitable options in color and structure.
Wood

table and matching chairs

make the interior more harmonious and complete. For small rooms, transforming tables are suitable. In the selection process, the same rules apply here as when choosing a floor covering.

To significantly extend the life of your wooden countertop

, to make it more resistant to moisture and mechanical damage, wipe it periodically with special oil.

Apply this oil to the countertop with a brush and remove excess after 15 minutes. It is better to do this procedure at night, allowing the surface to dry thoroughly.
Using these recommendations, you can make your kitchen more stylish, effective, practical and incredibly beautiful.