Welcome to our updated post Wenge kitchen – Is it a classic or a "scoop"?
.
The richness of texture and variety of shades made wenge one of the most popular types of wood.
This South African tree enjoys a well-deserved love not only for interior designers, but also extremely popular with customers.
And for good reason. Even a small room decorated with Congolese rosewood (this tree has several other names) can turn into a palace of a fairy princess.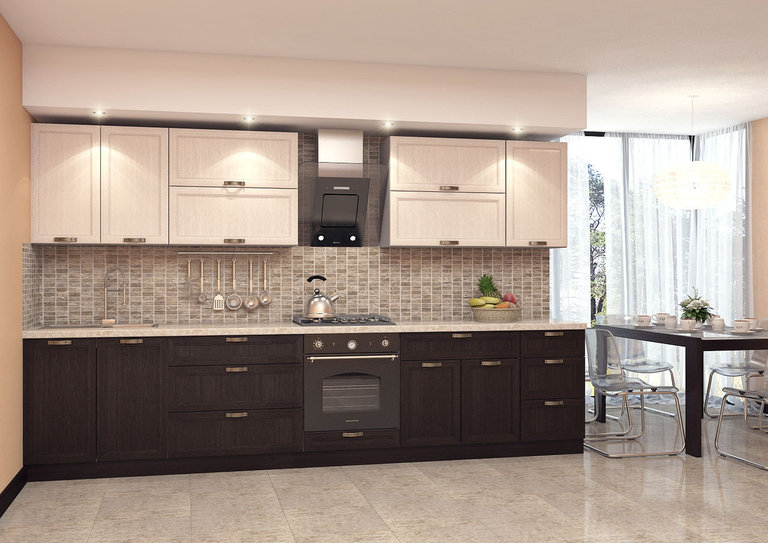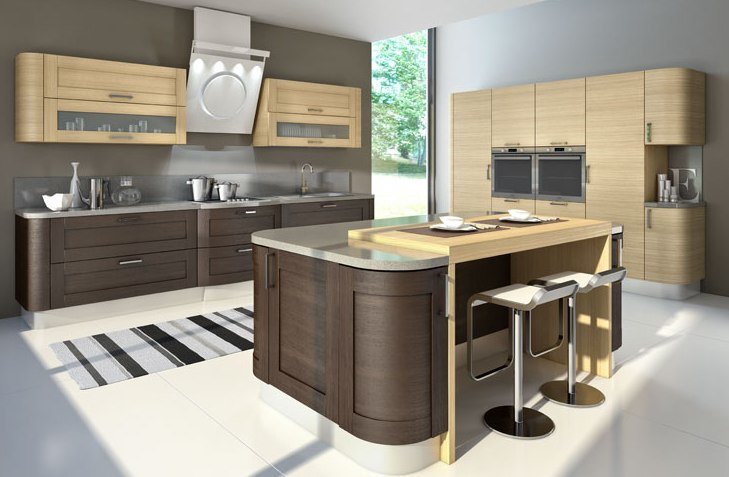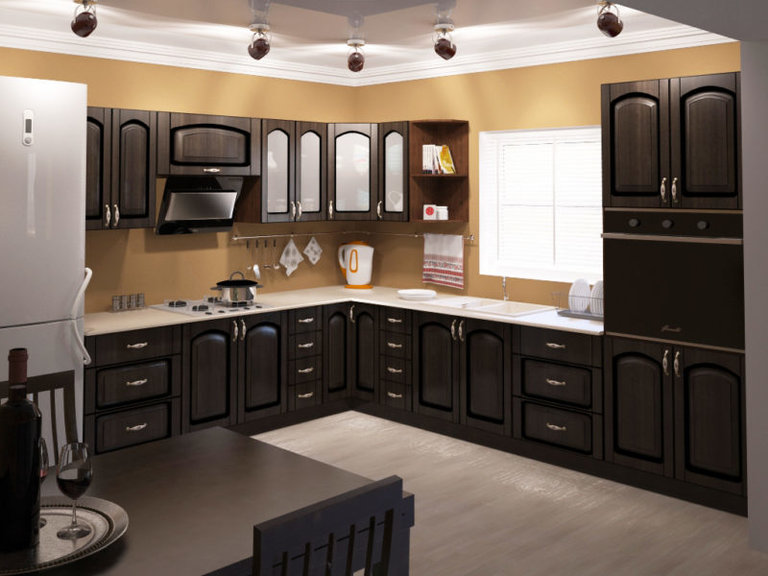 This wood has a lot of advantages, and only one drawback is the too high price for this exotic. Of course, considering its durability, strength, solid structure, resistance to damage and high resistance to fungi and pests, then it is worth it.
Although, modern technologies can significantly reduce the budget for those who are determined to decorate their kitchen in wenge color.
Palette of shades and textures
The number of shades of Congolese rosewood is amazing – from dark gold, purple with green to dark chocolate and black coffee …
Naturally, with such a fertile material it is easy to realize any of the boldest dreams.
1 Splendor of Art Nouveau
The abundance of modern built-in household appliances requires a minimalist kitchen space solution. But how do you want not only glossy sparkling surfaces and smooth lines that are somewhat reminiscent of an operating room.
Early in the morning you dream of not being in an office restaurant, but in a cozy, cute kitchenette. Well, or in the grand dining room with stained glass windows, mosaics, porcelain and furniture with bizarre curves, the flowing lines of which resemble the curls of the beauties of Aubrey Beardsley.
The wenge color scheme allows you to turn an ordinary room into a haven for aesthetes and modernists.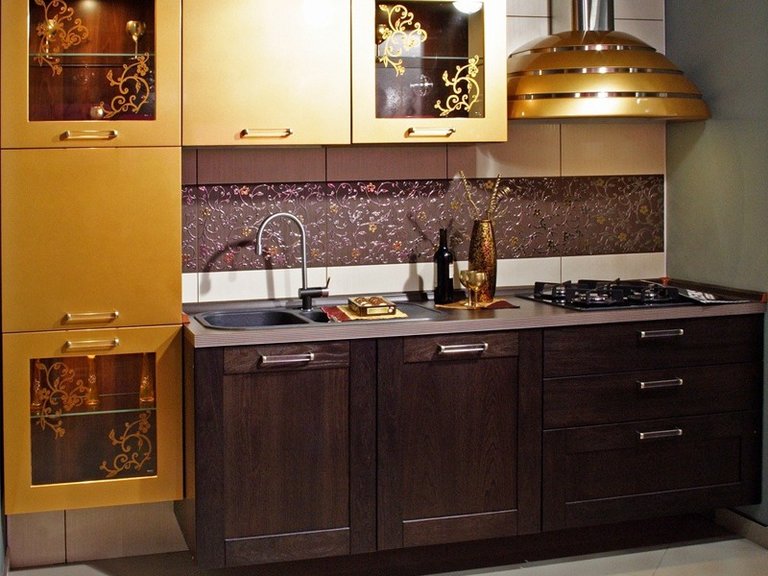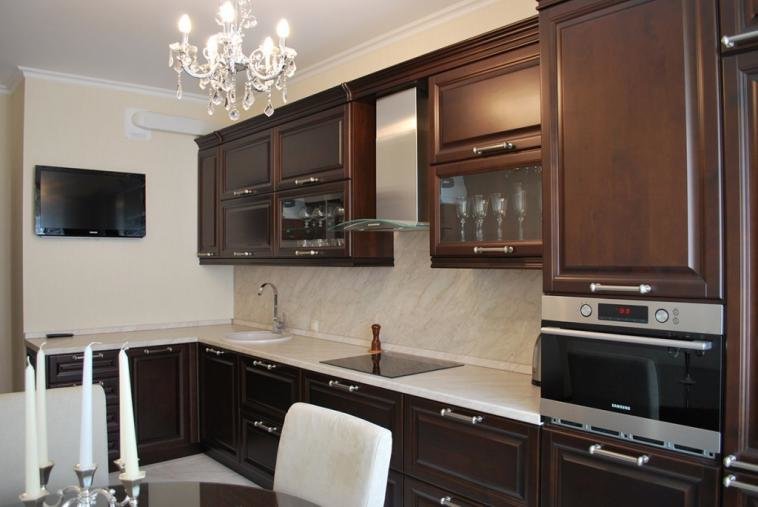 2 The simplicity of high technology
Thanks to its texture, this wood is perfectly combined with metal, plastic, glass and stone.
Which is, in addition to the severity of the lines, one of the main features of new wave and hi-tech.
The dense, rich color of the wood is perfectly combined with the matte sheen of metal surfaces and makes the marble countertop a little warmer to the touch.
Such is the peculiarity of human perception – a stone seems to us not so "dead" if it is surrounded by a psychologically "warm and alive" tree.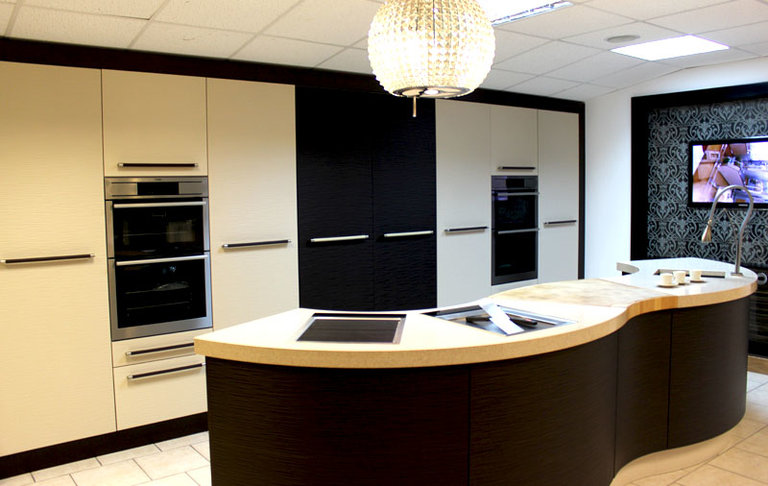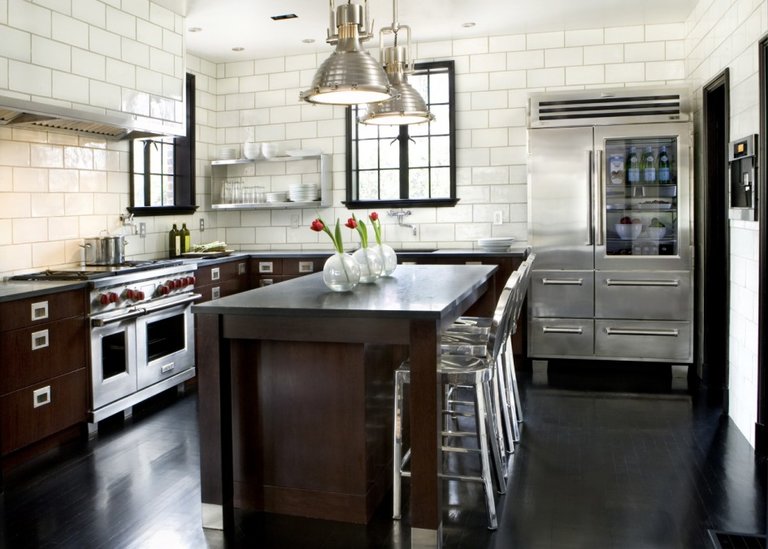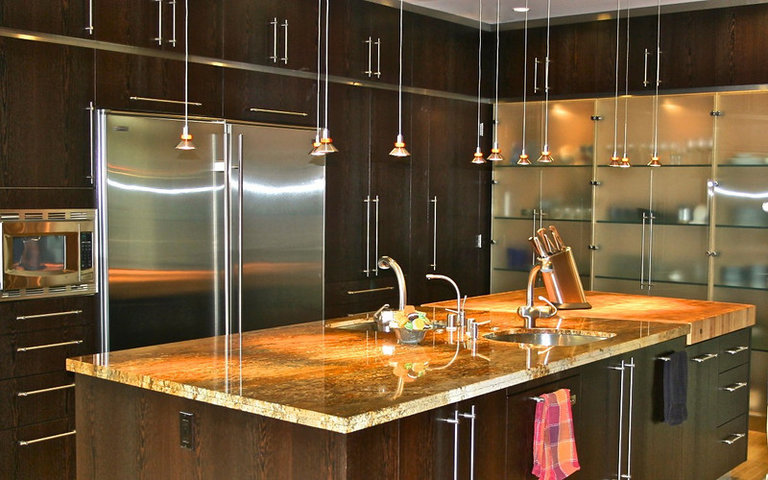 The main thing when choosing these styles is not to overdo it with combinations of materials and decorative elements.
If you have already chosen metal in combination with wenge, then you will have to refuse from marble, granite or artificial stone countertops. Although, if you really want to, then you can. But only one horizontal work surface.
Otherwise, you will end up with a completely different style – kitsch.
3 Exotic for ethnics
To use such a rich decorative material, and even with a distinct aroma of distant countries, and not turn your favorite cuisine into a kind of African bungalow …
African style is now experiencing its rebirth.
It is the most demanded and most impulsive and directly childish of all ethnic styles. Simple shapes, rough textures, contrasting colors and an abundance of decorative details are its distinctive features.
Wenge floor, wicker furniture, skins of wild animals and figurines of African gods. What else can you need for comfort on long winter evenings?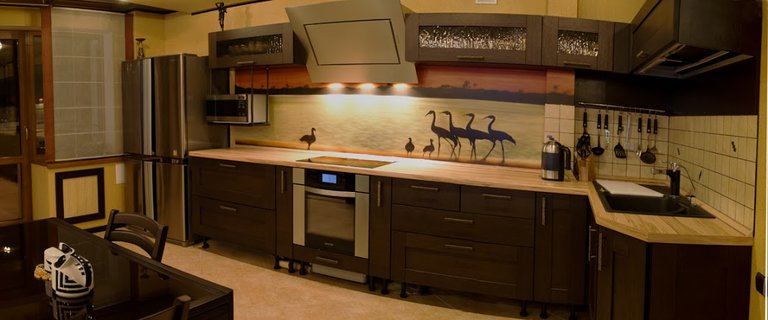 4Eco-style – closer to nature
Even the notorious urbanist dreams of merging with nature. Let it be short-term and almost virtual, but still …
Eco-style in the kitchen will help to cope with the emotional stress of the city bustle. Furniture should be solid, even a little bulky. The tones are the most natural, the lines are simple, but not angular.
If the dimensions of the room and the level of natural light allow, then a very popular hanging mini-garden with spices: dill, parsley, mint, basil will look great in a wenge-colored kitchen.
The deep green wall, combined with the other three soft sandy colors, the dark coffee tone floor and the fresh cream ceiling, will create an unforgettable rural home atmosphere. The noise of the megalopolis will not disturb your family either in the morning or in the evening – only comfort, peace and nature in all its beauty.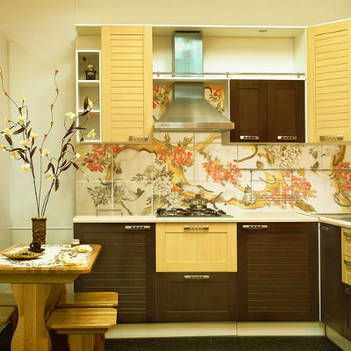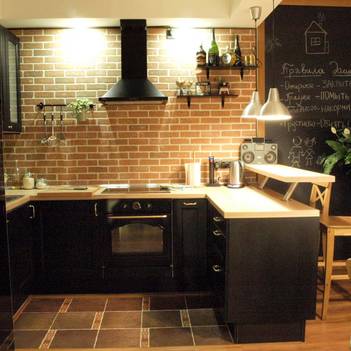 Color for every taste
Since Congolese rosewood is known for its richness of colors, it is quite easy to find an equal partner for it.
Darker tones go well with milky white, cream, pearlescent, fawn, pink-gray (rose ash), steel.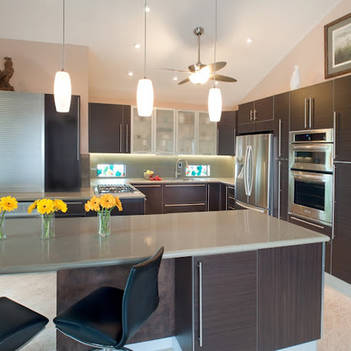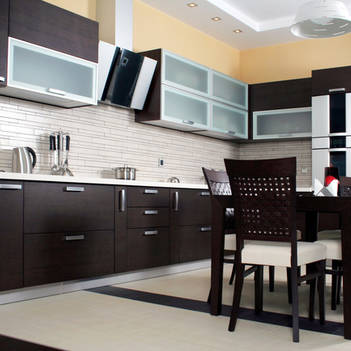 The warm shade of dark chocolate harmonizes wonderfully with burgundy, orange (especially in African style), pistachio, terracotta and vanilla.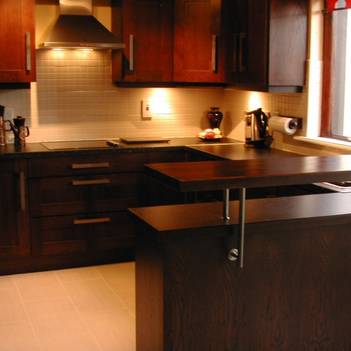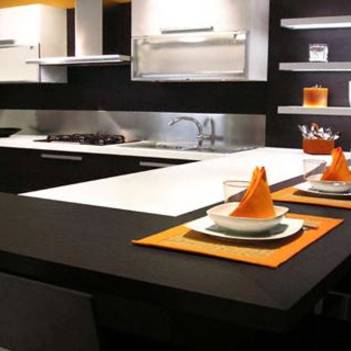 Cold tones of wenge (almost purple with green) coexist peacefully with raspberry, purple and lilac. And with pink, yellow, blue and turquoise, any shades of rosewood are combined. To decorate the window, you can use modern curtains for the kitchen, preferably light colors.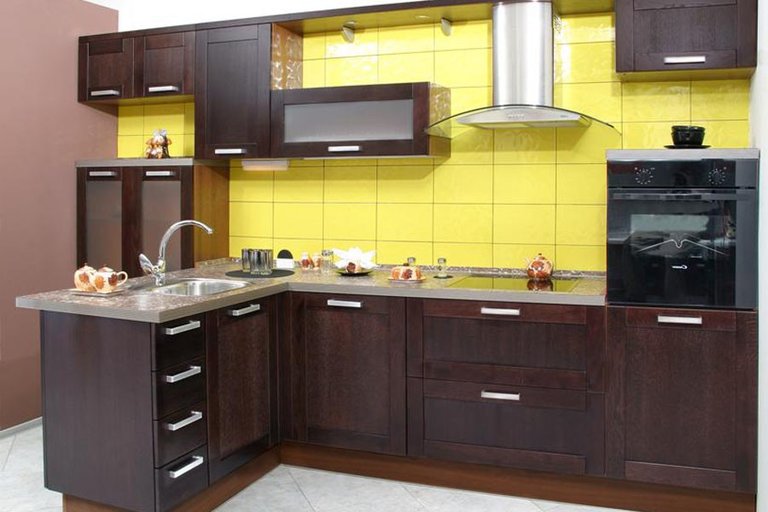 The photo shows a wenge-colored kitchen in combination with a bright green-yellow apron, which successfully sets off a dark furniture set.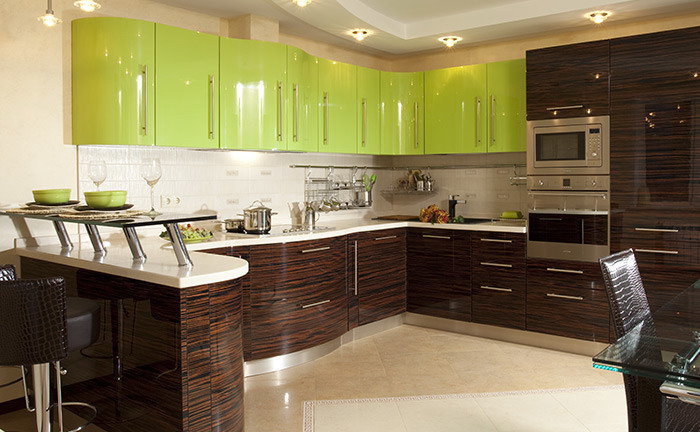 Naturally, there are a few simple rules to follow when choosing a color combination.
Dark furniture visually reduces the space. Therefore, the facades of the kitchen set should be made of lighter varieties of this tree. And it is desirable only the lower part of the set, wall cabinets are better to choose brighter colors.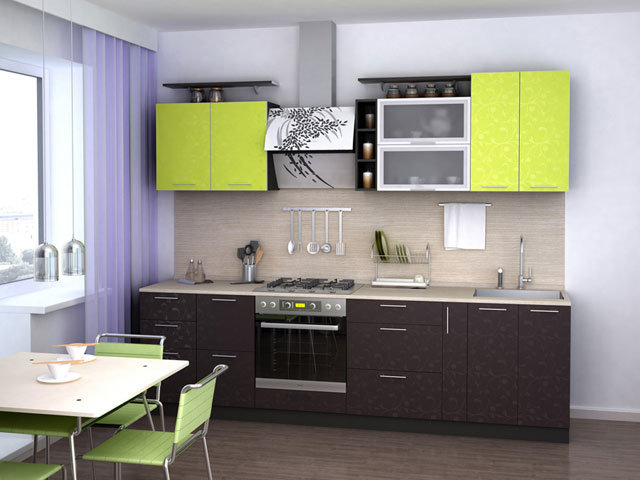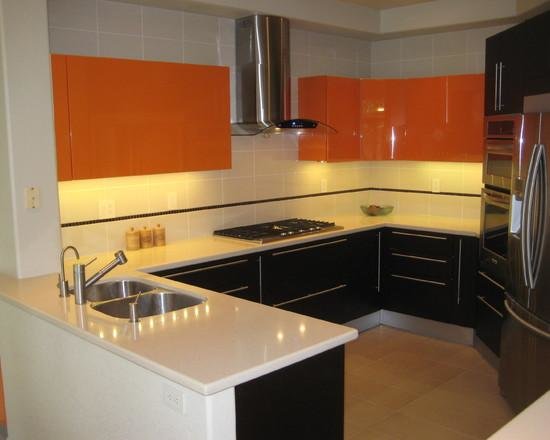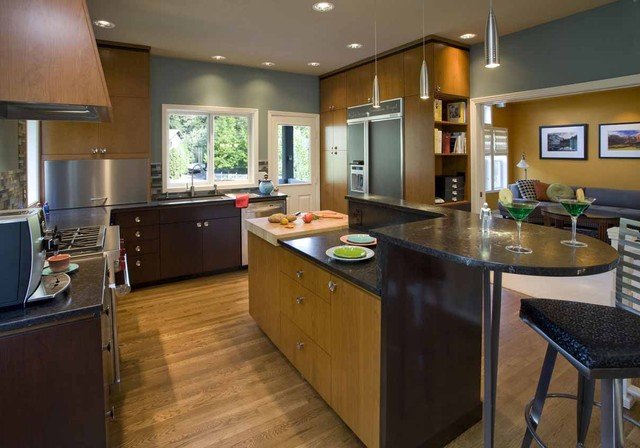 Some asceticism of dark wood will significantly revive the presence of contrasting decorative details. Moreover, it should be borne in mind that the general background of the room should be light and neutral.
For example, three walls and a floor are designed in pastel colors, the apron is bluish or pistachio, and the facade of the headset is chocolate. Decorative elements – lamps, ceramics – can be burgundy, dark red or terracotta.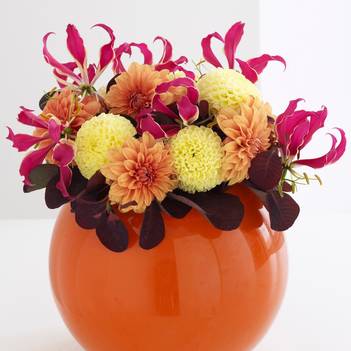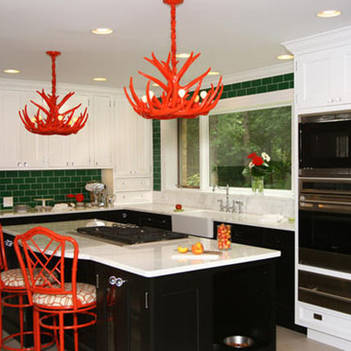 A wenge-colored kitchen will look overly pretentious and a little "defiantly lonely" if only the headset is made in this tone. If it is supplemented with the same window frames, doorways and flooring, then the room will immediately become much more comfortable.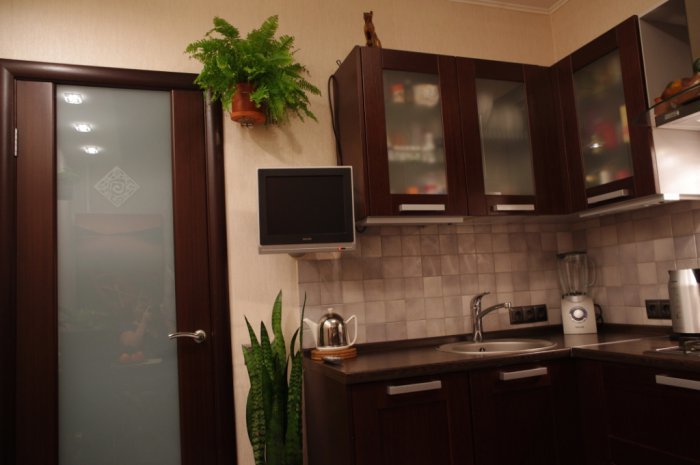 Not wenge alone
It is clear that not everyone can afford to purchase a furniture set made of natural wood. But do not limit yourself in desires – modern technologies cope with such tasks with ease.
Cabinet furniture is most often made of chipboard, and the facades are made of MDF, covered with PVC film in the shade of Congolese rosewood you like.
A work surface made of artificial stone, matched to the tone, will turn an ordinary household room into a chef's studio, where only exquisite culinary masterpieces are created.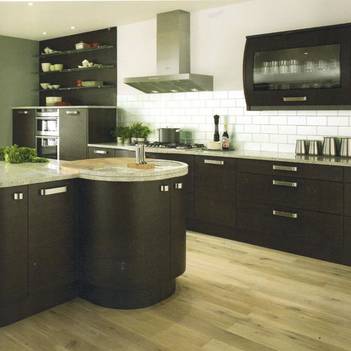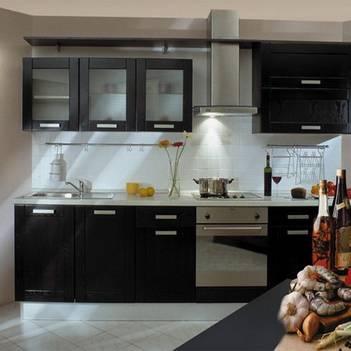 The flooring can also be chosen in wenge colors. But it should be remembered that the facades should be either friendly wood tones (beech, ash, alder), or bright enough, but not aggressive.
For example, the floor is dark wenge, the facades of the cabinets are vanilla-turquoise, the walls and ceiling are in a neutral light tone, and the work surfaces and tabletop of the dining table are in chocolate tone.
Then the room will not be "squeezed", especially when using the contrast of textures – matte "warm" horizontal surfaces and glossy "coldish" vertical ones.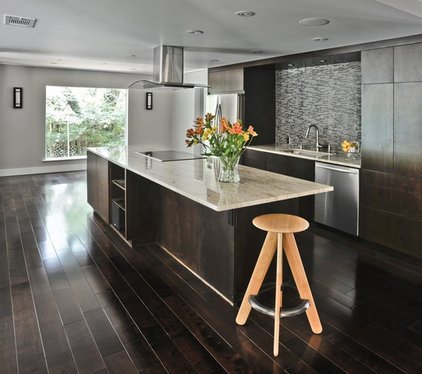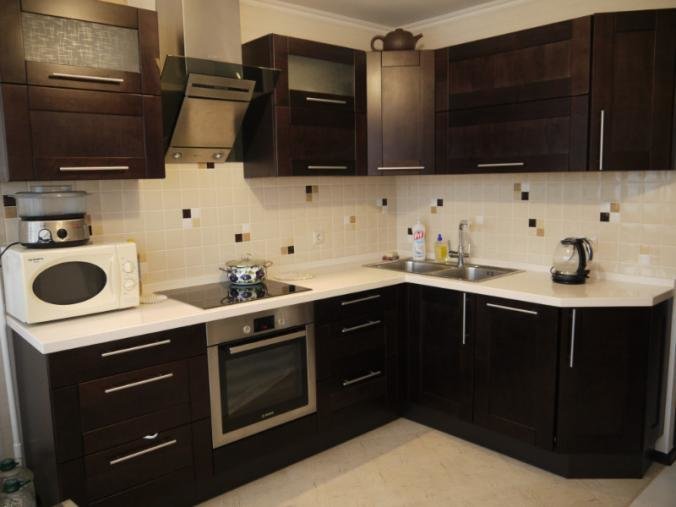 You should also remember about the correct selection of the texture of the base background surfaces. Wallpaper with any color pattern in this situation is categorically contraindicated.
Even if you really want to. Walls with a glossy surface of pastel colors look good – for new wave and hi-tech.
For Art Nouveau, a matte monochromatic surface worked out with curly plaster with a distinct pattern stylized as plant bends is suitable.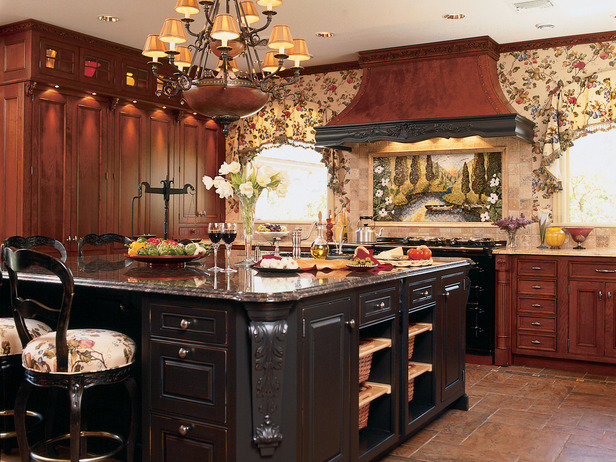 The African style is perfectly set off by walls imitating wild sandstone or light unbaked clay.
By the way, in the latter case, you can even allow children to put their hands, in the literal sense, to remodel the kitchen: prints of children's hands, monochrome drawings imitating the rock paintings of primitive people will turn your kitchen into a unique work of design art.
The only and indisputable condition when working with this color is to measure seven times, and only then chop.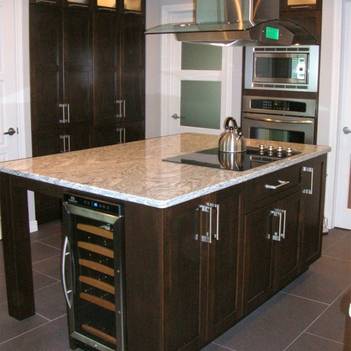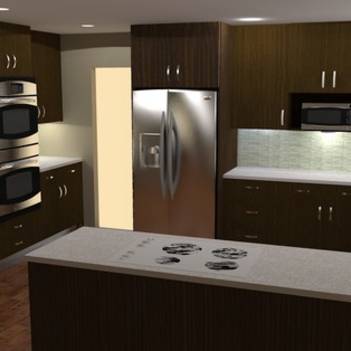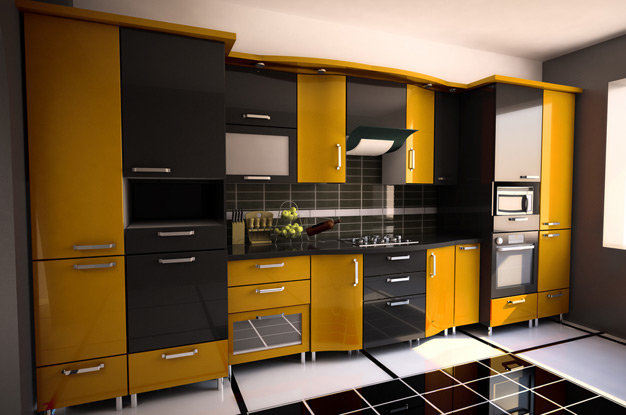 Wenge is a solid, self-sufficient color that requires respect. Therefore, you should be very careful in choosing the tones of partners and antagonists so that your kitchen is a truly stylish space.