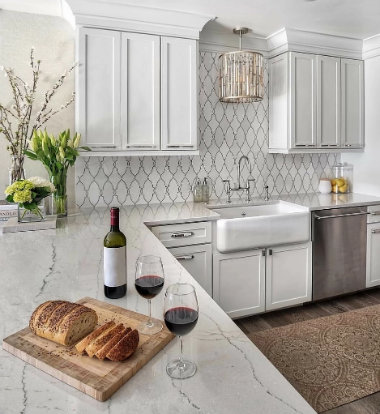 Today I will tell you about solutions that are designed to make the kitchen more adaptable to the influence of an aggressive environment and to simplify our unnecessary body movements for its maintenance.
We will start, perhaps, with the most obvious things – kitchen furniture, and then we will consider everything element by element, from the floor to the fittings.
But, before we start, let's define what exactly is the "indestructibility of the kitchen".
What do experts mean by this concept? In fact, everything is simple.
Indestructibility is the maximum maintenance-free service life of the kitchen.
The longer your kitchen looks good
The less various elements fail in it
The higher its performance characteristics
the more the kitchen is not killed.
Given today's prices for kitchen modules, the above indicators are important.
A good kitchen made from high quality and modern materials can easily last 20-30 years. Think not? Remember how old your grandmother's Polish kitchen set is? Why keep the kitchen for so long, you ask, especially since there is a magic word – fashion?
Comrades, we can responsibly declare that the classics do not go out of fashion, and a properly designed designer kitchen will remain fashionable for a very long time.
Frame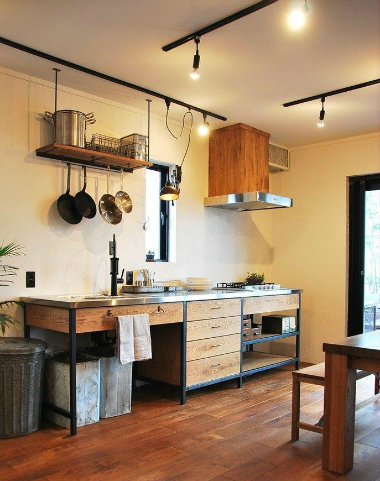 The frame is one of the most important parts of the kitchen, but often customers do not even ask about it when ordering, but only worry about the facades.
And this, believe me, is in vain.
The facades can be changed relatively painlessly, but to replace the frame you will have to undertake major repairs in the kitchen …
Long, expensive and terribly inconvenient. The durability of the frame directly depends on the material from which it is made.
Usually the frames are made of laminated chipboard, fiberboard or MDF. There are few differences between them and the main thing to pay attention to is quality of lamination or coating…
For example, many manufacturers do not film the back and top ends of the frame on which the tabletop is placed.
It is unacceptable.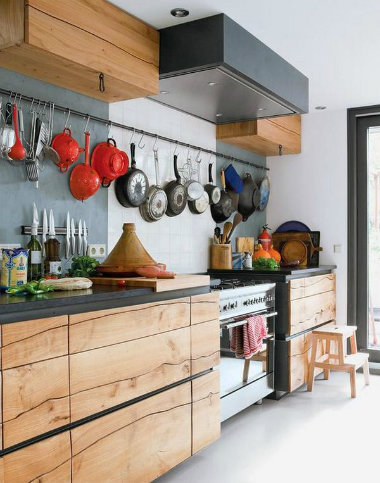 There are also wooden frameswhich are quite durable if the wood is well dried and protected with special means, such as oil or impregnation.
There are also options and metal frames, but they are quite rare, and they are mainly used for professional kitchens in restaurants or canteens (although I am sure there will be firms in big cities that will make such a frame for home cooking).
Summary: The most indestructible option is a wooden or metal frame. And the most optimal in terms of price / service life is made of MDF, laminated on all sides.
Facades
The main kitchen element, which is subject to intensive use and, accordingly, must be reliable and resistant to external influences.
Today, facades are made from many materials. Rather, cover. Facades made of MDF, fiberboard, chipboard or plywood are covered with lamination, film, enamel, varnished, painted, veneered and even glazed.
In fact, it is absolutely all the same on what basis the facades are made – everything is decided by the finishing coating.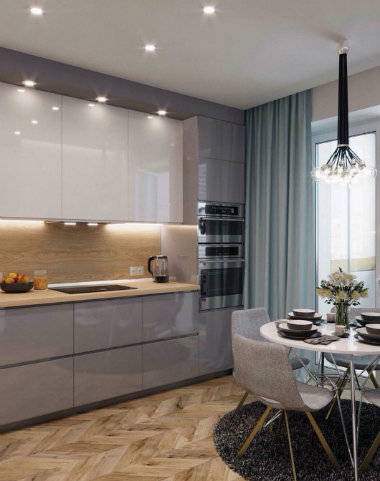 Traditionally, it is said that it is the basis of the facades that plays a decisive role in the durability and indestructibility of the kitchen.
The quality of the coating itself and the technology of its application – these are two pillars on which the resistance of facades depends.
I would not like to burden you with different terminology in relation to the technologies of all these facades, for the simple reason that it is sometimes difficult even for a professional to understand them.
Of course, we will consider the differences between different coatings, but only the main ones.
Some of the cheapest, but quite resistant facades are laminated… If you see the joints on the panels, there is an edge, there are visible seams, then most likely in front of you is a laminated chipboard or fiberboard panel.
Do not expect high performance from it. However, do not forget that it is your attitude towards furniture that makes it durable.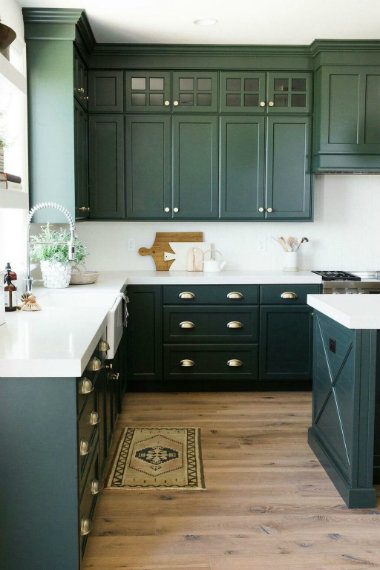 The same can be attributed to veneered facades, with the only difference that veneer is a natural material.
Are persistent enough film facades… This is when the facade blank is covered with a film on special equipment.
Such facades have no joints or edges, and look solid. As a rule, they are very moisture resistant, although they are not always resistant to high temperatures (for example, they are adversely affected by the constant exposure to steam from an electric kettle).
An excellent solution for the kitchen can be acrylic facades… A thin layer of hardened acrylic is glued to the chipboard. It is prone to scratches and touch stains, as it is glossy, but reacts almost neutral to other irritants such as grease and dirt. By the way, acrylic facades can be found on an aluminum frame, as well as glass.
Glass the same facades, one of the most expensive, but almost eternal. To disable them, you have to literally smash them. They don't care about sunlight, dirt, grease, or aggressive cleaning products.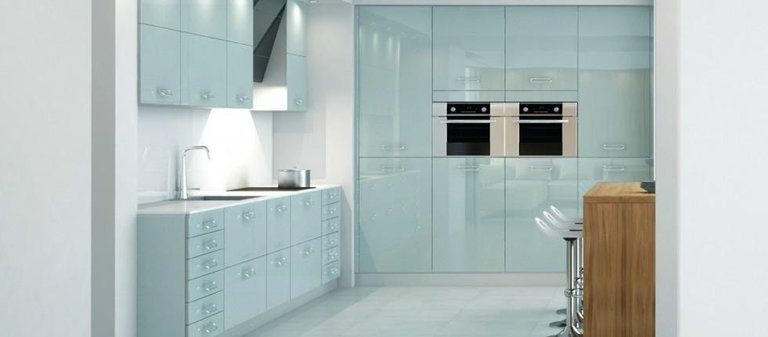 It is impossible not to mention metal facades… Previously, and even now, they remain the prerogative of professional kitchens in restaurants, cafes or industries. But they are gradually entering home cooking. Practically indestructible, but easily soiled and limited in colors and textures.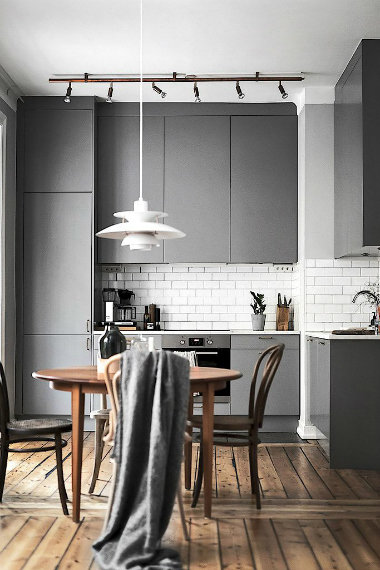 And of course the tree. Solid wood – these are classics and kitchens with such facades will always be in fashion. The only drawback of wooden facades is the reaction to moisture.
Sometimes the tree can twist or change color somewhere. It is difficult to wash it. Over time, the facade may even become loose. Therefore, take responsibility with the choice of a company that will make you a solid kitchen.
Table top
The situation is the same with countertops. A lot of materials for the manufacture of countertops and a small basket.
The same chipboard with MDF, wood, acrylic, concrete, marble, granite, metal, glass and various mixtures of these materials. For any wallet. And all of them have rather long terms of wear resistance.
Main article: Review and comparison of materials for kitchen countertops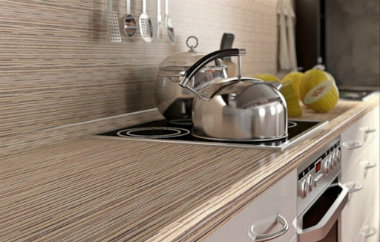 Have the smallest term laminated chipboard countertops… Their service life is approximately 5-7 years. They quickly become covered with scratches, sometimes swell at the joints, especially if the joints are covered with aluminum strips, they often react poorly to high temperatures and aggressive detergents. True, they are the cheapest.
Very resistant to almost all operational loads countertops made of artificial stone or polymer concrete… Not killed in the full sense. But, it can be broken.
Natural stone countertops are almost impossible to "kill". Their disadvantages include relative fragility, over time they can spontaneously crack or even split, are very heavy and, as a rule, dock.
Acrylic countertops can be poured locally in any size and shape. They are quite durable, but they can scratch and react to harsh detergents. However, this countertop is easy to restore with regular sanding. Chips or cracks can even be easily repaired. Not only that, they can be transparent and backlit, which gives shine-chic.
Glass countertops are good in terms of their indestructibility in terms of resistance to mechanical stress and any dyes, but if you manage to break it in one place, it will crack all over and you will have to change it completely.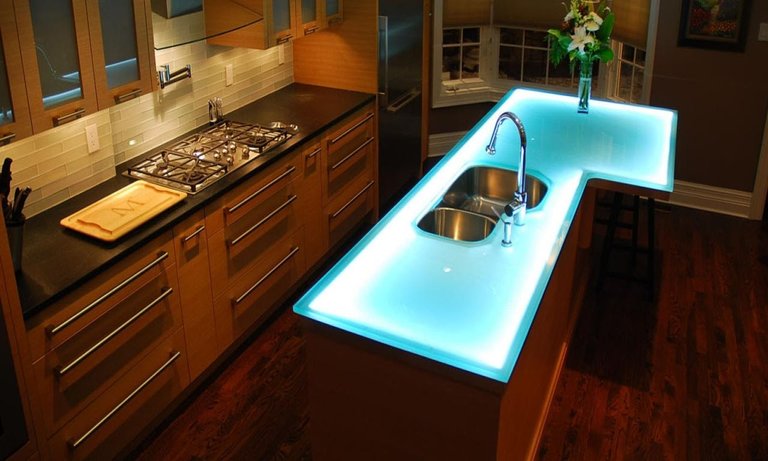 Wooden, of course, is beautiful, natural and durable. Various impregnations and varnishes give them their durability. Relatively expensive, especially made of solid wood slabs. Alas, they are subject to natural changes, the appearance of stains, and cracking. But, their service life can be surprisingly long – from 15 years and more, depending on the type of wood.
Summary: We consider natural stone, agglomerate and concrete to be the most indestructible material for the kitchen work surface. The most affordable with a good service life is MDF.
Apron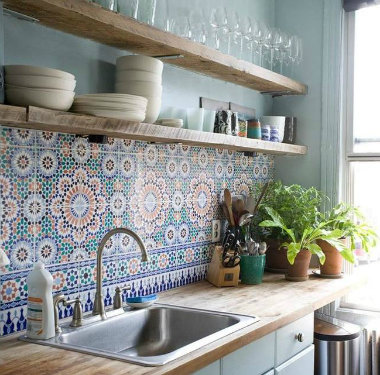 Although an apron in the kitchen is important, it does not particularly affect the indestructibility of the kitchen. Its main function is to protect the wall from moisture and dirt, plus a design component.
The most practical solution – ceramic tile. Affordable and 100% justified.
However, it is worth mentioning that the aprons are made from the same materials as the countertop. All these solutions differ among themselves by the method of installation and the thickness of the material used.
You will not see much difference in operation between tiles and, for example, glass, since the apron, I repeat, carries a minimum load. So when choosing it, proceed from the design of your kitchen and financial capabilities.
Read also: What is the best apron for your kitchen?
Plinth, plinth and handles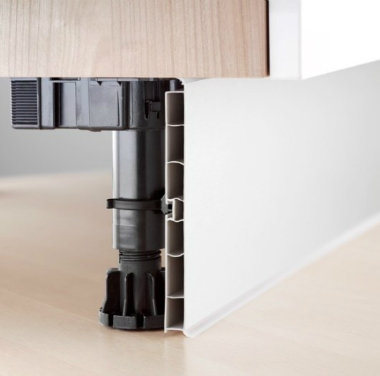 If speak about plinth, which covers the lower part of the kitchen and the legs, this element is usually made of the same material as the kitchen itself.
And the first thing that goes out of order is the base, since when washing the floors it is touched by a mop and often it ends up in the water. Add to this the constant contact with the shoes.
If the ends of the base are not closed (especially the lower one), then after a few months it will begin to swell. Because of this, many people prefer not to make a base at all, but leave beautiful legs.
There are solutions when, instead of a baseboard, special boxes or nets on wheels are pushed under the kitchen, which saves space and makes the space under the lower tier of the kitchen usable. In any case, the base can always be ordered from other materials or made with special silicone linings. Be sure to pay attention to this element of the kitchen.
Worktop plinth plays a protective and decorative role.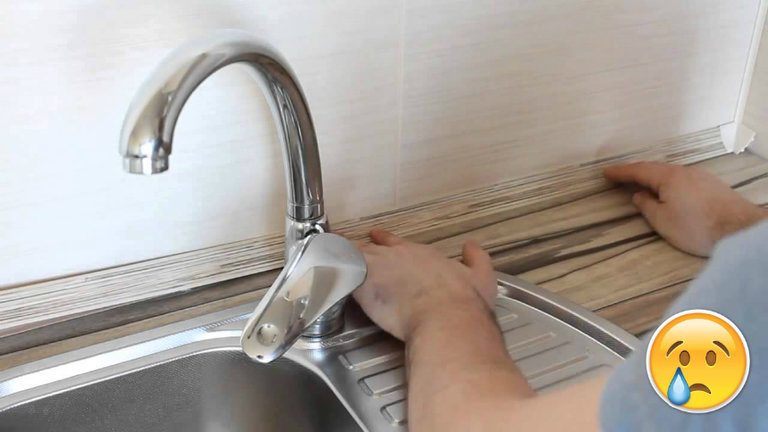 It prevents dirt and water from entering between the worktop and the wall.
But I must say that the skirting board is an element of rather cheap kitchens.
Usually, such a joint is simply siliconized, or silicone overlays are used on the tabletop, which in turn is simply pushed under the apron (provided that everything is done well).
In expensive, branded kitchens that do everything on a turnkey basis, sometimes there are no baseboards at all, or they are made of an apron material or are supplied with a countertop.
About pens we can say that the most resistant are certainly metal.
However, it doesn't even matter what kind of metal they are, patinated or coated with something, all that affects them is just a form. The complex external handles are the most difficult to care for. The easiest way is behind hidden handles. You can choose fronts without handles at all, which are already profiled for a grip to open the kitchen module, or by pressing.
"Life hacks" of the indestructibility of the kitchen
Here are some more practical tips, based on my experience, that will help make the kitchen more tenacious:
The fewer joints, generally the component parts, the better. Water can penetrate all joints, so they must be properly closed.
Absolutely all parts of the kitchen should be edged and covered from all sides. If you see a detail with an open base (chipboard, fiberboard), then the kitchen is clearly budgetary and may be of poor quality.
The simpler the kitchen (style) – the easier it is to care for it. For classic kitchens, due to the abundance of panels and various decorative elements, it is very difficult to care for.
Despite the general opinion that glossy kitchens are not very practical, it is easier to clean and maintain them than matte ones.
If it is possible to protect some surface, do it. For example, place a pre-dryer near your sink. Or use silicone feet for doors and drawers.
Do not use abrasives to clean the kitchen.
Summarizing all of the above, we can conclude that the kitchen can be assembled quite stable and it will serve you for 10 years or more. Of course, if it is adequately looked after and exploited. But the most important thing is your attitude to the kitchen. Only it can make it truly durable and indestructible. Take care of yourself and your kitchen!
How many years has your kitchen served and what is the secret of such longevity? Share your experience!