Welcome to our updated post Chinese style kitchen: photos of interiors, design rules
.
Therefore, having decided on such a room design, it is necessary to approach this issue extremely carefully, realizing the importance and uniqueness of each item.
A Chinese-style kitchen, as will be seen in the photo, should be as natural and serene as possible, and also, in many cases, comply with the postulates of Feng Shui.
Distinctive features
So, if you are determined to figure out something similar in your own kitchen, then you should understand that Chinese, as well as other ethnic styles, has its own key characteristics. In particular:
the use of natural materials;
special room zoning and decoration (feng shui);
artificial lighting close to daylight;
lack of massive furniture;
the most natural color scheme;
the presence of drawings and symbols typical of Chinese culture.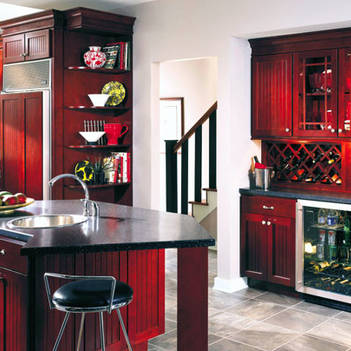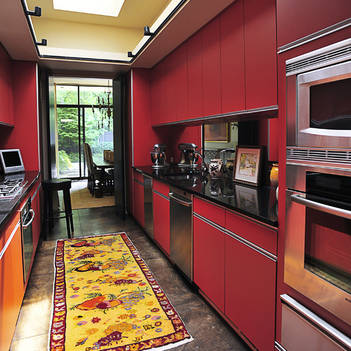 Such nuances will allow you to get an interior that ideally matches this design direction without special financial costs.
Color solution
The Chinese style is striking in the saturation of natural colors.
When decorating your kitchen, you can safely use any shades of red, yellow, orange, golden, black, sand, dark chocolate, white, cream, olive, dark green.
The main tone in many interiors is either red or dark wood. Accordingly, brown furniture and light walls will look beneficial, for example.
Even if you decide to give preference to white headsets and finishes, you still have to provide for a few dark elements, because without them the interior will not be classic Chinese.
Finishing methods
When choosing materials for wall decoration, give preference to silk-screen printing or paper wallpaper.
It is better to use ceramic tiles for the work wall. For more exclusivity, paint your painted walls in a traditional Chinese style.
A more expensive but highly aesthetic finish is cork panels.
The ceiling is light, but if such a solution seems too boring and trivial to you, you can build an original structure from rectangular wooden beams. A stretch ceiling is also allowed, but it should not be glossy.
The best option for flooring is laminate, parquet in brown-red or rich golden hue.
If the walls are finished with cork, then a similar material can be used for the floor. Such a Chinese-style kitchen, as you can see from the above photos, conceals home warmth and comfort.
Furniture
When choosing a project for your headset, be guided by the straightness of lines, the smoothness of the facades, which are traditional for oriental styles, as well as special fittings.
If you find pieces of furniture decorated with Chinese characters or ornaments, then you should consider buying them. Such things instantly add the necessary ethnic notes to your interior.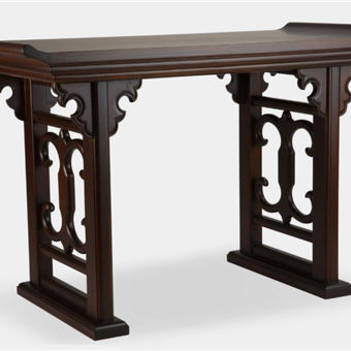 Furniture items made of mahogany, elm, oak, rattan, bamboo will look most advantageous.
Facades can be solid or with the addition of frosted glass. It is better to choose a table top made of marble or artificial stone.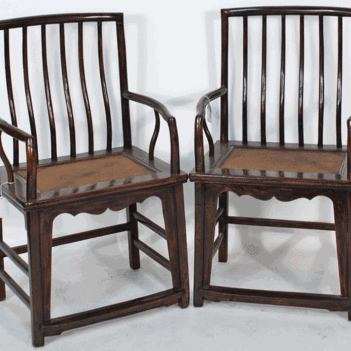 The dining area table does not have to be wooden. You can choose a glass model for yourself.
Ordinary chairs will help to complement the headset, without pretentiousness. If you choose a low table for yourself, then you will need small ottomans or pillows.
Decorative elements
Despite the abundance of ethnic accessories, they should not be placed everywhere. Two or three bright accents will be enough.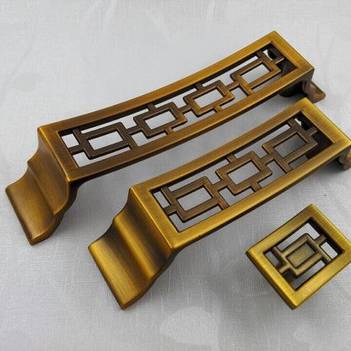 These can be figurines of gods, fans, fresh flowers (bamboo, orchid), Chinese lanterns, traditional sets of dishes for tea, painted vases, and more. Such elements can revive the kitchen, give it individuality and exclusivity.
If you want to get an interior that can give you peace of mind, then a Chinese-style kitchen is the perfect solution. The resulting design will be imbued with harmony and vivid personality.