Pros and cons
As you know, the layout does not always allow you to place a full sofa or corner, table and chairs. In this regard, you have to choose one thing and, quite often, the choice falls not in favor of the kitchen corner. But in vain, because he has a number of advantages:
Buying a kitchenette is often more profitable than purchasing a set of chairs. Of course, unless you decide to take the cheapest plastic ones, which are more often used for picnics in nature than for furnishing rooms.

In a small kitchen, a corner is ideal

, since it perfectly fits into a free corner (in addition, there are special options designed for small-sized rooms).
Aesthetic factor – in most cases, the corner looks much more interesting than chairs. The variety of upholstery options and the outer side of the frame give you the chance to find a model that fits into the style of your kitchen.
Usually padded seats hide extra drawers, so as a bonus you get extra storage space for kitchen utensils.
Everyone will agree that sitting on sofas is much more comfortable than sitting on chairs – a trifle that greatly affects the atmosphere of family gatherings.
There are a couple of conditional cons.
A standard kitchen corner is designed for 5-6 seats – there may not be enough space for those who are used to having dinner in a large company.
Is your kitchen too narrow or has a non-standard configuration? The triangular sofa will have to be abandoned – it may simply not fit.
Knowing the above advantages and disadvantages will help you make the right decision when choosing a kitchen corner. However, this is not all. There is another important aspect – which corner sofa should you buy? Let's see what types of corners manufacturers offer us.
Hard or soft?
It's not just about personal preferences: there are objective parameters to which you can't close your eyes.
Hard corner sofas are more practical – the upholstery material is usually dirt-resistant and less dense. And they are cheaper. On the other hand, they are not very comfortable to sit on. This problem can be solved by purchasing additional pillows.
By purchasing couch, you need to pay attention to the upholstery. The model can look great in the interior … Until the first dinner! Make sure that the fabric or leather is dense and easily cleaned of dirt – otherwise the purchase will delight you for a maximum of a couple of days.
The form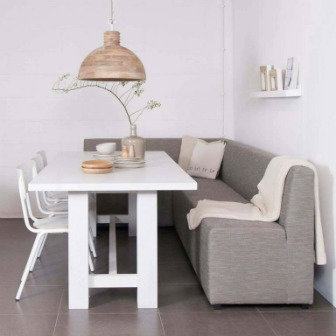 If you have a small kitchen, think about a two-piece corner – the L-shaped structure of large and small sofas looks good even in the smallest room. True, they are not very popular, since they are designed for only 3-4 seats.
The three-section design is much more familiar: a traditional corner sofa with a small central area takes up more space, but is much more comfortable in everyday life. In addition, it is in such models that there are often additional options – hidden drawers or a berth.
Choice of body material
If you are in favor of sustainability, the best choice is a sofa with a wooden base. A simple wood corner is perfect for a classic kitchen. Natural materials, elegance and … quite high cost. In addition, such a body limits design solutions – not all upholstery will look appropriate. A more budgetary analogue is chipboard or MDF.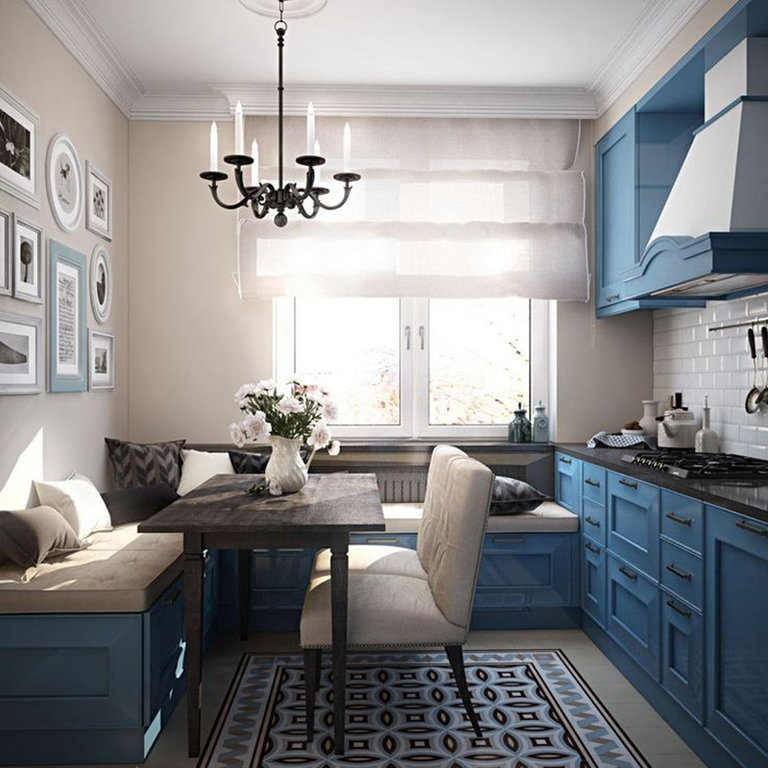 However, the same can be said about the metal frame – it looks much more modern, but velvet embroidered seats are unlikely to suit it. Therefore, here we advise you to focus on the overall style of the kitchen.
Designs and content
Having dealt with the general recommendations, let's consider what types of kitchen corners are according to design features:
With drawers inside

… If you look at the photo of such a sofa, you will hardly notice anything unusual in it. However, this model is very convenient to use: the soft surface of the seat hides a sufficiently capacious container for dishes and other kitchen little things. It's usually enough to simply flip open the top corner panel to access the hidden cabinets – very practical when you think about it.

With shelf

… Not the most popular option that really deserves attention. A couple of shelves are attached to the sofa on the side, on top or … in the middle, instead of a corner seat. If you have a small kitchen, you will surely appreciate this addition. Another popular model – with shelves stacked above the seats – essentially converts a separate piece of furniture to complement a corner.

With a bar counter.

In fact, this cannot be called a unified structure in most cases – most often it is an attached element that acts as a bar. Convenient and interesting from a stylistic point of view.

Kitchen corner with built-in bed

… A universal solution for a studio apartment or for those who often leave their guests to spend the night. The kitchen corner, which with a slight movement of the hand turns into a full-fledged sofa, is a real salvation in these situations. French folding bed, pull-out units – different pull-out systems will help you choose exactly the furniture that suits your kitchen.

For bay window

… Do you have a custom kitchen with a bay window? We recommend that you use this and get a kitchen sofa that exactly matches its shape. This will not only help to rationalize the space, but it just looks beautiful. True, the cost of custom-made furniture is much higher. But the result will be appropriate.
As you can see, kitchen corners are very diverse. Therefore, we are sure that it will not be difficult for you to find the ideal option for your kitchen.