Even in a modest room, you can equip a comfortable eating area.
The above information will allow you to choose the right kitchen tables and chairs for a small kitchen, "squeezing" the maximum possible from the available square meters.
What are the tables for a small kitchen
According to their design, tables are round and oval, square, rectangular and triangular. On sale you can find models of non-standard shapes.
Furniture geometry – this is an extremely important selection criterion, especially when it comes to a small room.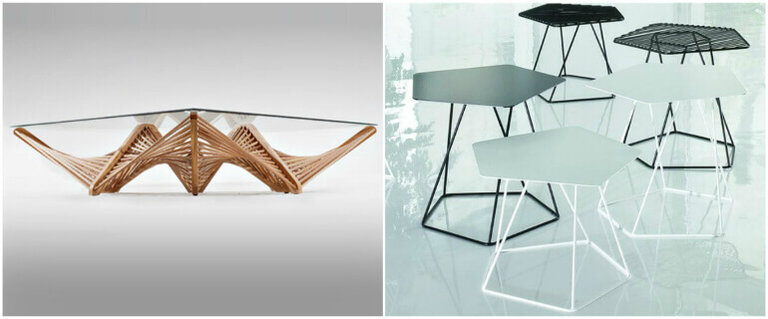 It has an impact not only on the visual perception of the environment, but is a key factor responsible for the comfort of people staying in the kitchen.
Rectangular
Rectangular kitchen tables Is the most familiar solution for us. Often they are located against the wall, but in this case, one or two members of your family will see a blank wall in front of their eyes while eating.
This problem can be solved by placing a table in front of a window. This idea can only be realized with a suitable room configuration.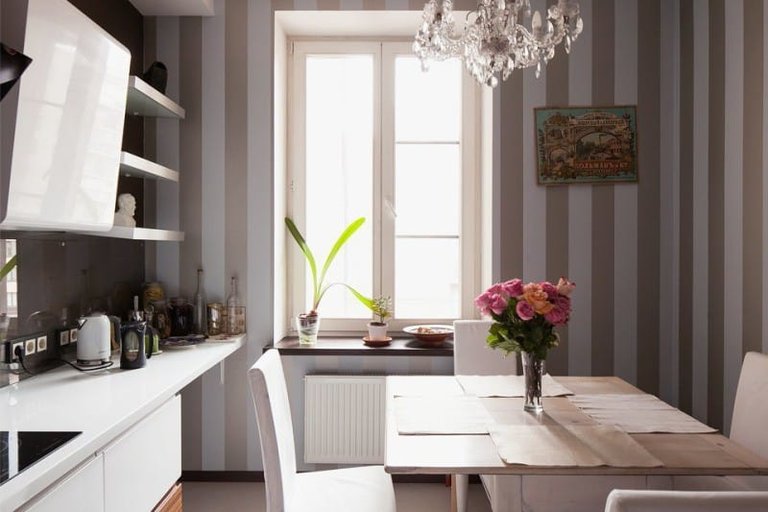 On a rectangular table top it will be possible to place a sufficiently large number of dishes and utensils without embarrassing the people sitting behind it.
The disadvantages of rectangular models include the presence of sharp corners. In confined spaces this can be a real problem.
Especially for children aged 2-4 years, whose height is approximately commensurate with the height of the tabletop. It will be difficult to avoid bruises and bumps.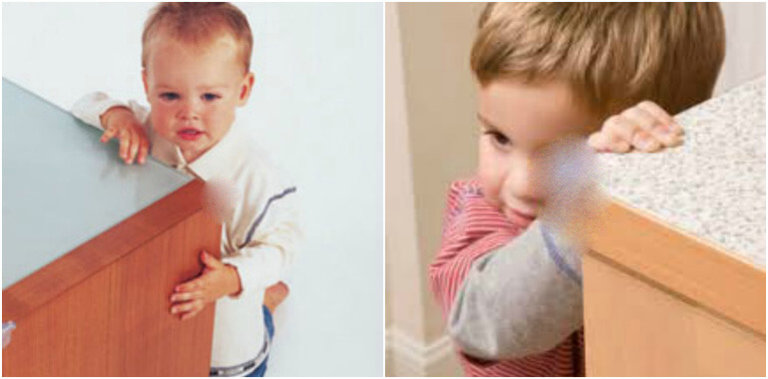 Round
Visually, round tables look lighter and more compact. They conceal notes of home warmth and comfort, harmoniously combined with both modern and classic interior solutions.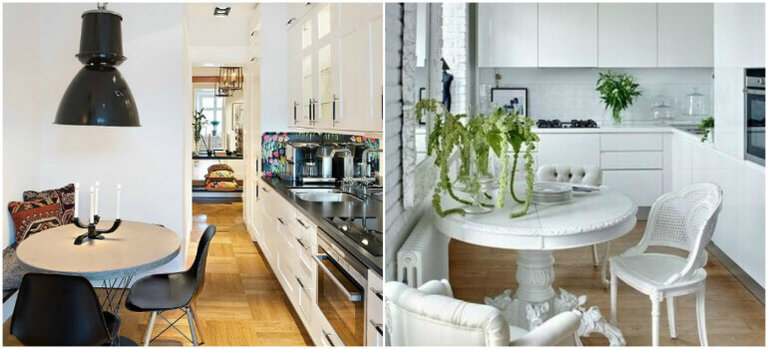 Before choosing for yourself this option, think in advance about where it will stand. It is not entirely rational to place it in a corner, because two people, no more, can comfortably sit behind it.
You also can't put it in the middle of a small room, because you will have to go around it all the time, constantly clinging, which in itself will cause inconvenience.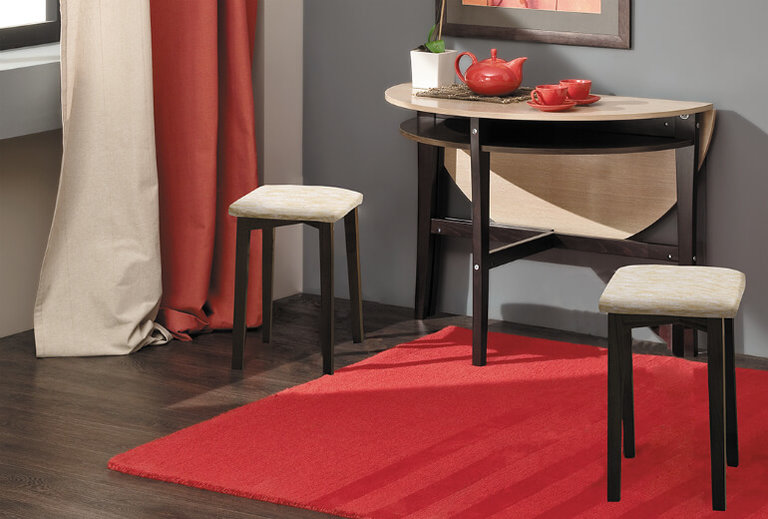 If you still want to have a kitchen table with a smooth, rounded top, look at the semicircular models. They are attached to a free wall.
Transformers
The most convenient and advanced solutions of our time for arranging a comfortable dining area in a small kitchen are transforming tables.
At first glance, compact interior items can provide a large number of seats. To do this, you just need to unfold the tabletop.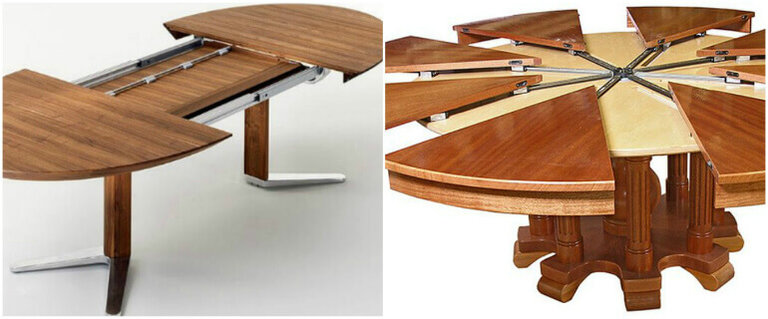 Most modern models are equipped with elementary transformation mechanisms that allow you to unfold the table in two or three movements.
Compact dimensions allow you to place them where other tables will not fit. If necessary, you can move them to another, more spacious room and organize a full-fledged feast for a large number of invited guests.
If you decide to buy such a model for yourself, pay attention to the transformation mechanism: a retractable surface, an additional tab, an attached "wing", etc.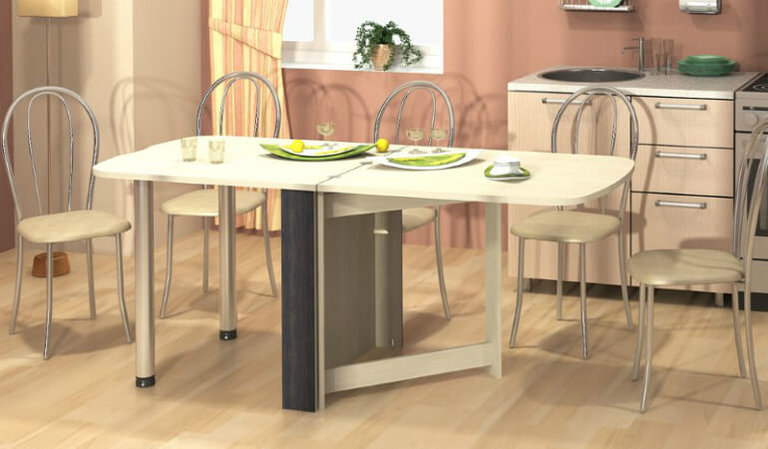 What are the chairs
It is almost impossible to arrange a few chairs in a small room, but at the same time, you and your family members will not stand up for breakfast, lunch and dinner.
Therefore, the selection of kitchen tables and chairs for a small kitchen should be done with great care. It is advisable to do this at the same time, making up a stylish and harmonious set.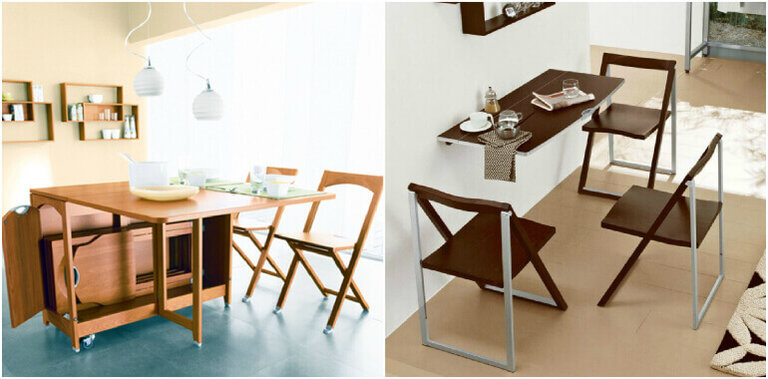 Collapsible or stackable models are the optimal solution. After eating, they can be removed under the table or placed behind it, folded and hidden in the closet, or taken out to the balcony.
Consider the most popular and demanded variations for small kitchens.
With back
Chairs with backrest are distinguished by increased convenience and comfort. If the size of the room allows you to place several such items, give preference to models made on a metal frame.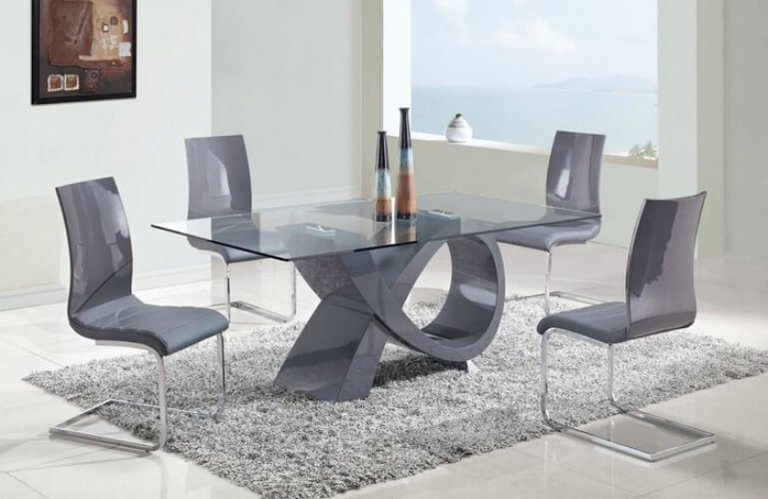 Natural wood visually looks heavier and more massive, which overloads the surrounding space. But admirers of classic interiors cannot do without them.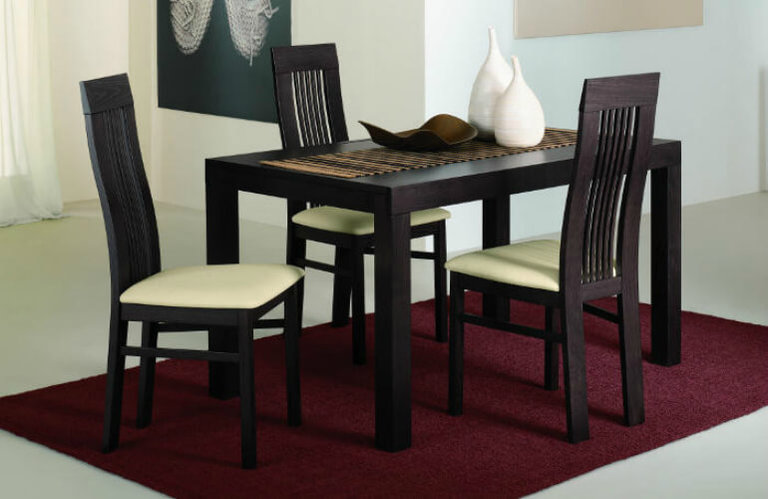 Original, chairs made of transparent plastic will look light and weightless. A rich color palette will allow everyone to choose such models that ideally complement the given range in the design of the kitchen.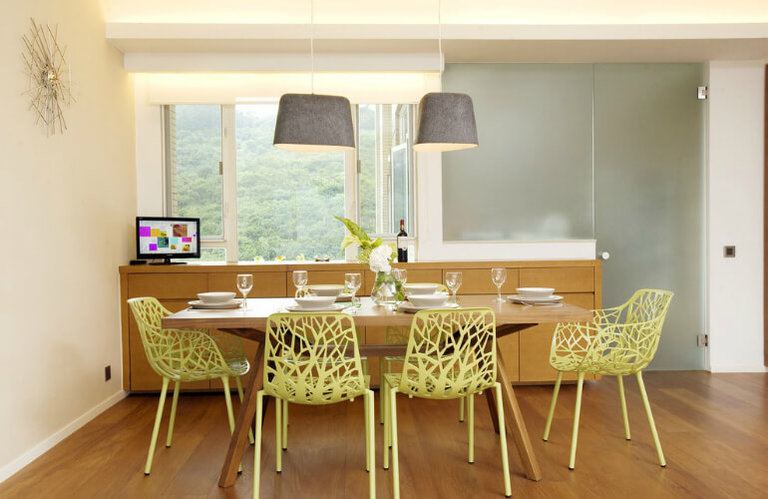 Stools
For particularly modest in size rooms, the only possible option are stools. Small size, mobility, storage under the table – these are their most significant advantages.
Popular today are stools on a metal frame with upholstered seats. They are quite comfortable and stylish. The variety of colors makes the choice wider.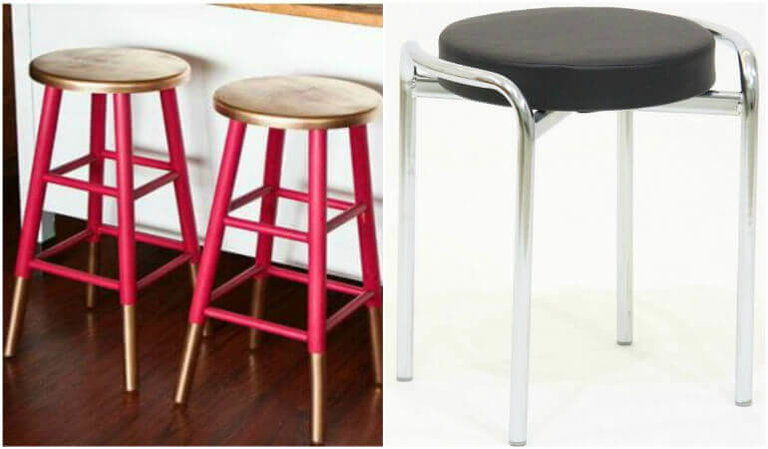 If you have the opportunity and desire, you can buy two chairs with a back, placing them on the sides of a rectangular table and similar stools.
Several of them will be stored under the countertop, pulling out when eating, while others can be stored in a closet or balcony, getting out in case of the arrival of guests.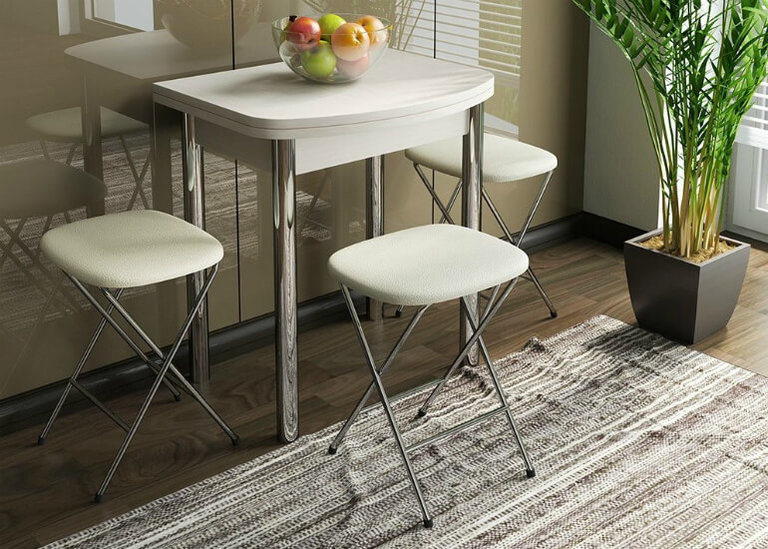 Bar
Bar stools will be required by those who have a high modified table in the kitchen. They do not clutter up the room, they bring a touch of sophistication and sophistication into it.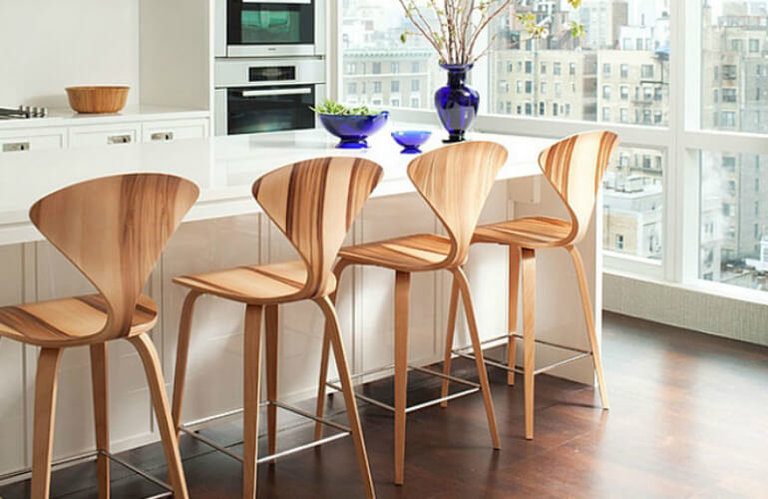 Such furniture differ from each other:
height;
frame material and color;
the presence of leg support;
the presence of a transformation mechanism;
a seat, which can be wooden, plastic, leather, etc.;
shape and style.
Models with high and low backs or without them are on sale.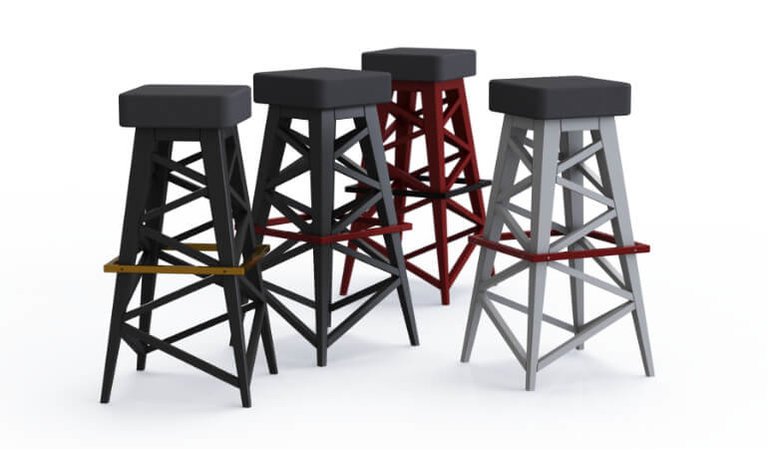 Mini sofa
Small sofas can endow the eating area with increased comfort. The most commonly used corner models. They provide a large amount of comfortable seating.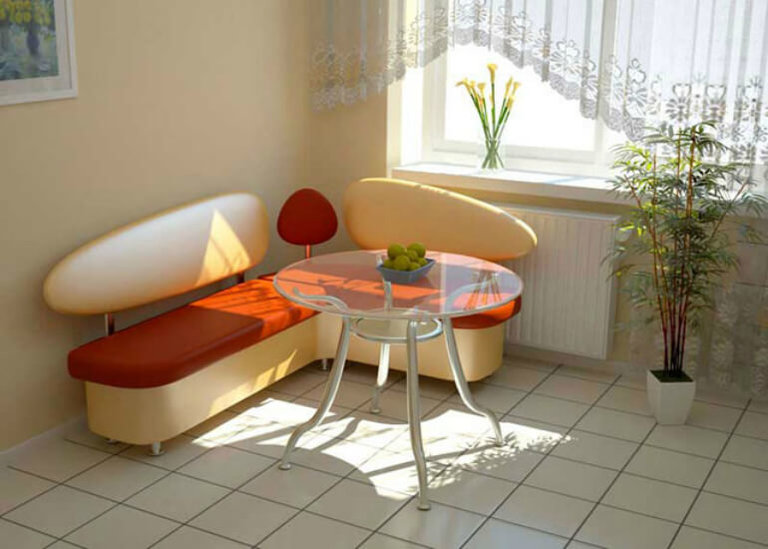 On their basis, you can equip not only a corner for eating, but also a full-fledged workplace for working with a laptop.
Also, it will be possible to sit comfortably on it while watching TV programs and films.
Children who are accustomed to learning lessons, reading or drawing while mom prepares food will definitely appreciate the benefits of such upholstered furniture.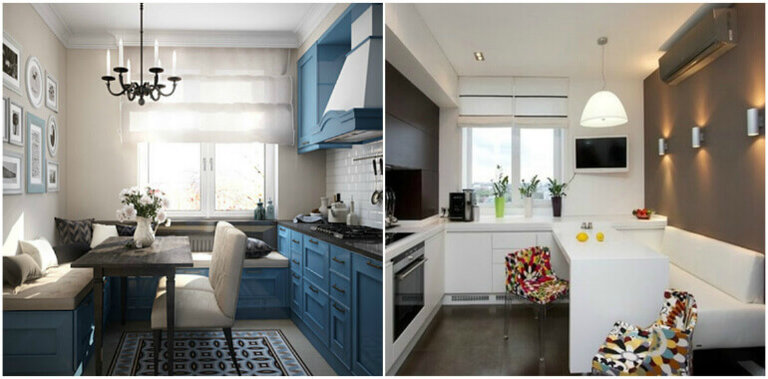 In the selection process, it is worth giving preference to models with a straight back. The presence of armrests will complicate the process of seating at the table too much, so it is also better to refuse them.
Do not forget to make the appropriate measurements before purchasing a model that looks like it. It should fit perfectly into the allotted space.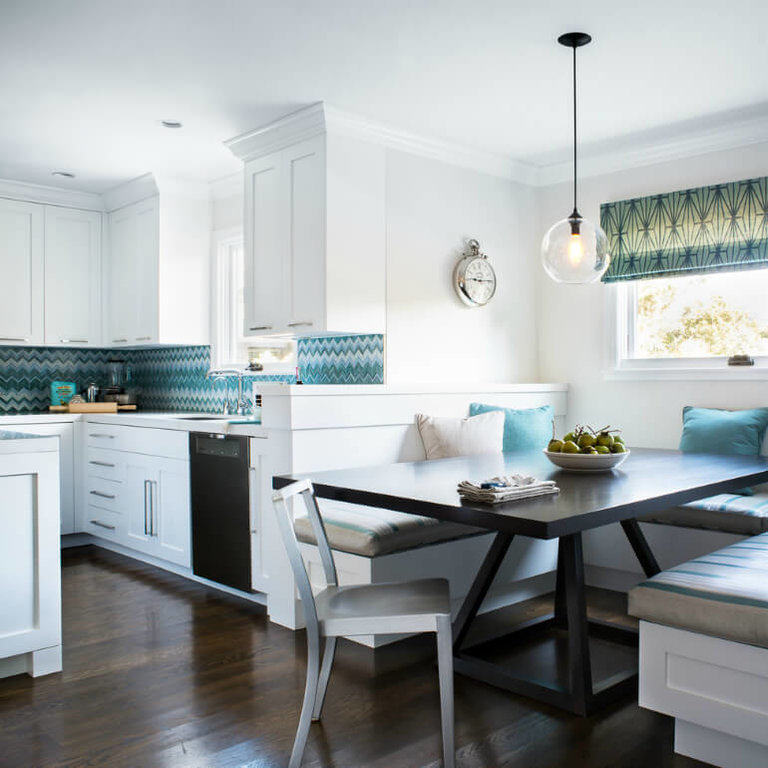 In a small kitchen, every centimeter of free space is important.
Some corner sofas are equipped with built-in drawers under the seats. You should take them as additional storage space for things that are in the kitchen in a fairly impressive amount.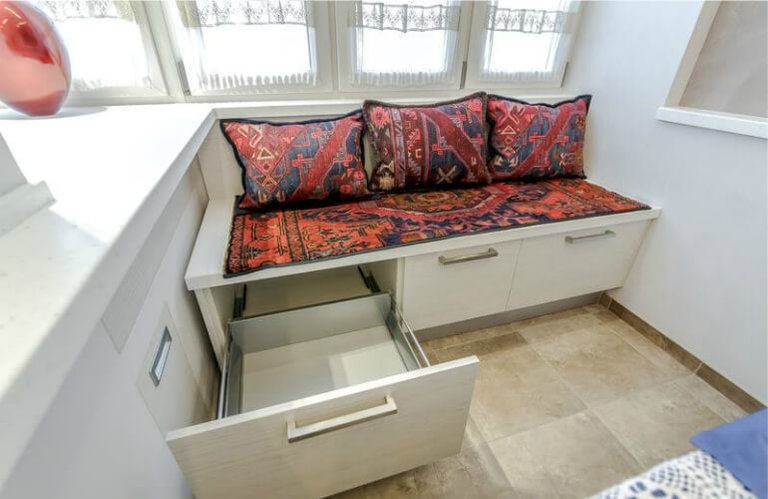 How to choose and what to look for
The kitchen is a rather specific room in the house.
Temperature drops, fumes and soot emitted during frying, high humidity, constant presence of a large number of people, the presence of pets – all this leaves its mark on the choice of interior items.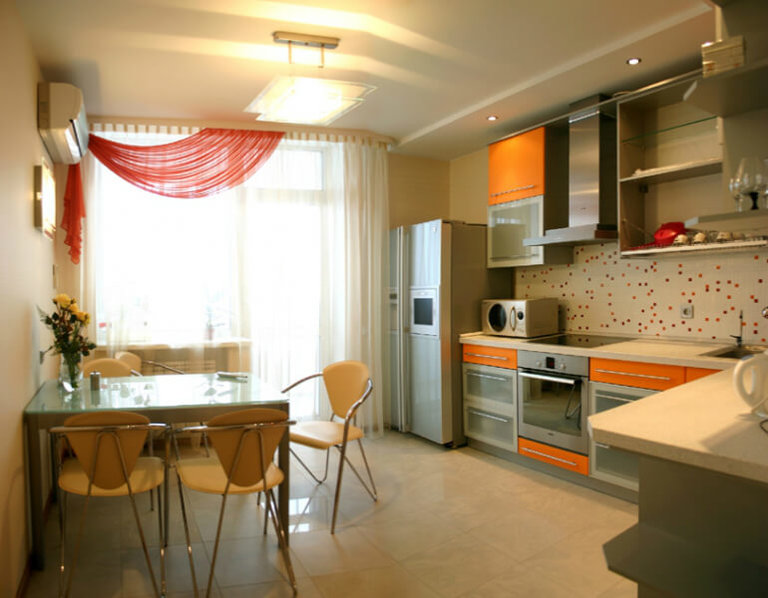 Therefore, when starting your search for furniture, pay attention to its characteristics such as:
moisture resistance;
wear resistance;
practicality;
ease of care.
Do not forget about the correspondence of the color and style of furniture to the design of the kitchen, as well as the aesthetics of objects and ease of use.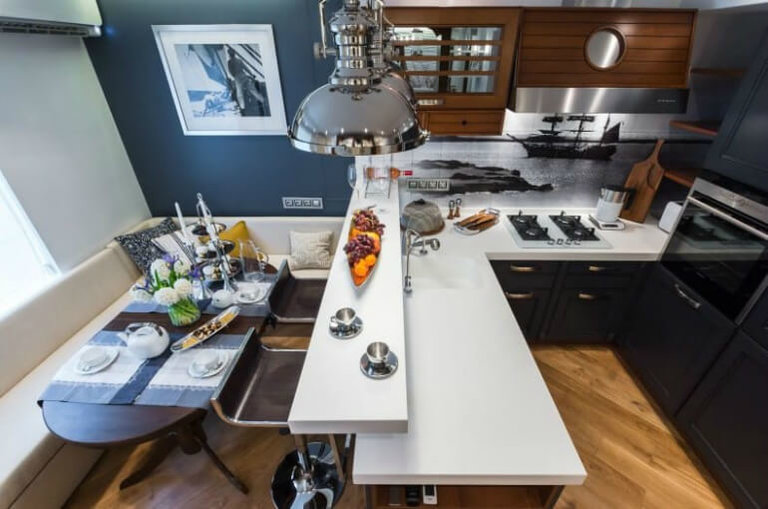 Tables
Before you go in search of the perfect model of the kitchen table, determine the place in which it will stand.
This will help you find out the dimensions of the furniture. Be sure to pay attention to the advice of designers:
Choose a table in accordance with the style of the room. Contrasting models will attract views, disrupt the harmony of the environment, and make the room visually smaller than it really is.

Evaluate the durability and practicality of the materials used in the manufacturing process. The reliability of fittings also plays an important role, which is especially important for transforming tables.
Models equipped with additional drawers for storing kitchen utensils are endowed with increased functionality. At the same time, the convenience of use should not suffer.

Too thick a tabletop will make even a small-sized product heavier and more massive. Dark colored models will create a similar visual effect. Therefore, give preference to furniture made of light or transparent materials, in particular glass.
Optimally position the table and kitchen set along two parallel walls. The distance between them should be at least 60 cm, otherwise it will be inconvenient for you to move around the room.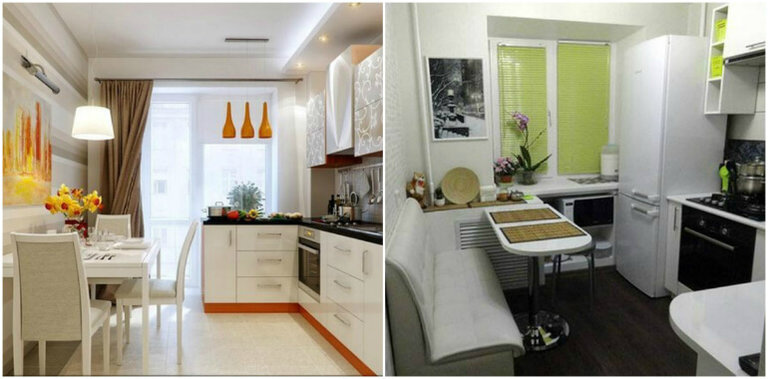 In a small kitchen, you should also give up tablecloths. They will visually make the product more bulky.
When setting your table, use custom rugs to help maintain the perfect look of your countertop. A small openwork napkin can become a decoration.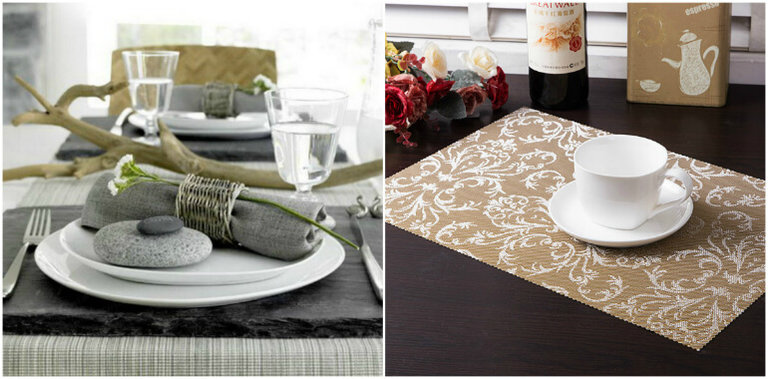 Chairs
Going to buy chairs, initially decide on their type: soft or hard. There are advantages in both the first and second options.
You should understand that soft chairs are more comfortable to sit on, but over time they can squeeze out, requiring repair, while hard chairs will last much longer.

If you have small children or pets, choose upholstery that is easy to clean.
The ideal solution is natural or artificial leather.
For small-sized rooms, it is worth choosing stackable or folding models, which, if necessary, can be folded compactly on the balcony.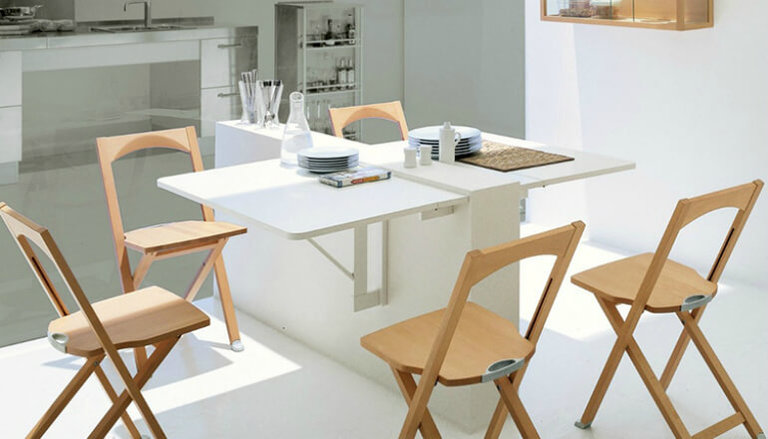 Chairs on wheels – not a particularly suitable option for the kitchen. Especially for families with small children. We also recommend excluding models with armrests from the selection. If you like long and comfortable gatherings, choose a small sofa for yourself.
The material from which the table is made should also be taken into account. Plastic chairs with a wooden tabletop do not match at all, while with glass or MDF they make up a stylish modern set.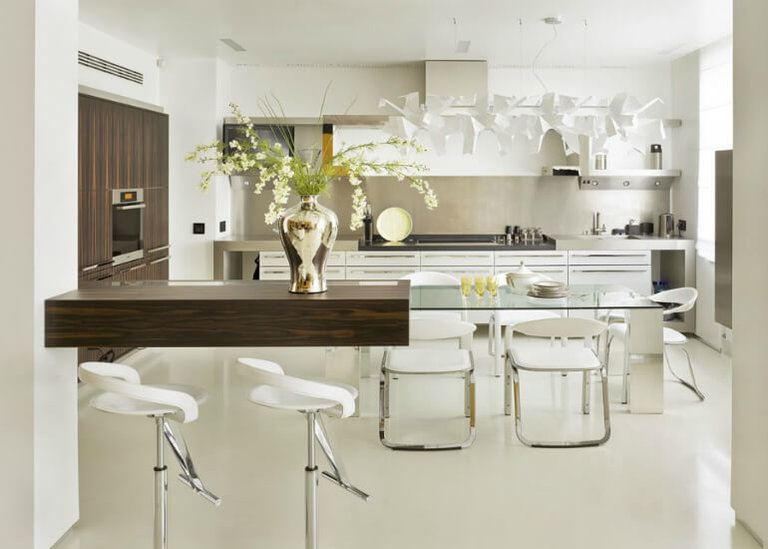 Now you know the secrets of how to choose kitchen tables and chairs for a small kitchen, so you can make the right and informed choice that suits you both in terms of size and level of comfort.