Welcome to our recent post English style in the interior of the kitchen
.
Here are the notable features of the English style in the interior:
using only natural materials – wood, stone, ceramics;
aged furniture, patinated headsets and other elements;
the presence of a large dining area (kitchen-dining room) and quite often "islands";
rich natural and artificial lighting;
the use of accessories made of copper and bronze, hand-carved furniture, glass inserts;
decorating shelves with porcelain plates, dishes, pots.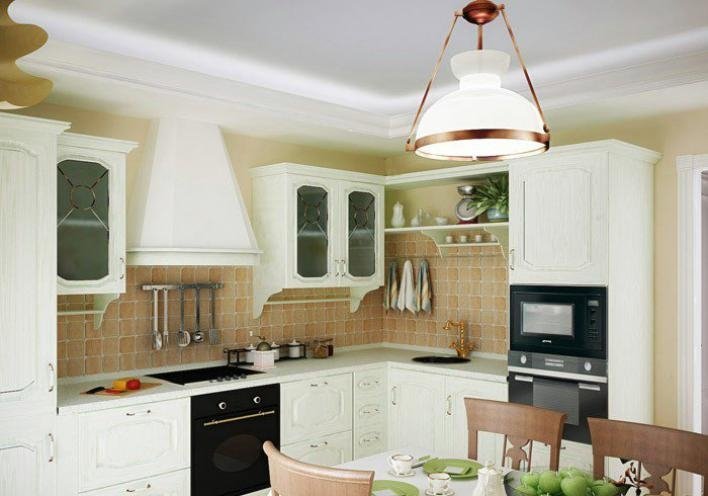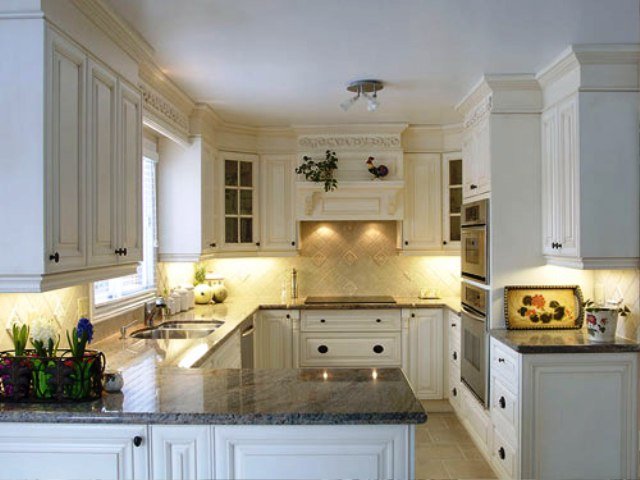 Now let's take a closer look at each of the aspects of English-style kitchen design.
What color?
In the vast majority of cases, the kitchen set is ordered in light colors. Milky white, light olive, blue, light gray, sandy, beige, and other colors are great. We also recommend taking a closer look at the so-called "duck egg" color.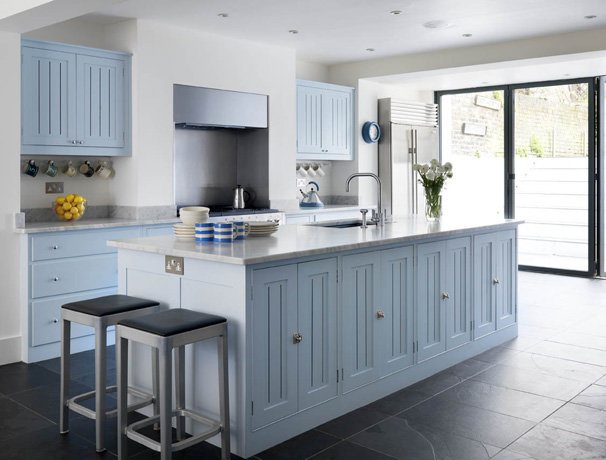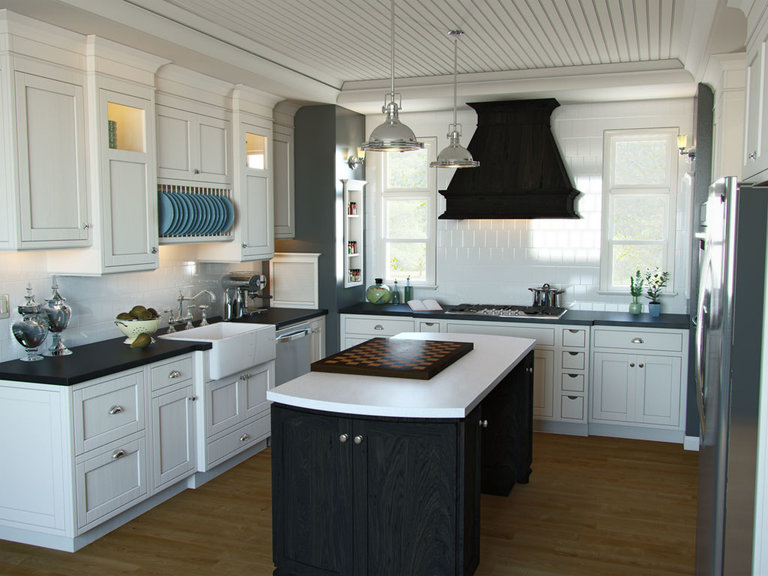 The ceiling is almost always painted white, even if it has vaulted beams or other structural elements.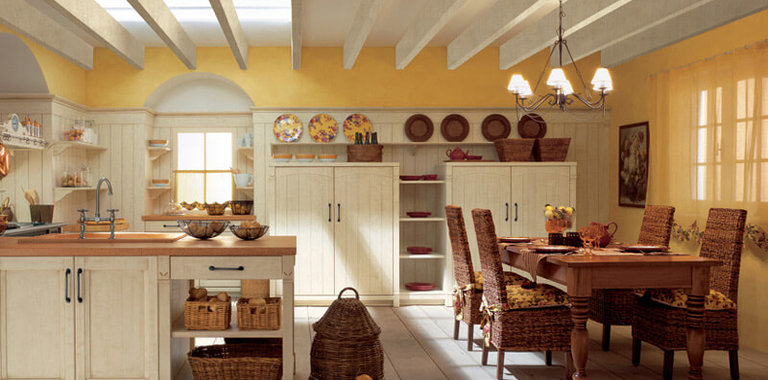 The walls, as a rule, are painted, less often wallpaper is glued. Pastel colors that slightly contrast or, more simply, complement the color of the headset sections, are considered good form when decorating English cuisine.
For example, walls painted in light tones of blue, gray, beige or coffee look good with white facades. Walls of light yellow or sand tones are beautifully combined with olive ones, and with gray the best option is white.
Gender – there are many options. If this is an apartment, then it is worth stopping at a tile with a simple geometric pattern in light colors or a light waterproof laminate. In the house, it will be more appropriate to lay a board or high-quality laminate in the color of dark wood.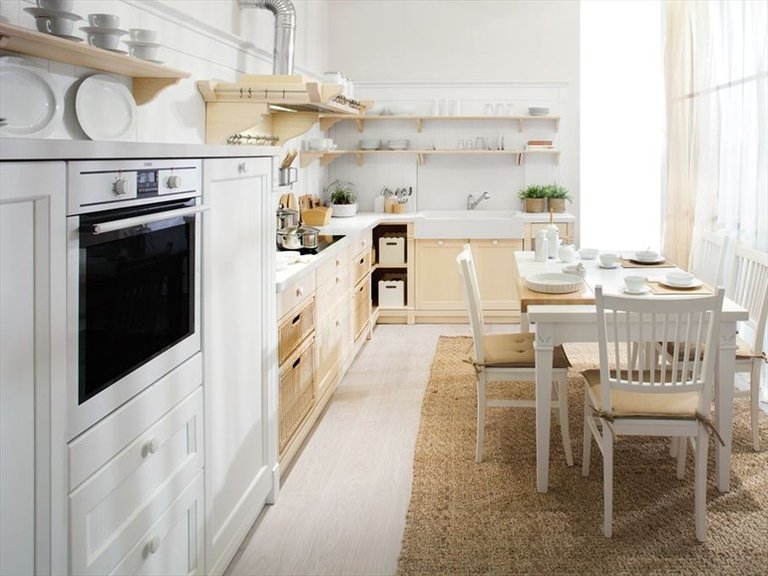 For your convenience, we have posted a number of photos of examples of kitchen design in the English style.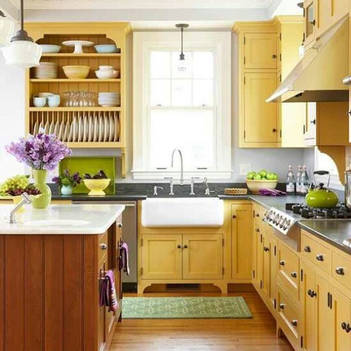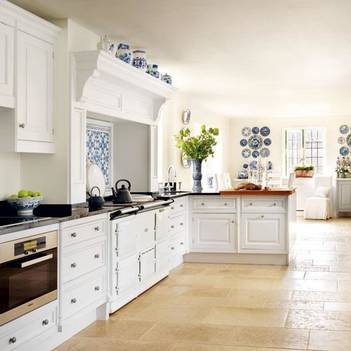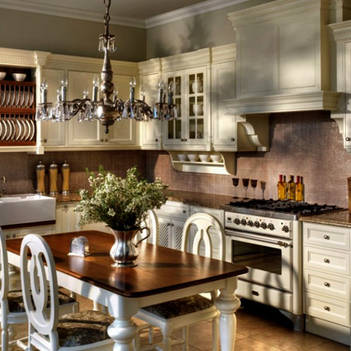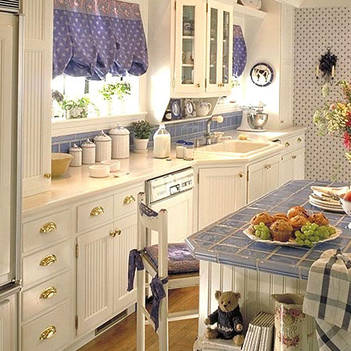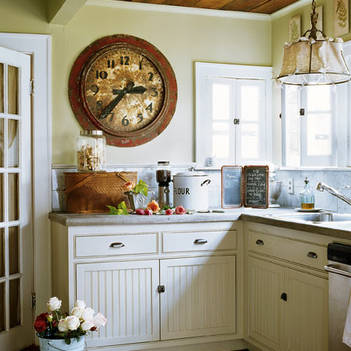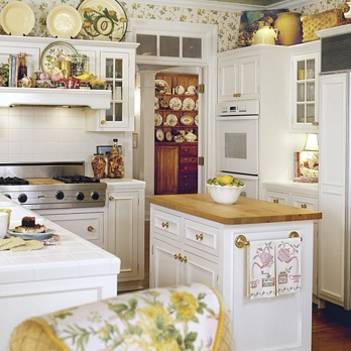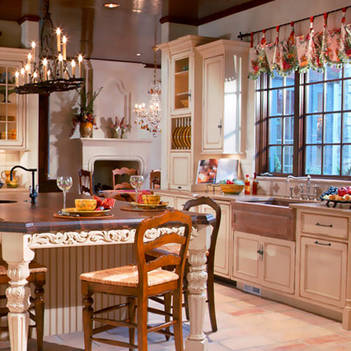 Once again about furniture
First of all, it should look high quality and respectable. This applies to both design and execution. And, of course, all furniture should be practical and comfortable. I would like to add a few more important nuances to the color recommendations that we indicated above:
if there is no way to make a headset out of wood, then you can limit yourself to MDF;
it is advisable to order facades with panels, and, if desired, with glass or stained glass inserts;
fittings are recommended forged, simple shapes with elements from ceramics, porcelain, but in any case not plastic;
there must be open shelves on which you can put beautiful dishes;
it is not uncommon to find decoration of kitchen sections with cornices and rather fanciful fittings.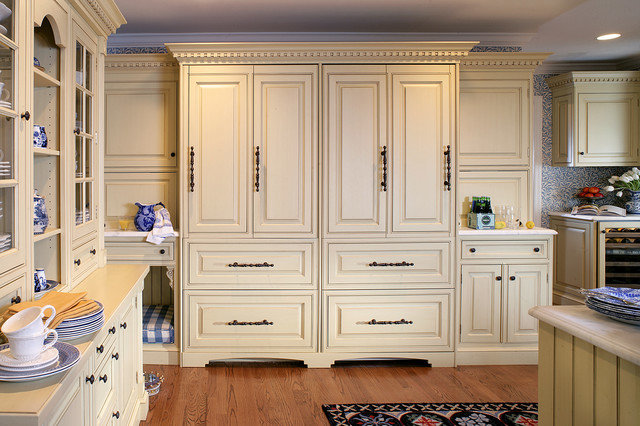 The table and chairs are selected based on the general concept of the kitchen, but options made of wood, with wrought iron elements, carvings or weaving are best suited. The dining area, if space permits, should be large and spacious.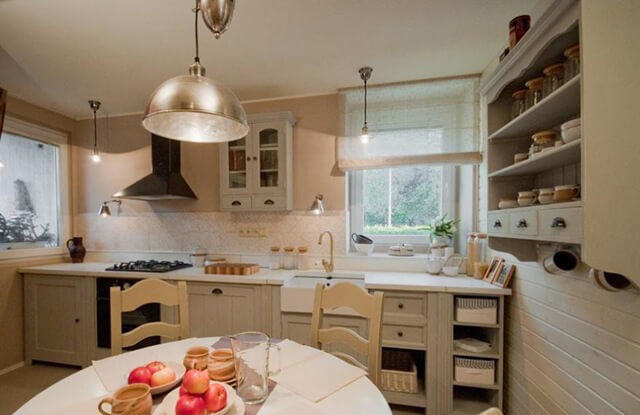 Work zone
Here the role of the first violin is played by a trio: hob, oven and extractor hood. In the English style of kitchen design, you can use household appliances of both modern design and more classic or "antique".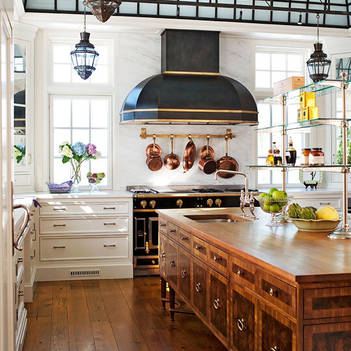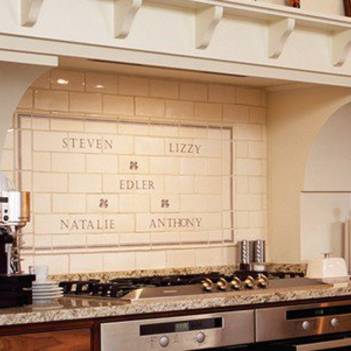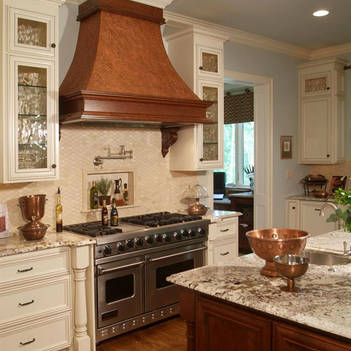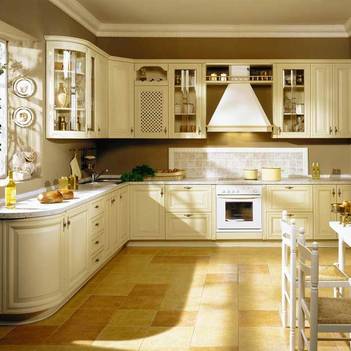 The apron is laid out with tiles or stone, decorated with hooks or rails for dishes, cutlery and textiles.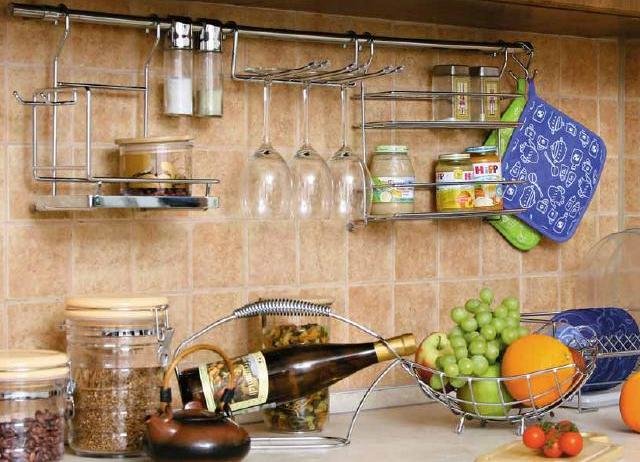 Traditional countertops in this style are stone or solid wood countertops and large ceramic or acrylic sinks.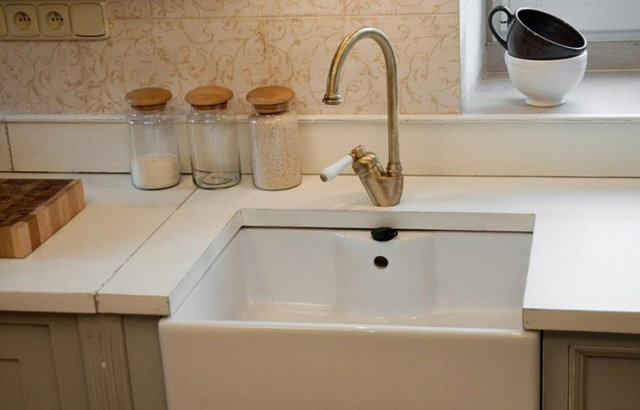 Textiles and accessories
The most suitable material would be cotton and linen. Here you can use either light pastel colors, or vice versa – bright and rich colors to add a little flavor to your kitchen. The patterns are very diverse: cage, strip, flowers.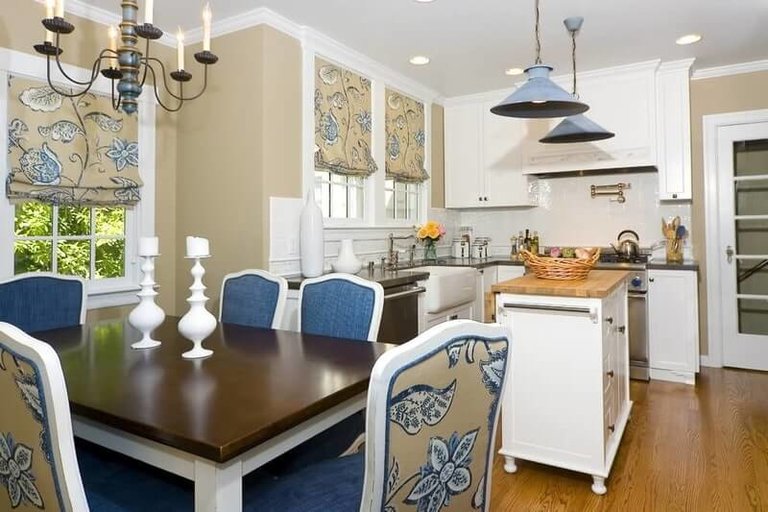 In English cuisine, you can often see pots and pans made of copper, antique coffee grinders, enameled jugs and cans. A variety of ceramic vessels for storing cereals and spices, bundles of vegetables, preservation with plates and decorative lids will look authentic.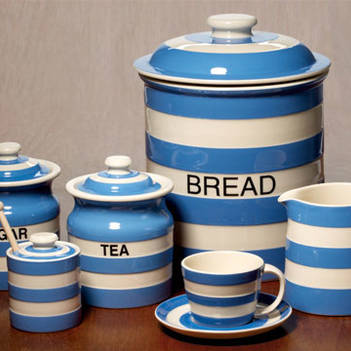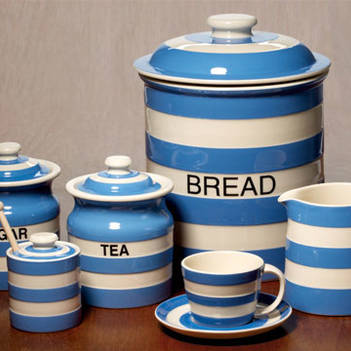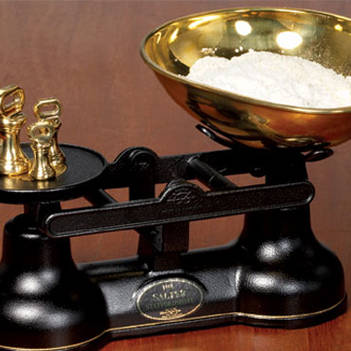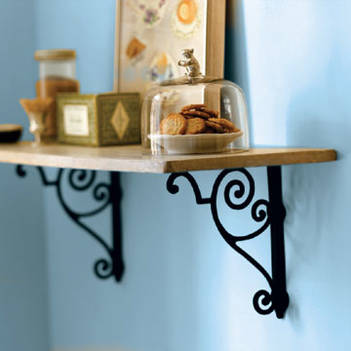 The room should be well lit, but not too bright lamps and by no means cold tones. A beautiful bronze chandelier with muddy shades, elegant sconces and light illumination of the dining area will be an excellent choice.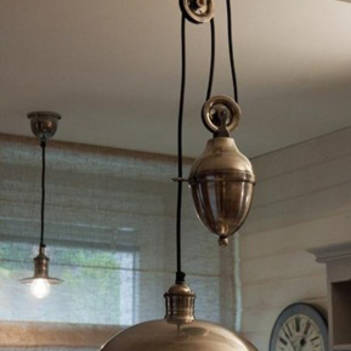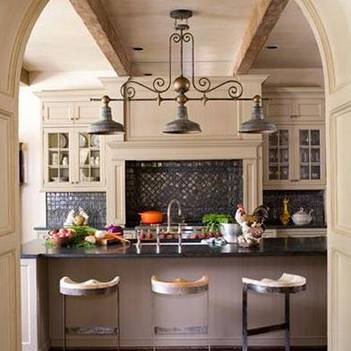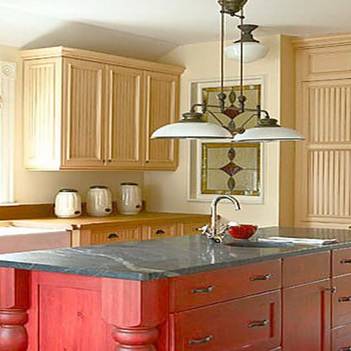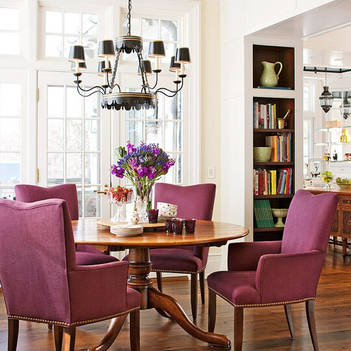 You can use a variety of other elements as well as you think would be appropriate. Photos can help you with this, in which you can see examples of the combination of different accessories, as well as their placement.
In conclusion, we say that an English-style kitchen can be implemented both in an urban setting and in a country house. British flavor and traditions that formed the basis of the design of the same name will not leave indifferent connoisseurs of European interior design culture. Is this style suitable for our apartments? Yes, it is quite. Many models of domestic serial kitchens, in fact, are made in a very similar manner and are sold throughout the country. Therefore, do not worry and feel free to look closely at such interiors.