See how modern transforming kitchen tables for a small kitchen look in the above photos: stylish, elegant and beautiful. Let's pay a little attention to the varieties of such furniture, as well as its advantages.
Glass
Stylish and practical minimalism is currently at the peak of its popularity. Furniture made of glass and metal fits perfectly into such a laconic design.
Transparency, inherent in it, makes products light and sophisticated, fills the surrounding space with additional space and light.
Also, glass is an absolutely environmentally friendly material, therefore it does not emit any hazardous substances during operation. Thanks to such distinctive features, such interior items are in high demand among consumers.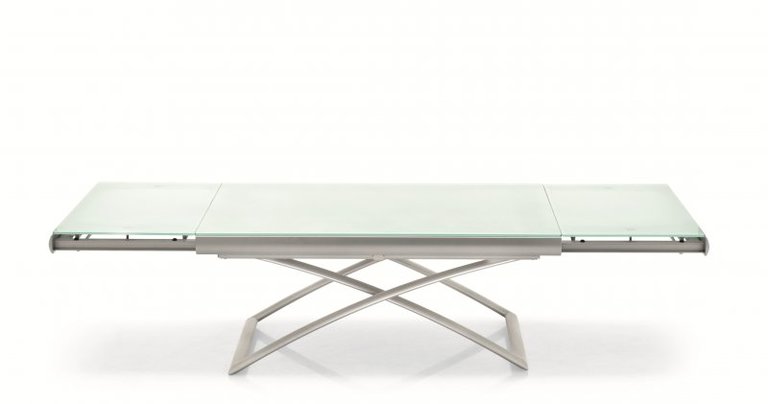 Glass transforming tables amaze the imagination with the richness of design and color solutions. Looks especially elegant when combined with similar facades and decorative elements.
Modern technologies allow apply a small image to the countertop, large-scale paintings and even photos. Such a film is attached from the inside, so it is not subject to abrasion during operation.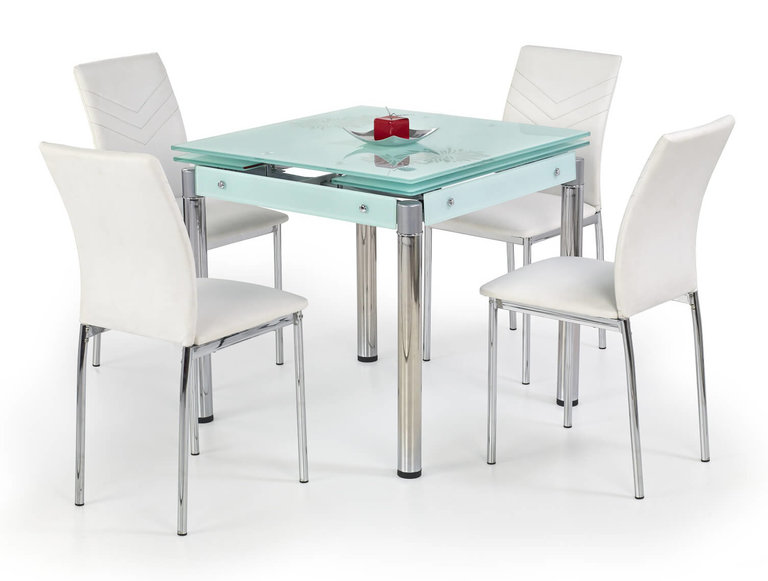 In the manufacture of kitchen models, manufacturers use durable tempered glass with a thickness of about 10 mm, which can withstand a sudden drop of dishes or a punch.
Also, the surface is resistant to scratches, chips and other mechanical damage. But in the process of operation, you should not forget that you have glass in front of you.
Assembled transformers take up little space, can act as a bedside table or stand for decor. If it becomes necessary to increase the number of seats, use a special built-in mechanism.
In the process of choosing the optimal model, pay attention to the style in which your kitchen is decorated. For classics, Provence, country, a glass table will become a foreign body, while for hi-tech, art deco and minimalism, the best solution will be difficult to find.
Wooden
Wooden tables are a classic solution. They are often heavy, voluminous and solid.
High aesthetics, as well as environmental friendliness of the material, makes them popular among consumers who prefer classic, Provence, country, Scandinavian and Mediterranean style in room design.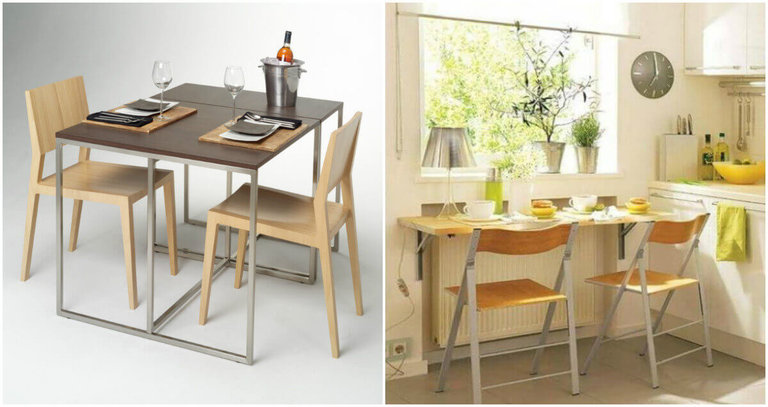 Only not every modern kitchen is capable of accommodating a large table. Therefore, manufacturers at an increased pace took up the development of universal transformer models, characterized by increased compactness.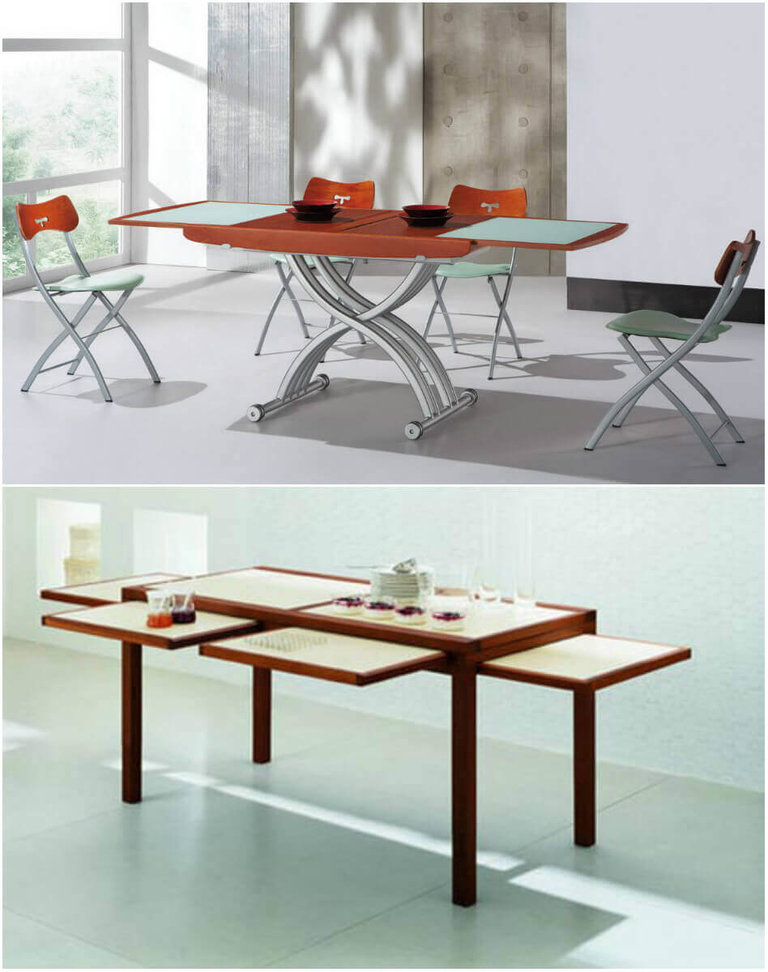 On sale you can find wooden models of various shapes and shades: light tinting, preservation of natural color and texture, painting.
Depending on individual preferences, rectangular, round or oval models can be chosen.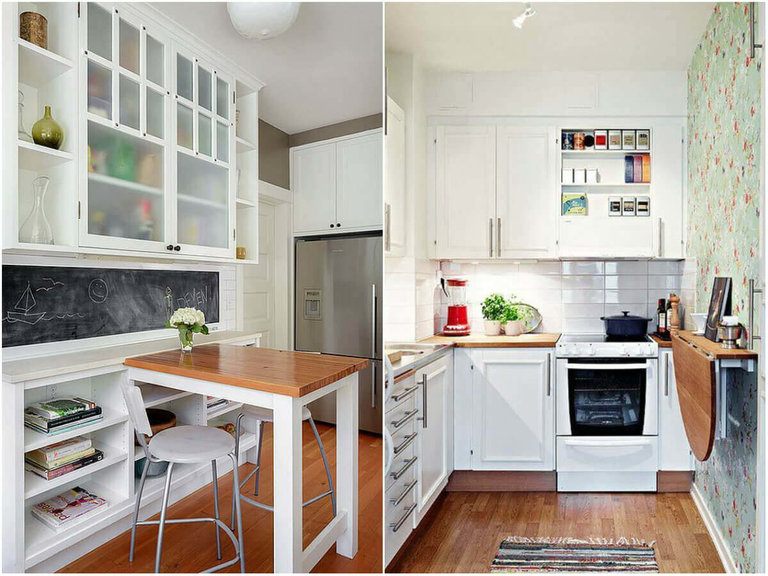 Consumer qualities are also at their best. Tables are covered with special compounds that provide reliable protection against temperature extremes, scratches, moisture, deformation, even during prolonged and intensive use.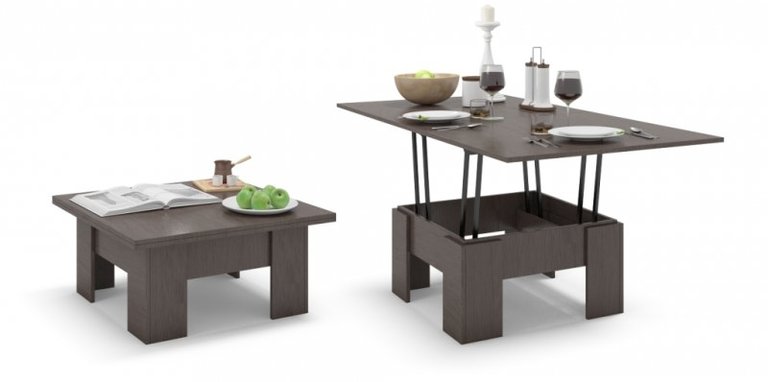 Wooden tables Is the personification of home comfort and warmth. Such interior items will never lose their relevance and relevance.
Unique transformation mechanisms in just three movements will turn a small cabinet into a full-fledged table for a large number of guests. Often, rectangular models can become round or oval when unfolded.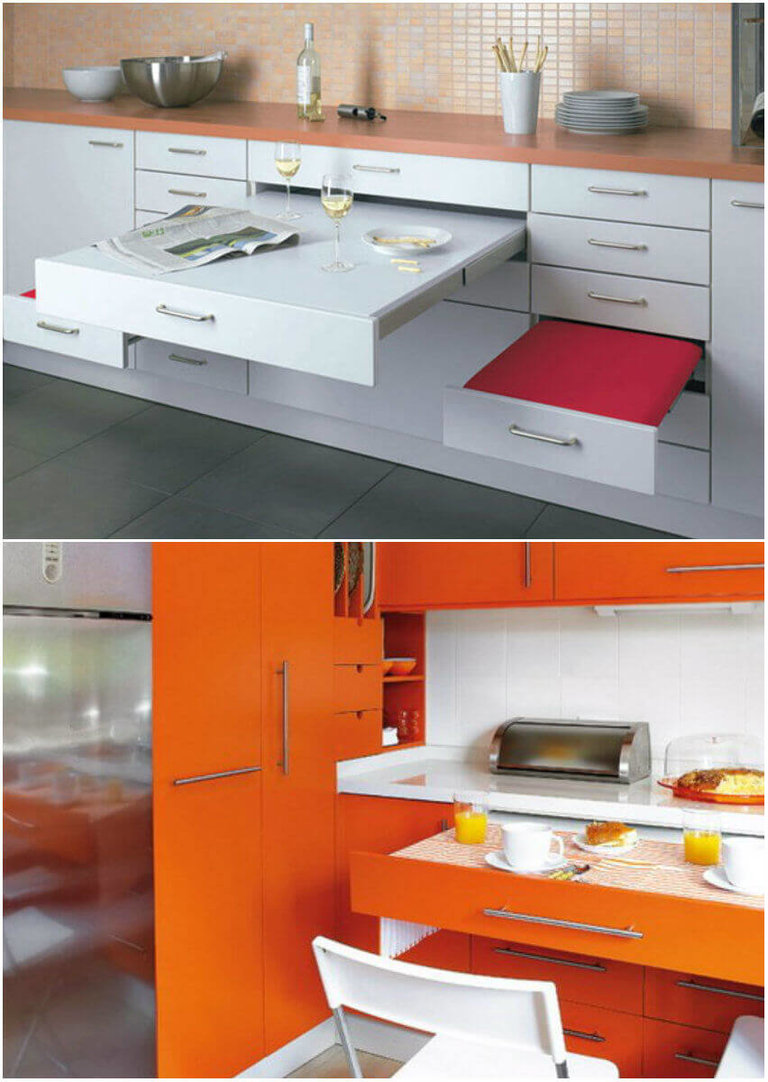 We can safely say that regardless of the features of transformation, color scheme and shape, transforming tables made of wood will become a bright accent and a thing with increased functionality in the interior of your kitchen.
Benefits
Transforming tables are ideal for small kitchens…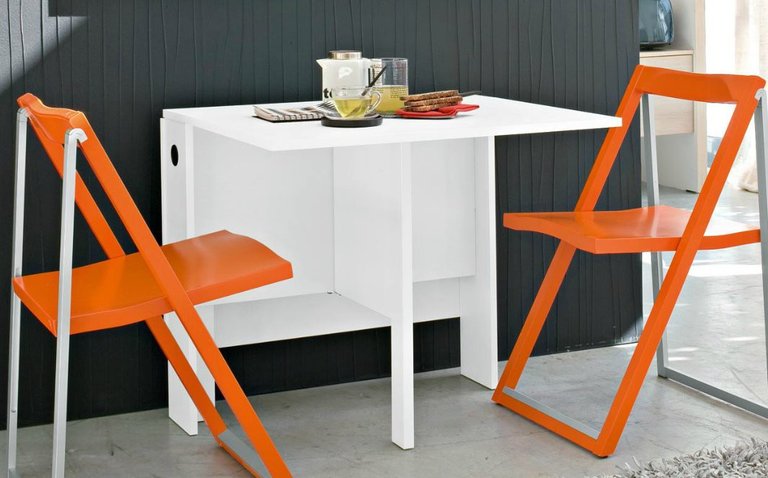 Having decided on such a purchase, you get an item that does not clutter up the space, but is capable, if necessary, to accommodate a large number of people and help you organize a luxurious feast.
Talk about advantages such furniture can be very long. Here are just a few of the most significant advantages:
the ability to change dimensions by about two times (depending on the selected model);
the ability, if necessary, to change not only the dimensions of the table top, but also the height (there are tables that can be turned into coffee tables);
ease of control in several movements without effort and sharp turns;
reliability and durability of mechanisms providing absolute safety and durability of operation;
stylish modern look and a wide selection, allowing you to choose a model that fits perfectly into your kitchen setting.
When choosing transforming kitchen tables for a small kitchen, initially look at the above photos. Perhaps you will see a model that will ideally meet your needs in terms of design, dimensions and functionality.