In this review:
1 Types of artificial stone
2 Acrylic stone
3 Quartz (agglomerate)
4 Operating tips
five How much is?
6 Recommended manufacturers
7 FAQ
Types of artificial stone
Many buyers opt for just such countertops, because they are cheaper than natural counterparts, have most of their positive qualities, and even surpass them in some parameters.
Currently, countertops can be made from the following materials:
acrylic stone

– one of the most modern materials. It was invented in the 1960s by specialists from the industrial giant DuPont and is known all over the world under the name "Corian". In fact, such a "stone" is a composite material, which consists of acrylic resins (plexiglass), crumbs of natural stone or minerals, as well as the corresponding pigment additives.

Interesting fact: artificial acrylic stone was not developed by DuPont scientists for construction purposes at all, but as a super-material for artificial bones.

quartz agglomerate

– no less popular artificial material for finishing work. Like the acrylic counterpart, the agglomerate is a composite. It consists of natural quartz chips (90 – 96% of the composition), polyester resin, dyes and various decorative additives.
Now let's move on to taking a closer look at the pros and cons of each of these types of artificial stone.
Acrylic stone
The extraordinary popularity of acrylic as a material for countertops and other surfaces raises a number of questions. How practical and durable is it? Is it true that it is more pleasant to the touch than agglomerate? What can and cannot be bet on it?
Now we will look at the pros and cons of this material based on real feedback from the owners and specialist consultants who participated in writing this article.
At the beginning advantages acrylic countertops:
perfectly imitates natural rocks;
absolutely homogeneous structure – even microscopic pores are absent, impervious to any bacteria. This has a very positive effect on the sanitary quality of the surface;
better than other materials suitable for the formation of complex ideas, non-standard, round and curved shapes;
seamlessness – due to the fact that acrylic lends itself to sanding, places in the joints can be sanded to their complete invisibility of the joints;
a very wide variety of colors and patterns that do not fade over time;
warmer to the touch than natural stone, as it "heats up" to room temperature;
you can polish, grind, thereby independently remove minor scratches;
harmless to humans and the environment.
The disadvantages include:
traces of mechanical impact remain on such a surface – traces of cuts, dents, scratches, etc.;
exposed to acids – if such liquids get on the surface, it must be wiped off immediately;
can absorb strong dye;
low heat resistance;
in case of significant damage to the surface, it is necessary to call a specialist for professional sanding.
Now let's see how they say about acrylic stone countertops:

As you can see, the appearance of scratches is one of the main problems.
And here is a review from the owner, who is happy with his choice: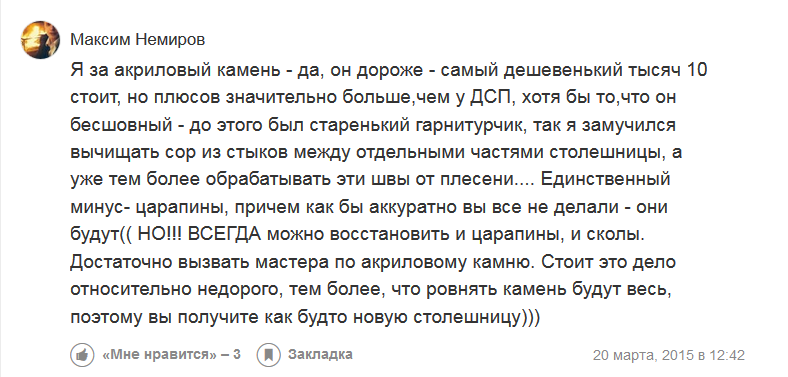 The criteria for a quality acrylic countertop are well illustrated in this video:
Output: such a countertop is suitable for those who want to implement in their kitchen an original design of a work surface with complex geometric shapes. If you follow all the precautions in operation, then all the disadvantages of acrylic will be minimized.
Quartz (agglomerate)

For a complete picture, you should also describe the pros and cons of working surfaces made of quartz agglomerate. We must say right away that in terms of operational characteristics, an artificial stone made of quartz chips, in our opinion, is a cut above acrylic.
This is primarily due to the composition of the agglomerate, but let's take it in order.
Pros:
very strong and durable material;
absence of pores, impermeability to microorganisms, absolute hygiene;
excellent resistance to mechanical stress, acids and dyes;
short-term resistance to high temperatures;
a fairly large range of colors;
very easy to clean;
does not require special care or maintenance;
can be glossy, matte and even textured;
harmless to humans and the environment.
Minuses:
high price;
manufacturing time;
complex and expensive installation;
conditional heat resistance;
the visibility of the seams, as it is made with plates (slabs);
can only be used for simple geometric shapes.
What real people say about these countertops: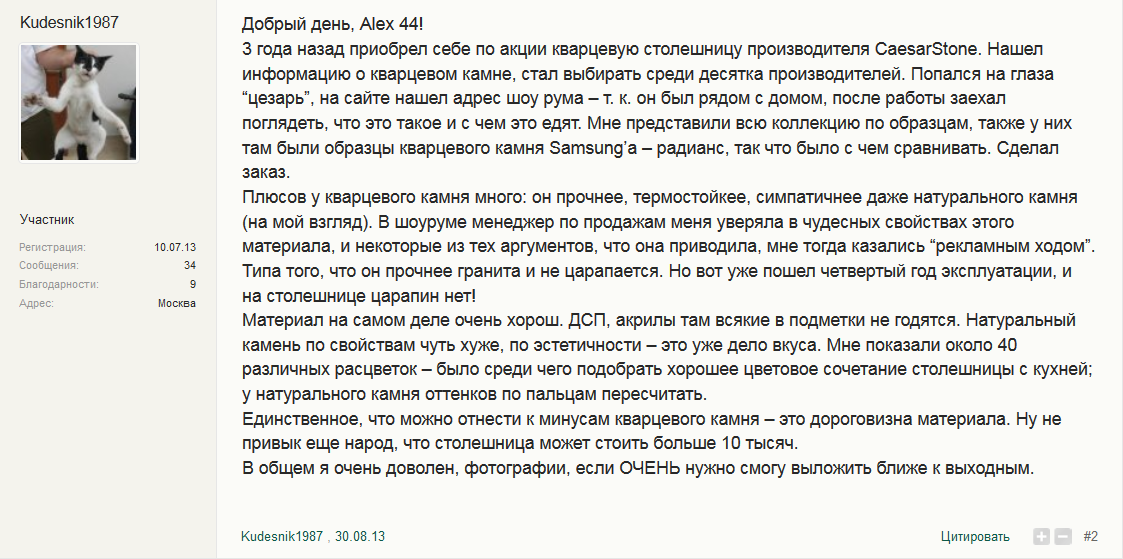 Output: if your budget allows you and you want an almost timeless worktop of a simple shape, but ideally imitating natural stone and with high performance, order a worktop made of agglomerate.
Operating tips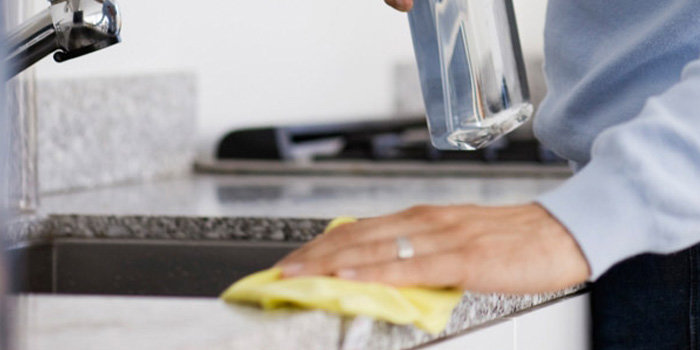 For each of the types of countertops, there are certain recommendations, adherence to which will extend the life of your work surface. We only list the most important ones.
Acrylic countertops:
do not use aggressive chemical liquids and abrasive detergents;
only cut food on a cutting board;
do not put hot dishes and other utensils on the countertop;
do not hit or drop heavy objects onto the surface;
do not use sponges with a rough (hard coating).
Quartz countertops:
a hot object can be placed directly on the countertop for only a few seconds (in an emergency);
try to use a stand for hot dishes;
dark glossy surfaces require constant wiping, as prints are clearly visible on them;
it is not recommended to use abrasive products, as well as hard brushes, sponges, etc.
The cost
Kitchen renovation is not cheap, so the question of the purchase price and installation of artificial stone countertops is very important for absolutely all buyers.
Immediately, we note that the use of acrylic or quartz surfaces is quite expensive pleasure. The final price very much depends on the manufacturer of the material, as well as the prices for delivery and installation of the finished product.
Price range on artificial stone countertops (per sq.m.):
acrylic – from $ 100 to $ 320;
quartz – from 150 to 500 dollars.
If you choose domestic brands, you can save a lot. You just need to take into account that the quality of the product and service from our manufacturers is sometimes lame.
Recommended manufacturers

There are already about three dozen brands on the domestic market, under which various models of artificial stone are produced. We will highlight only a list of the best manufacturers based on feedback from real buyers. The list is compiled in descending order of price (from expensive brands to cheaper ones).
Acrylic surfaces:
Corian brand, Montelli (manufacturer DuPont, USA);
Staron brand (manufacturer Samsung, South Korea);
Hi-Macs brand (manufacturer LG, South Korea);
Max-Top (Russia).
Quartz agglomerate surfaces:
Zodiaq brand (manufactured by DuPont, USA);
Silestone brand (manufacturer Cosentino, USA);
Caesarstone (Israel, USA);
Technistone (Czech Republic);
HanStone (South Korea);
Plaza Stone (Russia);
VicoStone (Vietnam).
FAQ
What is the recommended stone thickness?
At least 6 mm., Well, 12 is better (we are talking about the thickness of the acrylic layer without a backing).
Which brands of artificial stone are considered budgetary and which are premium?
The economy class includes brands such as Atrio, Akrilika and, at a stretch, Montelli. The world famous Corian and Staron can be safely attributed to the elite brands. But keep in mind that premium stone is very often counterfeited.
What to do if there are scratches on the countertop?
Although such countertops are considered to be very durable, even on them traces of use appear over time. If these are shallow scratches (from cutlery, household appliances), then, as a rule, they can be easily sanded down (a specialist will come and fix everything in a couple of hours). In the case when it comes to chipping or cracking, it is better to consult with the specialists of the manufacturer of your countertop.
Continuing the topic of comparing materials, we recommend reading our complete guide to the choice of kitchen countertops, based on numerous reviews and expert opinions. Also you will find there super infographic, where everything is very clearly shown.