If you are looking for worthy options for yourself, then our note will be useful for you, because we will show you what you can save on and what you cannot do without.
Savings methods
As you probably already guessed, there are 2 main ways to save money:
1

Beautiful and expensive facades, but minimal filling of the headset;

2

Inexpensive facades, but good stuffing (pull-out systems, high-quality fittings).
The choice depends on what you need more: a beautiful kitchen or a practical one?
Believe me, what seems essential at first glance may not be useful at all during operation.
But seemingly insignificant nuances can play a key role in making your stay in the kitchen more convenient and comfortable. So where do you get the price advantage?
Facade material
You can save a lot if exclude expensive facades… Wood, metal elements, glass seriously increase the cost of the headset. Give preference to facades made of chipboard and MDF. The most budgetary option is to cover the chipboard with a film.
If Chipboard facades cover with laminated plastic, then their cost will increase significantly, and will not belong to the economy class at all.
MDF is a more durable, aesthetic and more expensive material.
The final cost of such facades will also depend on what material they are covered with: PVC film, paints and varnishes or plastic.
To choose the best option for yourself, you should focus not only on cost, but also on how practical the selected material will be in the process of use.
Ask yourself these questions:
Do you have enough diligence to constantly wipe away fingerprints, splashes from water and cooking food from the gloss?
How will you deal with certain defects on the facades, while continuing to use the kitchen?
How soon are you planning to purchase new furniture?
For more information about the pros and cons of the above materials, read the article: "What is the best way to order a facade for the kitchen?"
Another option to reduce the cost of the kitchen is to make open shelves instead of upper wall cabinets. You can place kitchen utensils, jars of spices, beautiful dishes on them. So don't be afraid that it will look bad. The only negative is that dust will accumulate on the shelves.
You can see how such kitchens look in this article.
Appearance and style
When you come to the salon to order a kitchen, you will find that facades of the same material differ in price depending on the color. Each manufacturer has its own "expensive" colors (the so-called "custom colors"). It seems to us that this is pure marketing ploy.
Usually, the most budgetary are white, gray, beige, sand, green and blue. Dear most often they are black, brown, purple and metallic.
About style… We are talking about the decorative features of the facades, which are inherent in furniture in one style or another. Patina, gilding, panels, carvings, relief textures and much more – all this is more expensive.
Minimalism will be in fashion for a very long time, so simple one-color facades without bells and whistles are the most affordable and practical option. Let's continue the topic of what can add value to your kitchen.
Designer "things"
If you want to save on kitchen furniture, give up unnecessary beauties: aluminum frames, stained glass facades, glass inserts and the like.
Better do not be stingy and order a kitchen design, so that later you do not rack your brains over the search for a combination of the color of the walls, facades of the headset and decor.
Radius elements
Each radius element makes your kitchen more expensive on average by 10%, because in the manufacturing process they are more laborious, and even made from more expensive materials.
Open shelves, wardrobes with beveled corners, and bar counters will help to advantageously complete the end of the headset. You can just put a refrigerator in this corner.
Hinged doors
Doors that open upwards on gas lift systems look really impressive and stylish, but they make furniture more expensive. Want to save – give preference to conventional swing structures…
Moreover, you can go even further. By removing a few doors and preferring open shelves, you will not only save a significant amount of money, but also create a stylish design solution.
Module sizes and headset configuration
Furniture makers, not only kitchen ones, have their own standards for the external and internal dimensions of the headset. In order not to overpay, check with the manufacturer about the standard "markup" of the headset.
notethat one spacious module will cost you less than two small ones. It's all about a large number of materials, including accessories. Plus the assembly will be more expensive.
For example, it will be cheaper to make 2 compartments of 60 cm than 3 of 40 cm.
The most budgetary kitchen configuration is unambiguously linear with hinged doors. A corner or U-shaped set will come out more expensive due to the complex filling of the corner compartments (carousels, triangular shelves, other non-standard elements).
Countertop material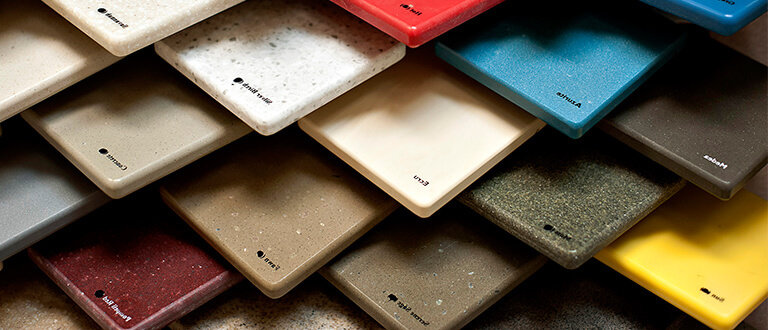 The worktop plays an extremely important role in the aesthetic perception of the kitchen set. The material from which they are made has a huge impact on the formation of value.
The most expensive are agglomerate, natural stone, solid wood, steel. In many respects, these materials are superior to their cheaper counterparts, but their price is 2-5 times more expensive.
You can read more on this topic in the super article How to choose a kitchen countertop: Buyer's Guide.
Chipboard covered with laminated plastic – a more budget material, resistant to mechanical damage and high temperatures. It is also distinguished by a variety of textures, colors. Laminated chipboard can also be classified as economy class options.
Pull-out shelves
Pull-out shelves have become increasingly used in the manufacture of kitchen sets, providing easy access to deep, high, or vice versa, low shelves.
You should not completely abandon such an innovation, but it will be enough to limit yourself to one or two copies, placing on them those items that you use most often.
Rotary structures
Swivel shelves or so-called "carousels" will greatly facilitate the operation of corner kitchens.
Rational planning will allow you to minimize the number of such fittings to one, maximum two pieces. It is undesirable to exclude them, because they will help you competently use the sufficiently large space of corner cabinets.
Fittings
Drawers, hinged or lift doors will not work without the appropriate hardware.
It is not worth saving on it if you do not want to encounter loudly closing facades, falling dishes or hard-to-move drawers during operation.
Drawer organizers
A variety of trays, inserts, dividers, drawers with containers and even bottle holders will allow the hostess to keep kitchen utensils in order.
By the way, you can read more about such storage systems in this article.
Choosing organizers, you can stop at cheaper metal or wood products, and cheaper analogs made of plastic.
Using our recommendations, you can create a stylish and beautiful kitchen of your dreams at an affordable price.