Welcome to our updated post Blue kitchen – Fresh selection of interiors
.
Not surprisingly, the kitchen, decorated in blue tones, is considered almost a classic. The shade is versatile and suits almost any style – from romantic Provence to modern post-modern. Let's take a closer look at all the nuances of its design that designers use.
Color features
Blue is a very practical color. Let's see this:
In small kitchens, it will help to visually expand the room;
If the room is too dark, blue tones from a warm color scheme will add the missing light;
It goes well with both rich and light tones;
In single-color kitchens, it does not look bland because of the abundance of shades.
As you can see, blue is not just a pretty color. He successfully solves some of the problems of not very convenient layout – why not take advantage of this?
And now let's move on to the most interesting – how blue looks in a living kitchen interior.
Examples of kitchens in blue tones
As we said just above, this color is successfully used in various types of design. Its use is very popular in the Greek-style kitchen. (read more about it here).
The room, decorated in blue and beige colors, looks gentle, airy and elegant. At the same time, pay attention to the fact that an exceptionally warm range was chosen – this was done to add comfort.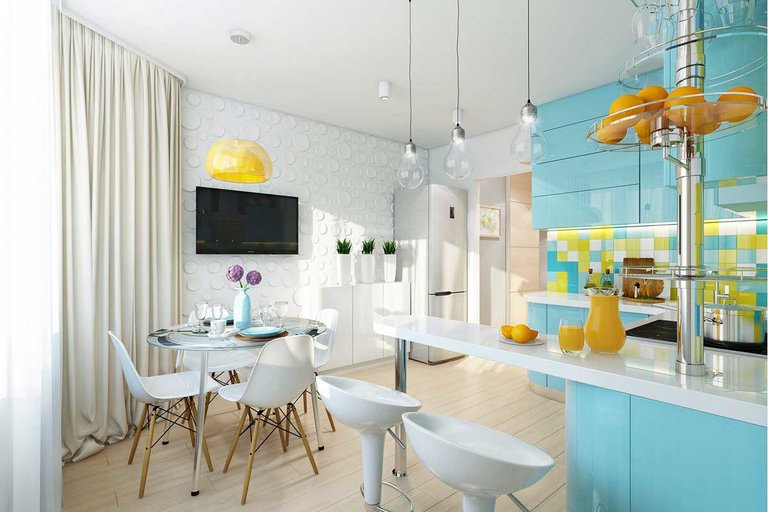 Too intense for you? Try to go the other way – do not make the facades of the lockers blue, but the walls. Then it is preferable to choose white furniture – it will emphasize the depth of the shade.
For small, narrow kitchens, try to find the lightest possible tone – for example, pale cornflower blue or heavenly. So the walls will move slightly apart visually, and the room will seem more spacious.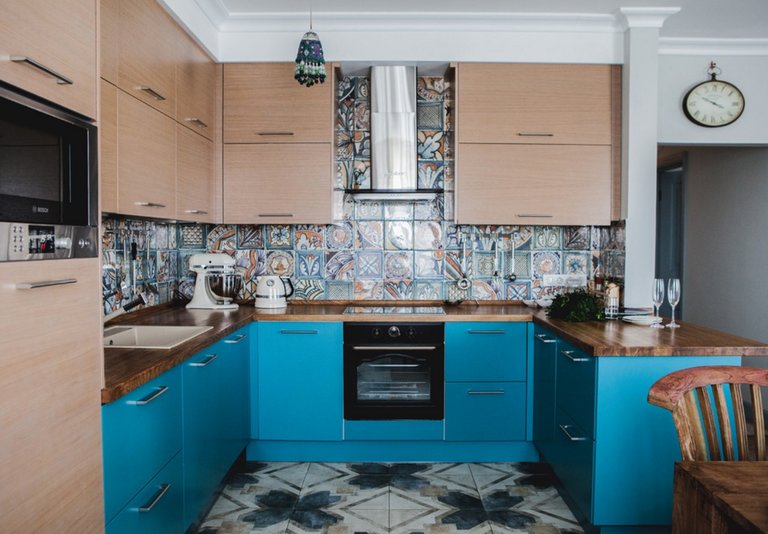 If you don't want to use cyan as a base, you can experiment with gradations.
To do this, you need a beige or white background – as neutral as possible, which will emphasize even the slightest difference in accents. A good example of design is in this photo. Thanks to the variety of shades, a small kitchen looks stylish and unusual.
Cozy Mediterranean-style kitchen is another interesting solution. Blue is the traditional color for her. In a matte texture, it seems deeper and more interesting. In addition, with the correct selection of shades, you will be able to create a fresh and non-trivial interior.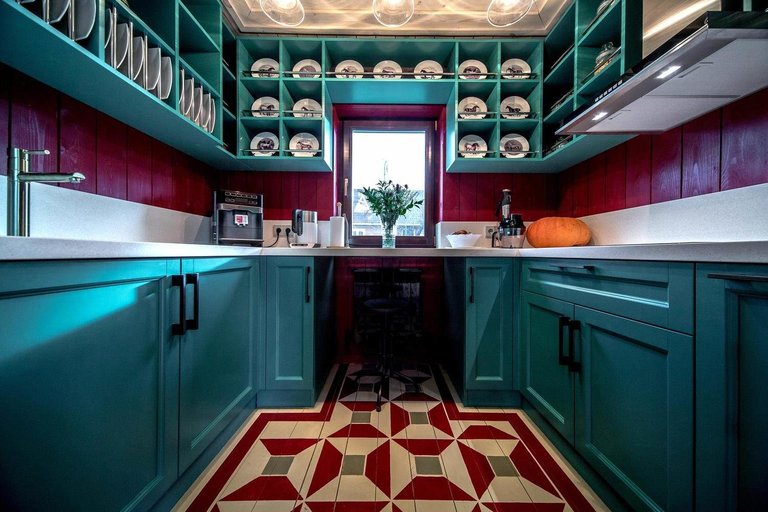 Intense azure is an excellent choice for a small kitchen in a modern style.
However, keep in mind that he is quite capricious – you will have to carefully consider the range of other colors so as not to spoil it.
The original English design can also play in blue tones.
note, that the clarity of the shades is not maintained here: they are all a little blurred, both on the tiles and on the facades of the headset. This adds tenderness and some kind of elegant casualness to the interior.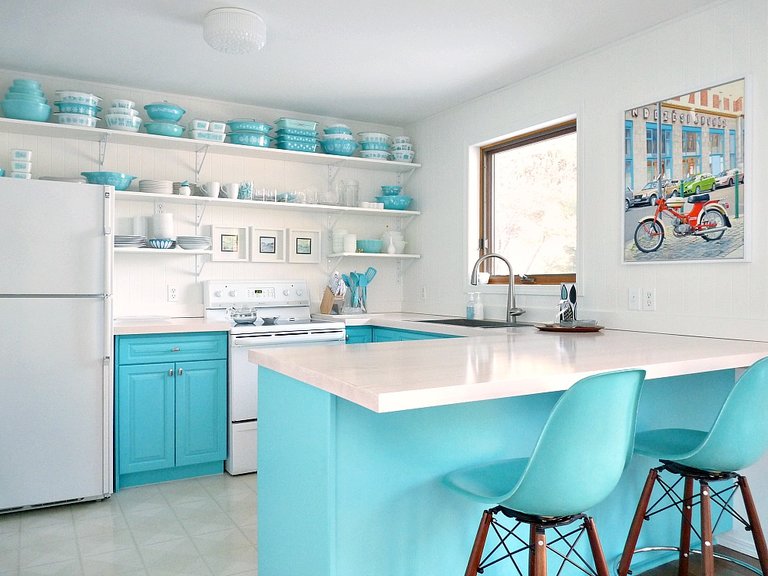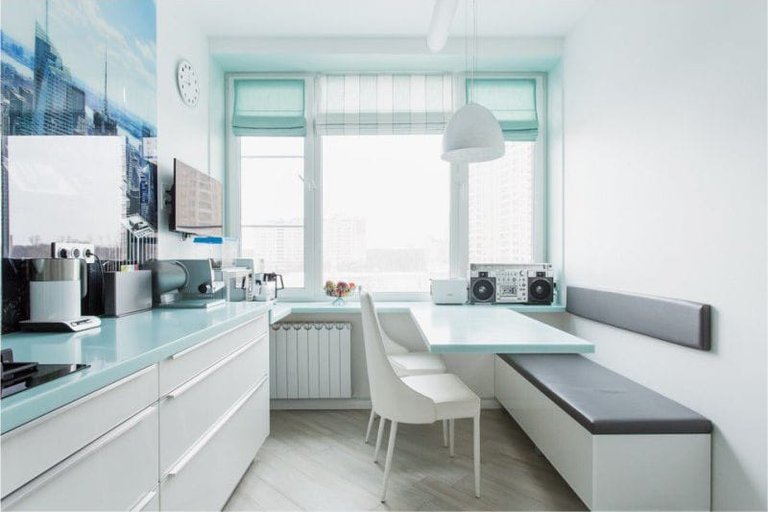 True, you will most likely have to order such a kitchen separately – in few stores you will find such atypical furniture.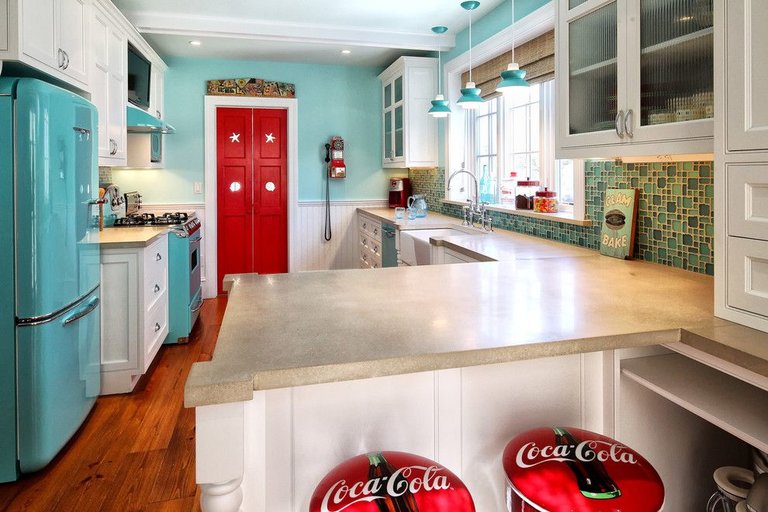 Brighter inserts on a discreet background look interesting.
The main thing is to choose the overall composition harmoniously – you may have to consult with the designers.
At first glance, a simple move requires a lot of attention to detail – any little thing can "kill" such an interior.
Oddly enough, the shade "blue dust"Is also considered blue. This is a real find for lovers of the ultra-modern "high-tech". To make a defiant color less flashy, combine it with softer tones like azure or cornflower blue.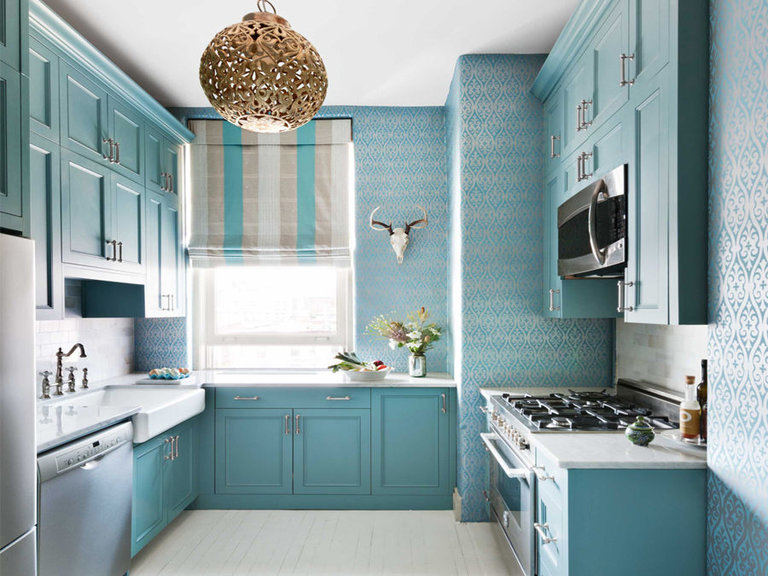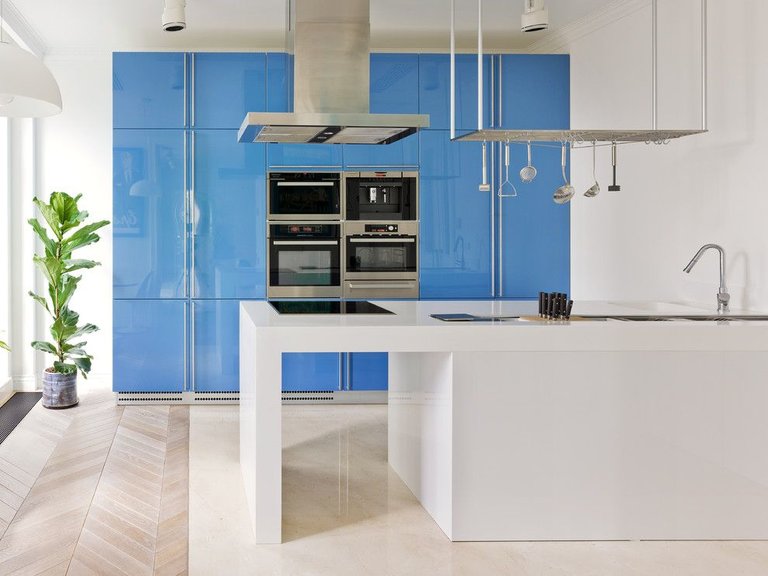 Here you can play on the contrast of textures: make a bright shade glossy, and a more restrained one – matte.
However, high-tech light tones are also acceptable – if you combine them with grays and metallic.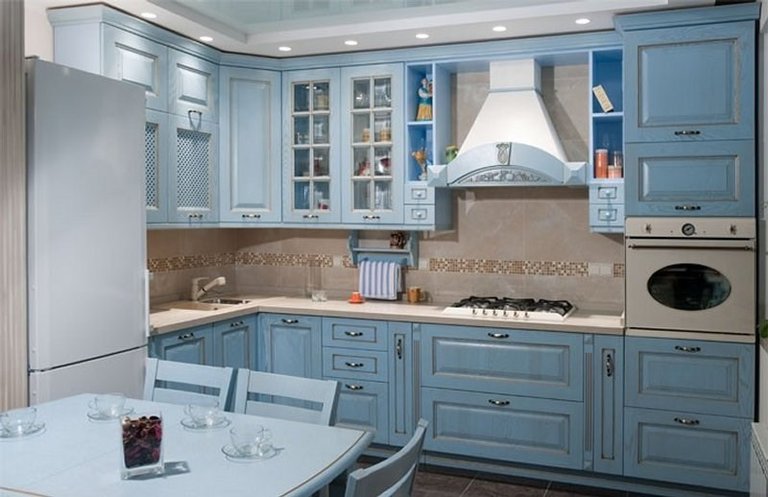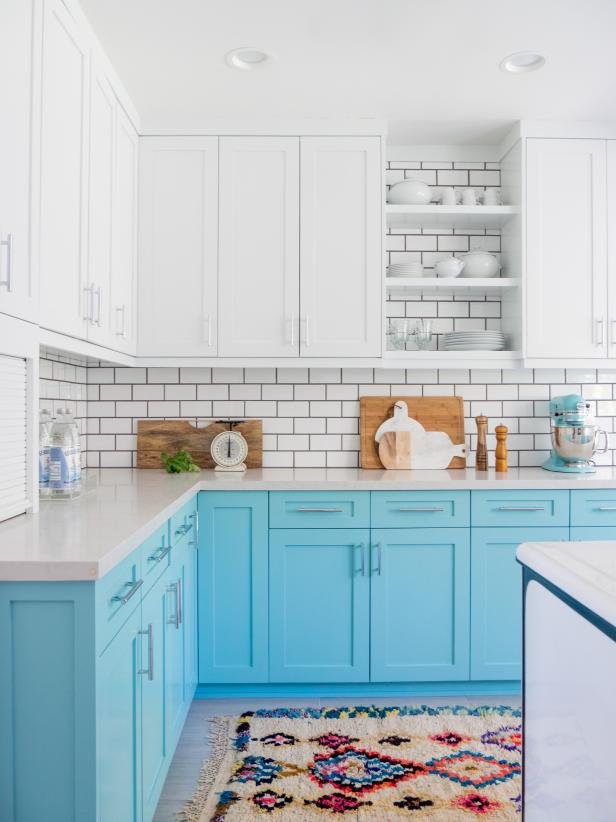 For lovers of vintage interiors, we also safely recommend blue – the main thing is to avoid shine.
A muted light tone on wooden facades, unusual tiles, antique furniture … In this design, the kitchen in blue colors looks very noble.
However, the complex textured azure on the walls is also a coup for this style.
The main thing here is not to overdo it with the rest of the interior elements: wooden furniture, discreet upholstery of chairs. Observe moderation, otherwise the priority for vintage elegance will not work.
Non-standard reception: Buy classic style furniture – dark wood, delicate details … And bright blue appliances. This will noticeably refresh the interior, make it original and unique.
An interesting solution is a blue boho-chic kitchen. The combination of multi-colored tiles, stone countertops, carved chairs is in itself worthy of attention. But if you choose the right shades, then the effect will pleasantly amaze you.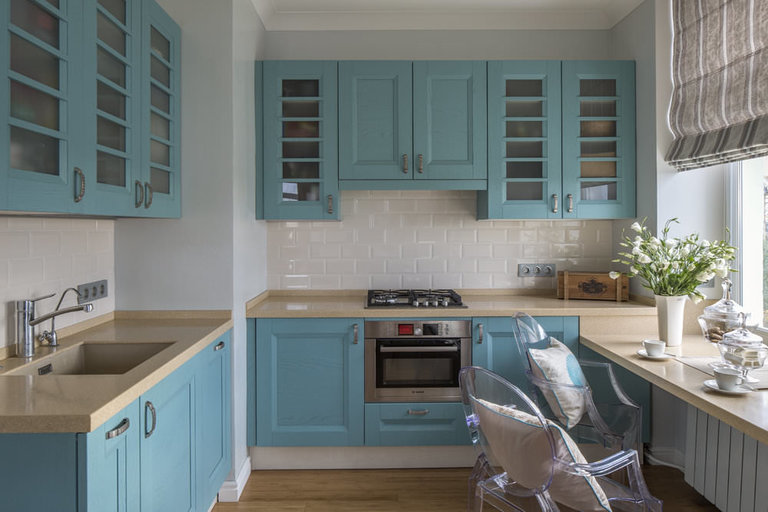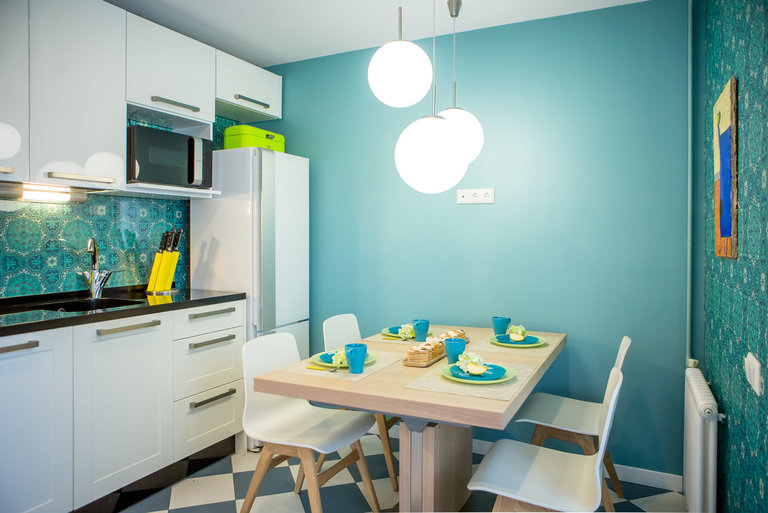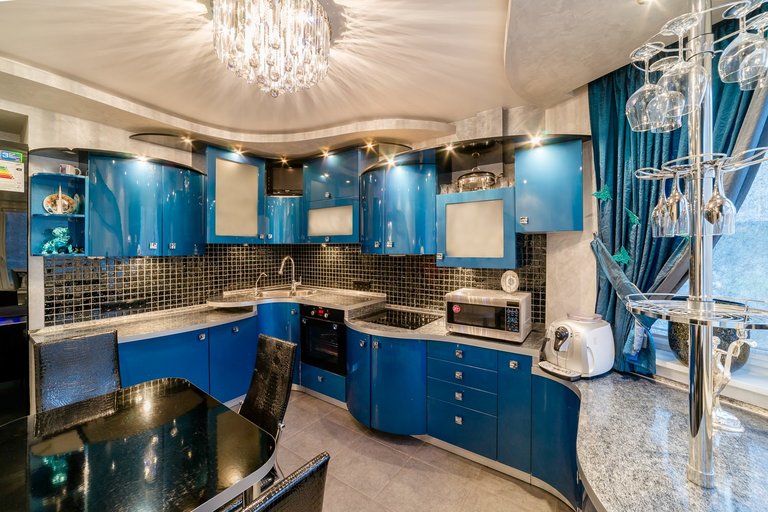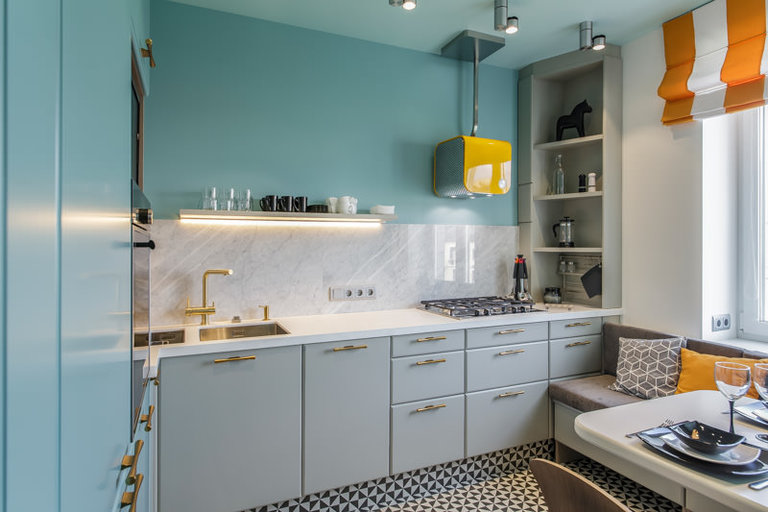 For a large, modern kitchen, you can choose an elongated set with gentle curves. A rich navy blue will help add a zest to it.
True, one nuance must be taken into account here: such furniture is in itself quite defiant. Therefore, the decor will have to be abandoned. It is better to make it a kind of accent, and not try to fit into a complex interior.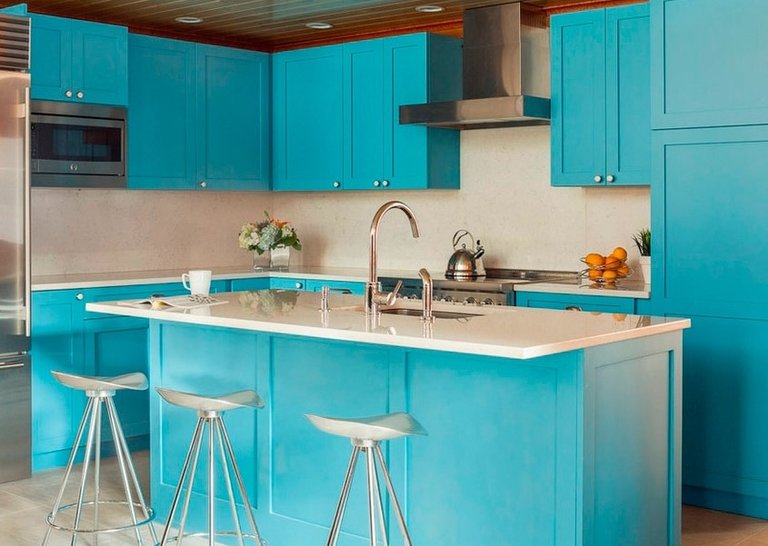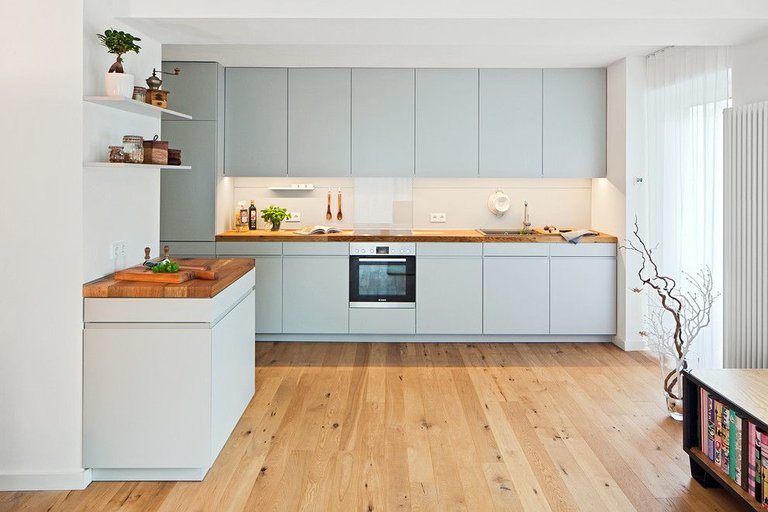 Some blue variations look very subtle. If you dreamed of a dollhouse as a child, the right shade will give you the opportunity to recreate it in your own kitchen.
Glossy caramel blue tone and rounded technique of not too large dimensions are what you need. Oddly enough, in a small kitchen, such an interior is not very appropriate – it is more suitable for spacious rooms.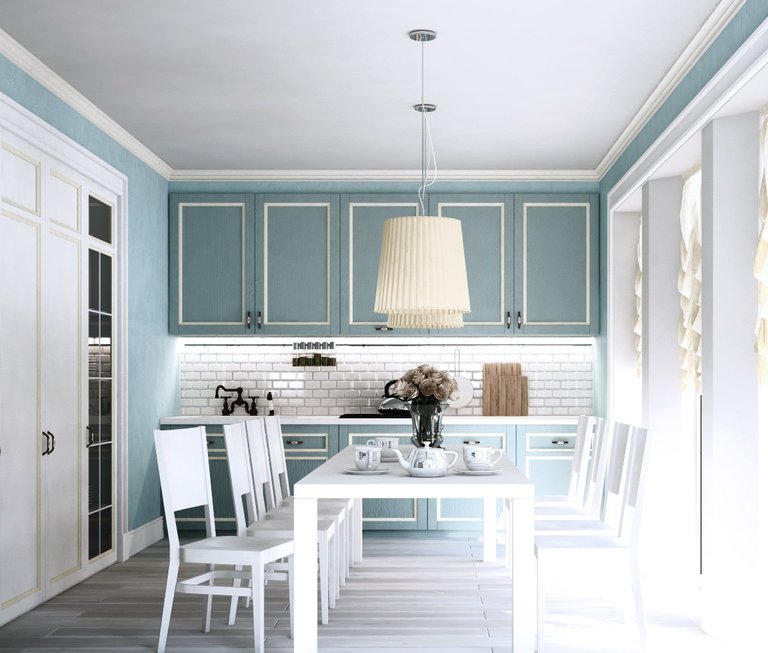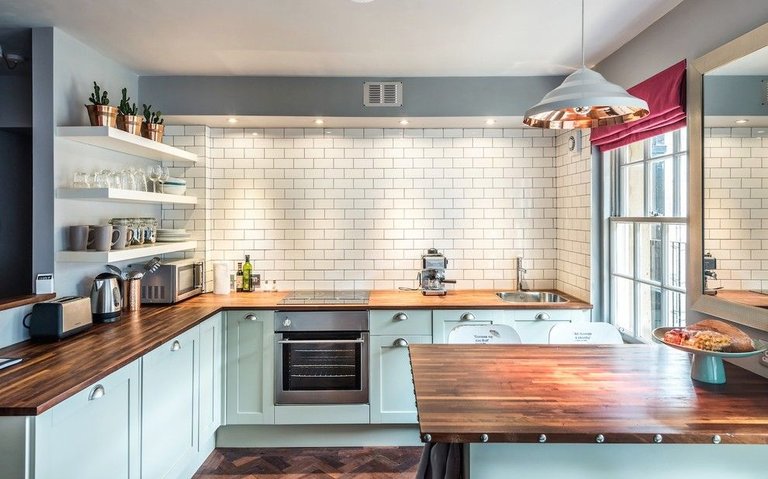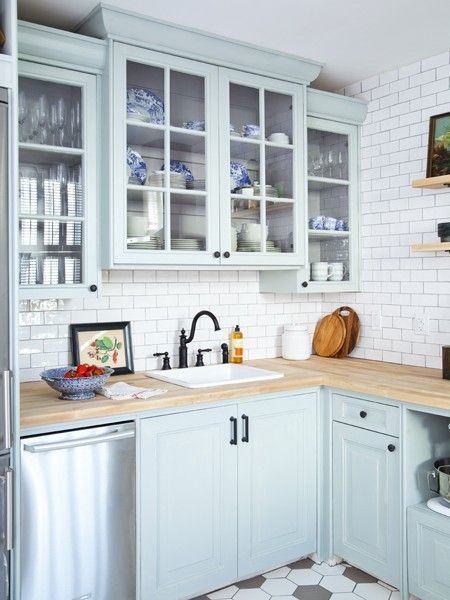 Do you have a studio apartment? Also, do not discount blue.
Blue and white kitchens not only look stylish: these colors harmonize well with a wide color palette, so you don't have to adjust the rest of the room to the kitchen area.
A monochromatic kitchen in grayish-blue tones will look nontrivial. Choose shades carefully: nothing catchy and too bright.
This option is suitable for both large and small spaces. The kind of minimalism that will turn out as a result requires perfect adherence to order – otherwise the effect will be blurry.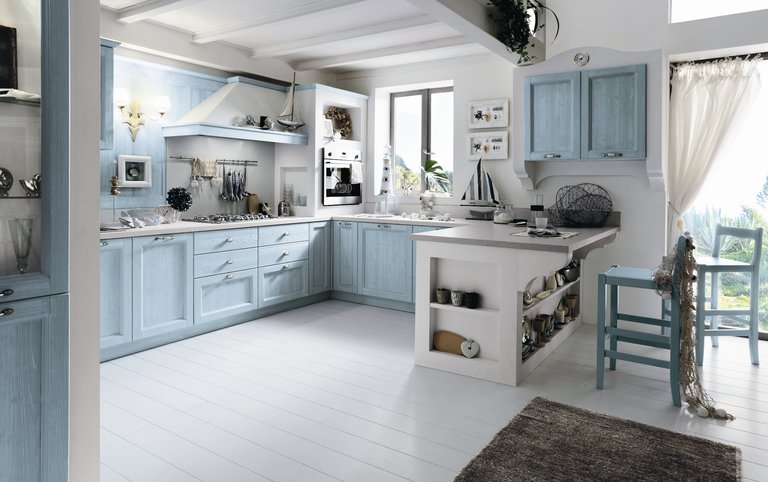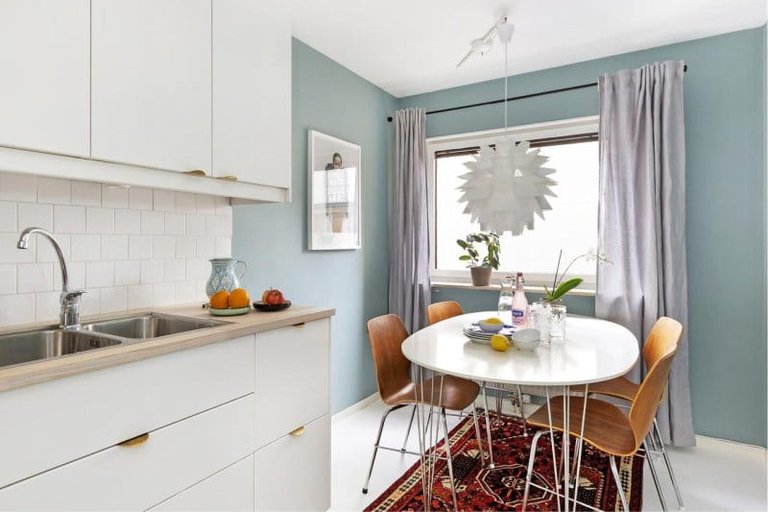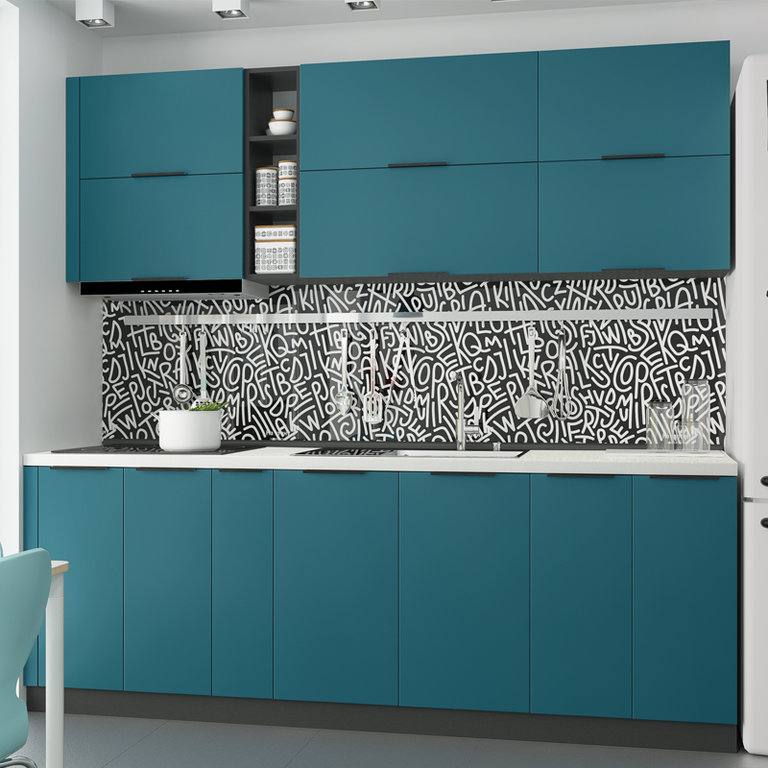 For a spacious American-style kitchen, blue is one of the traditional shades. True, you will have to give up saturated azure or cobalt. But the softened tones that are found in nature are the perfect choice. Gray or black countertops set off well.
Advice: Make the kitchen island a couple of shades darker than the headset to visually zone the room.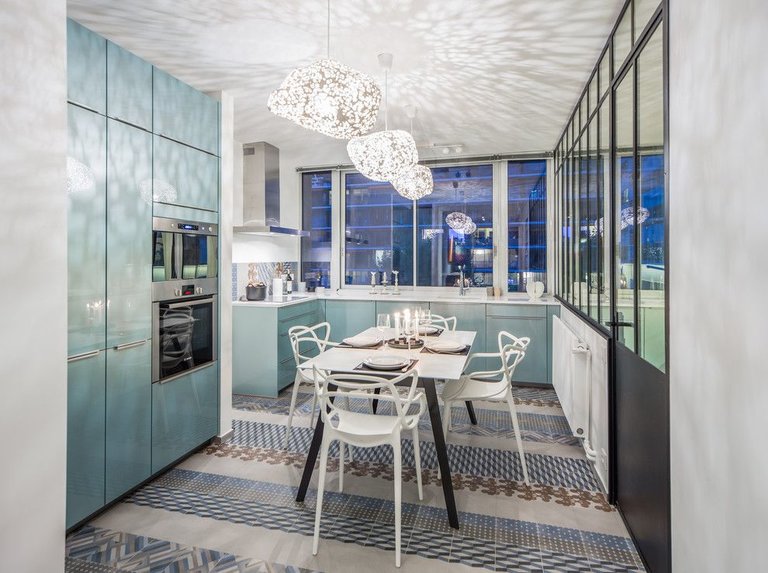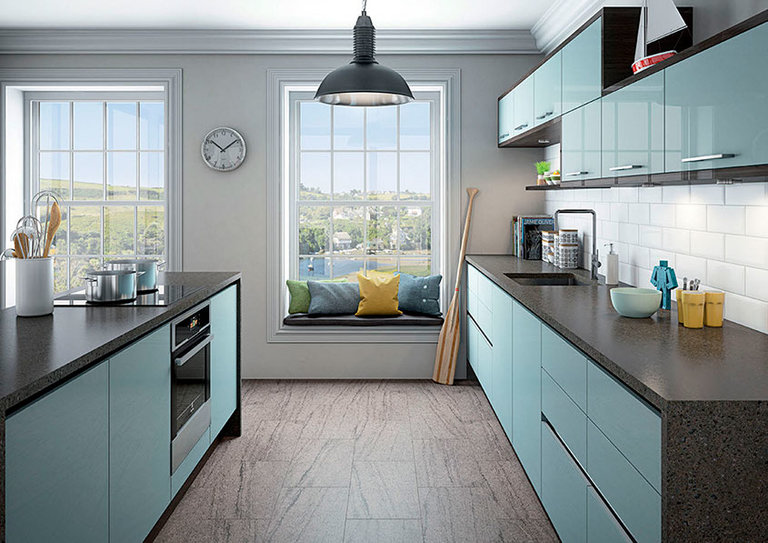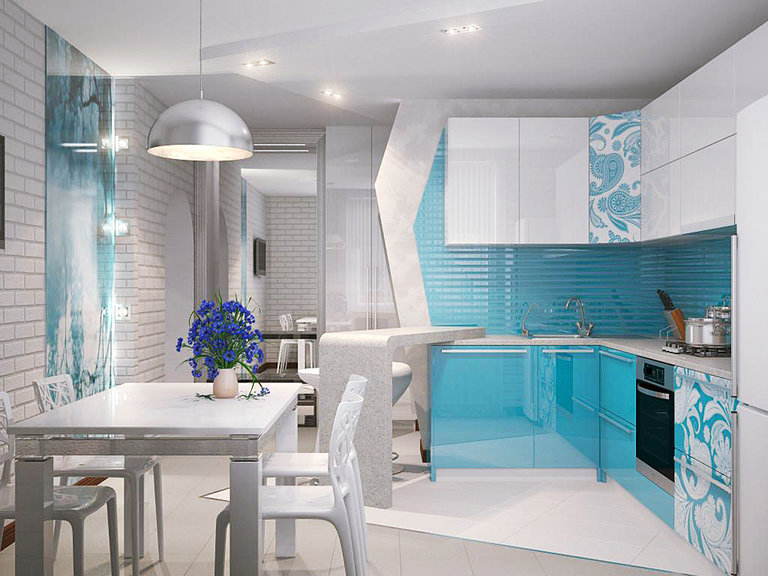 Electric Blue is not a standard move. Please note that this color is quite capricious – it can be elegant or vulgar depending on the frame. Therefore, if you like it, think carefully about the rest of the interior.