Because, the usual tulle, covering the window from the ceiling to the bottom, does not always look good and is inconvenient in operation, since a lot of usable space is lost.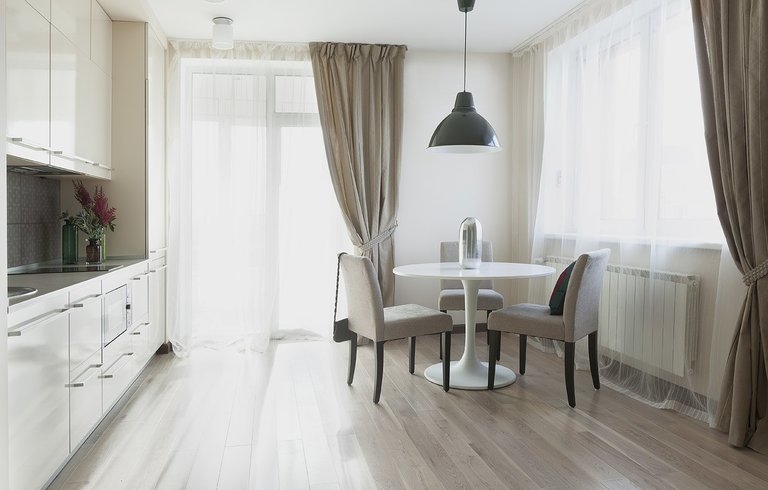 In this article, you will find out which curtains will look more advantageous in such a room and what types of fabrics are currently relevant.
What should be considered when choosing curtains for a kitchen with a balcony door?
The most important thing here is this: the luminous flux in kitchens with a balcony is much lower than with a window that looks directly onto the street.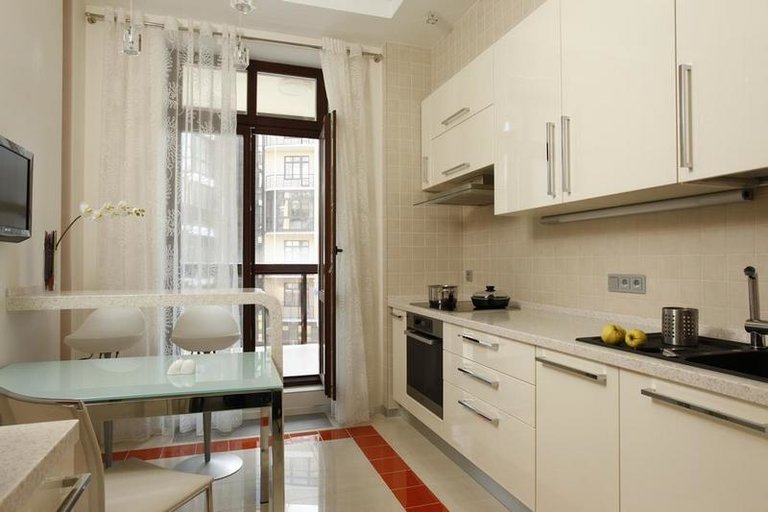 Therefore, if you do not want the kitchen to become too dark, do not choose dark curtains. Only light shades and only fairly transparent.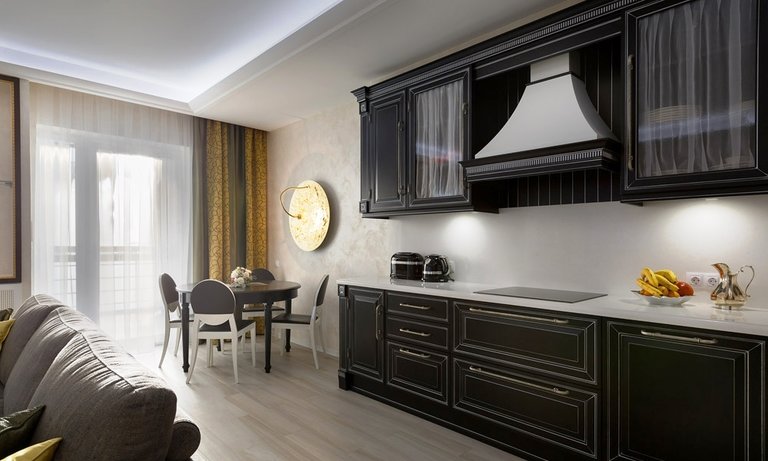 The second is the blinds. They seem to be convenient, but if you consider that the kitchen is a room in which soot is formed during cooking, all their advantages are nullified. Washing dirty fabric is much easier than washing blinds. Moreover, they shade the room too much.

Another feature of the choice of curtains for a kitchen with a balcony door is the need to take into account the unhindered access to the balcony, and if you hang a heavy, not very easy-to-open curtain, then it, firstly, will be annoying, and secondly, it will quickly lose its new look due to the fact that it is endlessly tugged.

Also, you need to consider the presence of a battery under the window. If she is, while she looks unsympathetic, then the curtains should hide it.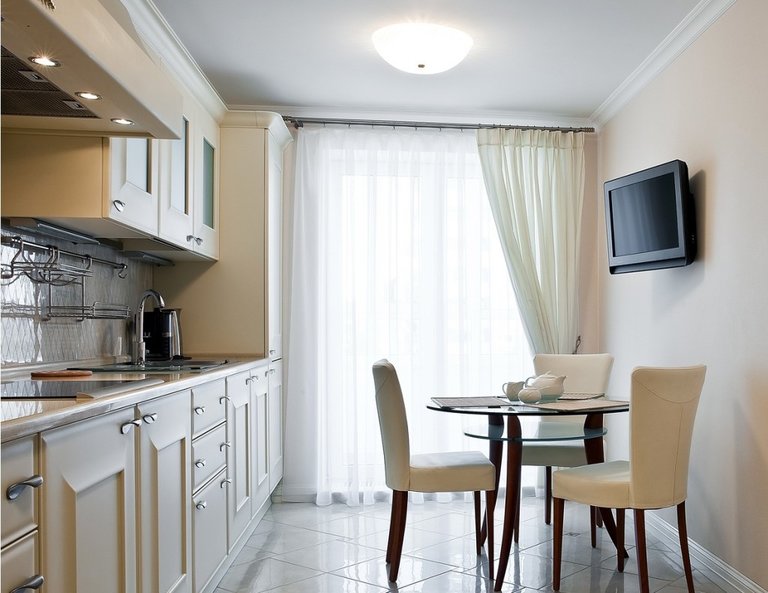 And if there is no battery, or it performs a decorative function (for example, a cast-iron radiator in a retro style), then it is better to make the curtains on this part of the window short, it is much more convenient in the kitchen.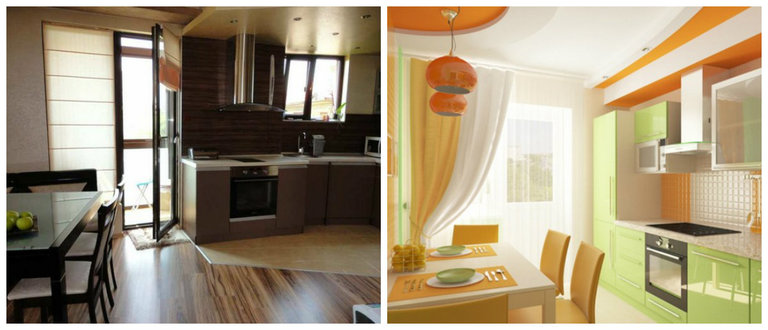 Now we will consider the most optimal options, and you can already choose what you like best.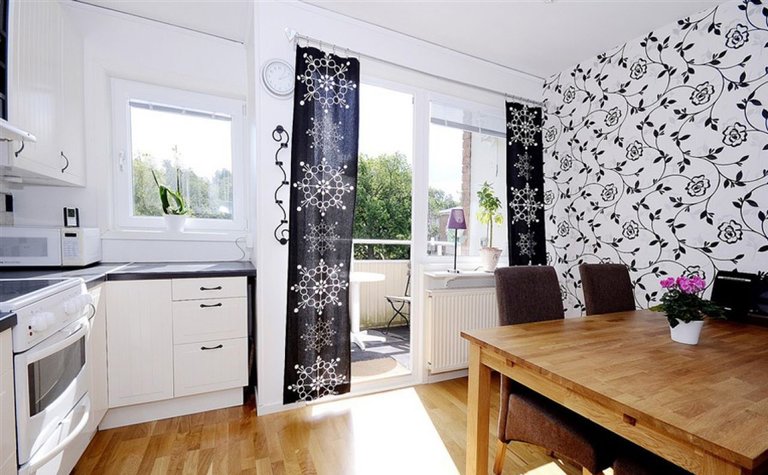 How to choose a cornice for a window with a balcony?
The cornice for curtains, which often have to be opened, must be either durable or of a special configuration, thanks to which it will not be difficult to open the door.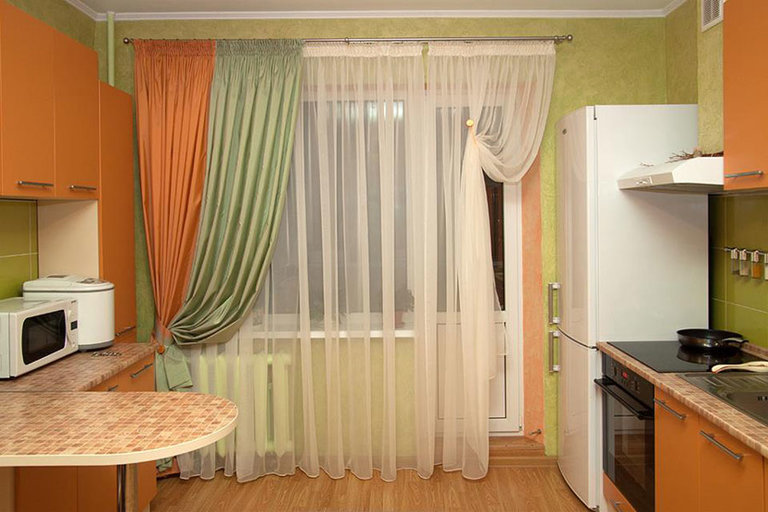 As for the strength – there are no secrets here. Choose not string bindings, but cornices made of wood or plastic with large rings. They are very durable and comfortable.
And if you want to make a special shape for the location of the cornice, we recommend that you pay attention to the following options:
Two-level cornice, one part of which is above the window, and the other above the door and is located a little further
The cornice is attached obliquely, due to which a wide part is formed, which allows you to open the door without moving the curtain
Which fabrics are more suitable for the kitchen?
In the kitchen, the curtains will get dirty much faster than in other rooms, because they cook there. This is high humidity, and soot and drops of fat splashing in different directions.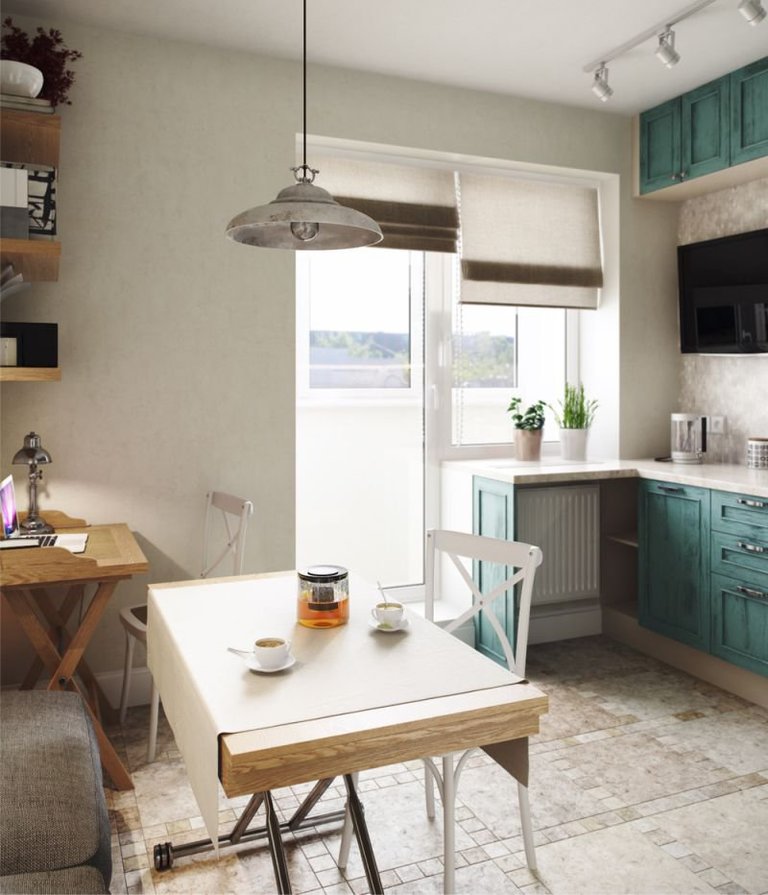 Also, do not forget that any material accumulates odors and even if the curtain is outwardly clean, it will have to be washed, otherwise there will be stale air in the room. Therefore, when choosing a fabric, this point must be taken into account.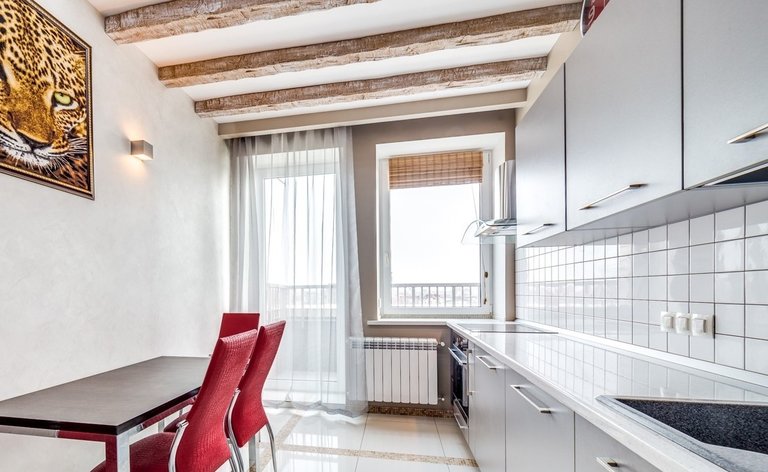 The curtain for the kitchen should be:
As simple as possible, without a lot of lace and embroidery
Easy to wash and dry quickly
Durable, fade-free and well-stitched to withstand frequent washings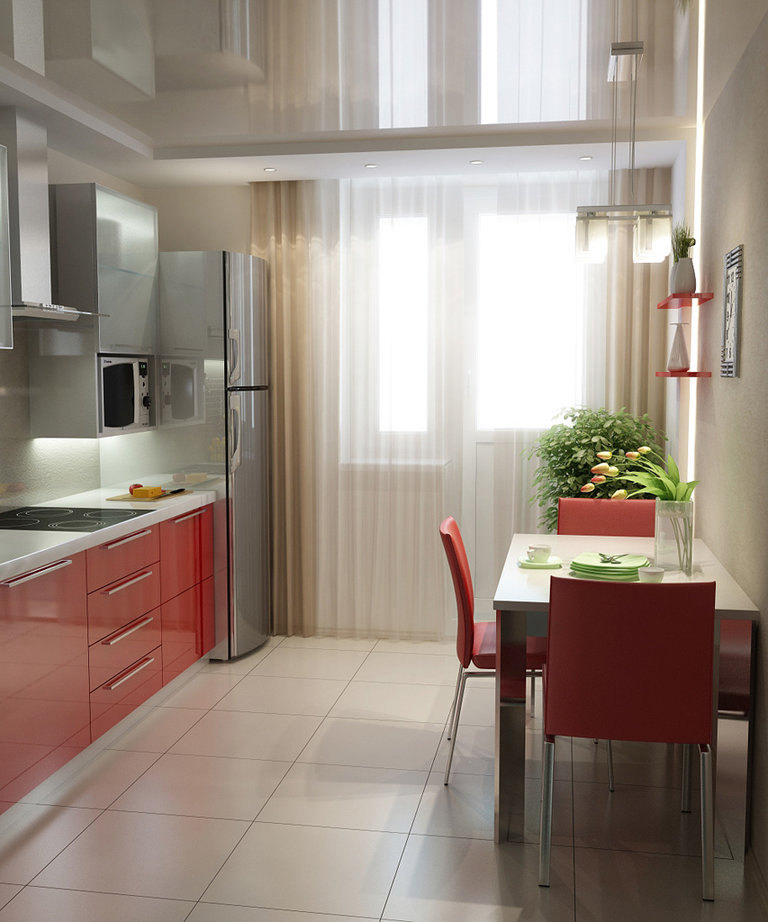 Based on this, we can say for sure which curtains should be avoided:
Crocheted from cotton fabric, since frequent washing will turn them into a rag in a year
Thin tulle curtain with ruffles, ruffles and three-dimensional embroidery
Thick and velvet curtains, as they strongly accumulate odor and dry for a very long time after washing. Moreover, they will be slightly damp all the time, since steam is an almost constant phenomenon in the kitchen. A damp cloth is unpleasant to the touch, lowers the temperature in the room and smells like damp.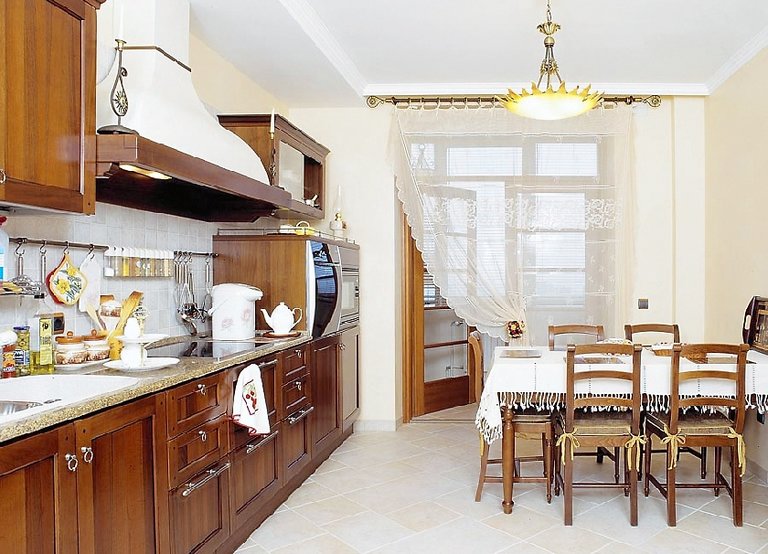 So, as you can see, it is easier to list what is not worth buying than what will fit, since the choice is huge now.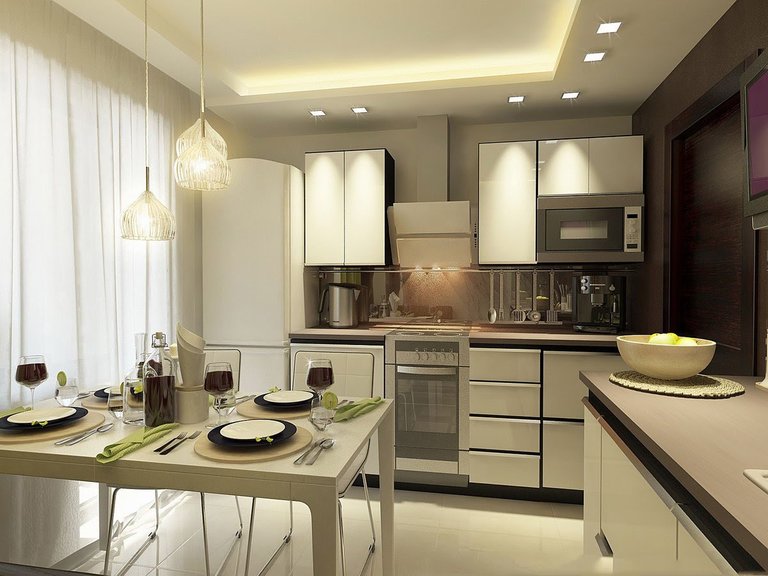 What color of curtains looks the most interesting in the kitchen?
A lot depends on the choice of color. If you choose well, the room will "sparkle", but unsuccessfully – the curtains will only spoil the overall impression, even if they cost you a lot.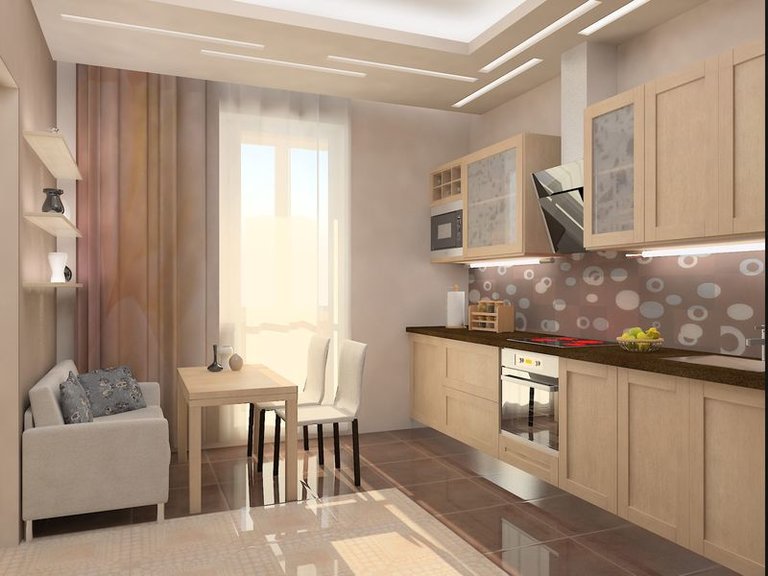 The color of the fabric should be in harmony with the chandelier, furniture, tablecloth and other kitchen textiles. But, there is a risk of overdoing it. For example, people often choose a fabric that exactly repeats the color of the kitchen facade and it looks completely ugly, they just get lost against the background of cabinets. It is much better if any one color element is combined with the main color of the furniture.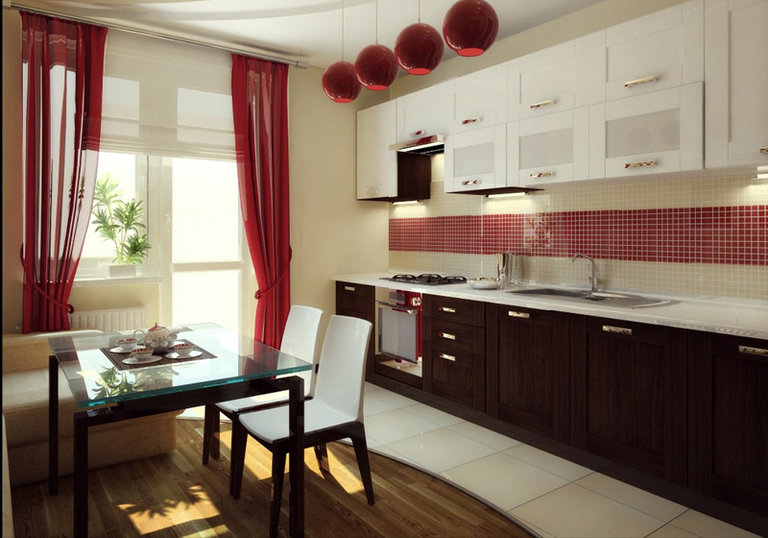 For example, if the kitchen is red, then the curtains should be taken with some kind of pattern, including red blotches: unobtrusive and not very noticeable.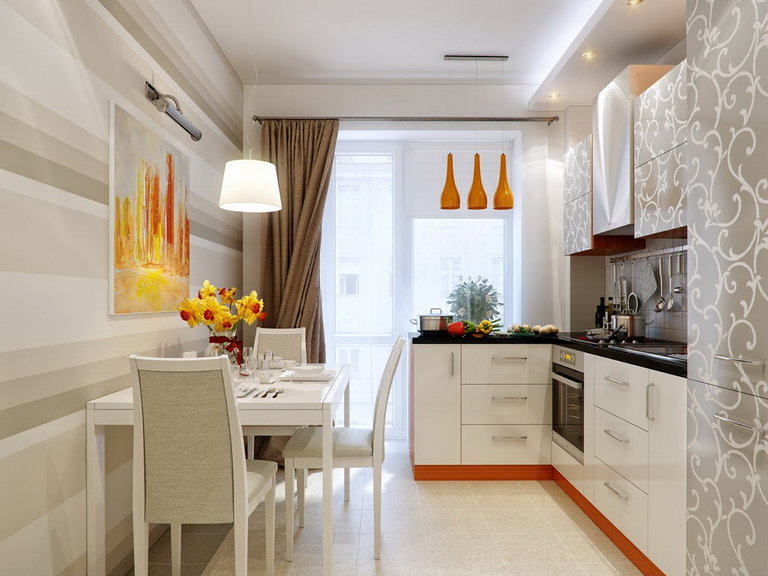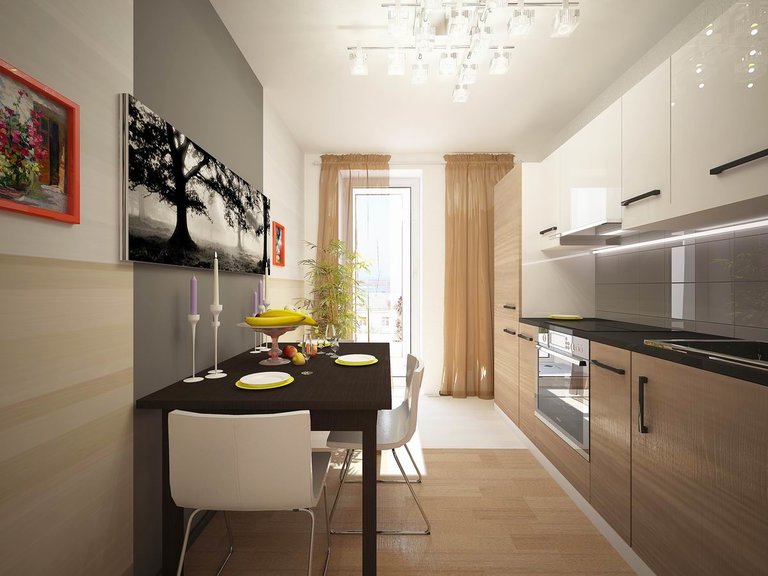 Also, it looks great if the textiles are completely contrasting, but at the same time ideally match the main tone.
In order to choose the right color scheme, you can use a special table. Focusing on it, you can pick up unusual combinations that you don't even think about if you are not a designer.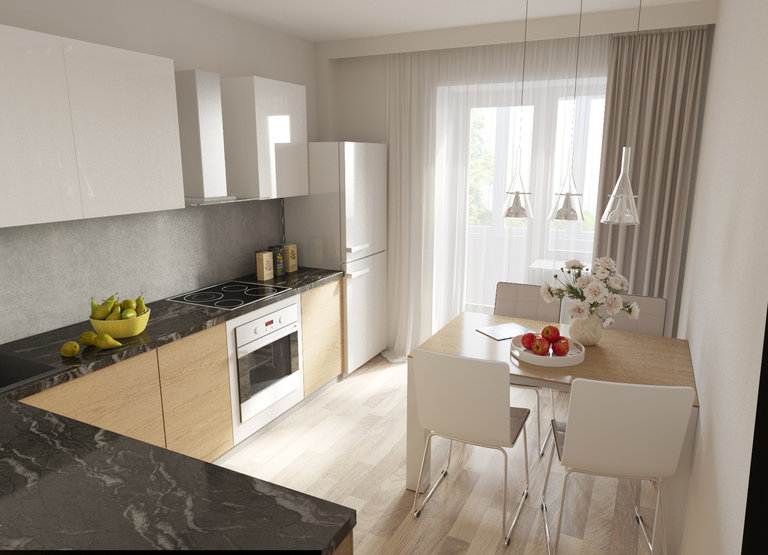 I would also like to say about the dark curtains. If your kitchen is small, then it is better to avoid such tones, as they visually reduce the window and the room. It is better to give preference to light-colored materials.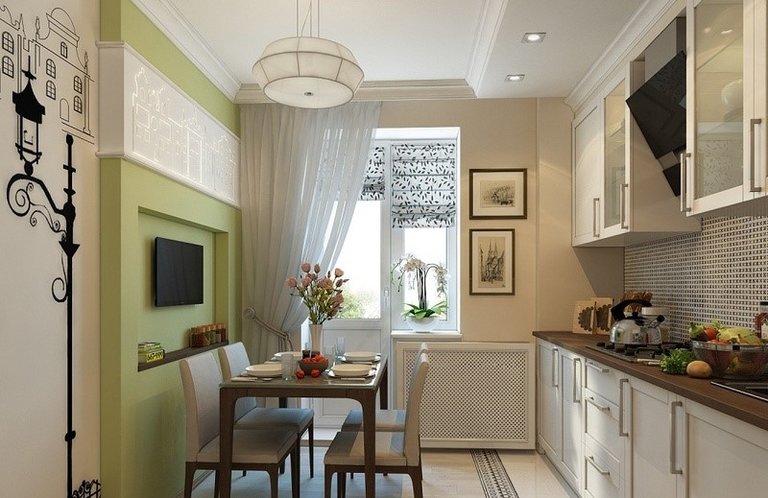 Drawing also plays a big role. Large elements visually reduce the room, while small ones, on the contrary, make the space wider.

Now, let's talk about the modifications of curtains, discuss their features and see the photos in the interior.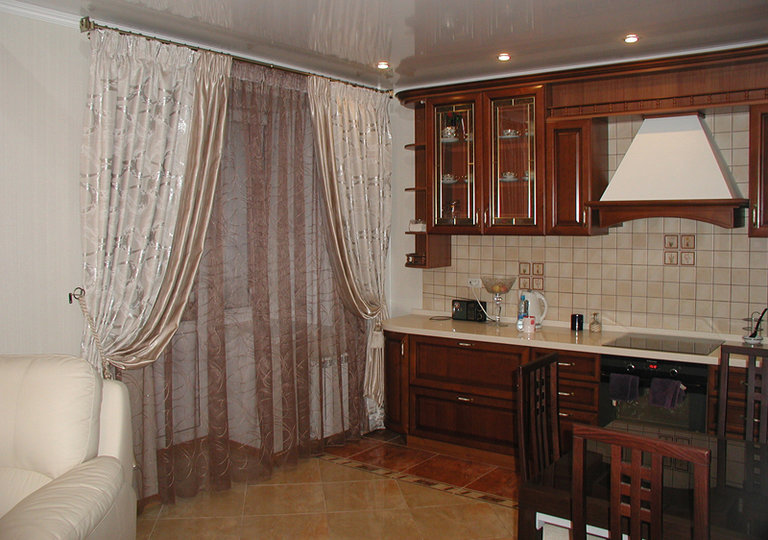 Curtains with lambrequin
Often this type of curtain is chosen for the decoration of the kitchen window. But, frankly, this is not the best option, since in order for the lambrequin to look good, you need a large amount of fabric that can be easily draped.
And no matter what color you choose here, the general view of the frame comes out quite voluminous and pompous, which, with a small squaring, looks unnatural and out of place.
Here are examples of curtains with a lambrequin against the background of a window with a balcony door: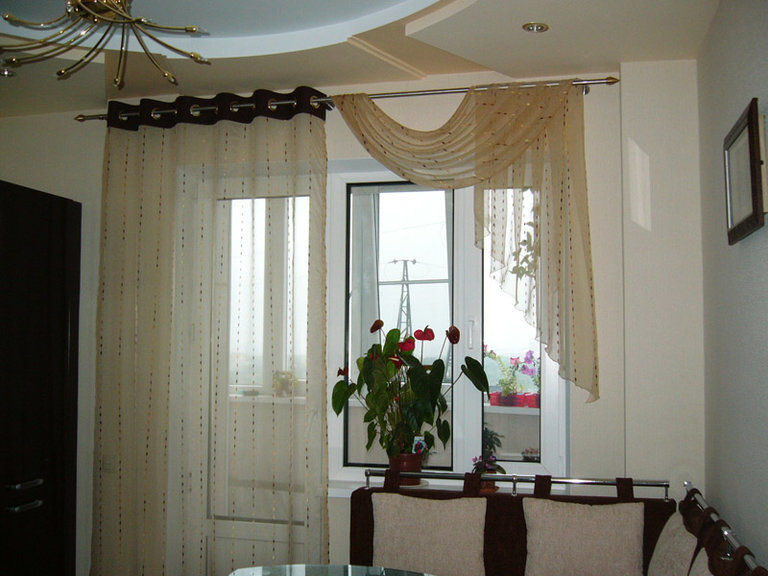 The only option for lambrequins that look good is cotton options without excessive drapery and excessive asymmetry. For example, this option looks great: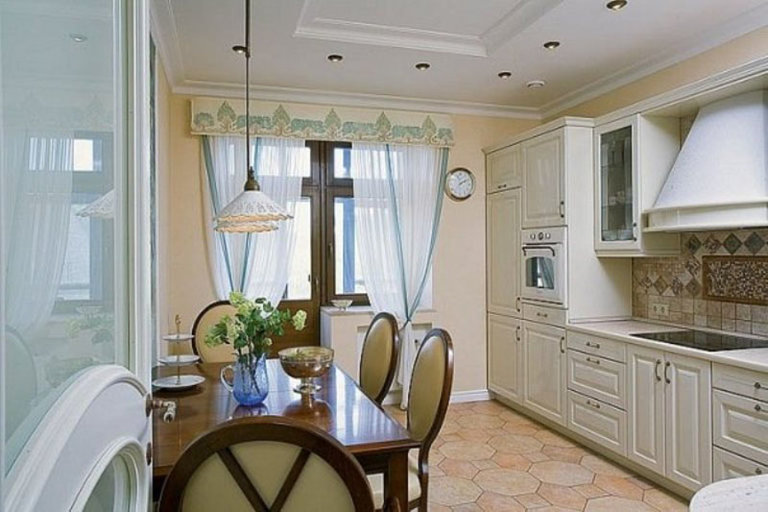 Hinged curtains
Such curtains look very interesting and, at the same time, are very simple to cut. If desired, everyone can sew them with their own hands. Here's how they look in the interior:
Curtains on eyelets
Their advantage is that they look elegant, interesting, but at the same time they are simple in cut and very easily move apart. This is how it looks: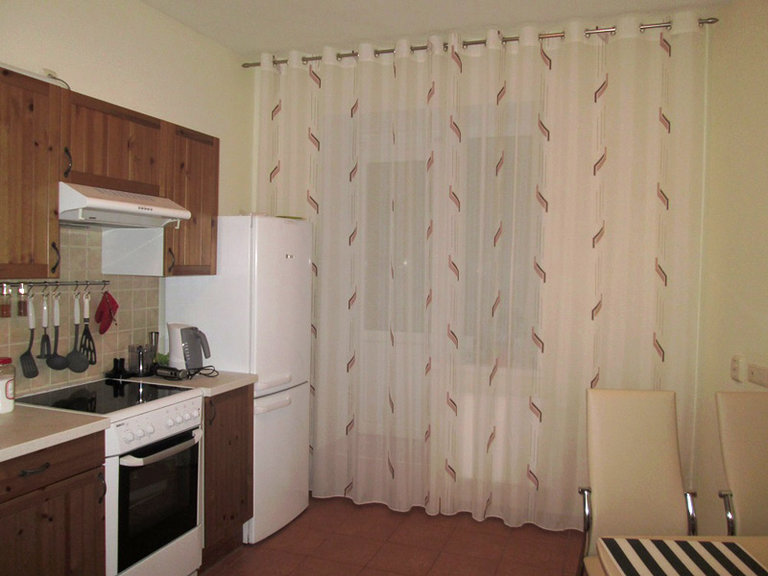 French curtains
Probably everyone knows French curtains. Their characteristic feature is prefabricated scallops. They are very fond of decorating theater premises.
Therefore, not every kitchen will have such chic. Still, the French curtains are too pretentious and look just as catchy on the window, as an option with multi-tiered lambrequins.
And even more so on a window combined with a door, this option will look too voluminous.
French curtains look harmonious in the kitchen in one case: if they are short and do not involve additional textiles. Here's how in this picture: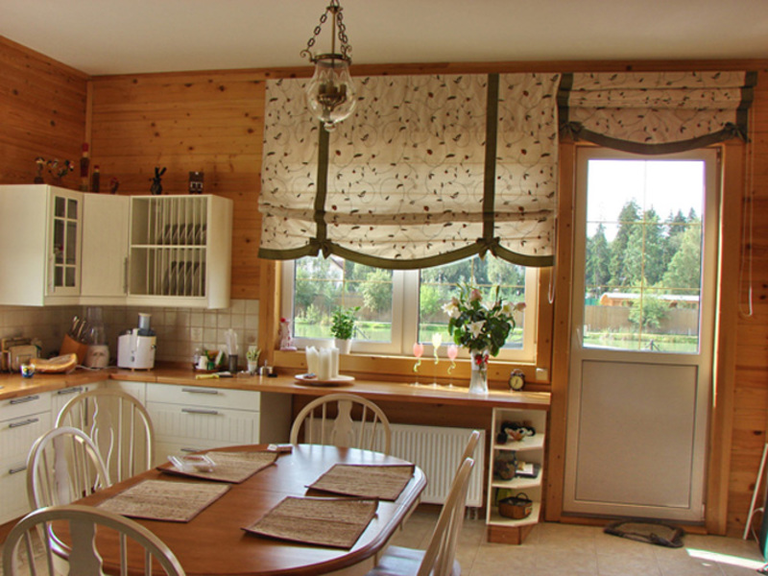 And as you understand, there can be no question of practicality. You can't move them and shut them up in the evening. That is, it is an exclusively decorative type of window decoration.
Italian curtains
Italian curtains are roughly a triple canvas. The option is unusual, elegant, but again, in a small kitchen it is not very appropriate due to its excessive volume.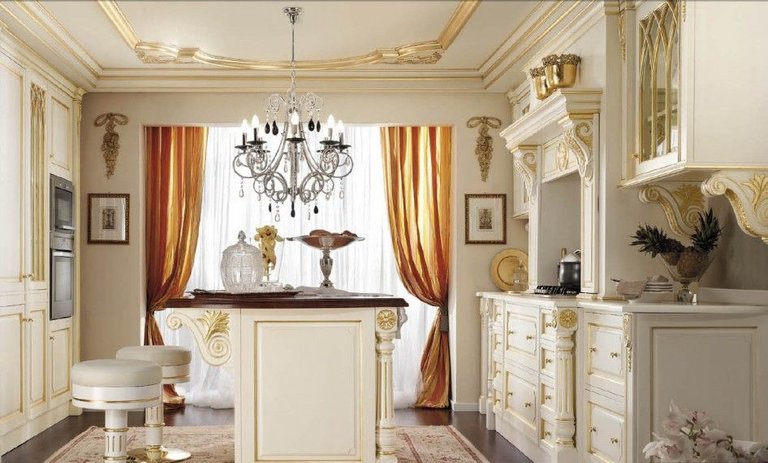 In the picture it looks beautiful, of course. But imagine the same thing on 6-7 squares?
German curtains
The German version of window drapery involves a double cornice: on top and in the middle of the window. It looks very cozy and cute, but they are not suitable for every window from a functional point of view.
If it swings open in your standard way, and does not rise up, in the European manner, then such curtains will greatly interfere with airing and washing the glass.
Japanese curtains
These curtains are somewhat reminiscent of blinds, but they look much more interesting and comfortable. They can be of absolutely any color, have a different number of canvases and very successfully decorate a window with a balcony door.
The only thing to consider: if you hang the canvas over the door, and the cornice remains at the level of the main window, then it will be inconvenient for you to enter. It is better to push the cornice slightly forward.
Here, look at a photo of Japanese curtains in the interior: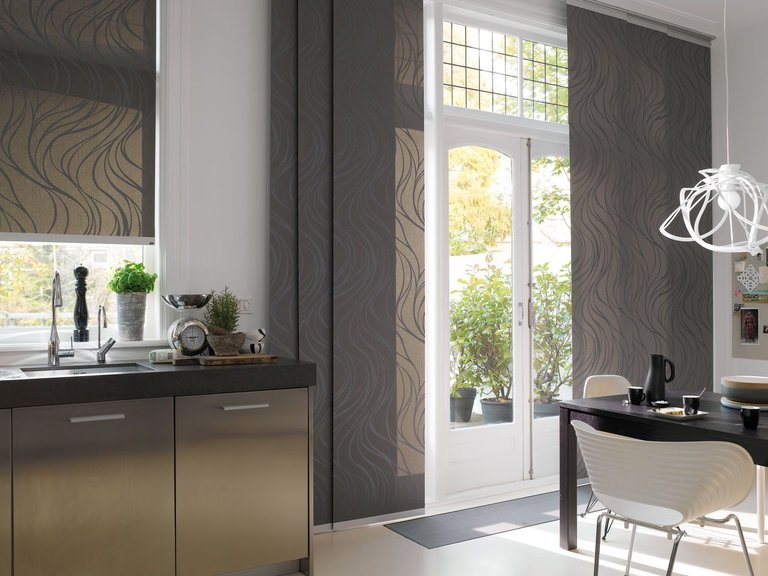 Roman curtains
Concise and practical, therefore, for the kitchen, this is a good choice, provided that the material for them is transparent.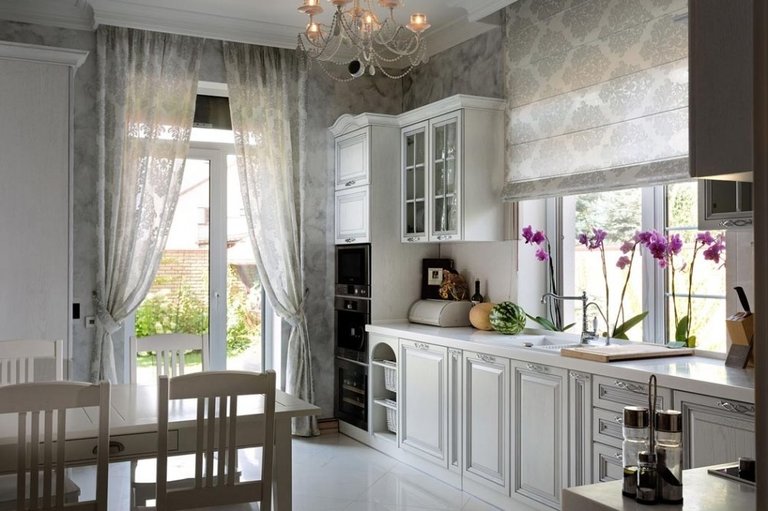 If you choose something darker, then you will have to keep them assembled all the time, since even half of the unfolded area of ​​the fabric will shade the already darkish kitchen too much.
Jalousie
We already talked about blinds at the very beginning: it is not very convenient and there is no kind. See for yourself how boring they look: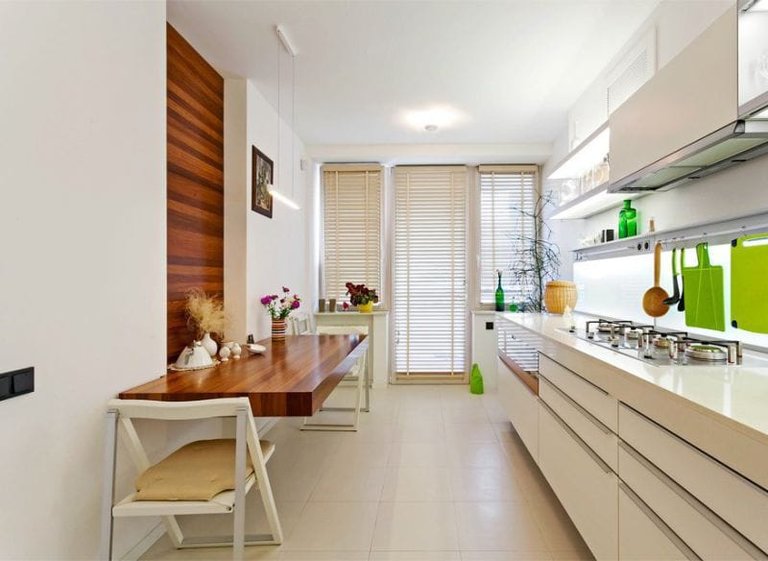 Unless, if they are used in tandem with fabric curtains, then they will be more or less practical.
Suppose tulle plays a decorative role, and the blinds are lowered only when you want to completely close the opening from human eyes, that is, in the evening.
True, if your kitchen is made in some ultra-modern style, such as high-tech, then the blinds will look harmonious.
Thread curtains
If you choose a good color, then they look very interesting and appropriate in the kitchen. Light is transmitted well and often does not need to be washed. This is not to say that this is a novelty in window design, but it cannot be called an antediluvian option either.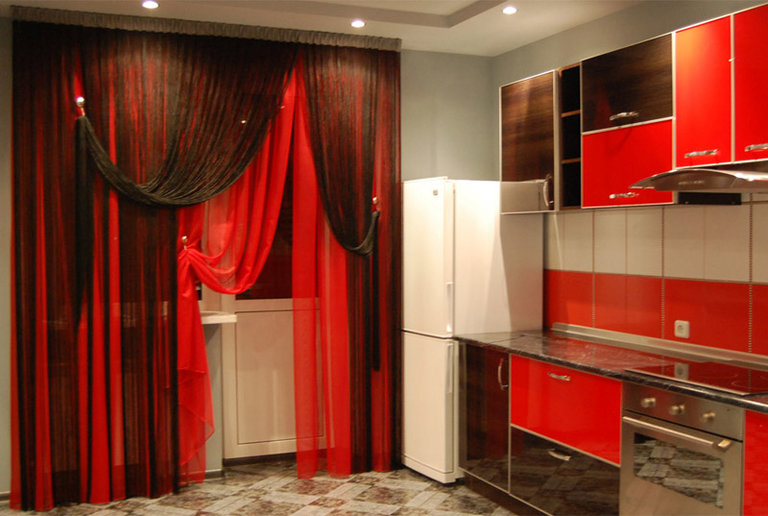 This is how thread curtains look in the interior of a kitchen with a balcony: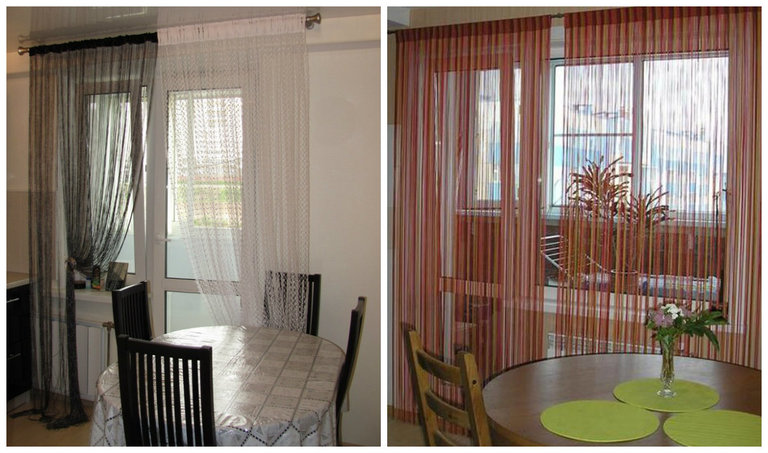 Beaded curtains
These curtains can be made by hand. Their big plus is that the pollution on them is invisible, it looks very unusual, the light is perfectly transmitted and they can be combined with any curtain. Here's how it looks live: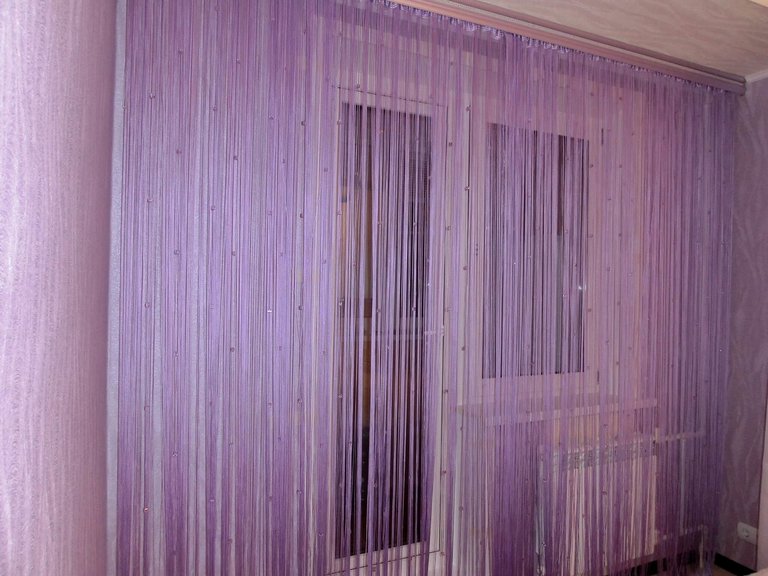 We have disassembled almost all existing curtains for a kitchen with a balcony door and we hope that our review will help you make the right choice.