On average, their price is several times lower than even the cheapest analogues made of artificial stone.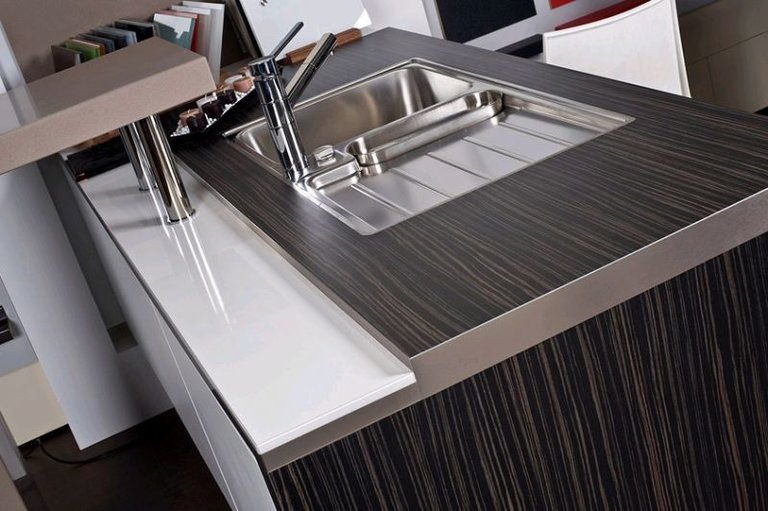 They are effectively combined with chipboard and MDF facades. Today on sale are models of countertops that imitate stone, marble, wood, opening up unlimited possibilities for the implementation of design ideas.
Let's consider in more detail the features and nuances of plastic countertops, their advantages and varieties.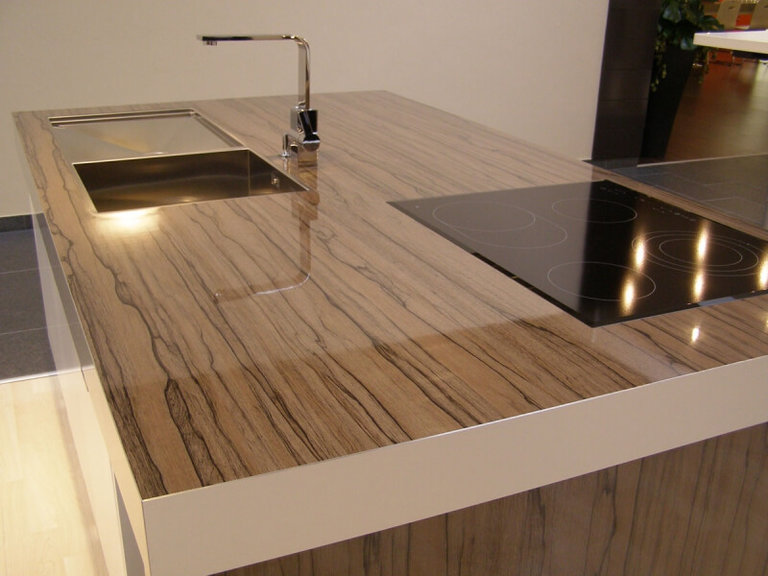 Benefits
The basis of most modern plastic kitchen worktops is chipboard, covered with a thin but strong enough layer of special HPL plastic. You can also find models made on the basis of MDF.
These materials are held together postforming method. This technological process involves the use of high pressure and temperature. At the same time, the plastic reliably covers not only the horizontal surface, but also enters the leading edge.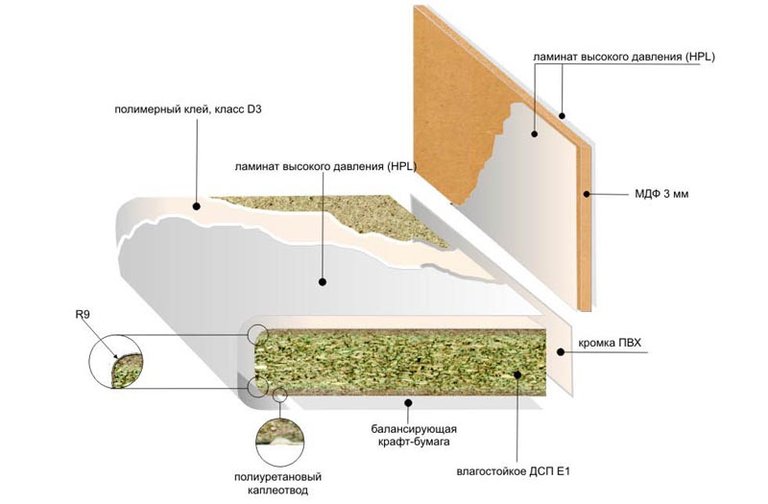 The result is a smooth and perfectly flat surface without seams and joints, endowed with enviable aesthetics and enviable performance.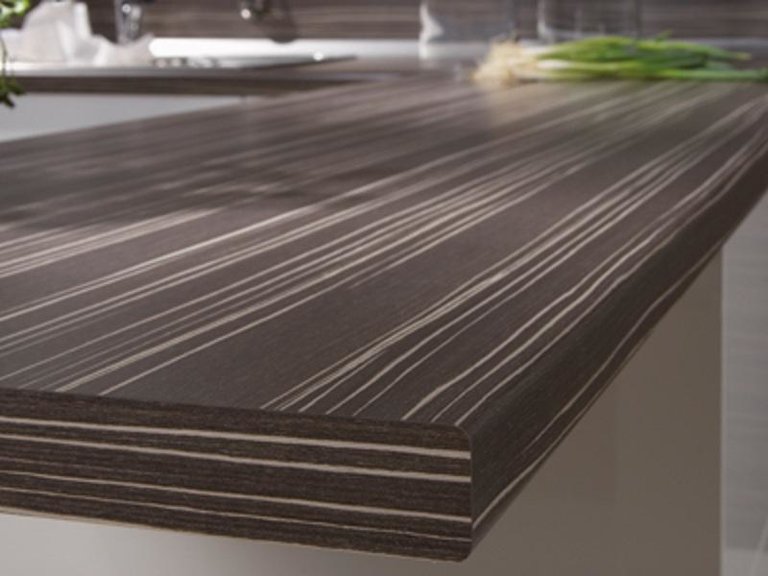 HPL plastic is made from multi-layer kraft paper that is pre-impregnated with special resins and pressed.
A layer of polymeric material is applied on top, giving the product increased resistance to moisture, ultraviolet radiation, mechanical damage, chips.

Among the key benefits plastic countertops are worth highlighting:
Affordable cost.

This is the most budgetary option among those on the market today. Domestic products are the cheapest, while foreign counterparts will cost you a little more.
Incredible

wide palette

textures and colors. Thanks to this, it is easy to choose an option that will most of all fit into a given interior and a palette of shades.
The ability to use a wide range of household chemicals in care, including disinfectants. The exception is chlorine-containing compounds, acids, acetone, abrasive components. They can have a negative impact on the aesthetics of the outer laminate layer.

UV resistance.

You can be sure of long-term preservation of color brightness even if your kitchen is located on the sunny side.

Resistant to high temperatures.

If necessary, you can put a hot cup on it, but it would be better to place a saucepan that has just been removed from the heat on a special stand.
Aesthetics. The surface is not inferior in its attractiveness to artificial or natural stone, natural wood.
Looking for a worthy solution for yourself, keep in mind that a pattern resembling a stone surface looks more authentic than a wood finish.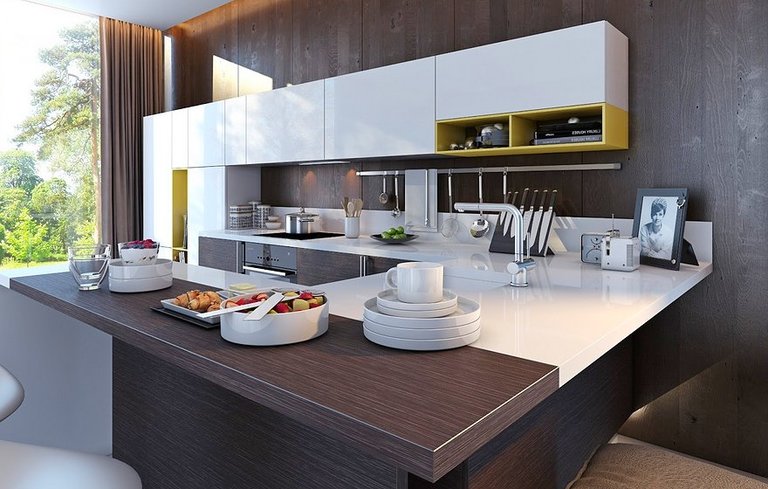 Together with a number of significant advantages, plastic kitchen countertops have some nuances, which must be taken into account during operation, which will significantly extend the period of their service while maintaining the pristine aesthetics.
Chipboard itself is a material that is highly susceptible to moisture. If during operation If you allow water to enter the joints of the countertop, this can lead to its swelling and deformation.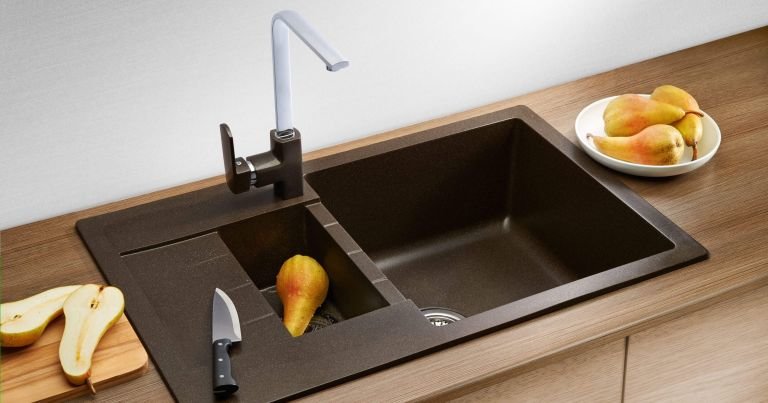 Consider the fact that, plastic cannot be restored, therefore, scratches and chips, which are difficult to avoid with prolonged use, will spoil the appearance. But since we are talking about an inexpensive material, you can simply replace the damaged surface with a new one.
In the process of operation, the plastic worktops based on moisture-resistant chipboard, 38 mm thick, covered with HPL plastic by postforming, proved to be the most worthy. Choose class E1. This solution is optimal in terms of quality and cost ratio.
Gloss or mat
To cover the chipboard, different HPL plastic can be used, allowing to obtain both matte and glossy surfaces.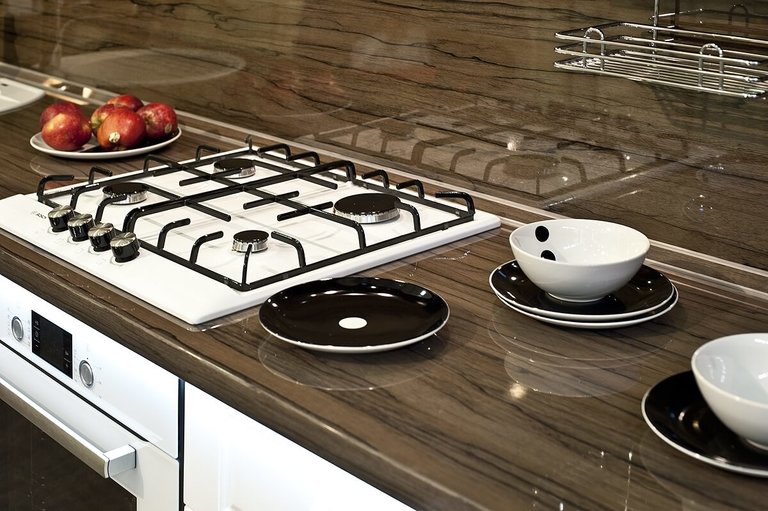 Matte plastic countertops are slightly roughened and resemble orange peel in structure. Glossy – perfectly smooth and shiny.
Choosing a worthy option for yourself, you should pay attention not only to the color, but also to the type of surface.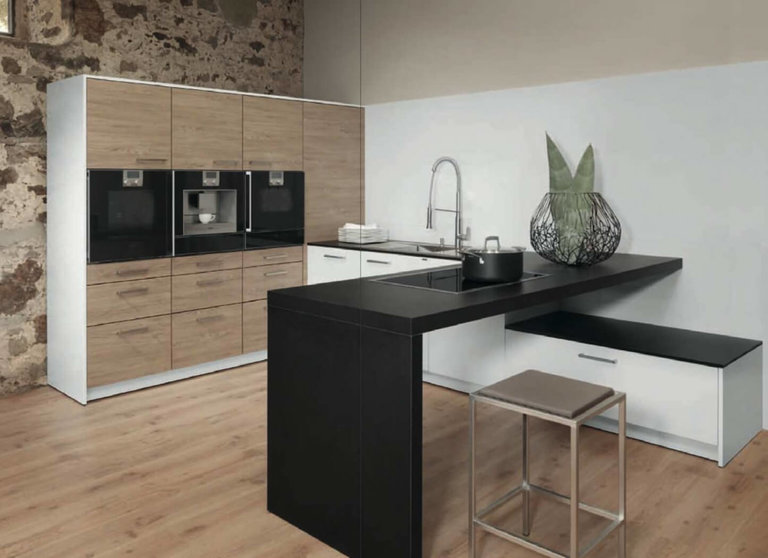 Gloss will be a worthy option for modern interiors. Its brilliance will fit perfectly into high-tech and minimalistic kitchens, emphasizing their belonging to a given style.
They differ in simplicity and in the care process. But you should be prepared for the fact that on such a surface all traces of food and even fingerprints will be visible.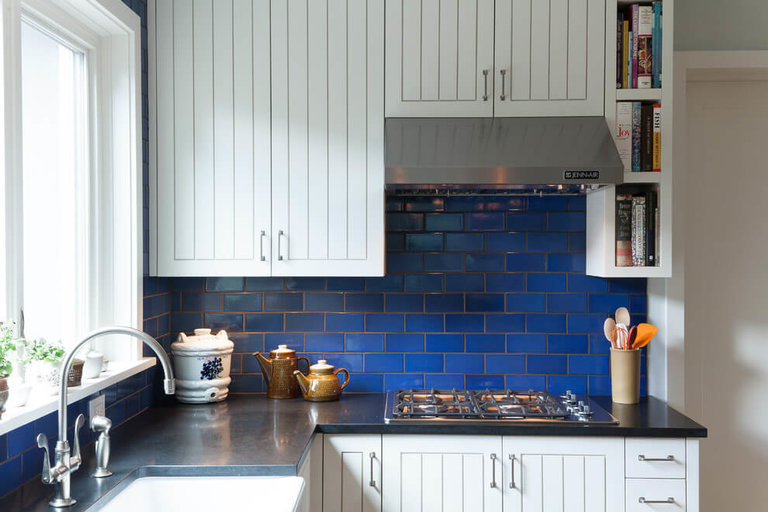 Matte countertops more practical. Their external solution will effectively harmonize with the atmosphere of classic designs.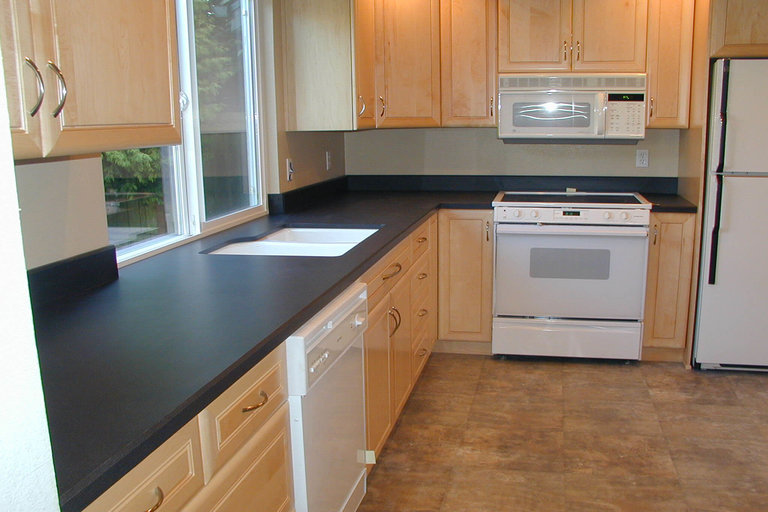 Today, glossy boards with a smooth surface and a slight gloss are on sale. They should be preferred to those who doubt between matte and clear glossy surfaces.
About sizes
In the modern market, most of the plastic countertops are presented in two thicknesses: 28 and 38 cm. The second option is almost twice as expensive as thin counterparts, but its strength, reliability and durability leave much to be desired.
If you want a perfect work surface, take a look at the models made of lightweight chipboard, 60 mm thick. Such countertops are also endowed with increased resistance to moisture.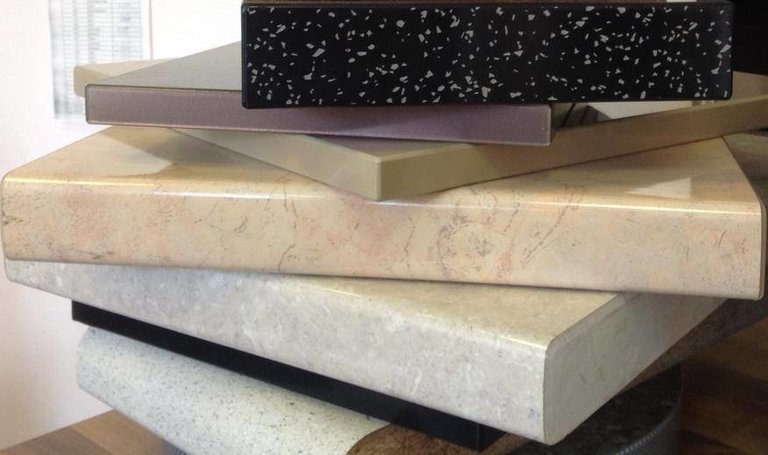 The width of the slabs is also quite standard – 600 mm. If necessary, you can find products, the width of which is in the range from 300 to 1200 mm.
The length of the slab ranges from 2440 to 4200 mm, depending on the thickness of the countertop. The dimensions should be selected so that there are a minimum number of joints on your work surface.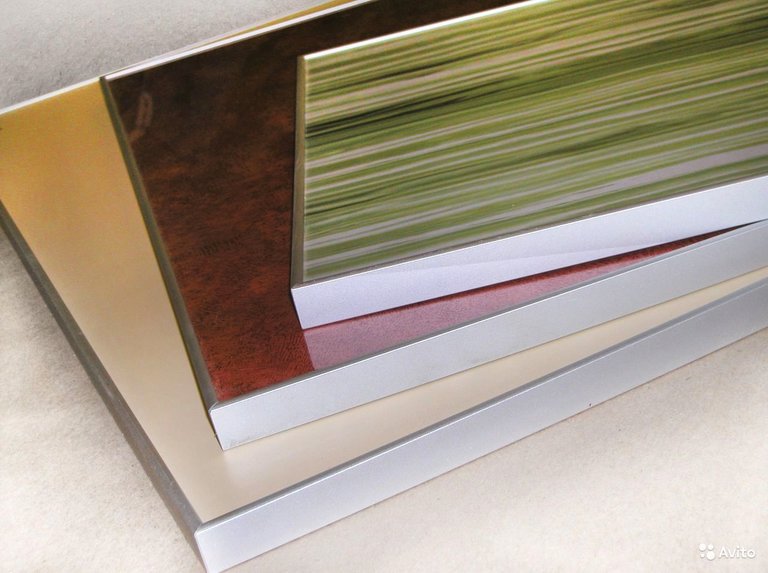 For linear kitchens, most of them use one solid plate. Corner modifications are in any case composed of several elements.
The aesthetics and durability of the countertop largely depends on the plastic that the chipboard is covered with. It can be 0.4-0.5 (domestic and Polish production) or 0.8 mm (German counterparts).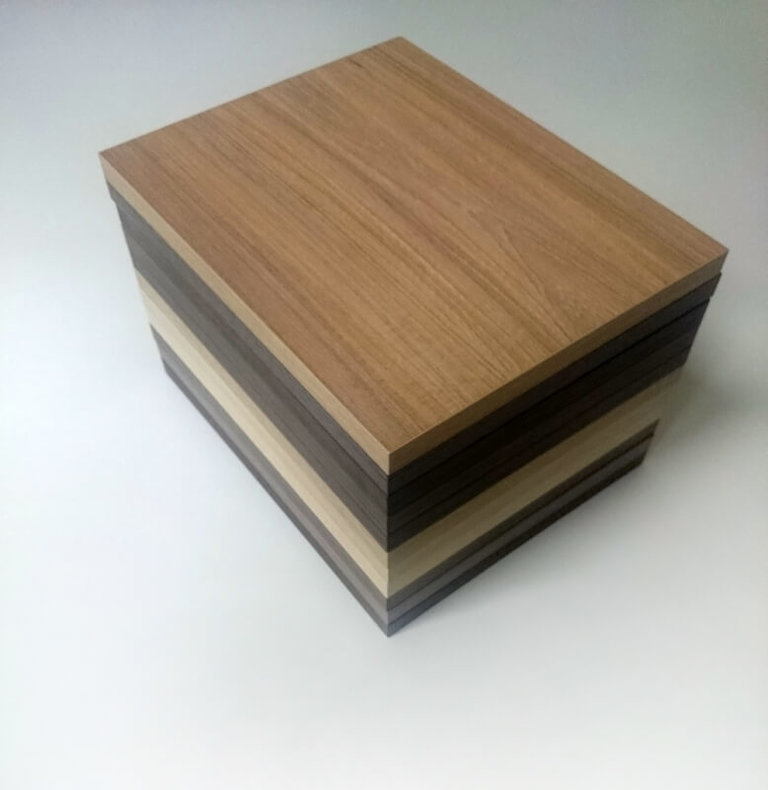 The thicker the layer, the more resistant to high temperatures and traces of coffee, wine and juice the countertop will be.
We advise you to pay attention not to CPL, but still to HPL coatings obtained by postforming. They are not so scratched, they fade minimally, they are distinguished by increased strength, although outwardly these modifications are quite similar to each other.
Designer Tips
On the basis of modern plastic countertops, you can create original and non-trivial design kitchen countertops.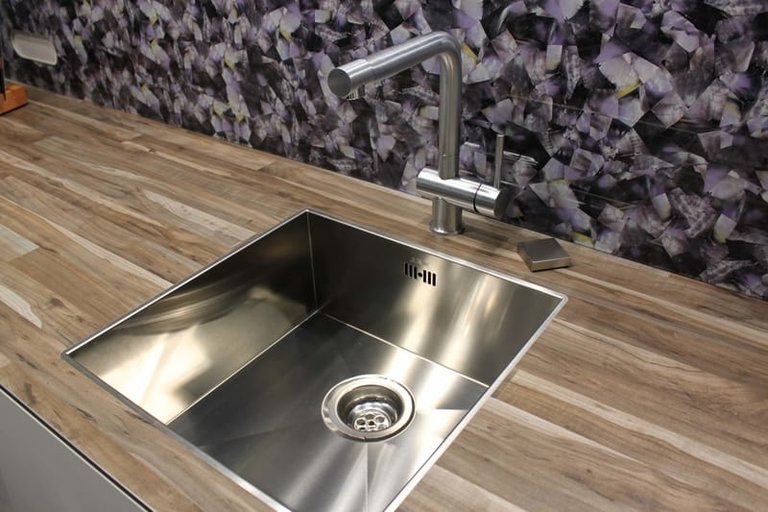 Innovative printing technologies allow you to transfer any drawings to the surface, obtaining solutions endowed with a bright personality and originality.
You can easily find for yourself and fairly exotic colors, but before deciding on such a step, you should understand that such a surface may soon bother you.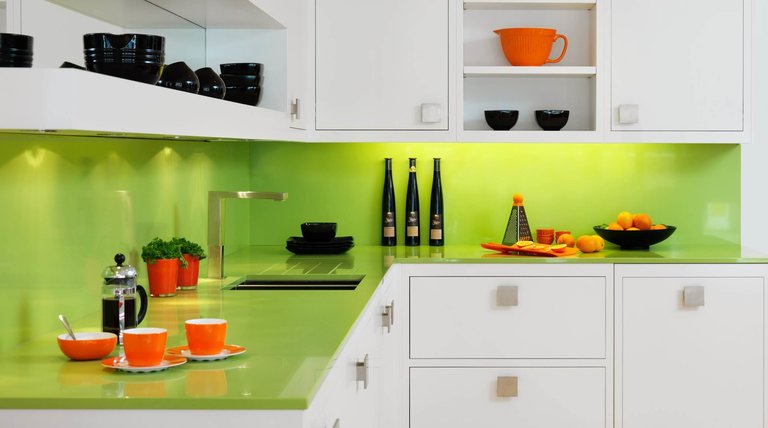 Laconic and simple countertops resembling stone or wood in color and texture are the most optimal solution. They are able to easily emphasize the sophistication and originality of the kitchen set, without attracting special attention to themselves.
Look for the most versatile solution – look for white laminated chipboard boards. They fit effectively into any interiors and designs, combined with different colors and shades.
Countertops in dark colors look very impressive and stylish. Having chosen this option for yourself, you should understand that during the process of use it is difficult to avoid dirt, scratches, stains, and against such a background they will be seen more clearly.
If you are making a kitchen for yourself seriously and for a long time, note that the bright shades of even the highest quality plastic will become faded over time.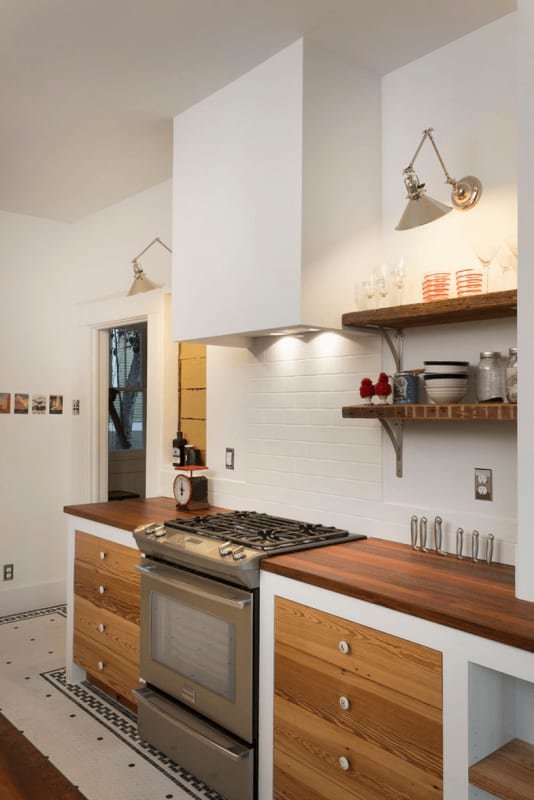 The simplest, but most reliable and aesthetic option is the tones of gray, beige and brown.
Selection of components
To arrange a decent work surface in your kitchen, it is not enough to choose the worktop itself. Additionally you will need to purchase:
Plinth;
Edge;
Sealant;
Metal strips (for corner kitchens).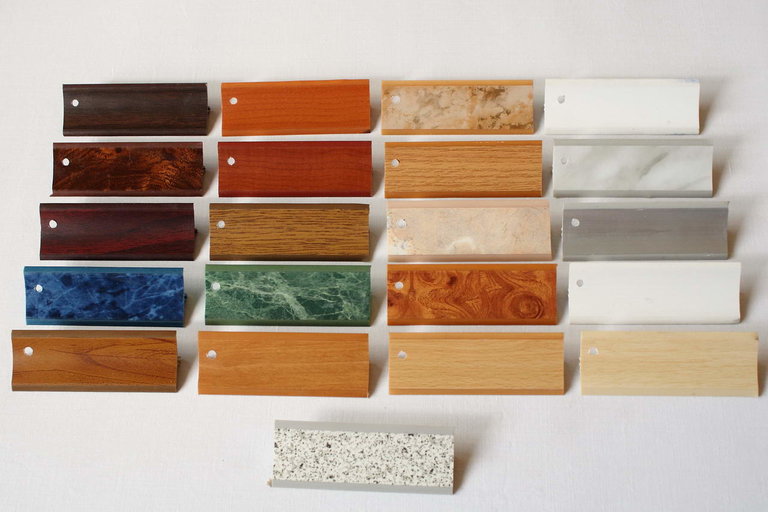 The skirting board is laid along the back wall of the worktop and connects it to the work apron. It will significantly extend the service life of both the stove itself and the back wall of your kitchen set.
The color can be selected so that it is in harmony with the surface of the table top, and with the finish of the work apron. A universal solution is a metal strip that can be effectively combined with any shades.
If you decide to refuse it, then additional processing with a sealant will be required. Also, this composition seals the insertion points of the sink and the hob.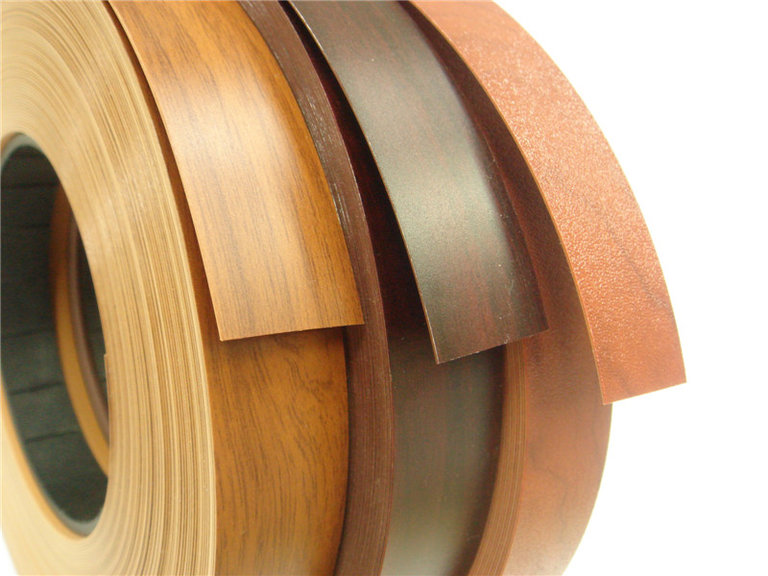 Edge used to decorate the end planes of the table top. Here you can choose from budget PVC tapes, beautiful edging plastic or three-dimensional acrylic, reliable and durable aluminum profile.
All this allows us to assert with confidence that plastic countertops for kitchen Is not only an inexpensive, but also a reliable, durable and aesthetic solution for people who are used to measuring such indicators as price and quality.