In this case, flexible glass for the kitchen table in the form of a transparent protective film made of high-quality and harmless PVC can help you out. This is a very practical solution from all sides, and below we will tell you why we think so.
Benefits of flexible glass
Let's take a look at the pros of liquid glass over other options for protecting your kitchen table:
1

Absolute protection

from moisture, grease, dyes and almost any mechanical impact;

2

Extends table life

and keep its appearance;

3

The soft glass tablecloth will

invisible

on your table;

4

Due to the gloss of its surface, it will add an element of gloss to the interior of your kitchen;

five

Softens the sound

, when you will put the dishes, and will protect the cup or plate from breaking if you accidentally drop it on the table;

6

Versatility

: flexible glass can be used on any kind of tables, work surfaces (in the garage, office, workshop) and to protect furniture (not only kitchen, but also office or retail);

7

Mobility

: a flexible tablecloth can be taken with you on a trip to the country house or on a weekend trip to nature. It folds easily and does not take up much space in your car;

8

Ease of care

… Any stains, dirt, grease, etc. are very easy to wash off.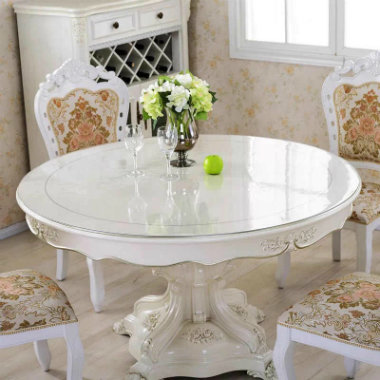 What about the quality and safety of this film? Do not worry. The liquid glass tablecloth is made of PVC, which meets European food standards, and is also certified by RosStandard. This means you can cut any food directly on the film without fear. And one more thing: such a silicone tablecloth has no smell at all (unlike cheap Chinese counterparts).
Will it be difficult to install such liquid glass on the kitchen table? It's very easy to do! It is enough just to put the tablecloth with the curved edges down on one side of the table and, gently pressing it with your hands, slowly "spread" it over the entire surface. Literally a minute – and you're done!
Catch-up tip: Before doing this, please do not forget to wipe the table (or other surface on which you want to put the protective film) with a slightly damp cloth and window cleaner to degrease the coating. More recommendations on this issue will be provided by consultants when ordering (there are some features of laying film for glass countertops).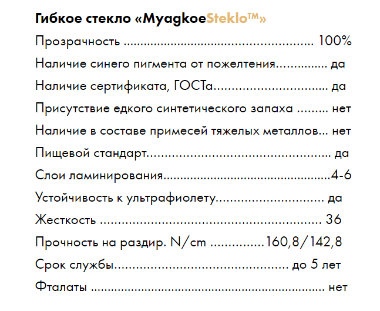 How long can this liquid glass tablecloth itself last? We must say right away that it is not afraid of exposure to UV rays, it does not turn yellow or cloudy over time. The manufacturer claims that the life of such a protective film can be up to 5 years.
Are there any special aspects of silicone tablecloth care? As with any other coating, in this case, a careful approach will also not be superfluous. Such a tablecloth, as mentioned above, is not afraid of dust, dirt, grease and even boiling water. But in the case of coloring products (beet juice, for example) or wine, it is recommended to wipe off such stains immediately. After drying, this will be problematic and there is a risk that a trace will remain. With proper care and regular wiping of the protective surface, it will retain its original appearance for a long time.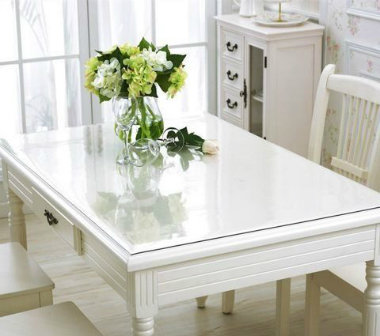 We suspect that many people hear about such a product for the first time and you might want to see how it looks live. But Is flexible glass already on sale in Russia?

Yes. At the moment, you can buy soft glass for your kitchen table from of the company "Tent-Cover"… We recommend this particular seller, as they have certified products, flexible pricing policy, and fast delivery in Moscow, St. Petersburg and other large cities of the country.
To order, you just need to provide the dimensions of your table (or other surface that you want to protect), the manufacturing company will make an overlay exactly according to these data and advise on any related issues.