To implement it, it is not necessary to involve specialists, whose services are quite expensive.
If you have a touch of creativity, diligence and aesthetic taste, try to do the decoration yourself.
We will show you a few ideas on how to decorate the newlyweds' table with your own hands.
Key points
When creating a wedding decor, certain rules should be followed. This will help you create a coherent and harmonious picture. Here are some of them:
Same decor style

should be traced both on the table of the newlyweds and guests. If an ikebana based on tulips stands in front of the newlyweds, then the same flowers should be found in other compositions. It is not necessary to choose the same color and quantity. You just need to achieve integrity.

Selection of the color scheme.

So-called "color" weddings are in vogue today. When preparing them, the newlyweds select several shades in advance, which can be traced in everything that will surround them on this significant day: a bridal bouquet, accessories, decor, jewelry and even the bride's shoes and the groom's butterfly.

Banquet table decoration is no exception. The selected colors should be present in the draperies of tablecloths and chair covers, flower arrangements, napkins.

So that the picture does not turn out to be too monotonous, you can choose another bright shade that harmoniously combines with the one that you originally picked. Just make sure that it complements, but does not interrupt the main one.

Make traditional accessories stand out.

Glasses for champagne, and the bottle of this sparkling drink itself, is an obligatory attribute of the wedding table. Decorate them with ribbons matched to the table drapery in color and texture.

You just have to try a little, and you can "dress" champagne in the outfit of the bride and groom. Just remember, these bottles don't open at a wedding. They are kept until the first anniversary or until the baby is born.

Pay attention to unusual accessories.

Toasts and wishes from your guests will soon be forgotten, because there will be so many of them. If you want to keep these sincere words in your memory for a long time, invite your guests to write them down in a beautiful album lying in the corner of your table.

Decorate it, as well as the handle, with the same ribbons that are present in the design of the glasses. If you wish, you can later paste several wedding photos into the album, turning it into a family heirloom.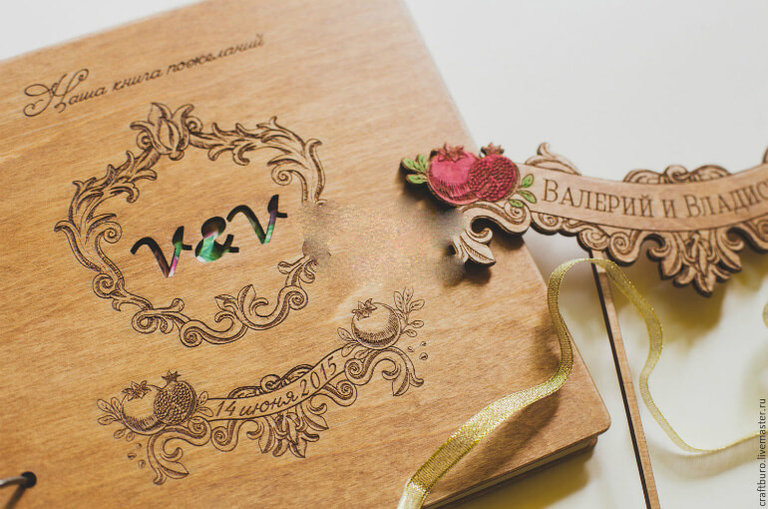 That is, adhering to stylistic unity, color balance and not losing sight of every, even the smallest accessory, you can create an original picture, effectively highlighting your table against the general background.
What is suitable for decoration? What materials will help you show your creativity and non-triviality of the idea?
Decoration with flowers
Arrangements of flowers and tasteful composition will become a real decoration of your holiday.
They will look refined and sophisticated in any interpretation, regardless of which holiday concept you have chosen for yourself.
Show your creativity, give up banal roses, lilies, gerberas, orchids. Give preference to chamomiles, cornflowers and other wildflowers, spikelets of cereals, herbs.
You can even use dill, parsley, basil, placing them next to meat and fish dishes.
Such original edible bouquets will indicate your creativity and non-standard thinking.
But don't be too zealous. Flowers and vegetation with a strong, sugary aroma should be excluded from the selection. A strong smell can cause headaches for both you and your guests.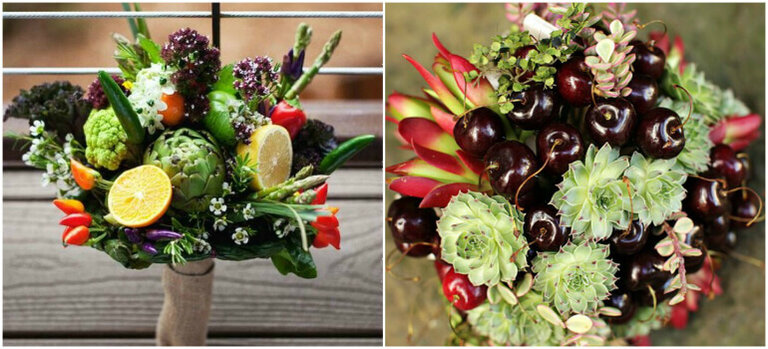 You can decorate plates, glasses, bottles with flowers or their petals. Just try to keep them out of the food.
Do not take too high vases, because behind them you will simply hide from the gaze of guests, while you should always be in plain sight.
Table ikebana looks original, but they should not be too large and high.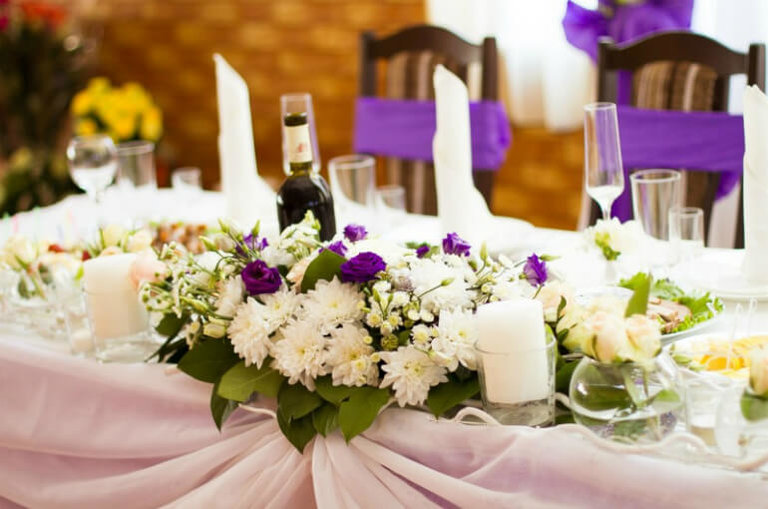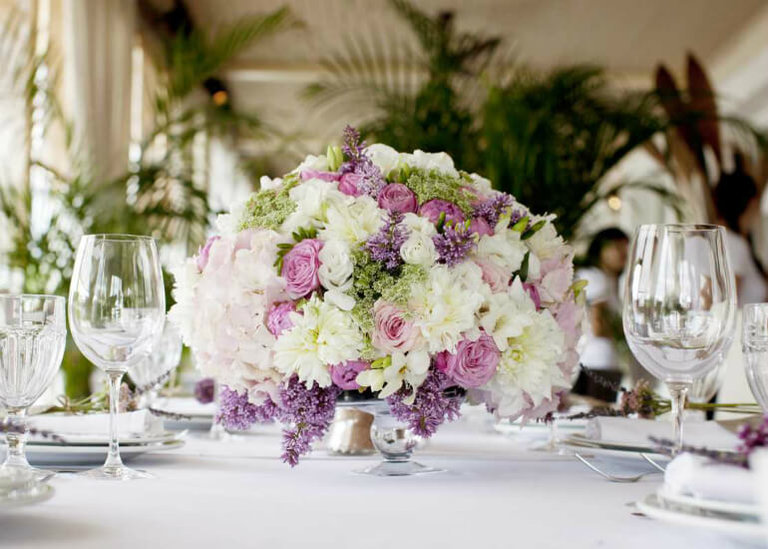 Decoration with fabrics and candles
With the help of original fabric drapery, you can give the most common interior items an elegant festive look.
Cuts of colored fabric can be stretched across the entire table, decorated with light folds and bows.
Chairs can be decorated in a similar way, completing a stylish and harmonious picture.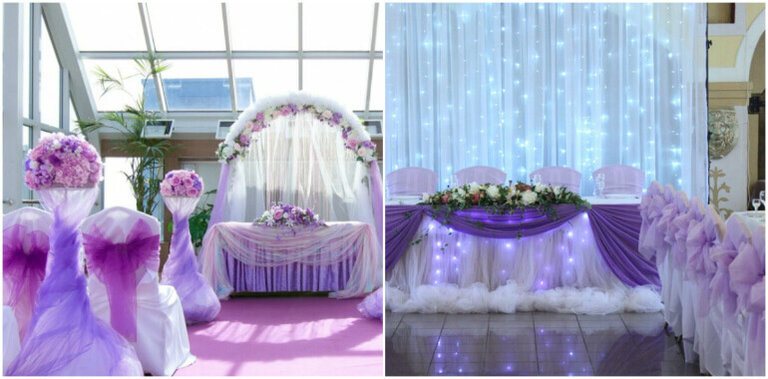 Using candles, you can create a warm, romantic atmosphere. Only they should be arranged in such a way that neither you nor your guests could accidentally touch them with your hand, overturn them.
If the free space of the table allows, put on it several round or oval glass vases with a wide top, fill them with water and lower special candles there. You can also throw a few flower petals into the dishes.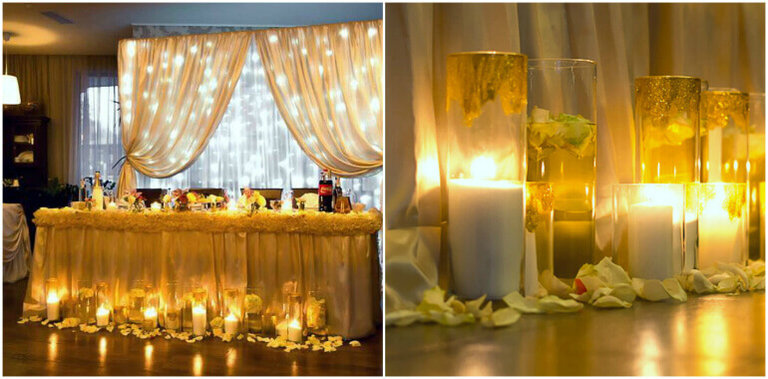 If safety is above all for you, and you do not want to risk it, use a garland with an orange-yellow glow. It will help you create a romantic setting without candles.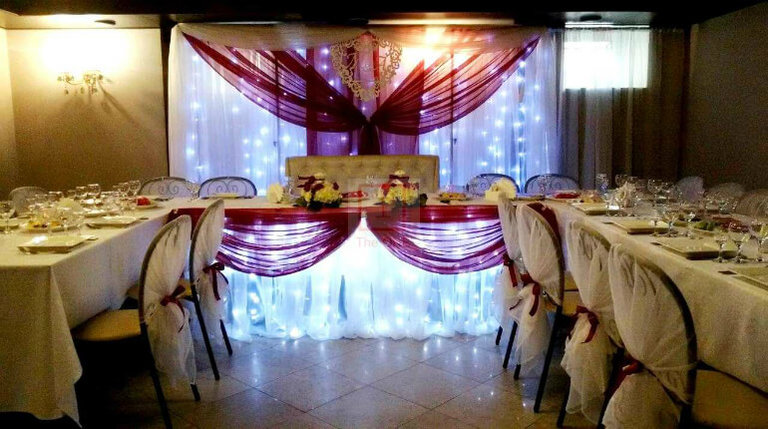 Use of fruits, vegetables, caramel and chocolate
Edible decor is not only original, but also delicious decoration of the wedding table for the newlyweds. You can create something completely unusual from fruits and vegetables.
If you are afraid that you will not be able to cope with this task on your own, contact the restaurant staff for help. Surely there are craftsmen in the kitchen who can turn an ordinary apple into a real masterpiece.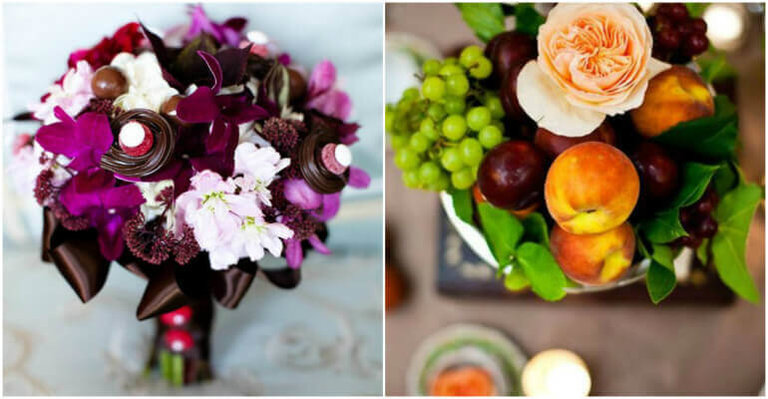 Make sure personally that the place for sweets is not only on the wedding table. For a long time, many young ladies have been creating with their own hands original bouquets of caramels. Perhaps you should experiment too.
Don't want to bother too much, prepare some unusual glass vases, into which pour colored caramels.
Such a healthy and tasty delicacy like chocolate will also find a worthy place on the table of newlyweds.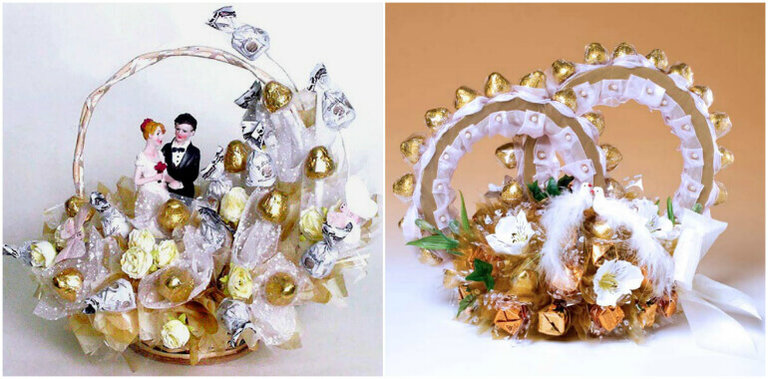 Figurines of angels, hearts, butterflies on long skewers can be additionally decorated with bows with ribbons.
Undoubtedly, the guests will be delighted by the fountain consisting of hot chocolate. In the absence of such, you can use wine or champagne.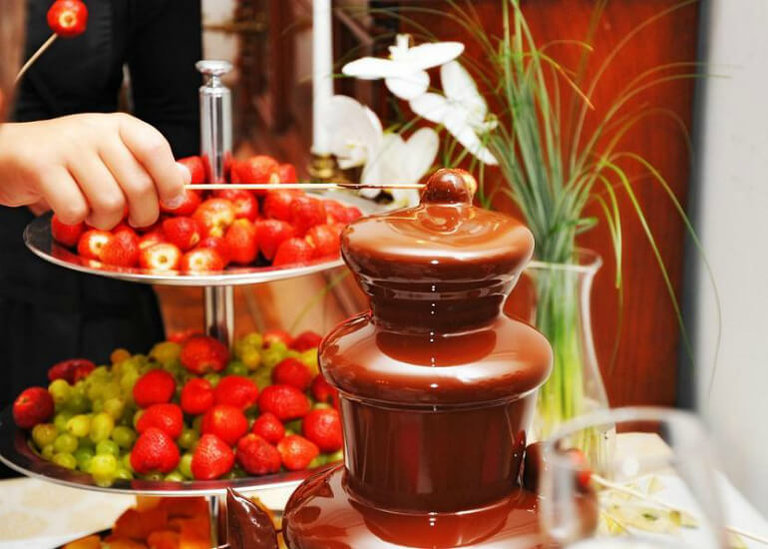 Now you theoretically know how to decorate the newlyweds' table with your own hands, draw original creative ideas in your imagination.
Think about what will be useful for you to implement the idea and you can safely start the exciting work.