In this article, you will learn:
what are the types of glass tables and their sliding structures;
how to combine such a table with the interior of the kitchen;
how to care for the glass surface.
Types of glass tables
Modern furniture factories offer a wide range of glass tables for the kitchen.
Tabletops made of transparent, matte, multi-colored, mirror glass will decorate any interior. Models with an imitation of natural stone, with an applied pattern, photo printing or geometric elements in the color of gold, bronze, copper, look beautiful.
Many combined designs – glass tabletops with chrome legs, on a stone cabinet, with a wooden base, with forged elements or in a metal frame.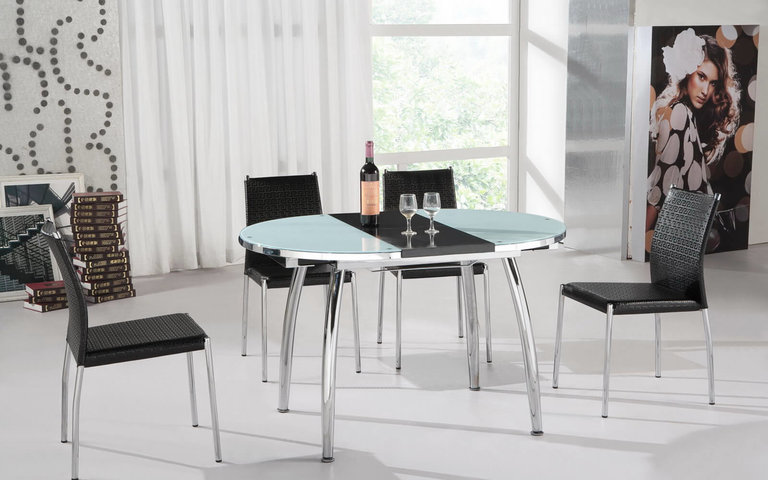 Additional lower glass shelves – for stylish decoration and storage of all kitchen stuff, remote controls, napkins, magazines, newspapers, etc.
Vases with low plants, fruit bowls, transparent pebbles, ikebana, various cute little things are laid out on the underframe.
When choosing a glass sliding kitchen table for yourself, be sure to consider the size of your kitchen.
The owners of large apartments and houses with a spacious roomy kitchen have a place to roam, of course. But even in small kitchens, you can optimize the space and use every centimeter of the area wisely.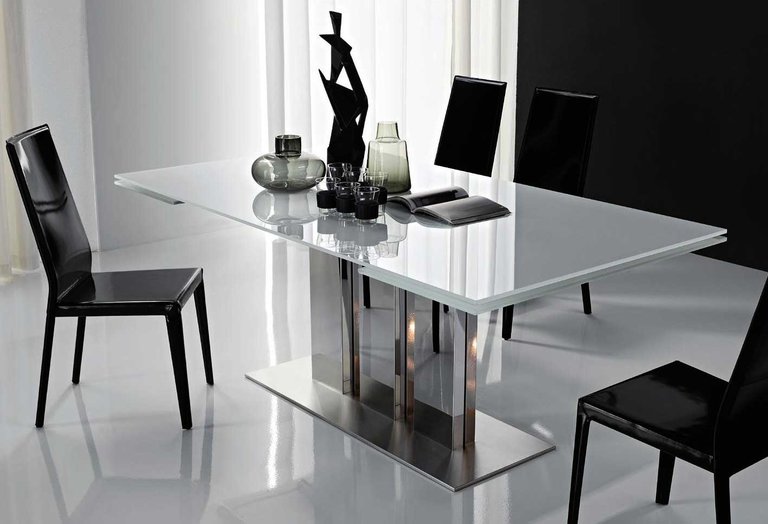 So, sliding kitchen tables are a real godsend for any home!
When folded, such a table takes up little space, just what is needed for a small family. And if you are expecting guests, just slide the design to a festive size.
Rectangular glass tables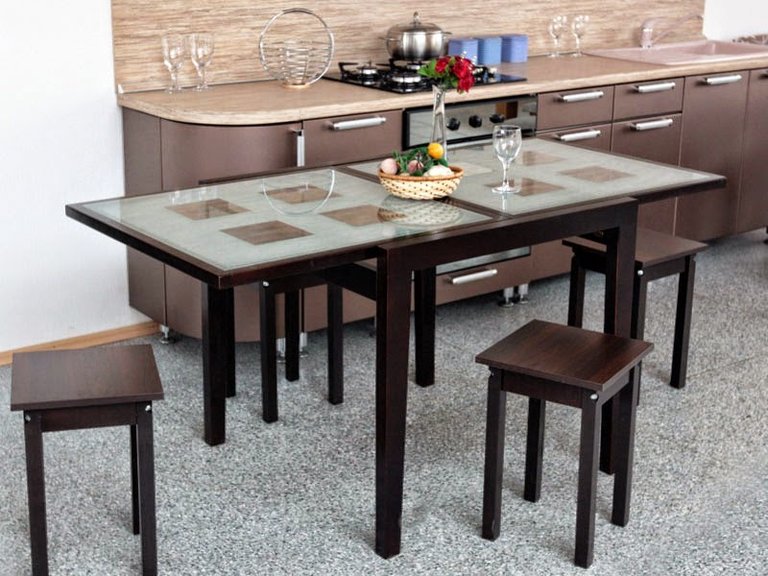 A glass table in the shape of a rectangle is perhaps the most convenient for everyday use. It can be placed against the wall or moved to the center of the kitchen or living room.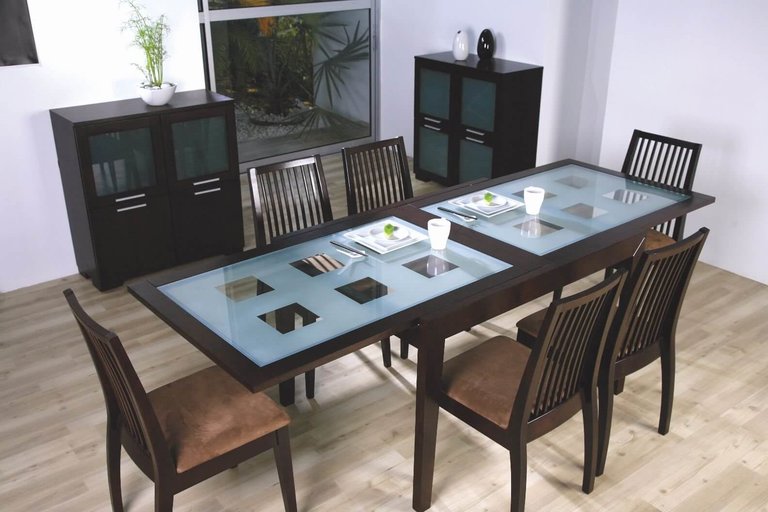 In addition, a very practical idea for a small, narrow or walk-through kitchen.
After dinner, the stools are hidden under the table, and the chairs are pushed tightly. A soft small sofa will become a place for watching TV, working at a computer, and an extra bed.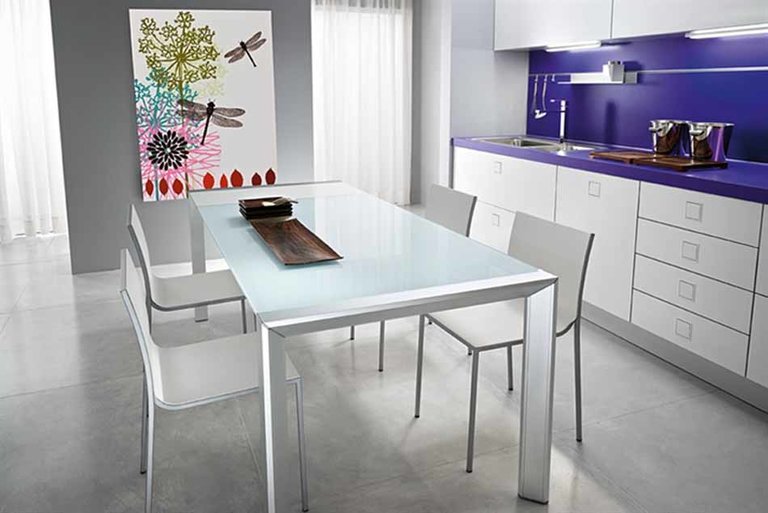 Square dining tables
It's compact but roomy! Saves space in small kitchens and fits well into any interior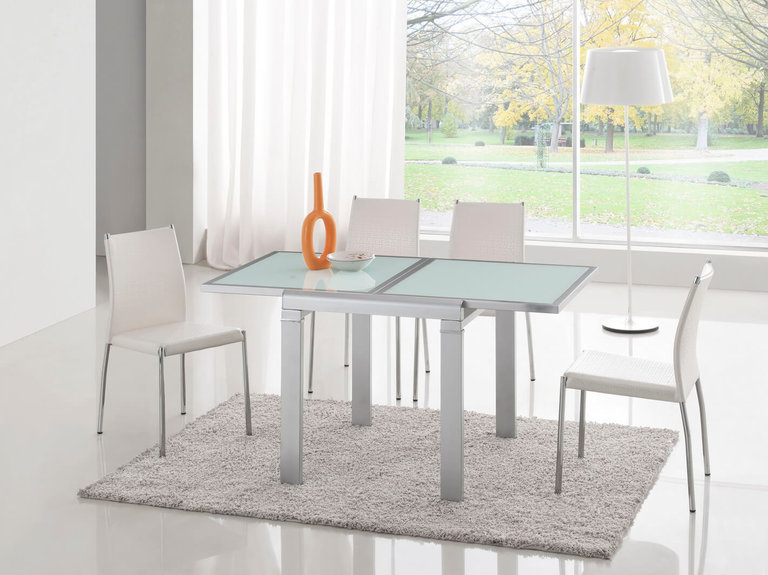 A family of two will put a square glass table in a corner, a family of three will move it to a wall or window. And if there is no separate table in the living room, then it can be moved there from the kitchen, because it is expanded into a rectangular model.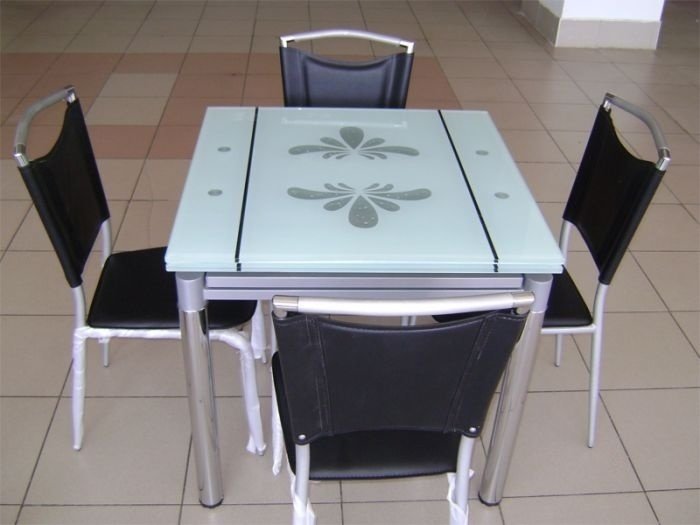 It is easy to choose chairs and decorative accessories, trays and serving rugs for such a model.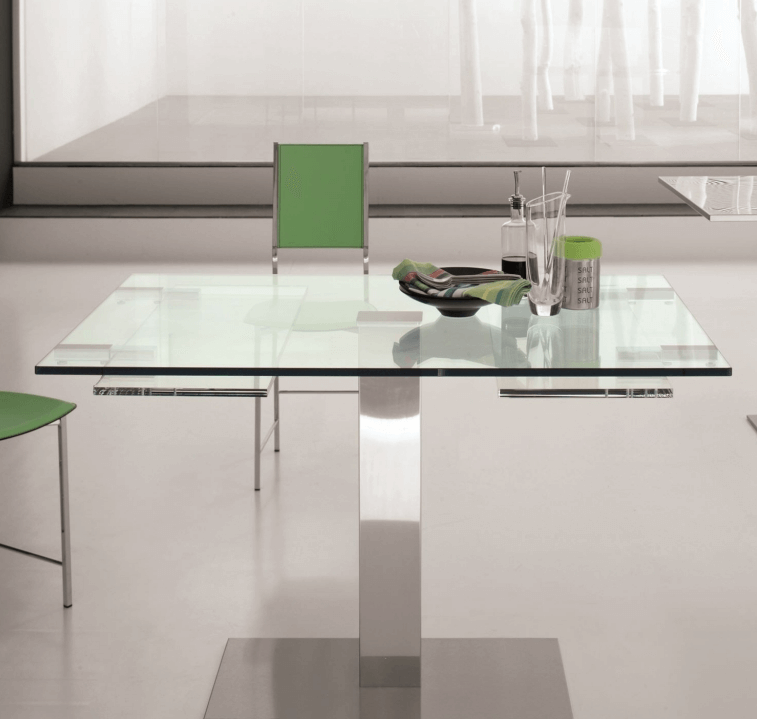 Round glass kitchen tables
The round table looks very elegant and will make a spacious kitchen more stylish.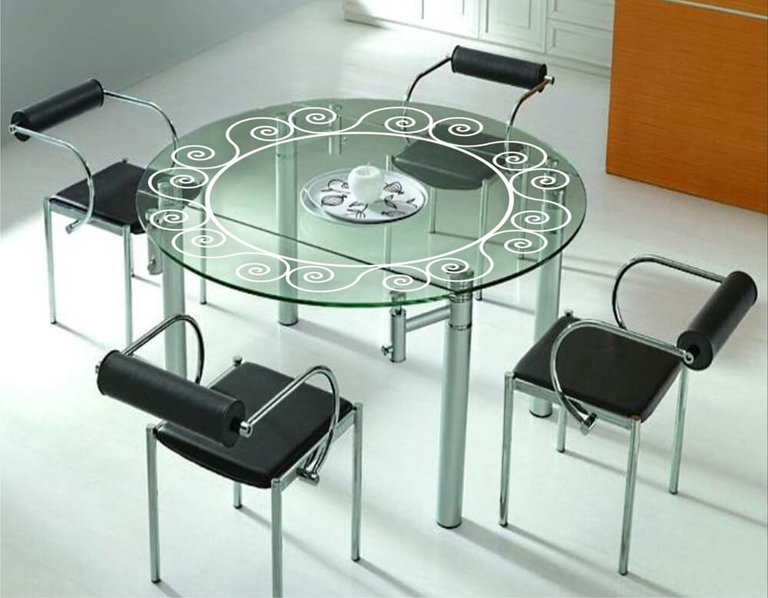 Of course, you will not put a round table in a corner or move it to the wall. 3-4 people will be able to sit at a round table. It moves apart in the middle and turns into an oval shape.
Where can you see the round glass extendable kitchen table?
In a house with small children. Such a table has no corners, the child will not hit, he will be able to sit comfortably and move closer to his mother.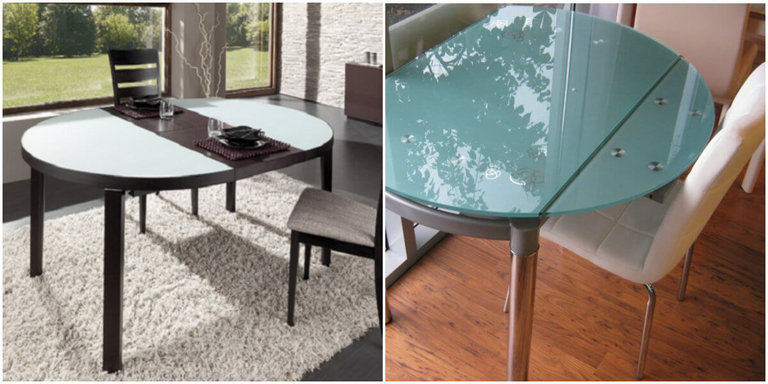 And yet, on a note to parents – if the table is supported by one support-leg, it may not be stable enough.
The most convenient and aesthetic option is a tabletop with three legs.
For lovers of family and friendly gatherings. All households and guests will fit at the round table, there will be enough space for everyone, no one will be put on the corner.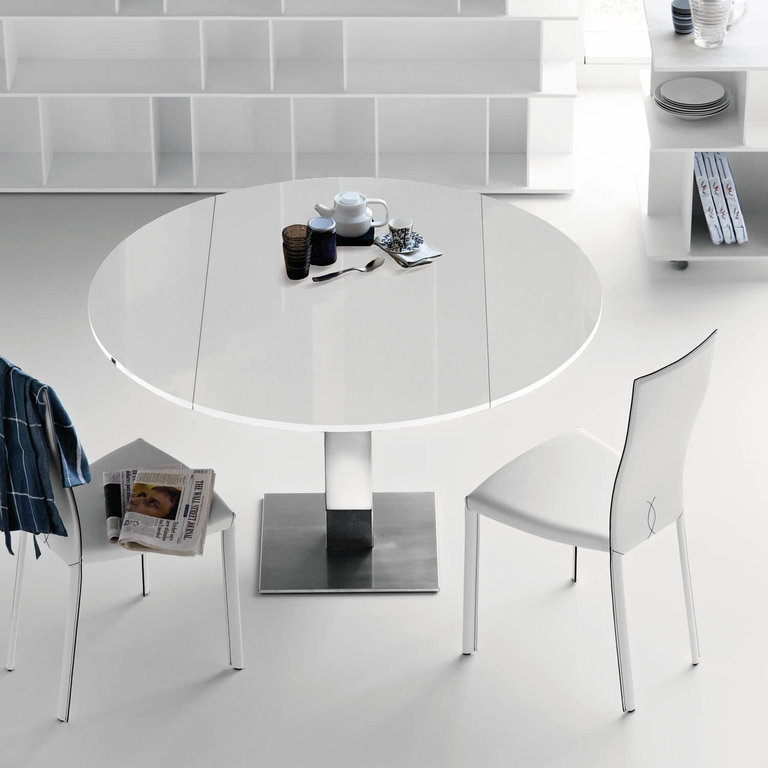 Oval tables
There is a lot of controversy about kitchen oval tables. Are the oval tempered glass models comfortable and practical?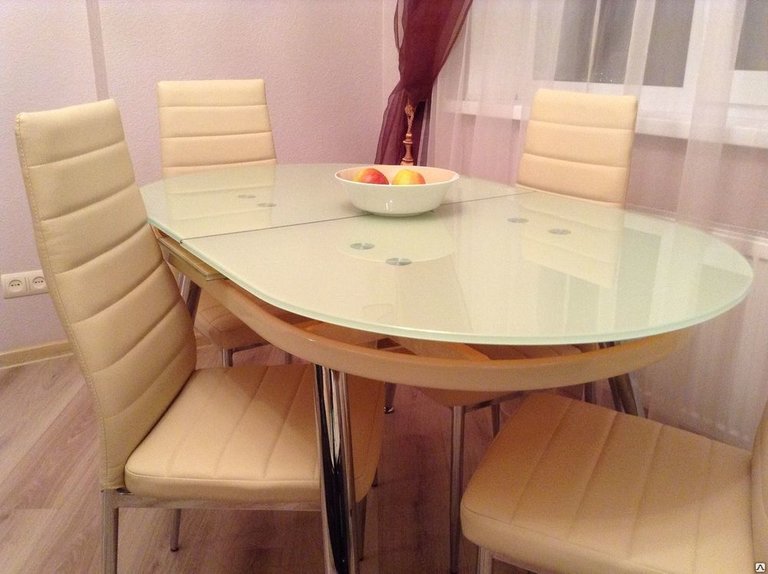 It all depends on the area of ​​the room and the number of people that come together in the kitchen.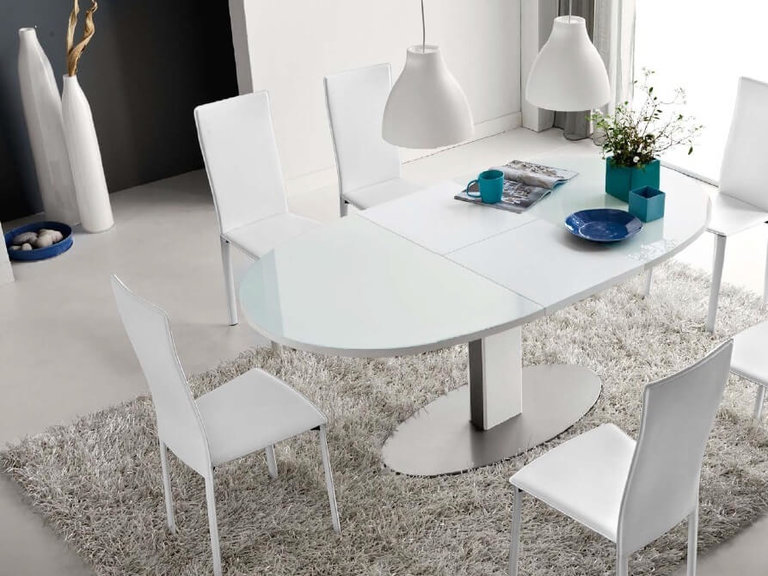 The interior of the dining room turns out to be more respectable and solid if the glass oval table is placed in the center and supplemented with chairs. If the kitchen is equipped with an island kitchen set, then the table is placed closer to the wall.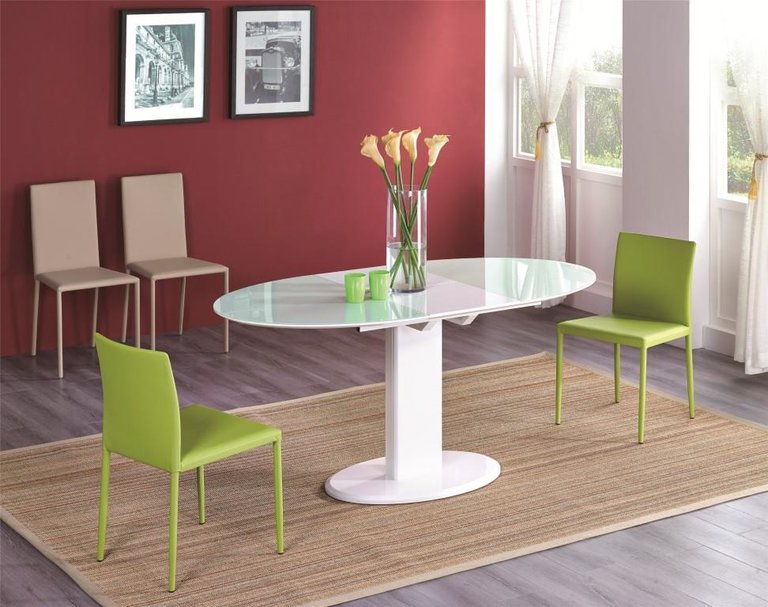 Tips and hints for choosing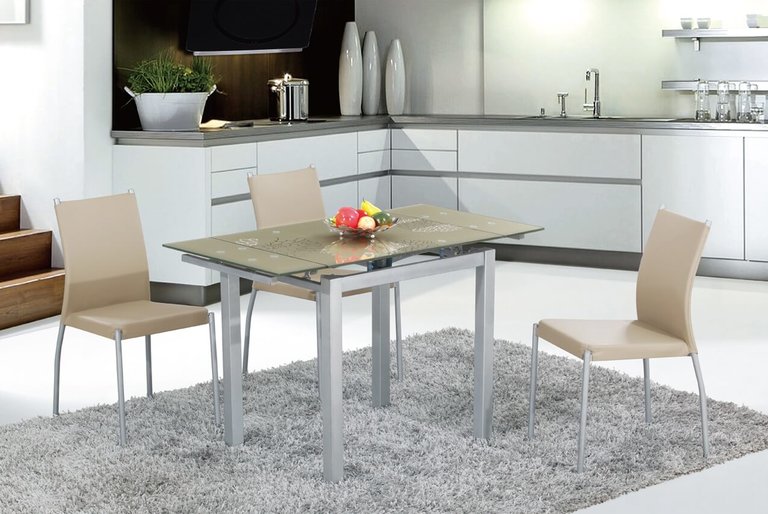 Milk-white tempered glass tables are very popular among housewives. The white surface is suitable for all interior styles and harmonizes well with a variety of fashionable decorative items.
The transparent tabletop will give the room lightness, some kind of weightlessness. Tabletops in saturated colors (bright red, orange, green) will be made of tinted glass. By the way, frosted glass has a greenish tint. These are the features of production.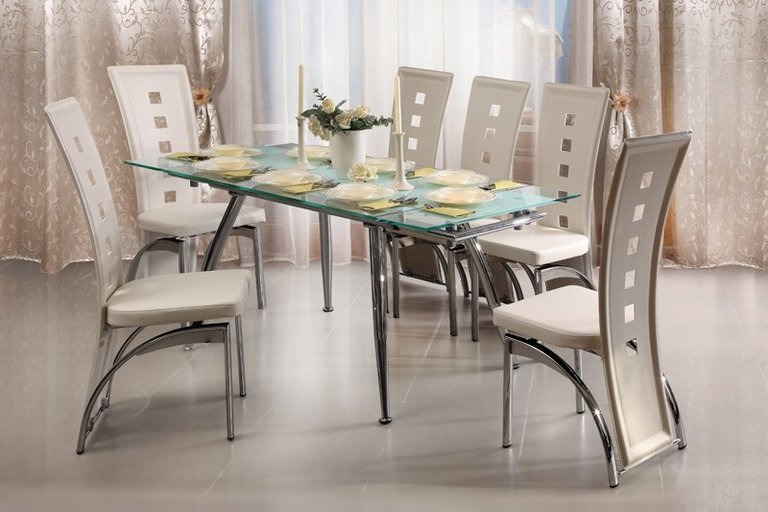 Do you want to refine the kitchen, give your home some luxury and pomp? Choose a table with a glossy black surface for your kitchen.
Black and white tones of kitchen furniture can be diluted with an effective color accent – a transparent or translucent table top in a bright and rich color. The black countertop can be complemented with white chairs.
Add zest to the interior – glass with photo printing, interesting images, inscriptions. Or maybe a photo from the family archive or pictures from places of rest and travel?
Pictures will not be damaged, do not fade or fade, because the film with the image is applied to the countertop from the back side.
What do psychologists say? Orange, green color in the kitchen uplifts mood and increases appetite. But you should not get carried away with purple and brown shades.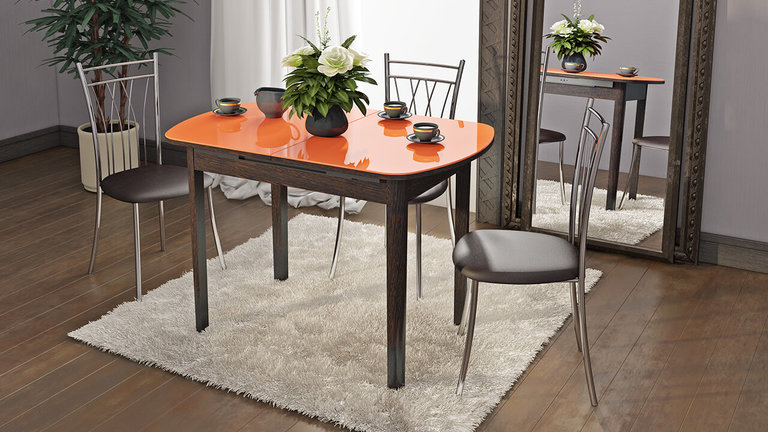 Let's talk about styles
Do you stick to one style in your interior?
For classics and provence we select a glass table with a wooden base or refined metal legs.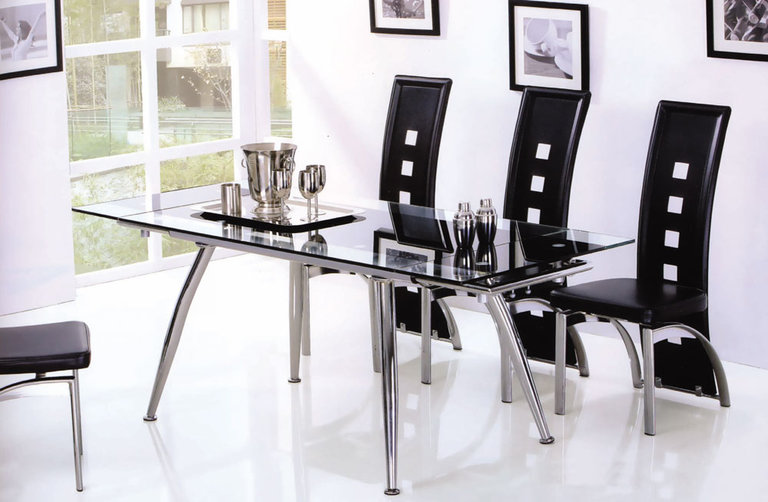 Classic wooden chairs upholstered in leather are also suitable.
Country style country will complement a glass table in a wooden frame.
An aged or roughly processed bench-table with a wicker backing and forged legs will look beautiful.
Glass table takes pride of place in the kitchen high tech… After all, the main feature of this trend is the abundance of glass and metal, white and gray (occasionally black) colors.
Opt for a table with a transparent top and aluminum legs. Strict forms, straight lines and nothing more.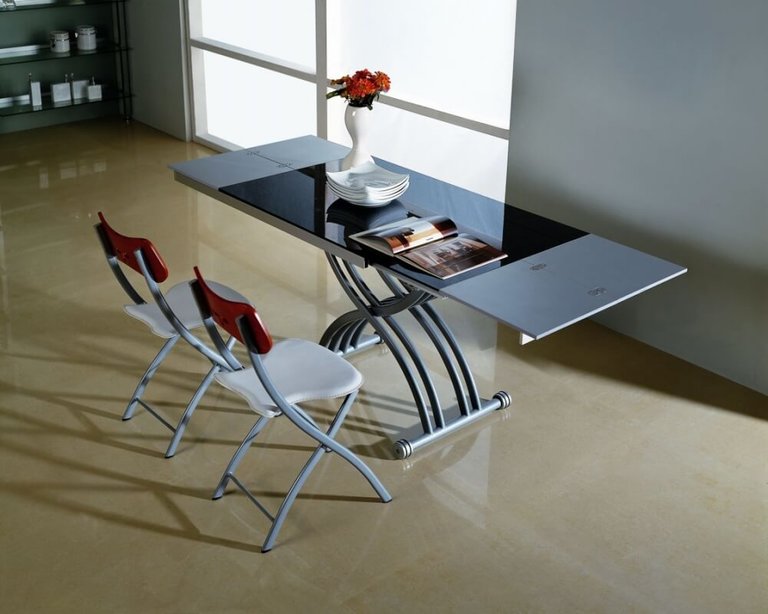 If the glass brought some coldness and stiffness to the atmosphere of the kitchen, add items made from warm natural materials to the interior.
For example, wooden chairs, soft textile upholstery, cloth napkins, coasters.
Bold design novelties – tables in a neutral shade and multi-colored chairs to them.
What size kitchen table do you need?
The rule is simple – the whole family should fit at the dining table, but also so that there is still free space.
So, according to long-established rules, one person should have about 60 cm wide, and in the middle of the table there should be a place for dishes and serving items.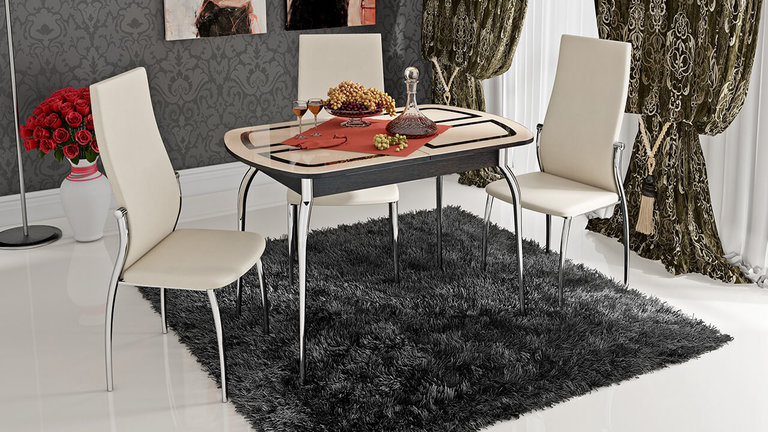 Well, calculate the length of the dining table based on the general squaring of the kitchen, and how often you all gather at a common table.
For instance, a rectangular table with standard dimensions 150×90 cm, suitable for a family of 4 or 6 people.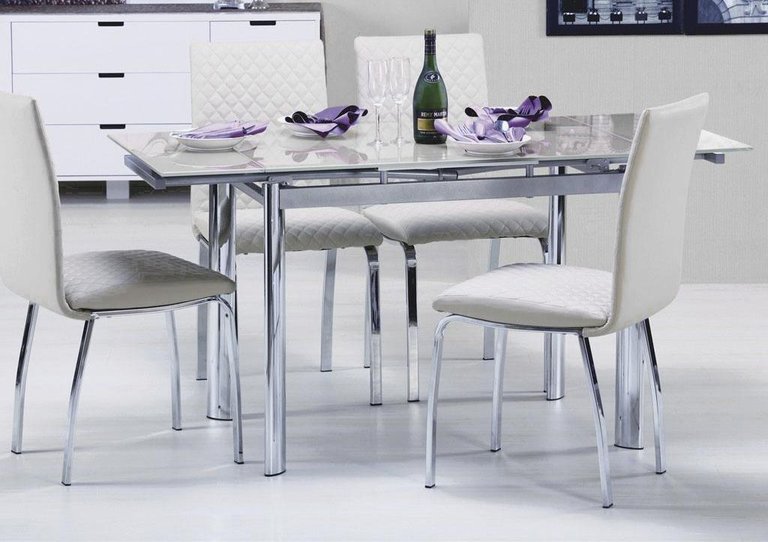 A round table with a diameter of 110 cm can accommodate no more than 4 people. If you choose a diameter of 130cm, 6 people will already sit down.
In this case, chairs or stools should move freely and not touch other furniture or equipment.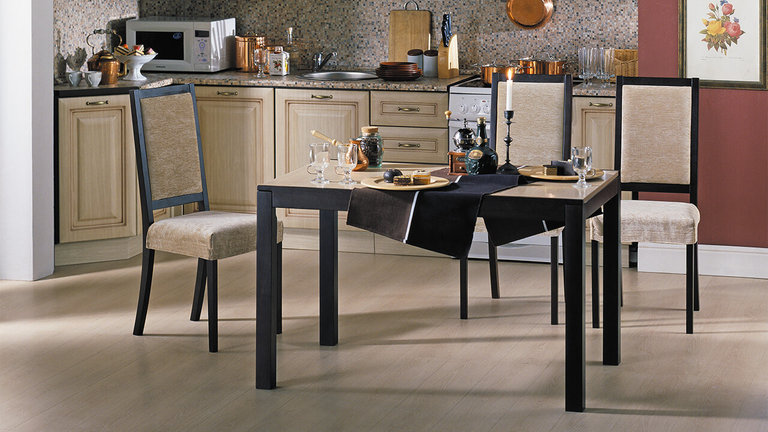 Often, when looking for a kitchen table, buyers, thinking about colors and sizes, forget about such an important parameter as the number of legs at the table.
Legs
How many legs can a table have? Which model is convenient and preferred?
The classic example is four legs. These standards have already been tested by time.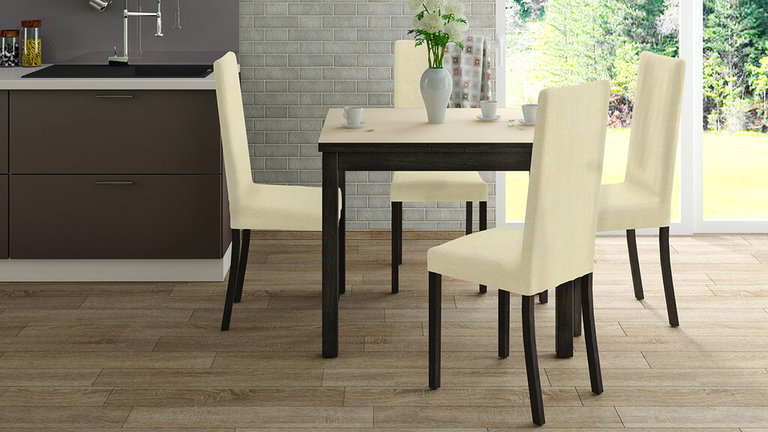 One leg – as a central base – a very stable model. It is comfortable to sit at such a table, your feet do not bump and do not hit the table legs.
Another beautiful, comfortable and functional option is three legs. As a rule, these are round, semicircular tables.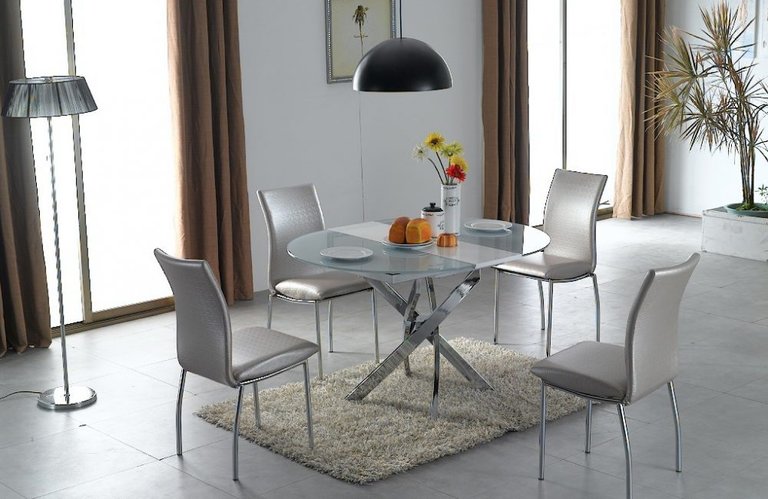 The table has two base legs. Although this design looks compact and stylish, it is still not very functional. You won't sit on the sides of the table for a long time – you simply will have nowhere to put your legs.
What we will definitely not advise you is the videos. The design on casters is applicable only to glass serving tables, not kitchen ones.
Thoughtful how to choose chairs to the glass surface?
Designers adhere to these rules in the interior: a combination of shapes and materials.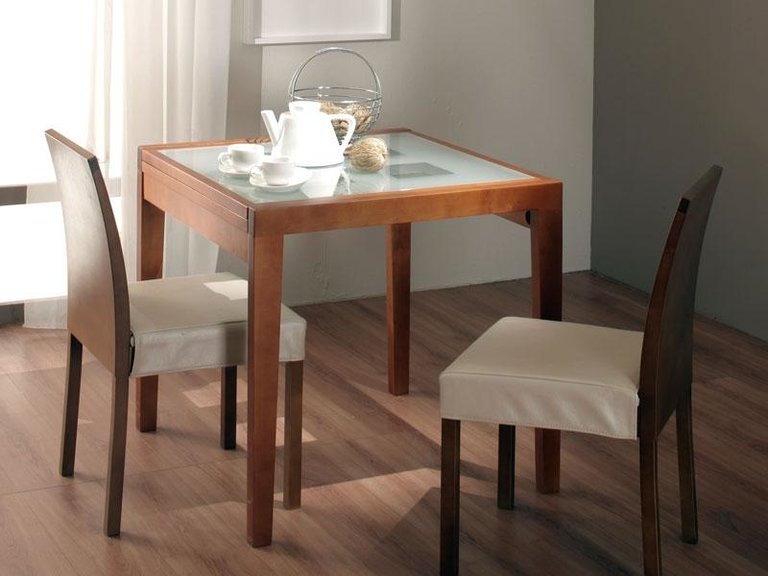 Square-shaped chairs are better suited to a rectangular table, and round chairs to an oval one. If the legs of the table are wooden, then the chairs are wooden, if the legs are forged ornate, then the chairs are made of such material.
What else do we pay attention to when buying?
Of course, on glass quality!
Usually the thickness of the countertop is 10-15 mm, the surface on top should be free of cracks, chips and scratches, and inside – without air bubbles, voids and various inclusions.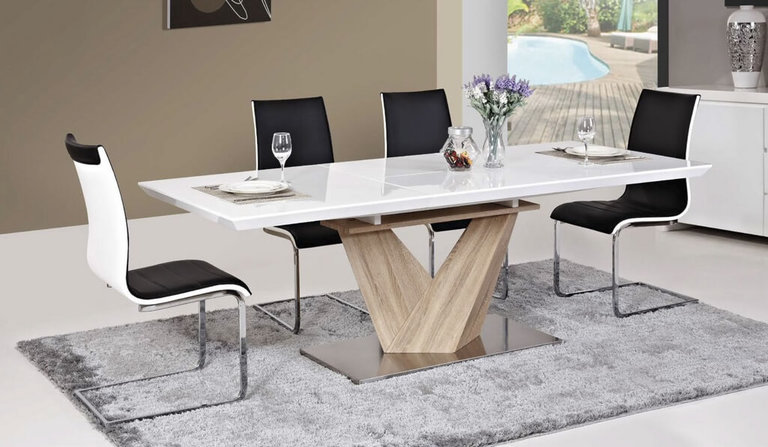 Do not forget to check the fasteners, accessories, the seal between the table top and the support, especially the joints between glass, metal and wood.
If the table top is in the frame, you need to check if the rim fits snugly.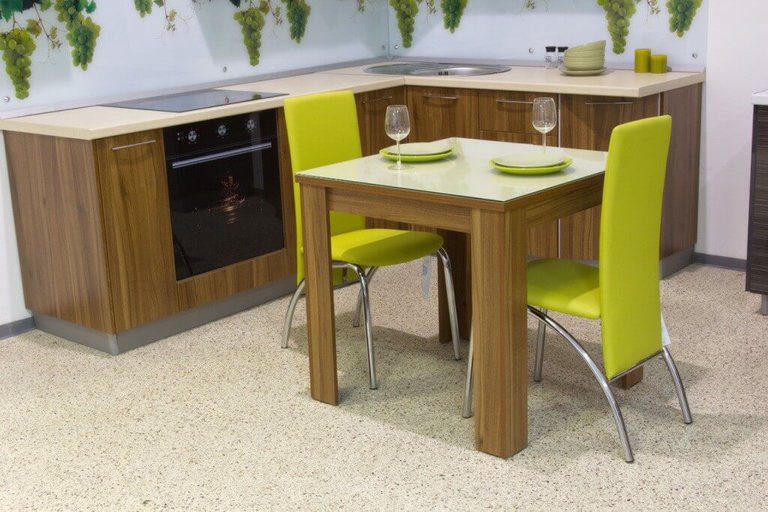 In case you have children in your home, opt for tables with rounded corners. Or with a wooden or steel frame around the edges. It will be safer this way.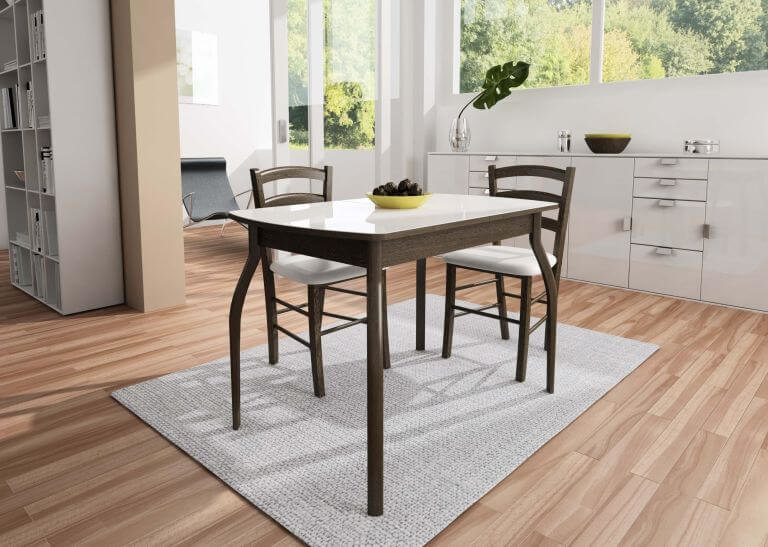 Care rules
In the care of glass surfaces everything is simple: We use soft sponges and microfiber cloths, cream detergents and plain water.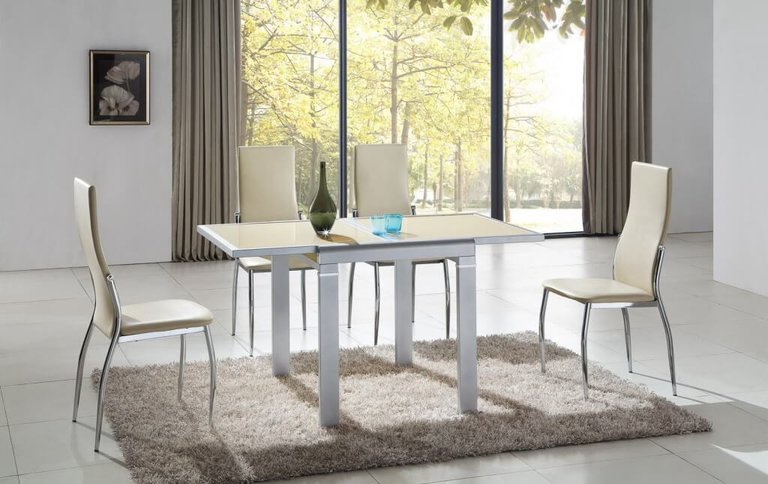 Even if sticky stains, dried grease or old dirt on the table cannot be cleaned, do not use abrasive dry powders. You can scratch the countertop and ruin its appearance permanently.
Fingerprints, plates and cups are always visible on the surface and give a messy look to the entire kitchen. Therefore, cleaning will have to be done more often.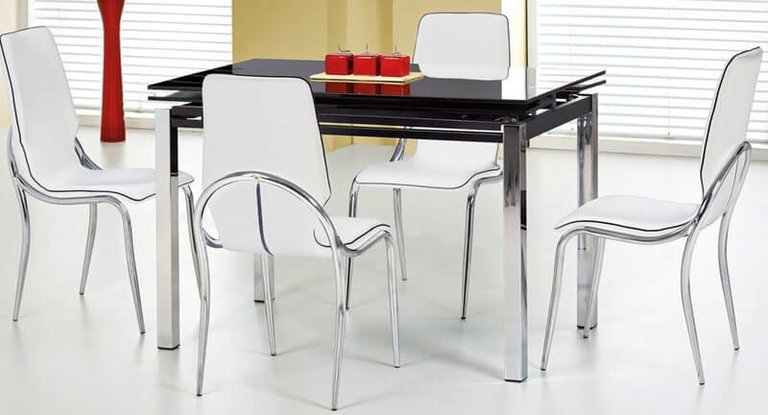 There are a lot of glass care products in supermarkets and hardware stores. Aerosols, polishes, sprays, special napkins, formulations and impregnations.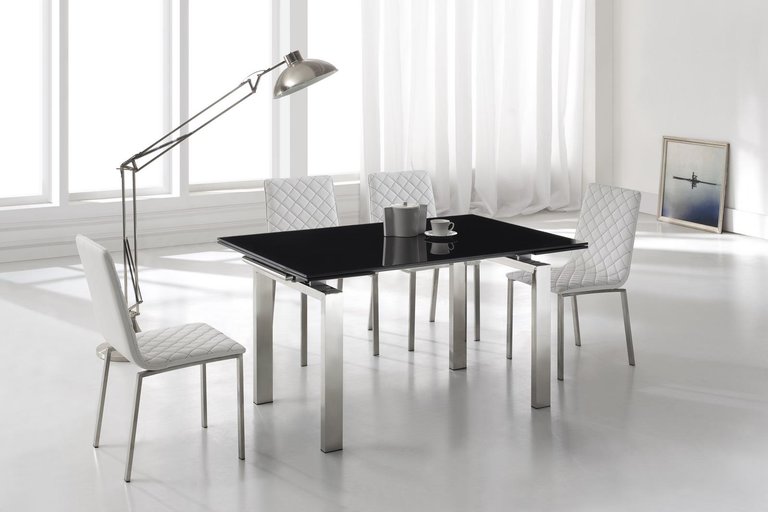 Crumbs can collect under the rim of a wooden or metal frame – a vacuum cleaner can handle this better than any cloth.
Note to housewives:
It is strictly forbidden to cut with a knife on the glass. Use a cutting board!
Also can not be put hot, just removed from the heat, dishes on a glass table. Buy yourself some pretty hot coasters.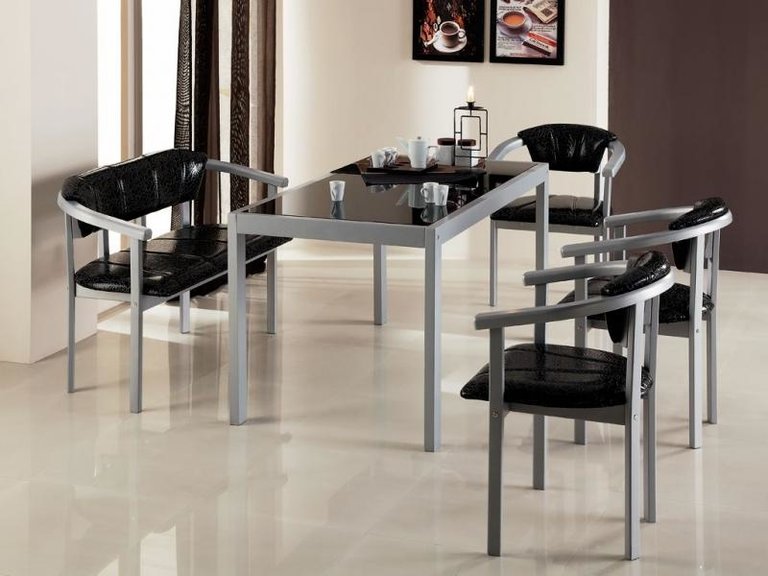 It will not be superfluous to remind that the kitchen table is not an ironing board. The glass top is not suitable for a hot iron.
The glass surface must not be hit; put cups, glasses, pots on it with force.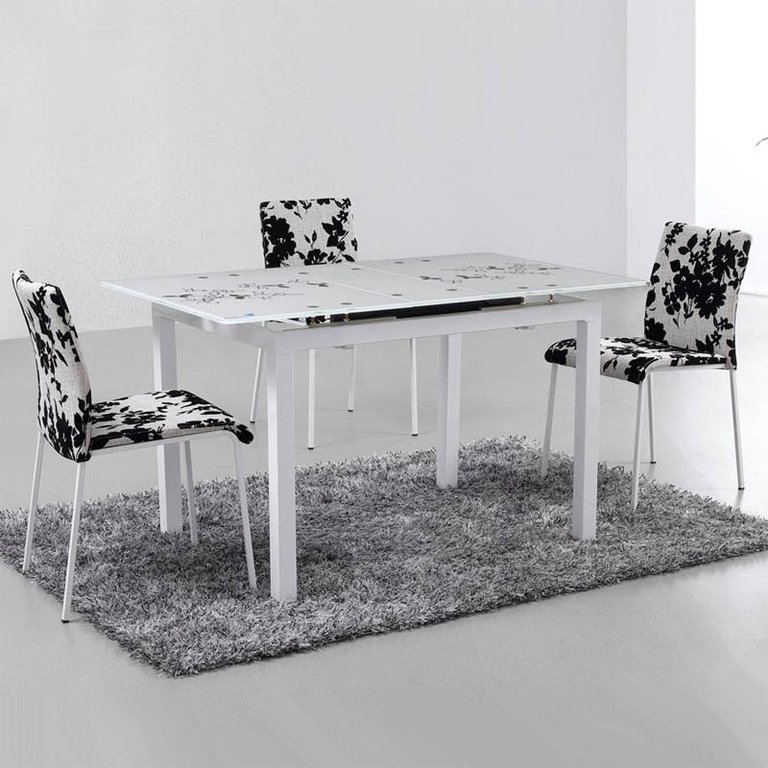 If the glass table makes a grinding noise and squeaks from contact with dishes and cutlery, napkins, potholders and tracks will muffle unpleasant sounds. Alternatively, cover the table with a beautiful tablecloth.
Such delicate nuance – many complain that during the meal, the legs of the sitting people and the floor are visible under the glass tabletop. To do this, you already have napkins, decorative coasters and runners.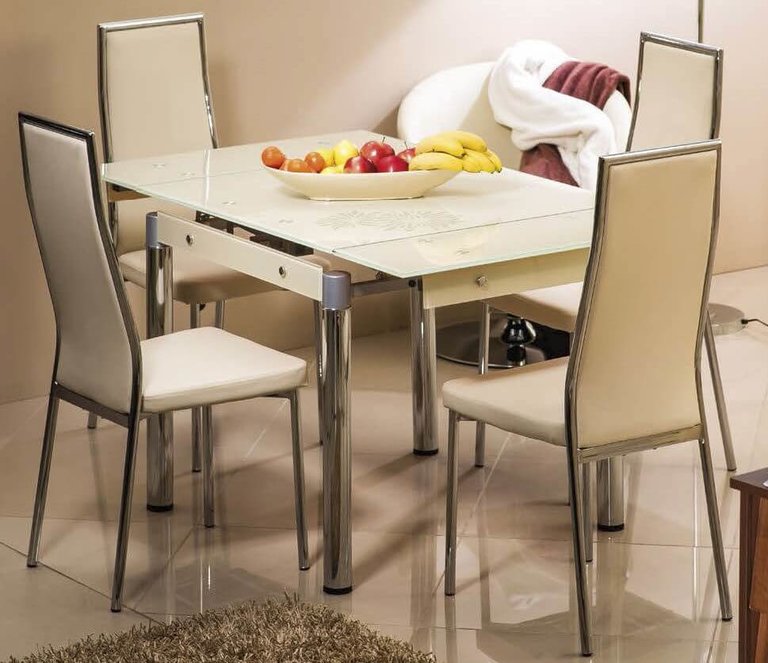 Have you forgotten that your kitchen table is extendable?
Even if you don't often have feasts and guests gather, it is still sometimes necessary to lay out the table. So that dust and dirt do not collect in it.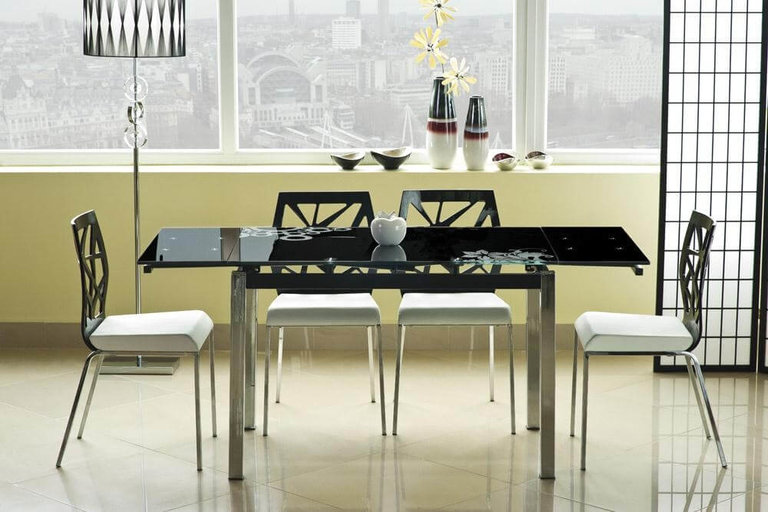 If you need to move or move the glass table, do not pull it along the floor, it is better to raise it a little, the sliding transformer is not at all easy. Assemble or disassemble the table on a dry and clean floor.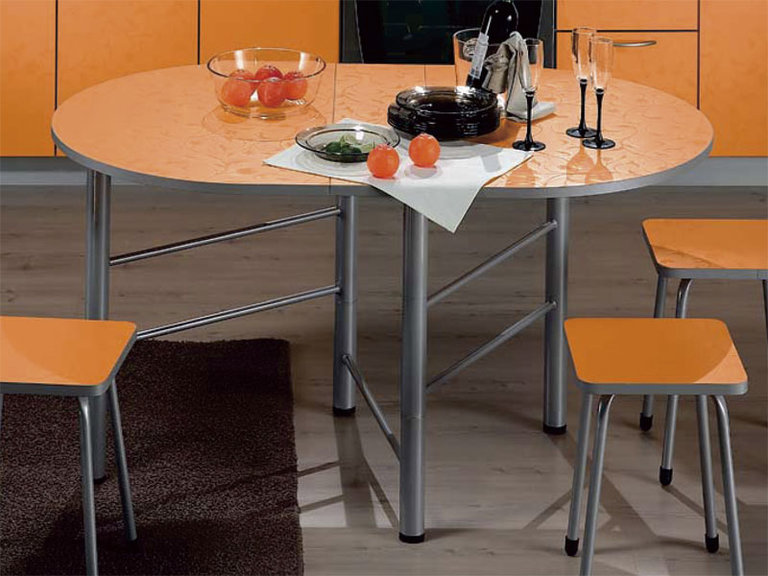 So many models, shapes, textures and colors of glass kitchen tables. From classics to avant-garde, from white to unusual, from strict to pretentious!
Experiment with novelties, decorate the interior, gather your family and friends at the new glass table!