We offer you to figure out how a kitchen with metal facades looks in real conditions, and visual photos with designer comments will help you find your ideal option. By the way, we have already written about the problem of choosing a material for kitchen facades.
If earlier such headsets were mainly found in professional restaurant kitchen areas, now they can be found in ordinary apartments and houses.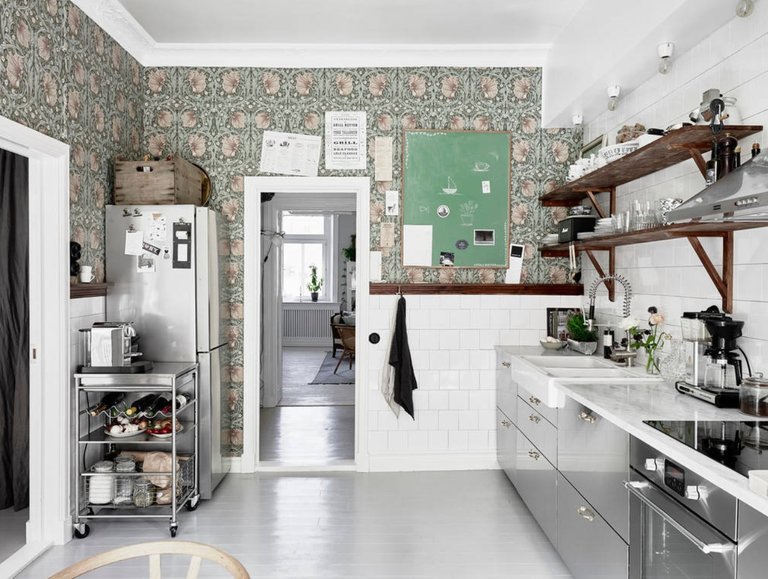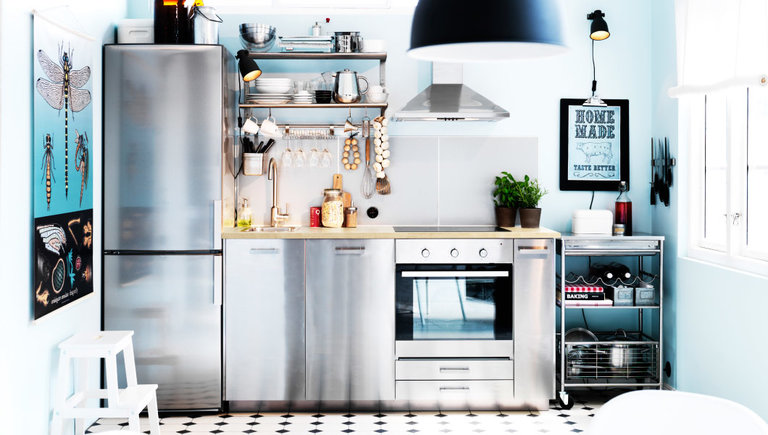 For example, this IKEA kitchen model is very popular – beautiful, durable and modern, with a wide work surface and spacious shelves. Pay attention to how household appliances are combined with furniture – they are not built-in, but they look like a single whole with the headset.
By the way, it is important for these kitchens to maintain the ensemble. A very successful option, with shiny steel fronts and a refrigerator in the same style. Another pros – you do not even have to spend a lot of time on selection, as often stores offer a ready-made kit. Therefore, all that is required is to take measurements and choose the appropriate set.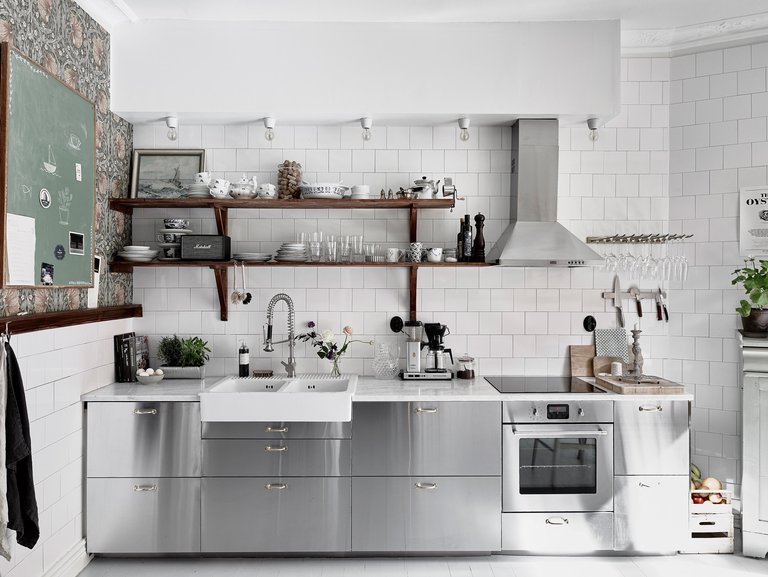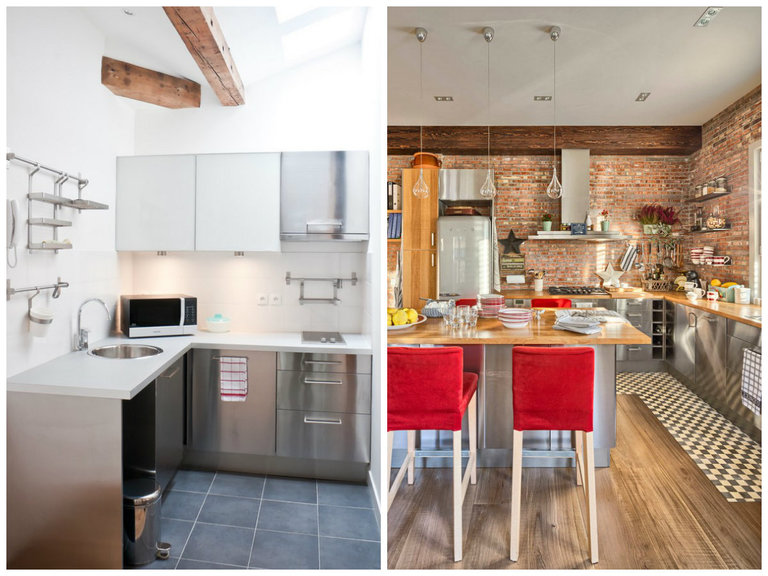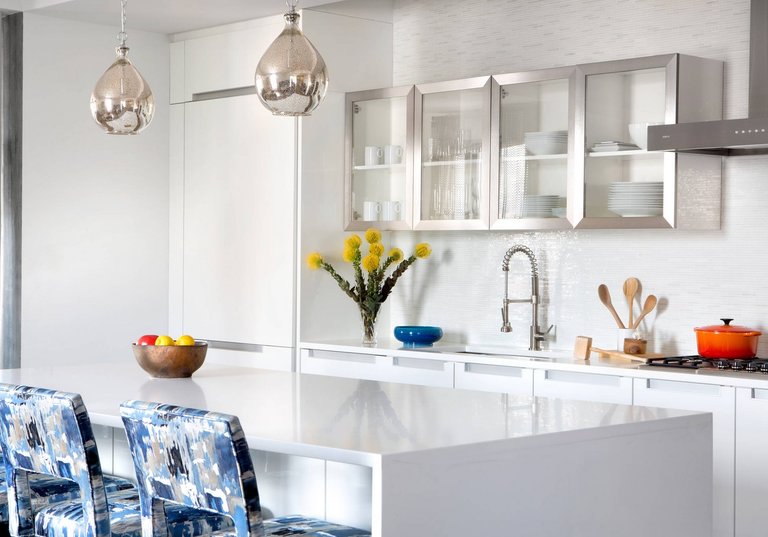 At the same time, metallic is in harmony with other materials. For example, with a marble top. This decision cannot be called predictable, but it looks very stylish. High-tech design is complemented by unusual details: soaring ceilings, custom chandelier. By the way, if size allows, install a kitchen island – a modern and fashionable piece of furniture.
Try to combine stainless steel fronts with wooden cabinets. Initially, the thought may seem even ridiculous, but look at this photo.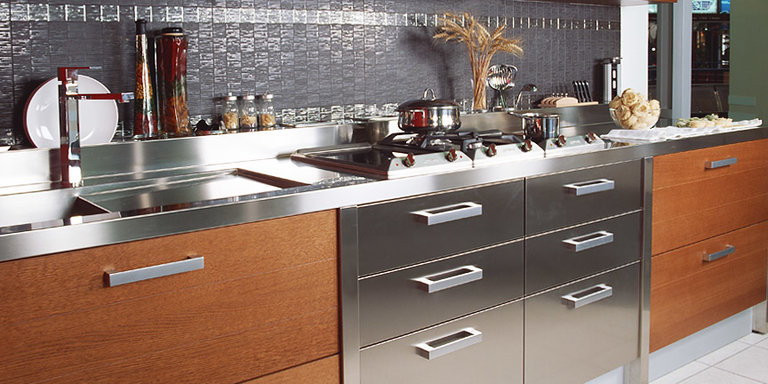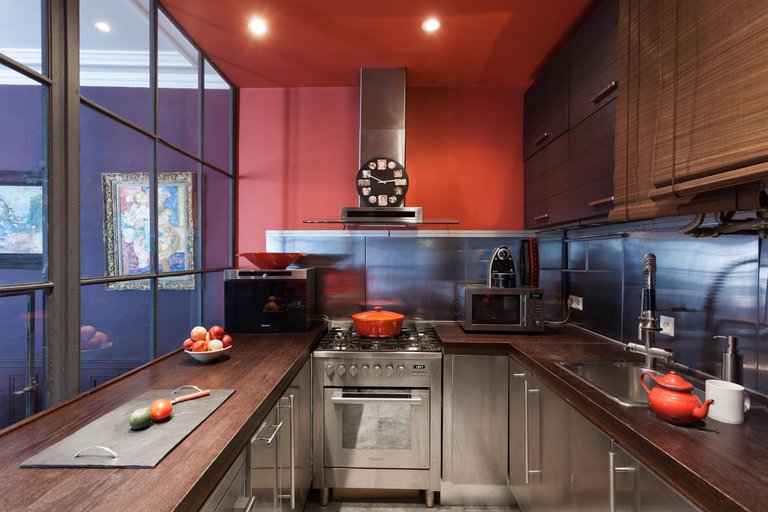 The contrast of colors and textures in the interior looks just amazing. Such a design move requires careful thought through all the details: from the styles of furniture to the choice of accessories.
By the way: Sometimes metal is used to decorate only one part of the facades. It looks original, but it is important that the second part is no less durable – otherwise it will quickly lose its appearance.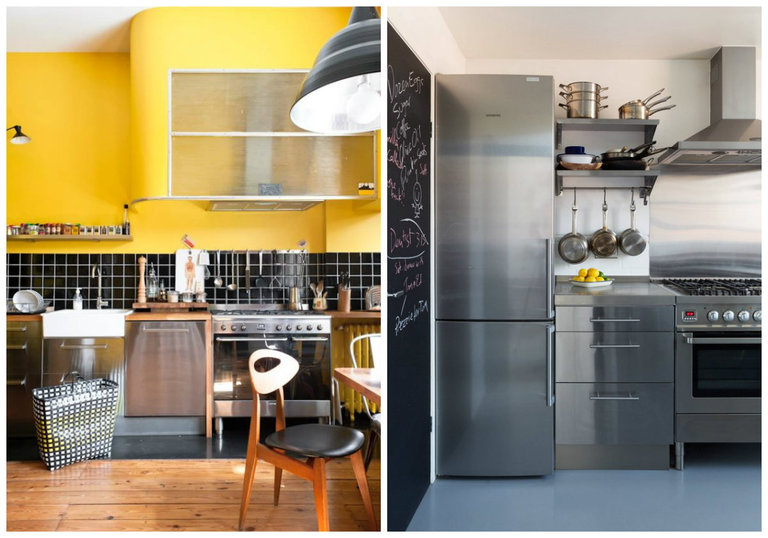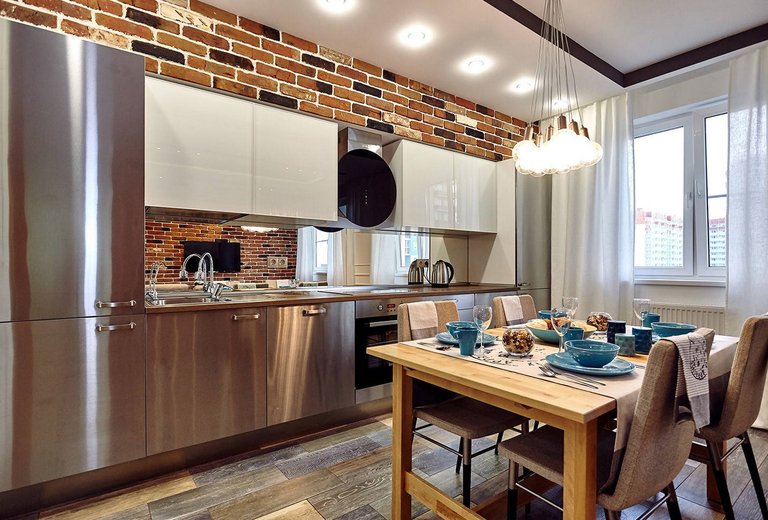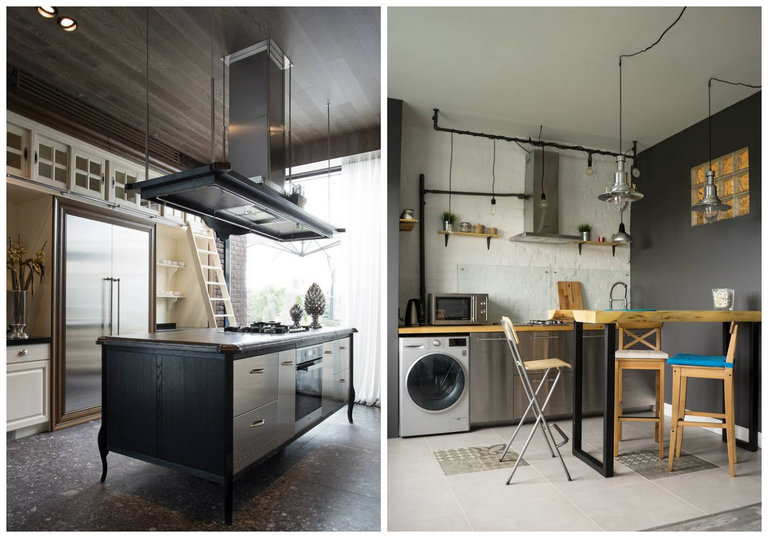 Modern idea: In 2020, a combination of various materials that are difficult to combine at first glance is popular. Our favorite is the kitchen with metal fittings and white brick wall. Shiny steel against the background of light blocks seems more interesting, and the abundance of light makes the room more spacious. The perfect solution for a loft style.
A metal kitchen in a true industrial style should look big – give up small, narrow headsets. Wide L- or U-shaped are more suitable here. Complete it with a kitchen island with the same facades. We recommend choosing dark metallic shades, especially if you prefer light wall finishes and vice versa.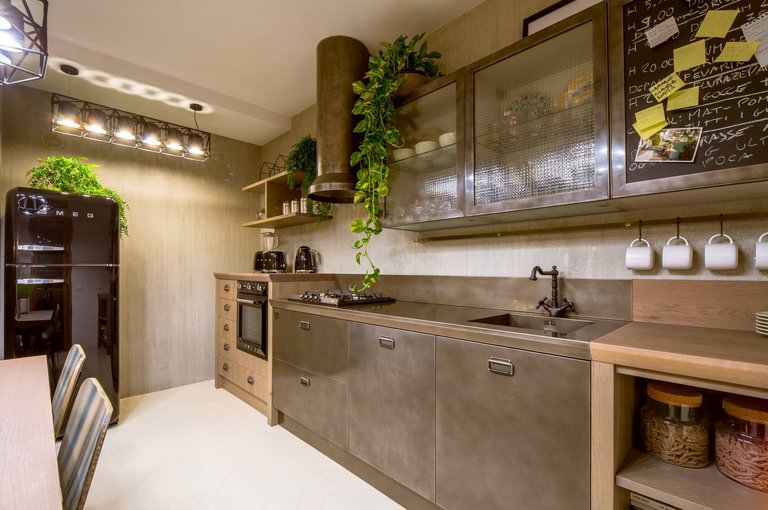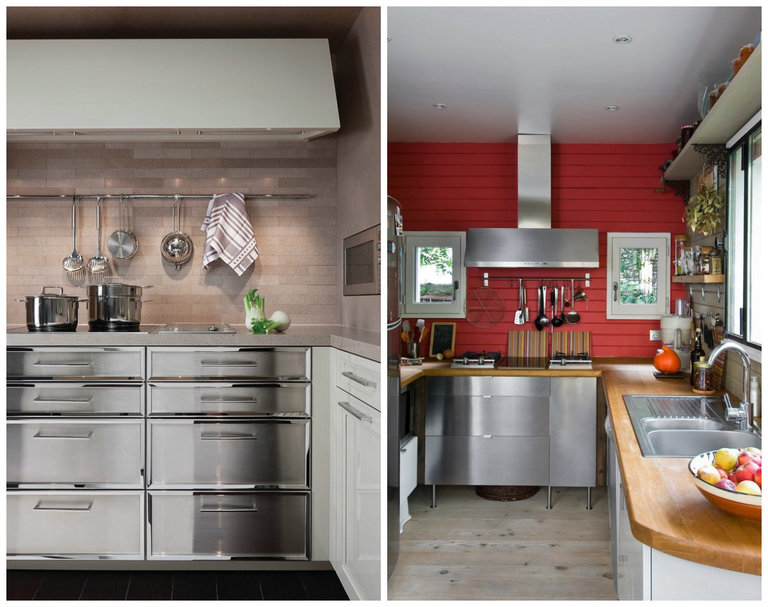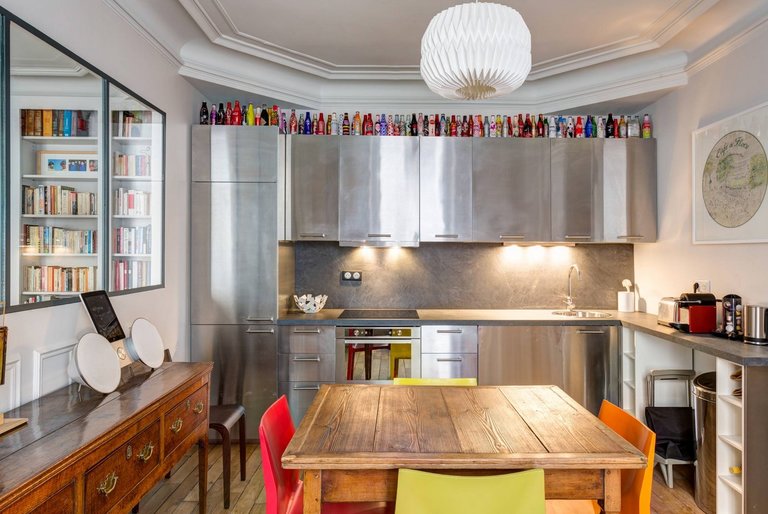 However, not only urban design welcomes the use of metal textures. If you like modern classic interiors – why not? The main thing is to keep the design in the same style. Tiered ceilings, curl-free furniture, glass dining table top … In our opinion, the result is noteworthy.
If you give up traditional materials, is it worth thinking about an unusual shape? It is important to take into account the area: in a small kitchen, such an idea is simply unrealizable. But in a large, spacious room, it will look very interesting. One or two work surfaces protruding from the wall are convenient and practical.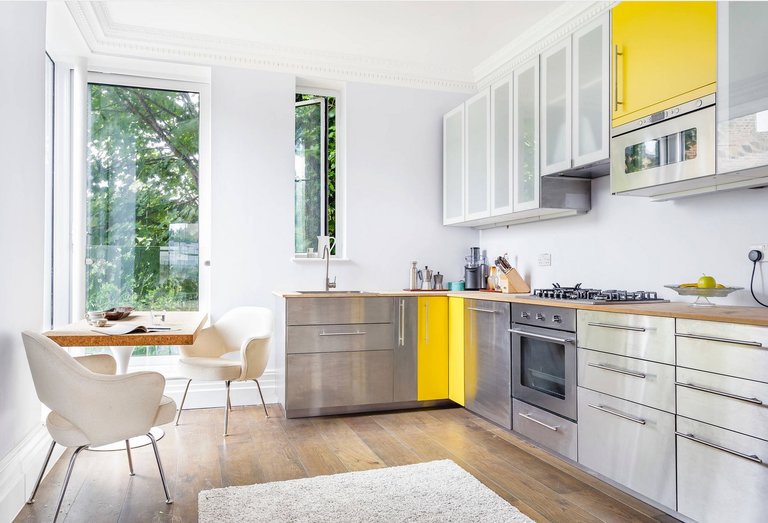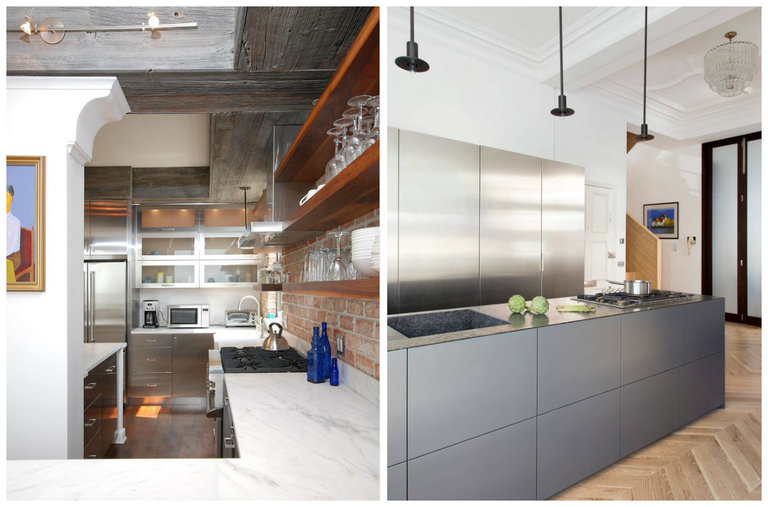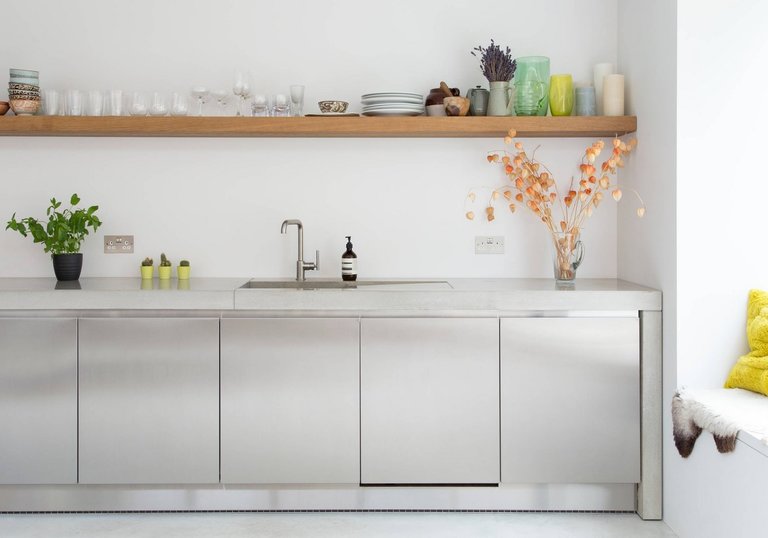 However, there is a nuance. It is better to place the refrigerator, oven and hood on the opposite wall: it is still difficult to imagine these elements in the center of the room.
For small rooms in apartments of a typical development, such experiments will have to be abandoned. However, more traditional solutions look no less attractive. For example, this option with all-metal fronts and cream countertops. Despite the catchiness of the stainless steel, it seems restrained and elegant. This headset will even fit into a classic interior.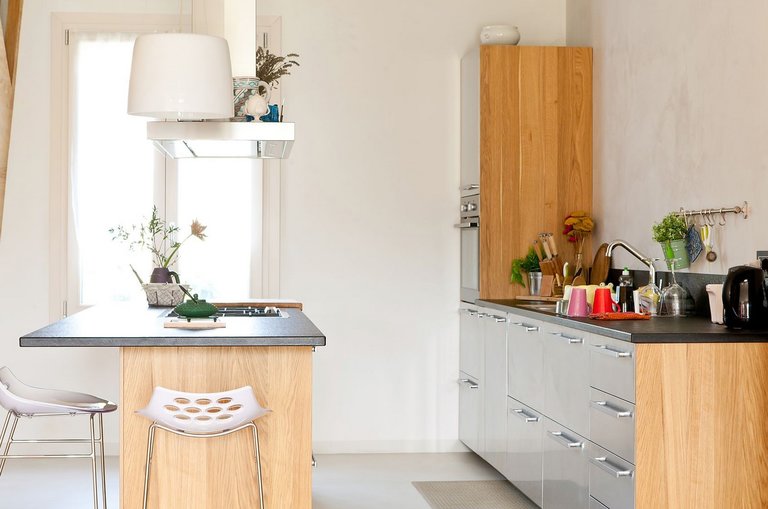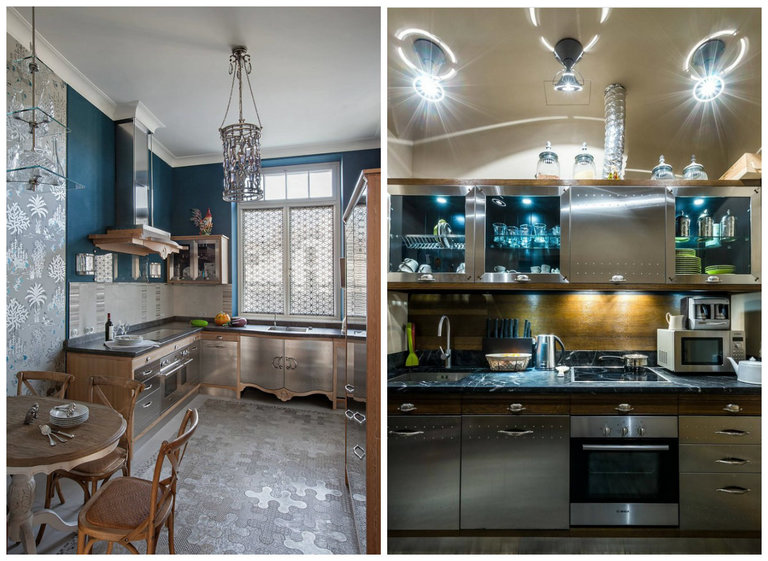 By the way, modern metal elements do not have to be the usual gray shade. Of course, we do not recommend painting them or hiding them behind panels – then it is not clear why you should buy them at all.
But to think about furniture in the fashionable colors "chameleon" is perhaps worth it. Especially if you want to create a modern and unusual design. Thanks to a special coating, the facades will change their shade, depending on the angle of incidence of light. An original way to diversify the environment, without undertaking repairs.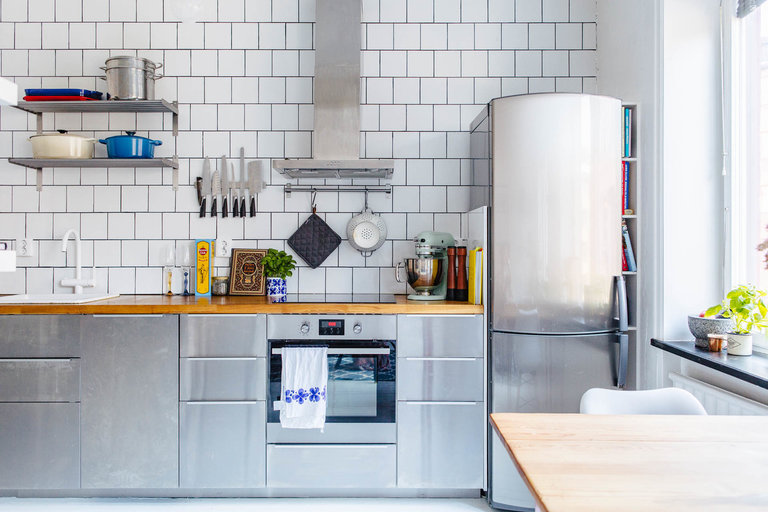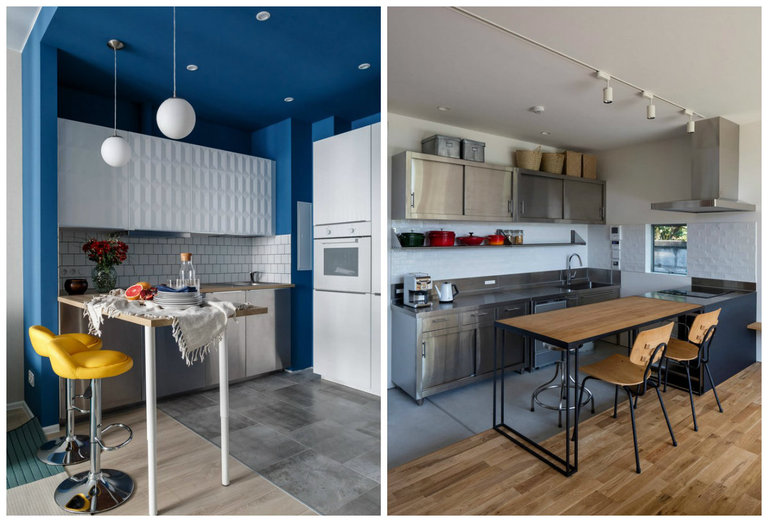 As you can see, metal kitchens are widely used in kitchen design. This is not necessarily a high-tech or loft: with proper planning, they will fit into any interior style.