If you have a small kitchen, check out this article.
Curtains and tulle
Modern curtains are designed to fulfill both aesthetic and practical functions. For sunny rooms, shading during certain daytime hours is very important. If your apartment is located on the lower floors, it is necessary to pick up thick curtains that cover the interior from prying eyes.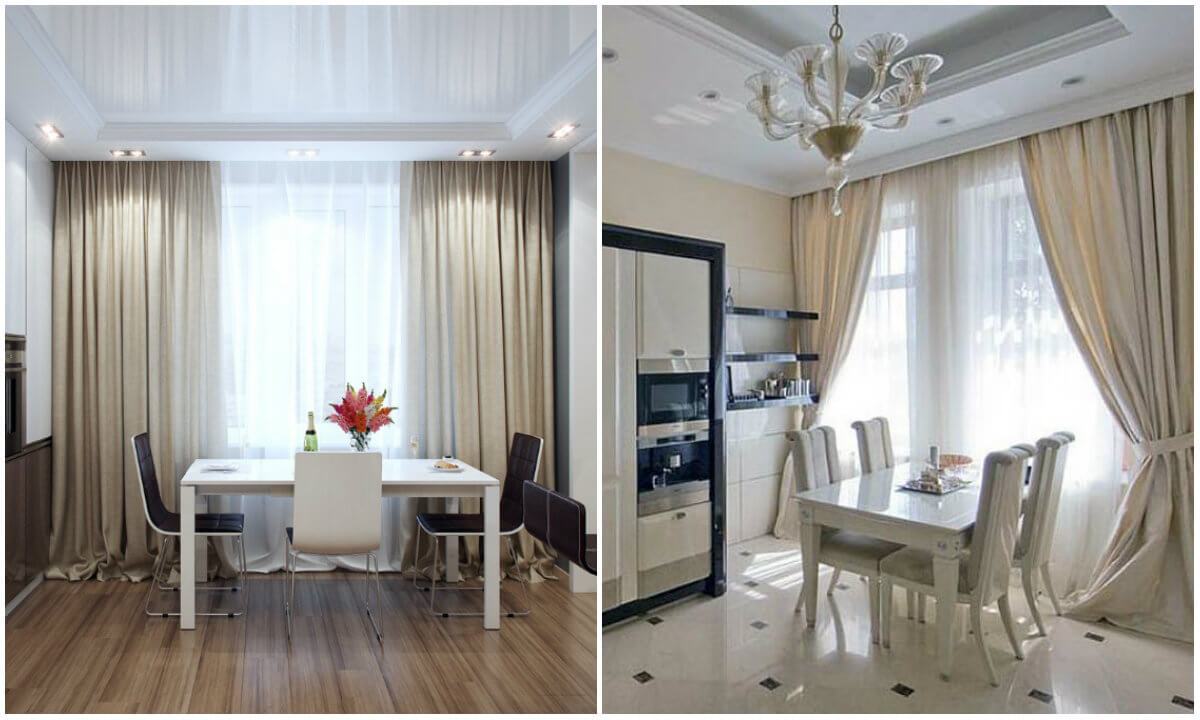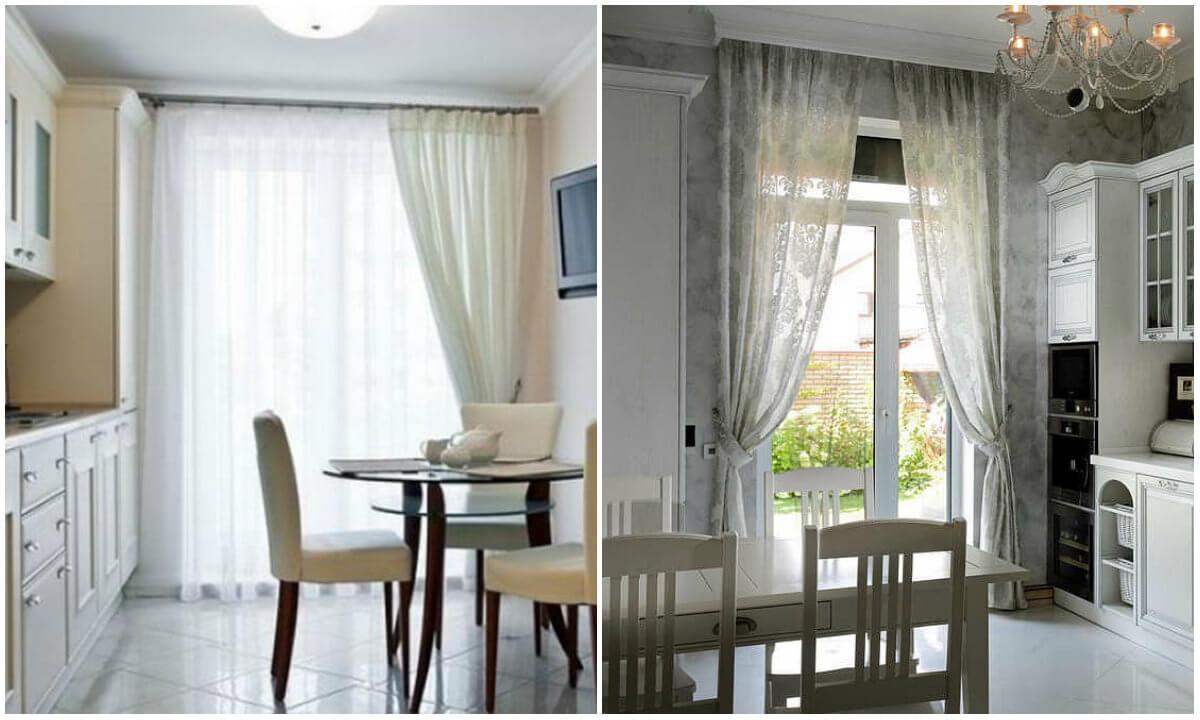 Light models, we can say that they act only as a window decor. They are made, as a rule, from such translucent materials as tulle, organza, chiffon, veil.
As you might guess, the final design can be completely different. Here you should focus on your own preferences and style of the room.
Today, for example, eyelet curtains are very popular in minimalist interiors. Light folds will give a feeling of home warmth, comfort, bring a touch of sophistication and originality to the surrounding space. They are hung on round cornices.
Eyelet size is selected based on the diameter of the pipe to which they will be attached. The main emphasis here is on the beauty of the fabric, which will be further emphasized by the vertical folds.
Classic models, complemented by a lambrequin, can hardly be called a novelty, because they have long taken their rightful place in interiors.
You can combine heavy curtain fabrics and light weightless fabrics. The pelmet is located at the top of the window, its height varies in the range of 20-50 cm. Properly selected material will increase the visual size of the window.
Often they reach only the middle of the window, leaving the window sill completely open, that is, you can use it as a work surface for placing small household appliances and other accessories.
They will allow you to emphasize the sophistication of the kitchen set, bring comfort and warmth to the room.
Roman
These are some of the most popular window decoration options today. They will perfectly fit into interiors of any style, distinguished by their beauty and ease of use.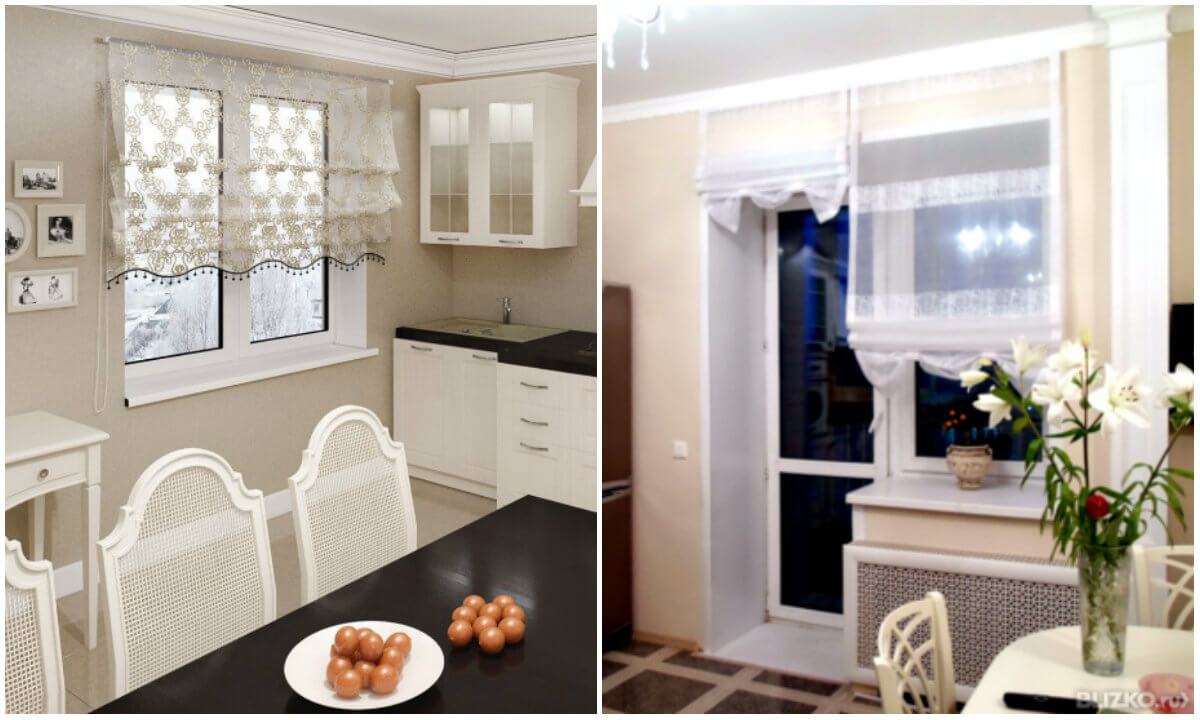 If you are looking for an option that fits perfectly into the design, do not pass by Roman blinds.
On their basis, you can create a fairly original modern interior. True connoisseurs of elegance and beauty will surely appreciate them.
Aesthetics is an indisputable fact, but it is far from the only thing that attracts the attention of modern consumers and designers.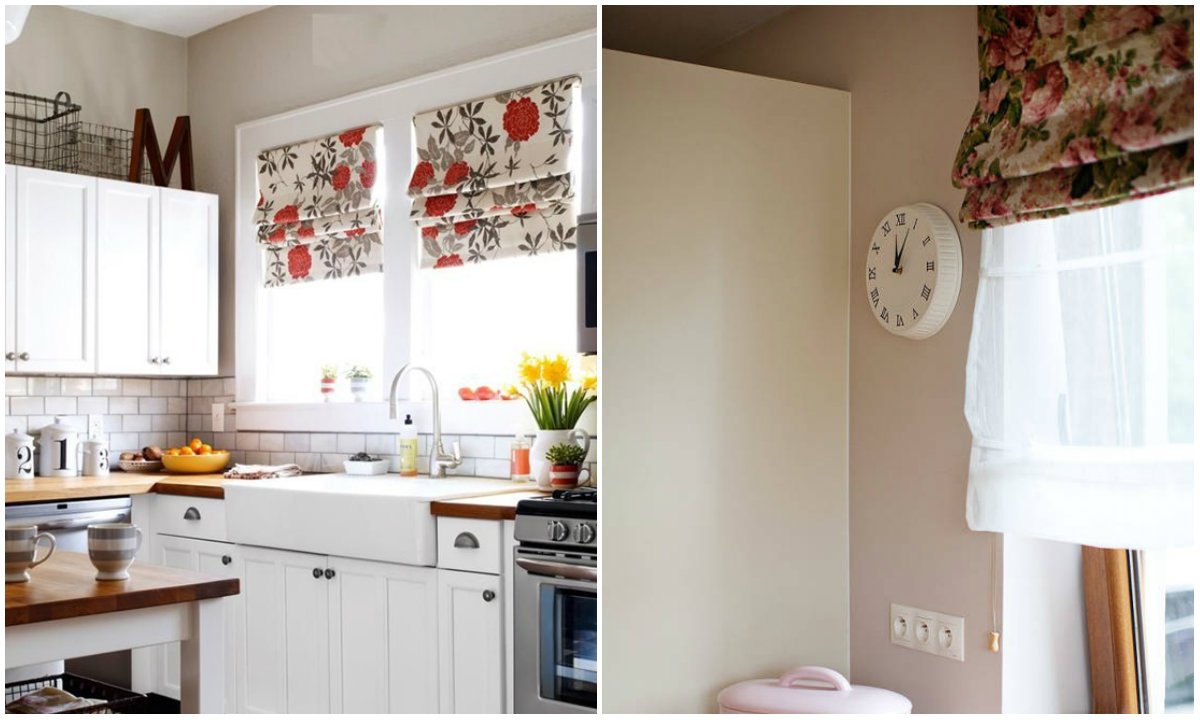 Enviable functionality must not be overlooked. Raising or lowering the special mechanism, you can adjust the light level.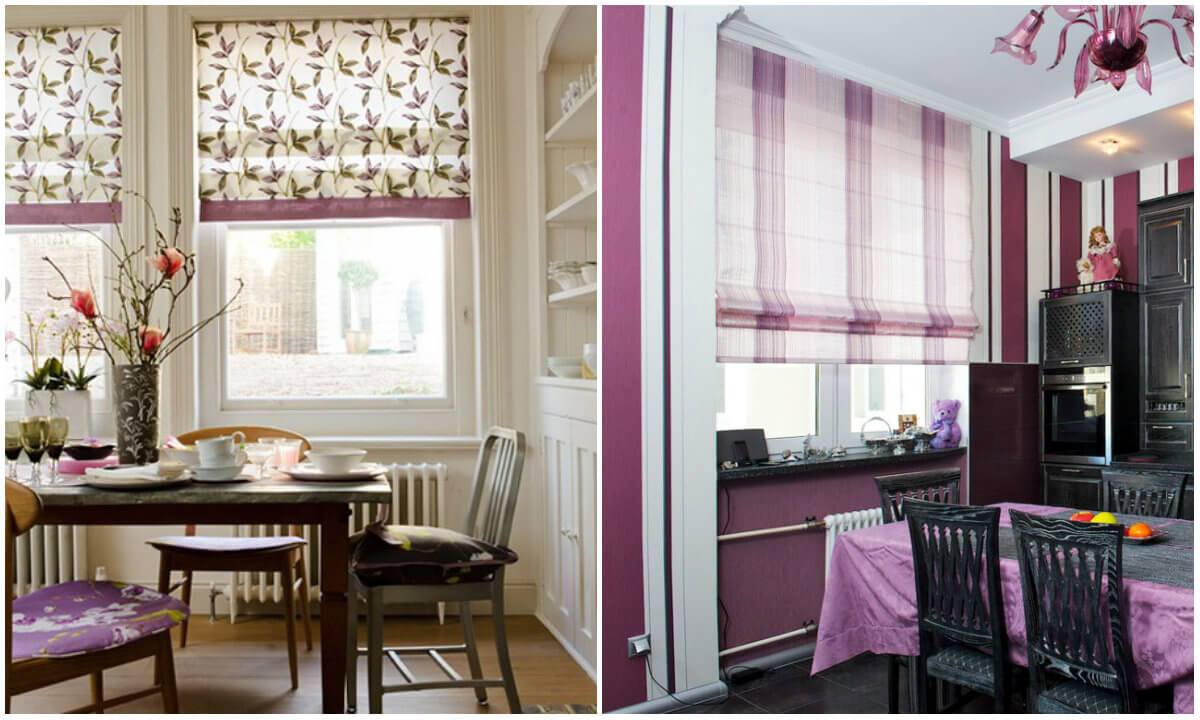 They are quite simple in leaving… To wash, simply remove them from the eaves, take out the weighting bars, and throw the canvas itself into the washing machine, choosing the optimal temperature and speed based on the type of fabric.
To avoid stains on the canvas, we recommend using liquid powders and additional rinsing. Dry they are in a straightened state. It is best to iron a slightly damp material. Roman shades go well with classic straight shades. For example, take a look at these photos.
Patterns, abstraction, floral motifs, checks, stripes, stains are acceptable. Models with embroidery look exquisite, fitting perfectly into the elegant classic interiors of kitchens.
The variety of materials is also striking, ranging from lightweight weightless chiffon, tulle, and ending with massive heavy curtains.
Austrian
Austria is the country that from time immemorial has been famous for its "lace" art. If you are looking for modern curtains for the kitchen, striking in their grace, representativeness, aristocracy, then this option is for you.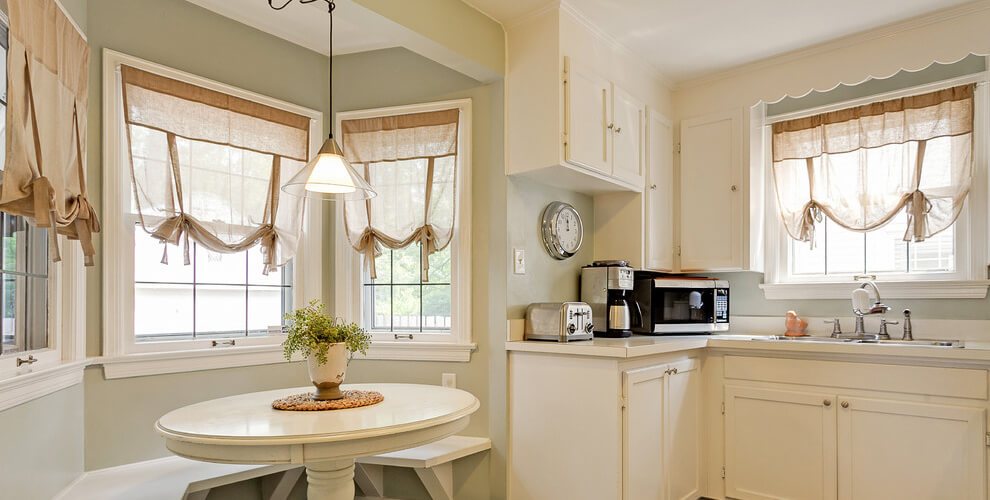 Outwardly, they are separate sections, tidied up along the bottom edge in the form of air flounces or lush folds. The contrasting trim with piping, fringe, cords, decorative tassels gives increased decorativeness.
This is also one of the varieties of lifting models, but unlike the Roman ones, there is no crossbar.
For driving they use cords threaded into special rings attached to the cornice. Cords play not only a functional, but also a decorative role, forming a lush and beautiful drapery.
The choice of fabrics for Austrian curtains is very diverse. The main thing is that the material should be wrinkle-free.
Such design novelties may well act as an independent element of window decoration, but if necessary, they can be supplemented with classic curtains, contrasting lambrequins.
French
Before you is a recognized classic, the embodiment of luxury, a vivid example of respectability and solidity.
They add aristocracy and sophistication to the room, create a warm, cozy atmosphere of comfort and chic.
Pay attention to them if your interior is implemented in any of the classic styles. The vertical folds will be originally illuminated by the sun's rays playing and shimmering in them.
They look no less impressive in artificial lighting. For sewing, both classically heavy portrait fabrics and lightweight tulle curtains can be used.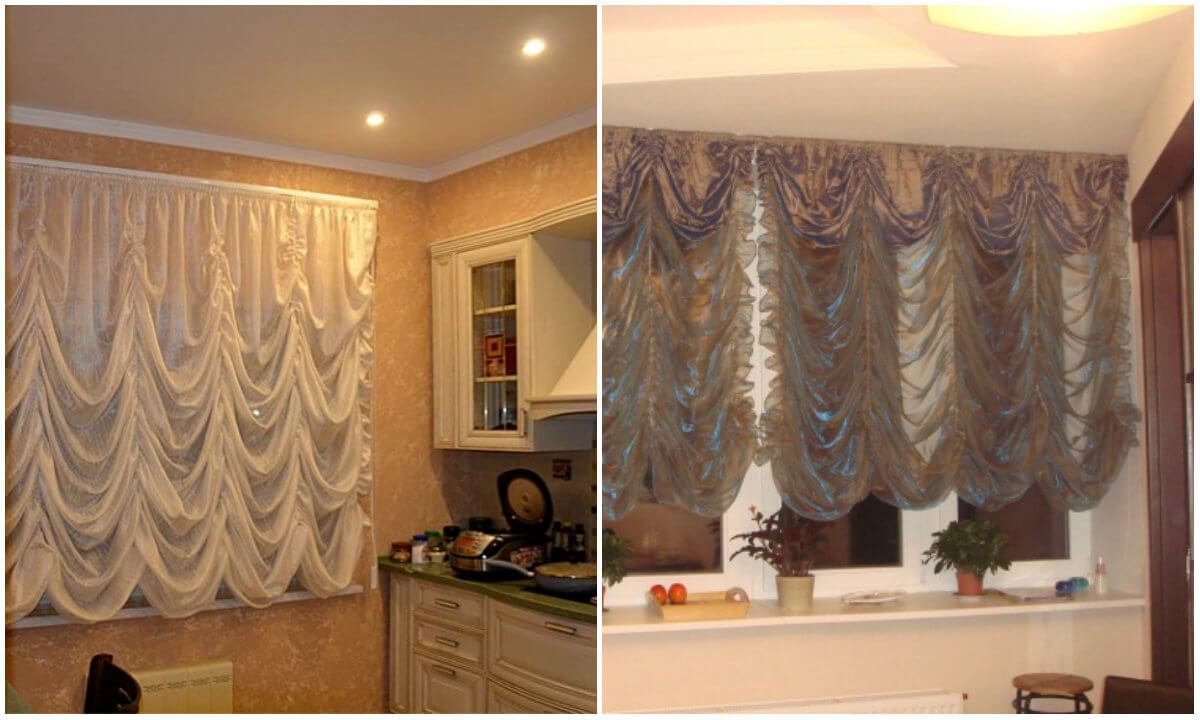 Already from the description it becomes clear that they are intended exclusively for spacious kitchens with high ceilings. This option is undesirable for those who have a stove in the immediate vicinity of the window.
Roll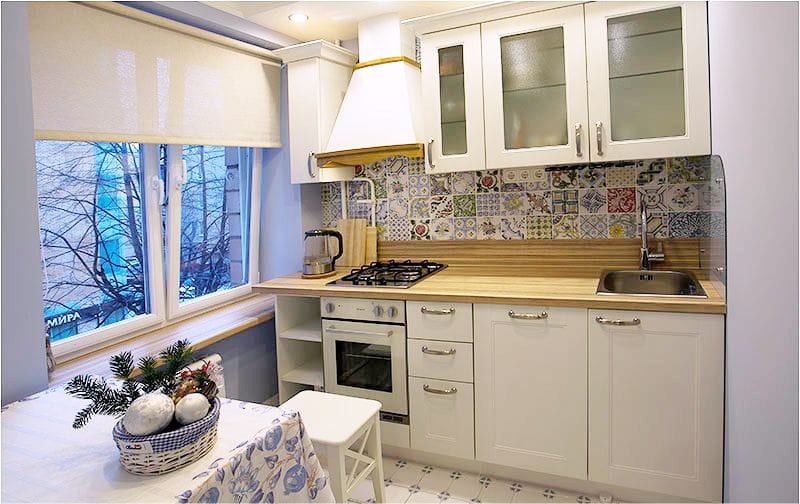 This is one of the latest design innovations. Despite their relative "youth", they have become a serious competitor to traditional types of curtains.
If you wish, you can curtain the window with one solid structure, or use narrow canvases covering each section separately.
Lightweight materials will allow you to create subtle shading, focusing on decorativeness. Fabrics are impregnated with special compounds, which makes them immune to high humidity and sunlight.
Moreover, now in the salons you can find samples of Roman curtains with photo printing. Modern technologies allow you to apply drawings, family photos and any images to the fabric.
If you want to make their control more convenient, opt for models with an electric drive. They are easily integrated into the "smart home" system, automatically opening and closing at a specific time specified by you.
Kiseya
If you want to create a relaxed, airy atmosphere, pay attention to muslin curtains. This material allows you to get light and weightless models of any configurations and sizes. They can be easily combined with curtains, threads of other colors. This option is exclusively decorative.
A translucent canvas will not be able to protect the kitchen from the penetration of sunlight and prying eyes. If your apartment is located on the sunny side, on the ground floor of a house or next to other high-rises, then in addition, for shading, you will need to use dense options or blinds.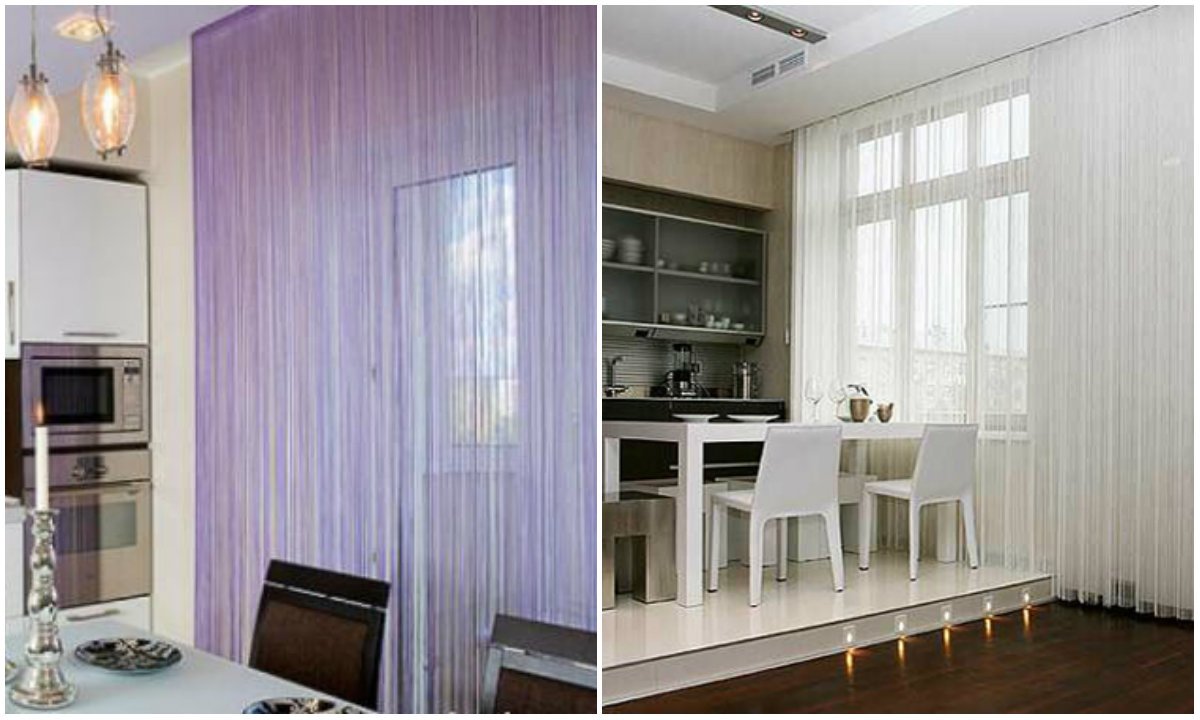 They fit especially harmoniously into small rooms, creating in them the unity of the interior, visually raising the ceilings, filling the room with air and light. Having stopped your choice of them, pay worthy attention to the choice of color scheme, decor, design.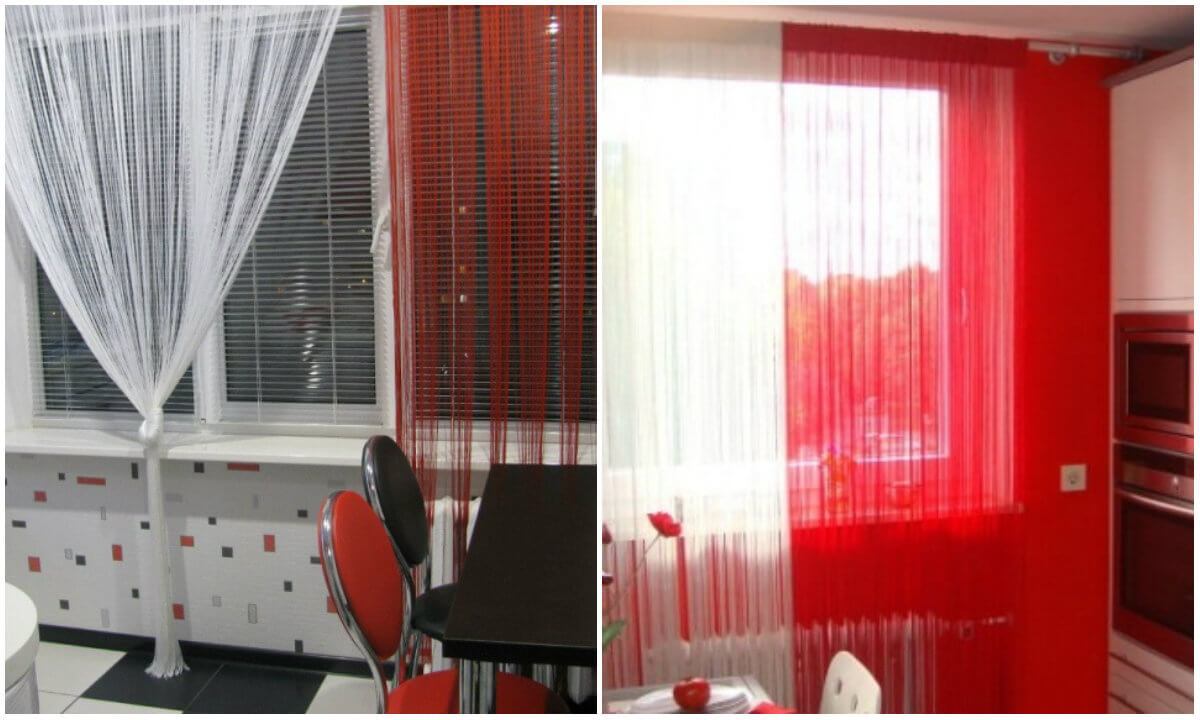 An advantageous solution is obtained by combining materials of different colors. Kiseya is the canvas that allows you to reveal all your creative and design abilities, resulting in real masterpieces endowed with a bright personality.
Japanese
If you are looking for a truly outlandish option for decorating a window in the kitchen, then you simply cannot pass by Japanese curtains.
They represent the "screen", consisting of several panels, each of which is a rectangular cloth. The width and height of one screen depends on the size of the window sash. The canvas is fixed on a special guide using textile Velcro.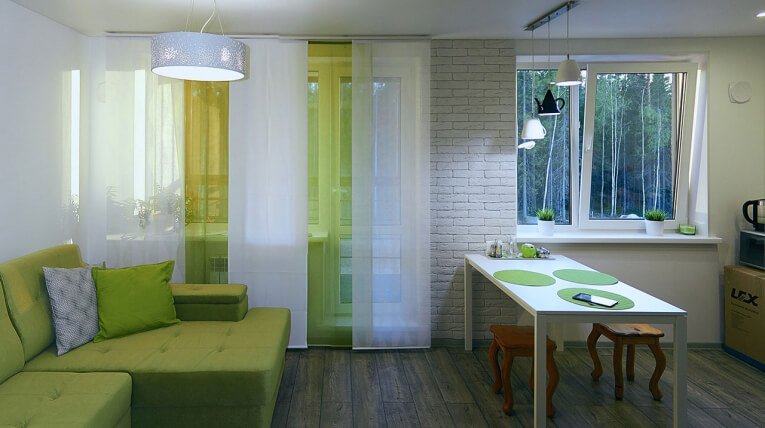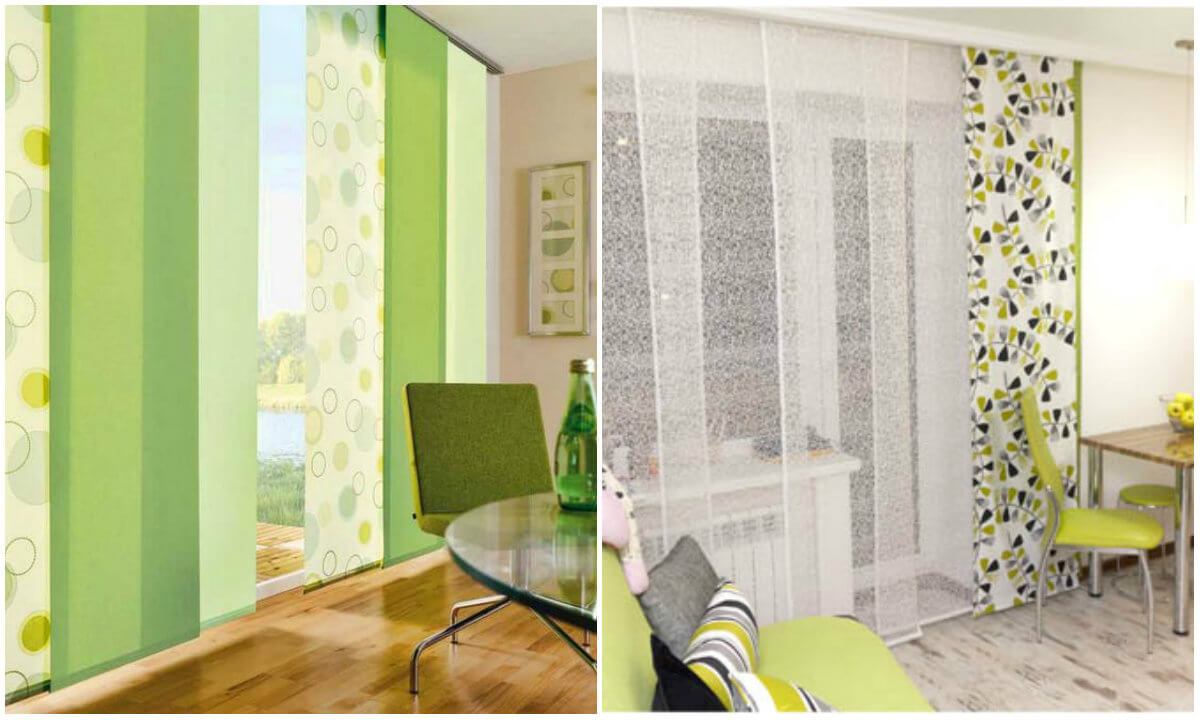 Panels can line up one after another in the form of a ladder, completely wind up behind each other, spread symmetrically along the edges, line up in one line.
The main requirement is maximum web tension. For this, weights are used, placed in the lower part, and rigid fiberglass inserts are inserted into the side seams.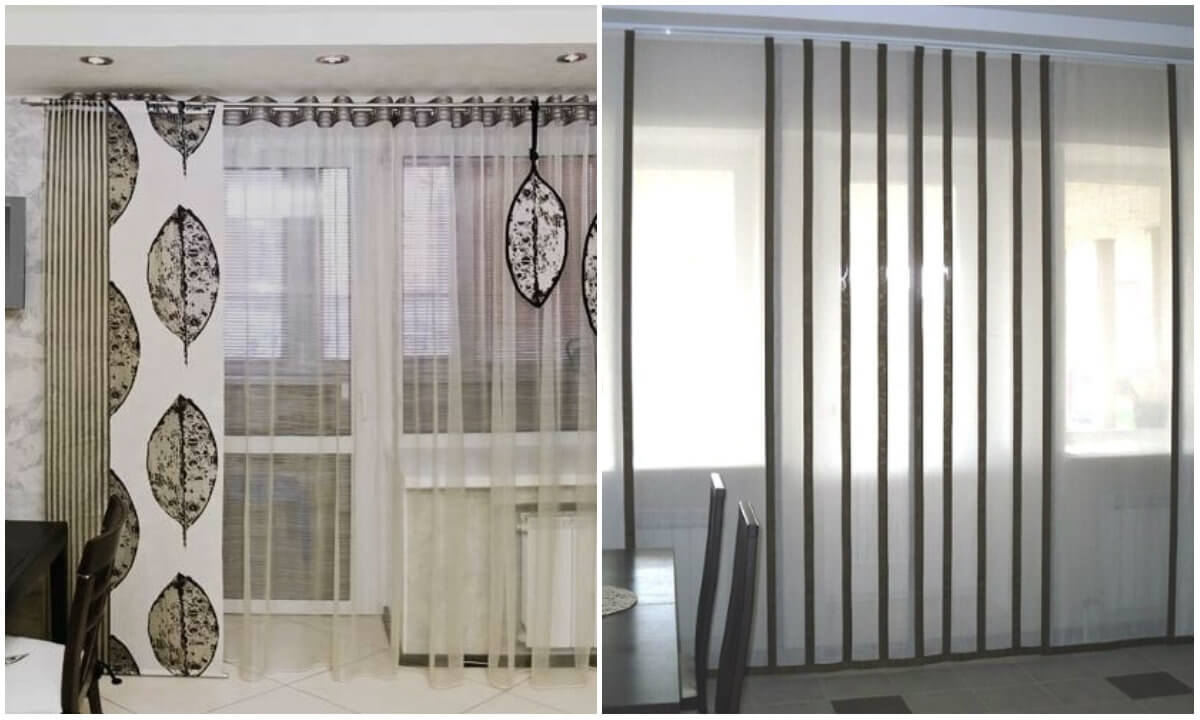 The exclusivity of Japanese curtains and their main distinguishing feature is their striking decorativeness. It will not be difficult for you to find canvases with extraordinary geometric, floral or subject patterns.
Jalousie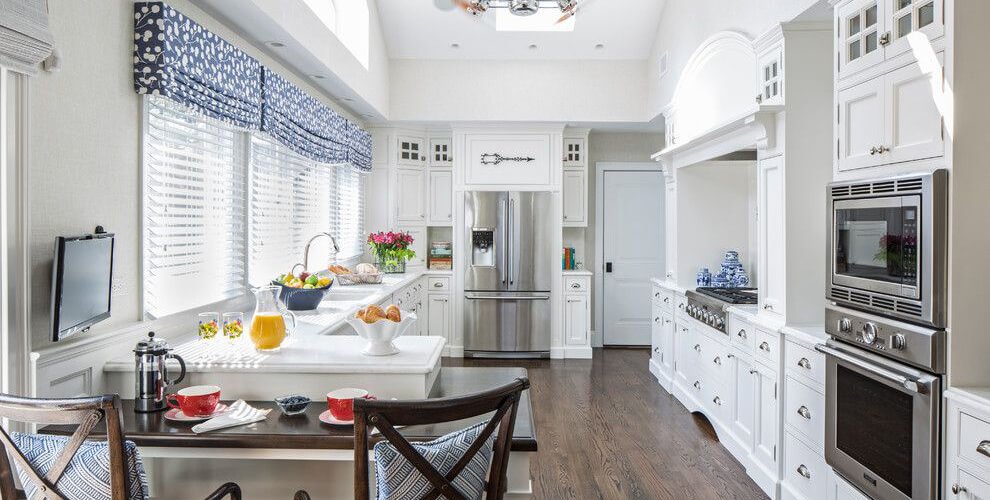 Blinds are one of the most popular window decoration options in our apartments. They differ from each other in materials, positioning of lamellas (vertical, horizontal), color and texture solutions.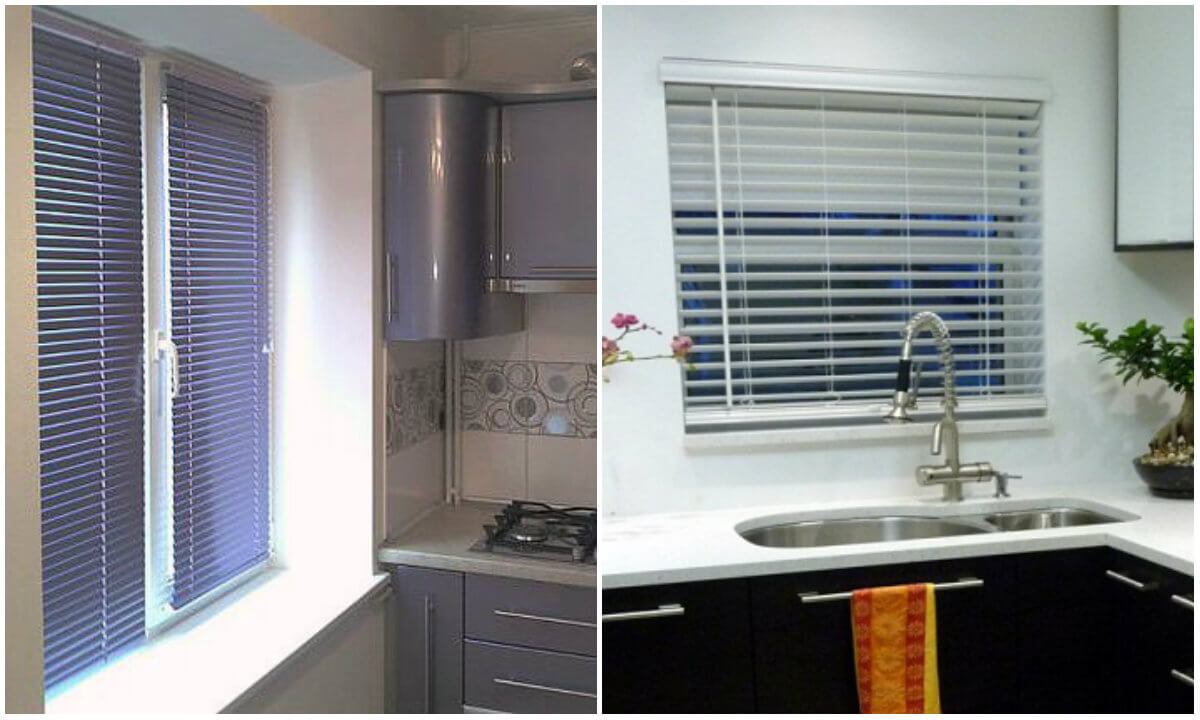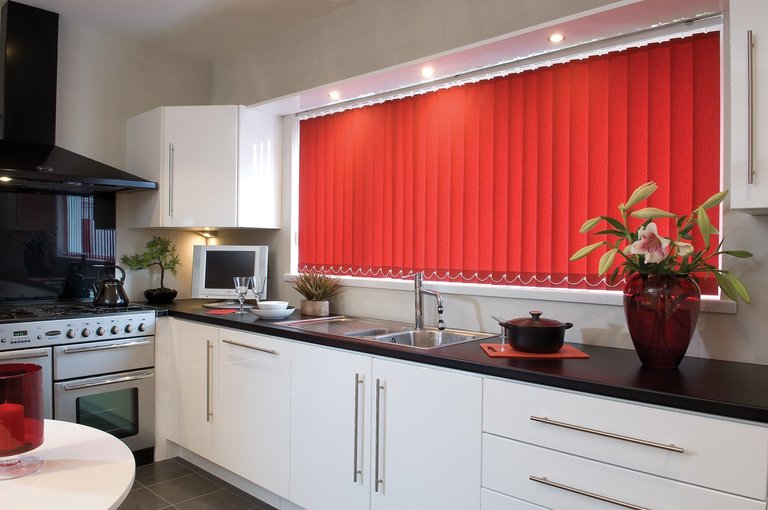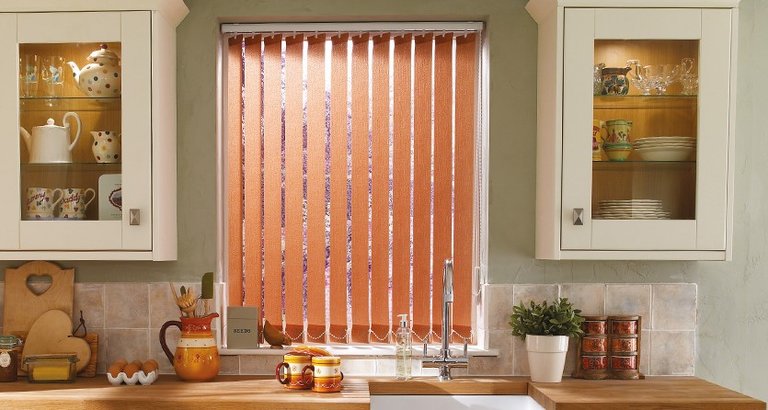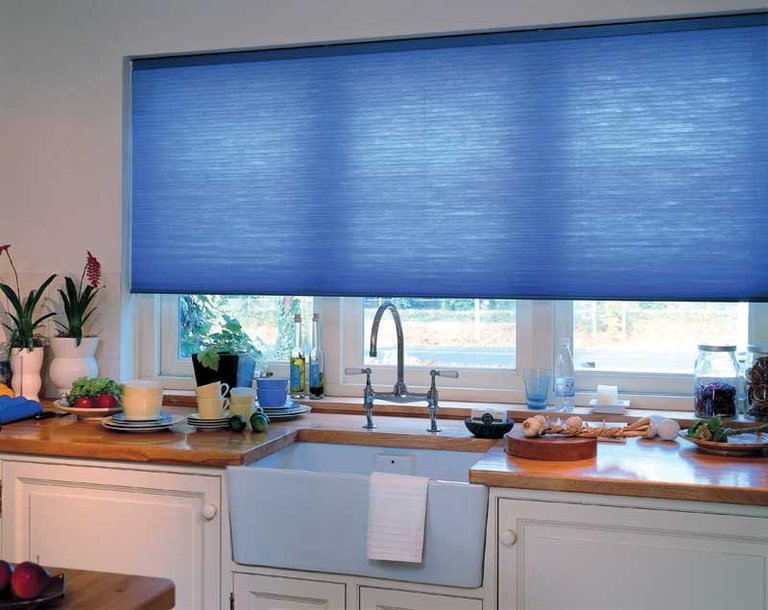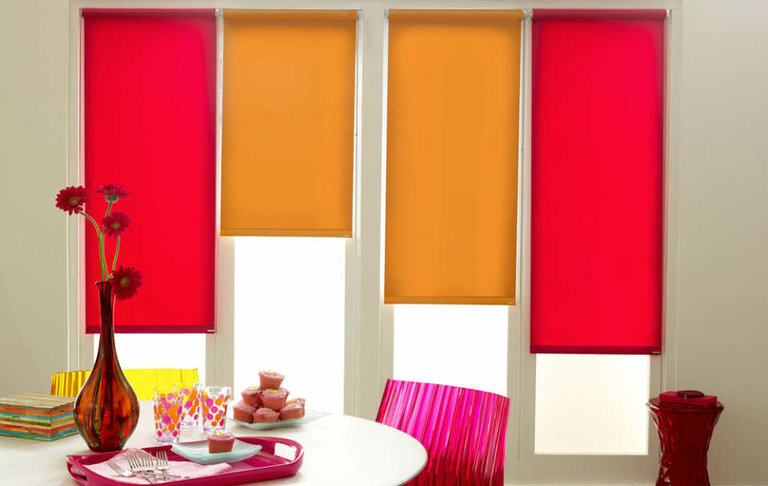 Be careful when choosing this option for yourself, because, despite the special processing of the lamellas, they still remain susceptible to dirt, moisture, and they cannot be used near the stove.