Welcome to our new post Luxurious children's bedrooms and children's rooms with modern designs and décor
.
Children's bedrooms with modern and modern colors and designs, distinctive among other children's room designs, combining simplicity, beauty and luxury, and at the same time, functional, comfortable and streamlined in designs.
Children's rooms are their own kingdom in which they spend most of their time, and it is their special place that grows with them and forms the environment in which they grow up, so the decorations of children's rooms must meet the needs of each child according to his tendencies and hobbies. It is children who love science and in this case you must control the room decorations The child has themes based on science and decor units that motivate him to learn and achieve and support his interests.
For example, if the child loves arts, then the room must contain everything that supports his hobby and talent, such as a place dedicated to drawing, crafts, works, handicrafts, and so on.
Children's bedroom designs
All this, in addition to the basic components of children's bedrooms, including the child's bed, wardrobe, closet, office, library or shelves, and children's rooms can also contain shelves on the walls.
Kids room wall ideas
Also among the things that are popular in decorating children's rooms of young age are wall drawings, where you can draw on the walls in accordance with the hobbies and passions of each child, so that his beloved cartoon characters can be drawn or a landscape that gives an atmosphere of beauty and smoothness to the room decor or drawings and 3D units of animals or scenes from Their favorite movies.
Ideas for children's bedroom colors
Childish colors can be used in children's room paints or in the colors of room decorations or the colors of furniture, it is the favorite colors for coloring children's bedrooms, turquoise, pink and light purple in addition to canary yellow with agricultural green, in addition to orange or orange with green or bright blue.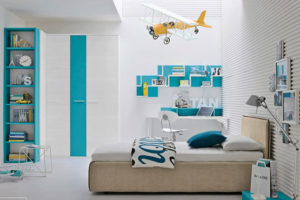 And turquoise or turquoise color with white together constitute an example of elegance and joy in children's room designs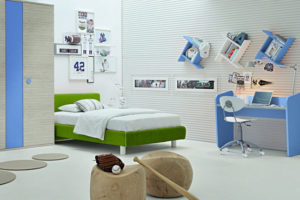 Children's rooms are small
In cases of small children's bedrooms, decorators use special units that save the room space so that the pieces of the room's decor elements are combined together in one or two pictures, such as merging the office with the library, for example, or merging the library with the room bed, or in the case of more than one child. In the room and we do not have enough space to put two beds, we can use a two-bunk bed design, taking into account the comfort of each bed and the ease of climbing up to the highest bed easily.
And here is another example of double rooms for children, but with one double bed, and their yellow and orange colors combine, which together form an elegant combination.
Modern children's bedrooms
And if the general decoration of the house is a modern décor, then in this case it is preferable to design the decor of children's rooms also modern so that it is in line with the general atmosphere of the home decor, and you can see many designs of modern children's bedrooms from here.
Children's room storage units
Children's rooms must contain many storage units of cupboards and cabinets, and it can be used under the bed to make hidden drawers or shelves for storage, as well as using the walls from the top to make decorative units hanging on the walls that help to store clothes and toys.
It is preferred that the floors of children's rooms be made of wood so that it is gentle on them, suitable to play, absorbing impacts, and soft, as well as cozy and warm.
We hope that you liked our choices of children's room designs and that you share them with your loved ones.
For more ideas of modern and classic children's room decorations from here
You can also watch a video of the decor of many children's rooms from here
Don't forget to send this post with friends and family !