Welcome to our updated post 5 ways you can do it
.
This article will be informative if you:
have been thinking about the brick design of the kitchen interior for a long time;
do not intend to make repairs in the near future, but are determined to radically change the atmosphere of their kitchen;
ready for renovation and will not give up a couple of new ideas for interior decoration.
Natural, decorative brick or other material imitating it is a wonderful background for any setting, combined with many trends in the interior – you can see this by looking at the photos below.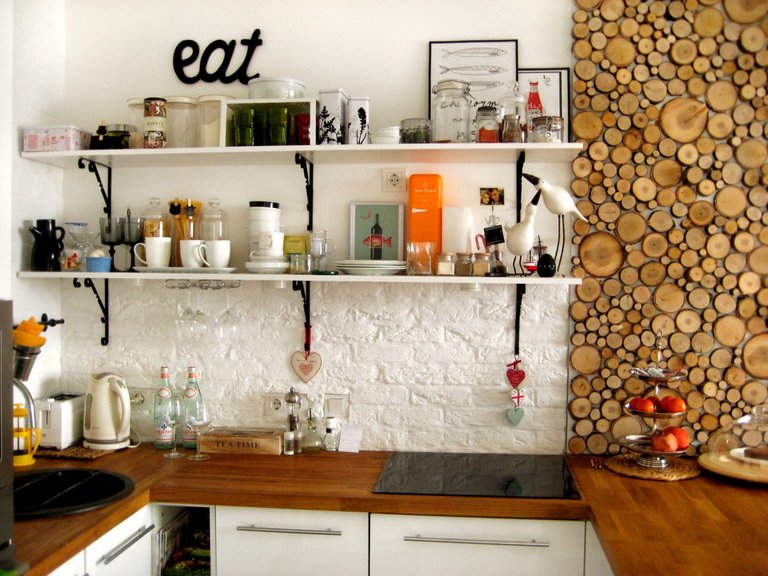 Like? As you can see, and not only to you. Due to its versatility and practicality, brick has become often used for decorating kitchen walls, especially in the loft style.
You probably noticed that brick or brick-like walls harmonize with any – monochrome or color design, and vertical inserts from it can be used to divide spacious rooms into zones.
Next, we'll look at 5 ways you can create such an interior.
Examples of "brick" design
So, there are several options. In the description of each of them, we indicated the advantages, disadvantages and possible actions to improve the appearance.
1 way. Everything is very simple – we clean the walls of the kitchen and expose the brickwork. Radically, but without any extra investment. Although you have to work hard and breathe the plaster. This method is suitable for those who are not looking for easy ways or are just on the verge of renovation. Oh yes, and to those who, of course, live in a brick house.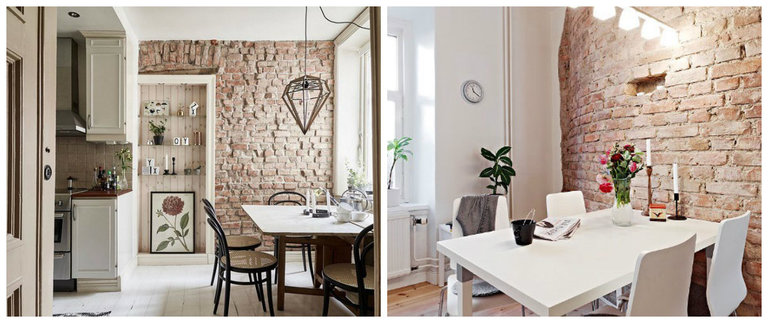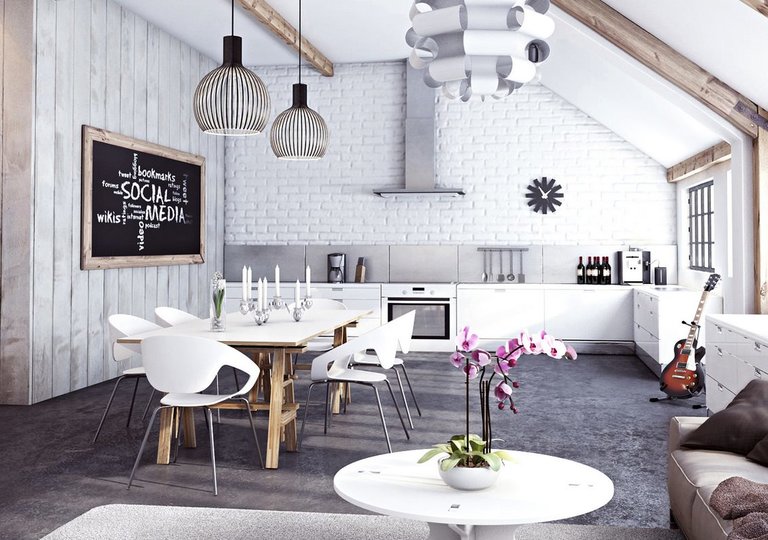 Pros: it looks natural, natural, durable and durable material, walls breathe, fits any interior, you can do this work yourself.
Minuses: absorbs and accumulates dust and grease, absorbs moisture and therefore requires constant maintenance, standard red brick does not reflect light, making the kitchen darker, visually reducing the room.
What can be done: special protective and easily washable lacquer coatings, painting in lighter colors, good and evenly distributed lighting, the use of bricks to decorate individual parts of the kitchen wall.
Method 2. And who said that it should be exactly a stone? Moreover, not everyone lives in brick houses. Brick wallpaper is also a possible option. They practically do not differ from brick in appearance, they can be glossy, matte, and textured, like a real brick. You can only find out that this is a wallpaper on closer inspection.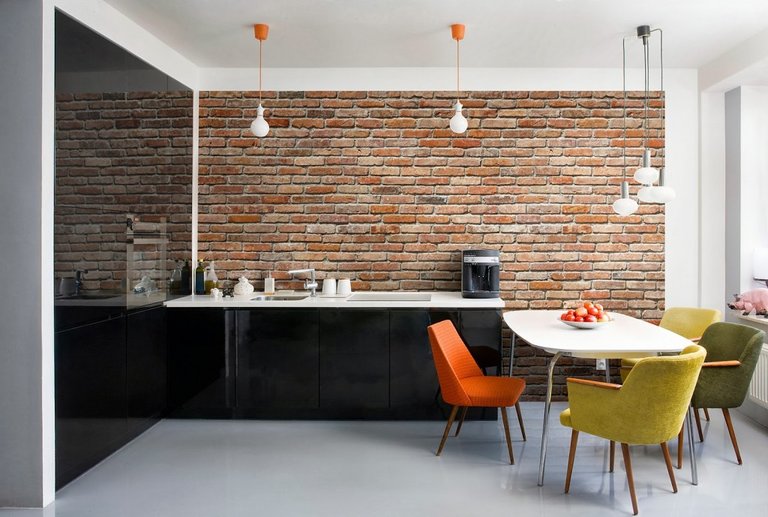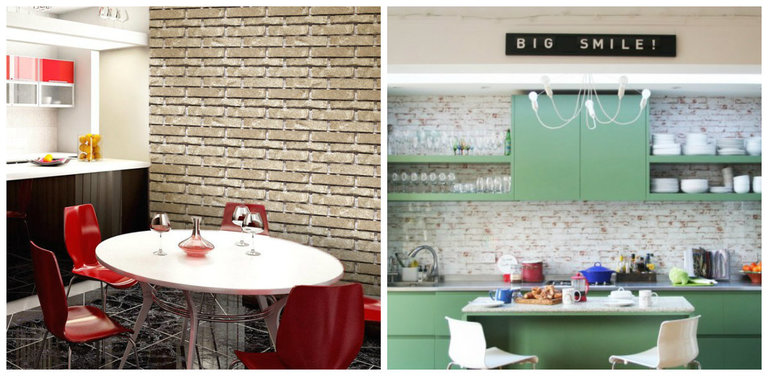 Pros: natural look, the color range is limitless, there are washable types of wallpaper, you can glue it yourself.
Minuses: paper or textile wallpapers made of natural materials are not the best option for the kitchen: they absorb moisture, can fade and tear. More durable and stronger, as well as water and grease resistant, washable wallpapers are made from synthetic materials and are not cheap.
What can be done: use a protective coating – film or transparent plexiglass for more budgetary types of wallpaper, do not think about environmental friendliness and purchase high-quality wallpaper.
Method 3. Brick tile. Looks like natural red or any other brick.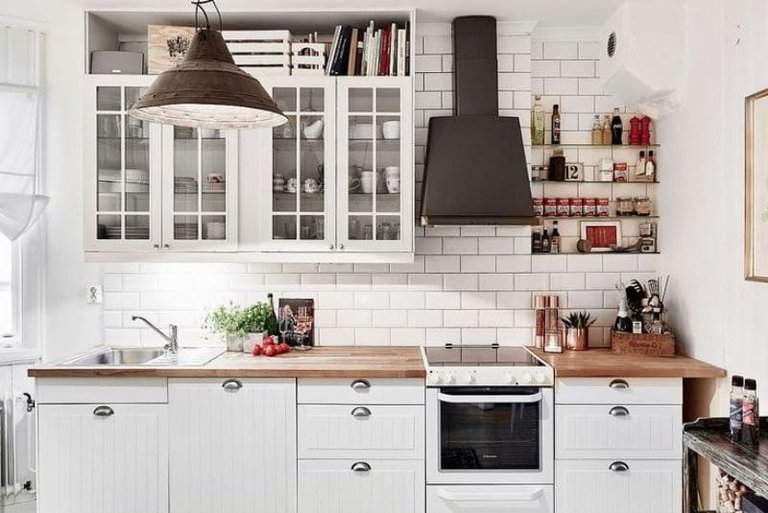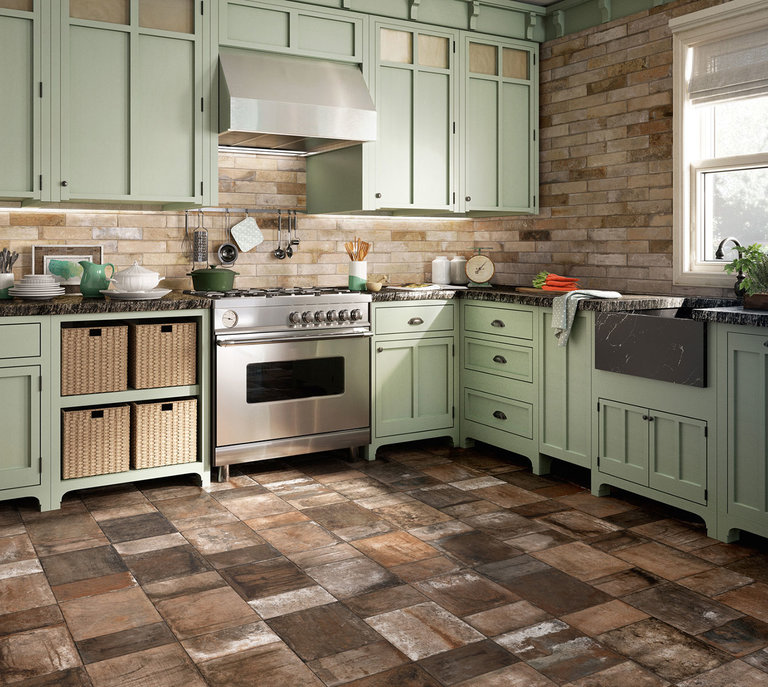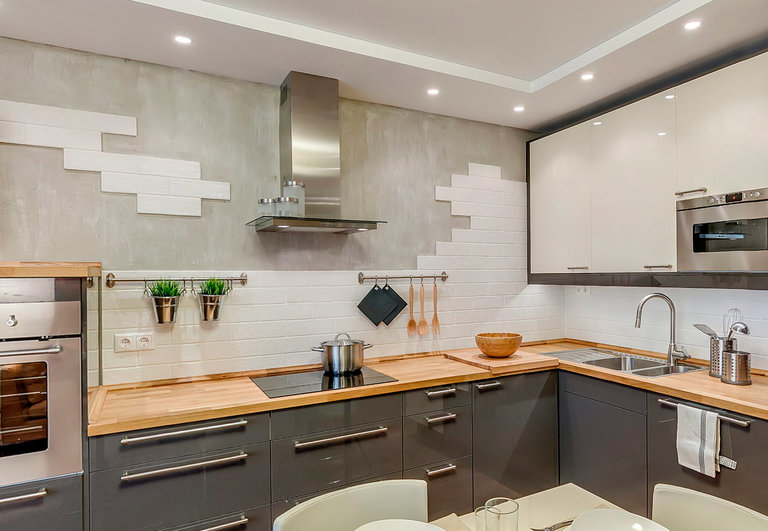 Pros: looks beautiful and organic, environmentally friendly, can be of any desired color, suits any style, is relatively easy to clean, does not absorb moisture.
Minuses: It is relatively expensive, it is difficult to hang furniture on it, it does not have good heat and sound insulating properties, it is necessary to have certain skills for masonry (especially in the case of the "hog").
What can be done: do not put tiles under wall shelves, choose cork or other heat and sound insulating tiles, invite a specialist for masonry.
Method 4. A brick made of gypsum that can be repainted in any other color if desired.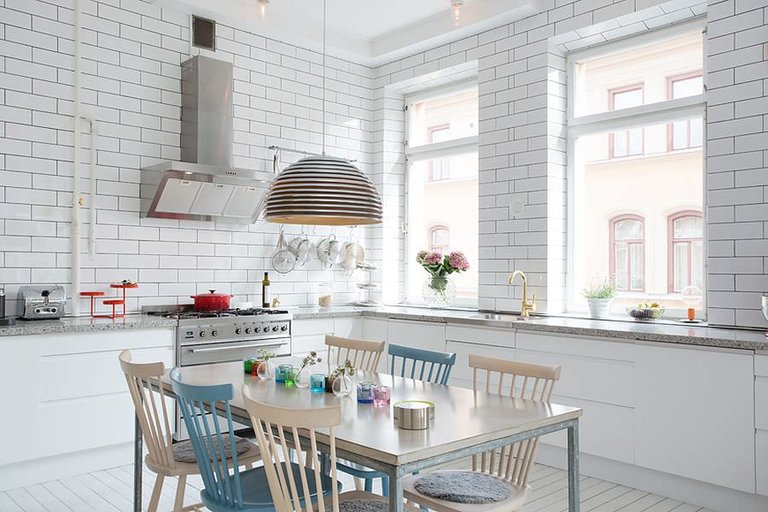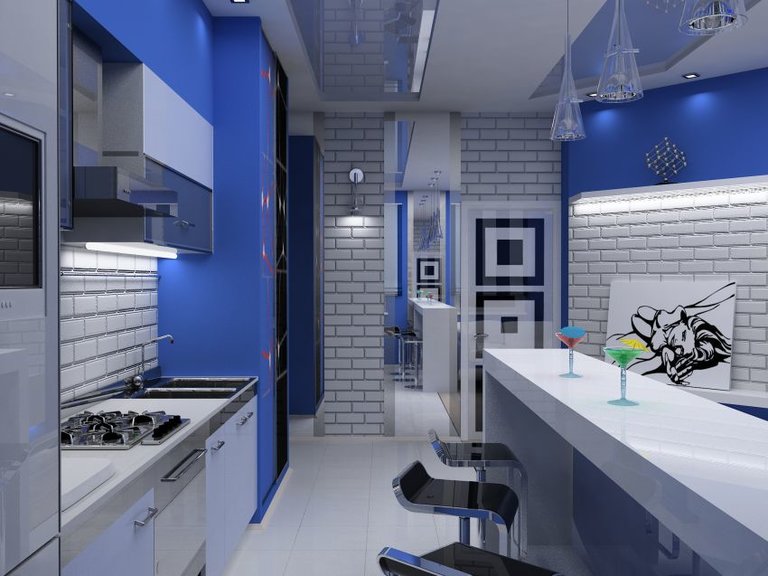 Pros: looks beautiful and aesthetically pleasing, the walls breathe, an environmentally friendly, durable and easy-to-process facing material, a white brick refreshes, makes any room lighter and visually enlarges, has good sound and heat insulation properties, can have any texture and thickness, it will relieve the need to make cosmetic repairs.
Minuses: high air, steam and moisture permeability of gypsum as a natural material.
What can be done: cover the brick with a special varnish; in order to lower the above indicators of gypsum decorative bricks, various mineral additives of natural origin are added to the starting material during their manufacture. Therefore, you just need to get waterproof bricks.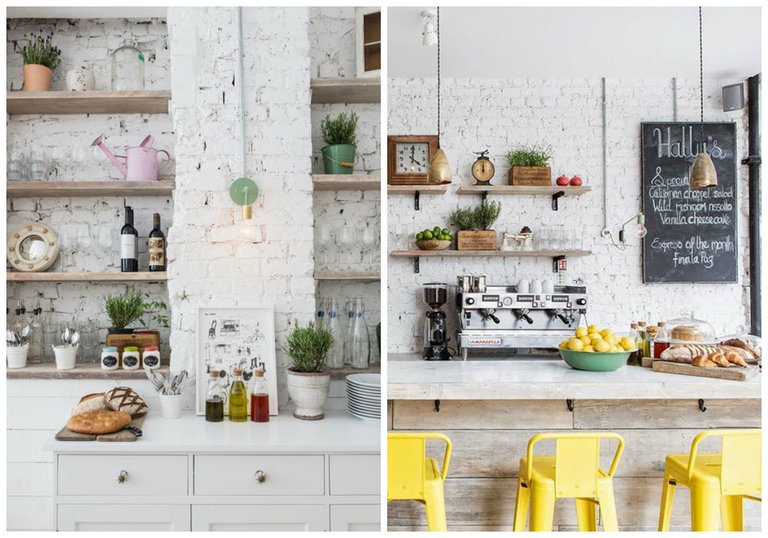 Method 5. Combine! You already know what the advantages and disadvantages of this or that material, and nothing prevents you from turning it to your advantage. For example, close to the work surface, you can use tiles that are more resistant to moisture, paintings and wall furniture in the upper part of the kitchen can be easily hung on the wallpaper, and the remaining sections of the walls can be laid out with decorative plaster stone.
And a couple more ideas for the comfort of your kitchen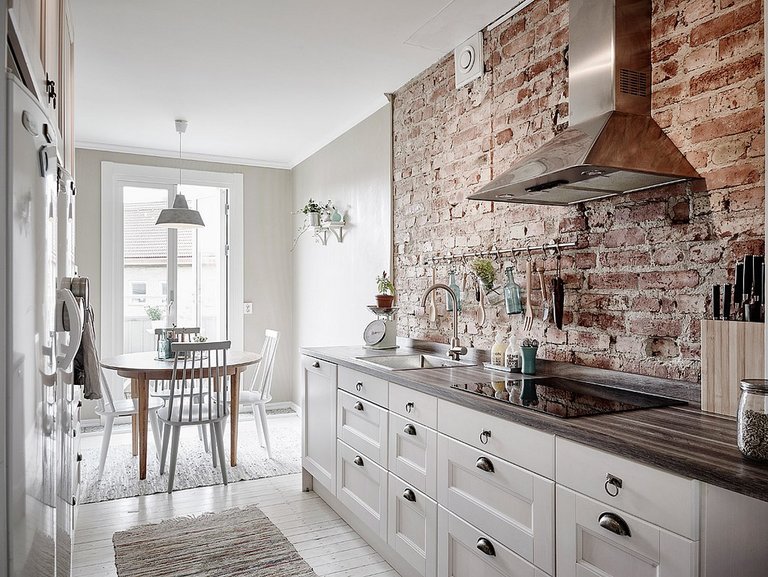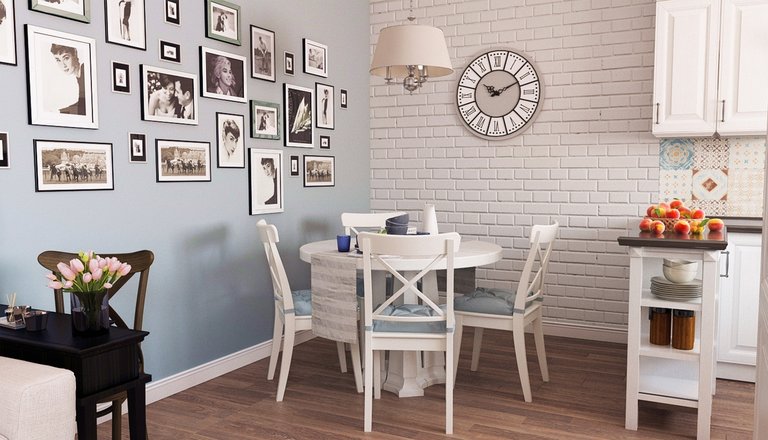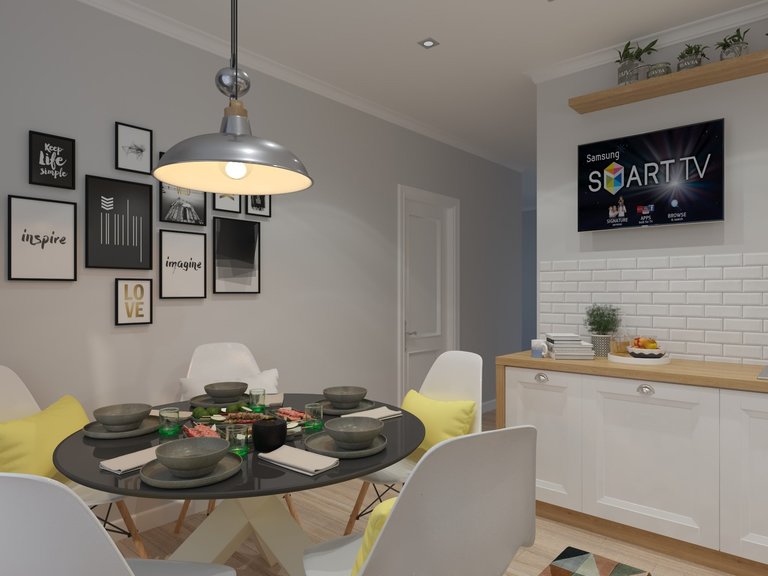 Everyone knows what visual illusions are. Here are some of them designed for the interior:
to visually enlarge your kitchen and make it lighter, white walls or any light colors will help you;
for those who want to visually reduce the space, walls painted in dark colors are more suitable;
you can expand a narrow kitchen using horizontal lines;
vertical lines will help make a kitchen with a low ceiling visually higher.
Eco style
If you prefer exclusively environmentally friendly materials, then, in addition to the walls lined with natural stone, you may like the idea of ​​a wooden floor made of white or black boards, harmonizing or contrasting in color with other available interior elements. They will give you a woody scent, the pleasure of walking barefoot and an even greater sense of comfort.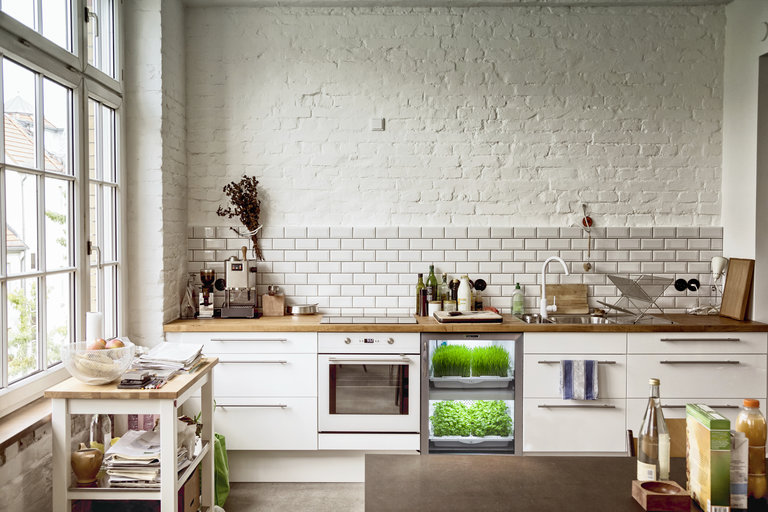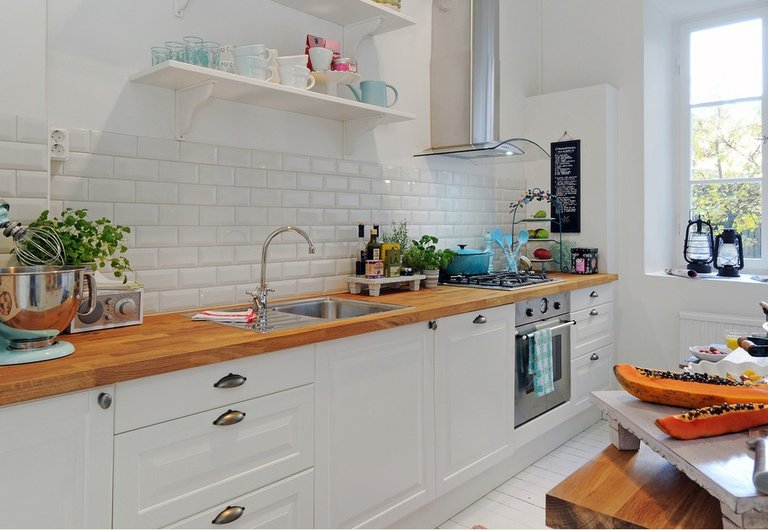 You can see how the interior of your brick-like kitchen will be combined with a plank floor in the photos below. And even more examples of interiors can be seen in the overview of eco-style kitchens.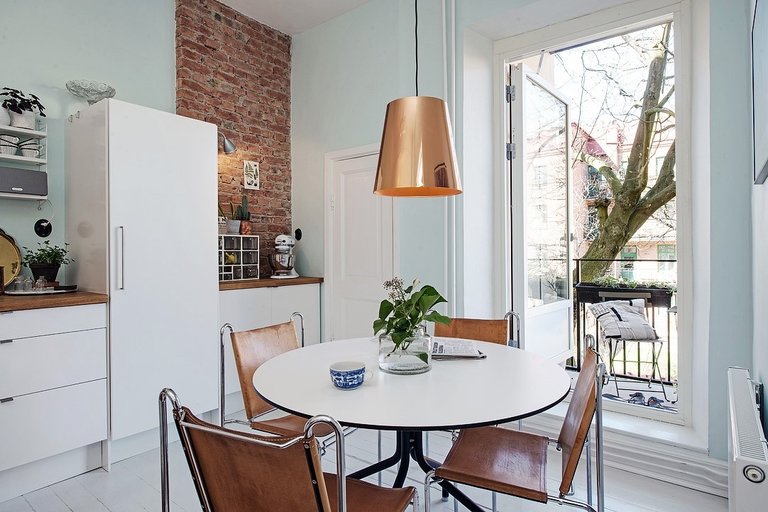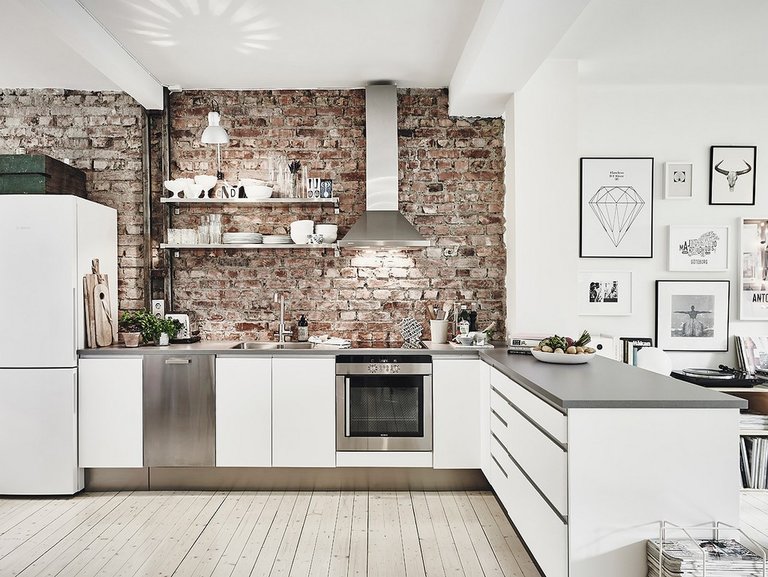 We hope that our article was useful to you and inspired you to create a unique kitchen design!