Welcome to our updated post Contemporary Moroccan décor is a glimpse of originality in luxury homes
.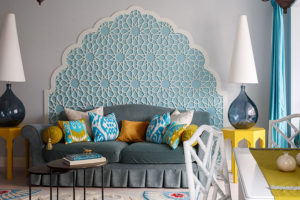 Who among us has not seen the beauty of Moroccan decoration or Moroccan home decor in the ancient Moroccan artistic style, and who has not seen and is fascinated by the beauty of the original Moroccan mosaics, ceramics and tiles of the original Moroccan decoration in the Arab-Andalusian style, every detail of the Moroccan decor exudes charm and beauty unmatched by any other Arab artistic style, especially if Interior designers began to draw inspiration from this ancient style in modern and modern designs that suit the 2018 modern decorations.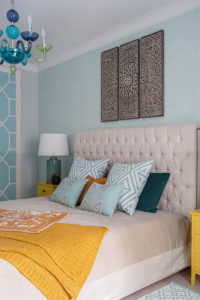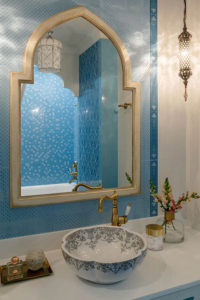 The Moroccan decor or the distinctive Moroccan style is always an inspiration for any interior designer or artist who wants to make a piece of furniture or design a room in the luxurious Arabic style, as he always jumps in front of the designer's imagination when it comes to a luxurious oriental design for a home, room decor or Arab councils decorations Luxury.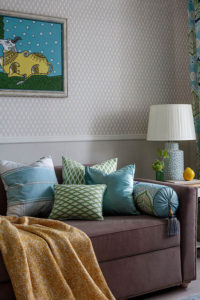 Moroccan decor has certain features that designers are keen to develop and integrate with the glimpses of modernity that they put in their designs, and these features are set by the artists of the Andalusian heritage, which is widely spread in the Arab Maghreb countries.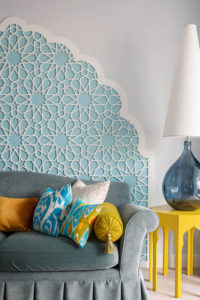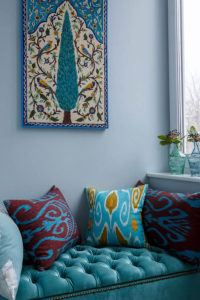 Blue and white in Moroccan decor
Perhaps the most important feature of Moroccan decor is the control of the blue color in all its bright degrees on the details of the design pieces, so we find the blue color in the walls and floors of the Moroccan home decor. Blue whether in furniture or upholstery or curtains.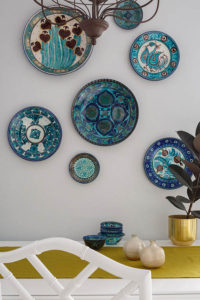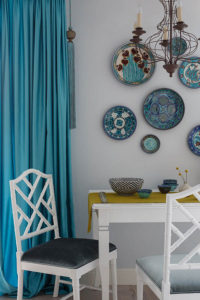 Mosaic, ceramic and tiles in Moroccan decor
We always find the walls, floors, or both in Moroccan décor covered with mortar, ceramic or mosaics, which of course are colored in shades of blue with white and bear many elegant drawings and decorations.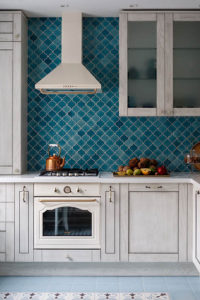 Decoration units and hand drawings
Moroccan tiles lining the walls or floors always carry drawings and ornaments for geometric units of Arab and Islamic ornamentation or elegant decorative plant units that may sometimes include the red, orange and yellow colors in a small proportion.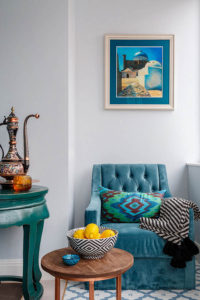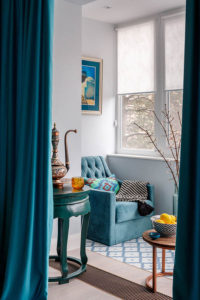 Decorative ceramic dishes
Moroccan decorations and modern Moroccan decor designs are always characterized by the traditional ceramic dishes that are hung on the walls, so they are always hung in groups randomly to occupy a prominent place in the living room, living room or reception room.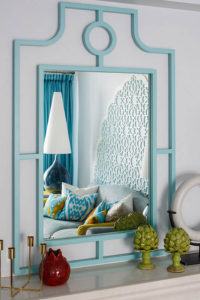 Moroccan decor, architectural motifs and contemporary building
Modern Moroccan decor and modern Moroccan décor is characterized by the inspiration of the arkat (arshat) Moroccan architecture in the decoration of rooms, whether in prominent units on the walls or in the construction of door openings or in the corridors from one room to another.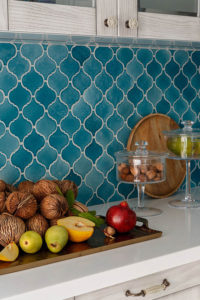 Traditional fabrics in the furnishings and curtains of modern Moroccan décor
We always find in Moroccan decor the use of elegant heritage fabrics rich in Arabic motifs and distinctive drawings, whether in the furnishings of rooms or in curtains or sofas, sofa seating, cushions for living rooms and reception rooms.
Don't forget to send this post with friends and family !