Welcome to our latest post 80 photos of interiors, rules for combining with other colors
.
This shade is considered to be cold, although it has red notes in its undertone.
An eggplant-colored kitchen looks bright and respectable. However, when choosing this color as the main color, some its features:
This dark shade of purple is not suitable for small rooms, as it makes them look even smaller.
For the same reason, it should not be used in rooms with poor lighting.
Eggplant looks good and contrasting in combination with light tones. With dark ones, the interior becomes too gloomy.
When choosing this intense color, don't use too much of it. It will look best as an accent against a background of light colors.
Choosing a style
Especially harmoniously, this shade of purple fits into modern styles, which are characterized by glossy surfaces and rich deep colors.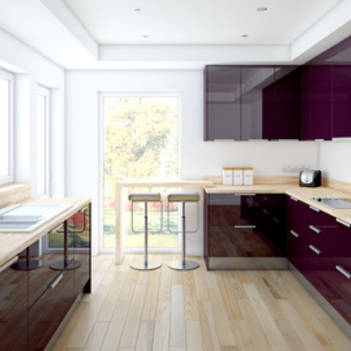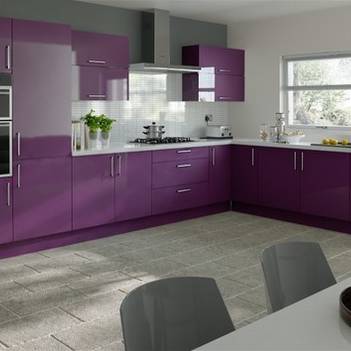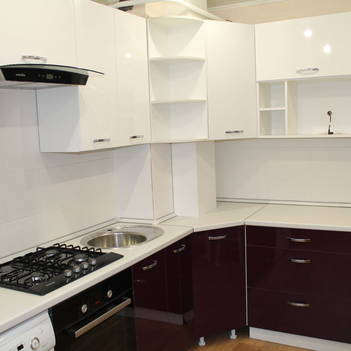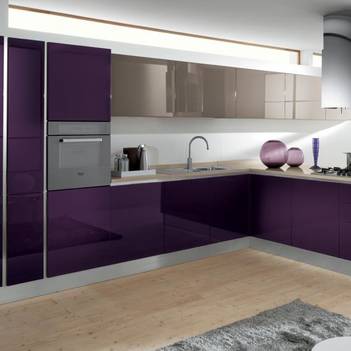 Eggplant color can also be found in Provence, country and Moroccan kitchens. However, as a rule, this shade appears only in some details and accents.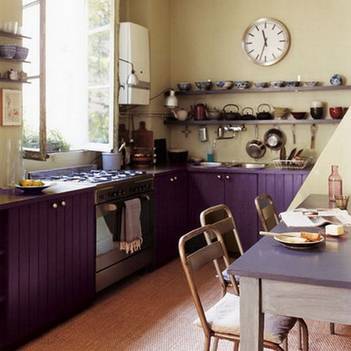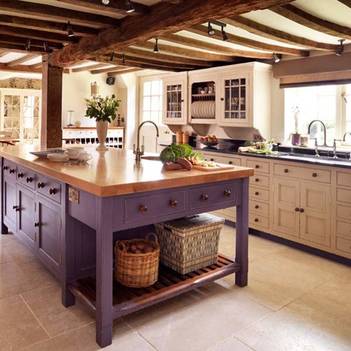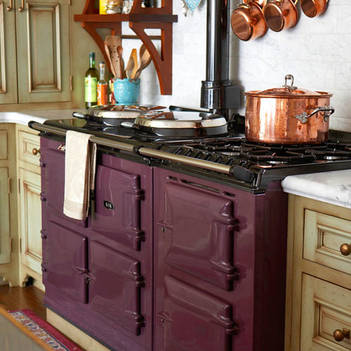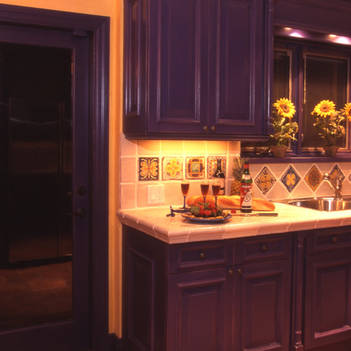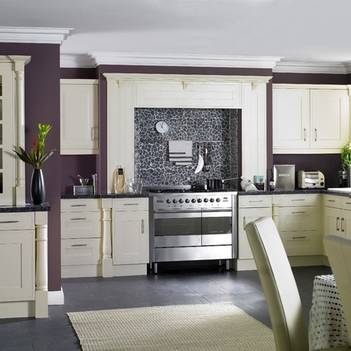 What to combine with?
Intense eggplant shade goes well with lighter and more soothing colors:
White, milky;
Gray, silver, steel.
Pale yellow, golden, sandy, beige, vanilla;
Bright green, mint;
Light pink;
Pastel shades of purple.
We offer you a selection of photos of an eggplant-colored kitchen in various combinations.
White… An intense and dark shade of purple looks great in contrast to white. This color scheme gives a sense of lightness and depth to the space.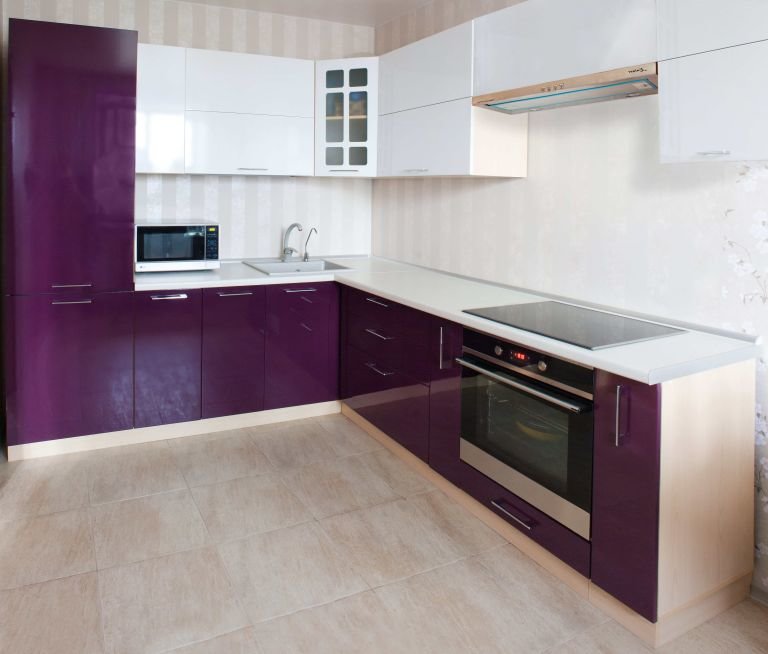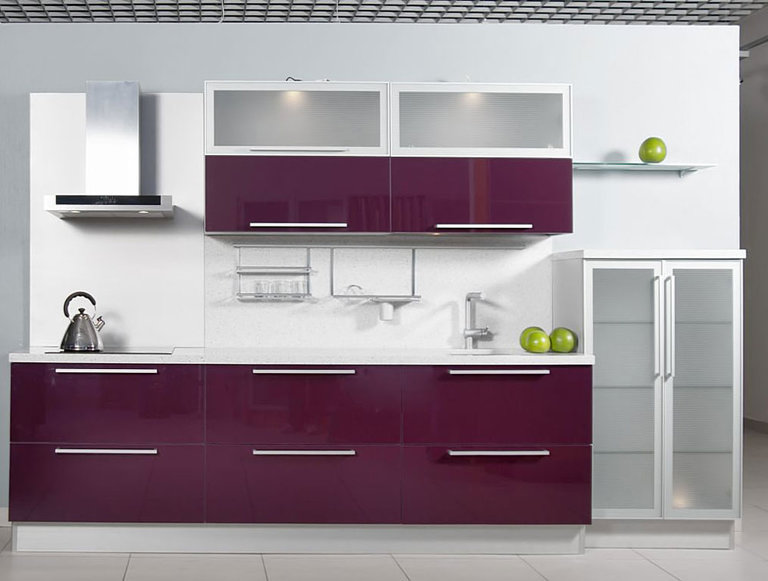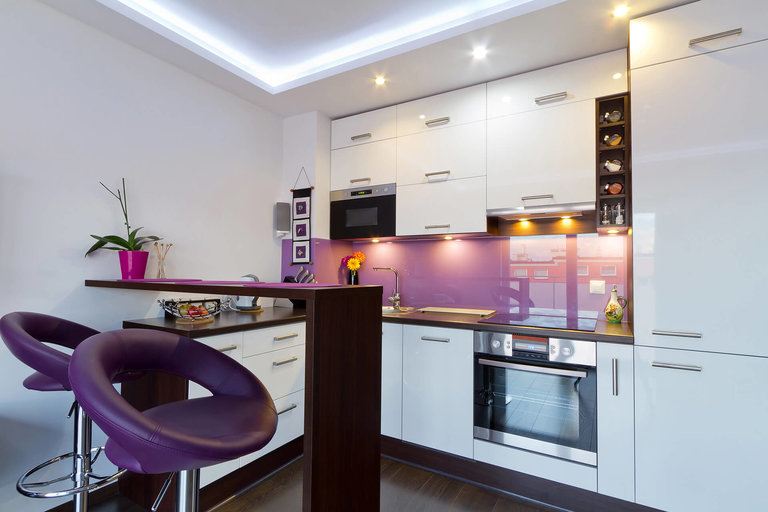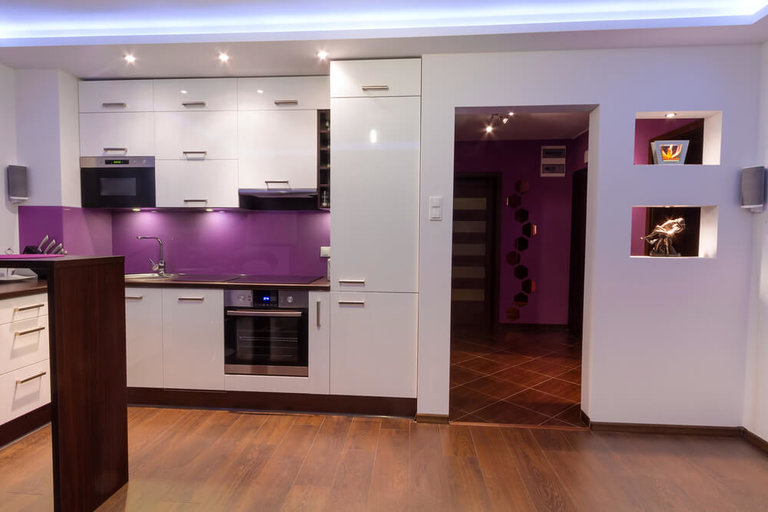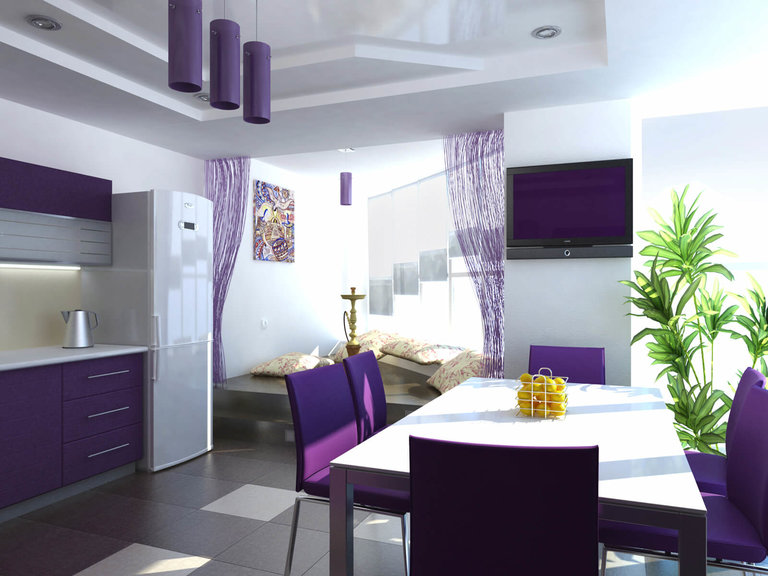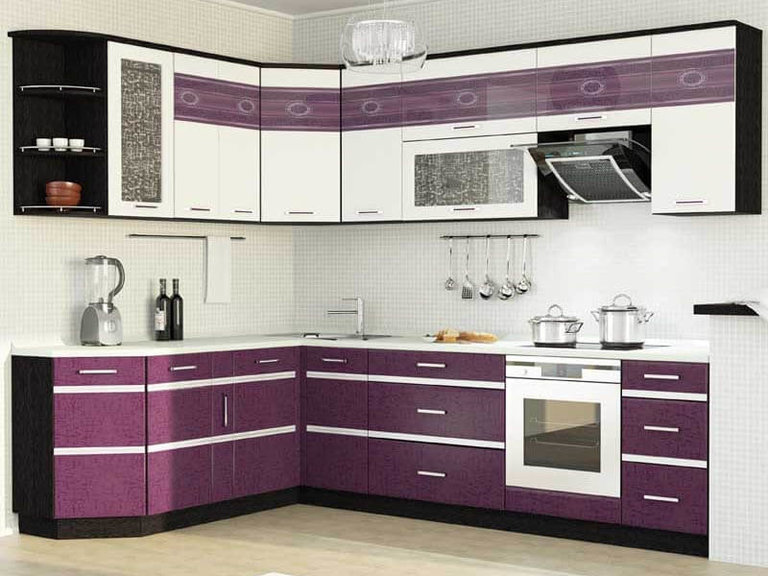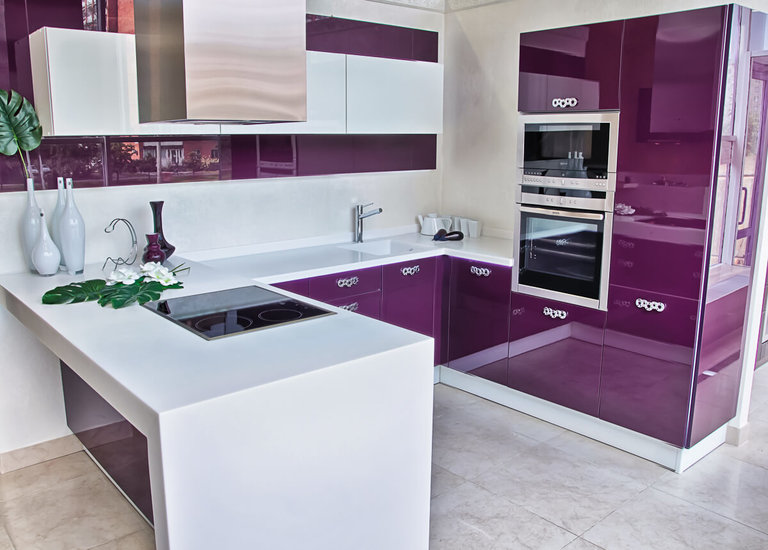 Grey… Neutral gray complements any color well and this case is also no exception to the rule. The only requirement is to choose a light shade of gray, which would not make the interior oppressive and dark. Silver and steel parts will also look good.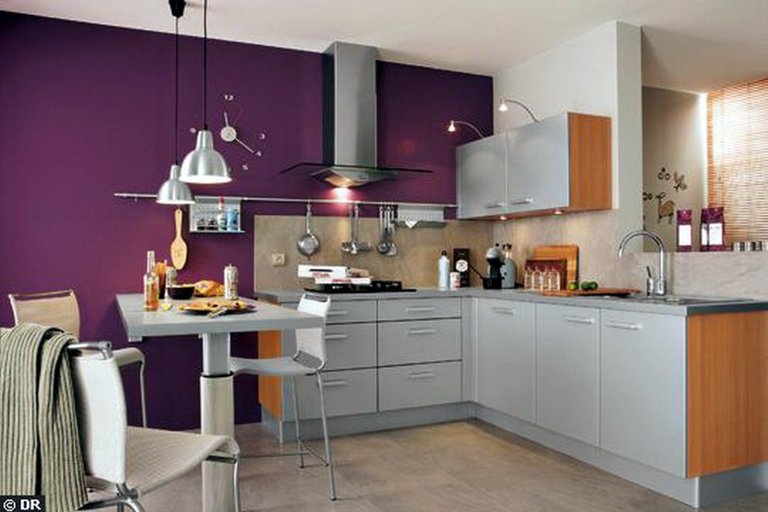 Light yellow, sandy, golden, vanilla… All of these shades go well with eggplant. They visually soften the interior and make it more cozy and homely.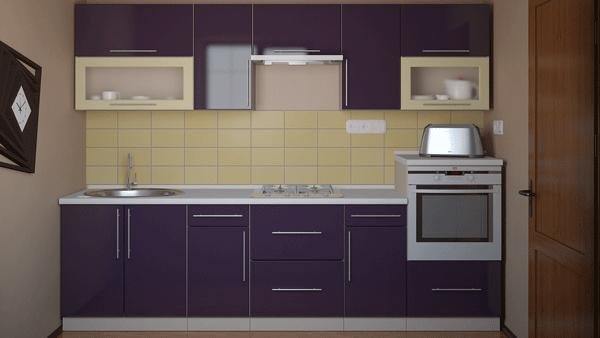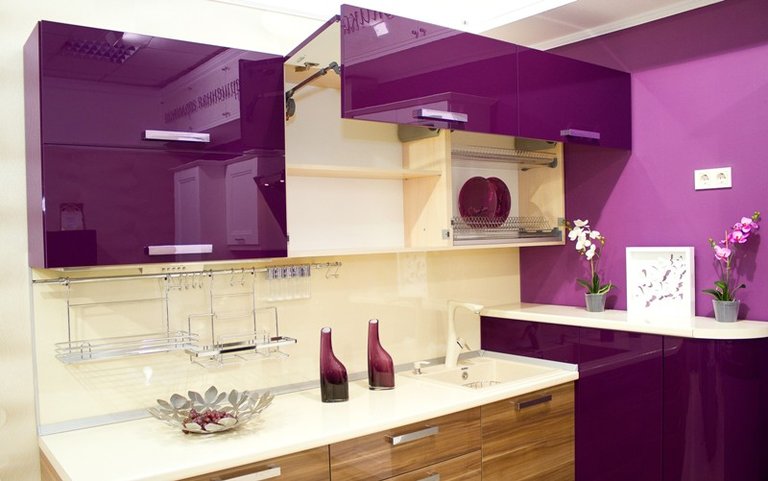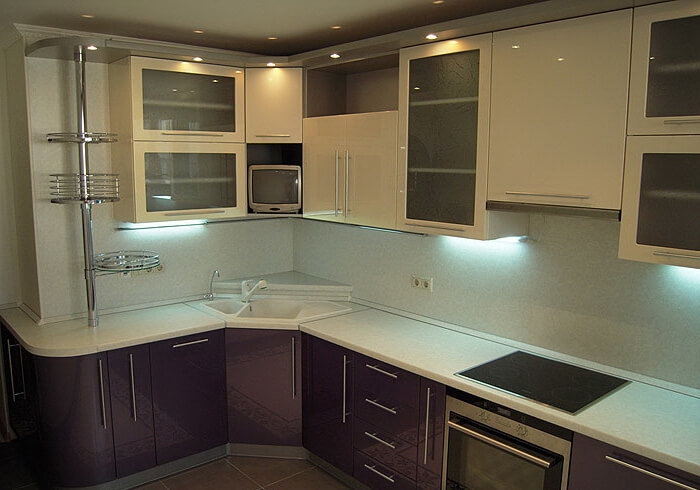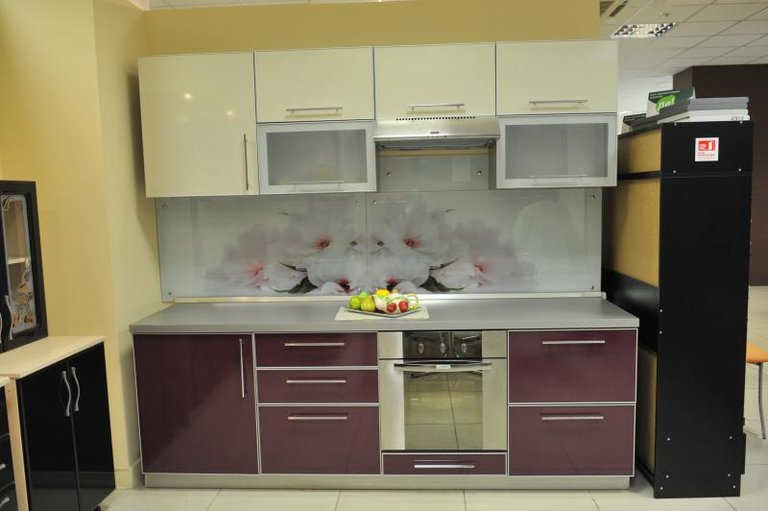 The photo shows an eggplant and vanilla kitchen. This beautiful and delicate combination of shades adds coziness to the interior.
Green… Nature itself has provided us with this beautiful and contrasting color combination. Therefore, do not be afraid to also use it in your kitchen design.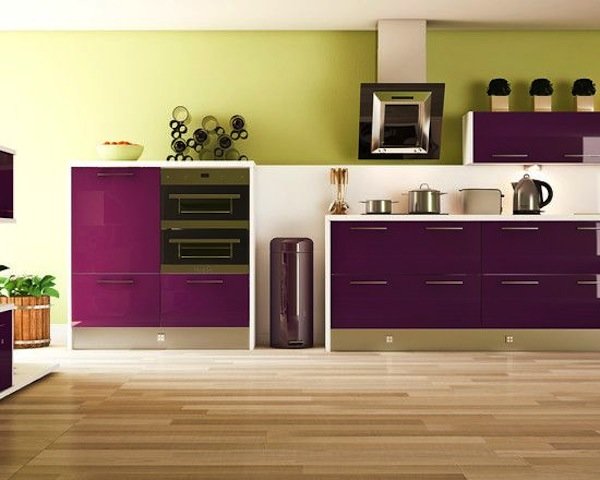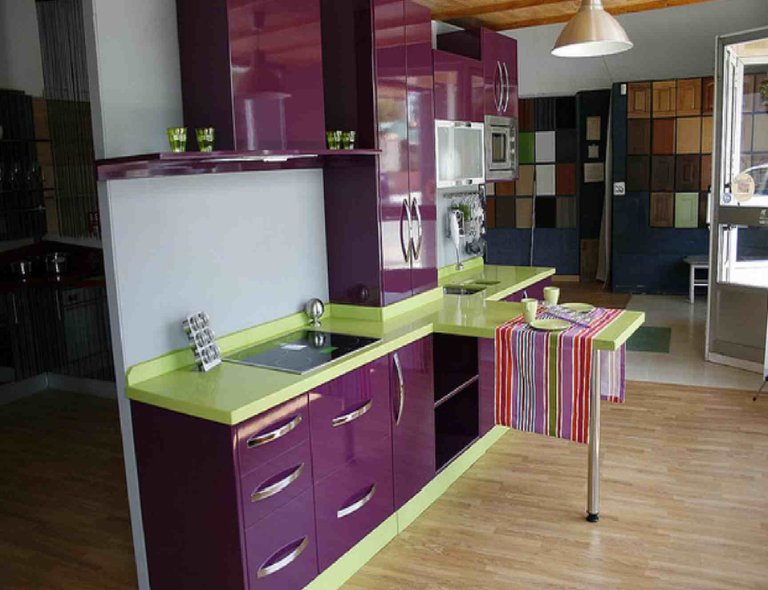 Pink… Delicate light pink undertone goes well with a rich shade of eggplant.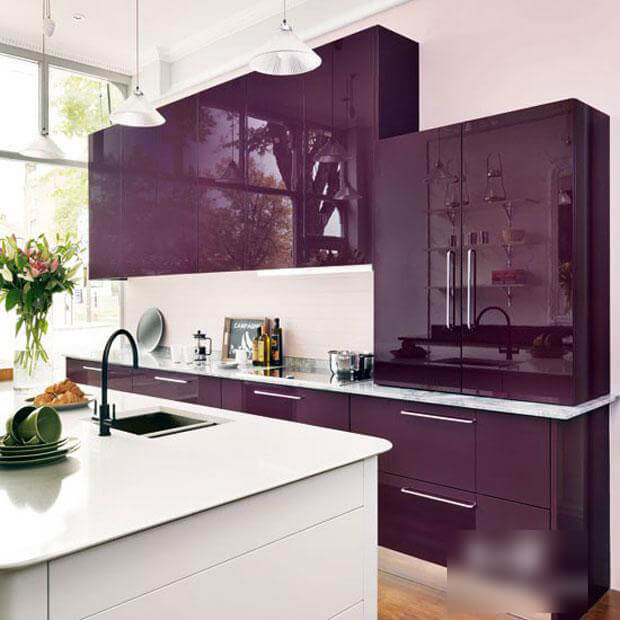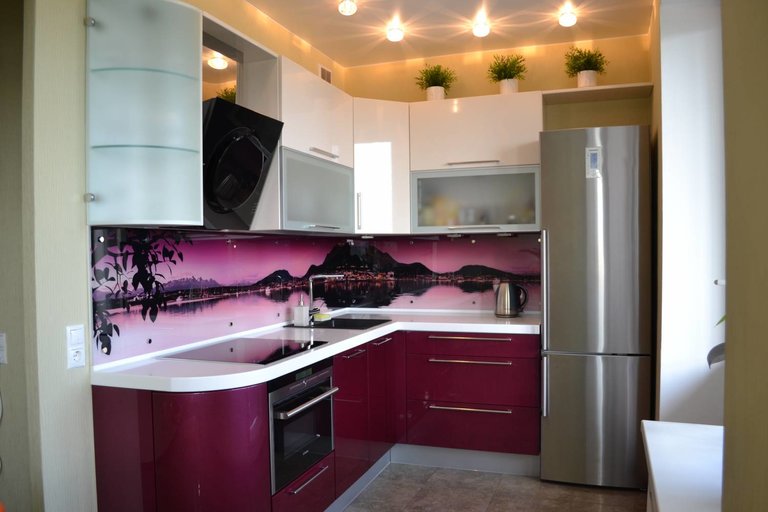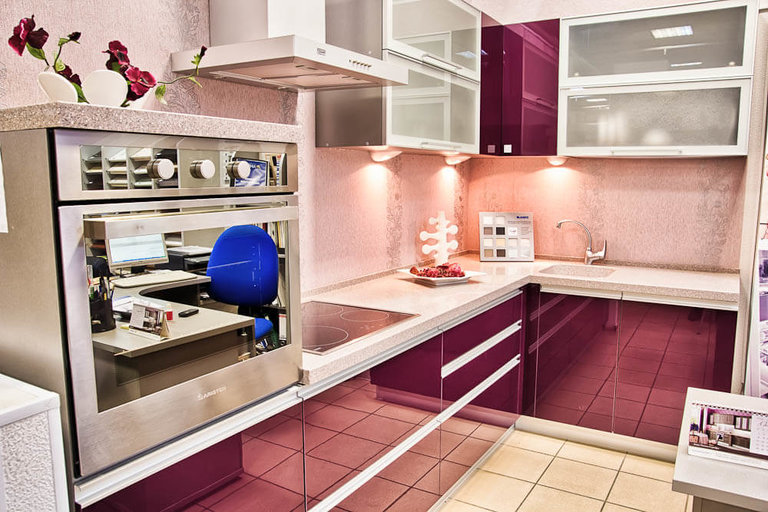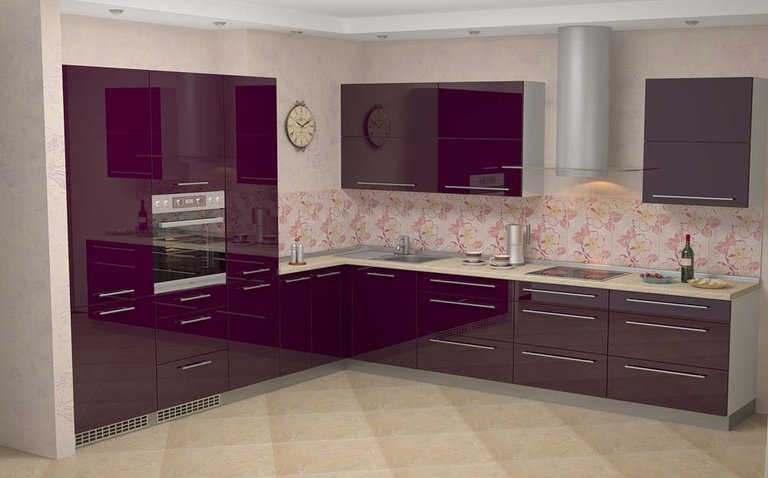 Light shades of purple… For a harmonious look, use soft purple undertones such as light lavender and violet.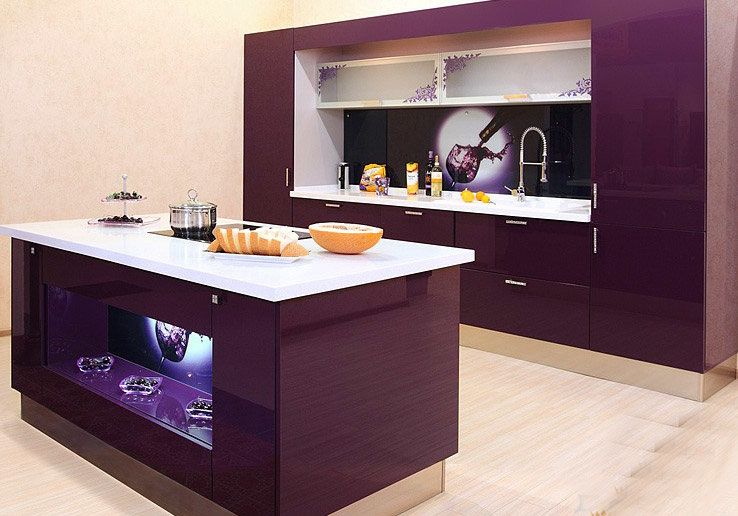 Interior in detail
Furniture… This rich shade of purple looks great on glossy kitchen fronts. If you decide to paint one or several walls in this intense tone, then it is better to choose furniture in white, milky or sandy shades.
Facades with light wood grain textures such as ash, linen or birch will also look good.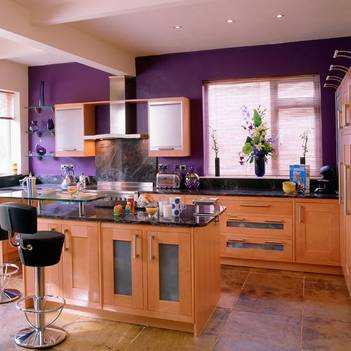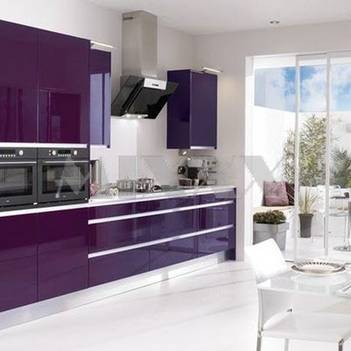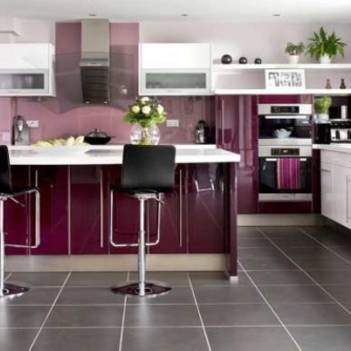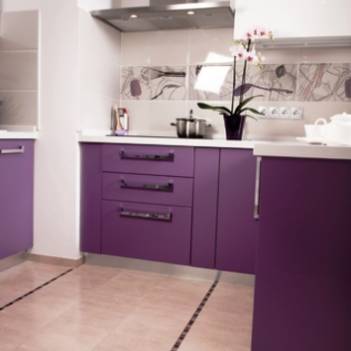 Walls… When choosing a wallpaper or a color for painting walls, you should give preference to light colors: white, milk, cream, light gray, etc. An interesting solution can be an accent wall in a rich shade of eggplant.
However, you should not make all the walls in the kitchen with this color, as such a design will crush and look gloomy.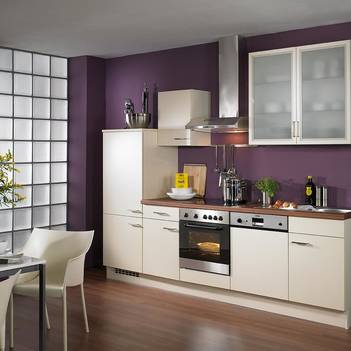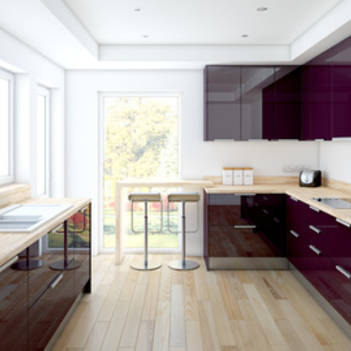 Table top… The most advantageous with this dark and intense color will be a light-colored countertop: white or light gray. Also, if the interior is dominated by light colors, a black countertop may be a good option.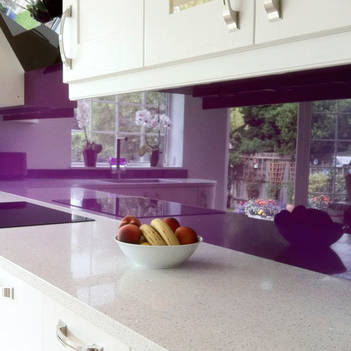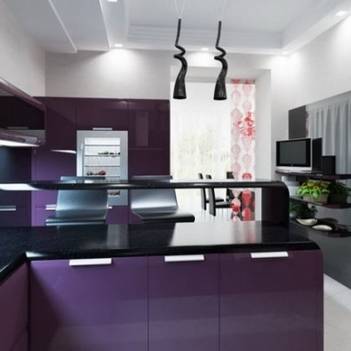 Apron… When choosing an apron, you need to take into account the style and color scheme of the interior as a whole. You can choose any shade that goes well with eggplant: white, sand, golden, silver, steel, green, light pink, violet.
Glass aprons with drawings of pastel purple and pink shades look beautiful in such kitchens.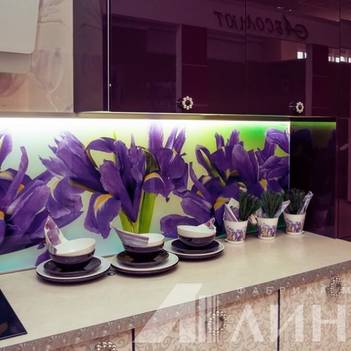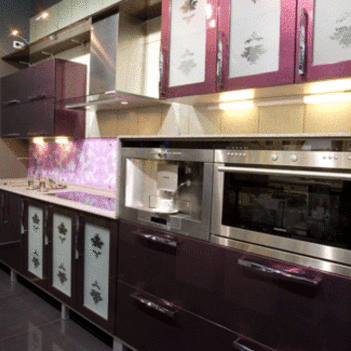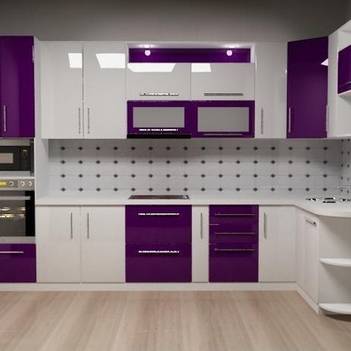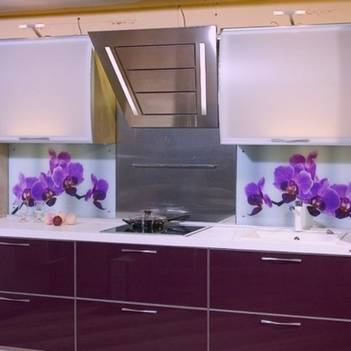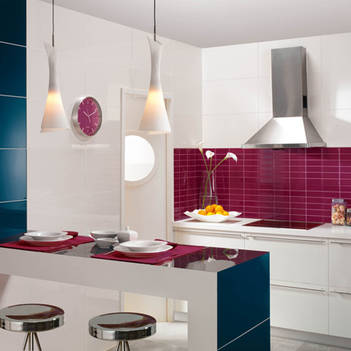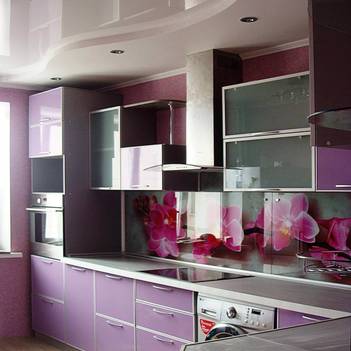 Window decor… As for the design of the curtains, roller blinds and Roman blinds will look great in such an interior. Also a good option would be strict curtains in light shades.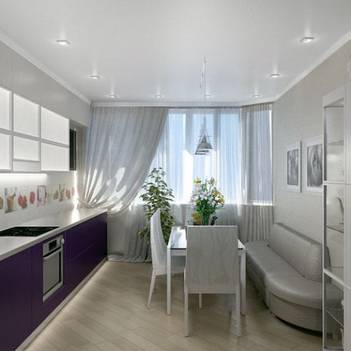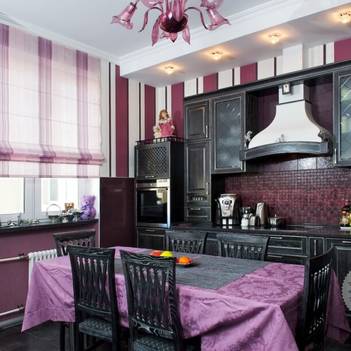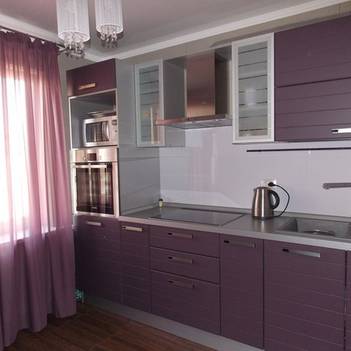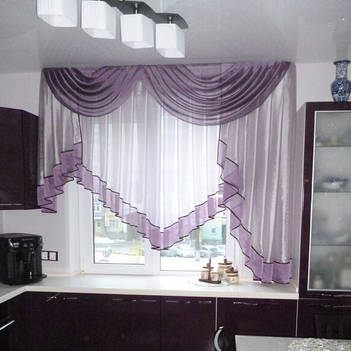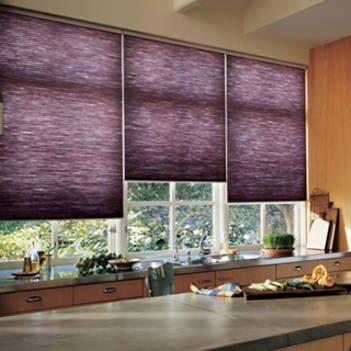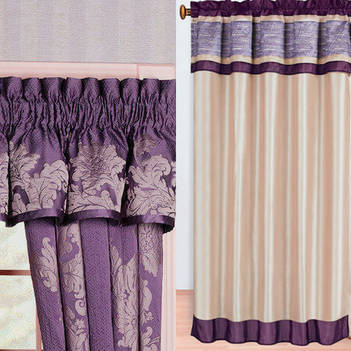 Appliances and dishes… To create a complete interior, choose a beautiful technique in steel or white shades. Sophisticated crockery in violet, light pink and white flowers will create a beautiful color scheme in your kitchen.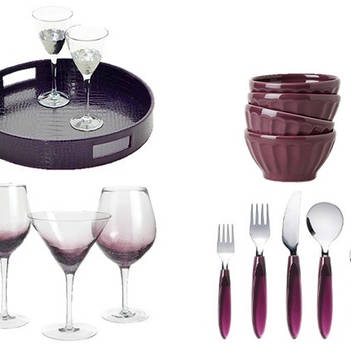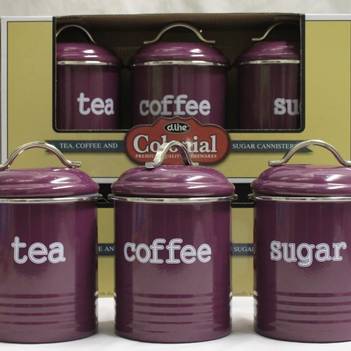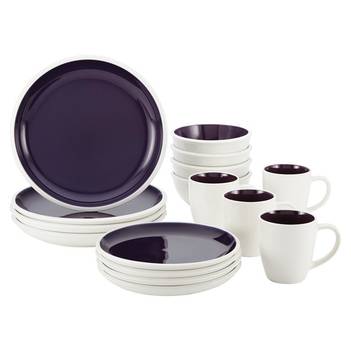 Create a unique design for your kitchen and let it charge you with positive emotions every day!