Welcome to our recent post Secrets of combining black and white
.
General recommendations
Black and white are strong and self-sufficient colors. One of them is the lightest of the color palette, the other is the darkest. In order for this chess combination to play in the interior, you need to understand the basic rules for combining such colors.
Here are some tips:
In a small kitchen

it is better to make white the dominant shade – so the room will appear visually larger.

Ideal combination proportions

: 2 to 1 or 3 to 1.
You will need

a lot of lighting

– otherwise the room will look dull and gloomy.
Work on the textures – their contrast will become a real highlight.
Don't be afraid to add

colored accents

… They enliven the atmosphere and enhance the beauty of monochrome designs.

Technics

… Hobs and oven fronts are usually black. You can use them as complete color ensemble elements. This is especially true in a white and black small kitchen.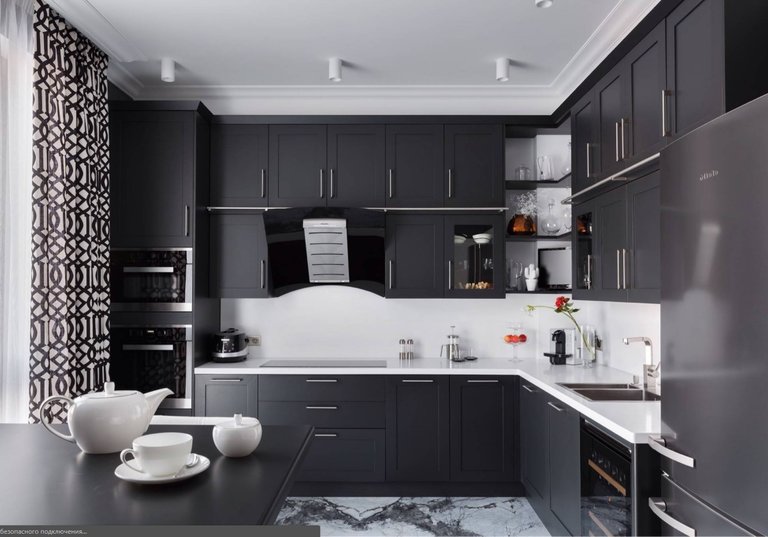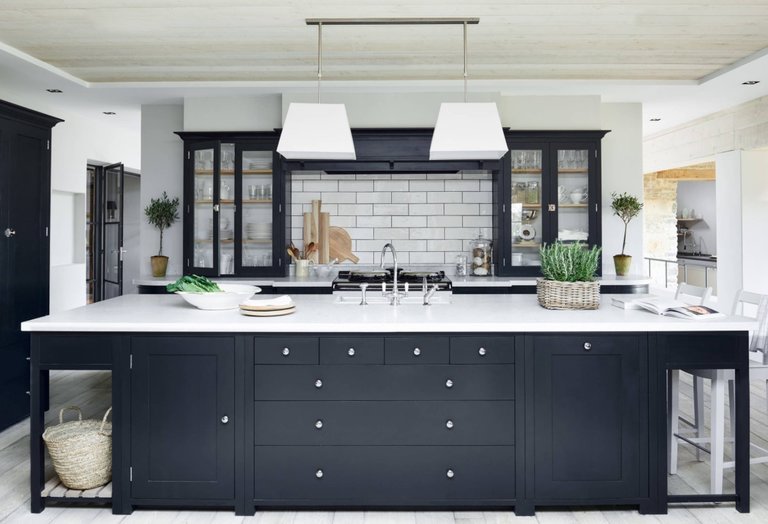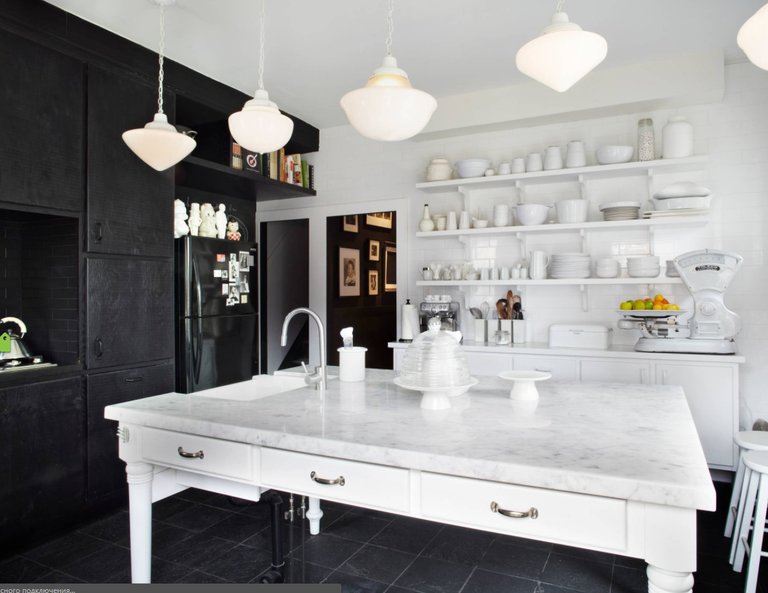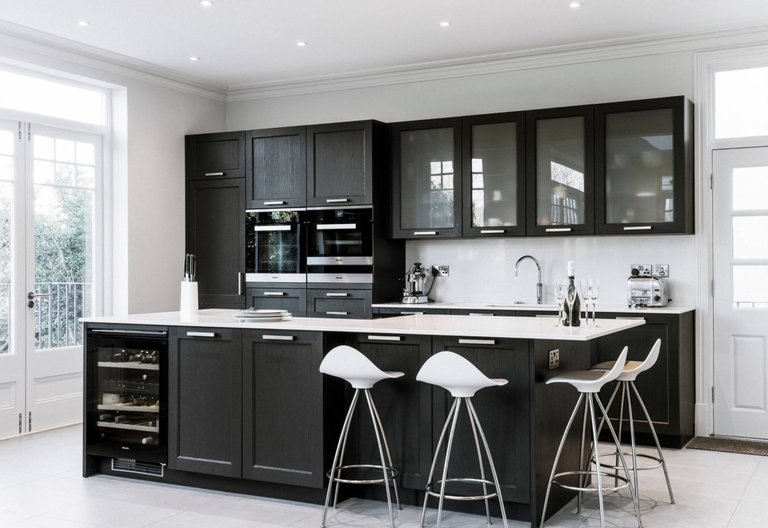 In words, it seems difficult, but in the following photos you will see how these rules are embodied in the interior. Well, let's take a look at what a black and white kitchen looks like in a variety of styles.
Classic style
There is an opinion that for the classics it is necessary to use exclusively light pastel colors. In general, this is most often the case. But, believe me, monochrome colors are also suitable.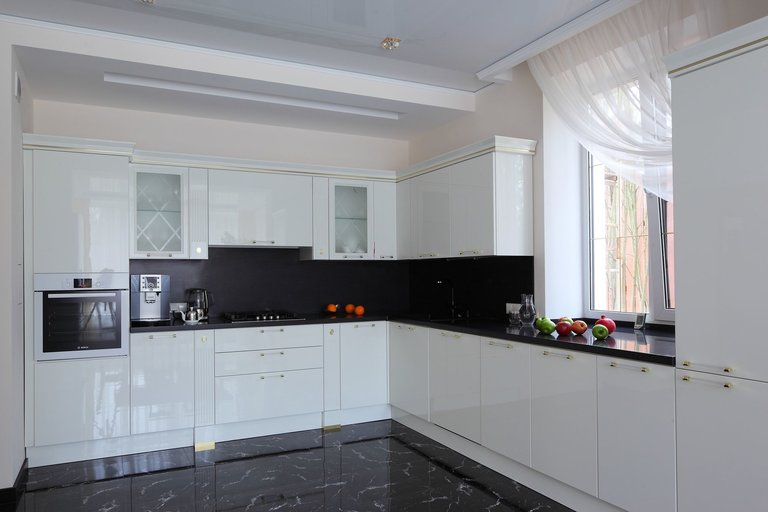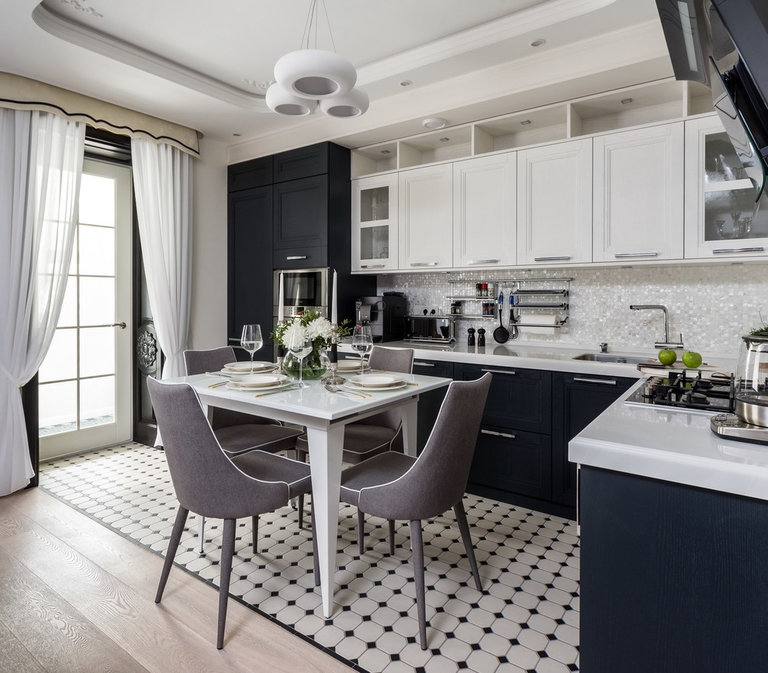 For instance. There is a corner kitchen with white fronts and black countertops. She looks very advantageous, especially thanks to the well-chosen wallpaper with a patterned print as a background. Pay attention to the little things: a few black and gray tiles on the apron will be a beautiful accent.
Don't go after complex shapes: everything should be simple but elegant. We recommend choosing a headset with a patina – it fully corresponds to the classic style.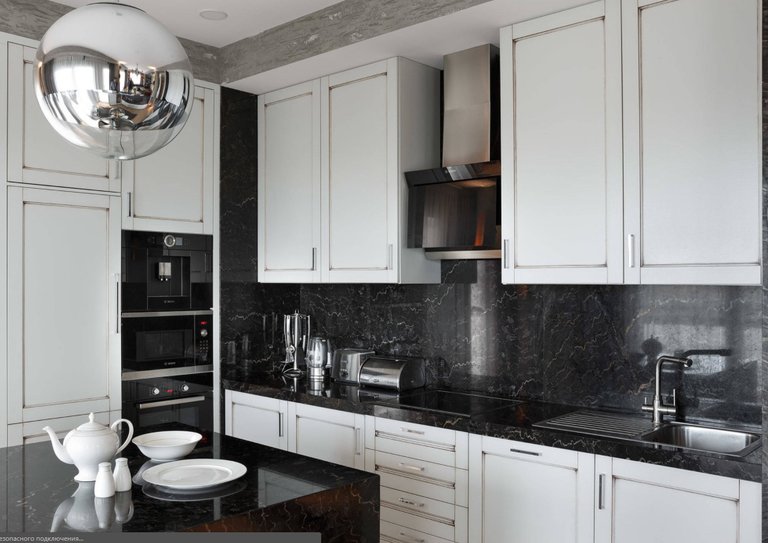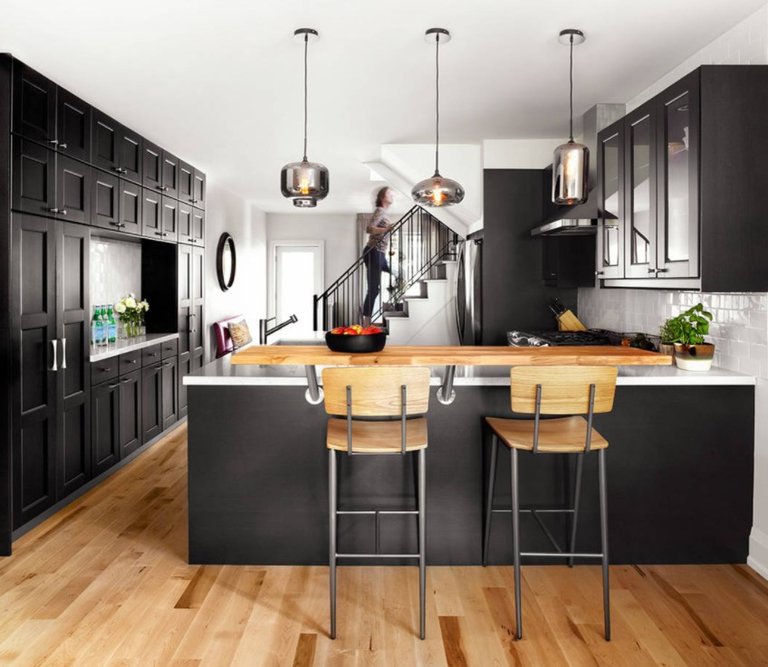 If you plan to make the main tone black, then the interior will have to be thought out as carefully as possible. For example, for a kitchen in Khrushchev, this is not the best idea – you need a spacious room. We recommend making at least one surface completely white – in this case, the ceiling.
Vintage decor elements will become an elegant addition: a chandelier imitating an old candlestick, golden vases that will play the role of bright strokes.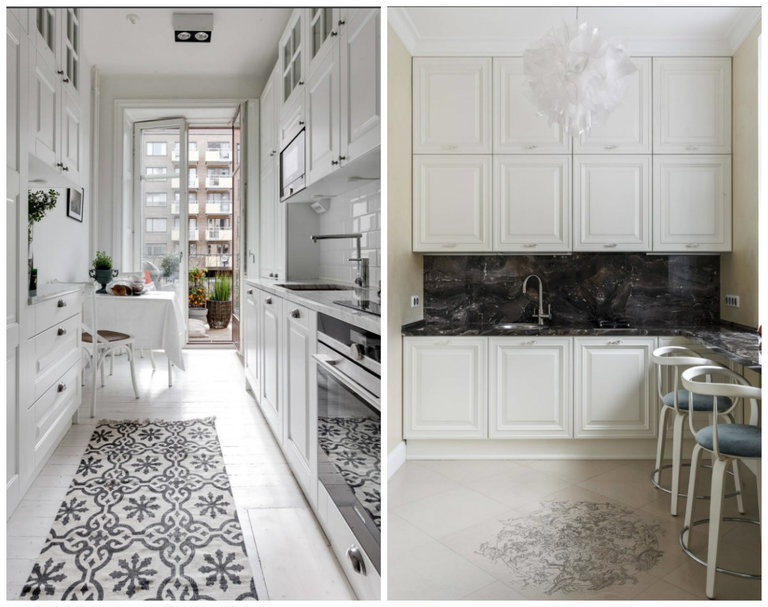 Important: Don't forget that this is key lighting. In addition to the main lamp, try installing a light above the work surface for comfortable cooking.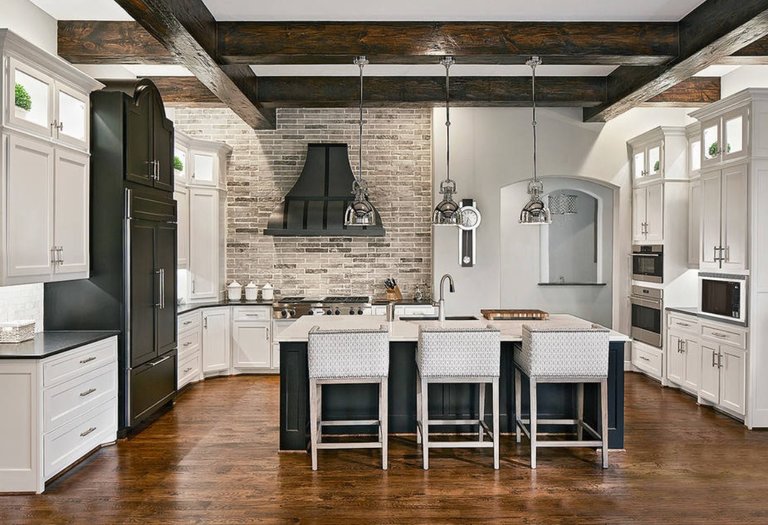 For modern classics, you can deviate a little from tradition. You will probably like the large checkerboard floor. Yes, it is difficult to implement such a concept in a small kitchen – it will make the room visually smaller. But in the spacious one – a successful and unusual move.
Art Nouveau
It is characterized by smooth lines and smooth textures – modern looks great in black and white light. It is suitable for any space – even small ones. The main thing is to find the right furniture.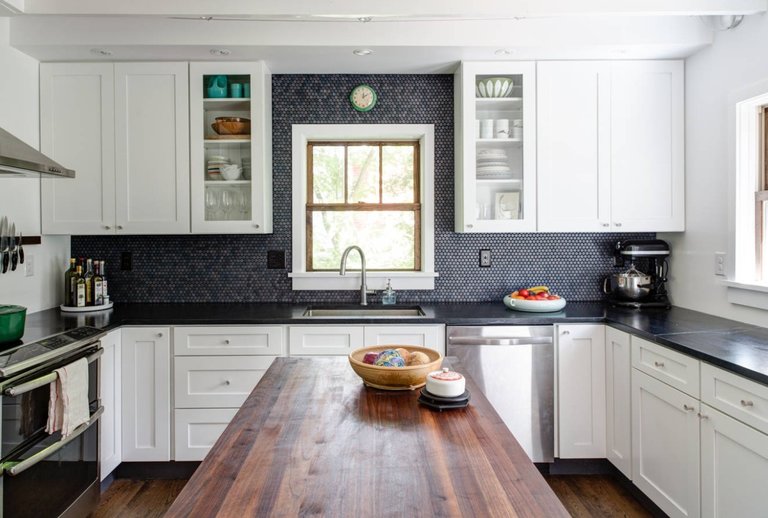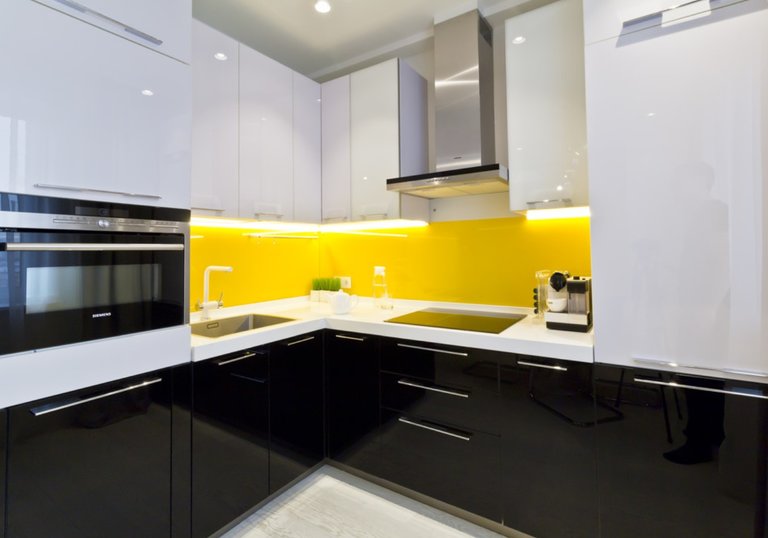 For example, for a kitchen of 12 sq.m. straight headsets in these colors will do. We like this option – the minimum of details, but everything looks very sophisticated. An unusual chandelier of complex shape will help add beauty and completeness to the room.
By the way: Sometimes objects familiar to everyone become decorations. In this photo, their role is played by jars of bulk products, which are usually hidden in lockers.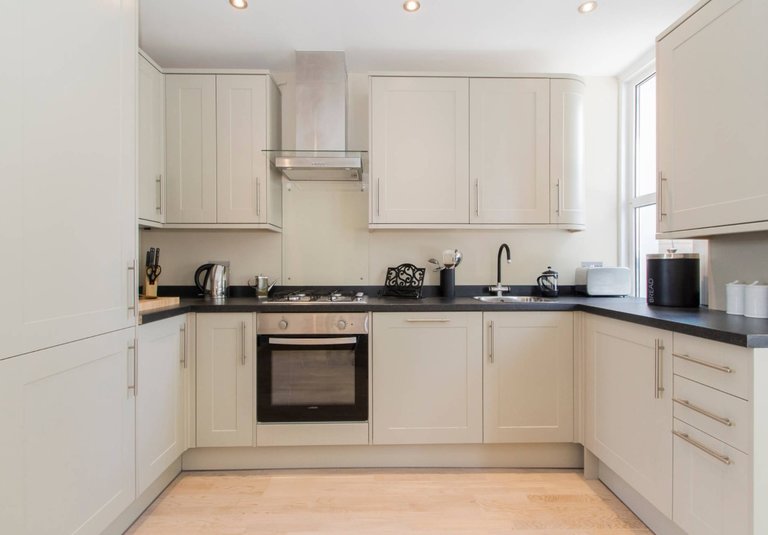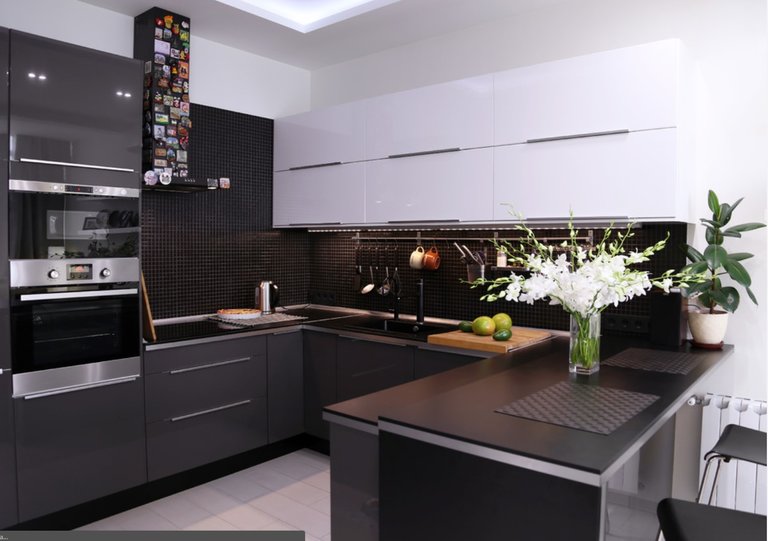 Experiment with bright accents – they can be great for decorating a monochrome painting. A light green ceramic apron and a thin green stripe on a white floor are suitable for both small and large rooms.
Of course, you are free to choose the color at your discretion. But remember that there should not be more than two elements – otherwise you cannot say that you made the kitchen in black and white.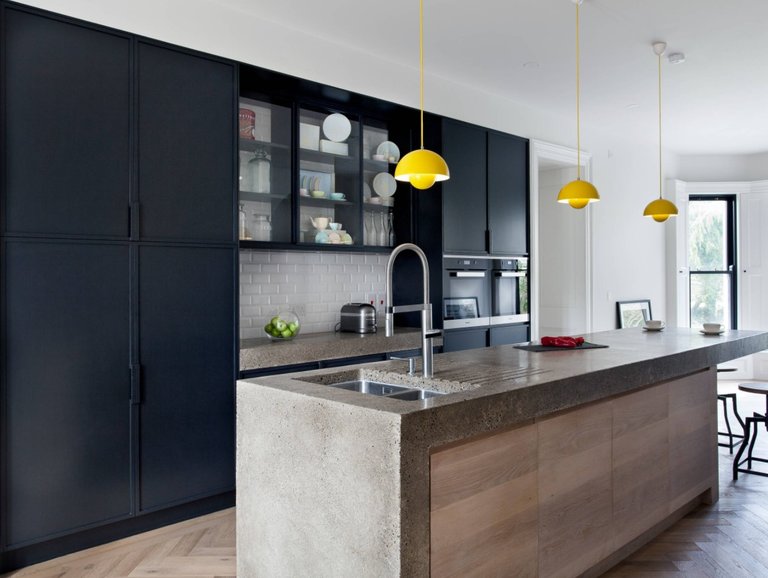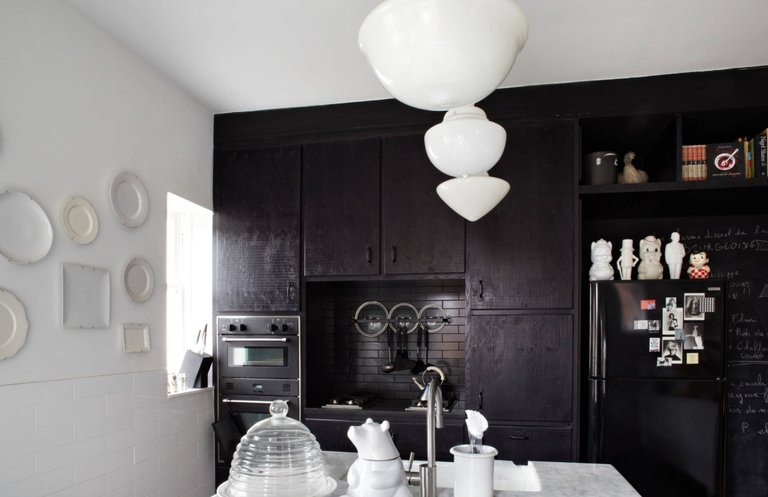 Working with modern styles has one serious risk: it is easy to get carried away with materials, the texture of which is inappropriate in a monochromatic design – an abundance of metal, gilding, wallpaper with 3D printing. Perhaps there is only one exception – transparent impact-resistant glass. Shelves, cabinet doors … They look beautiful and perfectly in line with the theme for modern decoration.
If you want to place a dining area in the kitchen, it makes sense to highlight it with a different color. Refer to the classic black-red-white combination. The monochrome design with bright armchairs looks fresh, but the purple textiles do not seem like an alien part of the interior.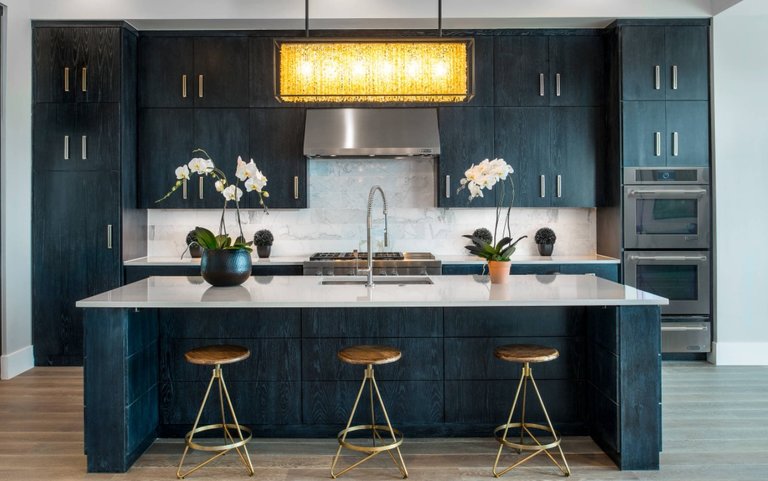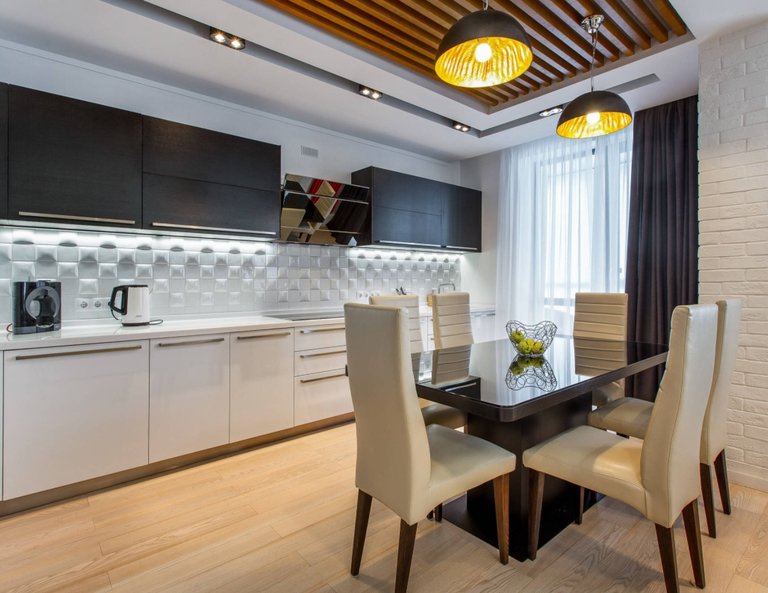 Use wood – it's always appropriate, even in black and white. True, the main thing here is not to overdo it. Embossed surfaces with a pronounced texture will not work. Still, the tree should be a supplement, not a base. Use it for countertops. A rich terracotta apron will also play in such a frame.
High tech
Glossy textures, metallic, bright shades are the main expectations from this style. What will a black and white high-tech kitchen look like? Judging by the reviews – excellent! After all, it is characterized by a monochrome design.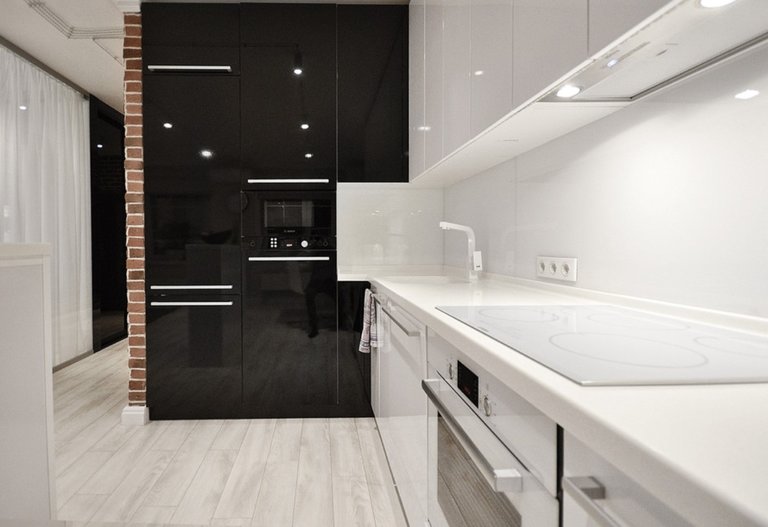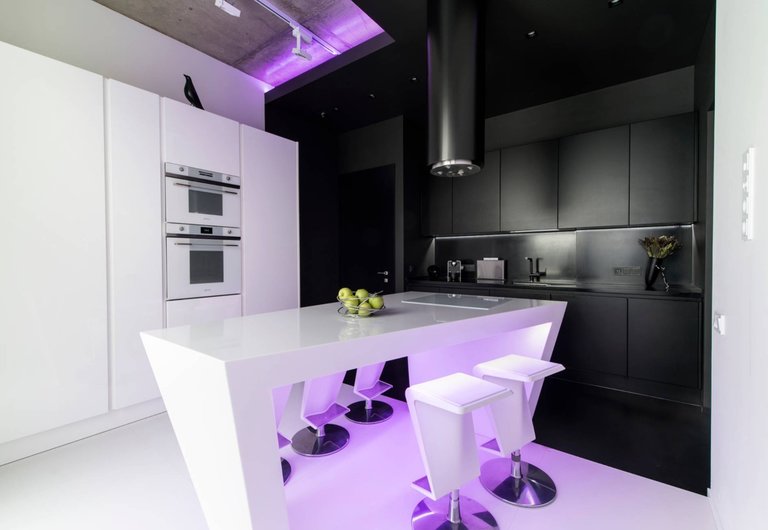 Look for this option: matte white fine finish and glossy black headset. Blue LED backlighting adds a highlight – a technique that has become more and more fashionable in recent years.
Details play a huge role in such interiors: a patterned apron, an unusual chandelier or lamps, decorative elements. Take the time and think over these little things: they create an atmosphere.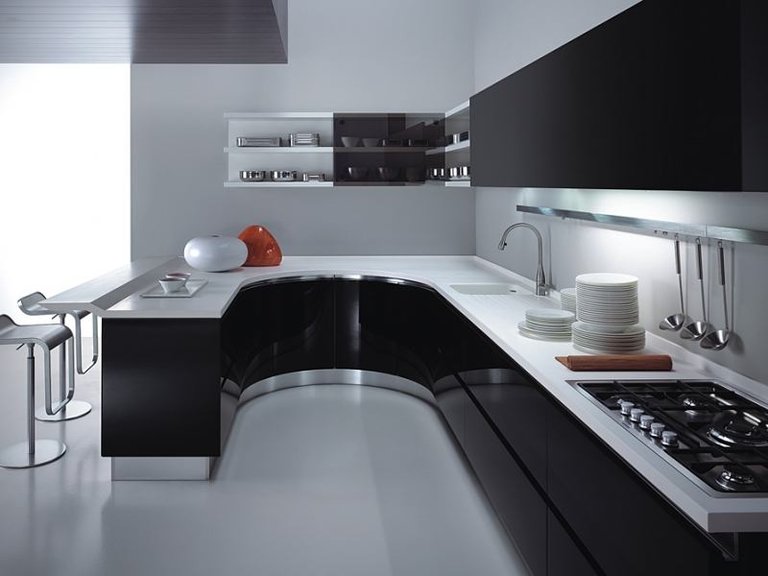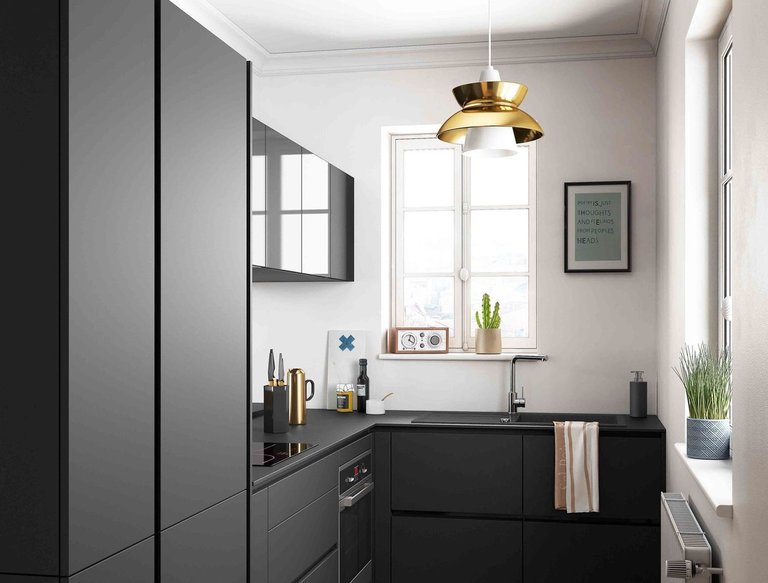 Here's another interesting solution – a kitchen-living room with red accents in black and white.
Note the zoning coup – black prevails in the work area and light in the dining room. This makes the room look more structured and organized, which helps to maintain order.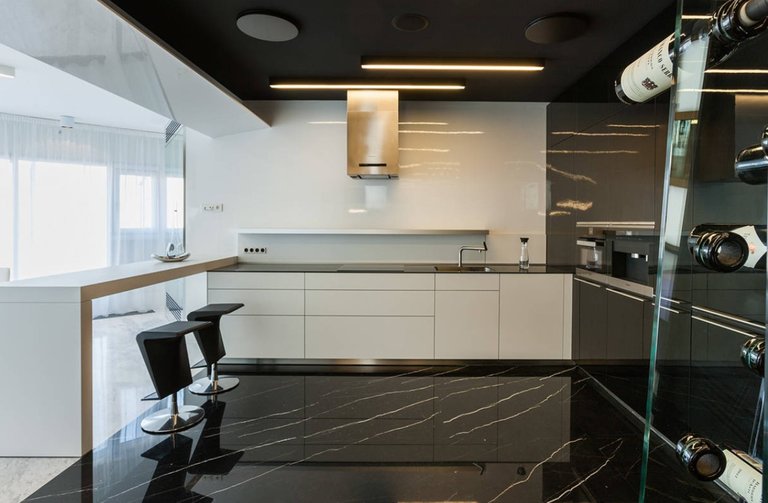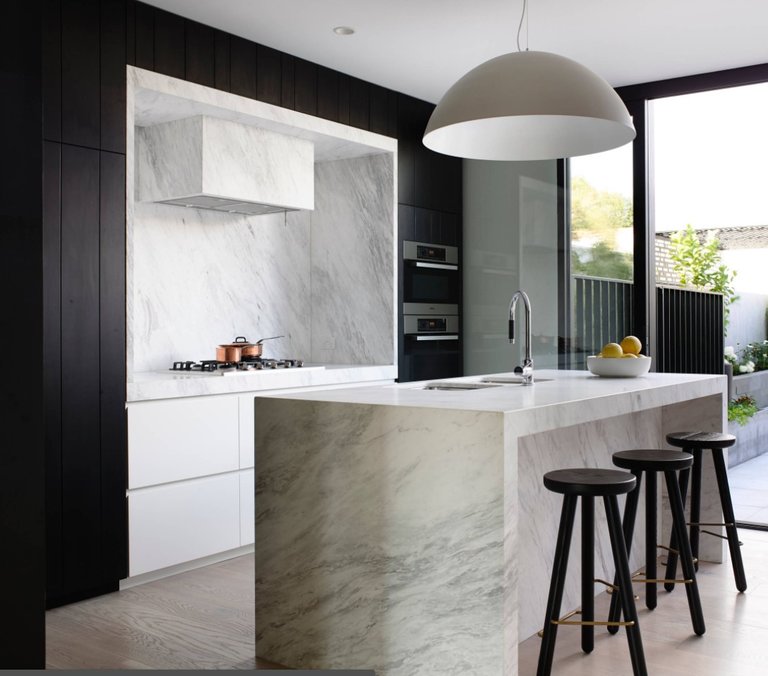 If you are not intimidated by the high cost of custom-made headsets, make it something like this. The futuristic design of such furniture corresponds to the high-tech spirit. And it just looks great. True, lovers of an abundance of decor are better off looking for another option – do not distract attention from the main element, it is good in itself.
If space permits, place a white kitchen island in the center of the kitchen with illumination from below. Decorate the main work area with a stove and sink on a black background to match him.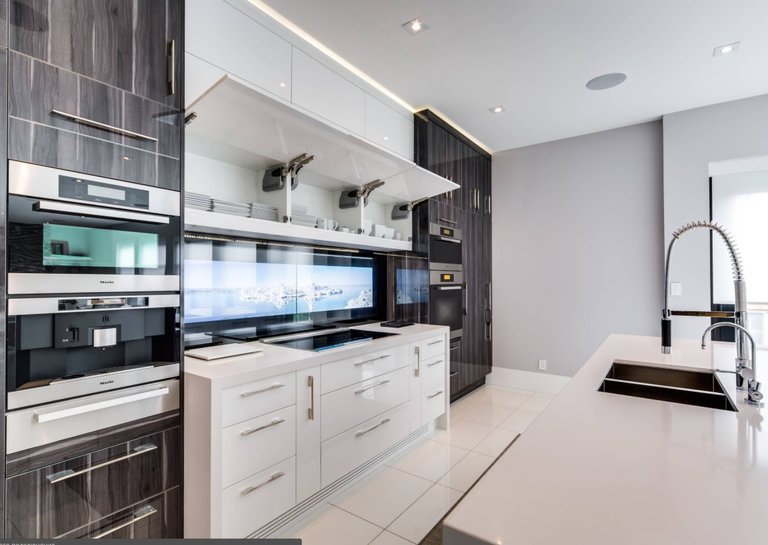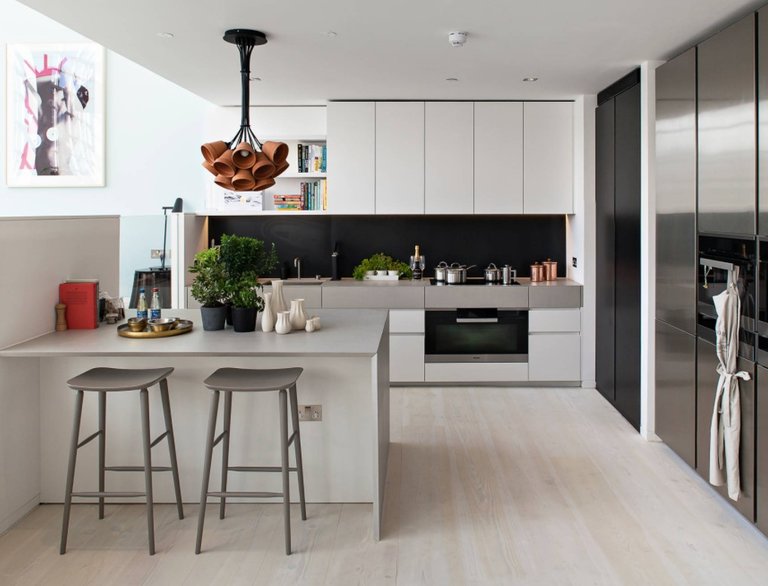 But make the built-in refrigerator and tall cabinets black. Decorate the glossy white floor with a checkerboard soft rug. Yes, finding the right furniture and accessories will be costly and time consuming – but the results are worth it.
Loft style
For some reason, most people associate it with gray and red tones.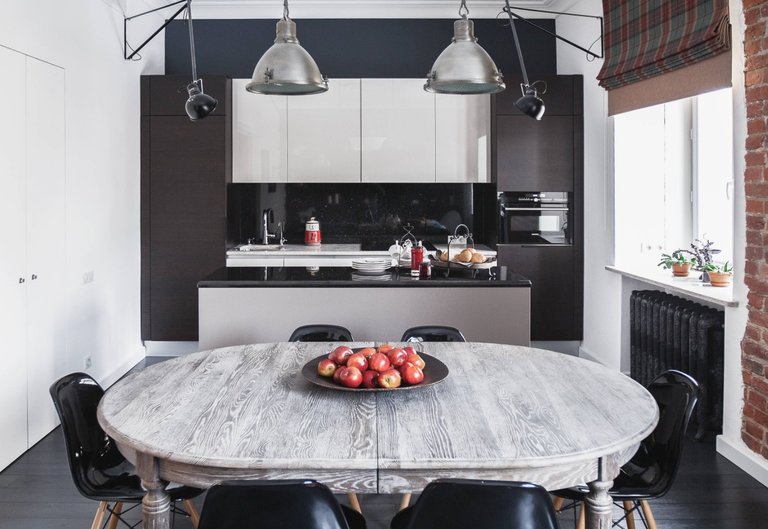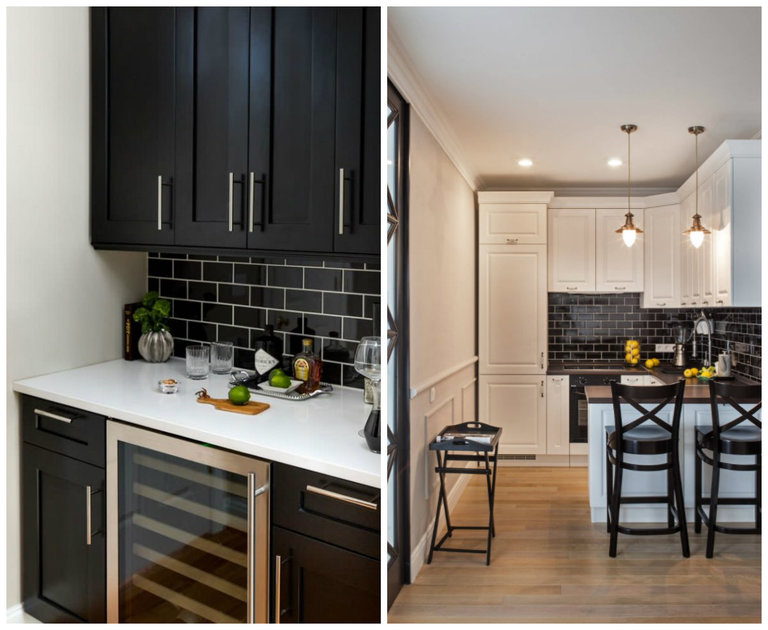 Meanwhile, a small black and white kitchen with a loft design looks perfect. We recommend tiling the walls and apron with brick-like tiles – this corresponds to the traditional idea of ​​this style. In addition, given the small size of the room, think about the small details that ultimately shape the interior.
For example, it is important to choose curtains so that they do not take up much space, but are stylish and appropriate. We recommend trying Roman blinds or vertical blinds – they fit the concept perfectly.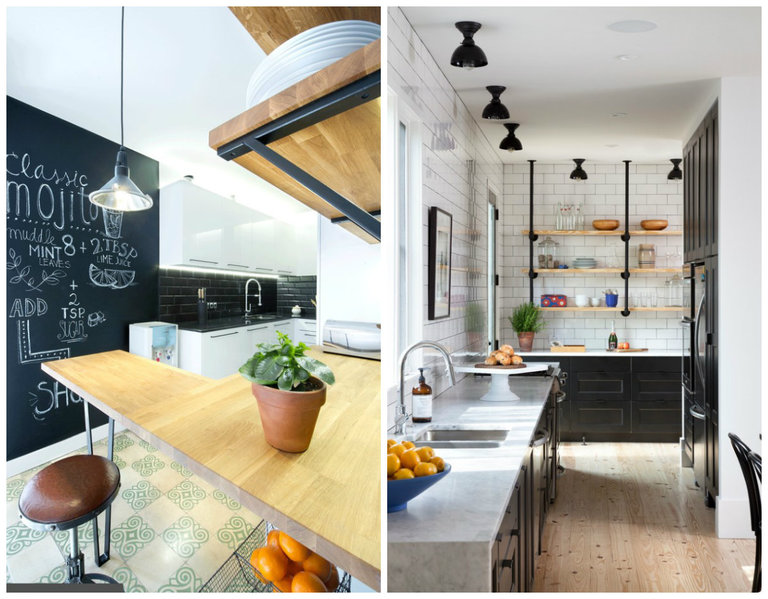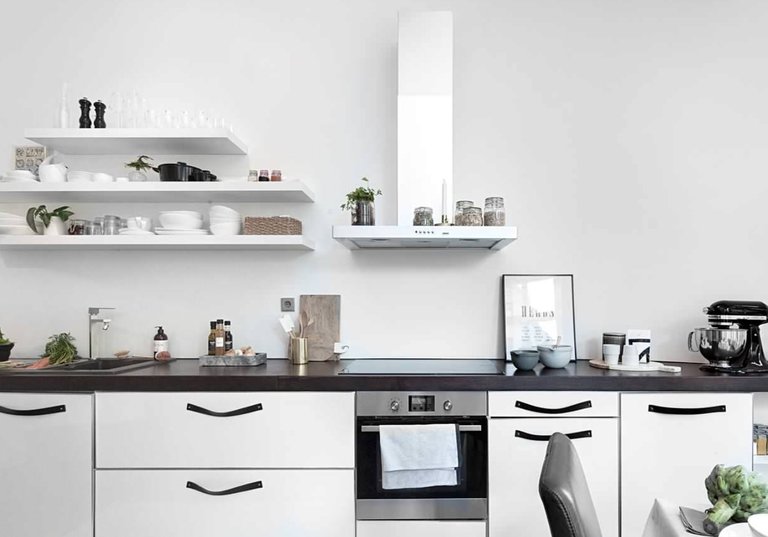 Dilute the basic combination of black and white with gray elements. For example, as here – a black embossed insert on the wall "under the stone" favorably sets off the glossy headset cabinets.
For spacious rooms, buy a corner kitchen – it is convenient and practical, and looks great in these colors. Separate the colors – make a black bottom and a white top, or vice versa, as in the photo.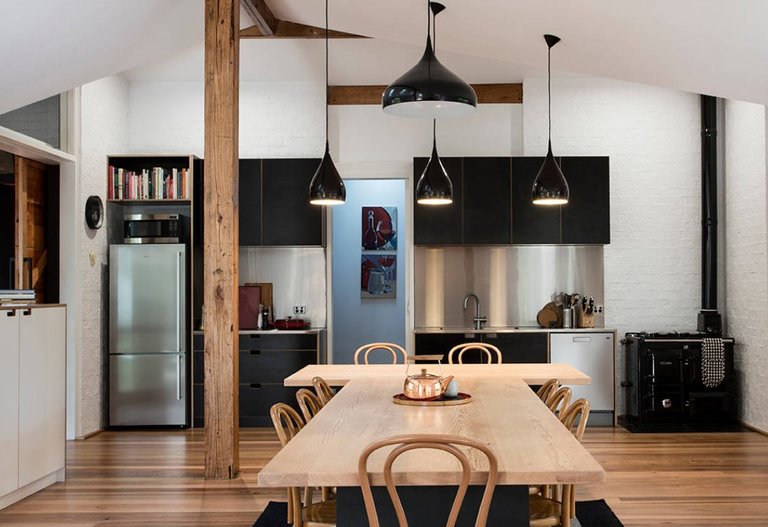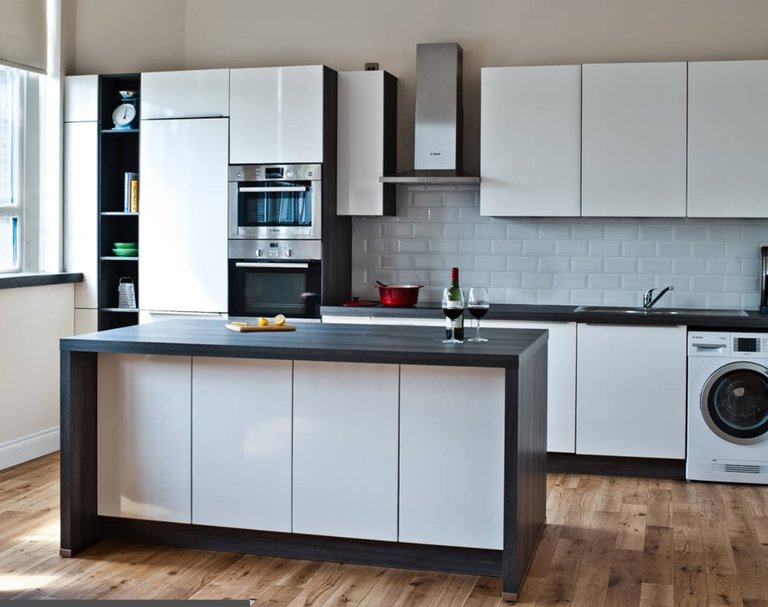 This design has much more advantages than disadvantages – the room looks holistic, and a clear horizontal border will balance the perception of disproportionate rooms.
Use traditional loft decorations as decoration – graffiti, posters, volumetric inscriptions. Do not neglect bright accents – try, for example, buying a bright red refrigerator.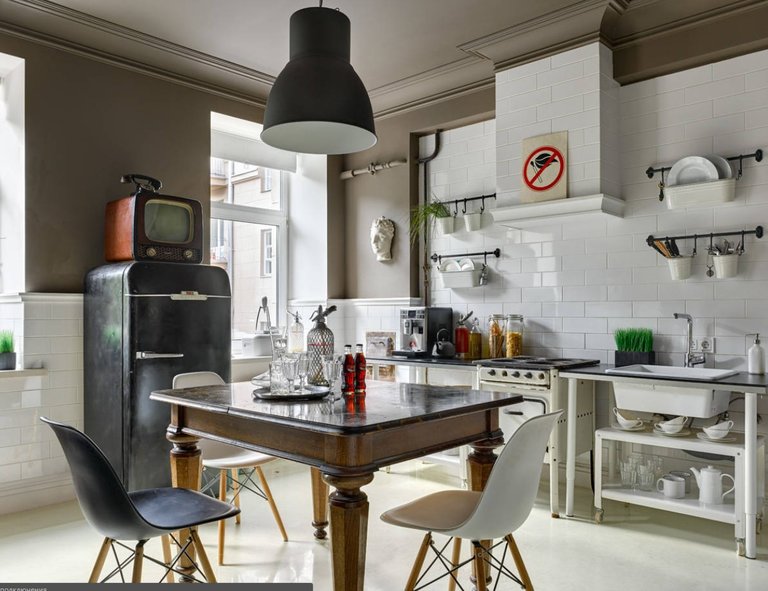 Small strokes of a different color are an extremely successful move. Try combining gray floors with black and white furniture and wood shelves. This combination is a standard technique that softens the interior and makes it more sophisticated.
Minimalist style
Intense black and white tones are perfect for a minimalist kitchen.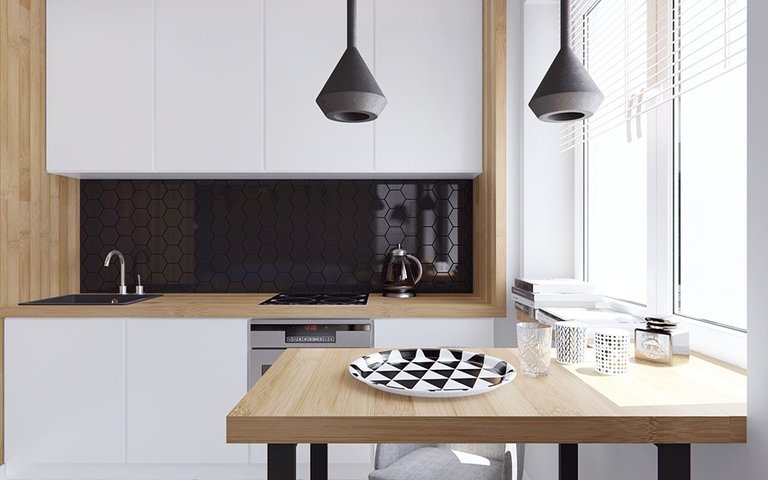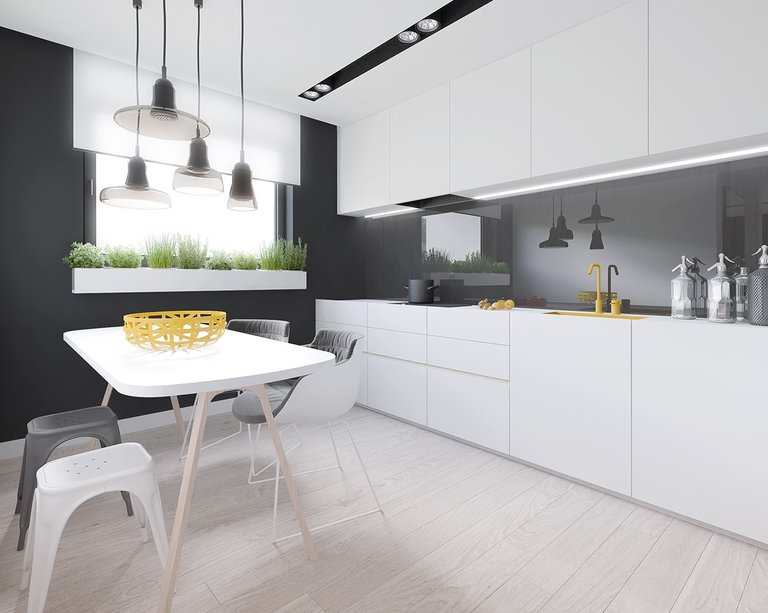 A white kitchen with a black countertop looks attractive – it visually makes the room wider and longer. The correct wallpaper will help to dilute the mono-interior – take light beige, slightly rough. The contrast of such embossed walls with flat furniture looks impressive.
By the way, black and white do not have to be uniform. Choose textured colors, especially for glossy facades. Furniture and appliances, as in this photo, can decorate a room. In this case, additional decor is not required.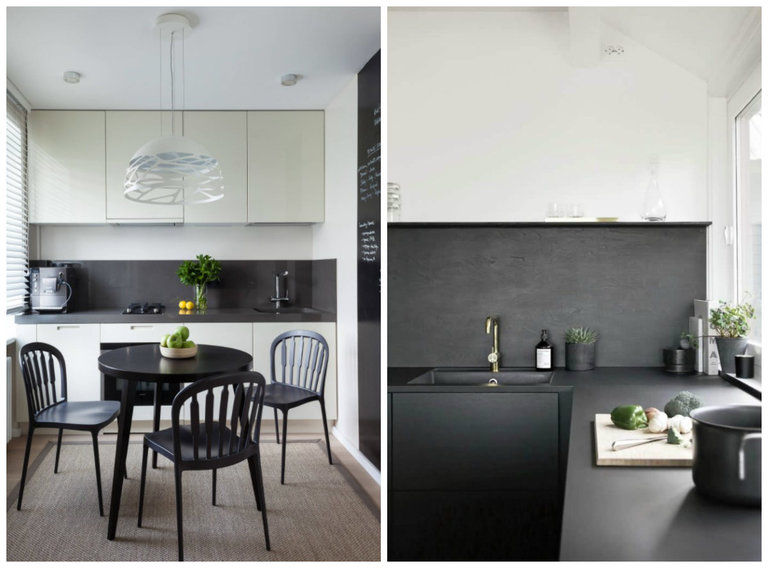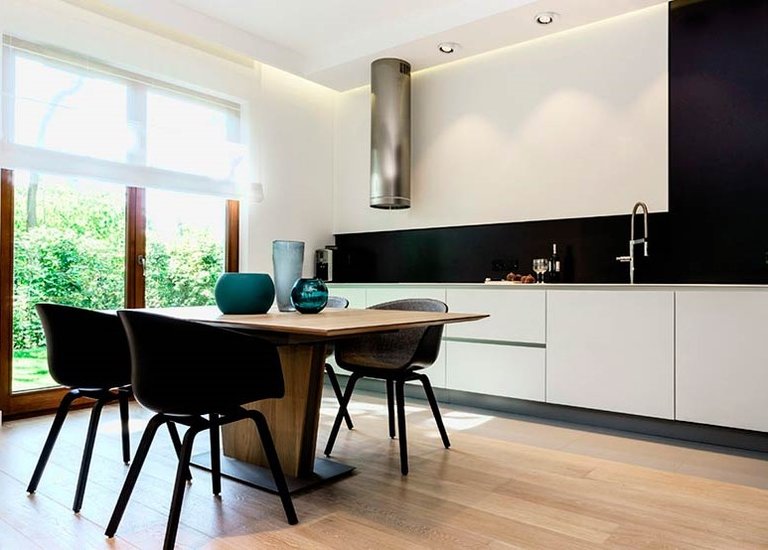 For a studio apartment, it is better to buy a headset and an identical bar counter. It will become an additional work surface and help separate the work area from the living room. And just beautiful.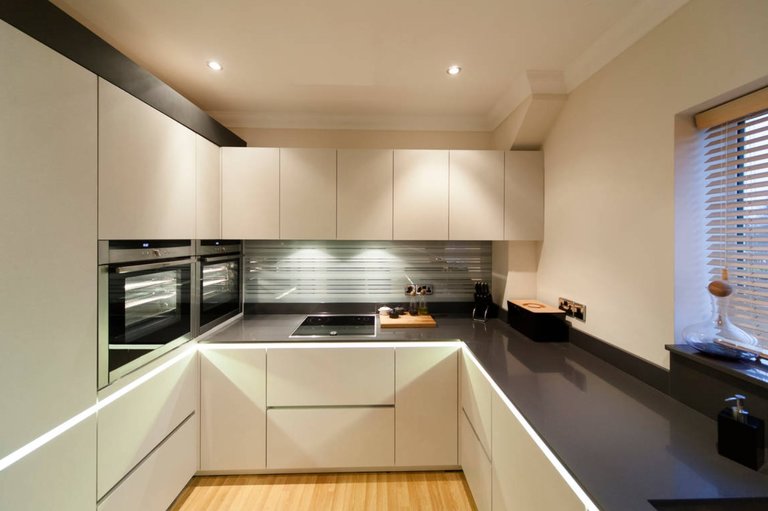 Work with accents and decorative elements. An unusual wicker hemisphere chandelier above the dining table is what you need. If you don't have enough bright colors, it is not forbidden to add a couple of strokes – for example, several red vases or coasters for kitchen utensils.
Art deco style
First of all, attention should be paid to the details: everything should be as refined as possible. Avoid sharp lines and intricate cuts: elegant furniture with rounded corners is what you need.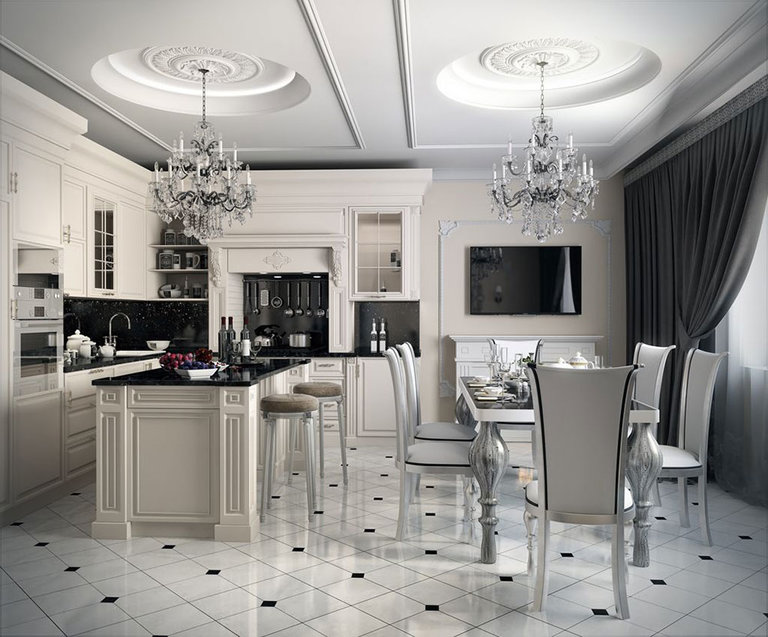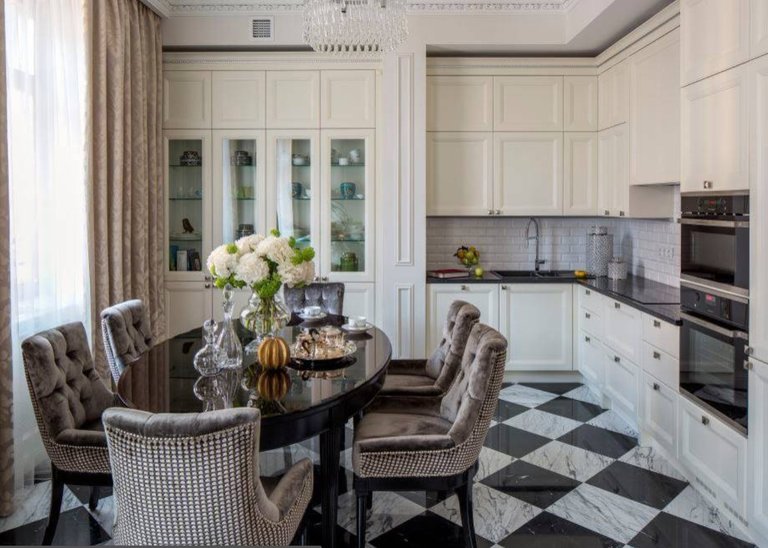 It is important to understand which wallpaper to choose and whether it should be done. The answer is – if you find stylish black with a pattern, then definitely yes! Try to pick up unusual modern technology for them – see how advantageous the extractor hood looks against such a background.
If the kitchen is combined with the dining room, work not only with the main surfaces, but also with the decor. It is very important to create a solemn and at the same time cozy atmosphere. There is also a downside to the coin – if you overdo it with details, the interior will be irretrievably damaged. Therefore, we recommend that you consult with the designers.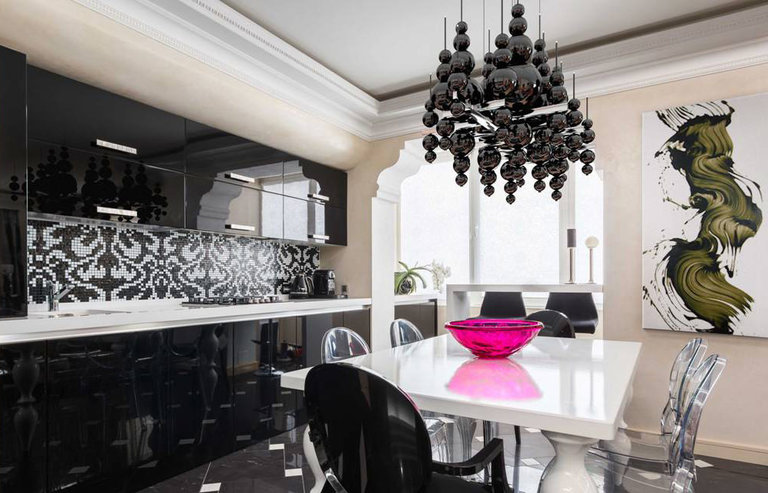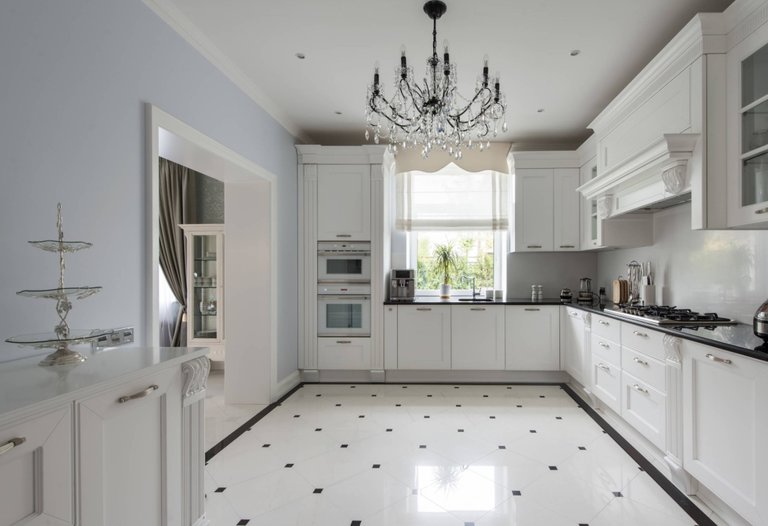 Use a decorated mirror insert to decorate one of the walls. This technique is especially good for small kitchens – they will visually become much larger. But remember that the mirror will have to be carefully looked after, so you do not need to place it over the work surface.
For a small kitchen, the simplest textures are preferred. To keep up with the Art Deco tradition, opt for smooth, slightly rounded lines. Do not get carried away with complex shapes – this is unacceptable in a tiny room.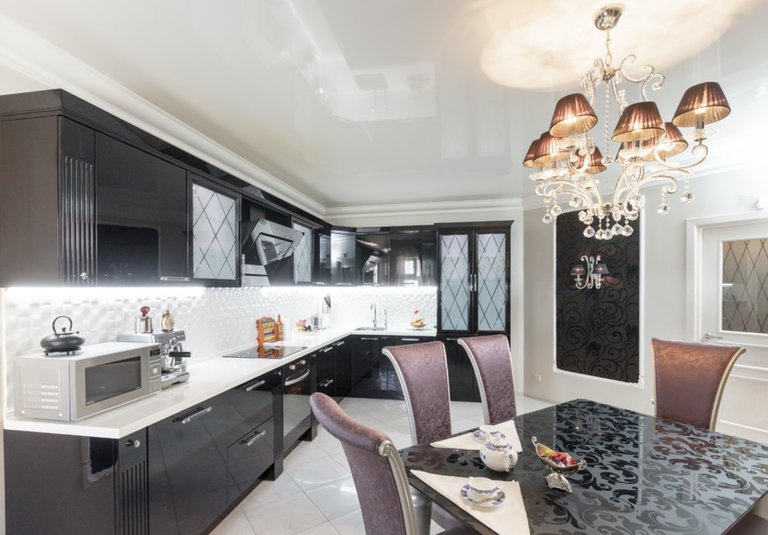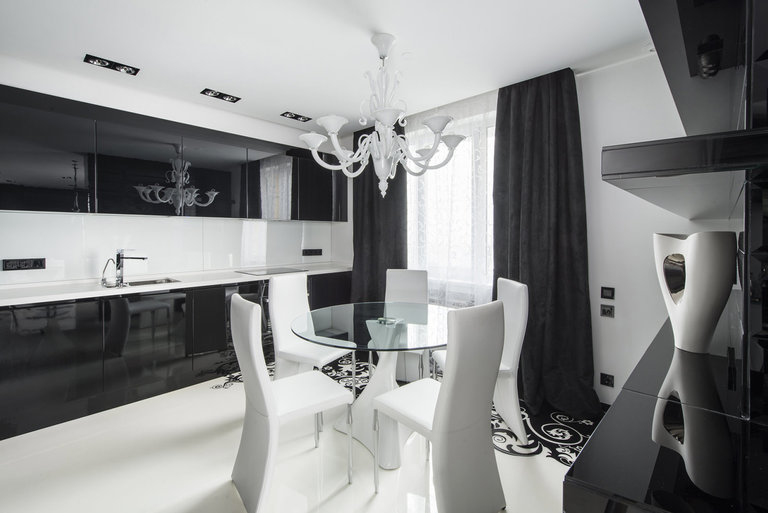 And do not forget to put 1-2 flowers for decoration – here they will be more appropriate than ever.
Such an interior of a kitchen combined with a dining room looks unusual. Here, Art Deco is beautifully intertwined with a loft. Think about which tulle is better to take for curtains. Carefully sketch out the location of the PVC film on the ceiling and especially on the walls.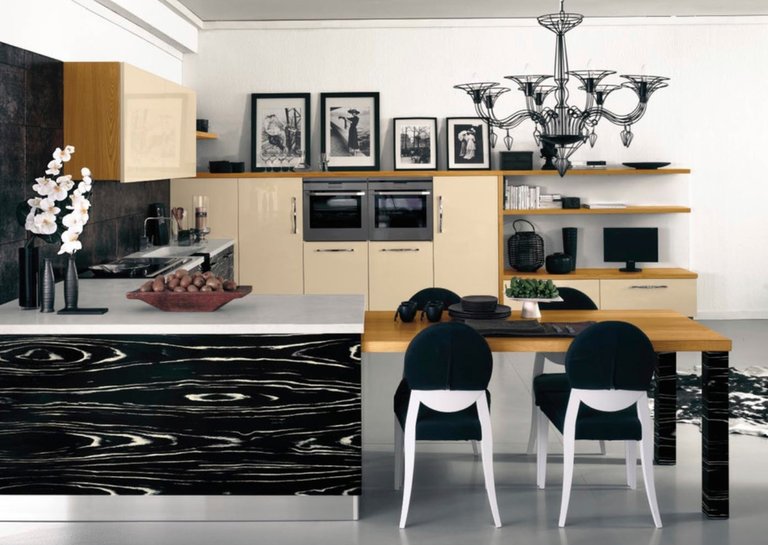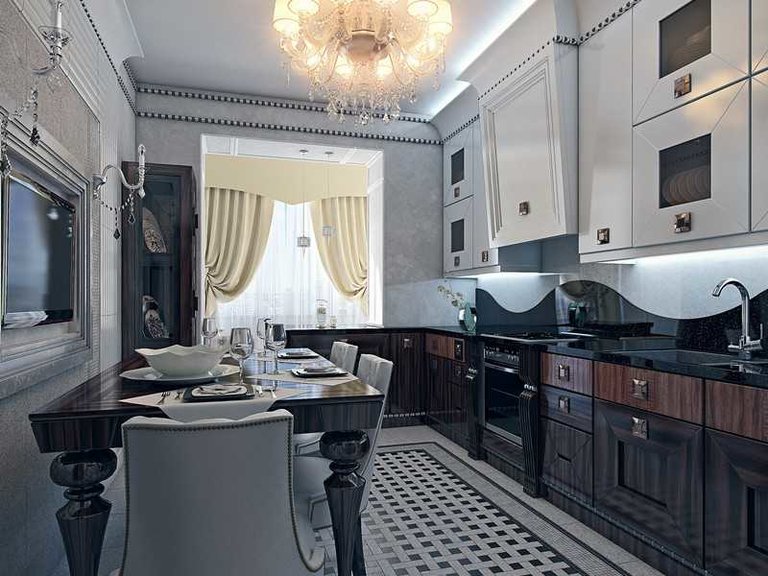 Pick up all the decorative items. Textile wicker patterns on the stretch canvas wall are very original – they are rarely used. The elegance of the dining area will be emphasized by a brick-like apron and the most simple working set. Use combined lighting – spotlights with a volumetric "ball" chandelier.
Scandinavian style
Light, airy tones and mostly natural materials are used for it. And if everything is clear with white, then it is not clear what does black have to do with it.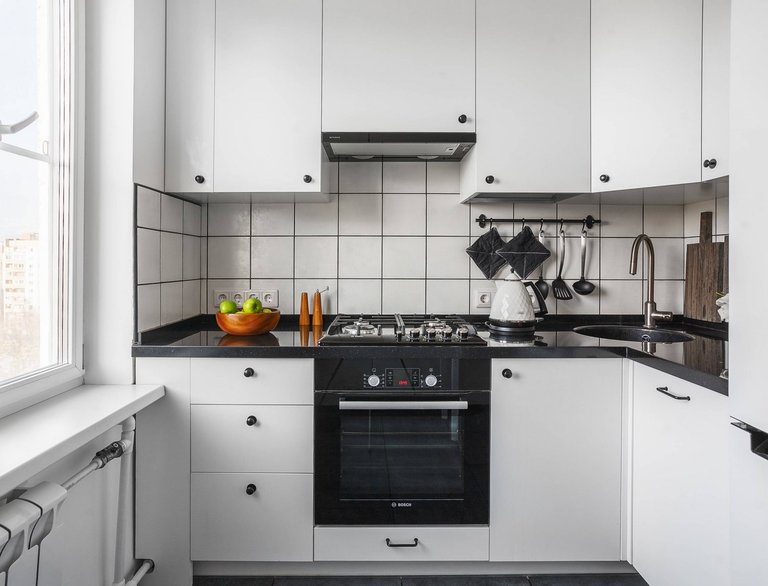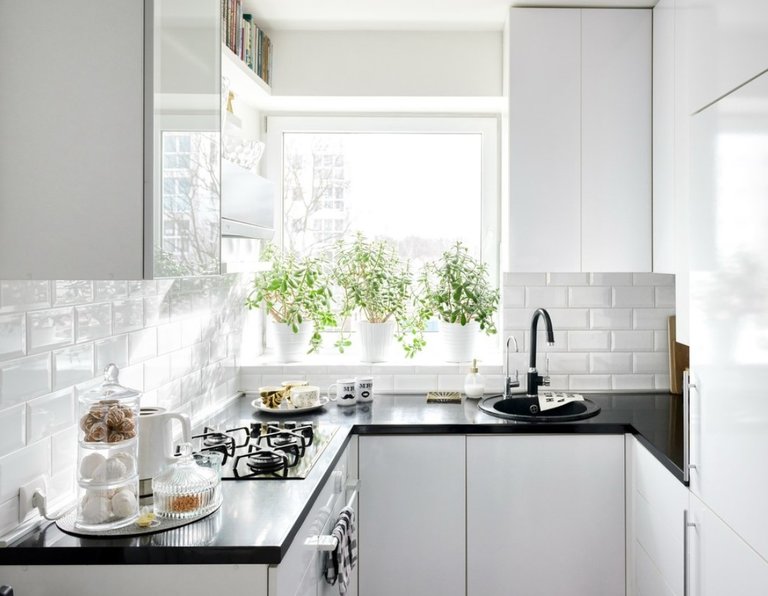 Yes, the latter really should be less in ratio. For example, a black countertop made of granite or its imitation on a white wooden headset. Try to choose smooth, natural textures. There is no need for experimentation – even in this design, the kitchen will look elegant.
Add accents with decor: here is a dark rug with bright stripes.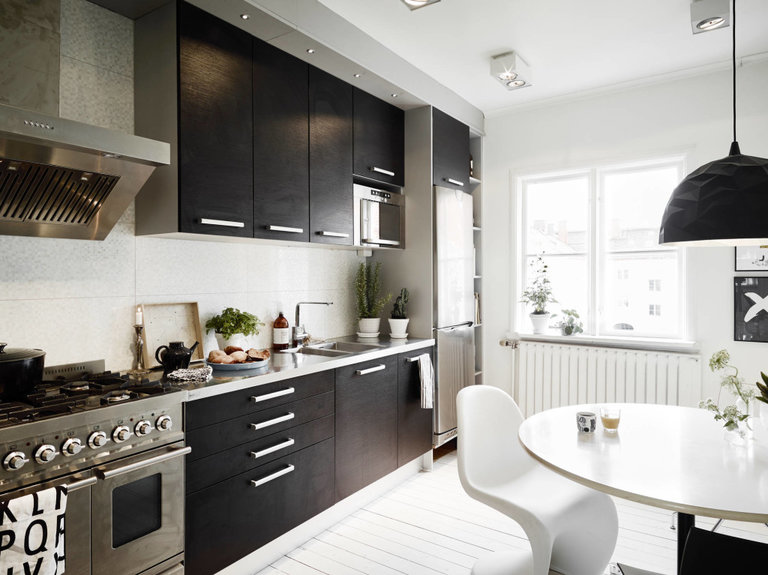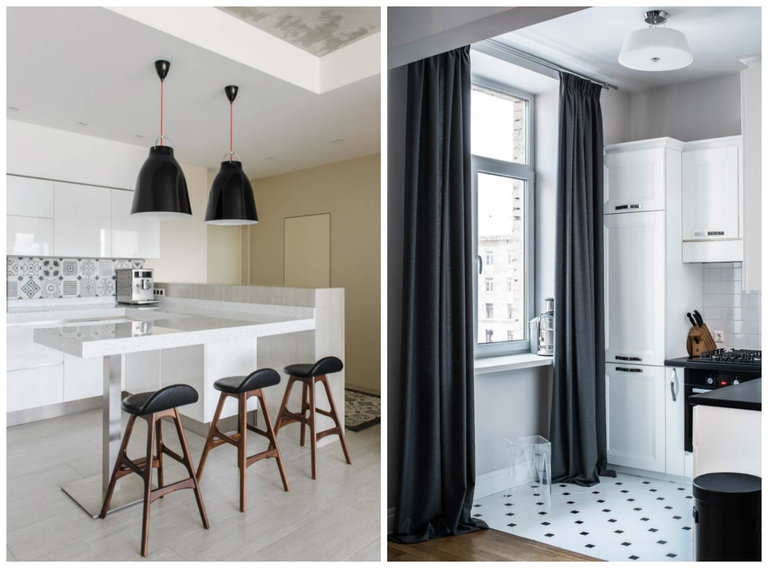 A corner black and white kitchen will look good if you dilute the mono-interior a little with wooden laminate aprons. Yes, it is a little out of our color range. But, as mentioned above, 1-2 bright elements are quite permissible.
For a kitchen combined with a living room, the Scandinavian style is also suitable. Largely due to its simplicity – the kitchen space will not distract attention from the recreation area. Try to somehow complement the clarity of the furniture lines – with an original chandelier and lighting under the headset cabinets. So the impression will be more harmonious.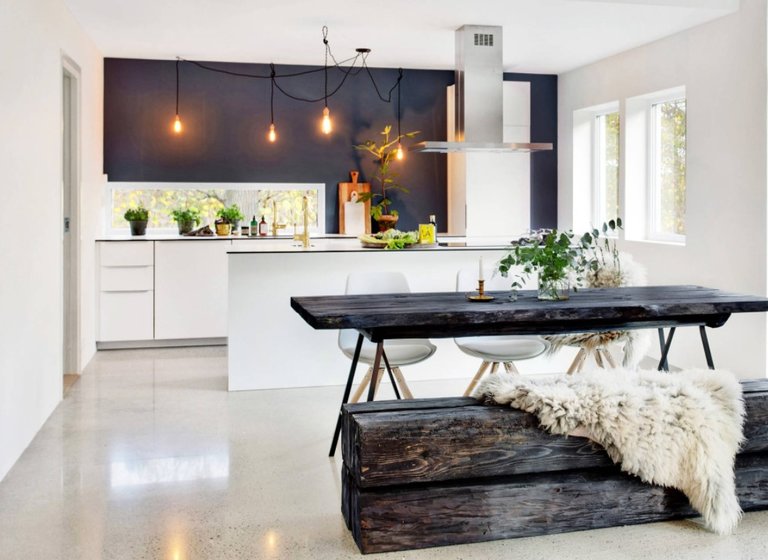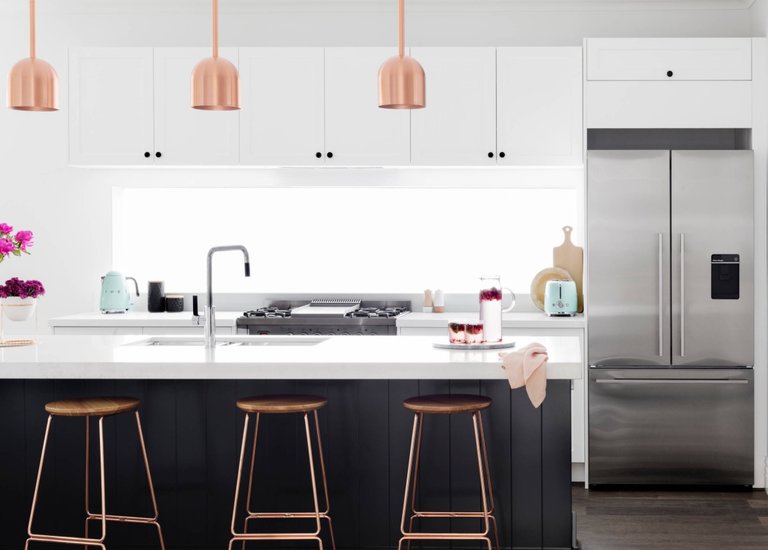 Work with textures: matte white facades and the same brick apron, glossy black countertop and household appliances. Here black acts rather as a complement, which emphasizes the snow-whiteness of the remaining elements.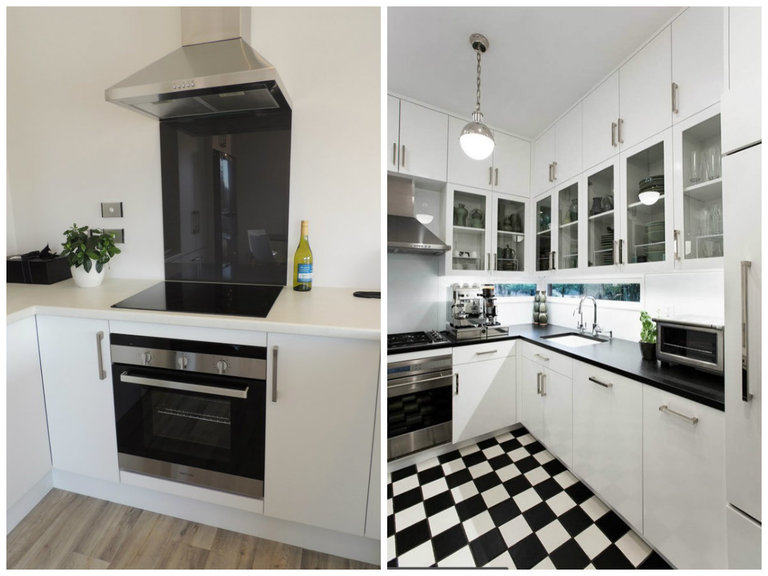 Let's summarize. Black and white kitchens look great if you can take into account all the details and carefully consider the interior. Most likely, repairs will cost you a considerable amount – the simpler everything looks, the more carefully you need to select materials. However, if this does not scare you, then the result will exceed expectations – the combination of black and white will be spectacular and beautiful in almost any style.