Welcome to our new post photos of interiors and tips for decorating
.
If you are interested in a Moroccan-style kitchen, then these photos will surely suggest interesting ideas.
Distinctive features
The Moroccan style, as has already been noted by many, favorably combines elements of the Mediterranean and African styles.
It assumes extraordinary color combinations, national ornaments, an abundance of home-made decor items.
It is these nuances that must be taken into account by those who decide to recreate something similar in their own kitchen.
Let's take a closer look at specific features.
Materials and colors
The first thing to look at is the materials. Give preference to natural wood, clay, stone and metal.
The color scheme is realized in green, blue, terracotta, burgundy, yellow, red, white, beige, coral and even black colors.
Tones can overlap with each other, complementing each other, creating a coherent exclusive curtain.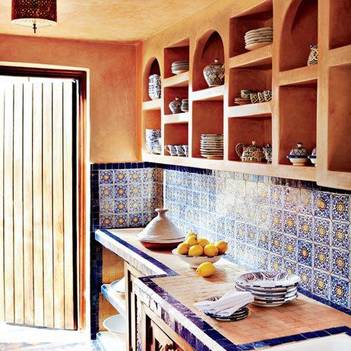 Starting to finish the ceiling, you can choose a budget option by plastering or painting it to match the walls.
Painting, plaster patterns, wooden elements will look very colorful, but will require impressive material costs.
Tadelact and Zelidge
Now we will talk about purely Moroccan finishing techniques that are used to decorate walls, floors, and an apron both in the kitchen and in other rooms.
Tadelakt is a glossy mineral plaster with decent water-repellent properties and excellent heat retention properties. Smooth surface gives aesthetics and decorative effect.
It is possible to obtain the ideal surface by prolonged sanding and subsequent rubbing with a special soap based on olive oil and wax. This is a rather lengthy process that requires special skills and special materials.
Therefore, it is better to use materials that are more familiar to us for wall decoration. Even wallpaper will do, but with the right pattern. A dotted ornament, six-pointed stars, arabesques will fit perfectly.
Zelij – small hand-painted Moroccan ceramic tiles. Use it to trim your work apron. Choose a bright option for yourself with a traditional oriental pattern.
The best solution for flooring will be tiles with an original national ornament. Also, the kitchen in the Moroccan style, as you can see in the photo, looks good with wooden parquet, linoleum, laminate, imitation of natural stone.
Furniture and lighting
Choose wood furniture with smooth, curved lines, carved doors, lancet patterns. Richly, by Moroccan standards, the headset inlaid with mosaics or mother-of-pearl will look rich.
Faucets in bronze or silver colors will perfectly match the backsplash made of ceramic tiles, ideally fitting into the given interior style.
You can safely use forged products of original shapes and different sizes as lamps. The color scheme is black, bronze, silver.
Tableware and decor
Naturally, we would recommend that you find original Moroccan tableware, but believe me, it will not be easy. You can find it either in specialized stores selling various African decor items or on the Internet.
These dishes can be plain or decorated. Much depends on the purpose of the dishes and plates you choose.
The walls can be decorated with large chased plates, using them as trays as needed.
If we talk about the plates from which you and your family will eat, then do not be afraid of the fact that they will be all different for you. This is absolutely normal and, one might even say, authentic.
Moroccan tea cups deserve special attention. They are made of glass and painted very beautifully. Here, take a look.
Moroccan-style décor serves both a unitary and aesthetic function, so do not hide the dishes, but put them on public display.
The last thing to look out for is textile: oriental carpet, tablecloths on the table, translucent kitchen curtains and bright cushions. You can emphasize the style with fabric blinds with oriental patterns.
As a result of such transformations, you will get a warm, cozy and bright kitchen, because there is so much in it that is made with your own hands.