Welcome to our updated post Moroccan decor in the house the spirit of luxury with touches of Arabic inscriptions
.
The luxurious designs of modern Moroccan decor are among the most beautiful designs of decorations that are attractive to both designers or lovers of decoration in general and both for Arabs or foreigners, but Moroccan decor is more dazzling for non-Arab decorators, whether the Moroccan decor is in the designs of the boards and rooms or the architectural details For homes, exterior decoration of homes, or interior decoration in general, it always gives a sense of originality, luxury and elegance alike.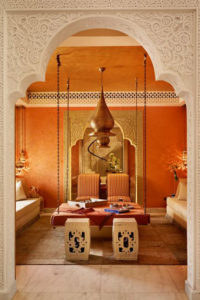 Moroccan decoration and the search for heritage
Moroccan decor is a global trend that is preferred and adored by lovers of authentic Arab decorations rich in oriental inscriptions and Arabic motifs of great beauty and luxury, and therefore the work record of any decorator is not without Moroccan decor designs, whether it is modern and modern Moroccan decor or classic Moroccan decor.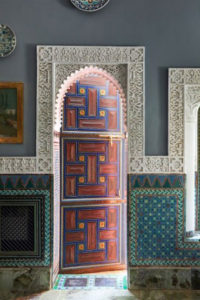 In all cases, the two are derived from the heritage, as the modern and classic Moroccan decor both stem from the same source, which are the inscriptions and decorations of Andalusia and the Maghreb countries (Algeria – Tunisia – Morocco).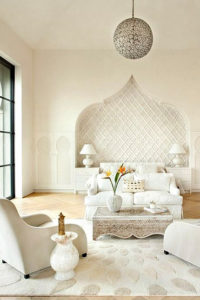 Where decor designers draw from the décor of homes and Andalusian and Arab palaces and the old and luxurious and adopt it as a source for them when working on Moroccan decor designs while employing them in a modern way in terms of using decorative lines in decor designs or using decorative units and fillings or even using Andalusian Arabic inscriptions in the printing of furnishings and fabrics for decor Home.
Moroccan decor in furnishings
Where the Moroccan decoration units can be used by embroidering them with curtain fabrics or others, fabrics printed with Moroccan decor motifs and patterns can also be used in cushions and furnishing fabrics for reception rooms and living rooms, as well as cushions and upholstery fabrics for sofas and sofas, and fabrics for tables and small tables.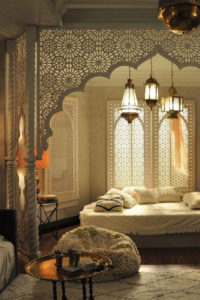 Moroccan decor designs in home furniture
The use of Moroccan decorations and ornaments is one of the finest, most beautiful and luxurious means that gain the design of furniture units richness, luxury and originality, as they are carved prominently or in a thinly fashion, sometimes by manual engraving or engraving using CNC wood drilling machines – or laser machines, despite the simplicity The composition of the furniture pieces in Moroccan décor, however, their general appearance is complicated by the many aesthetic details and inlays that cover them.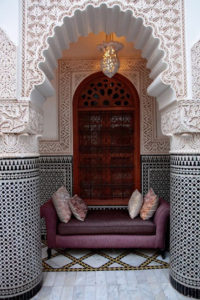 The low seats close to the ground are one of the most important features that distinguish the furniture design in the Moroccan interior design style, as well as the tables and tables, in addition to, of course, they are filled with many fillings of bas-relief or recessed or inlays with shell and metal.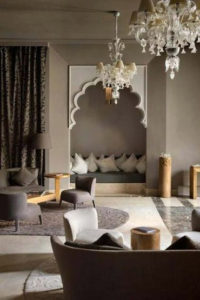 There are many means by which traditional furniture and furniture are manufactured and made from Moroccan decor in a modern and modern way, in line with those who love the character of Moroccan decorations, and at the same time they prefer the modern form in home décor, so we find furniture designs in which decorators use, for example, the combination of wooden and metal furniture, and we also find inlays Wooden furniture with metal or glass parts in what is called (lyophilization).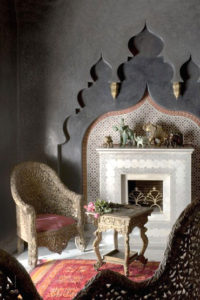 Others, interior designers, resort to treating some units of decoration and inscriptions from traditional Moroccan decorations and forming them into modern units in the same spirit, using exaggerated geometric patterns in some of them, but in a way that preserves the inspiration of the heritage of the same standards of units and elements of Moroccan decor.
Moroccan decoration style in interior architecture of houses
Moroccan decor features are not limited to home furnishings only, but it is also common to place many glimpses within the architectural structure of the walls and roofs of homes, especially when making gypsum decorations for ceilings, walls, window openings or in corridors, to see the decorations and bas-reliefs carved into the walls or ceilings, as well as the decorations can be placed And Moroccan inscriptions in the dhvvat windows.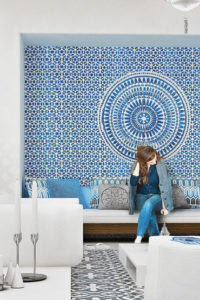 Colors in Moroccan decor
The blue color, in its various degrees, is one of the most important colors prevailing in Moroccan decor, as we see it frequently in decorative fillings, faience and mosaic tiles that are characteristic of walls and fountains, as well as some simple touches are added in orange-red with white, yellow, turquoise and green, which we see clearly in the stained glass in some windows and openings.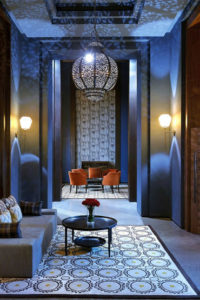 Moroccan decor in white
The white color next to the blue color is the most famous and most important color for the modern Moroccan decor in particular because of its modern and contemporary character, especially in gypsum fillings and Moroccan gypsum decor, which is distinguished by the white color.
Andalusian style and Moroccan decor
The Andalusian style in architecture and decoration is considered one of the most important sources of interior designers to Moroccan decor designs, as they draw from it the sources of motifs, inscriptions, coloring methods, lines, decorative fillings and rich architectural details.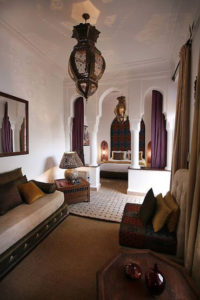 Architectural arches (arches) in Moroccan decor
It is one of the most important details of the interior architecture design of the Moroccan style of decoration, as we always see it in the openings inside the walls, whether in the doors from the top or in the windows or the openings of the corridors, as well as in the separations between the rooms so that in Arab architecture there is an architectural arch or a distinctive arch of the Moroccan style called the Arab Arch Moroccan.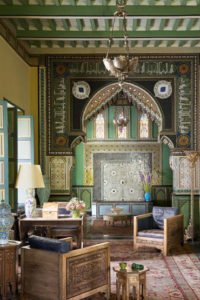 Decoration accessories and accessories in Moroccan decor
Accessories in Moroccan décor are a very unique and famous element, from ceramics to bedspreads and wall hangings and cushions engraved with hand-embroidered fabrics, in addition to authentic Moroccan carpets and curtains, which are characterized by rich colors and designs with decorative geometric patterns.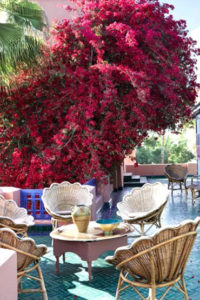 Lighting units and lanterns in Moroccan decor
Any Moroccan decor is not without luminous metal lamps and engraved with hollow motifs or lanterns and glass chandeliers made of hand-made glass or inlaid with mosaics in which the light comes out colored or through decorated holes in their walls and they are suspended from the ceilings or fixed on the walls, which gives the place decor freshness and splendor And beauty.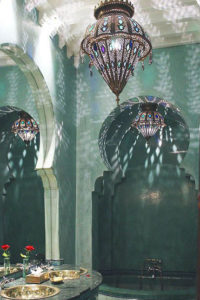 The Moroccan interior design style is an elegant, luxurious, exciting, and distinctive decorative style that gives us a always luxurious look and a charming touch on all the items in home decor items.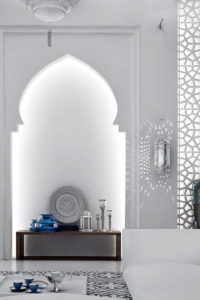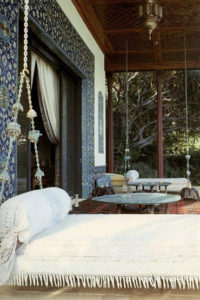 Even in the outdoor decorations and the decor of the outdoor sessions, we find in the Moroccan interiors models that radiate beauty and bring comfort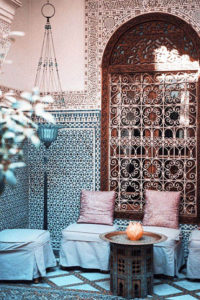 Moroccan decor means magic and beauty in everything from colors, textures, fabrics, accessories, chandeliers, and rich furnishings, in every detail a special charm that makes Morocco the first choice for lovers of heritage and originality in home decor.
Image Sources: Pinterest
If you liked the article and you were a fan of the Moroccan style and style of decoration
You can see pictures of modern Moroccan style in home décor from here
You can also see decorations and ideas for living rooms in a unique oriental style from here
You can follow our YouTube channel to view the latest decorations with video from here
Don't forget to send this post with friends and family !