Welcome to our updated post Mediterranean style kitchens – photo ideas for inspiration
.
Let's start by highlighting the key features of this style, and then move on to considering all the important details and elements of its decor.
So, the Mediterranean theme stands out with the following notable points:
1

Atmosphere of hospitality

just an indispensable companion and "parameter" of such a kitchen. Residents of coastal towns are very friendly and always happy to receive guests, set a table for them with seafood and wine, and also sincerely talk about news or business. Such a room should be spacious, comfortable, so that anyone can really feel at home.

2

Simplicity in decoration and decoration

… Any expensive, conspicuous and pretentious things are completely out of place in Mediterranean cuisine. On the contrary, everything around should say that only the most necessary items, comfortable furniture and practical kitchen utensils are collected here. The same applies to the simple and affordable materials used to decorate the walls, ceiling and floor of the kitchen.

3

Abundant use of tiles

… Tiling can take place not only in the area of ​​the backsplash, but also over the entire area of ​​the working area or even along the entire rear support wall up to the ceiling.

Sometimes the table top can be laid out, for example, with ceramic mosaics or small tiles. Also, it is the tiles that are preferred when the question arises of how to lay the floor in the kitchen.
The Mediterranean interior has similarities to styles such as Provence, country and shabby chic. Take a look at some of the photos we have selected.
Furnishing features
For a Mediterranean-style kitchen, it is common, as mentioned above, to choose simple, but functional, solid furniture.
Even when planning a room, it should be borne in mind that such a kitchen should be light and spacious, and not create an atmosphere of piling up furniture and a lack of space.
Ideally, it should play the role of a kitchen-living room, where you can not only cook, but also receive long-awaited guests.
A few tips to help you choose the most suitable furniture:
Dinner table should be either large or at least medium in size, designed for 4-6 people. Guests in such a kitchen are always welcome, so you need to be ready to accommodate and feed them all comfortably.
Kitchen set made, as a rule, of wood or, as a last resort, from MDF with imitation of natural textures.
All kinds of panels on the facades, metal fittings with ceramic inserts, as well as glazed shelves are very welcome. In more traditional versions, a special place is allocated to the hood, which is why the section of the upper drawers can be split into two parts.
Headset color… Light and fresh motives are common here.
White, beige, gray with patina or olive green kitchens will create the atmosphere you need and will delight the eye.
Facades made of natural dark wood, the texture of which must necessarily remain visible, are also not uncommon in this style.
Chairs they choose either wooden with massive backs, or metal, but at the same time graceful forged shapes.
It is advisable to equip such chairs with upholstered seats and backs with laces, which are trimmed with cotton fabric, for example, in a white and red check or some kind of floral pattern.
Additionally, if space permits, you can put compact two-seater sofa, but this is more like a decorative option or a design move to "fill" an empty corner in the kitchen.
You can put a beautiful cabinet with open shelves, which will show off a collection of decorative plates and dishes.
Layout and finishing
Here are some key recommendations for decorating walls, ceilings, flooring and work areas that can significantly help in the selection of the right materials:
Walls… Wallpaper in a Mediterranean style kitchen is rarely glued. Basically, the walls are painted, faced with ceramic tiles or natural stone.
Speaking about colors when painting, based on the presented photos, the most popular are various shades of yellow or beige.
For ceilings choose a matte paint of white, beige or sand colors.
You can often find massive wood beams, but this, as they say, is in the original. In an apartment, you can limit yourself to simpler solutions.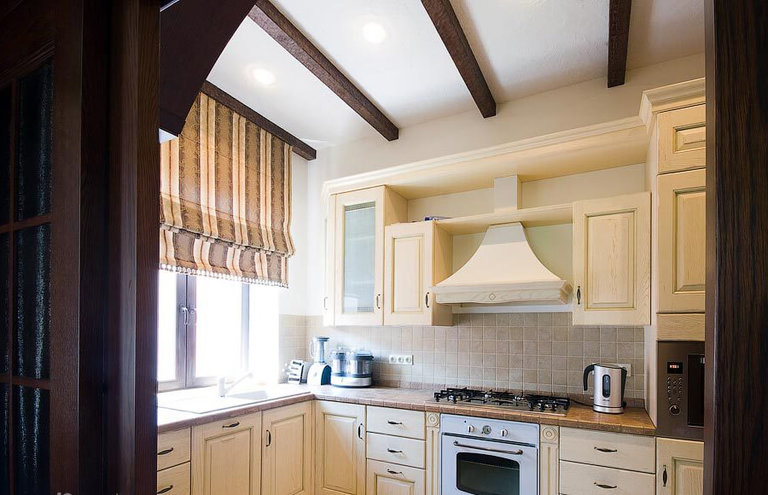 Floor in the vast majority of cases, it is covered with medium or large ceramic tiles. Color solutions can be very diverse, here the choice is completely yours.
Apron laid out either from small tiles, or even from a mosaic.
Both options can be implemented in a wide variety of solutions: from the classic monochromatic layout to complex but sophisticated panels. Sometimes the apron is laid out with natural stone or tiles that imitate it.
Countertop predominantly ordered from natural or artificial stone. Again, there are no strict requirements for the choice of color, texture and pattern.
Less often, but still it can be found, the entire countertop or a certain part of it is laid out of small ceramic tiles, which can have an amazing aesthetic effect.
Kitchen island… The result of the distribution of space in the interior of such a room must necessarily be the presence of a sufficiently large space for the dining area.
In the layouts of some kitchens, you can also find the so-called "island", which serves as a kind of separator between the cooking and dining areas. "Island" can act as an additional work surface, and, for example, a bar counter.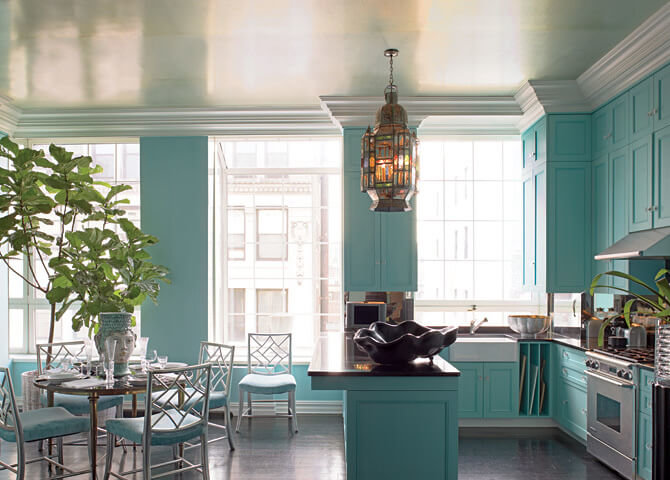 Finishing notes
After the main elements of the Mediterranean-style kitchen interior are ready, it remains to decide how and what exactly to fill the empty niches and other, still free, space:
Appliances should not stand out, but, if possible, should be built-in and hidden behind furniture facades.
This rule does not apply to the hood. It so happened that she was given almost a central place in the working area of ​​the kitchen. The hood must be domed, not built-in.
She is destined to stand out and play not only the role of a household device, but also a significant element of the interior.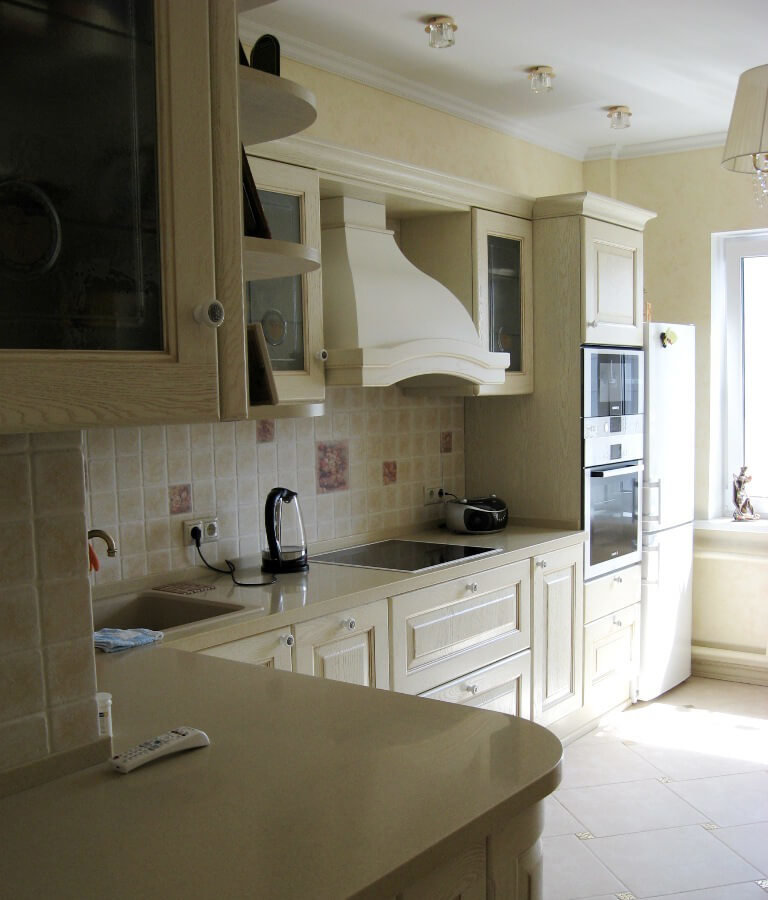 Plumbing… They always cook a lot in a large kitchen. In this regard, choose a larger sink, you can even double. A ceramic or artificial stone sink is a good option.
The most classic examples of Mediterranean interiors include copper or bronze sinks and mixers.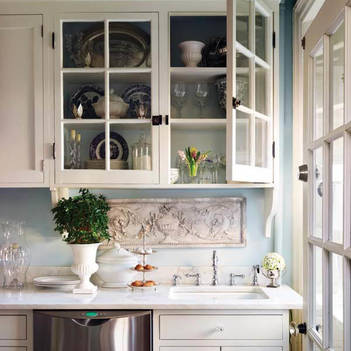 Textile… If we talk about curtains for the kitchen, then the use of light, but simple fabrics is encouraged. The same lightness, freshness and airiness should be traced in colors and patterns.
Light colors, decorated with flowers or other fun ornaments, work best. As for the types of curtains, they can be both classic cut and design, and, for example, Roman.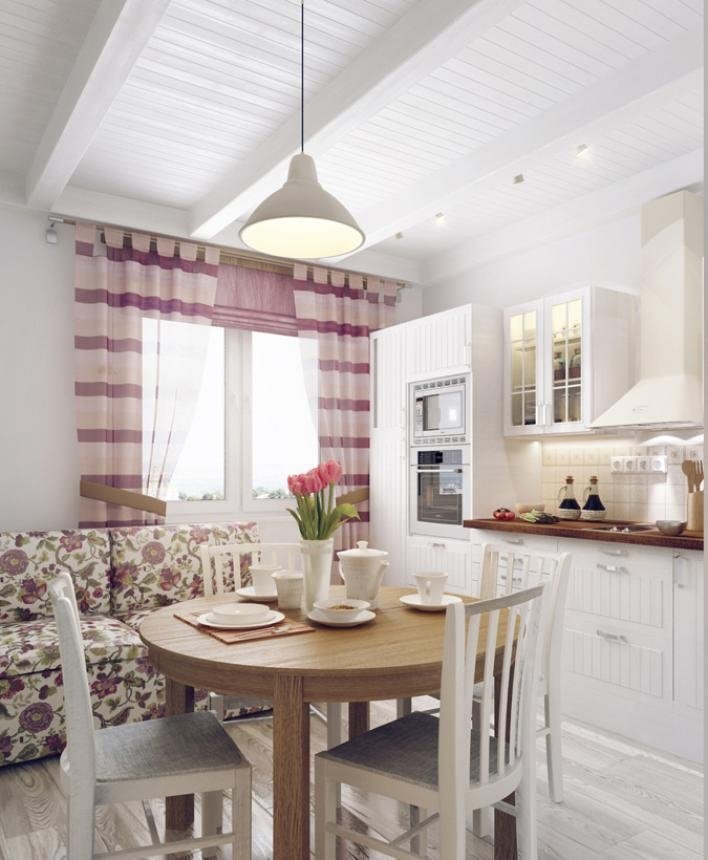 Lighting should be enough all year round.
In the warm season, when the daylight hours are long, natural light is provided by windows, preferably large. For the arrangement of artificial lighting, attention must be paid to each of the zones.
Above the dining room you can hang a beautiful bronze chandelier with a Tiffany-style lampshade. If you have an "island", then illuminate it with hanging lights or ceiling indicator lights.
Accessories are welcome, but a sense of taste and proportion must be observed. As with other southern styles with rustic touches, decorative tableware features prominently in this style.
It can be placed on the shelves of the furniture set, hood cornice, and other free niches.
The vessels for spices and porcelain cereals, copper kitchen utensils, open shelves for storing olive oil, containers with pasta and dried fruits will look original and harmonious.
The Mediterranean style kitchen has a special charm of openness and comfort. It disposes to receiving guests, culinary experiments and just a pleasant pastime with the family.