Welcome to our new post main features, photos of interiors, tips
.
In order for the choice of parts to be made correctly and not take much of your time, we suggest that you study the basics of arranging a Japanese-style kitchen.
The main features of the style
Proceeding to interior design, first of all, pay attention to the key features of this oriental style, which include:
1

Minimalism – this style involves a minimum of details. This applies not only to things, but also to decoration, lighting;

2

Practicality – characterized by the use of such interior details that could be functional;

3

Naturalness of materials – all interior details must be made from natural raw materials.
The photo shows a Japanese-style kitchen in a modern apartment.
The Japanese have never overloaded the space with unnecessary trifles. It, in their opinion, should be used for its intended purpose and be as functional as possible.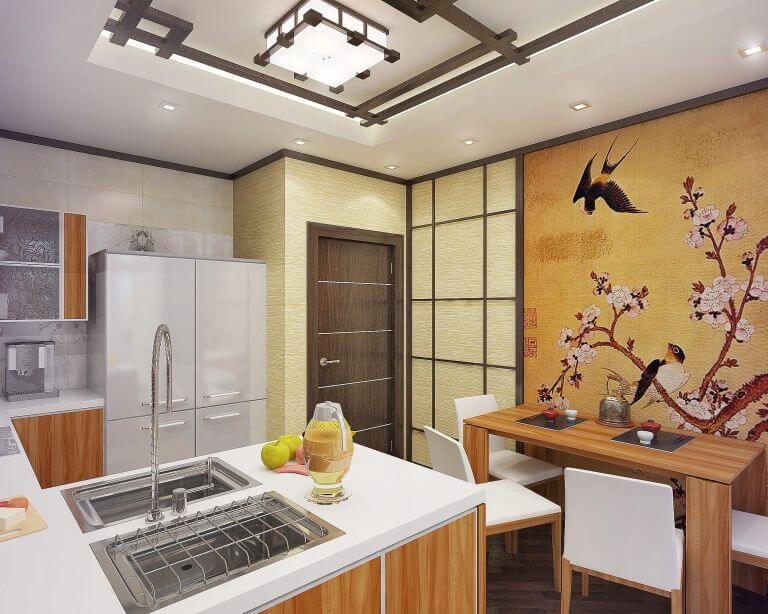 For this people, cooking is not a simple banal process, but a whole ritual that provides a sense of harmony of body and soul. Therefore, when starting to design, be guided by these, one might say, principles.
Finishing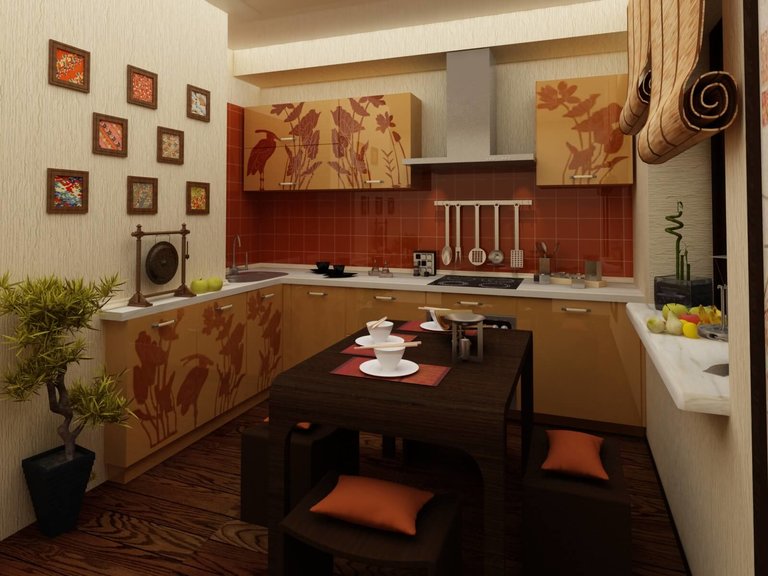 In the photo there is a kitchen set with traditional Japanese motives and bamboo roller blinds, which create a unique oriental flavor.
It is better to decorate walls and floors from wood or bamboo. This is a traditional technique for such a territory.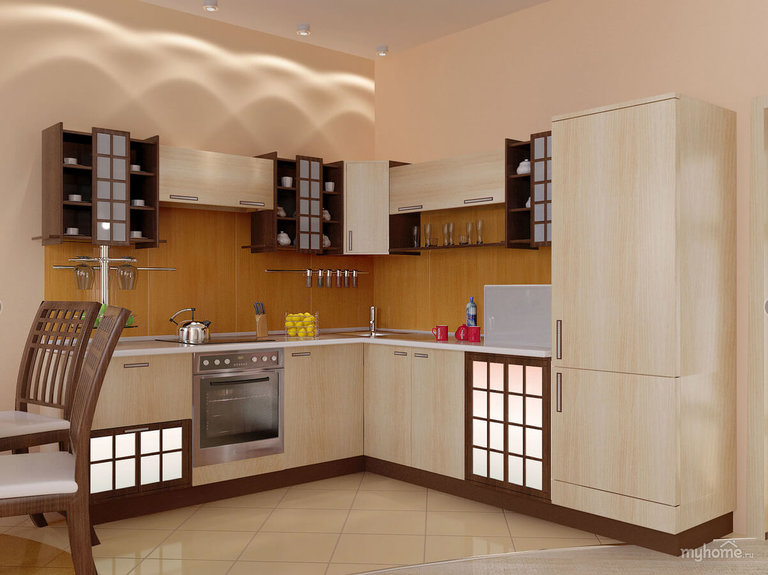 For flooring, it is better to choose parquet in light shades that imitate the look of natural wood. The market of modern materials has many offers, so that acquiring the most suitable model will not be difficult for anyone.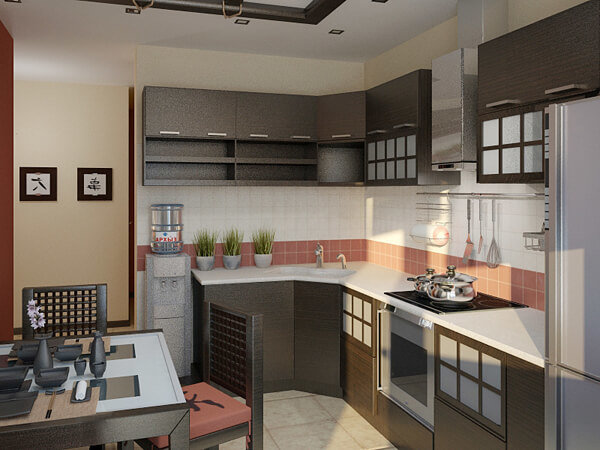 Ceilings can be made using panels, or wooden beams, which, in terms of color, should correspond to the general theme of the kitchen. A good option for imitating a Japanese ceiling is the construction of the so-called "Armstrong", on which the other necessary panels are then attached.
Thus, it can be used as a basis for the construction of a ceiling. Moreover, the cost of this option will be much less.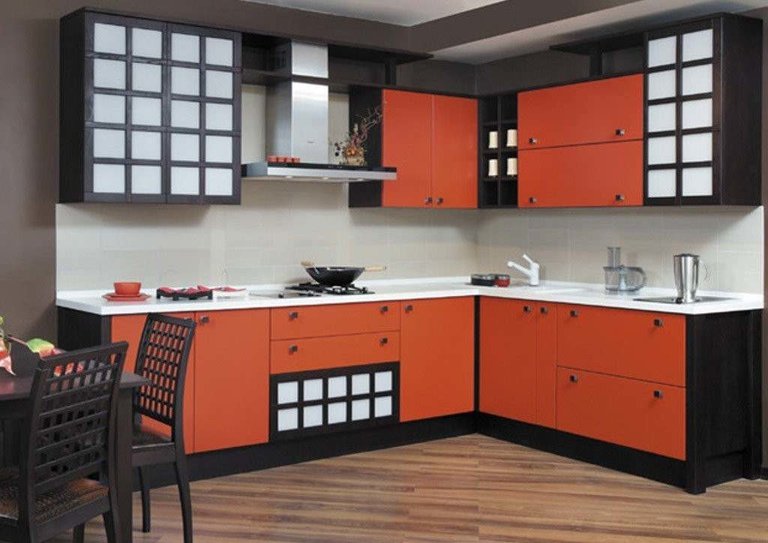 Most often, the geometric shape of the ceilings is a square or rectangle. This allows you to visually expand the area of ​​the room. The jumpers between these shapes can be painted in a more saturated color. In the center of the ceiling, you can place a drawing on a Japanese theme.
Japanese-style kitchen set
Choose furniture only that is made of natural wood. These can be low tables made of unpainted brown wood. The forms of such furniture should be simple, unlike other styles, which are full of pretentiousness and large dimensions.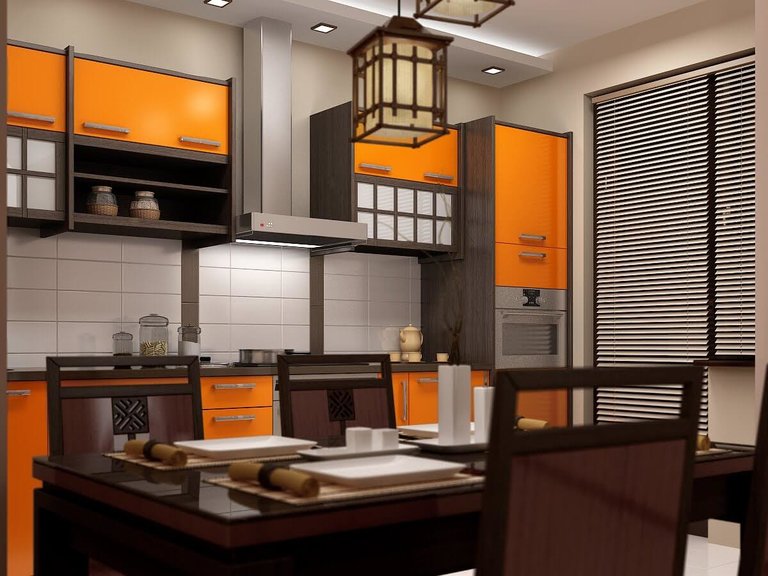 Try to choose pieces of furniture that are distinguished by soft colors – coffee, olive, caramel, as the dark color visually makes the area cluttered. Make a small garden of flowers, this will bring a fresh touch to your home, as well as highlight its personality.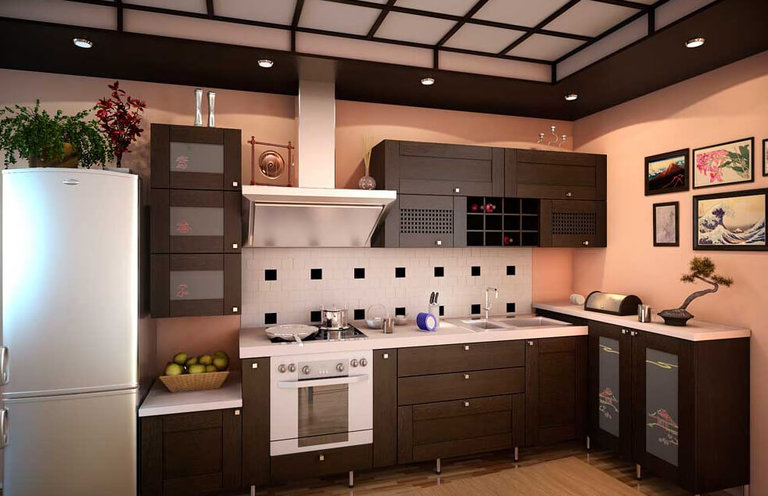 Another important area of ​​the kitchen is the windows. Like any other space, do not clutter the windows with anything unnecessary. You can arrange them using small roller blinds for the kitchen, made of rice linen, bamboo.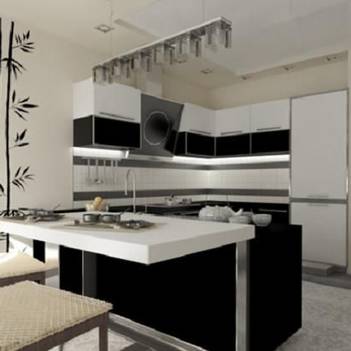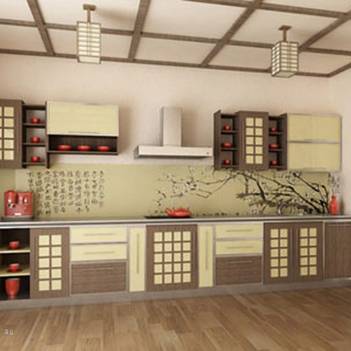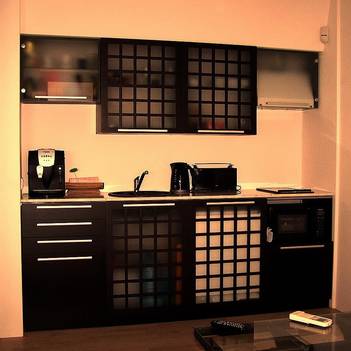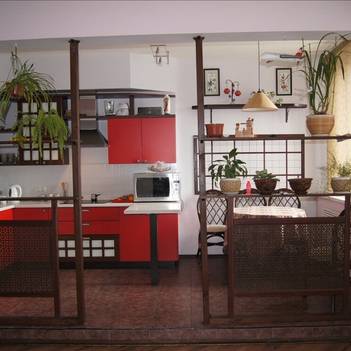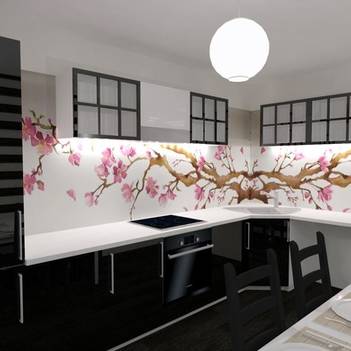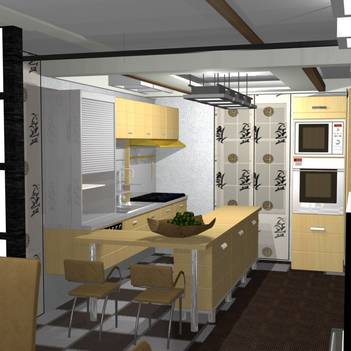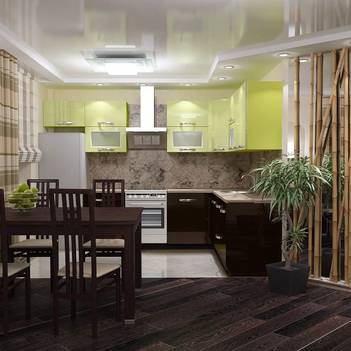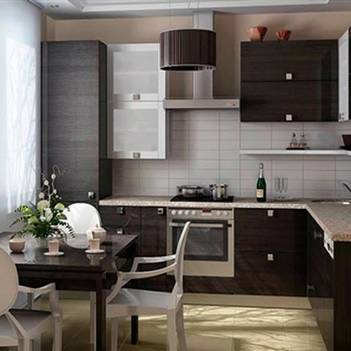 The fencing of the kitchen area is not complete without door partitions. This can be a glass door with floral designs, or sliding doors made of wood and natural fabrics. They will not clutter up the territory, and are also economical in terms of cost. There is only a minor drawback – low sound insulation.
Lighting and decor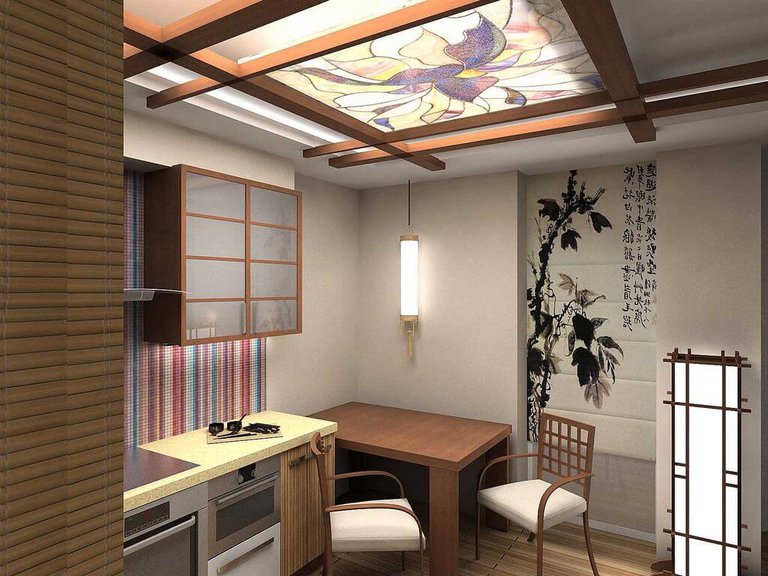 A Japanese-style kitchen is characterized by soft lighting. This is not to say that this feature is not characteristic of other styles, but the difference is in the ways in which this effect is achieved.
LED strips, table lamps, crystal weighty lampshades – all this is alien to this style. In this case, it is necessary to avoid active lighting coming from the center of the ceiling, windows.
To achieve the desired result Choose rectangular or spherical lampshades made of rice linen or wood. Backlighting in every work area will be quite the right solution in terms of functionality as well as beauty.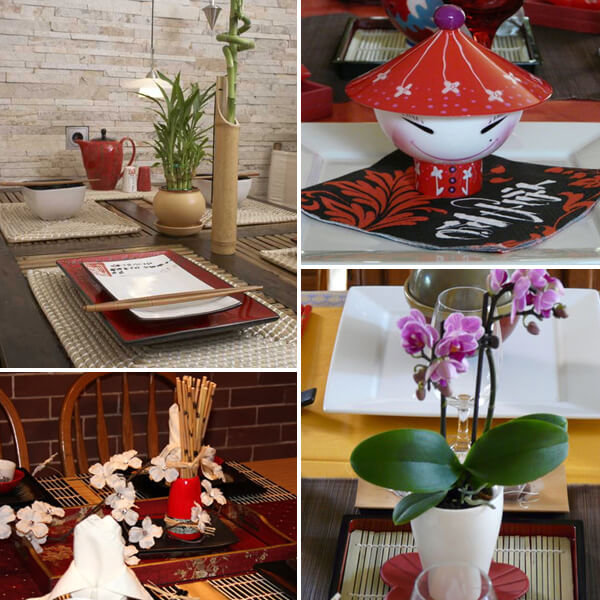 As for the decor, you also need to forget about plastic things! If you want to decorate with various objects – choose straw, wood, bamboo, as well as clay, glass, silk.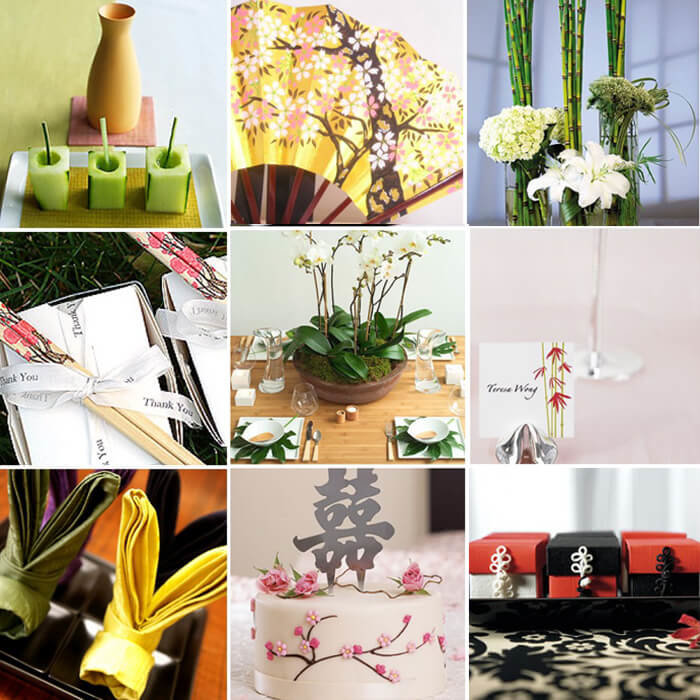 These can be old engravings, scrolls with phrases of sages, ikebana, and porcelain figurines. A traditional decorative element is the placement of a niche in any of the walls. You can put a vase, a figurine in it.
If you prefer the charm of oriental minimalism, and also want to decorate the interior in a calm and harmonious manner, then you made the right choice in favor of the Japanese style. The most important thing is to follow the rule of balance in all details, and then you are guaranteed success in forming an individual design!