Welcome to our new post Kitchen interior in modern style
.
Kitchen design in a modern style involves adhering to a number of rules from the design stage to the final design.
When it comes to kitchen interiors, practicality and functionality come first. New kitchen finishes allow you to move away from all sorts of patterns, bringing bright colors and unexpected stylistic solutions into the room.
The current style in this part of the house is clear lines, minimalism, simplicity and non-standard decor solutions.
The photo shows the design of a modern kitchen in light colors. In 2020, this design is often used for small spaces.
Main features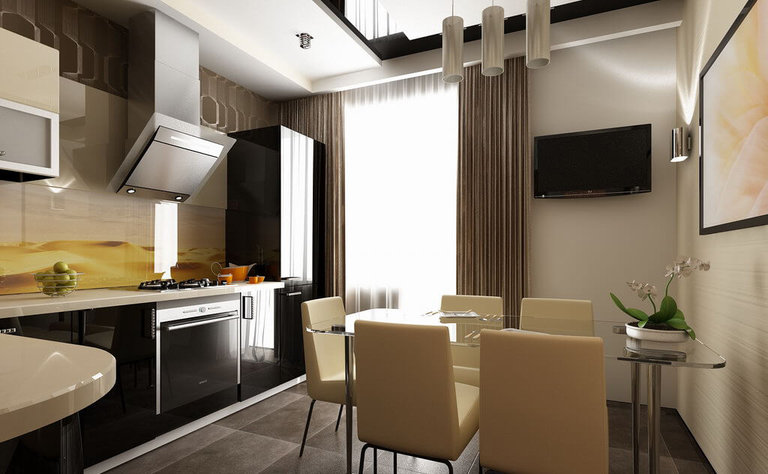 The arrangement of the kitchen allows the use of comfortable and practical furniture, wide surfaces, spacious work areas. The dishes are set in a monochromatic theme, without bright and variegated colors.
The room itself excludes unnecessary details or pieces of furniture, and each thing has its own place. In such a kitchen, you can always find the necessary tool or access certain household appliances.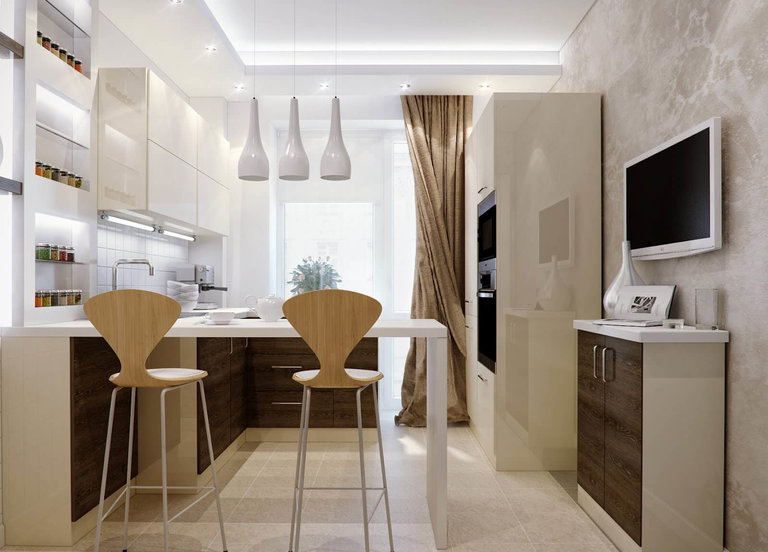 Most often it is built into furniture modules for practicality. This technique is easy to use and always optimizes the cooking process. All working moments here are calculated in advance, for the implementation of which there are equipped tabletops with all the necessary tools in hand.
In the photo, the fashion trend of 2020 is the zebrano colors on the facades of the drawers.
Modern kitchens involve connecting to other rooms to increase space. It could be a studio kitchen that covers part of the living room and has a sleeping area.
Colors and finishes
Modern kitchens can combine almost any material that will be convenient or just like the owner of this room. However, it is worth remembering that pretentiousness is not appropriate here, it is replaced by practicality and simplicity.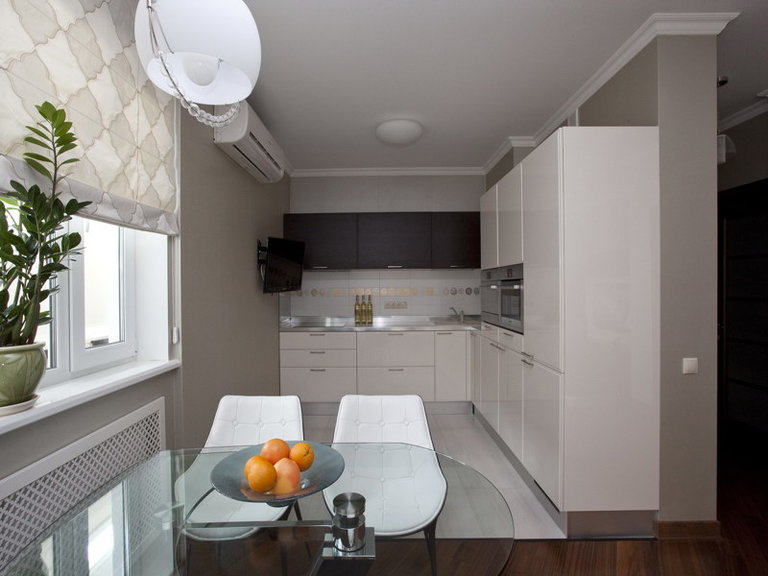 As for color solutions, it would be best to highlight one accent and play around all subsequent compositions and tones around it.
Very often, the main color is green, blue, orange, yellow, all subsequent elements should be in harmony with it and fall within the framework of one style.
Often beige, black or white motifs act as an addition. The main color can be in the form of catchy details – module doors, refrigerator, vase, dishes, curtains or any kind of textiles.
Great importance lighting also plays, which in this place should be bright and expressed in a large number of bulbs and lights in the working areas.
Furniture and work area arrangement
Glossy facades, glass surfaces and laconic lines are all characteristic features of the high-tech style.
It is difficult to imagine the interior of kitchens in a modern style without convenient and practical mechanisms that were previously less known or available. Now the furniture can perform several functions at once, and the appliances are controlled by voice or sensory commands.
Inner part work cabinets can hide a lot more things than previously thought. Now exit panels, pull-out baskets, carousel shelves will help the hostess to remove all kitchen utensils from surfaces without unnecessary problems and free up space for a comfortable pastime.
The new interior in this room does not provide for bulky corner kitchen sofas on its area, or clogging of all surfaces with household appliances. The interior of the kitchen in a modern style is aimed at lightness, individuality, convenience.
In this room, everyone will be able to feel comfortable and calm, engaged not only in cooking or eating food, but also spending time here for their own benefit.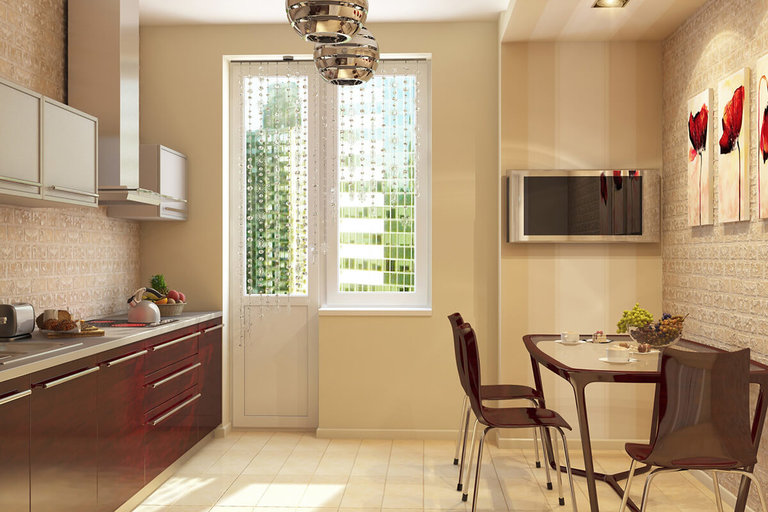 The new kitchen makes this place a comfortable place for privacy, relaxation or work. There will definitely be a lot of light, comfortable chairs, a wide spacious table or a bar counter for a coffee time-out. Anything that can overload this place will be instantly eradicated or amenable to modernization.
Textiles and accessories
New kitchen spaces complete the unity of their style with a variety of accessories and textiles. Embroidered tablecloths, napkins or curtains for the kitchen with a simple pattern or ornament look appropriate and stylish.
Most often, they have a bright and catchy look, becoming the main focus in the kitchen. The textiles in this room must be of high quality and practical to use. There should be few accessories in the kitchen, and they need to be displayed, and not hidden behind front doors.
This can be a container for spices, copper or silver dishes, wicker baskets or decorative vases. Indoor flowers and fresh fruit on wide work surfaces are a good addition to any kitchen.
A contrasting black and white combination is often used in modern interiors.
New generation kitchens are practicality, harmony and comfort. Their work areas will be pleasant and comfortable for preparing the most complex dishes, and the spaciousness will be an excellent place for a meeting of sincere companies and family table conversations.
Nevertheless, kitchen design in such a modern style still remains within the framework of the classic concept of zoning and filling kitchen interiors.