Welcome to our new post Kitchen in Russian folk style: features and subspecies
.
Style features
First of all, it is distinguished by the abundant use of woodcarving, facade murals using old techniques, and the quality of the materials and elements used. Of course, this flavor is complemented by handmade textiles, samovars, kitchen utensils in plain sight and a large oven. So let's take a closer look at all the components of this style.
Materials
The main materials are, of course, wood and stone. In view of this, solid wood furniture is best suited for the Russian style.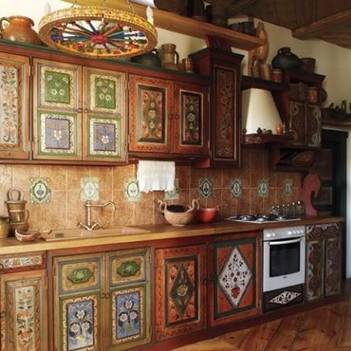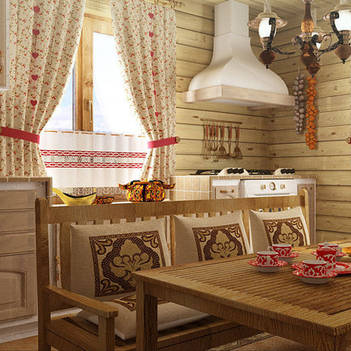 When it comes to choosing flooring, the ideal solution would be to use natural hardwood beams. Naturally, if necessary, you can use laminate, ceramic tiles or linoleum stylized for them.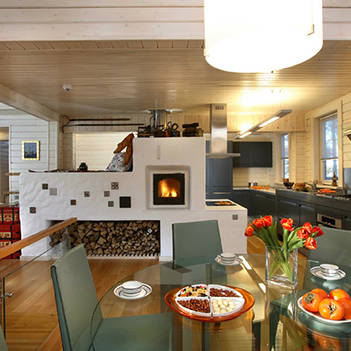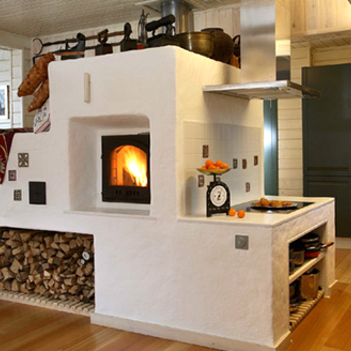 The best option for frames will be wooden with carved platbands. In the absence of the opportunity to install wooden frames, you can pick up a plastic glass unit stylized as wood. For finishing the ceiling, beams or moldings, stucco moldings are used.
Accessories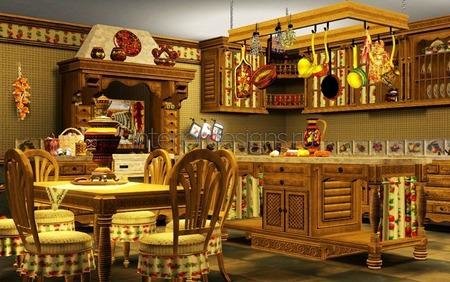 To complement the style, it is better to choose cutting boards with painting or carving, a samovar, homespun round rugs, linen curtains, garlic and onion braids – these traditional items are used to create an authentic atmosphere.
Painting is actively used for decoration of facades, "apron", textiles.
Of course, you must remember that measure is needed in everything. Even if you overdo it a little with such "clichés" as horseshoes, samovars and nesting dolls, the kitchen in the Russian folk style will turn into a tastelessly decorated room.
Furniture and decoration
A solid table with massive stools, open shelves, benches, chests are typical for any Russian-style kitchen. Elements of decoration in the form of folk carving and decorative paintings are required.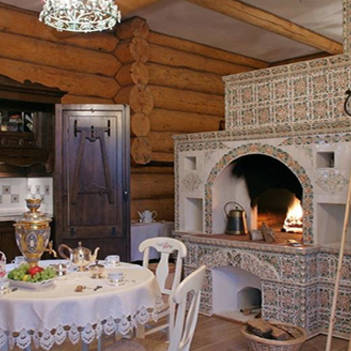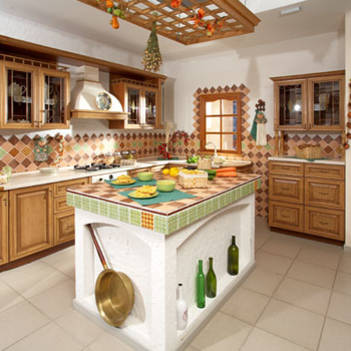 It is highly desirable to hide household appliances behind facades. The Russian stove can be imitated by designing a special outlet for the hood above the stove.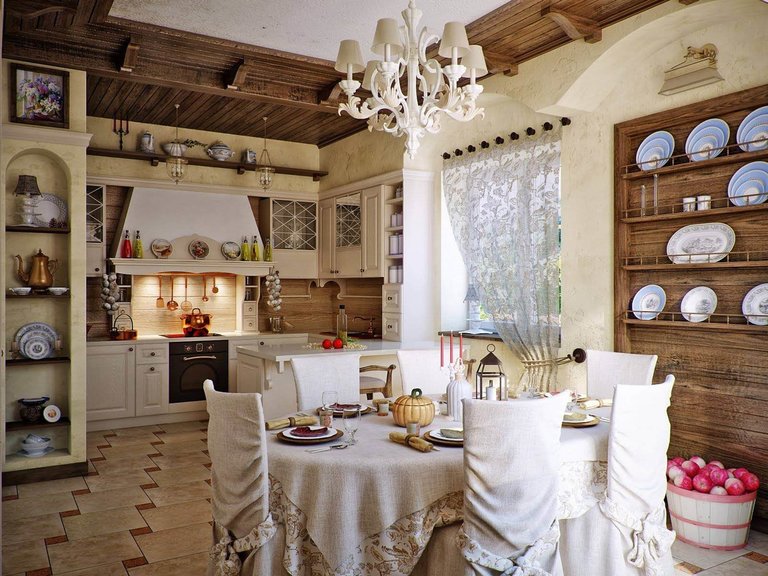 To decorate and decorate doors, hand carving, iron inserts, painting in dark colors are used.
Khokhloma style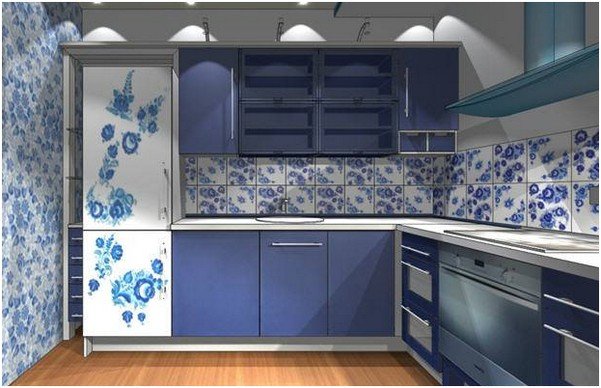 The interior of the Khokhloma-style kitchen is distinguished by a special painting that originated in the 17th century in Nizhny Novgorod. In those days, such a painting was applied to wooden dishes, nesting dolls and other wooden crafts.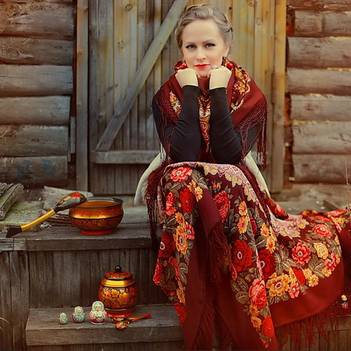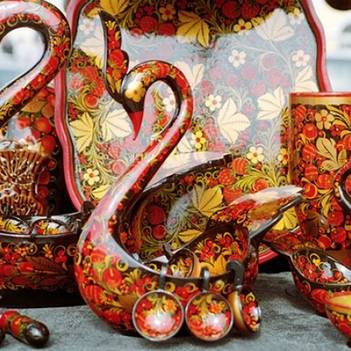 A kitchen set with facades decorated with such a painting looks original and festive.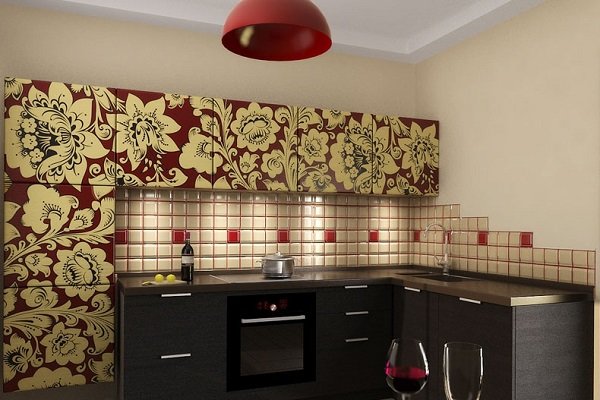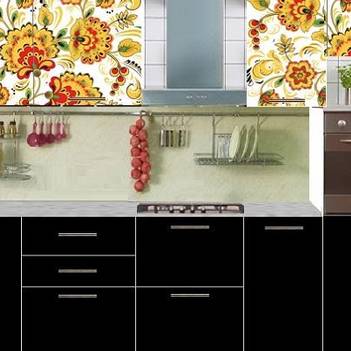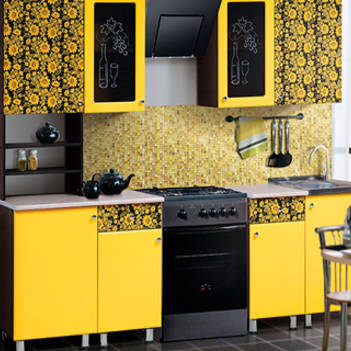 As you can see, the painting adds a touch of mood to the entire interior. If you want to leave the facades of the headset without painting, then you can decorate with "Khokhloma", for example, a kitchen apron.
Kitchen in the style of "Noble nest"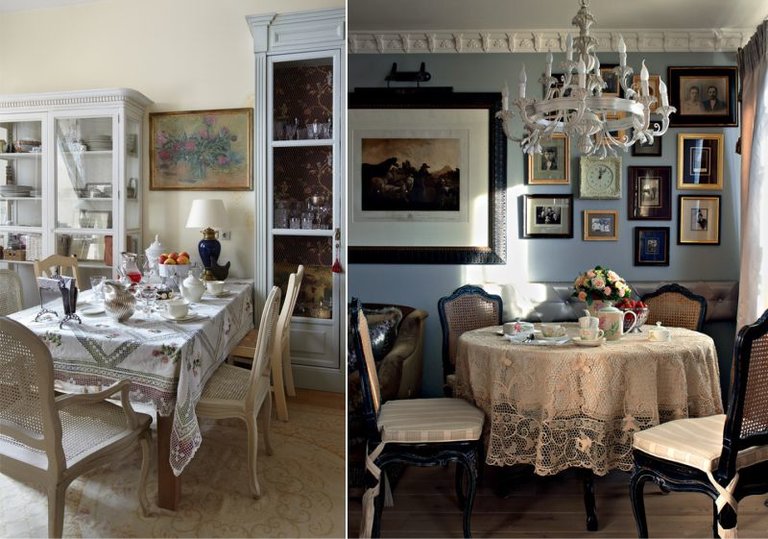 Truly aristocratic and extremely beautiful style. This option is suitable for spacious kitchen areas and, as a rule, it is decorated when the kitchen is combined with the living room. Also, ideally, there should be a lot of light in such a room. In a city apartment, an excellent solution would be to place the largest possible windows in the living room.
The main place in such a kitchen is given to a large dining table. It is desirable that it be of a classic design and dark wood.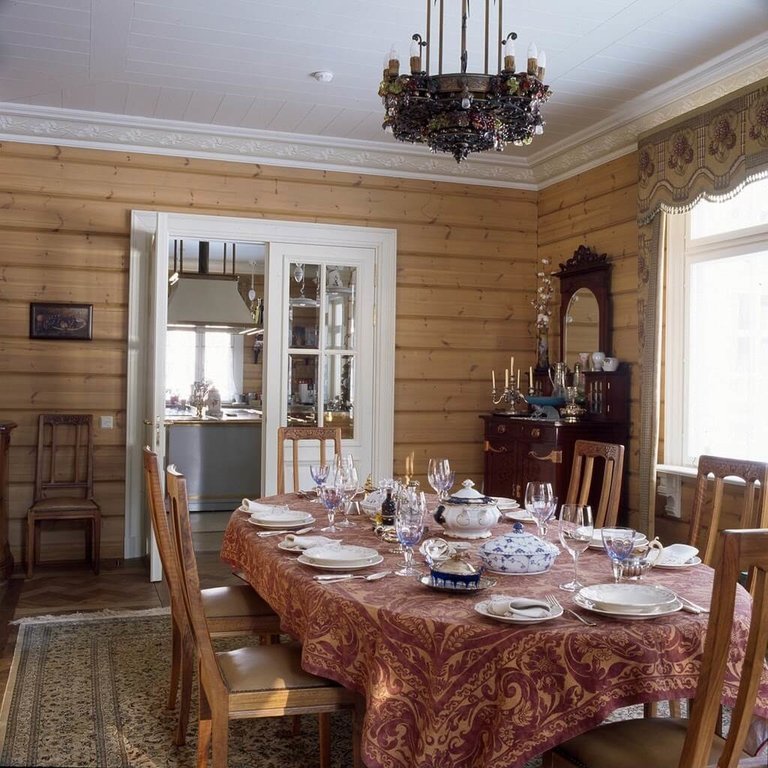 An obligatory element is the cupboard, in which the service, collectibles, various figurines and boxes with pleasant trinkets are beautifully placed.
On the walls of such a kitchen, it is customary to place antique clocks, family photos or passport paintings.
Linen textiles with lace trim or handmade lace are characteristic of the style of a noble estate. Additional decor will be provided by glass decanters, porcelain sets, houseplants.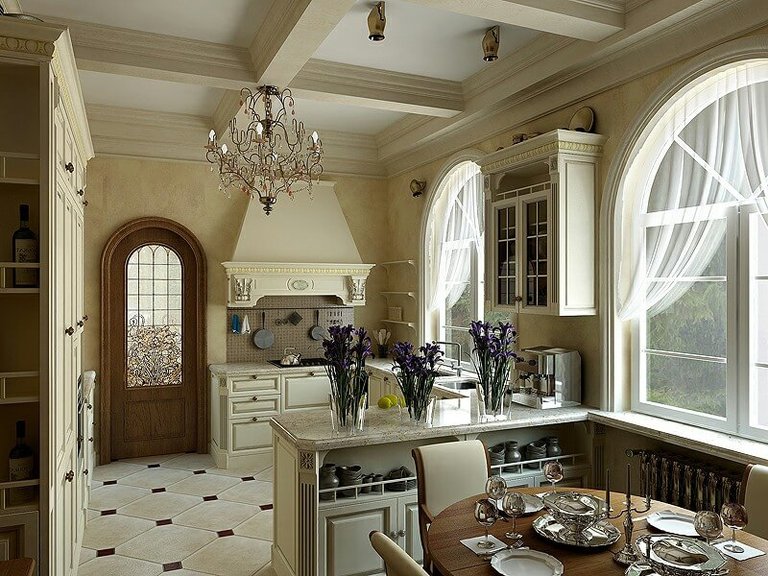 The walls are painted in plain light colors or decorated with textiles. For decoration, it is better to use paintings and family photos.
The interior is notable for its practicality, originality and functionality. In such a room, the energy is always positive. What could be better than being in such a kitchen after a busy day and having a cup of aromatic tea?