Welcome to our updated post Kitchen design with access to the balcony (52 photos of interiors)
.
The design of the kitchen with access to the balcony is beautiful and functional: a selection of photos with practical recommendations will help make sure of this. Let's start?
Redevelopment is not always necessary
A common solution is to simply demolish the wall while insulating the outer extension at the same time. However, it is not always realistic to do this: sometimes it is not possible to obtain permits, and someone, in principle, does not like this idea. In fact, it is not so difficult to harmoniously fit a balcony door into the interior.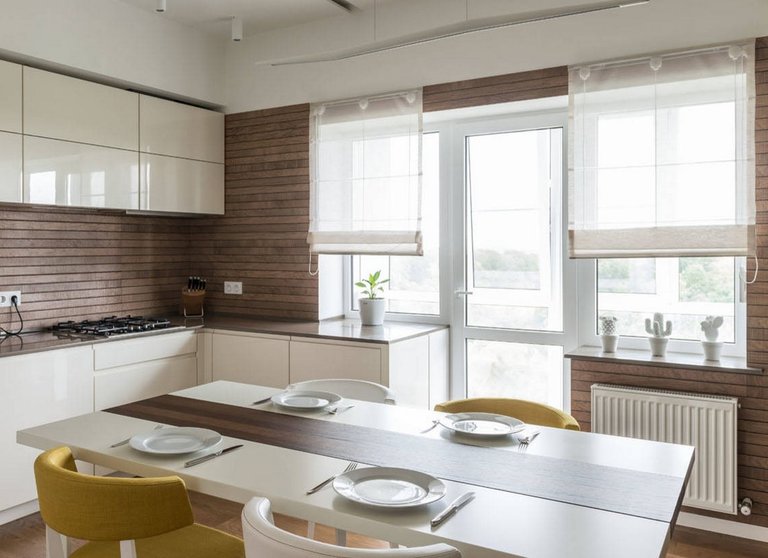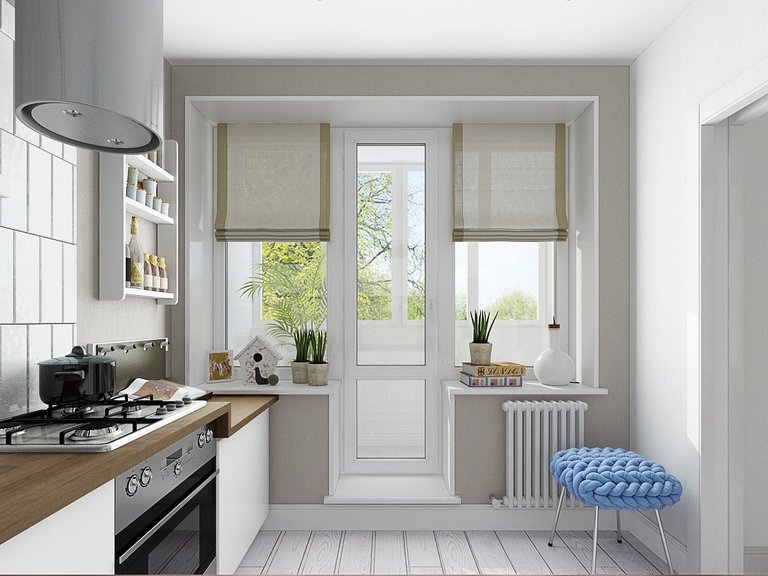 The most important thing here is to carefully consider the choice of curtains.
For a kitchen in a modern style, translucent rolls are suitable – however, for this, the exit must be repaired very carefully. Thanks to their adjustable height, they completely close the door, allowing the window to open. Fashionable and practical.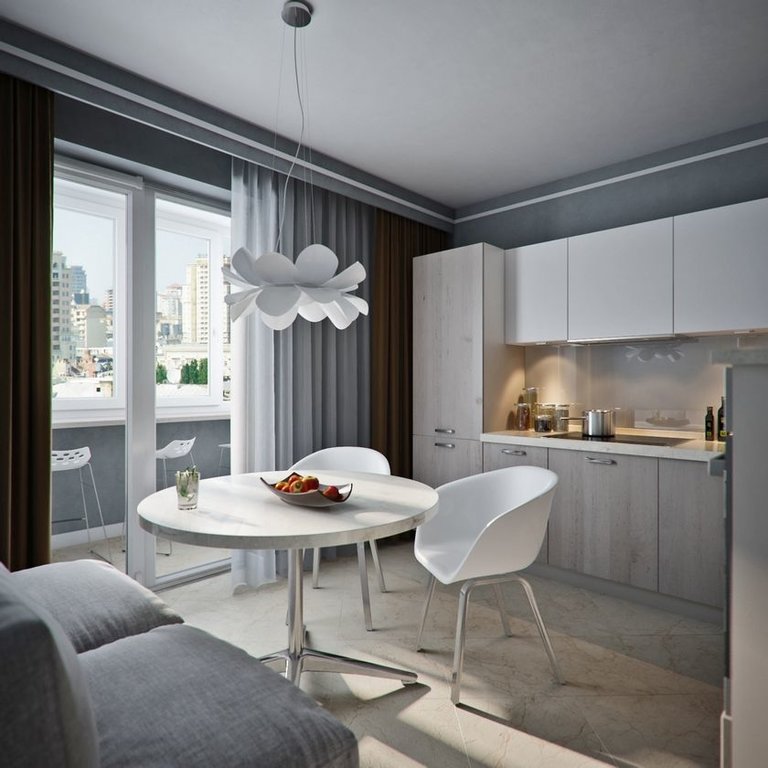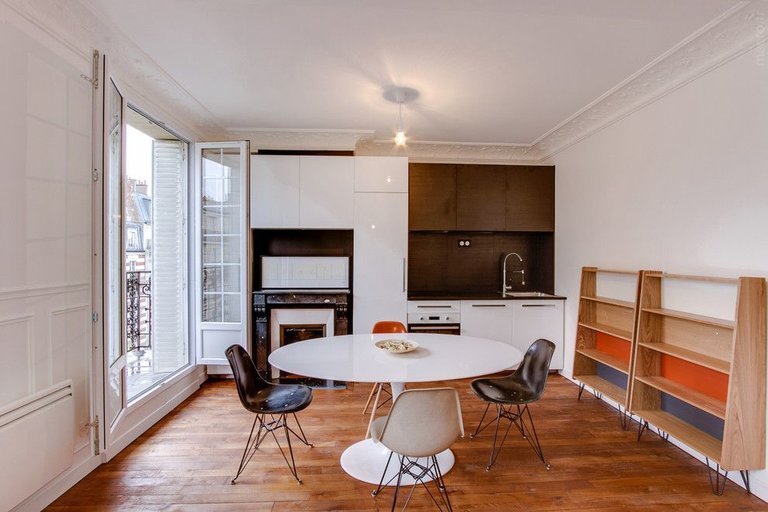 It is not necessary to try to imitate the whole canvas: this solution is also in trend now.
When choosing curtains for a kitchen with a balcony door, do not limit yourself to roller or Roman curtains: a beautiful curtain or tulle is also in the theme. Especially for a classic-style room – such textiles, even in Khrushchev, seem refined.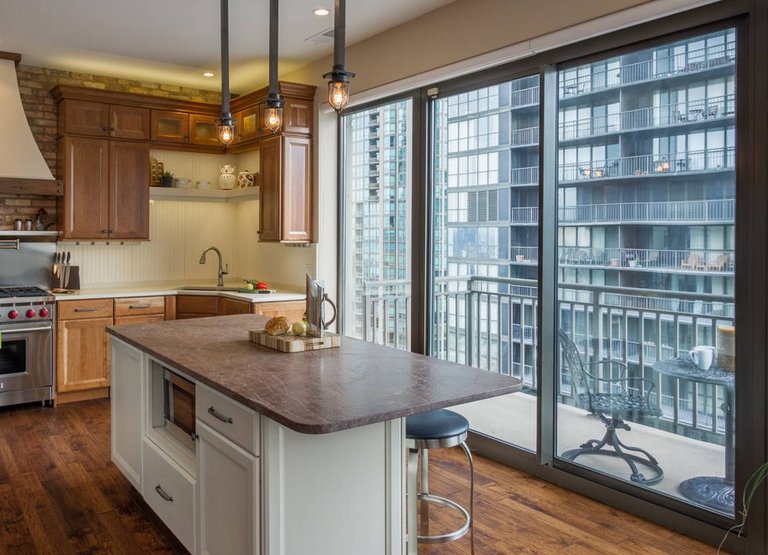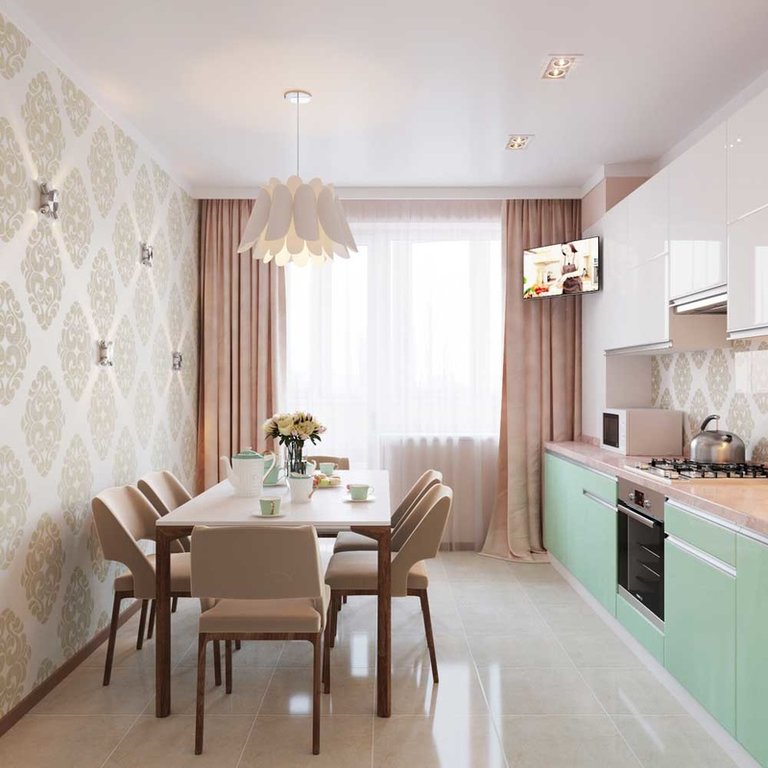 Blinds are also suitable: we personally recommend wood. Eco-design is now at its peak.
Modern idea: Patterned sliding transparent screens are an excellent choice for a studio kitchen. They can fence off not only the balcony, but also the residential part of the apartment. This creates a separate kitchen area – convenient and practical.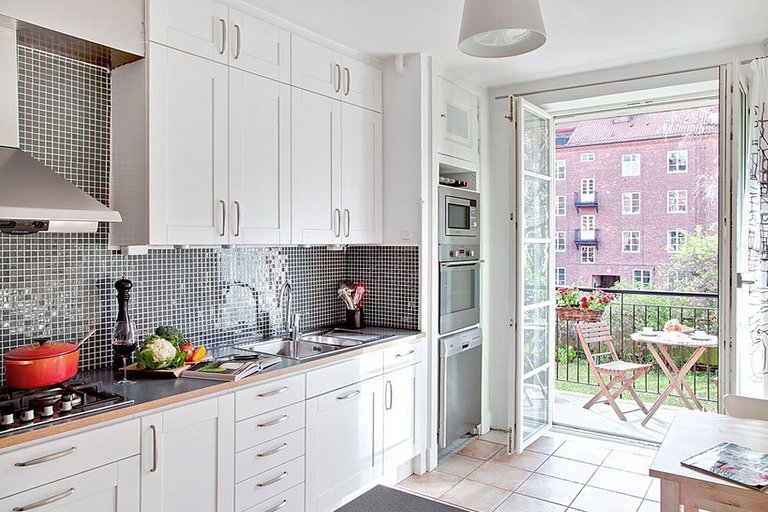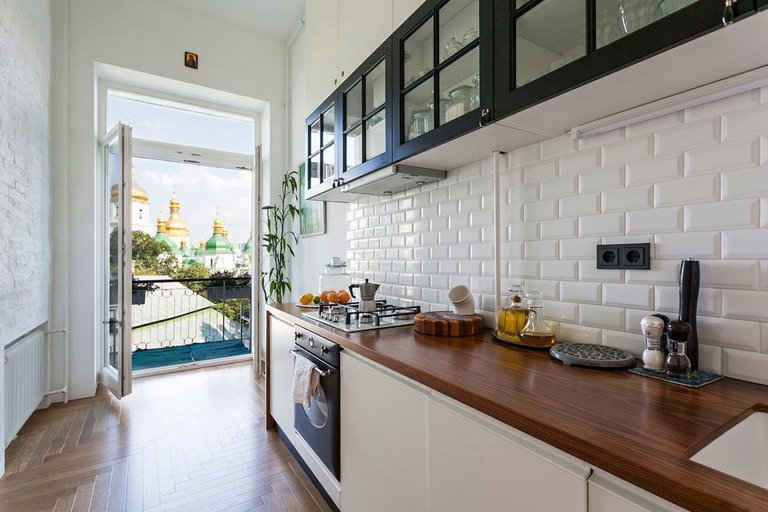 An interesting choice is thin white tulle. She looks elegant, closing the exit. In sunny times, the fabric shines through, creating an amazing airy effect.
However, sometimes the doorway itself becomes an ornament. For example, if you replace the standard door with a French one. It cannot be called a novelty of 2020, but right now it is experiencing a second wave of popularity. A lot of light, convenience, a minimum of occupied open space – in our opinion, the ideal option.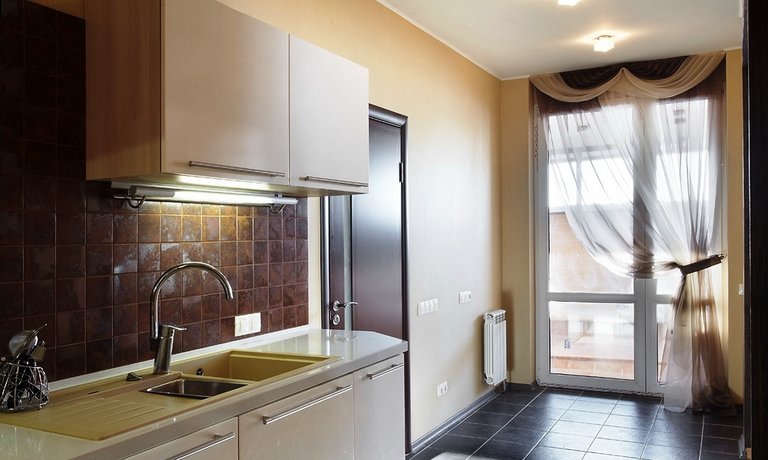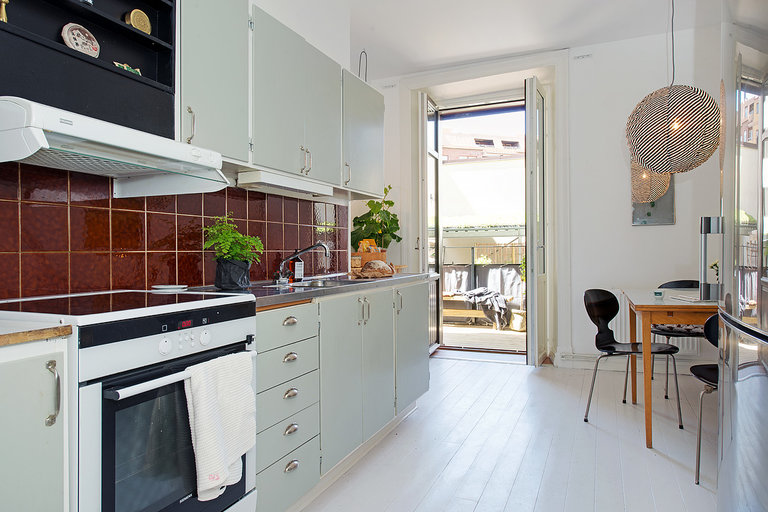 Non-standard move: Do you want to visually enlarge the room without bothering to demolish the walls? Remove the door, and turn the tall window into the floor into its imitation. So it will seem that you have a large, custom-made kitchen.
True, the reception is not suitable for any configuration – it is very important that there is no balcony window in the room.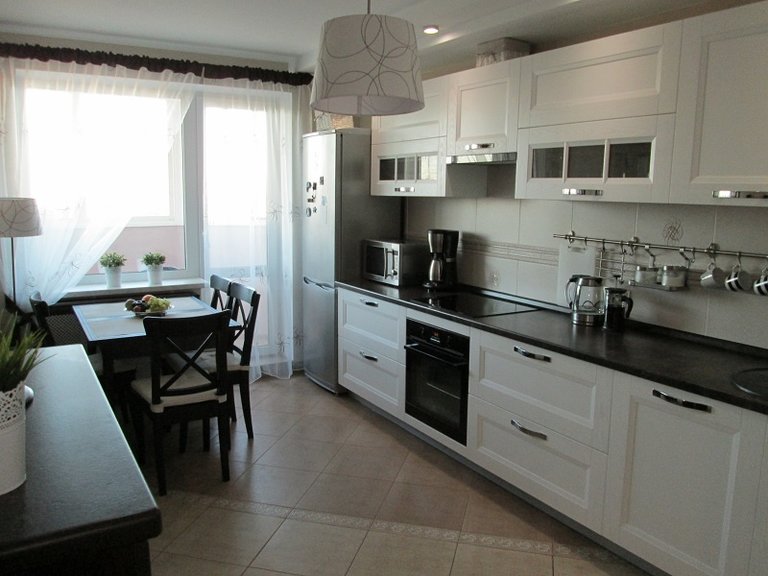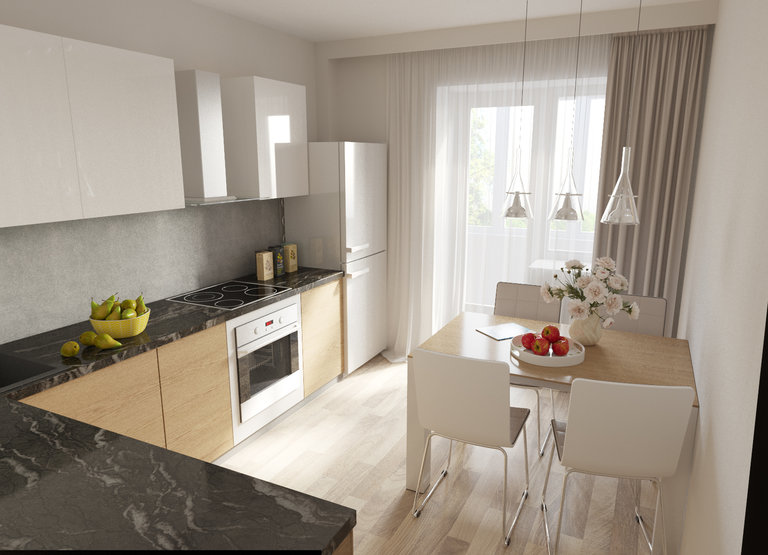 Do you have a spacious but not glazed annex? If the kitchen warms up well in winter, you can make it look like a terrace – so you can have breakfast in a fresh house even in an apartment building. You will have to take care of the appearance of the partition – keep in mind that it can be seen from the kitchen, which means that it must be neat and stylish.
Removing part of the wall
If you want any changes, try removing the door by decorating it under an unusual-shaped opening.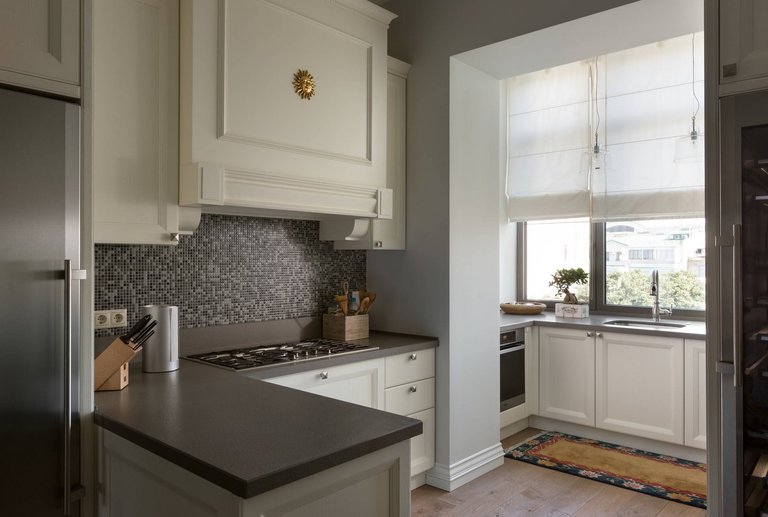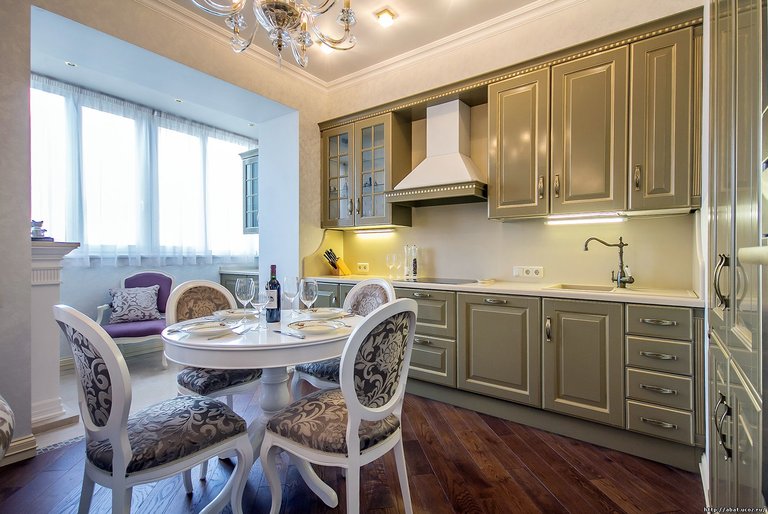 The project of a kitchen with an arched exit to the loggia is not in vain appreciated by designers. In implementation, it is simpler than a complete redevelopment, while adding a significant amount of space. This is especially true in small kitchens, where literally every centimeter is important – for example, 6 sq.m. in panel houses.
If it is about your version, do not get carried away with complex shapes. A regular rounded drywall arch is what you need. Decorate in light colors to make the room seem more spacious. By the way, against such a background, dark wood-like facades look extremely advantageous.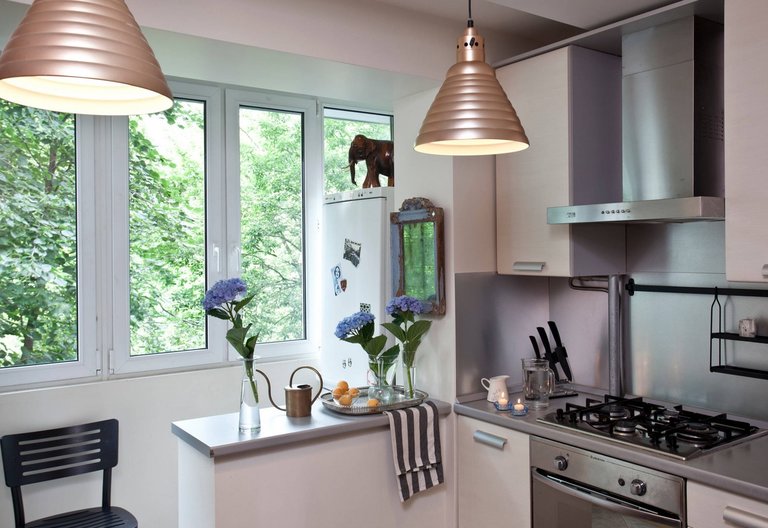 Partial dismantling of the wall also belongs to this category of design projects: you will need to remove the partition above the window without touching the window sill. This technique allows you to create a curly opening. They use it in different ways:
As a simple partition
As an additional work surface
In small kitchens, the former window sill is often adapted for a dining table.
A popular technique is turning into a bar counter. In this case, we recommend equipping the balcony with a lounge area with a sofa and TV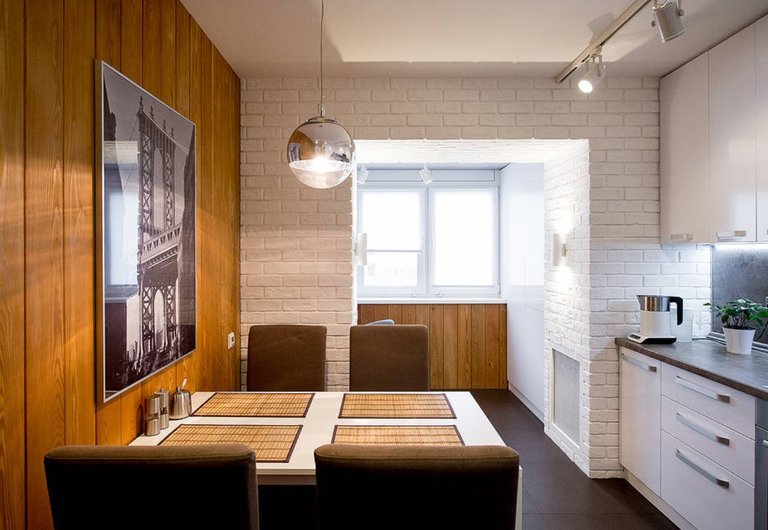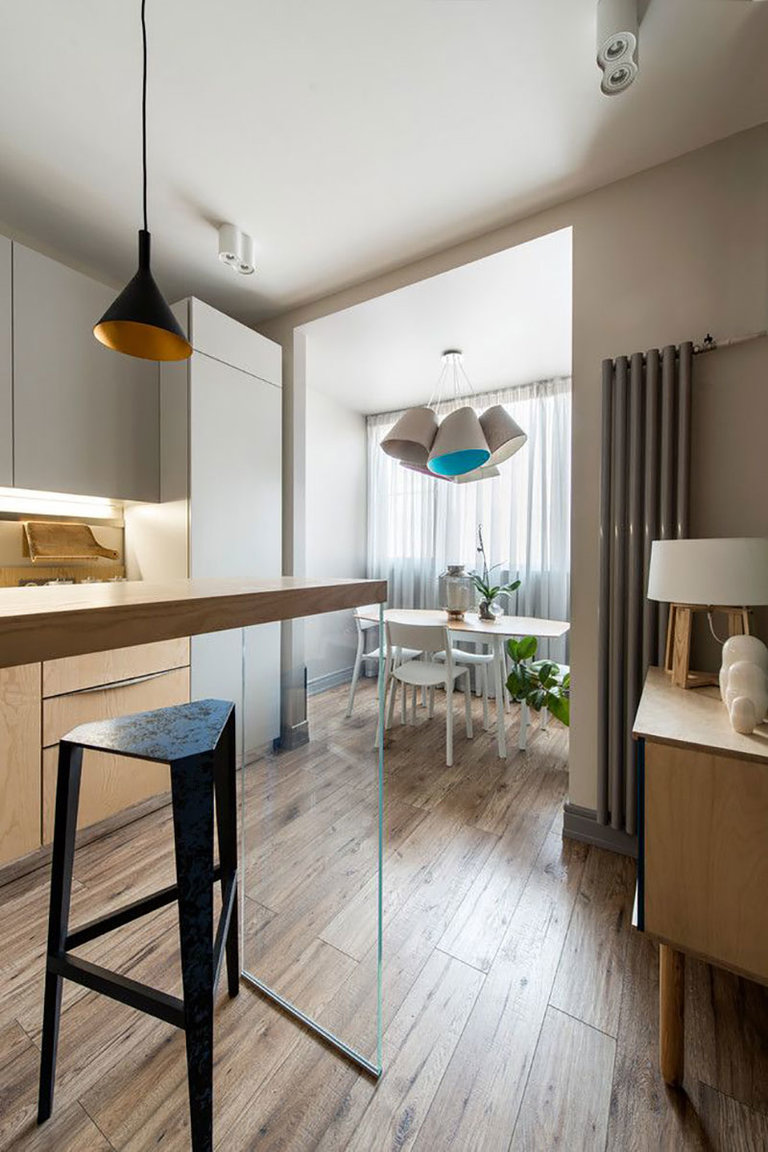 The choice is really wide, so think about what you need.
Are you talking about a corner outlet? Remove the door, and put a refrigerator and several cabinets on the balcony for various kitchen little things. Believe me, a few extra steps will justify themselves: the room will become much more spacious and more comfortable.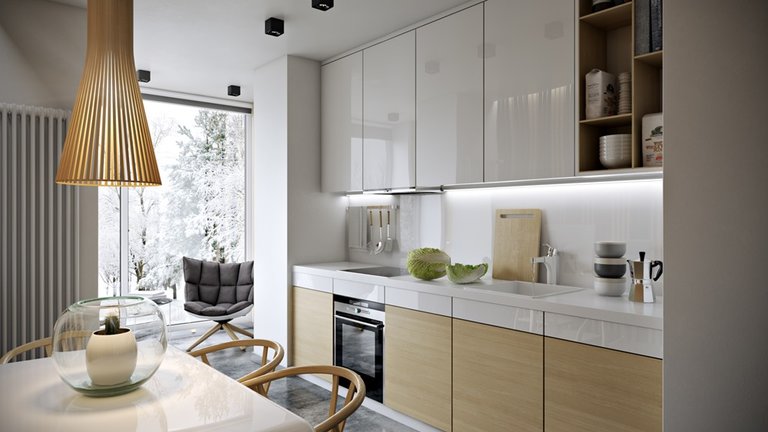 Also noteworthy are the curly arches made of drywall. They look stylish and, if properly designed, will become a real decoration of your kitchen. In addition, it is easy to attach several shelves to such a surface – as practice shows, there are always not enough of them.
Columns have been popular lately. Especially in classic interiors. But here you need to be careful: they do not fit in a small room.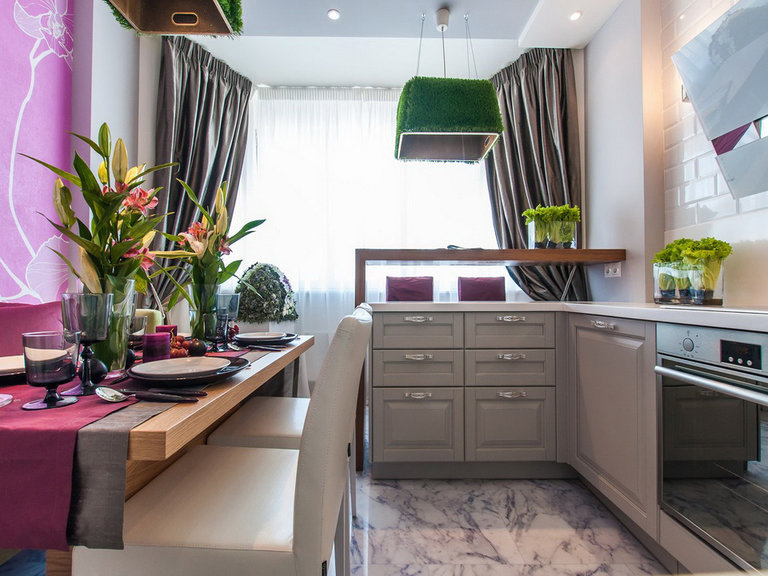 In addition, keep in mind that you will need to demolish part of the wall without affecting the necessary elements. And this is almost a piece of jewelry – you will have to turn to professional builders.
However, there is a simpler option: a column close to the wall. It is suitable for small kitchens, up to 12 sq.m., where you do not want to take up space with decor, combined with a small balcony. Place the dining table where the partition went – a spacious dining room is ready!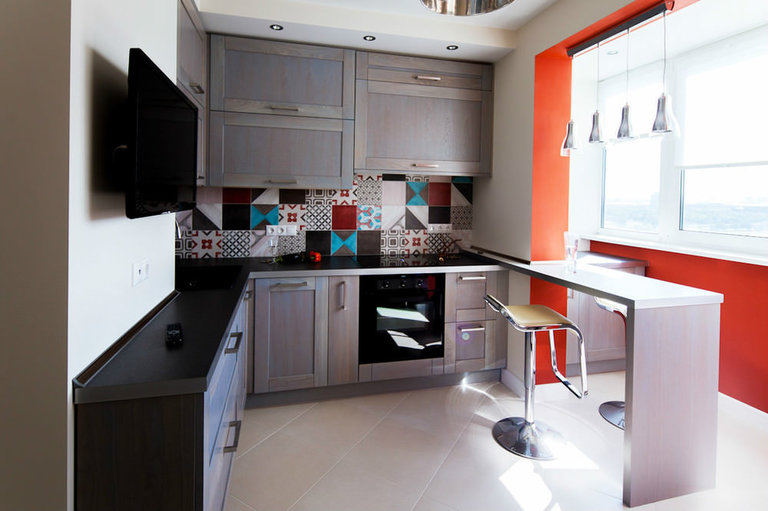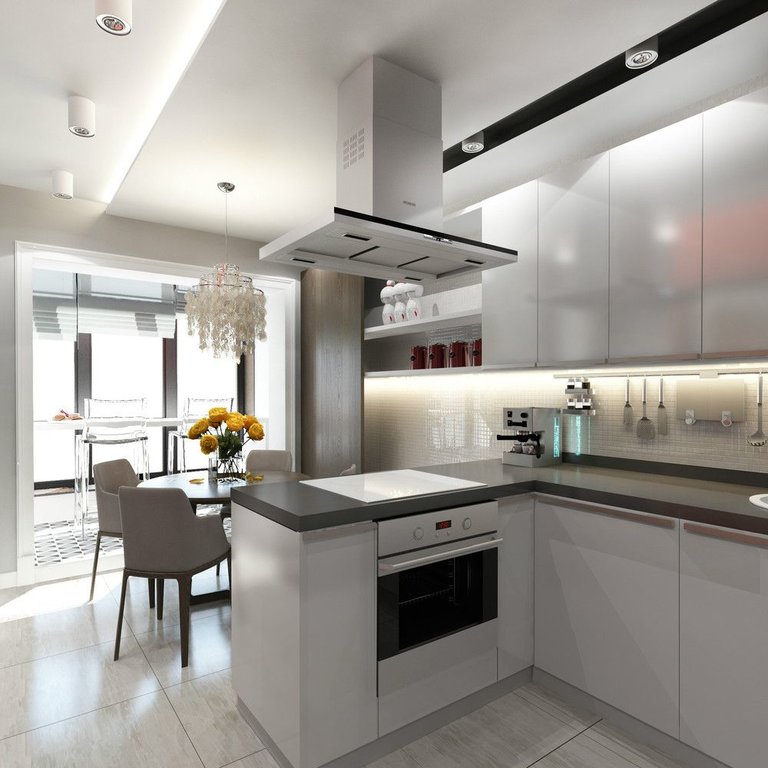 If you decide to leave the wall block on one side, a corner kitchen will help to divide the zones – place one part of it so that it is in the place of the former window sill. On the one hand, the room is perceived as a whole.
On the other hand, you have a clearly delineated additional area that you can use at your discretion: for a dining room, a place for rest.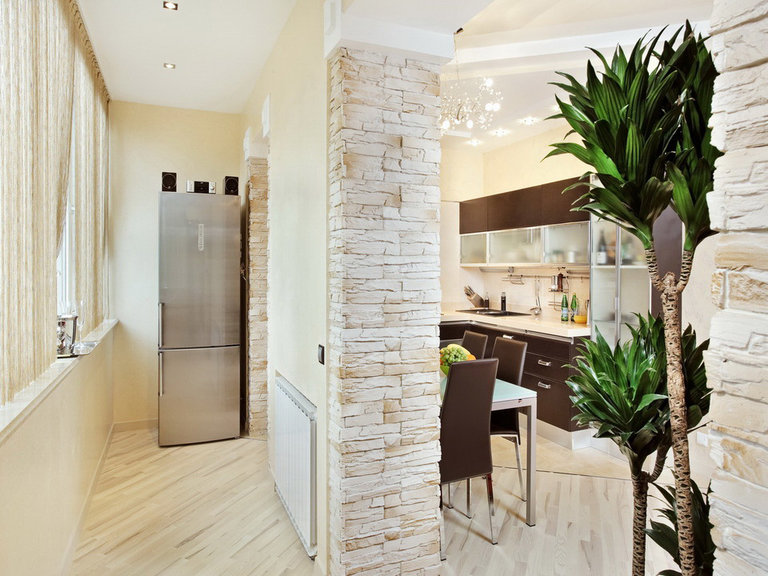 Important: Whatever beautiful picture of the kitchen on the balcony you find, we do not recommend this method. It is too time consuming and often does not pay for itself.
Is the loggia made in the form of a bay window? This is great! Leave the window sill as a partition shelf, and put a curly sofa with two side sections under the window. True, if you cannot find the furniture of the required dimensions, it will have to be made to order. But the picture is impressive – a small kitchen of 10 sq. m becomes much larger.
Complete redevelopment
The most time consuming method is to demolish the entire wall and combine the kitchen with the balcony. There are some nuances here. First of all, a mandatory permit, which is not so easy to obtain.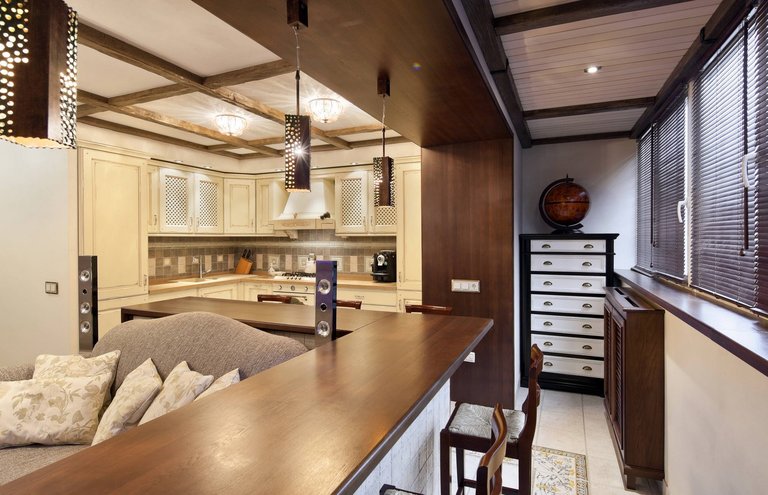 If you have overcome all the bureaucratic difficulties, you need to think over the design project: sometimes the room is almost doubled. Therefore, figure out in advance where to put the kitchen set, what to do with the refrigerator.
Here we will talk about how they are decorated in the interior. By the way, do not be surprised that we took out the columns and arches as a separate item – they still serve as a kind of delimiters. Immediately we are talking about creating a single room of two. How does it look in practice?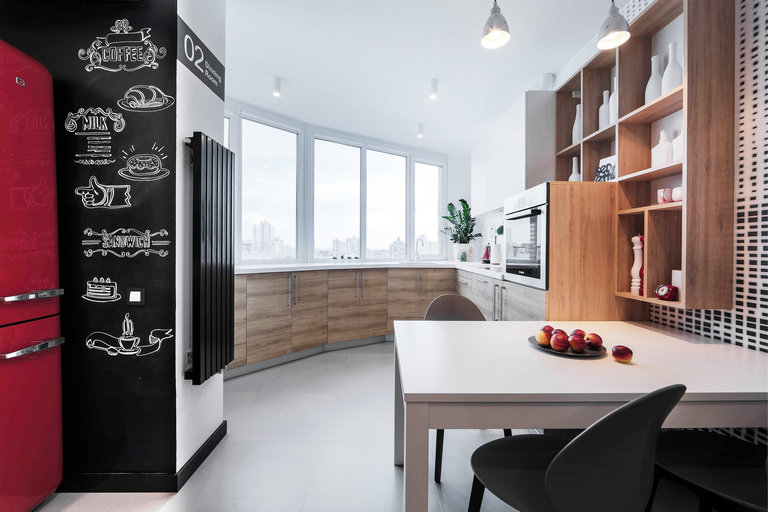 This solution looks great in the loft style: the combination of rough brick walls with an abundance of light and glass looks perfect. The kitchen decorated in this way is a real hit of 2020. Use a combination of different textures and colors. Masthav is a wall imitating masonry overgrown with vines and grass.
If the difference in floor levels is very noticeable, we advise you not to try to smooth it out: this way you will lose some of the height. Instead, use it to put your dining room on the podium. A simple trick that requires minimal effort from you, and the result is extraordinarily good.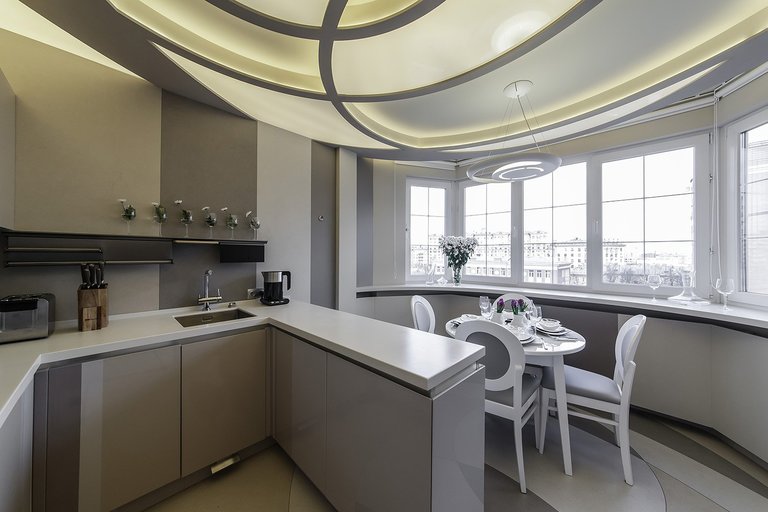 Sometimes the working area is taken out directly to the balcony windowsill. We have already mentioned that we do not recommend it – there is too much hassle with the wiring of the sewerage and communications. But it cannot be denied that it looks stylish, especially if the balcony is glazed like a bay window.
On the other hand, if you are just building a private house, then try to lay such a layout in the project initially.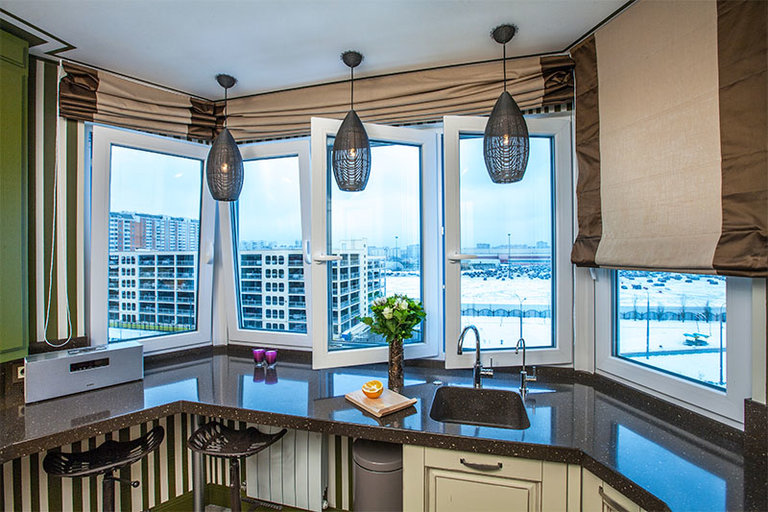 A consistent design style is the key to success. Try to make the transition as invisible as possible. A good example is in this photo: volumetric elements of the wall run along the entire plane, combining the kitchen with the extension ..
By the way: They will also help mask the joints if they came out not too neat.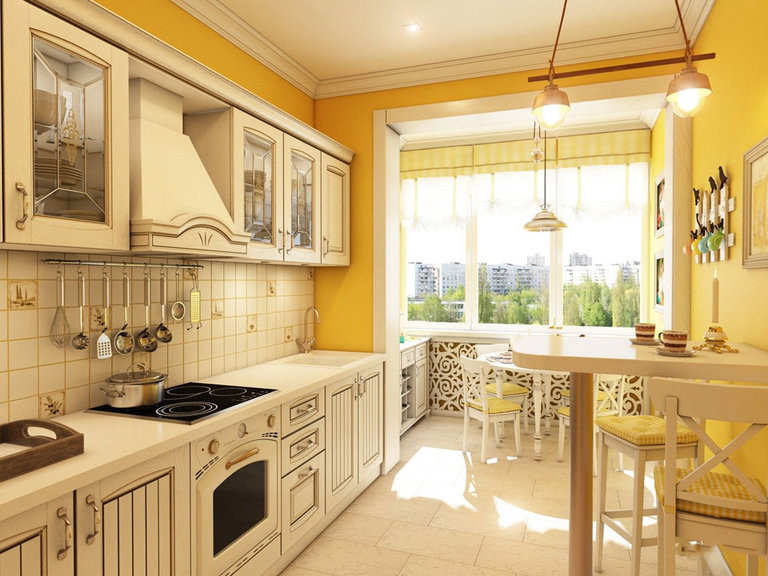 If the balcony is narrower than the kitchen, difficulties may arise with the layout – a strangely shaped room that looks like two squares is quite difficult to decorate beautifully.
There is a solution – pick up unusual curtains in the appropriate style, which, if necessary, will hide the recreation area on the loggia.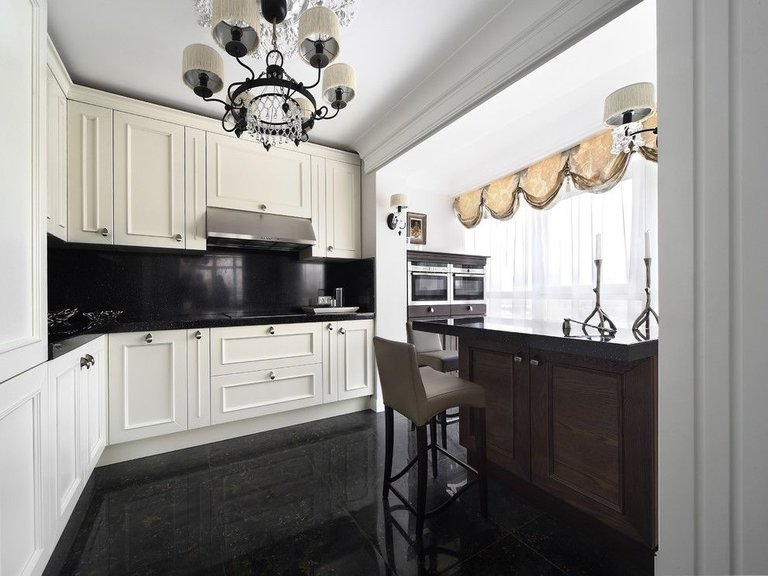 They say that the trend will be the absence of boundaries between furniture. Remove the walls to place the corner close to the headset – an excellent solution for a kitchen of 9 square meters or more. So everything you need will fit, and the room will look stylish and modern, no matter what design you choose.
Renovation of a spacious kitchen with access to the balcony, implying a complete redevelopment, is sometimes hampered by a non-standard configuration. What if the room is large and the loggia is small?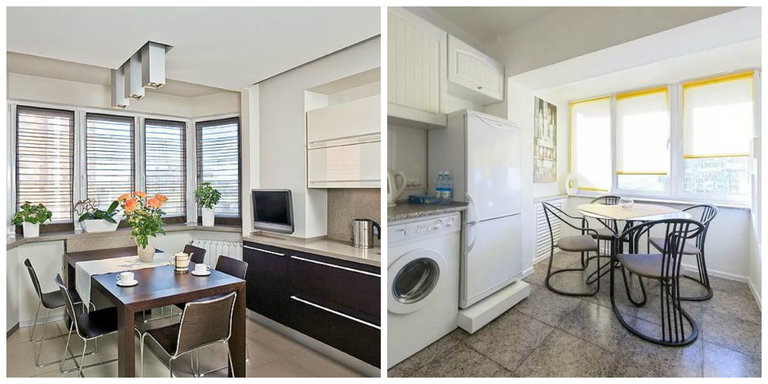 There is no need to give up what was conceived – such a discrepancy is simply played out in the interior. If space permits, arrange a large kitchen-living room in a classic style with a kitchen island and a fireplace.
As for the balcony, this is a great place to put a cozy corner sofa there. Perhaps after such a renovation you don't even need a separate living room – who needs it when the kitchen is so cool?
Non-standard move – carved partitions, placed not parallel to each other. It is best to make them out of drywall and decorate with bright patterns. Then, even indoors in traditional beige or brown tones, colorful strokes will appear, which greatly enliven the design.
Here's a more traditional solution. The demolition of the walls with the removal of the dining room to the balcony is a real salvation for tiny kitchens in panel apartments. Modern design style, abundance of light and, of course, additional space, which was so lacking.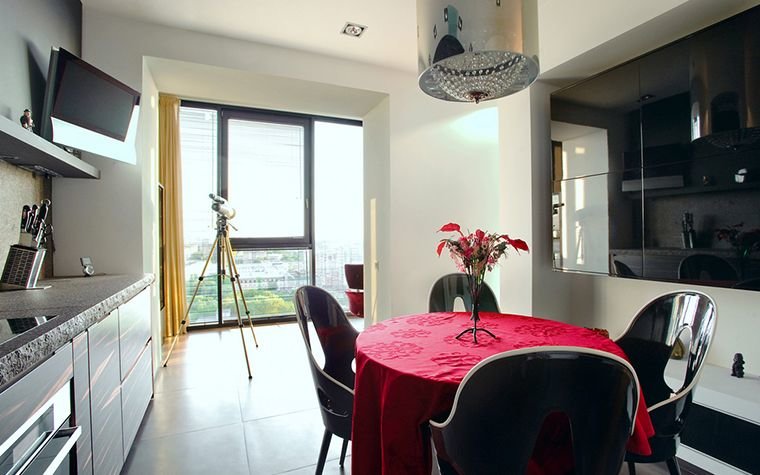 Sometimes there are original solutions that use classical motives. If the balcony is small, why not make a dining area like an ordinary … compartment on a train? Looks out of the box, but no doubt comfortable.
The main thing is to choose the right furniture and adhere to the general style. In this photo, the uncomplicated design looks very elegant due to the use of wood panels.
Well, let's summarize. If you are lucky and the kitchen has an exit, then a wide range of design options opens up: from a simple beautiful curtain to a complete redevelopment of the room.
Which type should you choose? Decide for yourself! The main thing is to choose the appropriate interior style and be able to arrange the space conveniently and functionally.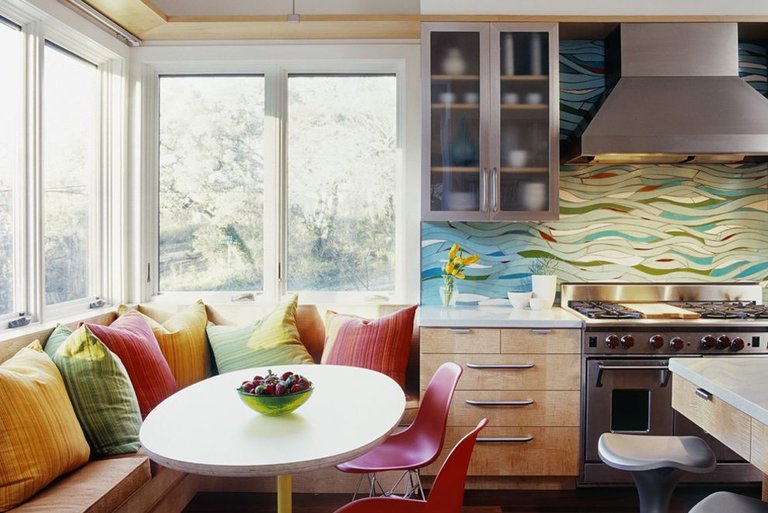 If your kitchen is combined with a loggia, we recommend reading this article – there are many useful tips.