Welcome to our new post How to make the kitchen more comfortable and cozy
.
Original storage – maximum comfort
In both small and large kitchens, the organization of the storage system is of great importance. Even at the planning stage of the kitchen, it is necessary to clearly determine where the dishes, spices, and cereals will lie. It is worth distributing everything in such a way as to minimize the feeling of clutter. You also need to avoid storing unnecessary items in the kitchen.
There are several life hacks that will help you to rationally place dishes in the kitchen. For example, pot lids can be stored on the inside of cabinet doors by making special hooks. Glasses are ideal to keep suspended.
To do this, you just need to securely fix a special suspended structure under one of the cabinets. Thanks to the magnetic strip that attaches to the wall, knives, forks and spoons can be kept in order. But if the spices are distributed in small jars with magnetic lids, it will turn out very interesting if you attach them, say, to the refrigerator.
Such storage methods are quite original and create maximum comfort in the kitchen.
Time is not only money
Despite the fact that modern appliances are equipped with timers, an ordinary wall clock in the kitchen remains a necessary "grandfather's gadget". Indeed, in the preparation of various dishes, you need to separately detect the readiness of some ingredients and add others in time.
Many are accustomed to using the phone for this, but this is not very convenient, because the wall clock will save your smartphone from touching it with greasy hands or covering the screen with flour during cooking.
For the kitchen, you need to choose a clock that will be as practical as possible and at the same time, aesthetic. So, the presence of a second hand will help to accurately detect the time required by the recipe, and the creative design will create a zest in the kitchen interior.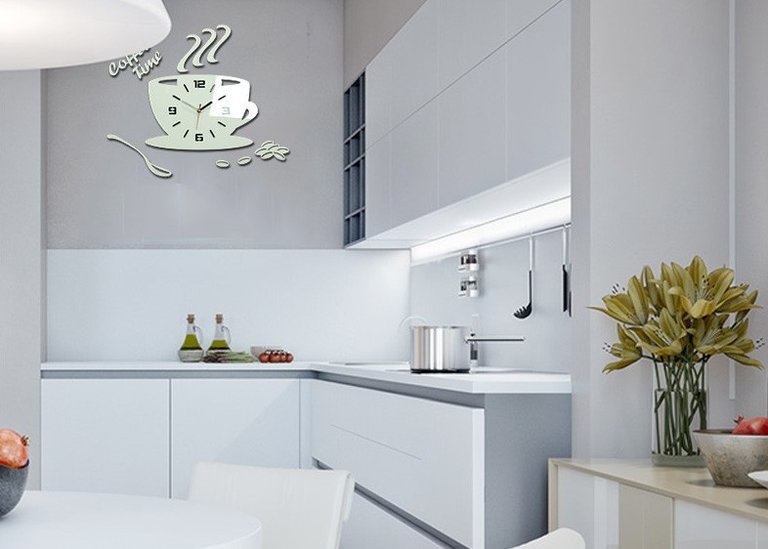 The right light, the right kitchen
Lighting in the kitchen plays an important role, creating comfort not only practical, but also aesthetic.
First of all, cooking in a poorly lit room is detrimental to eye health. Secondlythe brighter the light, the more spacious the kitchen appears, and the interior details stand out and emphasize each other. AND third, good lighting will play an important role in the decoration of dishes, especially in relation to small details.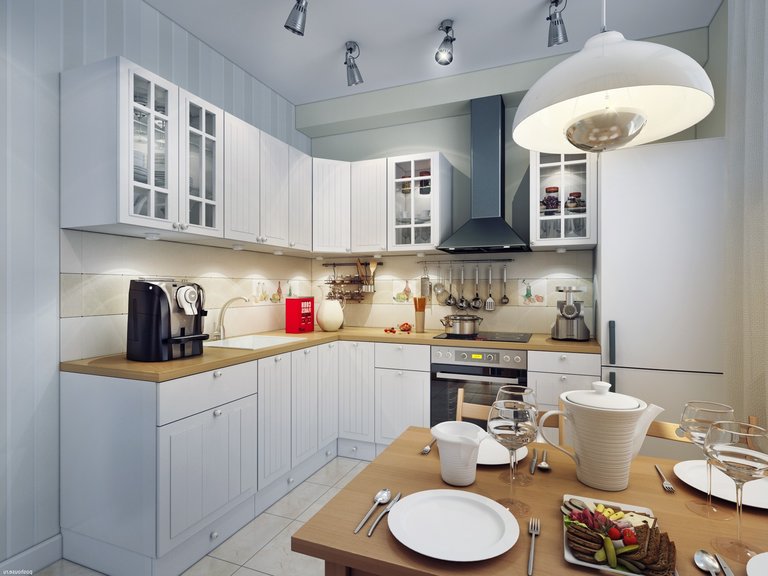 That is why a kitchen with large windows or access to a balcony is especially appreciated. In order not to interfere with the penetration of light, you should not use blackout curtains or curtain a balcony when decorating the interior.
But if there is still poor lighting in the kitchen, then it is easy to fix it with artificial light. Spotlights or LED strips located above the work area and above the sink are perfect for this.
Kitchen is a territory of communication
In addition to the fact that most conversations take place during lunch or dinner, communication takes place directly during cooking.
Therefore, it is important to arrange kitchen furniture so that you do not stand with your back to the interlocutor when cutting various components. For this, the "open kitchen" option is perfect, the main concept of which is good visibility.
In turn, the dining table, at which relatives and friends gather, is best placed closer to the window. For a large company, a round table or an oval shape is suitable. Then everyone will see each other well, and communication will be as comfortable as possible.
Good kitchen – safe kitchen
Any kitchen has its own web of wires, which creates a refrigerator, extractor hood, multicooker, blender, microwave oven, electric kettle … For greater comfort, it is required that many electrical appliances be plugged in at the same time.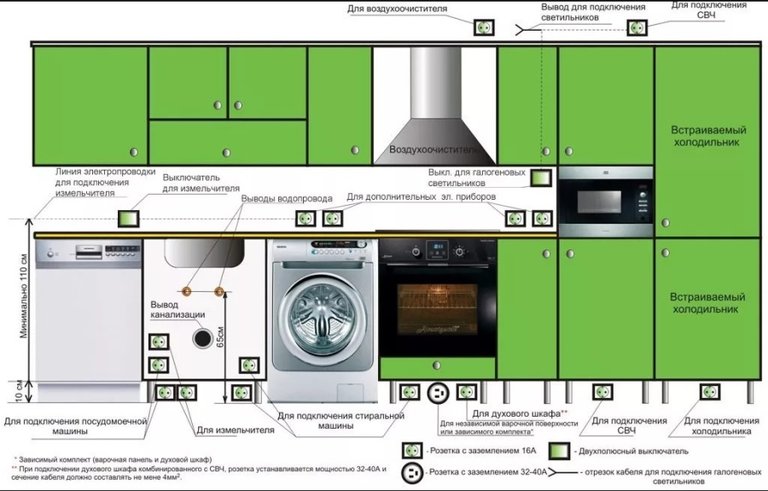 And since there is a constant fuss in the kitchen, sharp objects are actively used and water is pouring, uncleaned wires become unsafe.
In order not to expose yourself and loved ones to risk, already at the stage of kitchen planning, you need to take care of the required number of outlets and points of their placement. This will increase security and eliminate the hassle of fiddling with wires.
But if, nevertheless, it turned out that the wires intertwine and interfere, and there is no opportunity to make additional sockets, it is worth collecting them in special boxes or hiding them in the baseboard or wall cable channels.
Kitchen style is an inspiration for the hostess
Each housewife's kitchen should emphasize her lifestyle. The most comfortable way to cook will be in your favorite atmosphere. It is in such an environment that culinary masterpieces will be born even from simple ingredients.
When creating a kitchen design, you should consider your tastes, even if not expressing them vividly. You can use your favorite color, paintings or other decorative element.
However, it should be remembered that excessive overload of details and attempts to combine different styles should be avoided. Designers say that you need to be able to feel the fine line and not create a sense of bad taste.
In addition, they do not advise trying to highlight the kitchen from the general interior of the house. This, of course, does not mean that all rooms have to be the same. It is best to identify one or more decorative unifying elements that will blend in harmoniously with the overall look of the house.
Plants on the windowsill are not only beautiful, but also delicious
Main article: "What plants are good for the kitchen?"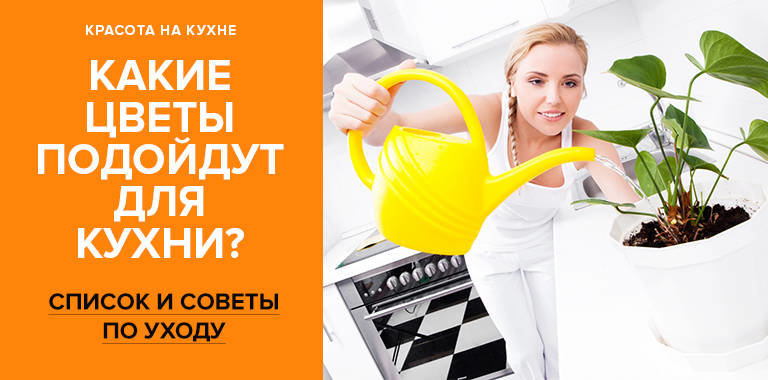 To create a special atmosphere in the kitchen, sometimes just perfect design, modern technology and exquisite furniture are not enough. Indoor plants can fill the interior with freshness and give it a zest, especially if you choose flowerpots for them that will harmoniously match the tone of the kitchen.
In addition to the fact that plants create comfort, cheer up, they are also useful, as they absorb carbon gas and release useful substances.
But it is important to know which plants are suitable for a particular cuisine. For the sunny side, cacti and various succulents are perfect, for example, aloe, Kalanchoe, and all kinds of geraniums. If there is partial shade in the kitchen, then bamboo, dracaena and fern will look original.
In addition, cultivation of edible crops is a rather interesting solution. In this case, onions, parsley, dill and basil will be available all year round to add a spring taste to your dishes, which take root well on the windowsill.
Comfort in unusual useful little things
Main article: "10 useful things for the kitchen"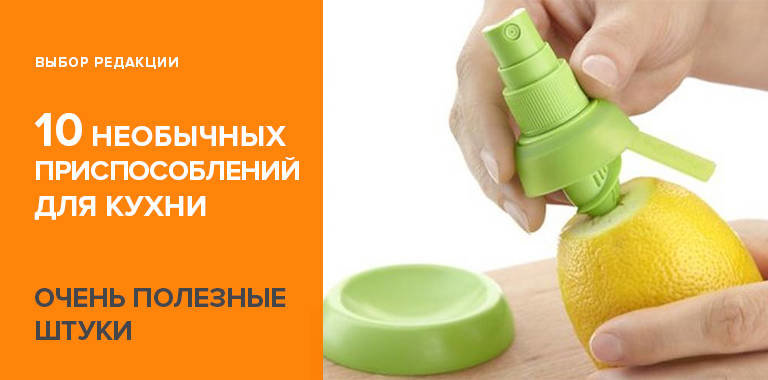 Using only a knife and a stove for cooking is already the last century. Today there are many kitchen gadgets that are very useful and simplify the cooking process.
One of the ingenious features is the automatic egg timer. You just need to put it in water and the sensor will show how much they are cooked, which will help to cook perfect soft-boiled eggs.
It will help housewives in the kitchen not to overdo it with a special spray for sunflower oil and vinegar. It spreads the oil evenly onto the baking sheet and the vinegar into the salad.
For lovers of sweets, a home ice cream maker will become an indispensable gadget in the kitchen. With its help, you can prepare ice cream at home for every taste in any portions. To do this, you just need to hold it in the refrigerator, put the ingredients in it and mix.
In addition, there is also a home hot dog machine. Thanks to him, you do not need to leave the house to enjoy delicious food. And most importantly, when preparing hot dogs in your kitchen, there are no doubts about the quality and freshness of the products.
Time control, style, modernity, safety and pleasant communication are the ingredients for creating maximum comfort in the kitchen. Using these, at first glance, elementary tips, you can increase the quality of food preparation, emphasize the uniqueness of the interior, and most importantly – create warm communication in the circle of loved ones. The kitchen should inspire.