Welcome to our new post Gzhel style kitchen interior: 50 best design photos
.
Distinctive features
Initially, Gzhel was the name of the whole region where clay was mined and, accordingly, turned by craftsmen into porcelain and earthenware products. Gradually, the dishes from there acquired their own characteristics, which in our time have passed into the design of rooms.
Everyone knows the main one is a combination of cobalt blue and white paint. But, of course, the Gzhel painting would not have become known to the whole world only due to the selection of shades.
Remember one more important rule: gzhel shows up in details, decor or accents, not in large areas.
Pick a palette
Although monochromatic interiors are now at the height of fashion, for the Gzhel style it is bad manners. There is no need to follow the path of least resistance and use only white and blue colors.
An exception: An abundance of cobalt shades is acceptable in a spacious and bright room. And then, we recommend diluting it with a couple of color accents. In a small or shaded kitchen, blue will have to be used very carefully.
It is better to dilute the traditional combination with other tones., preferably neutral and warm. Good choices: shades of blue, beige and brown, green, cream and orange. Small blotches of black and yellow, small items made of bronze or gilded look piquant.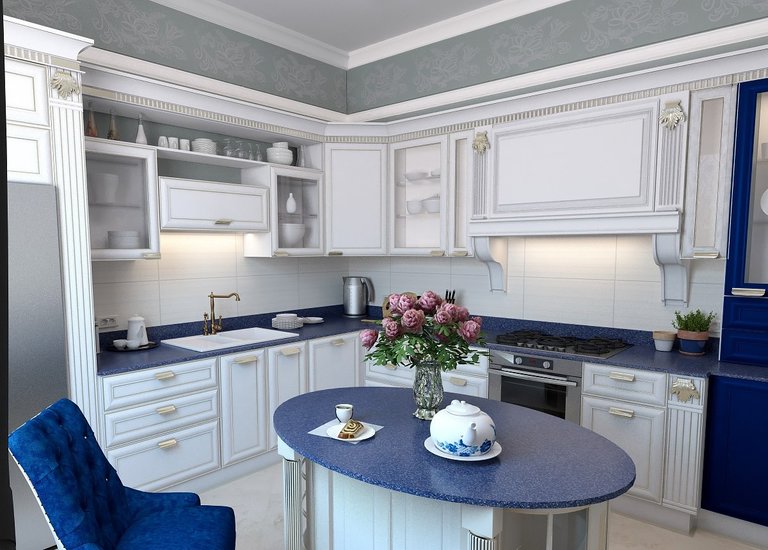 You will find a complete set of recommendations on the principles of color combination in the interior of the kitchen in this article.
If you are not confident in your design skills, try one of the tested schemes: white walls with subtle blue painting, neutral floor (brown or beige), suite with white decorated facades, light furniture and white and blue curtains. And, of course, the corresponding china dishes.
Combine with other styles
Gzhel can be not only the dominant component of kitchen design. It is a nice addition to many traditional styles.: provence, country, Russian folk …
For them, the Gzhel painting will become an unusual decoration that harmoniously complements the overall environment.
However, it will be appropriate in interiors rich in details: shabby chic, art nouveau or fusion. True, it is important not to overdo it here – if there are doubts about the harmony of such a combination, choose another option.
Interesting trick: Sometimes Gzhel is found even in unexpected combinations. For example, in the high-tech kitchen. Therefore, if at first glance some combination seems ridiculous to you, do not rush to abandon it – perhaps you have found an excellent design solution.
If some style is self-sufficient in itself, for example, Moroccan, then Gzhel is hardly suitable. Its use in oriental interiors is also doubtful – although if you manage to design harmonious eclecticism – why not?
These are common points without which a beautiful interior will not work. What about the details?
Furniture
It would be a mistake to purchase a set and a corner, completely painted with Gzhel patterns. remember, that the main thing is moderation and grace…
When it comes to materials, you have relative freedom here: wood, MDF, chipboard, frosted glass, facade tiles, imitation stone, plastic… But the metallic will be out of topic.
Back to the design?
We advise you to do one, maximum two large accents – then the interior will be harmonious and airy. So, if you decide to apply the painting on the facades of the lockers, then chairs or sofas should be purchased just to match them. And vice versa.
By the way, modern design trends allow the use of not only traditional mosaic patterns. Made in this style thematic drawings is a very fresh solution that has not yet become too widespread. Look at this photo – interesting and not beaten.
Avoid overly fanciful shapes for simple, rounded silhouettes.
If such a design of the main elements seems too catchy, buy monochromatic ones, choosing from numerous shades of white and blue colors.
Upholstery can play a very important role. You can choose painted or with a pattern similar in theme – silhouette landscapes, elegant abstraction. The main thing is to remember about the combination of colors.
Apron
The space between the bottom of the headset and the shelves is a great place to reveal all the beauty of the Gzhel painting. And this, in general, is logical – faience tile is quite a canon choice for its application…
It all depends on your preferences. Both small elements that duplicate each other and the general ornamental canvas look good.
The more noticeable the Gzhel on the apron, the more modest the rest of the interior should be.
Be sure to consider the dimensions: if the strip of the apron is narrow or too long, then it is better not to use massive patterns. Conversely, on an overly working area, a three-dimensional pattern will slightly smooth out the imbalance.
Walls
It doesn't matter what kind of kitchen you design: in an apartment, a private house or in a country house – the recommendations will be general.
For the interior of the kitchen in the Gzhel style, the walls can be decorated in two versions:
Solid color light fine finish

, such as beige or bluish. Choose any of the shades suggested above – the main thing is that it is in harmony with the rest of the elements.

White painted walls will do

if you want to focus on them. But if you are planning a large-scale pattern – say, as here, other design components should be as simple as possible.
Floor
Gzhel on the floor looks very … peculiar. Therefore, it is better to limit yourself to a monochromatic coating that does not distract attention.
Wood, light laminate, linoleum… Give preference to such materials – they are perfectly combined with the concept of lightness and airiness.
A small carpet from the above-mentioned color scheme is in full harmony with the Gzhel painting – they are traditionally used in "Russian" interiors.
Ceiling
But with him variations are possible. Of course, more often the main focus is shifted to walls or pieces of furniture.
In this case, the ceiling should be made white or beige, blue or gold … But if you plan to add originality, try painting it.
Patterns around the chandelier, fresco in the Gzhel style, thin mosaic on the entire ceiling… The options are almost endless.
However, I would like to focus on lighting. Spotlights are not the most successful addition for folk Russian decoration. The same applies to LED strips. But classic chandeliers with graceful decorations will fit…
The main thing is that they do not seem too massive and do not visually overload the ceiling.
As you can see, the recommendations for the main components of the room are quite similar: combination of blue and white, lightness and airiness, harmony and grace. But, as everyone knows, the details make the interior.
Let's see how you can adequately beat them?
Curtains
In many ways, it is they who provide additional comfort in the kitchen. But within the framework of this style, you should not make them too pretentious – simple, even curtains are best suited.
For the Gzhel style in the interior of the kitchen, you can also choose plain curtains blue or white. If you need a color accent, play with tones – but do not deviate from the main scale.
Multi-layer curtains and blinds are not the best option. The former are too distracting to themselves, while the latter are difficult to harmoniously fit into the interior.
Oddly enough, the Indonesian technique "batik"(Painting on fabric with wax) goes well with gzhel. Therefore, curtains with an elegant pattern of matching shades are an excellent choice.
Dishes
Real porcelain with Gzhel painting is not the cheapest pleasure. But you don't have to buy the whole set – just a few beautiful cups and plates are enough. Match the rest.
By the way: This style is characterized by the use of dishes not only for utilitarian purposes, but also as a decor. Arrange painted plates or glasses on the open shelves.
The same can be said about vases, dishes, candy bowls. Do not try to place them on any horizontal surface – confidence is our everything.
Appliances
If imitation is more often applied to the walls and ceiling, then, oddly enough, it is household appliances that can actually be painted. If you wish, you can do it yourself – the main thing is to stock up on suitable paints and stencils.
Gzhel looks good on the doors of ovens or refrigerators, but here it is worth remembering the scale – the smaller the "canvas", the more elegant the pattern should be.
Unusual move: Sometimes gzhel is also applied to plumbing. It looks strange, but why not? Such small accents are suitable for interiors in a different style, where you want to add a few elements of the Gzhel painting.
Textile
Tablecloths, towels, oven mitts, sofa cushions … These accessories can complete the picture or ruin it completely.
Therefore, choose them carefully: natural materials, appropriate colors. An interesting solution maybe … embroidery in the Gzhel style. The main thing is that she should not be too intrusive.
As you can see, the combination of white and blue tones with thoughtful inclusions, an abundance of light and graceful lines help to create a beautiful kitchen interior in the traditional Russian Gzhel style. The main thing is to think over the details and correctly arrange all the elements.