Welcome to our new post design tips + 50 photos of beautiful interiors
.
1. We decorate the walls
It doesn't matter what inspired you – an American-style bar or a tiny street-side Parisian cafe. Particular attention will have to be paid to the choice of finishing: the final result directly depends on their quality.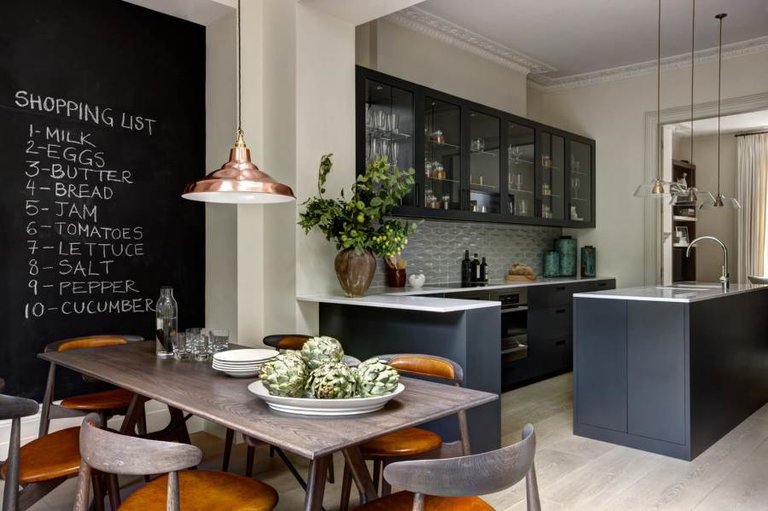 Give preference textured materials: stone or its imitation, decorative plaster, brick, specially processed metal. Anything that has a raised surface will do.
However, you should not give up on more traditional coatings. Wallpaper and paints will do. The main thing is to arrange them so that the atmosphere of the interior is created in a bar style.
Non-standard solution: Recently, wall panels that are outwardly indistinguishable from masonry or natural wood have come into vogue. Moreover, they cost several times cheaper. We recommend you try it.
Can be used wallpaper… The image must be selected based on the style: landscapes are suitable for an Italian cafe, and catchy inscriptions for a loft bar. We advise you not to stick them on the entire wall surface. A small area is enough.
False windows – mirrors or backlit prints that imitate a real window. They look good in both small and large kitchens. This technique looks especially original on a stretch ceiling – we recommend it.
As for the rest of the decor, here you are free to choose: paintings, frescoes, murals, retro photos, all sorts of little things. Imagine the perfect bar and try to recreate it at home.
2. We work with the ceiling
Everything in the interior can be flawless, but if you make a mistake in decorating the ceiling, you will have to forget about the design of the kitchen in the style of a real cafe. Much depends on the decoration of the walls – it is still important to adhere to similar motives.
As for the materials, here we recommend the already mentioned stretch fabric, drywall with wooden beams, textured embossed wallpaper or large tiles.
Focus on what style of cafe you prefer to see. It is probably worth spying on the idea in your favorite place for a morning cup of coffee or a business lunch.
3. What about the floor?
It's even easier here. Any traditional coating is suitable for it – from laminate and parquet to linoleum.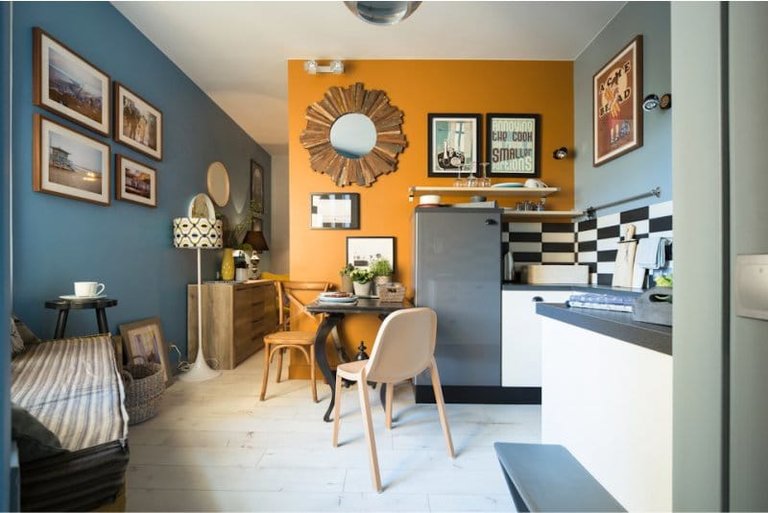 However, if you want to keep up with the times, think about clinker tiles – they are used in real cafes. Many colors and textures, high wear resistance – in our opinion, there are practically no shortcomings.
4. Without a bar – nowhere
However, this statement does not need proof – where have you seen a bar or pub without it?
True, there are some nuances here – it is difficult to place it in a small closed kitchen in a Khrushchev building. Unless, instead of the full-size version, make a thin hinged panel or re-equip the window sill.
But in spacious rooms and studio apartments – what you need! Firstly, it will become a functional working area and an original decorative element. Secondly, it will additionally help to zone the room, separating the kitchen from the room.
We recommend choosing models with hidden cabinets – this is very convenient.
5. Let's pick up chairs and a table
If everything is clear with the counter – you need stylish bar stools suitable in height, then what to do with the dining table?
Furniture should match the atmosphere of the "establishment" that you are trying to recreate in your kitchen. A discreet classic for a retro coffee, more gloss for an American bar, an elegant vintage if you want to find yourself in a coffee shop in Paris …
Seemingly obvious things that many people forget. Your main goal is to create a holistic interior.
When it comes to materials, focus on traditional bistros and eateries – you're unlikely to be able to turn your kitchen into a real restaurant. Moreover, this is a slightly different style.
Wicker rattan furniture is the best choice for European cafes. If you prefer the type of establishments like in the USA, pay attention to sofas with lacquered upholstery and tables with plastic top.
6. Kitchen set
Perhaps, it is about him most of all controversy – after all, in most catering establishments, the kitchen is hidden from the eyes of the visitor.
You are faced with a difficult task – to turn him into a full-fledged "participant" of the cafe.
Here you should be guided by the following rules:
Wall cabinets

– not the best solution. Try to replace them with open shelves that are more in keeping with the spirit of the cafe. Of course, it is hardly possible to refuse them – unless you have a convenient pantry next to the kitchen where you can store all the cooking utensils and small household appliances.

For studio apartment

or a huge room with a separate dining area, we recommend going the opposite way – turning the working part of the room into a real professional kitchen for the chef. Here metal surfaces, wide countertops and a large number of appliances will come in handy.
Choose the headset itself by the width of a similar bar counter, turning them into a single structure. This will help smooth out visual dissonance and hide the "extra" element in the real bar.
The ideal solution is a corner kitchen that turns into a bar. Everything looks as natural and stylish as possible.
7. Color palette
Perhaps in other articles you have noticed that we bring this parameter almost to the first place.
It won't work here. Each option should be considered separately, so it is difficult to give any recommendations. But let's try:
For a classic American bistro

you need bright shades – blue, green and, especially, red. Beige and white tones will also be appropriate.
Muted burgundy, azure, all shades of beige are more suitable for Italian and French cafes. Don't bet on brightness, but on overall elegance.
If you are closer to restaurants with a Scandinavian interior – why not? Try to combine light colors and wood. For example, a white headset with wicker chairs.
As you can see, these tips are hardly strict rules. Many factors play: natural lighting, your design project, the size of the room …
8. By the way, about light
If your goal is to create a kitchen a la French cafe, choose elegant chandeliers and small lamps for tables. The latter will help provide a romantic twilight – almost a must-have for such places.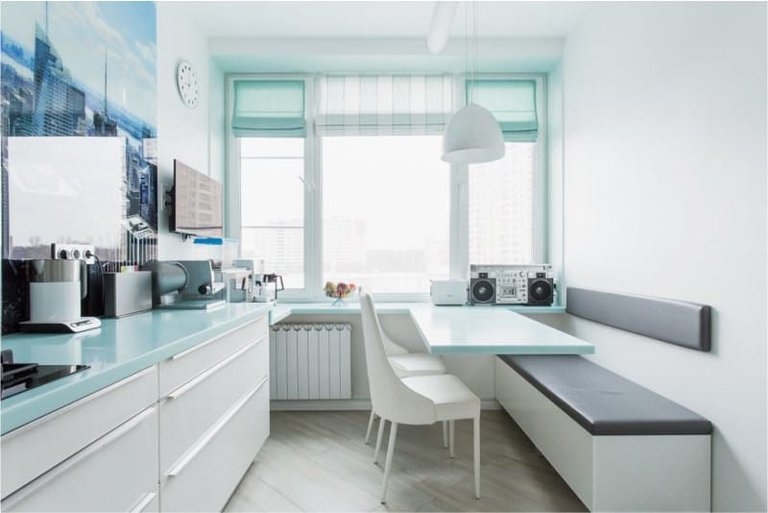 Modern lounge areas can be lit in different ways – as an option, with the help of a floating ceiling with lighting and spotlights. Try to create several lighting samples in a 3D editor to understand which one you like best.
Retro lamps are suitable not only for interiors in the style of the 80s: they add color even to modern cafes.
9. Technique
Here is the same nuance as with the kitchen set – in a good establishment they try to hide all the equipment from the eyes of visitors.
We advise you to build the large one into the headset, thus disguising it. Put the small one on the shelves or in the pantry. It will be less dusty, and then it will be easier for you to find everything you need. And the order is much easier to maintain.
If you plan to recreate a retro restaurant, on the contrary, make the stove and refrigerator the main advantages of the room. Order them in bright blue or red glossy colors, find custom-shaped models.
10. Final touches
No matter how responsibly you approach the previous stages of kitchen design in the style of a modern or vintage cafe, you cannot do without decor.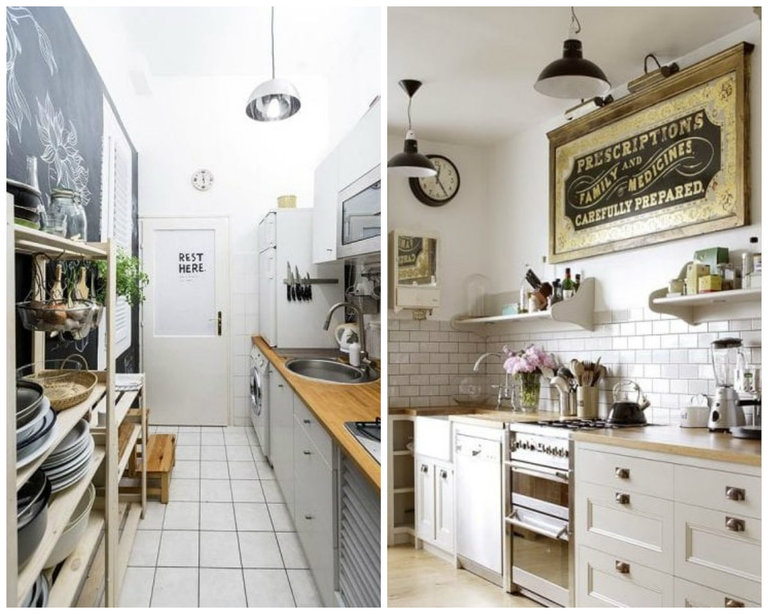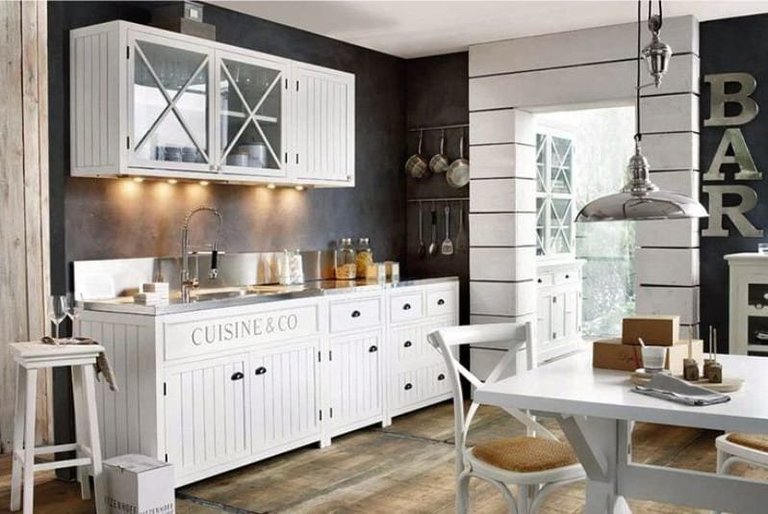 There is a wide scope for choice. If you paid attention to fashionable establishments in your city, then you know that practically everything can be used in this capacity – from traditional paintings to things that cannot be imagined in another interior in the kitchen.
However, some moments still remain standard. For example, you will have to choose cafe-style curtains – short curtains up to the windowsill or blinds. Again, it all depends on the design project – check out a selection of photos of different styles to decide.
The rest of the textiles are no less important – towels, tablecloths, potholders must be kept in the same spirit. If in a real cafe this is explained by branding, then in a home kitchen it is a tribute to good taste.
Buy salt shakers, pepper shakers and other utensils that are in the public domain for a general view. The main thing is that all this is of high quality and fits into the style – do we care about the reputation of our establishment?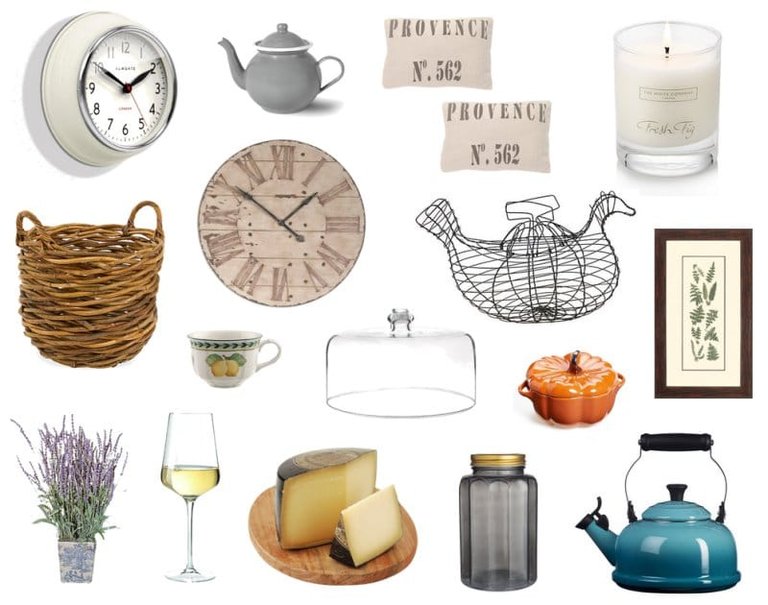 For the rest, complete freedom is given. Here are some more original ideas:
Wine shelves

– a classic in such a kitchen. As an alternative for those who do not like alcohol even as a decoration, we suggest placing marinades and conservation on open shelves;
Looks stylish and authentic

changeable home menu

… For example, a chalk board on which you can update it even daily.
Look for a couple of movies that feature your favorite style. So it will be easier to decide on accessories: napkin holders, wicker baskets, small boards for plates for a European cafe, pin-up pictures for an American one, branded dishes, pillows with prints. We think the meaning is clear – we select accessories based on general trends in the type of design.

What previously had to be hidden now plays a key role: jars of spices and dry foods, unusual plates and even small kitchen utensils – figure out how to arrange them to simulate a counter.
Look for pretty utensils: old copper teapots and cezves, painted slicing boards, custom containers like cakes or burgers. All this can be bought very inexpensively.
An unusual move for the French style is a complete imitation of a courtyard. Fence off the dining table with flower pots, and hang a small striped canopy above it. For a small kitchen, this solution will not work, but for a spacious or dining area in a studio, this is the right thing.
Decorate your "cafe" with fresh flowers – this is customary even in premium restaurants.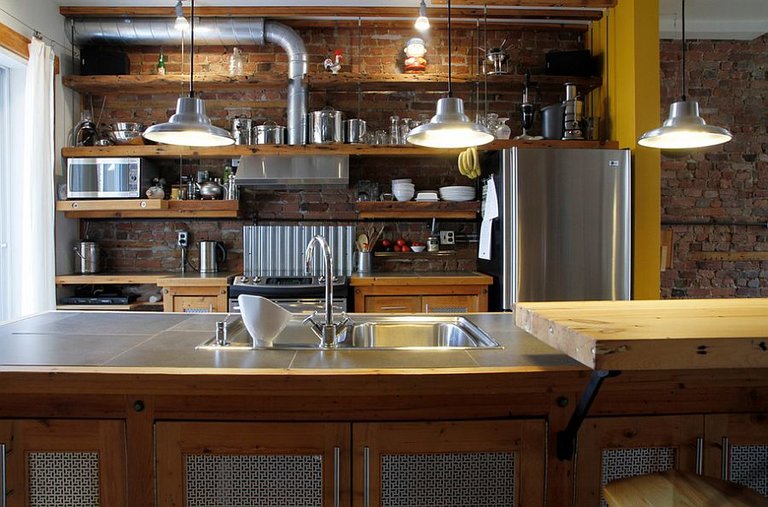 Unusual elements, such as a wired phone or a full-length figure of your favorite superhero, are also not prohibited. The main thing is to be able to harmoniously fit them into the interior, achieving the desired atmosphere.
So. The cafe style for use in the home kitchen is certainly interesting in terms of design. It is original and varied, and makes it possible to create your favorite environment. So, if you like it, feel free to start developing the project – we are sure that the result will be beautiful and atmospheric.