Welcome to our new post Country style kitchen: The best examples of interiors
.
With the naked eye, you can see that the country style has a lot in common with the English, Mediterranean and, especially, Provence style.
Country is best if you decide to design your kitchen in a country style with a rustic touch, and at the same time want to have freedom in choosing interior elements.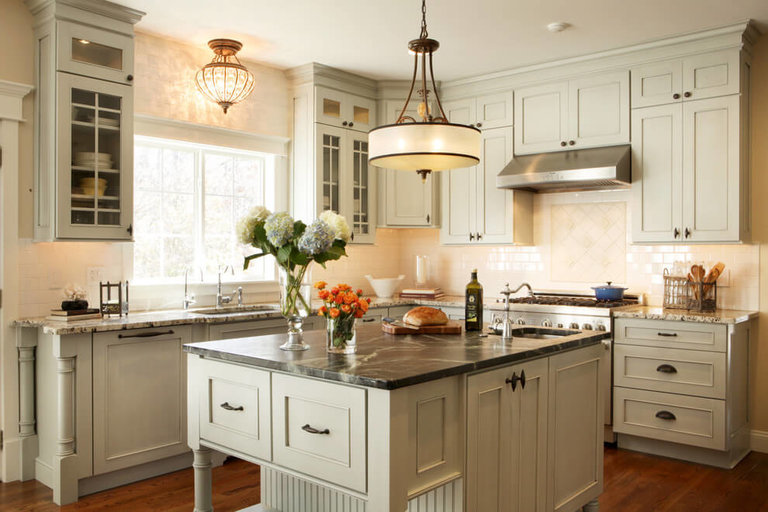 However, we we recommend adhering to certain loose guidelines when decorating a country-style kitchen:
Welcomed

furniture of simple design

, naturally or artificially aged.
The color scheme is predominantly

pastel, slightly faded tones

but not boring.
Free use

wood finishes

, stone, brick or tile.

Open shelves

for kitchen utensils or decorative items.
Many accessories of rural motives –

conservation, dishes, bundles of vegetables

etc.
Will fit harmoniously

vintage items

or "semi-antique".
Minimal use of elements made of modern materials is allowed – plastic, glass, glossy metals.
In this style, design fades into the background – the main thing is practicality, sincerity and comfort.
Color palette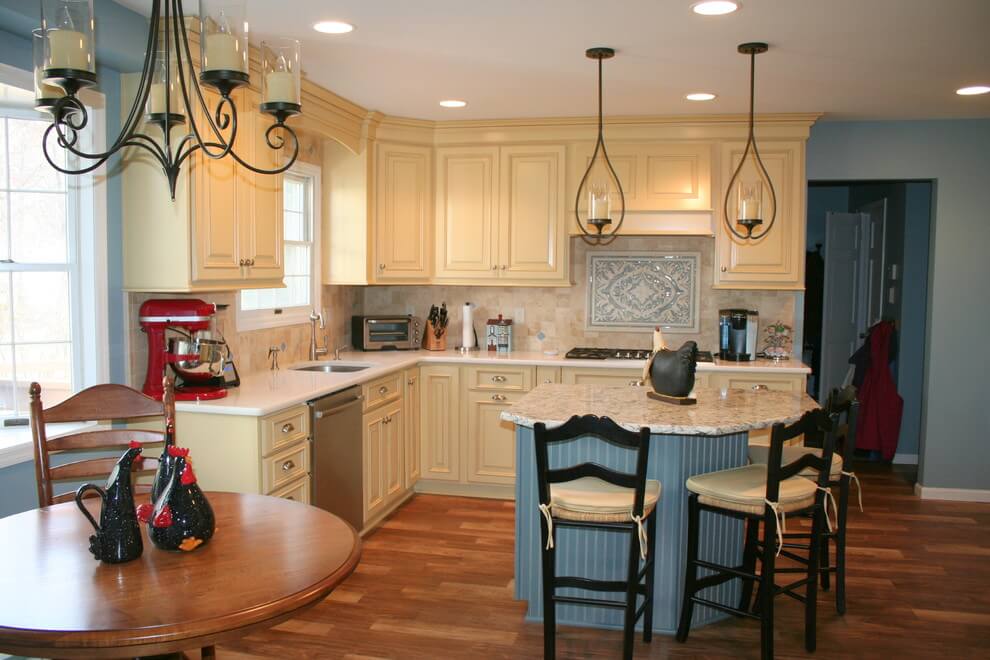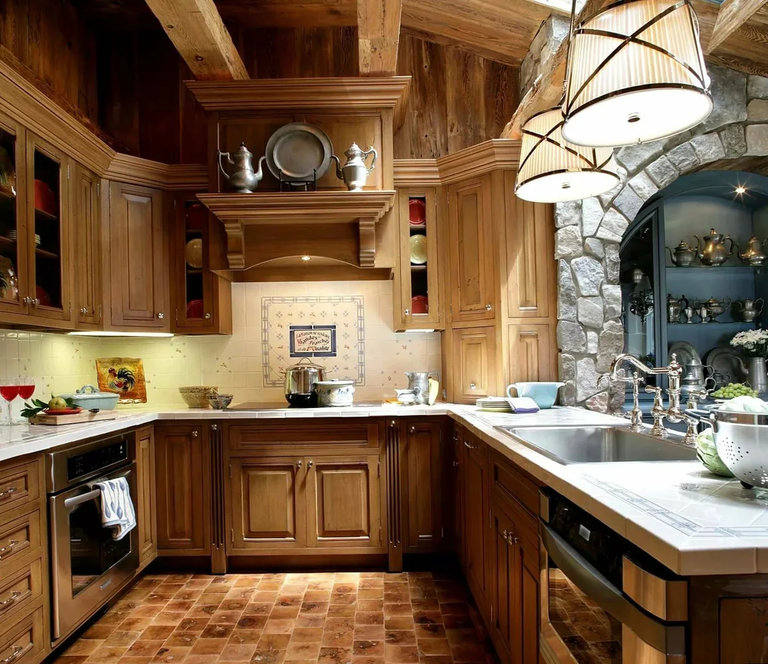 In country style, you should avoid bright colors of furniture facades and walls. Pastel colors are considered to set the atmosphere, which are enhanced with textiles and accessories in more saturated colors. So, a few generalizing theses:
Headset color

– any pastel colors that you like; natural texture of wood of any shade and breed, covered with matte, and less often glossy varnish.

Walls

They are decorated in light colors – white, sand, the color of baked milk, light shades of olive, blue, yellow, gray.

Floor

– preferably wooden flooring, laminate or light-colored tiles.

Additional color accents

are arranged thanks to the use of various kinds of textile elements and decor in brighter colors. This will be discussed further.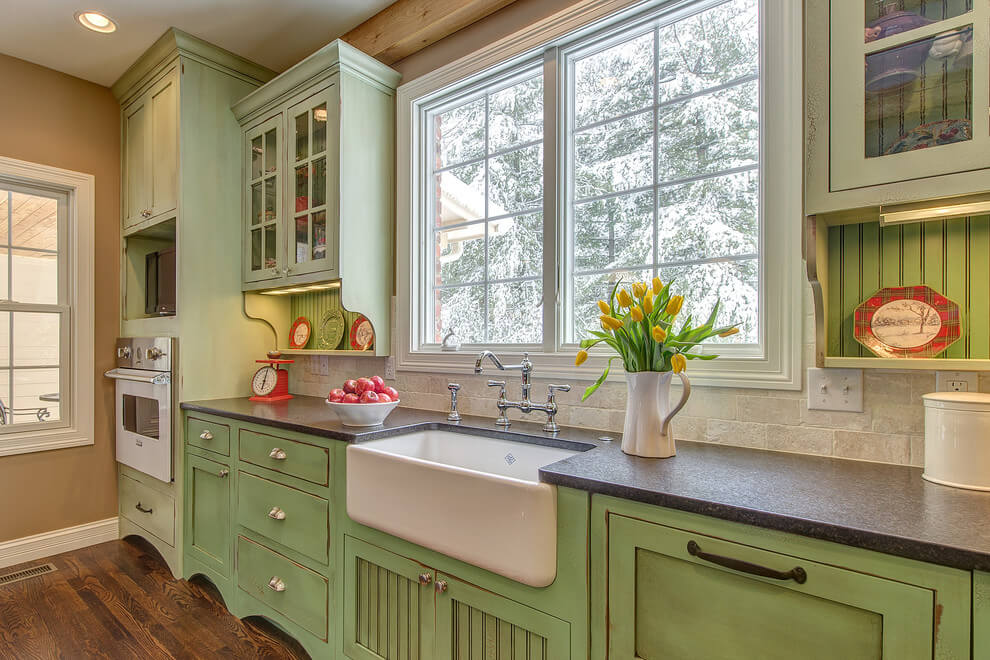 Examples of color combinations in a country-style kitchen interior are clearly visible in the photos below: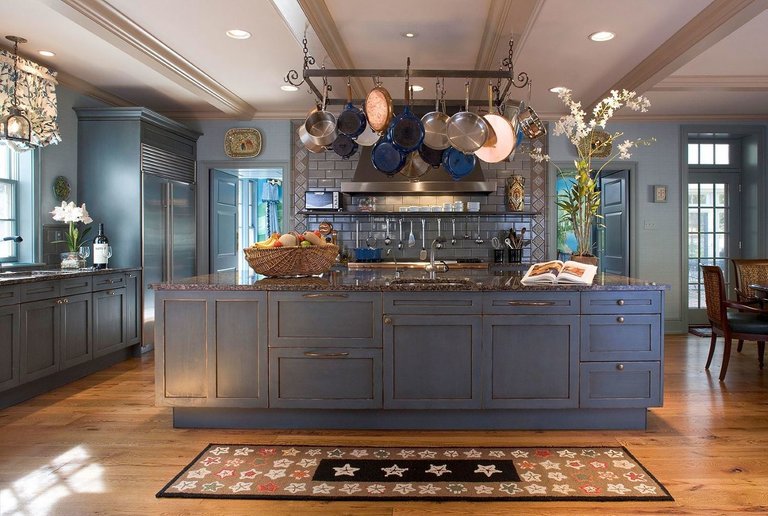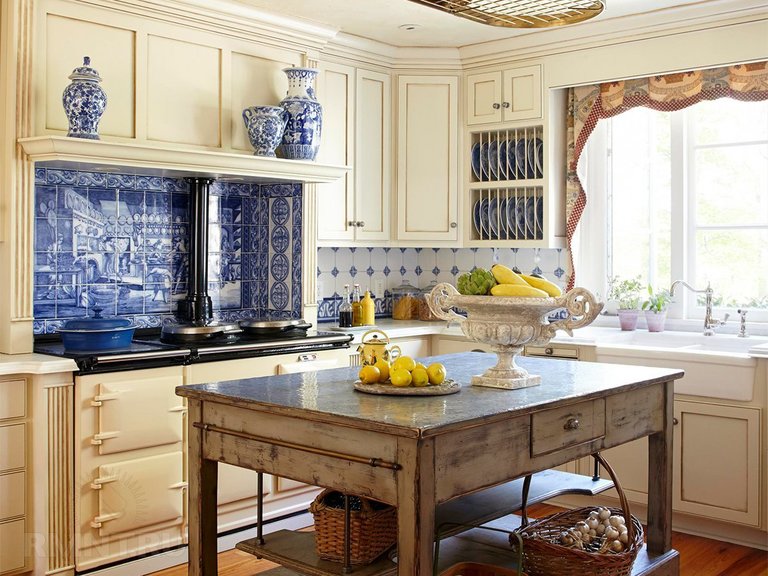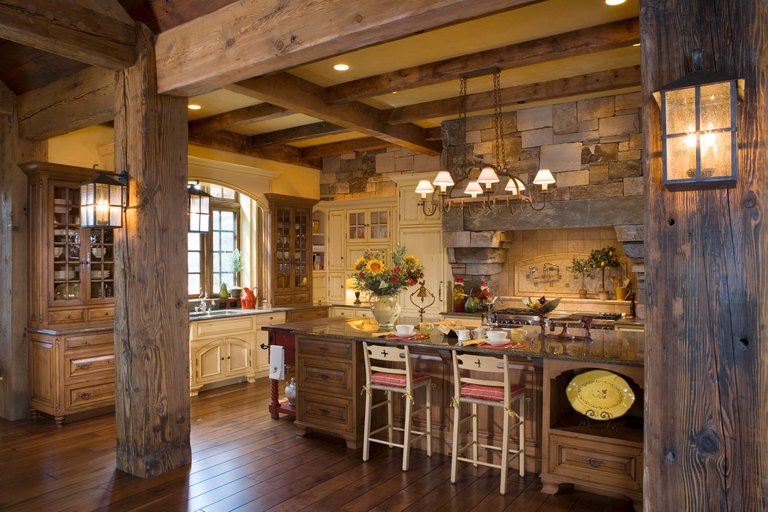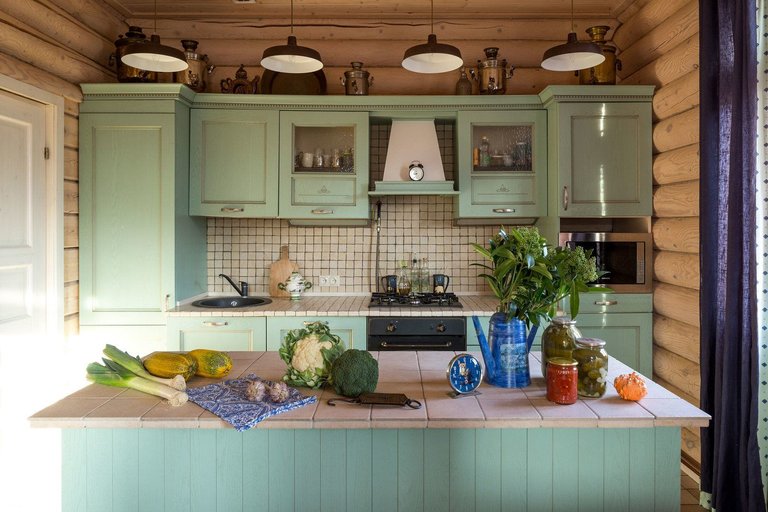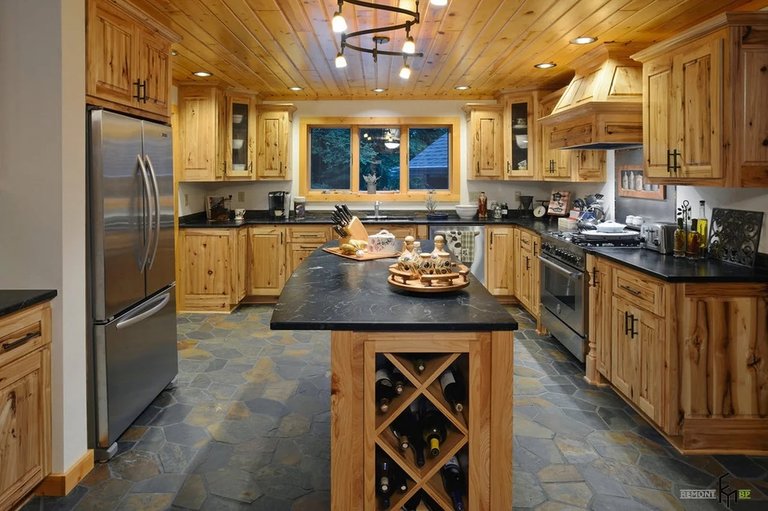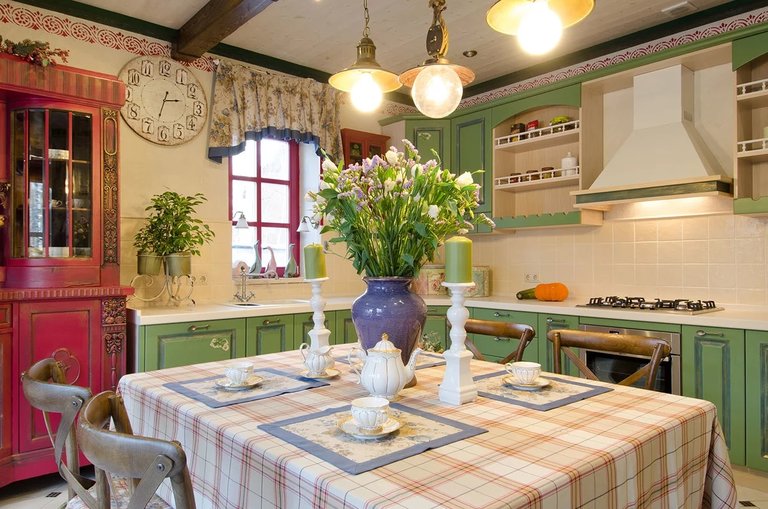 Walls
Wall decoration, especially in a small kitchen, should be approached both pragmatically and creatively (yes, that's right).
You have several options for wall decoration:
1

Painting

… Initially, you will need to prepare a perfectly flat surface, otherwise any defects will be clearly visible on the finished wall. When choosing a color scheme, give preference to warm pastel shades: cream, beige, light brown. Olive and green, as close as possible to the natural tone, will look great. White and light gray paint can be used as a timeless alternative.

2

Decorative plaster.

Use it to create a texture on the wall that indicates simplicity, conciseness and old-fashioned design. One should get the impression that the owners themselves, not quite skillfully designed the surface.

3

Tile

… It can be used not only to design a work apron. If desired, some kind of panels can be laid out at the bottom of the wall. For these purposes, both ceramic and metlakh tiles are suitable.

4

Wallpaper

… Since we are talking about the kitchen, be sure to pay attention to the quality of the chosen coating. It must be resistant to temperature extremes, high humidity, and be easy to clean. Non-woven and vinyl wallpapers have proven themselves worthy. A cage, a vertical or horizontal strip, a small flower or national ornaments are suitable as a pattern.

five

Wooden panels

… Based on them, you can easily recreate a rural life, endowed with coziness, home warmth and comfort.

6

Brick

… It looks natural and original, but be prepared for the fact that the kitchen, completely tiled with brick, will seem too cramped. It is better to combine such masonry with painting or wood.

7

A natural stone.

In our opinion, this option is the most distinctive. Walls that are partially lined with dark stone look very cool.
See how stylish and effective country-style kitchens look in the given photos. It is easy to see that in every interior there is wood: lacquered, painted, untreated. It fits perfectly into this direction, emphasizes its originality and uniqueness.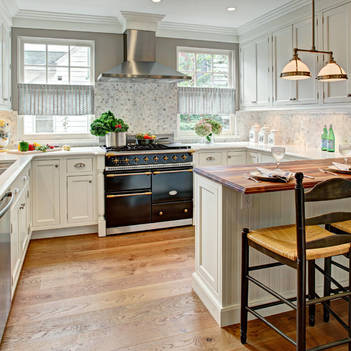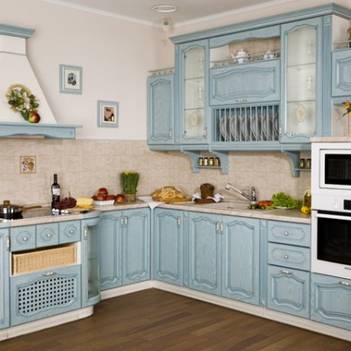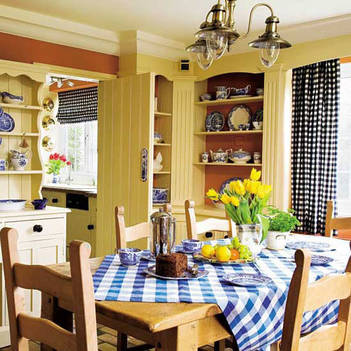 Floor
Of course, this rustic style is better suited for spacious country houses than for urban small apartments. But, if you use individual elements, you can recreate the country atmosphere in a small kitchen.
Wooden boards, natural stone, ceramic tiles – these are the materials that can be used to furnish the floor in a kitchen decorated in a given style.
If you do not have the material opportunities to purchase a natural solid wood, it can be replaced with cheaper counterparts: parquet board, laminate and even linoleum.
Today it is easy to find models that look extremely similar to natural materials. In particular, wood-like linoleum is a fairly widespread and demanded product.
Give preference to modern high-quality coatings of high strength and wear resistance classes. They have the most presentable appearance and will serve you for a long time.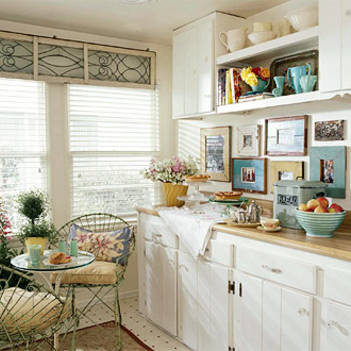 An acceptable analogue of natural stone is porcelain stoneware. It is also a fairly common product, presented in a wide range in any construction hypermarket.
It will not be difficult to find a suitable tile. Choose the most natural color scheme, and the texture or pattern should be close to traditional ones.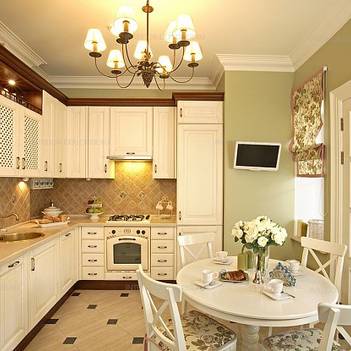 For kitchens that are combined with a dining room or living room, it is better to use a combination of materials: tile or stone in the work area and wood in the dining area or hall.
Patchwork, knitted, wicker and other homemade rugs will bring additional comfort and coziness to the interior.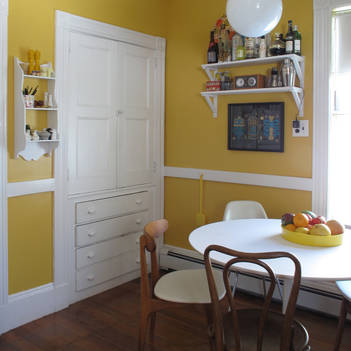 Ceiling
There are several options for decorating the ceiling:
Whitewash

… In a rustic style, this finishing method will look perfect. Before whitewashing, the plane does not even need to be leveled. Country is the design direction in which a rough, slightly cracked and textured surface will look as believable as possible.

Wood

… With such a ceiling design, you are guaranteed to turn your city apartment into a cozy country house. Dark shades of the material should be used in tall rooms, while for fairly low rooms it is better to choose something light. The material available from a material point of view is lining.

Stretch ceiling

… Yes, this is a practical modern solution, but

not for a rustic kitchen

… Alas.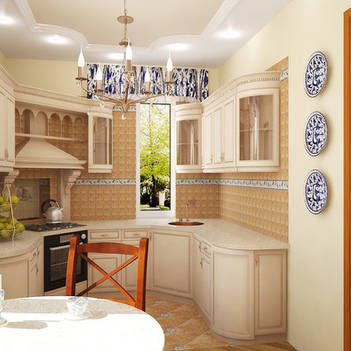 When choosing the best solution and materials for country-style renovation, pay attention to the numerous photos. This is just a storehouse of ideas for those who want to create rustic coziness and comfort in a modern city apartment.
Kitchen set
Let's take a closer look at some of the requirements for furniture that is best suited for country style:
Material – wood (recommended) or painted MDF.
Signs are welcome

scuffs, patina

etc.
The overwhelming majority of facades are made with panels, sometimes with elements of imitation of wood carving.
The fittings are not glossy, preferably metal with porcelain or ceramic inserts.
Choose the shape and size of the dining table based on the overall interior of the room. If the kitchen is small, we recommend choosing a sliding table in case guests come or a family gathers.

Chairs

it is advisable to choose from wood, light contours, with slots in the backs. Massive and heavy chairs in such an interior would be inappropriate.
There are no strict requirements for the design of household appliances, but we recommend hiding them behind facades.

Countertop

we choose not dark colors from artificial stone or MDF.
We lay out the apron from a small tile. An apron made of glass or plastic will hardly fit into such an interior.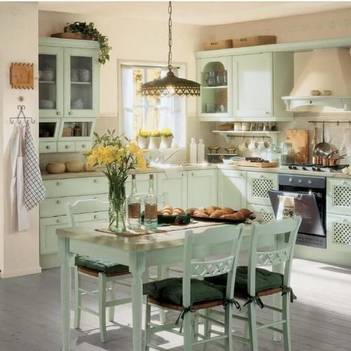 We select textiles
Textiles play no less important role than headsets.
Due to him, the kitchen turns from a "lifeless" room with furniture into a cozy abode of culinary wonders, the territory of a real hostess. A few recommendations for textiles:

Material

– cotton, linen, hemp. No film or polyethylene;

Curtains

to a country-style kitchen – choose light, cheerful colors without any shiny and frilly elements. The preferred pattern is a check, a strip, flowers or floral patterns;
Tablecloths, napkins, towels, aprons – from simple white to bright and rich colors in a wide variety of patterns and ornaments. Again, the strip and the cage will be appropriate;
Textile drawstring seats and chair covers.
We create comfort
The last accents are set with additional accessories, without which it is impossible to imagine any rustic kitchen.
On open shelves we arrange beautiful porcelain or ceramic plates, saucers, vases, clay or wooden statues, photo frames, books with recipes. In addition, you can put in plain sight jam or canned vegetables in jars with stickers and rag covers on the lids, various vessels for storing cereals, sugar, bunches of onions, etc.
Feel free to green your kitchen – perennial Natural flowers in clay or metal pots and pots. You can also put them in enamel jugs, colored glass bottles.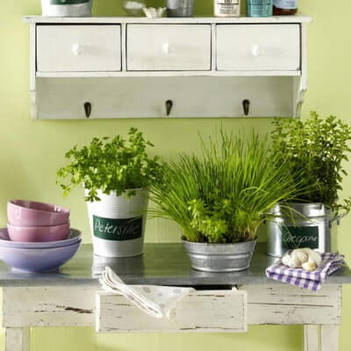 A lovely addition to the rustic atmosphere will be the decor with images of poultry: chickens, ducks, turkeys and geese.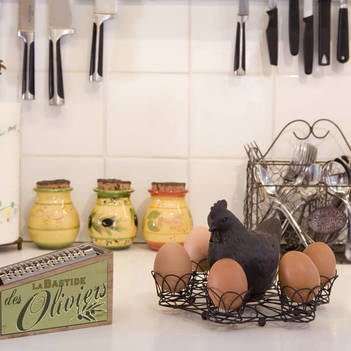 Lighting
Real country houses have never boasted large bright windows, so the lack of natural light must be supplemented with artificial light.
Separate lighting devices should be located above the furniture set, as well as above the dining table. Built-in spotlights are suitable for the first, and a full-fledged chandelier for the second.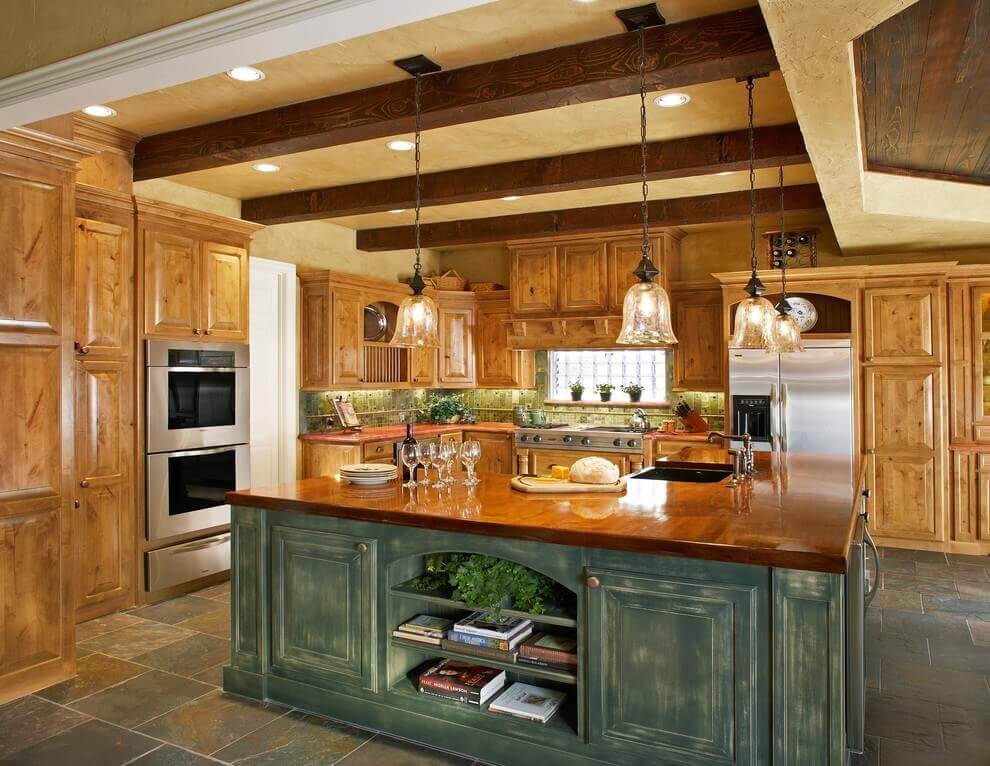 In order to focus on the beautiful dishes and decor items displayed on open shelves, use LED strip.
To create a cozy and slightly romantic atmosphere, you can install additional sconces in the dining area.
It is better to place such devices just below the head of the person sitting at the table so that the outgoing light does not blind the eyes. Give preference to models whose shades are made of frosted glass.
For kitchens combined with a living room, floor lamps with fabric shades are ideal.
The choice of a central chandelier depends on the size of the room and the height of the ceilings. For spacious rooms, models that imitate candelabra with burning candles will be an excellent solution.
For small kitchens, select street lamp-shaped pendant lights and other antique designs.
Give preference to warm glow lamps. They will add extra comfort to the surrounding space. Under their influence, food will look more appetizing.
Now you are familiar with how you can decorate your kitchen interior in country style. Such a cuisine will only get better from year to year, because antiquity and age add rustic authenticity and color to it. In such an interior, you can constantly add some notes and additions, filling the kitchen as you want.