Welcome to our latest post Bright kitchens – 150 of the most colorful interiors
.
Yellow kitchen
The sunny color in the interior is good in a room with windows facing the shaded side of the street. Lack of natural light has a detrimental effect on the psycho-emotional state of a person, provokes depression and reduces performance.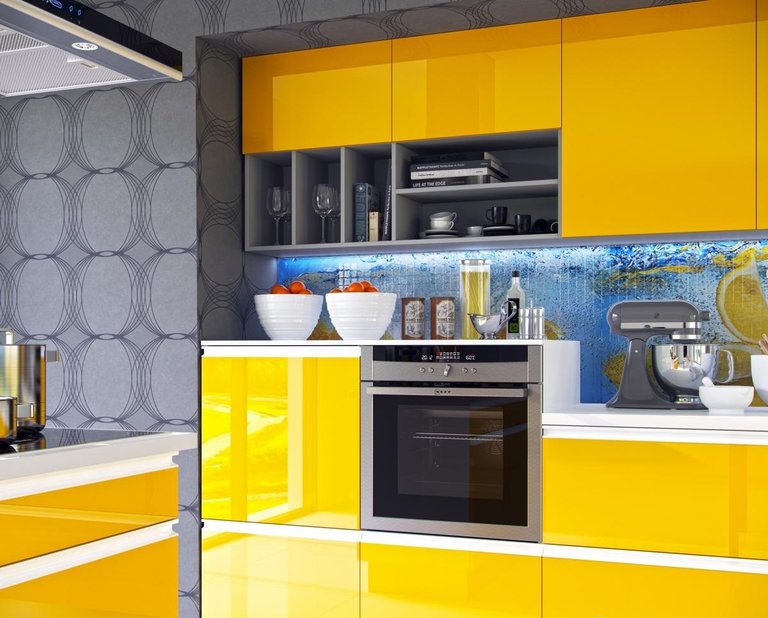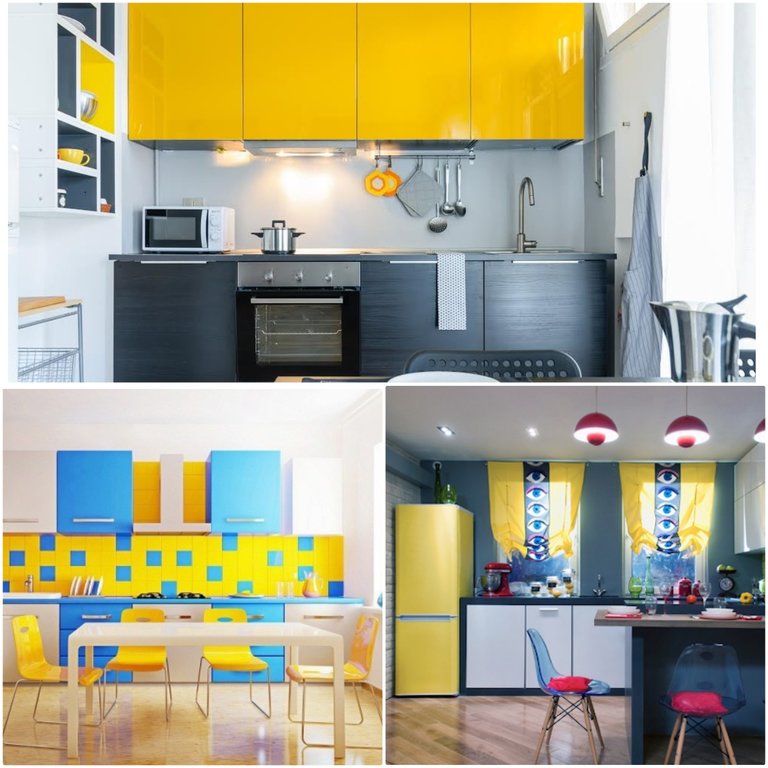 Professional colorists believe that yellow sets you in a positive mood, charges you with optimism and vigor, and psychologists advise including it in the kitchen interior if the owner of the room suffers from self-doubt.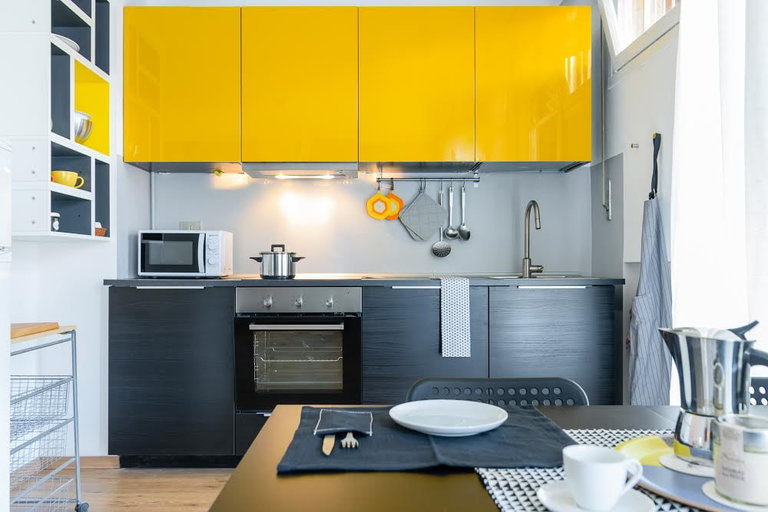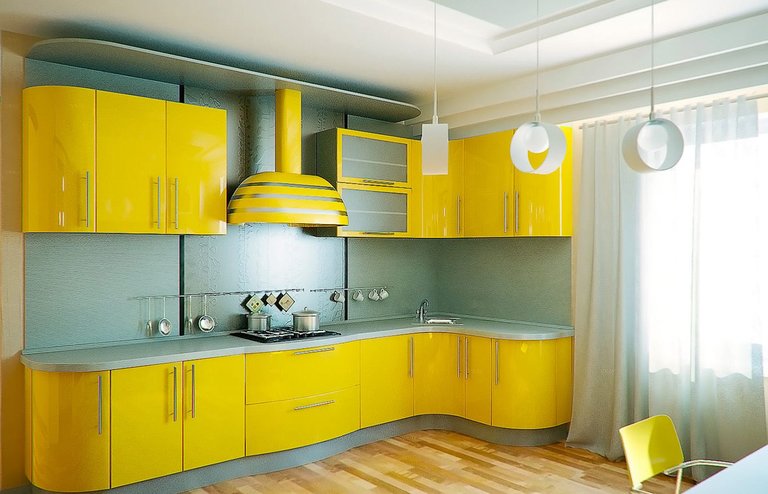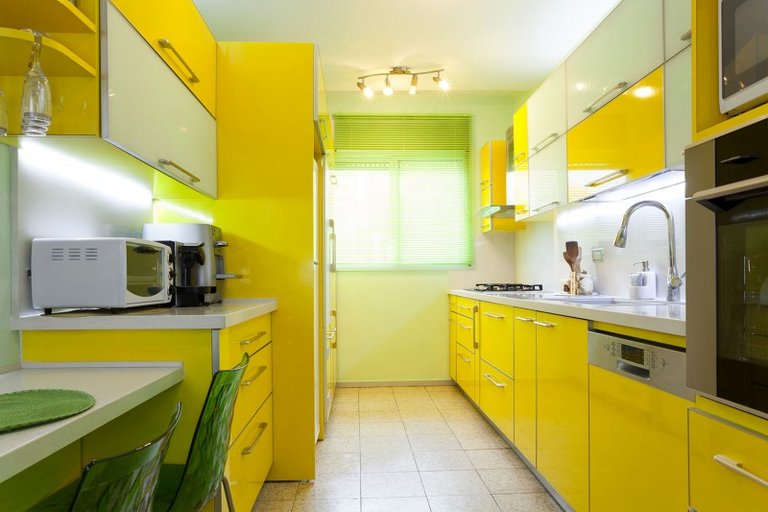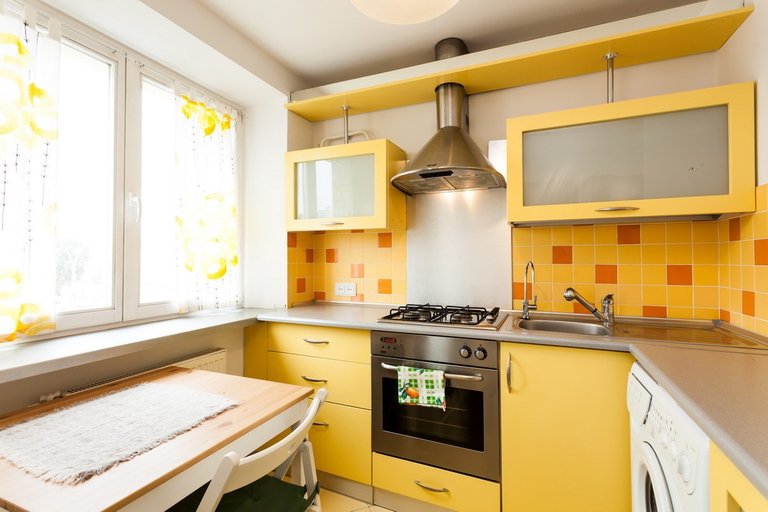 It should also be remembered that bright spots of warm colors increase appetite. For example, nutritionists recommend purchasing yellow plates if a child cannot be forced to eat.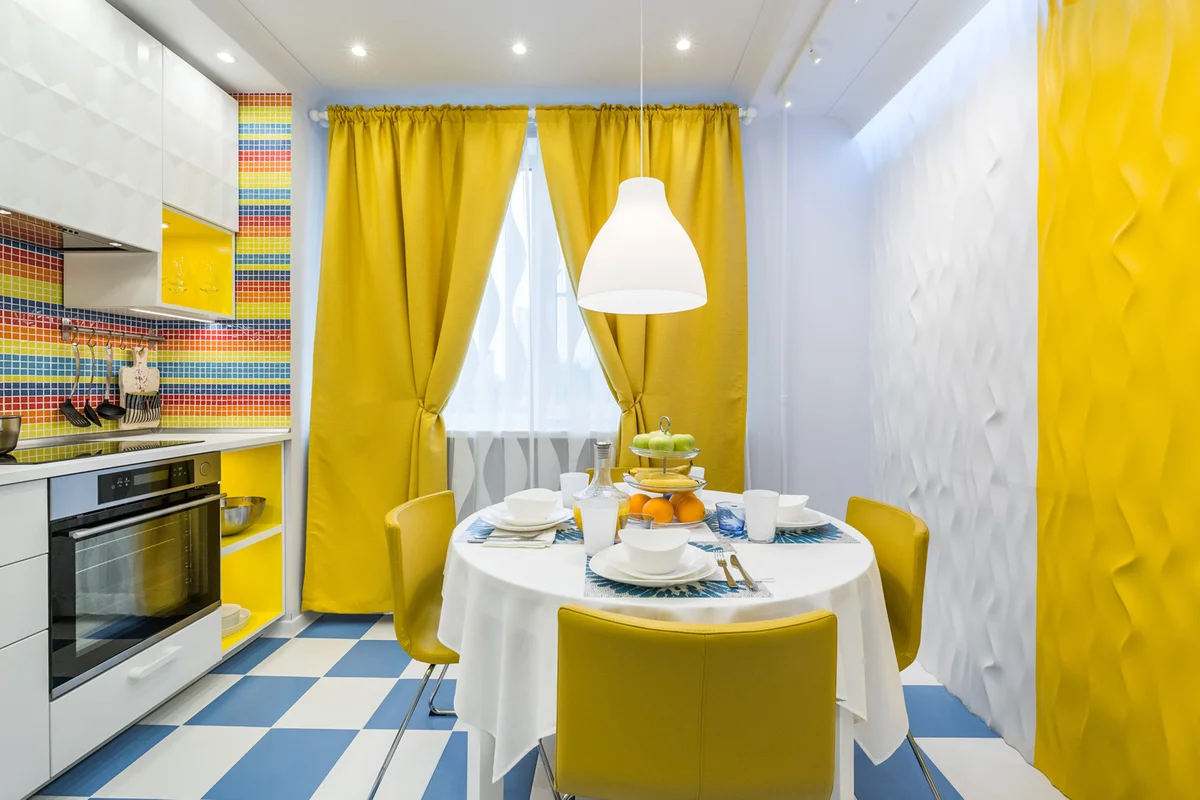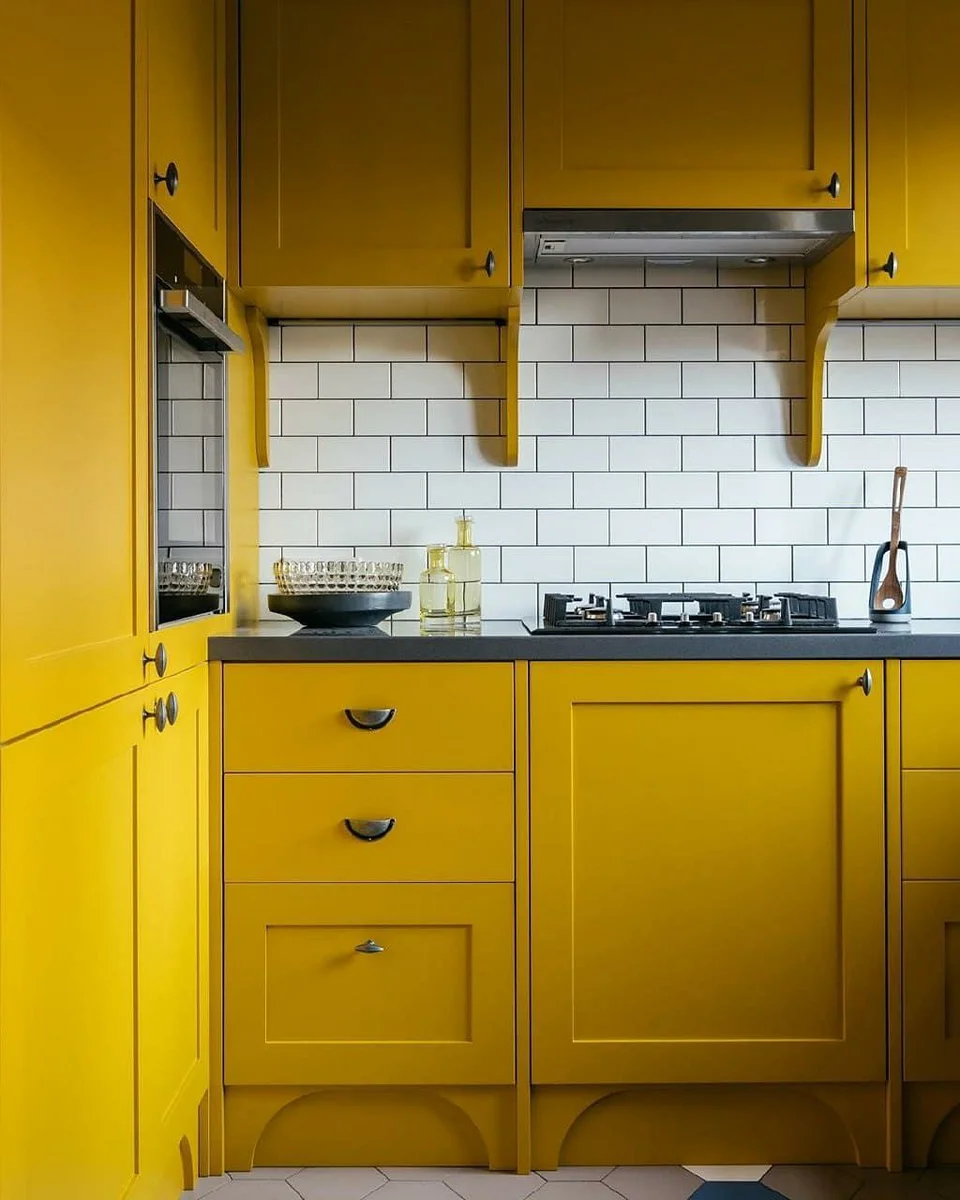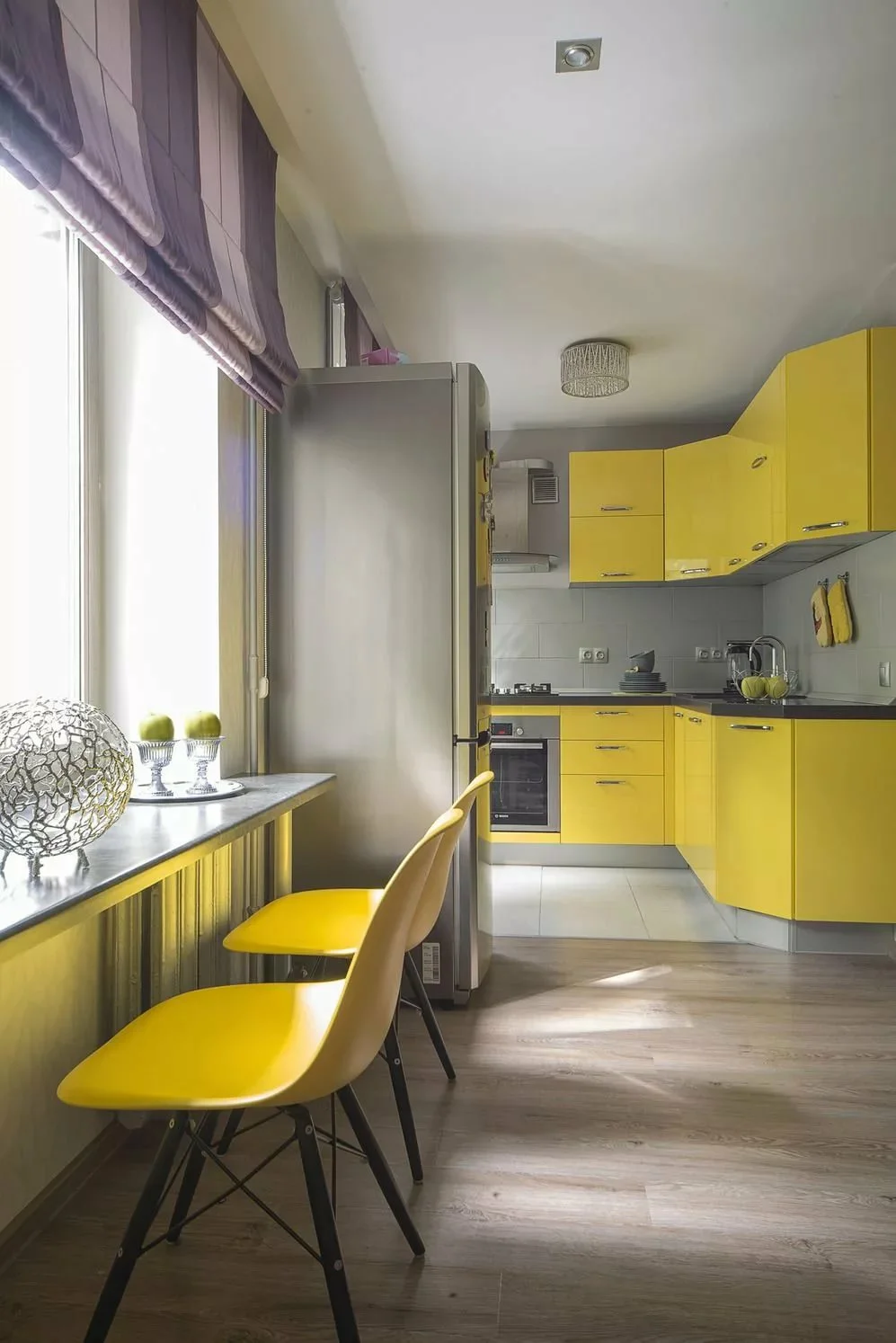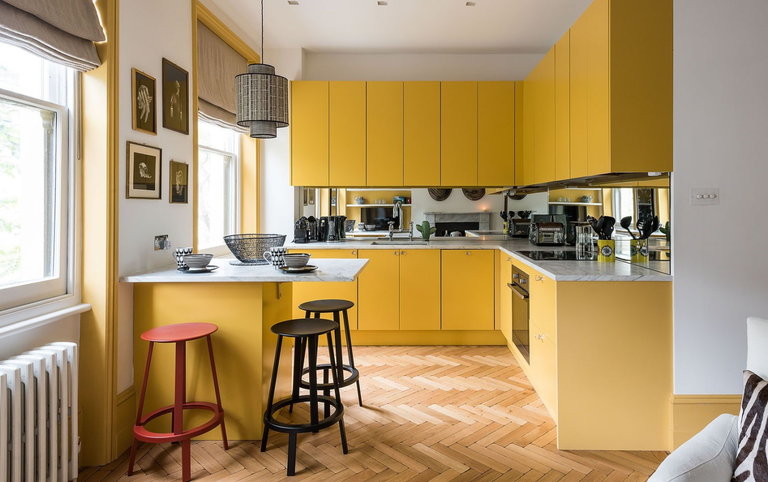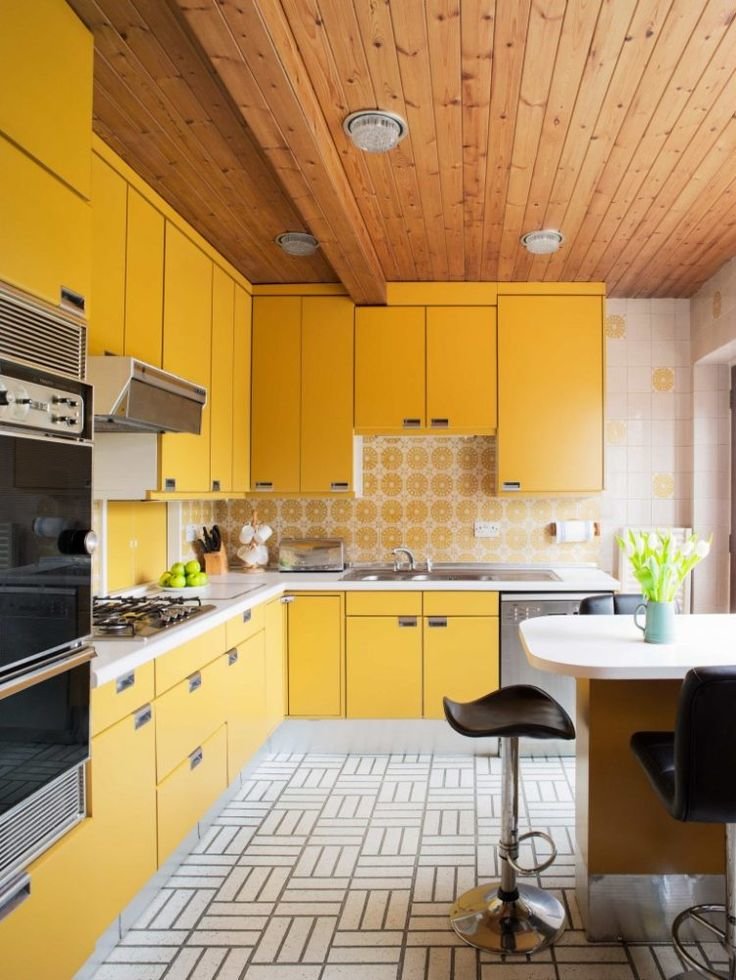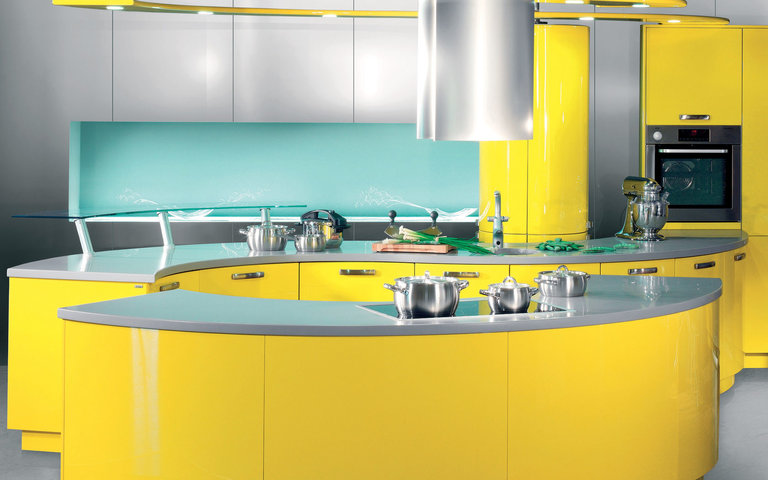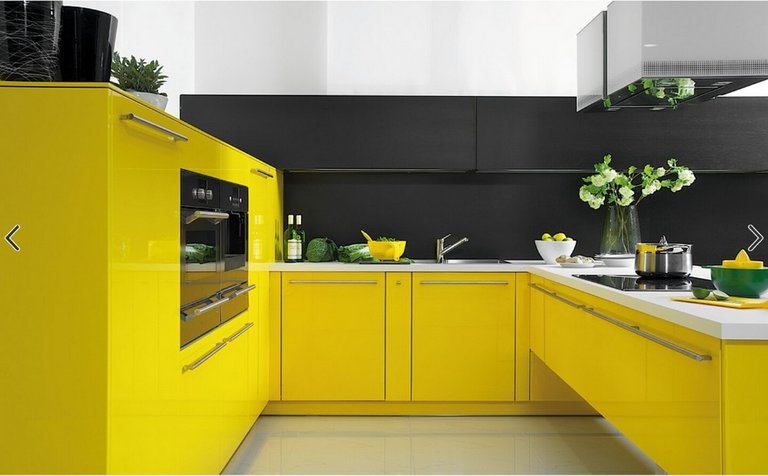 Intermediate between yellow and green is a trendy lime shade. He is able to freshen up the interior without causing hunger in those sitting at the table.
Orange kitchen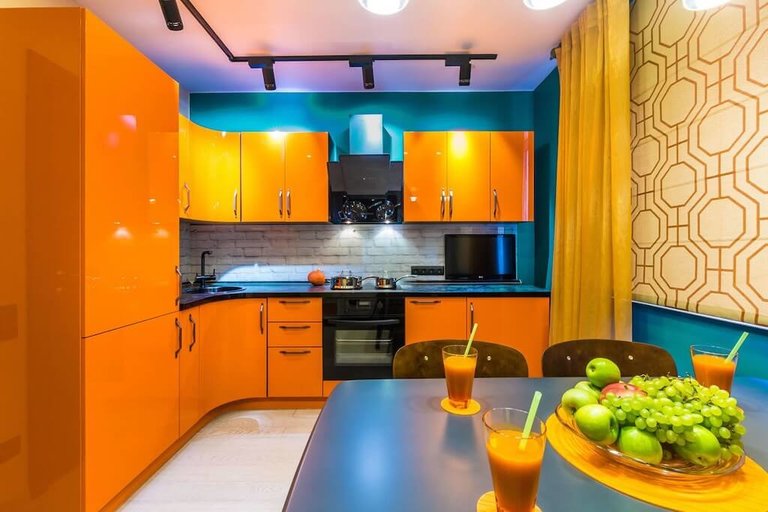 The orange kitchen set is a bold step in modern design, however, according to psychologists, the orange color will help even the avid pessimist to love life in all its diversity.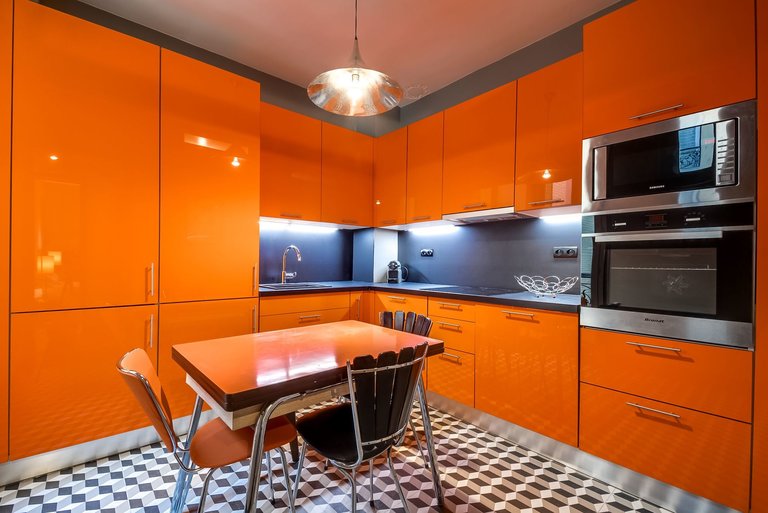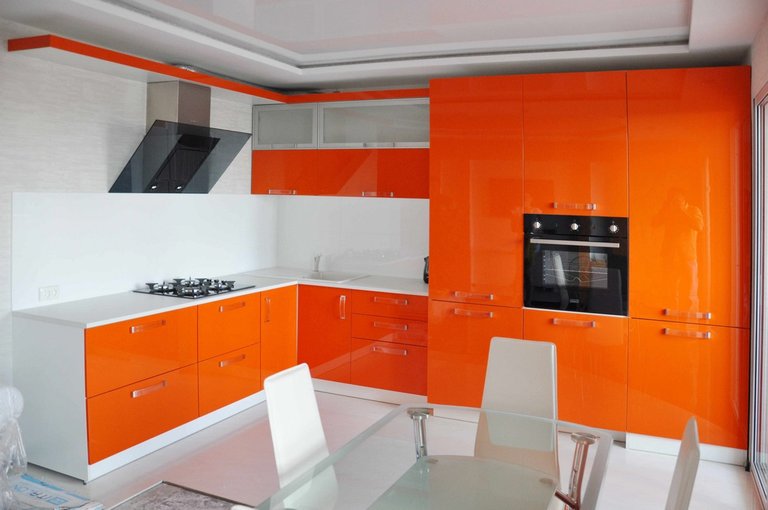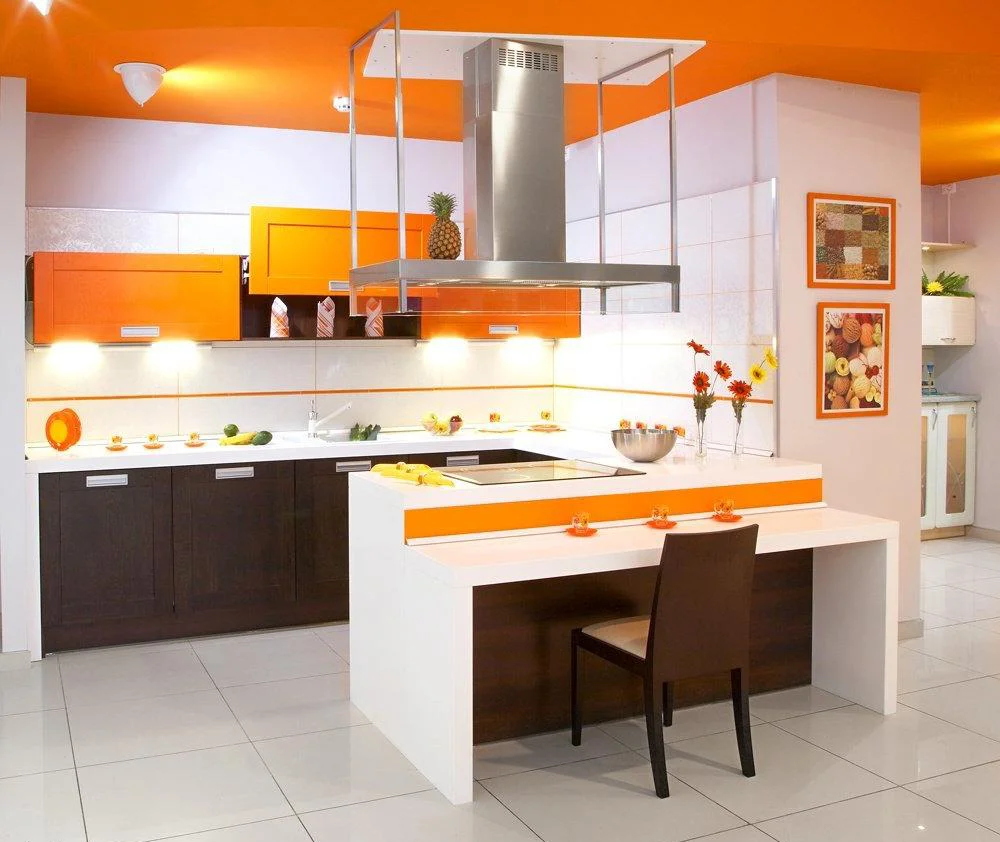 If you feel chronic fatigue, lack of energy and vitality, try starting small – decorate your kitchen with a vase of oranges and bright orange curtains.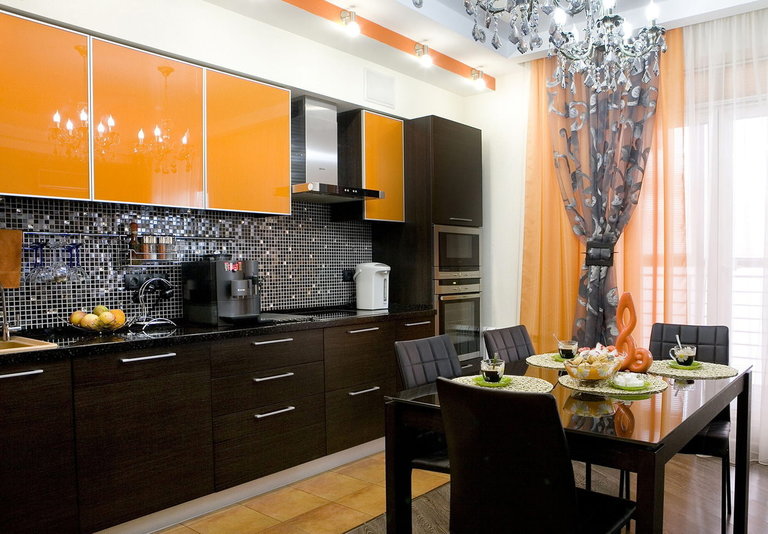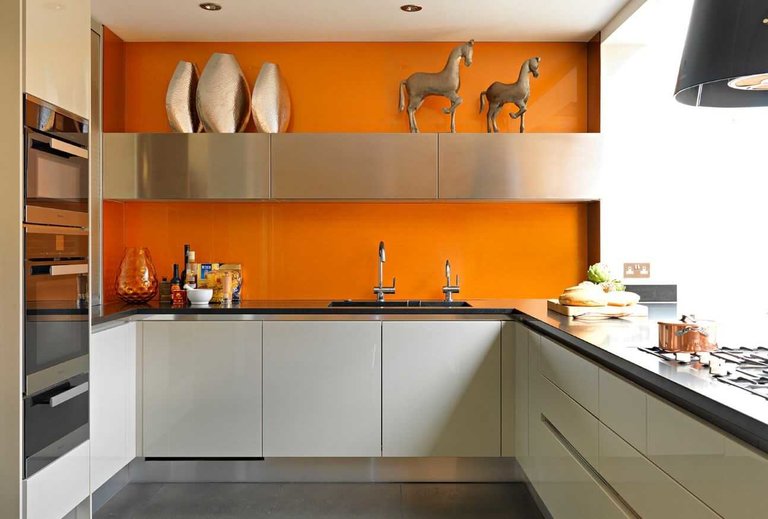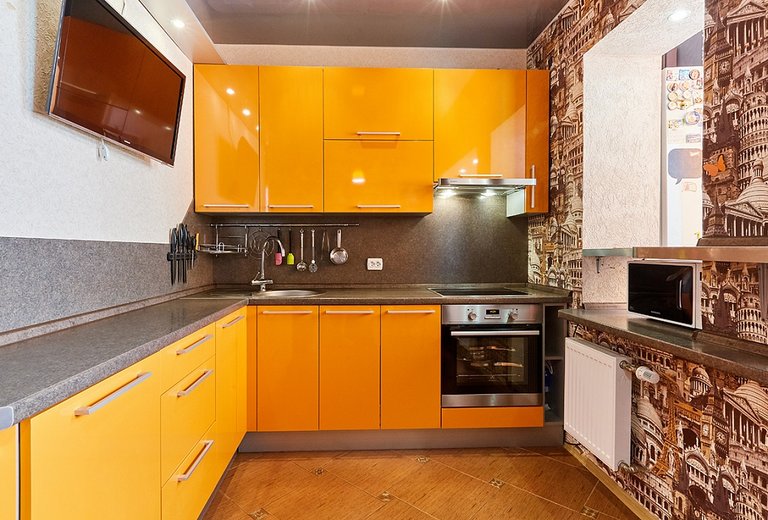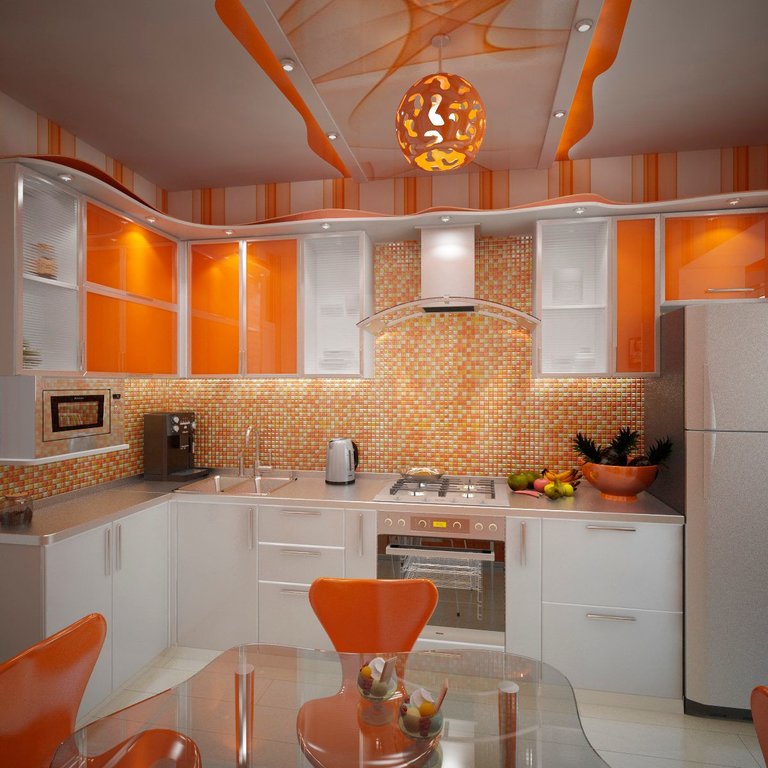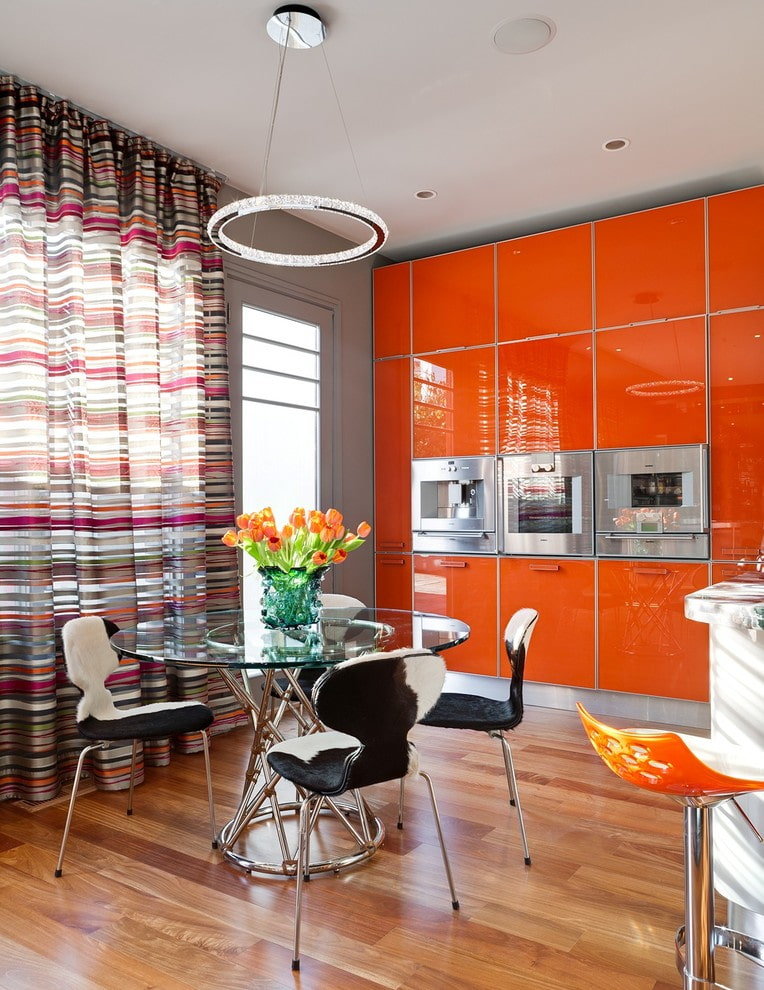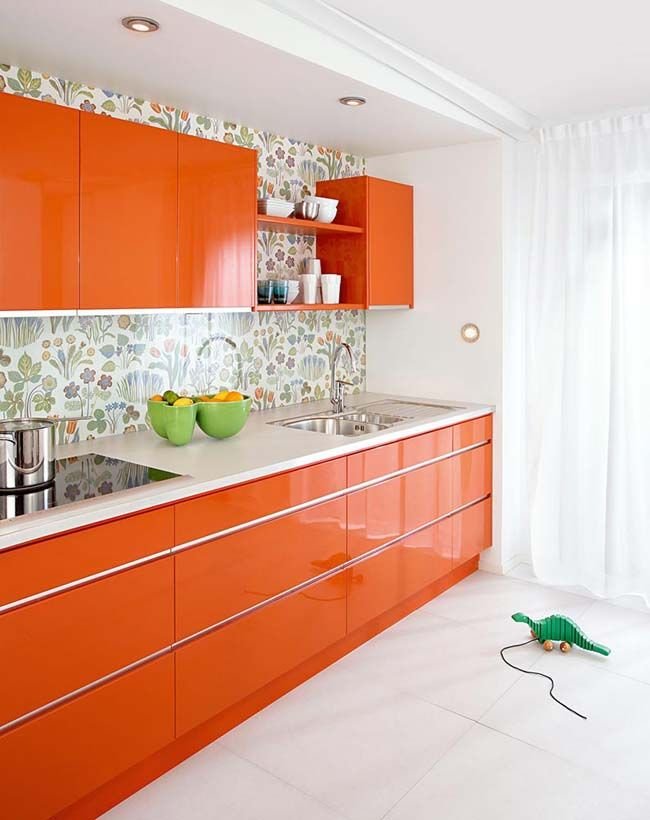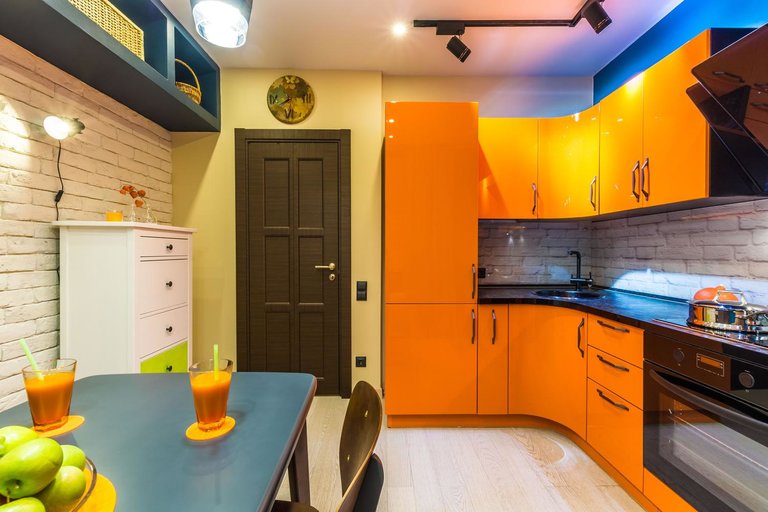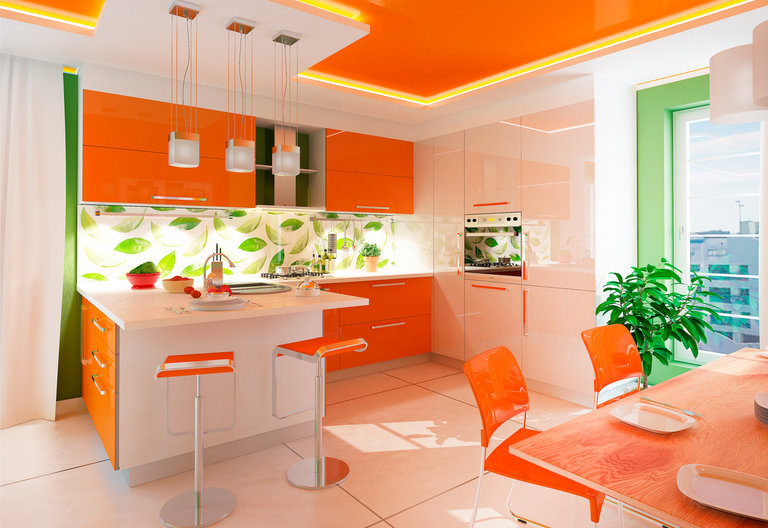 Since this color tones the nervous system and awakens the appetite, it is contraindicated for hypertensive patients, choleric people and people with an unstable emotional background. For persons prone to overweight, it is also not suitable.
Red kitchen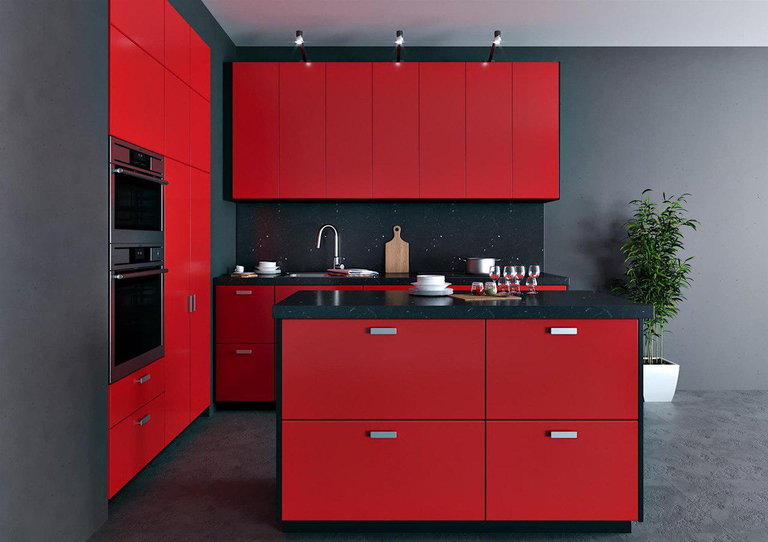 It is believed that the red color causes outbursts of aggression, increases blood pressure and provokes insomnia. Research by scientists has confirmed that bright red interior details invigorate and increase performance, but the human psyche quickly gets tired of conspicuous color spots.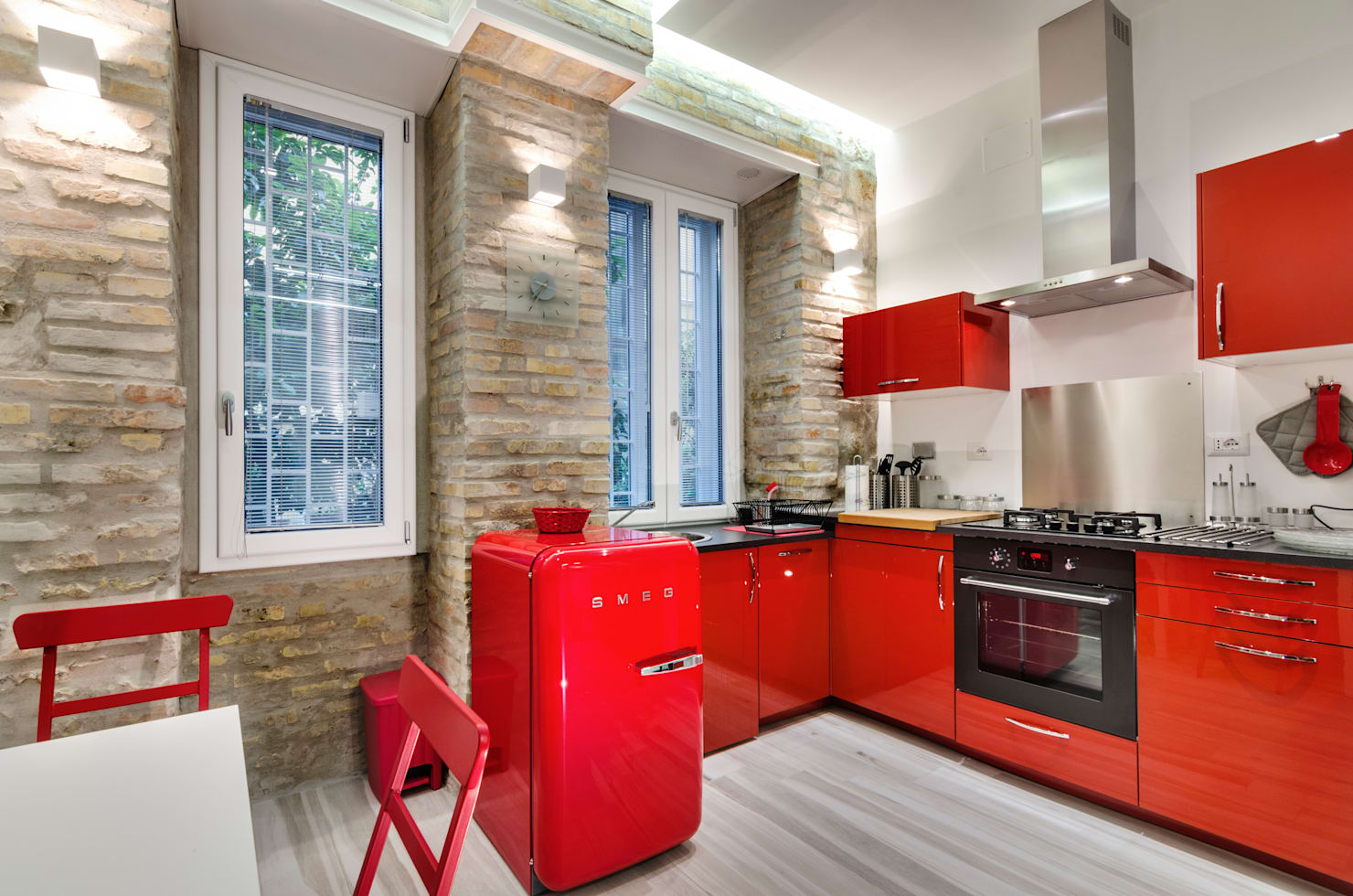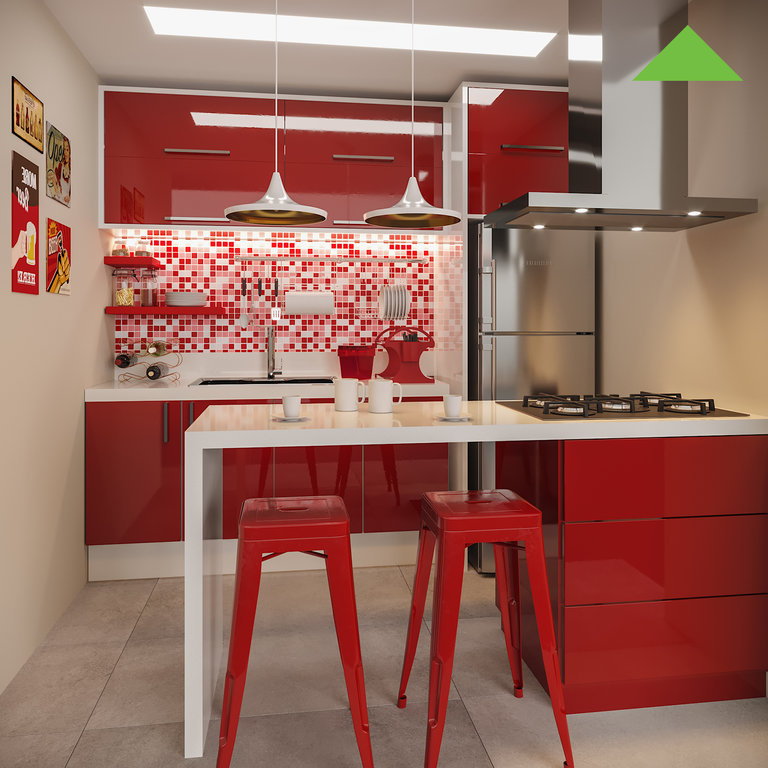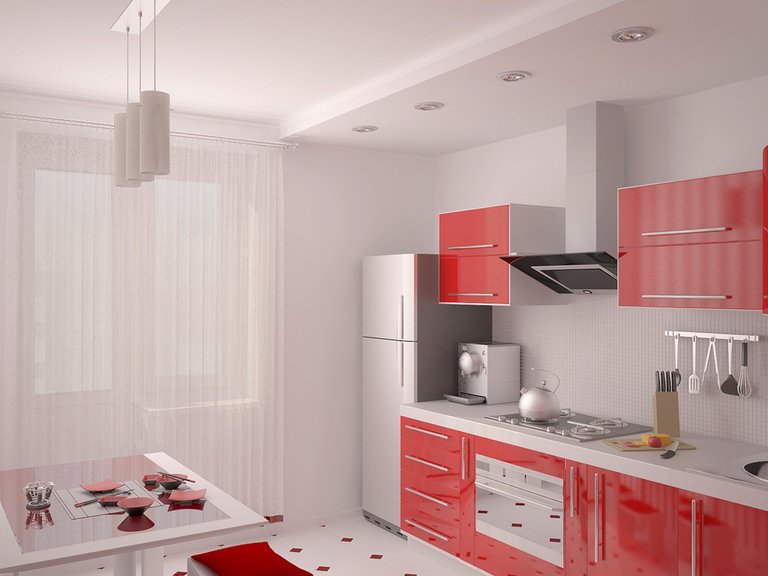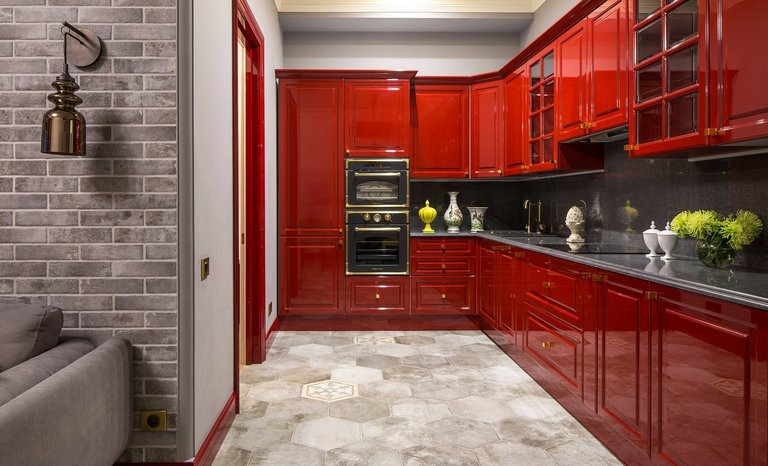 In addition, the abundance of red in the design of the kitchen causes a wolfish appetite, and this negatively affects the figure. To increase vitality without harming the nervous system, it is better to dwell on less aggressive shades: coral, pomegranate, cherry.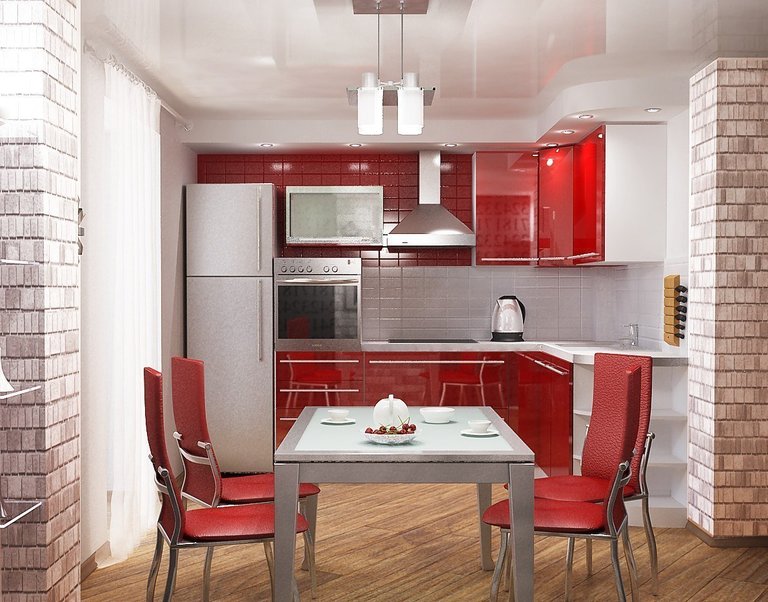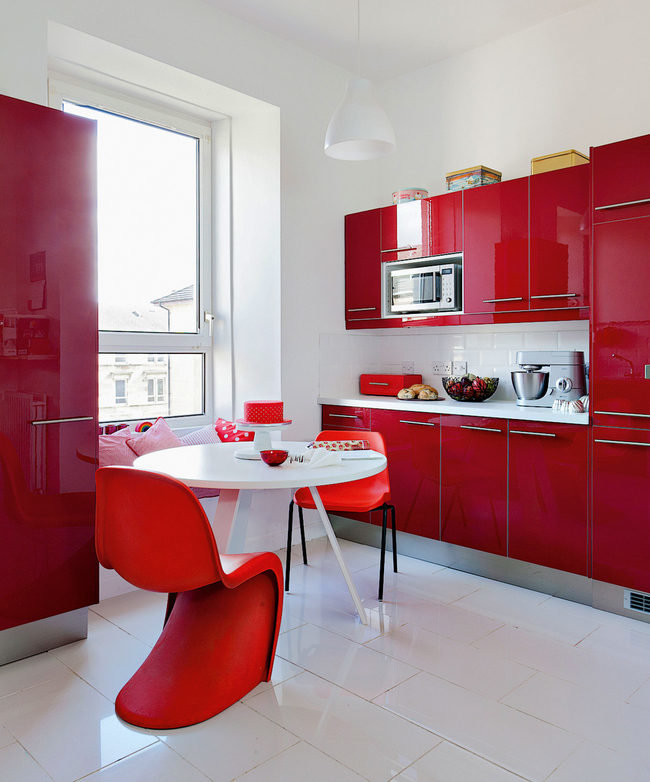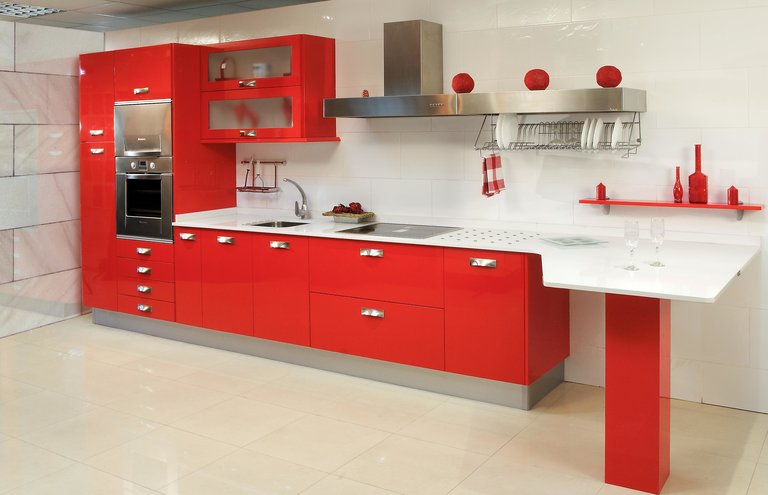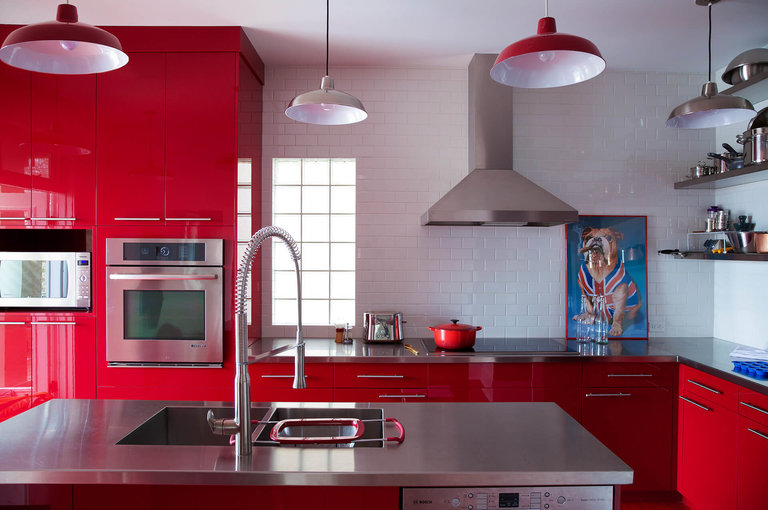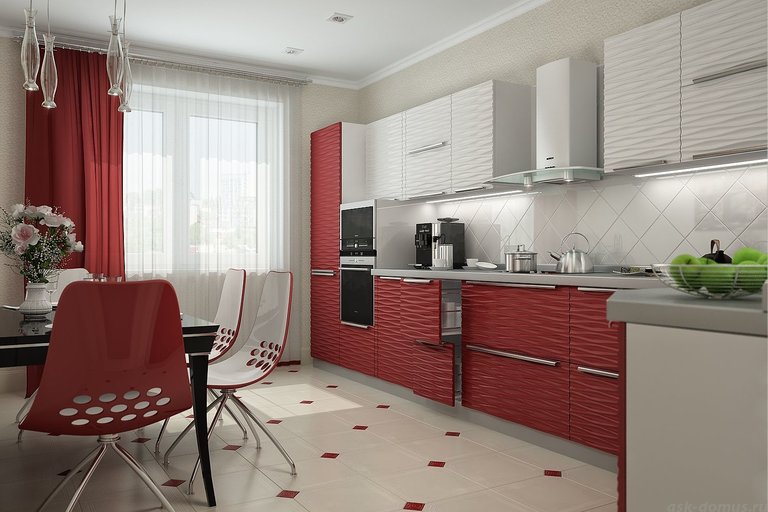 Pink kitchen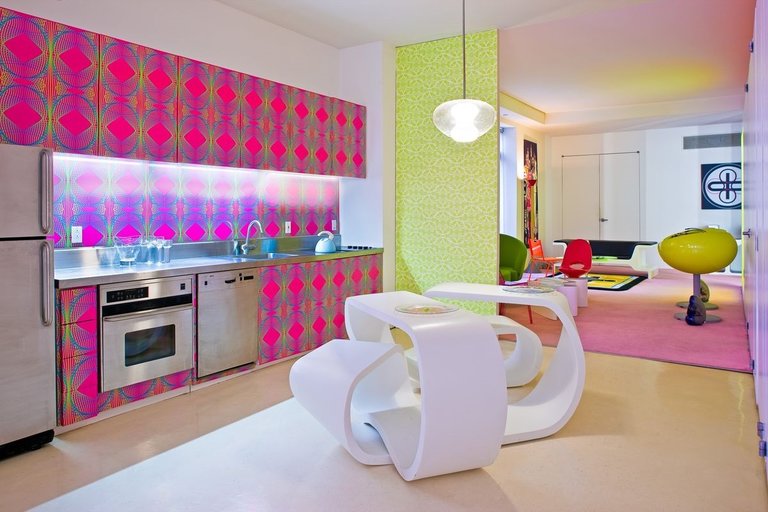 This pink kitchen set, reminiscent of doll furniture from a Barbie house, is ideal for young girls and women who are looking after their figure. The fact is that this color reduces appetite and eliminates cravings for sweets, helping to adhere to a diet.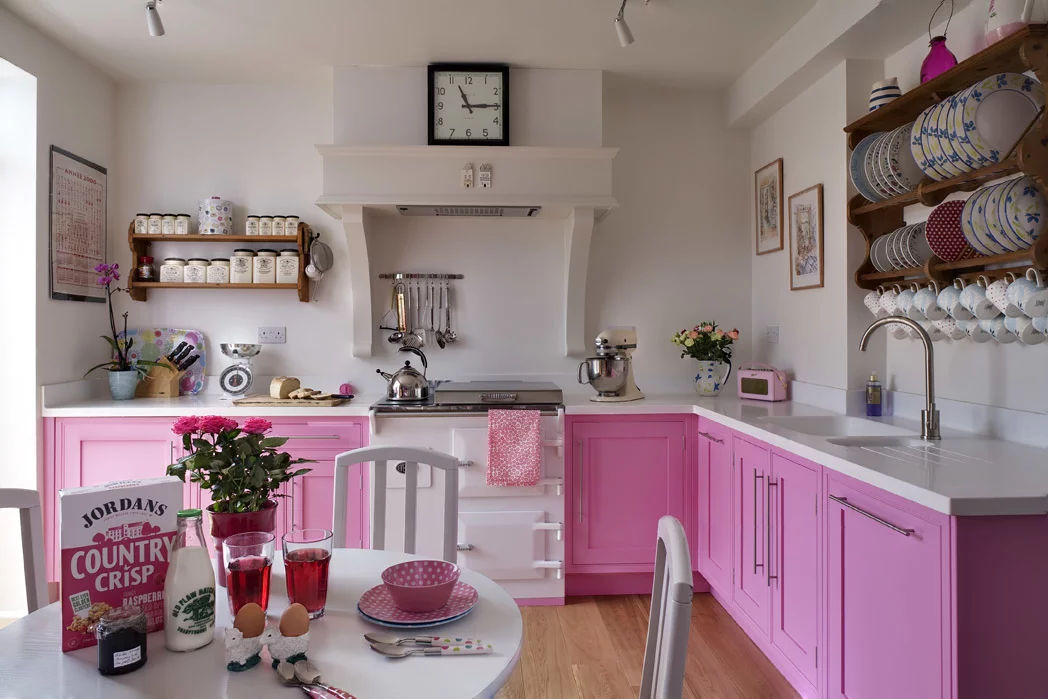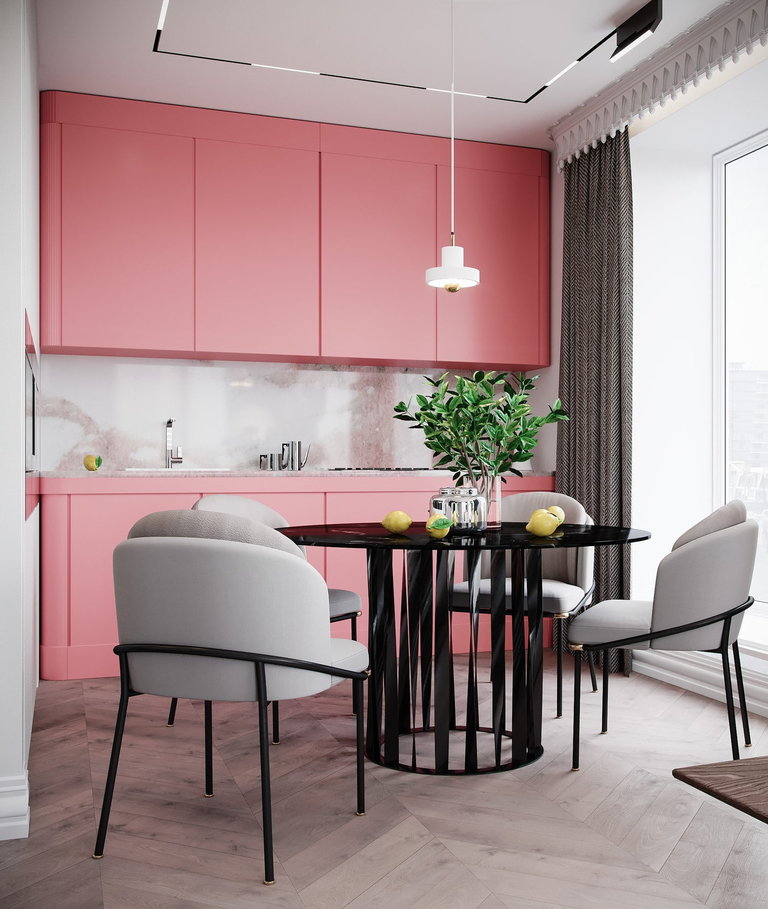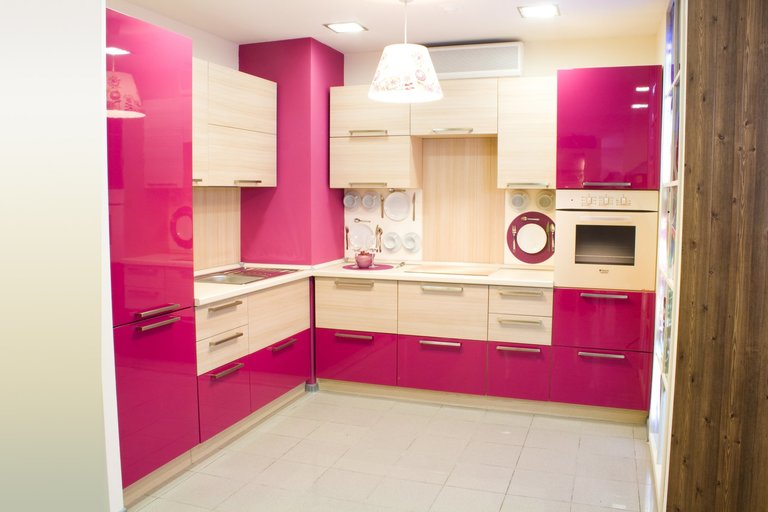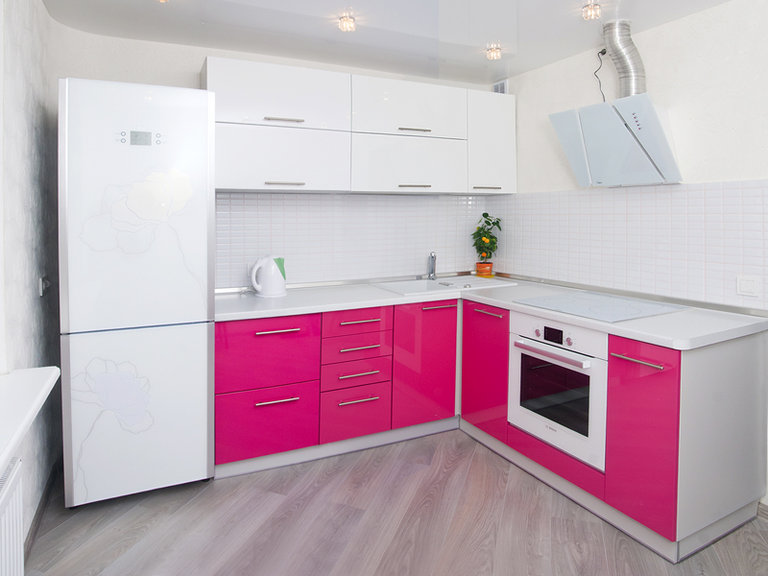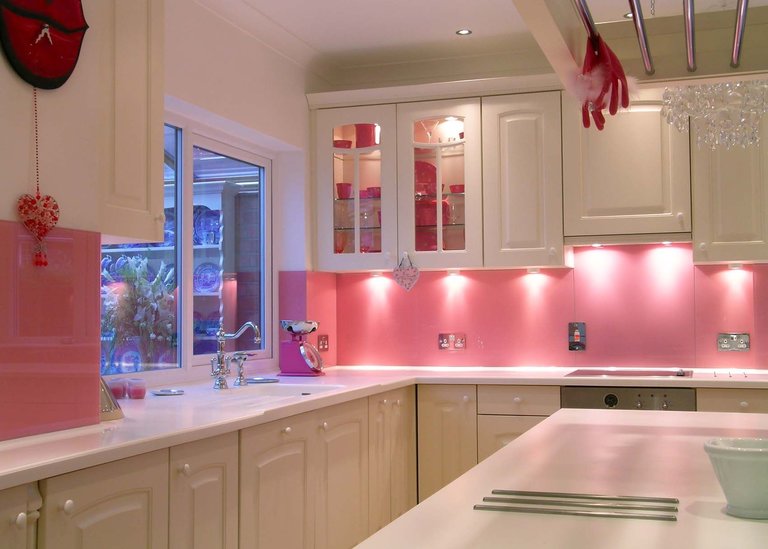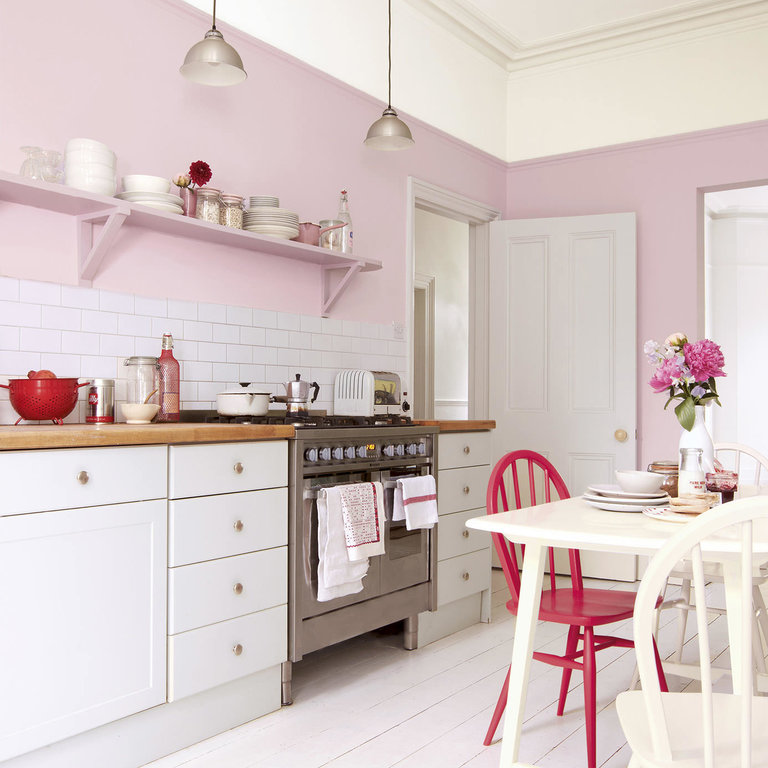 If your kitchen is painted pink, the room will be cozy. Guests will spend time comfortably in your home, making time for a pleasant conversation rather than a hearty meal.
Fuchsia
An alternative option for those who do not like the "doll" pink can be a fashionable fuchsia color – the choice of energetic people with an active lifestyle.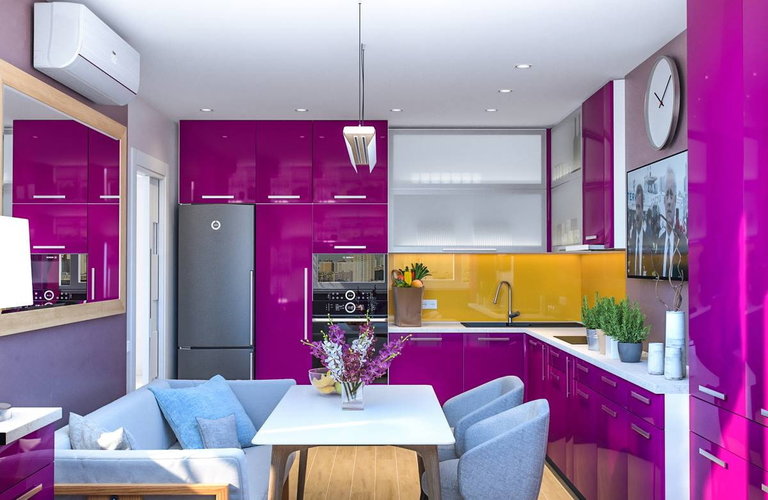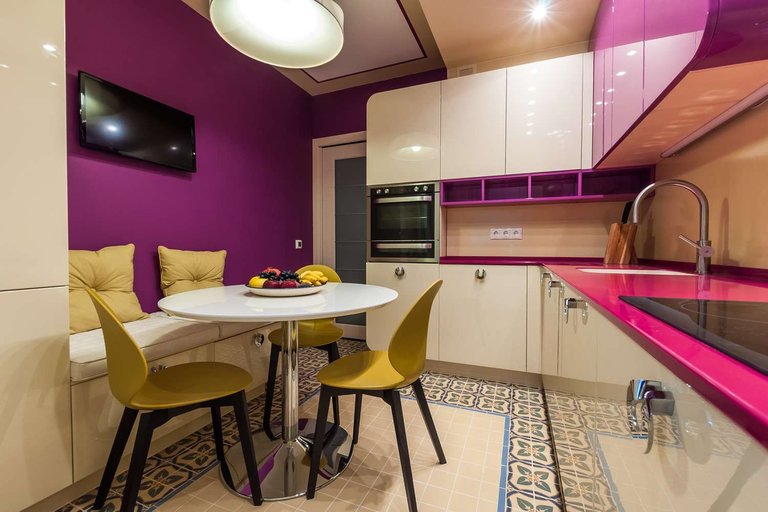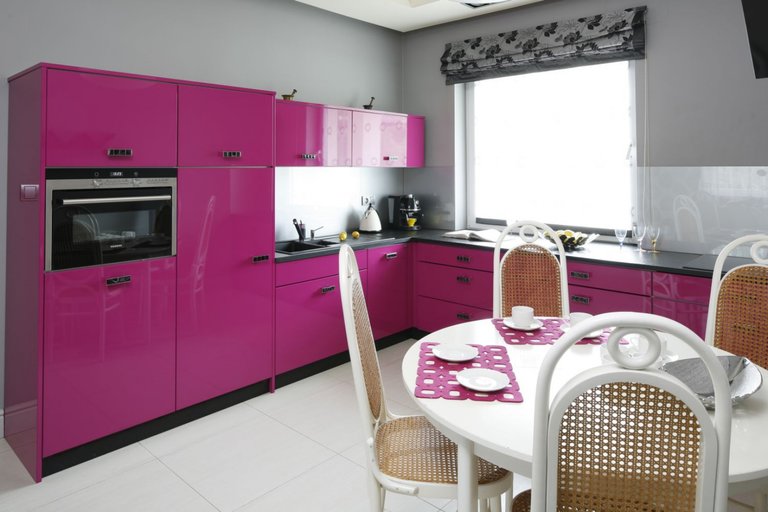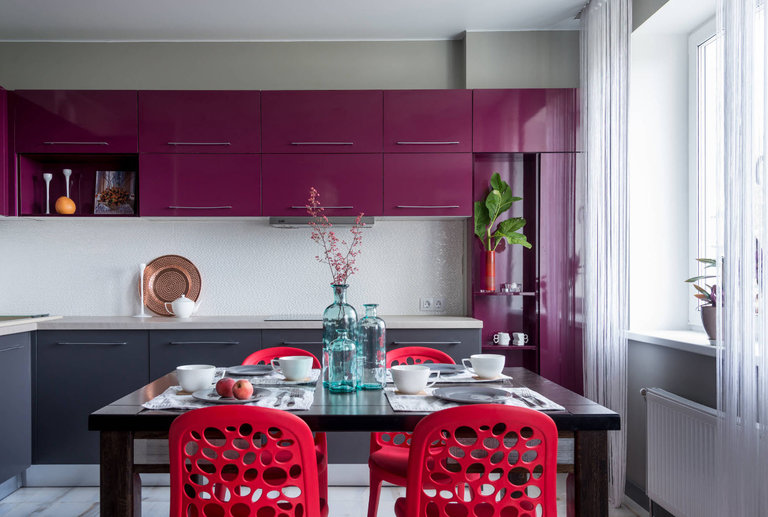 By combining bright spots with muted shades (beige, sandy, woody), you will achieve absolute harmony.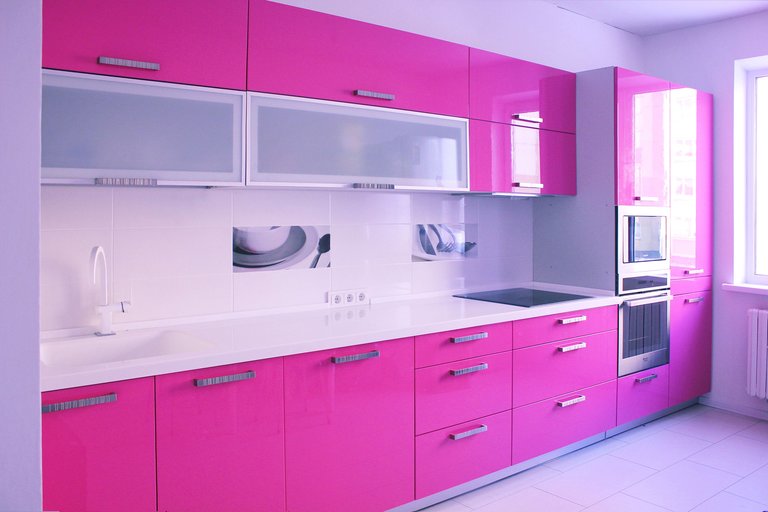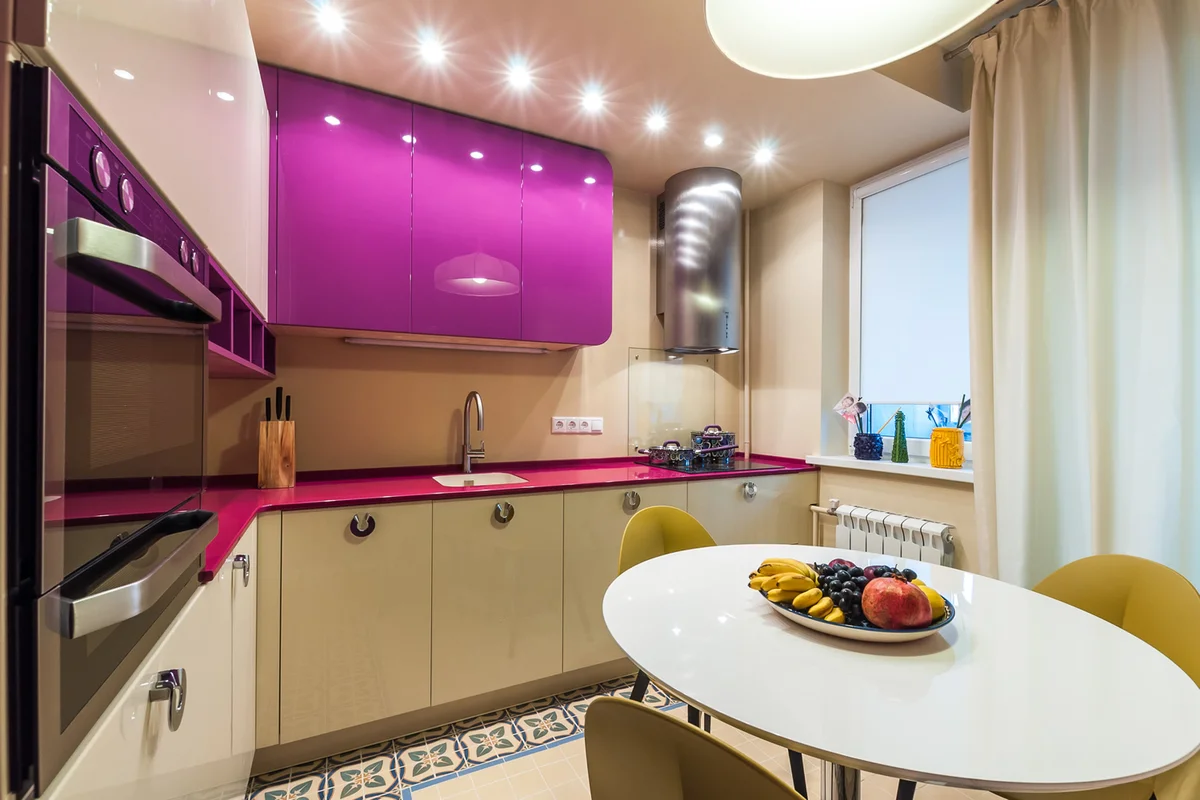 Fuchsia is widely used to decorate kitchen sets, lighting fixtures and countertops. By decorating the walls with a floral pattern that includes this shade, you will delight guests and loved ones with a feeling of relaxation, comfort and lightness. Especially if the active fuchsia color is complemented by white walls and soft natural light.
Blue and turquoise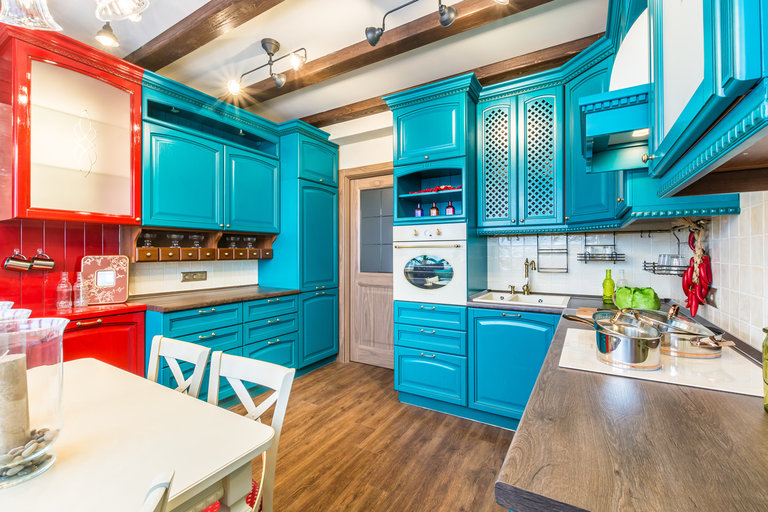 Psychologists say that all shades of blue (from deep sea green to pale blue) soothe the nervous system and immerse the mind in a state close to meditative. It is not for nothing that blue is associated with the sky.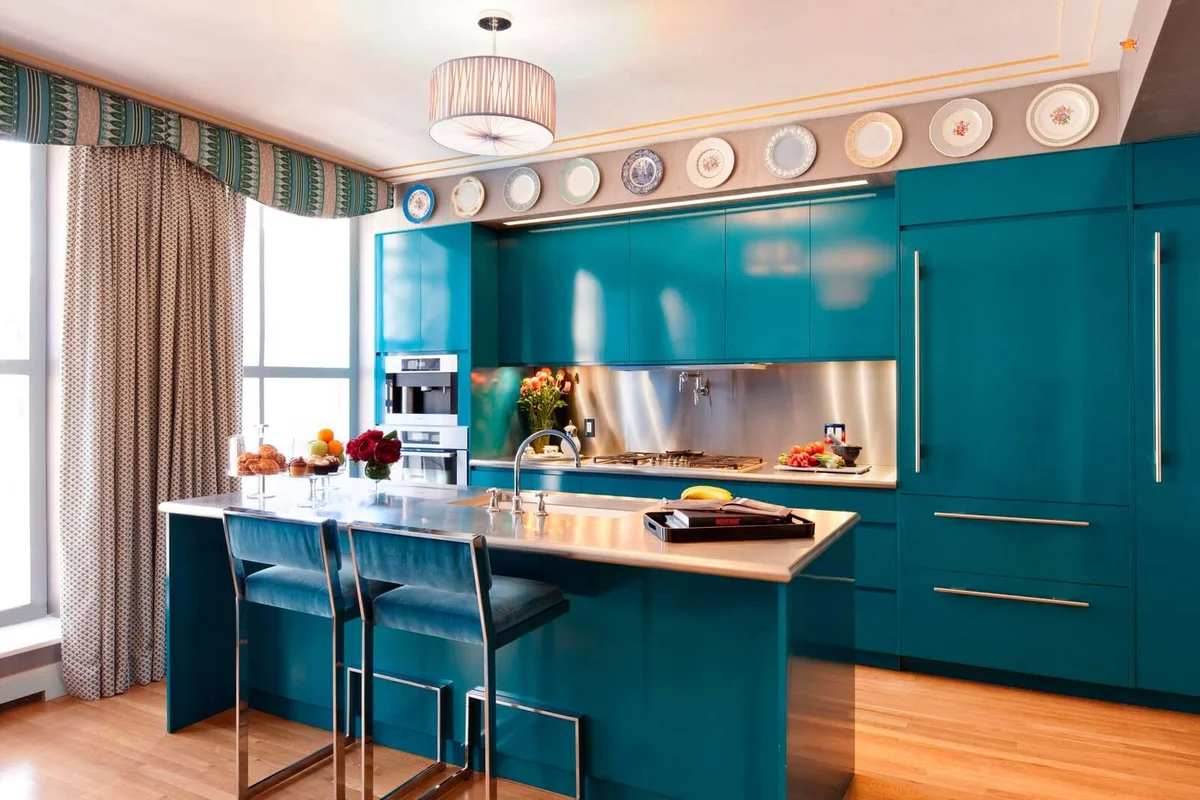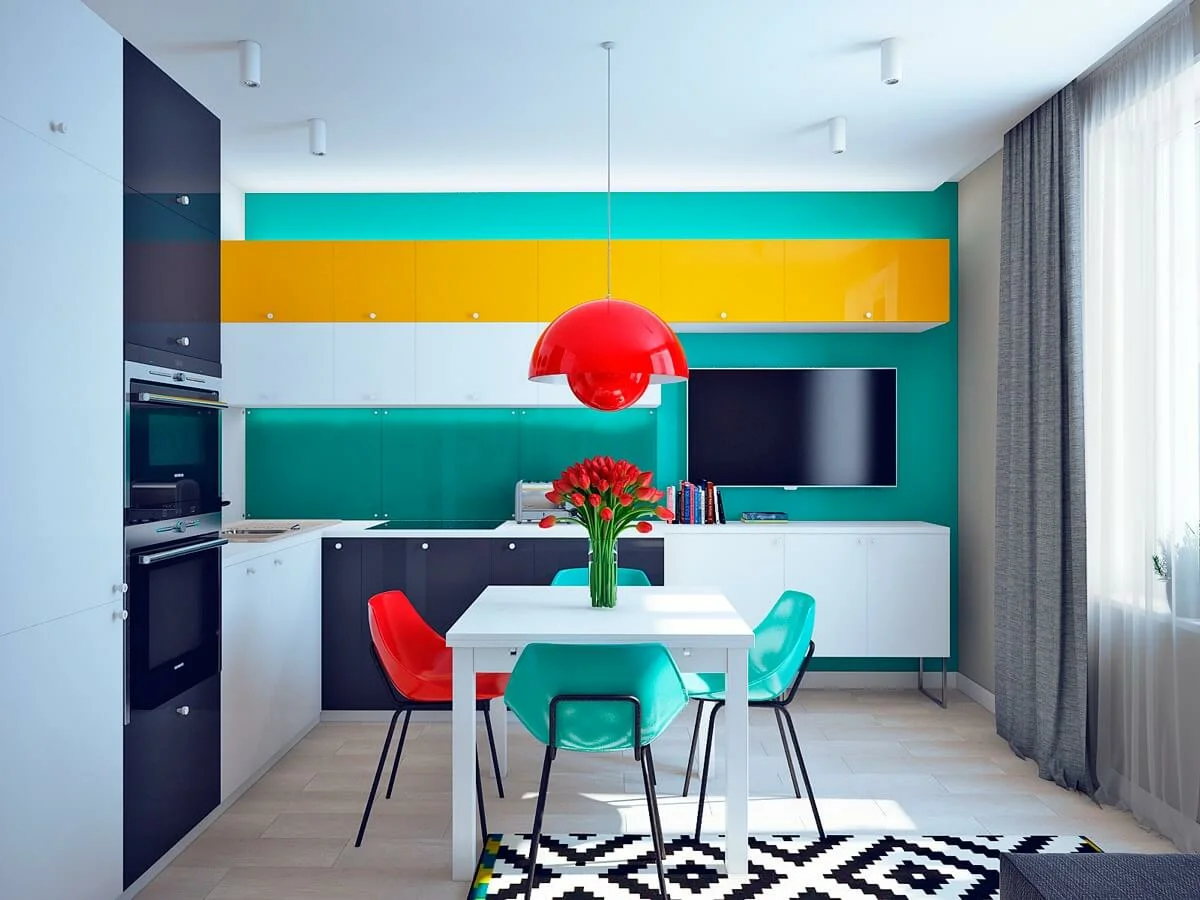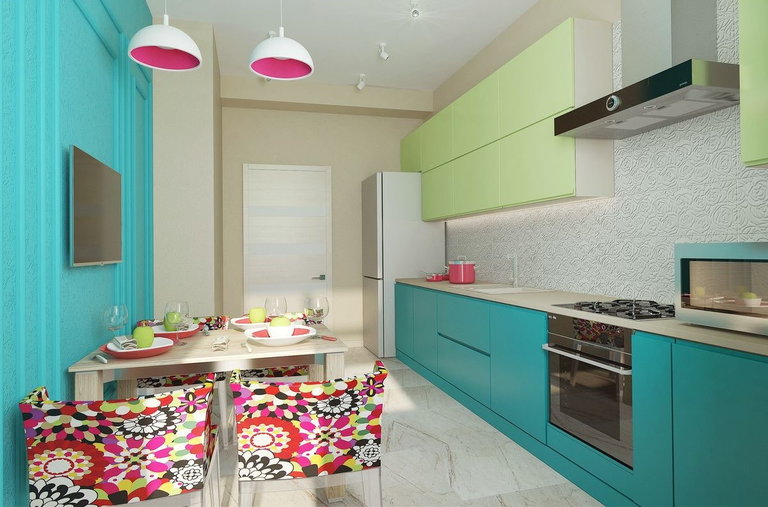 A flight of creative thought will visit the hostess at the stove, if the kitchen facades are decorated in shades of the sea. Relating to the cold color scheme, blue and turquoise do not cause hunger, unlike warm shades.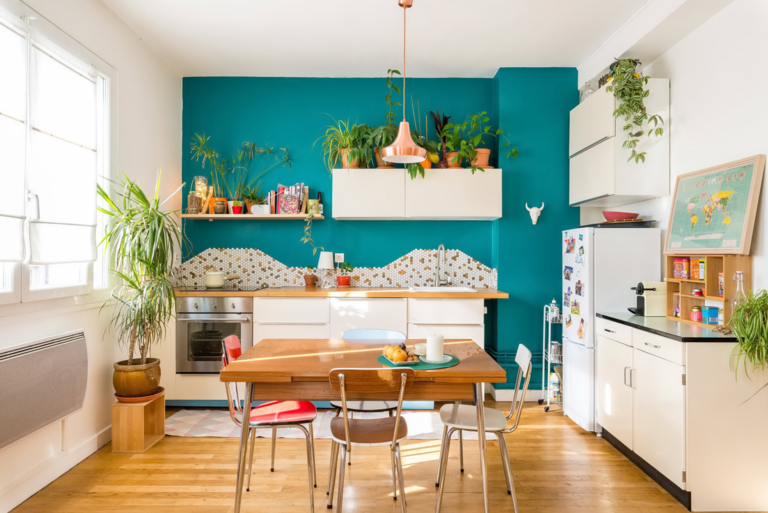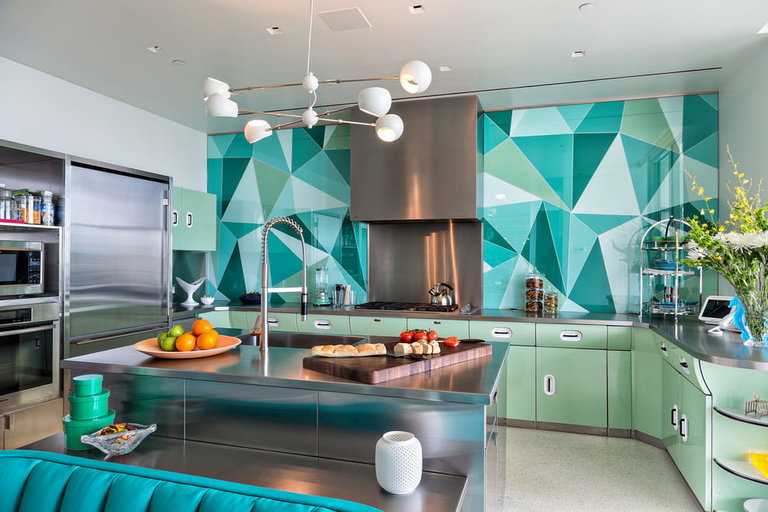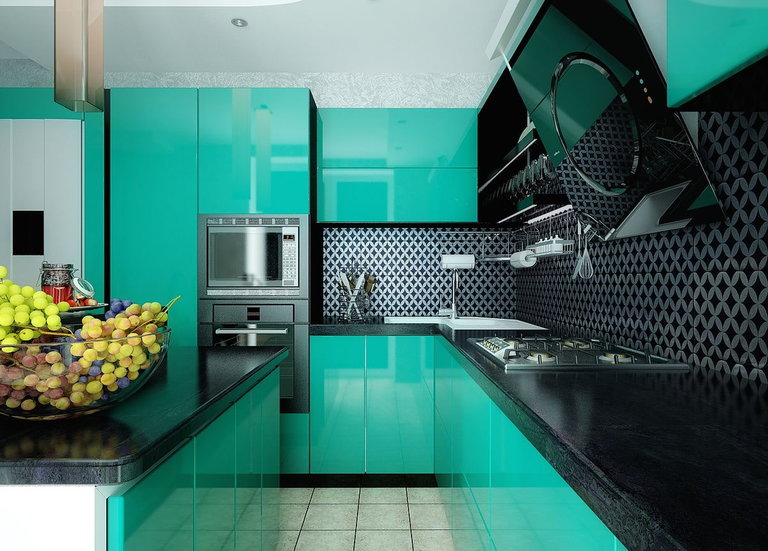 However, color experts warn that the excessive presence of blue, cyan or turquoise in the interior creates an unsettling atmosphere and negatively affects vision, straining the eyes.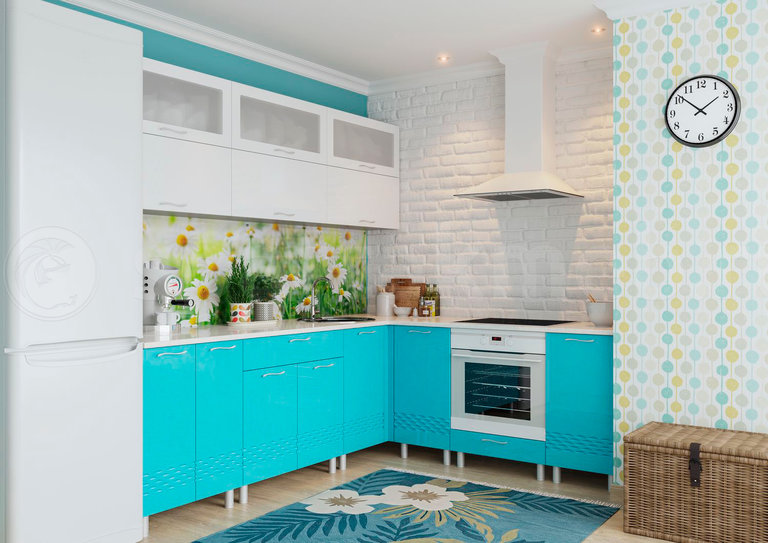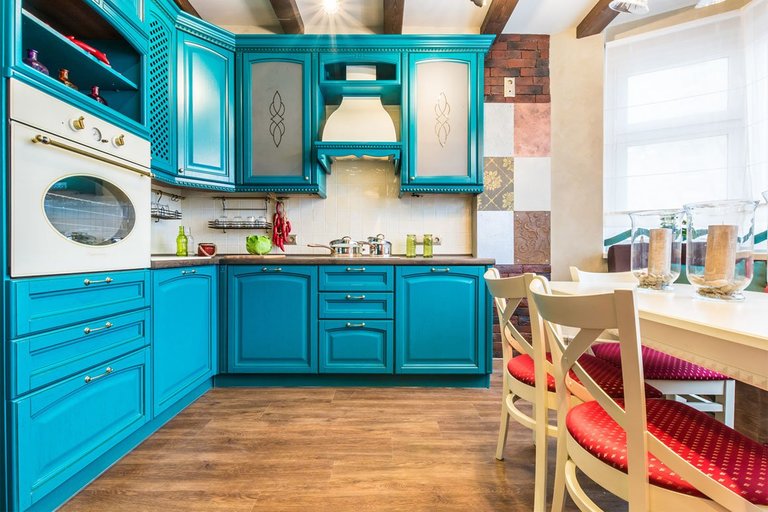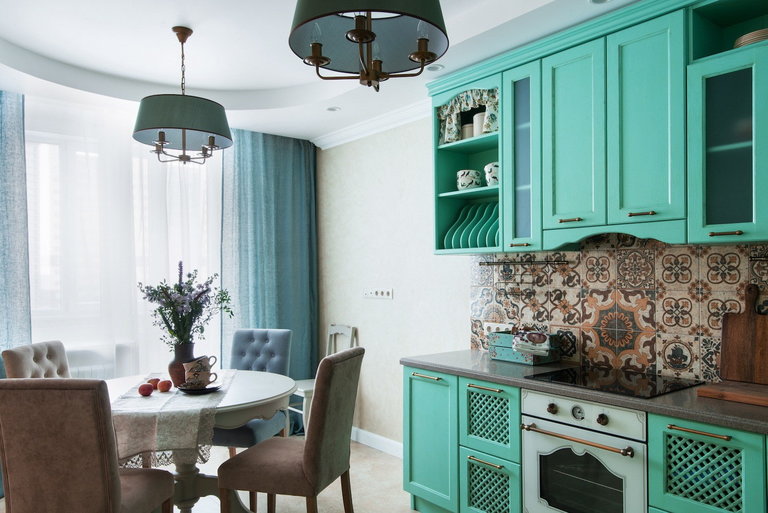 It is better to dwell on pastel-colored wallpaper, diluting the soft color scheme with bright spots in the form of designer figurines, "sea" patterns on curtains or paintings.
Colorful bright kitchens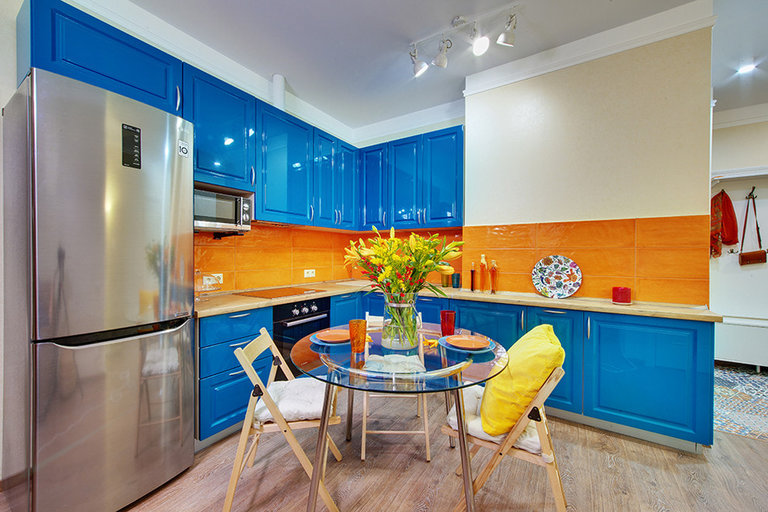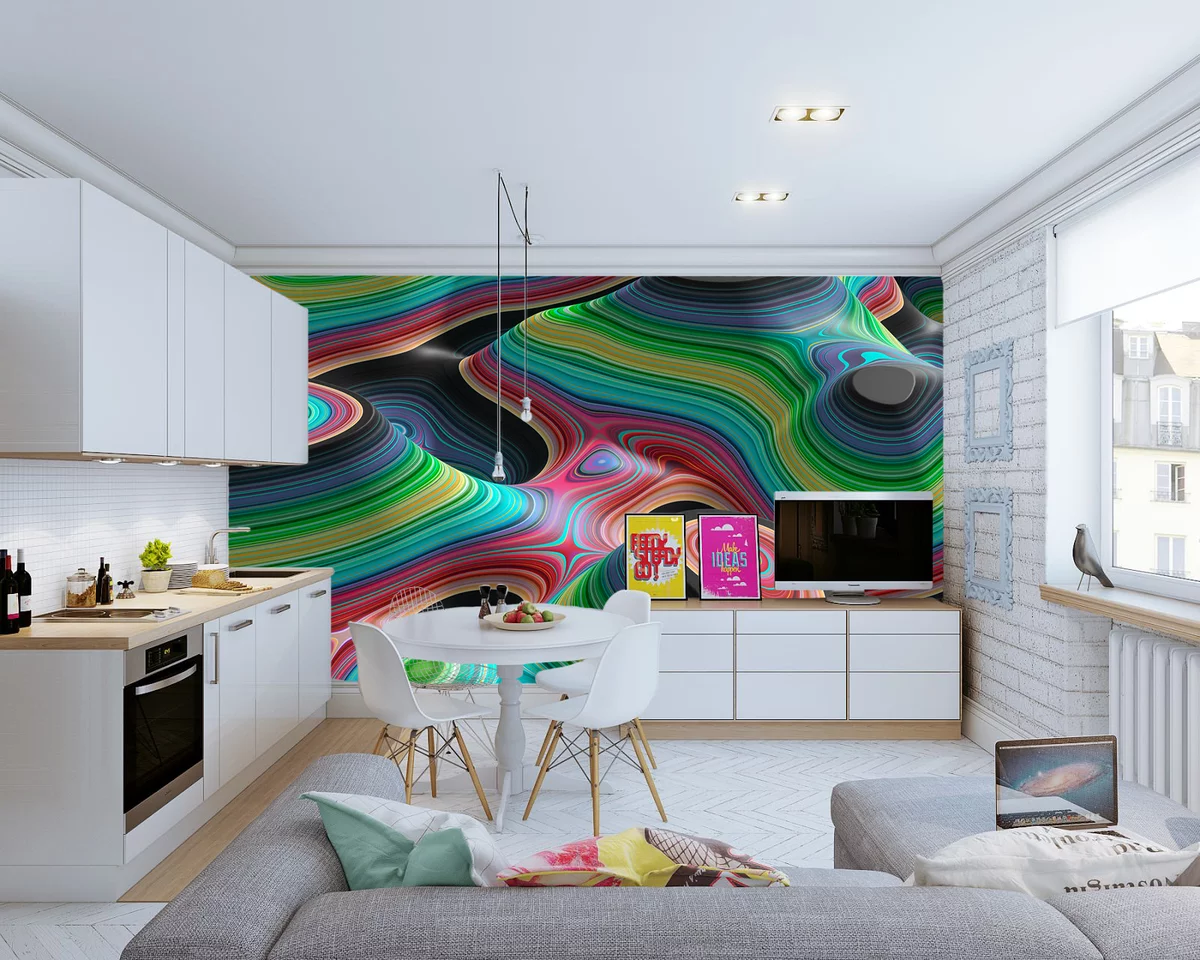 A bold solution for creative people and extraordinary people will be the color design of the kitchen interior, replete with bright spots that create the mood of a continuous holiday. The main thing is to keep the shades compatible with each other.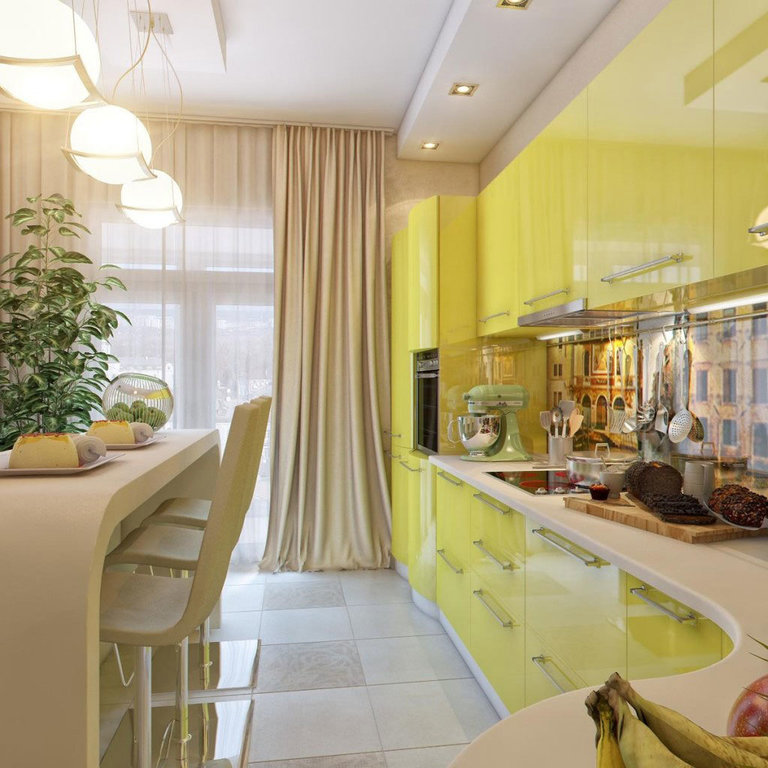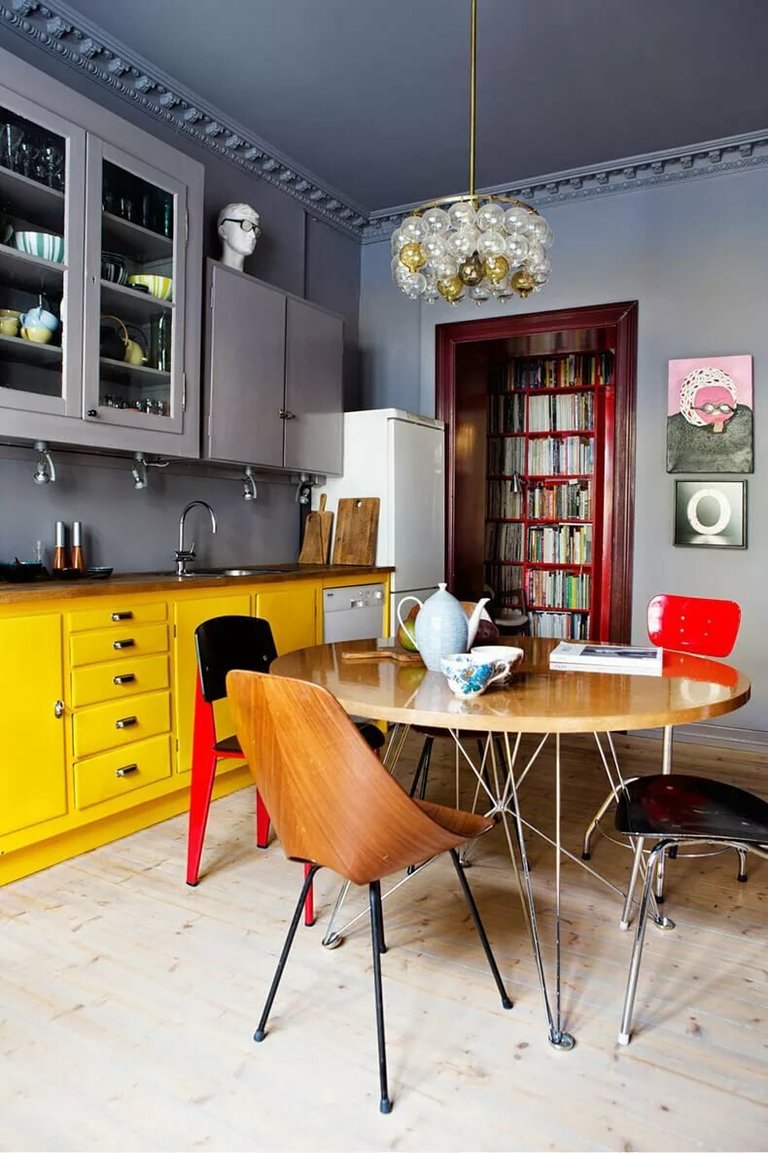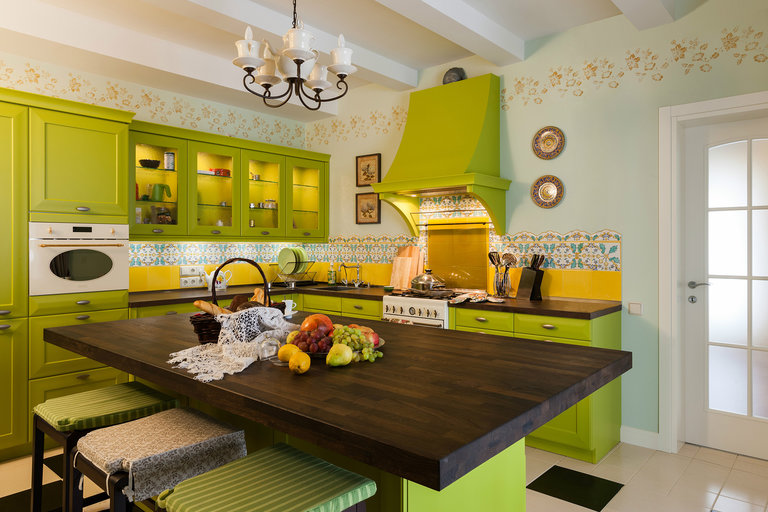 A win-win option would be a combination of colors that can be found in nature. For example, green, beige and brown will remind you of trees in a summer forest, while sand, blue and turquoise will remind you of the seaside. With the help of vivid experiments, you can change your mood and create your own world without leaving your home.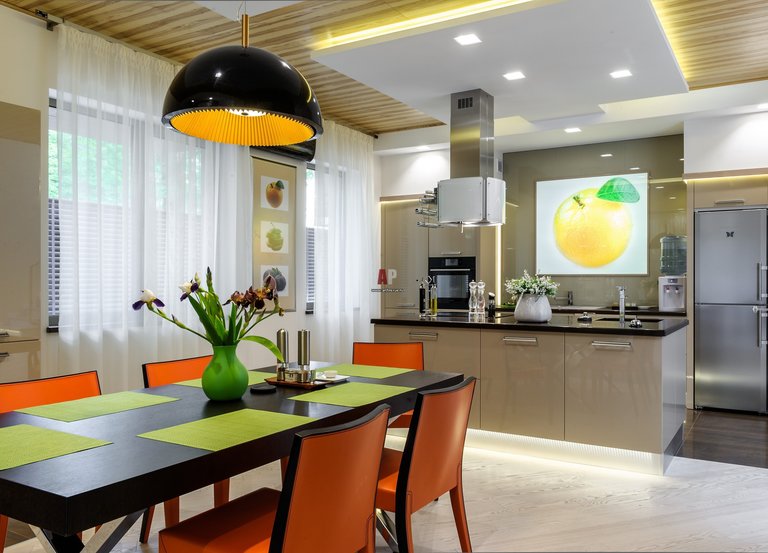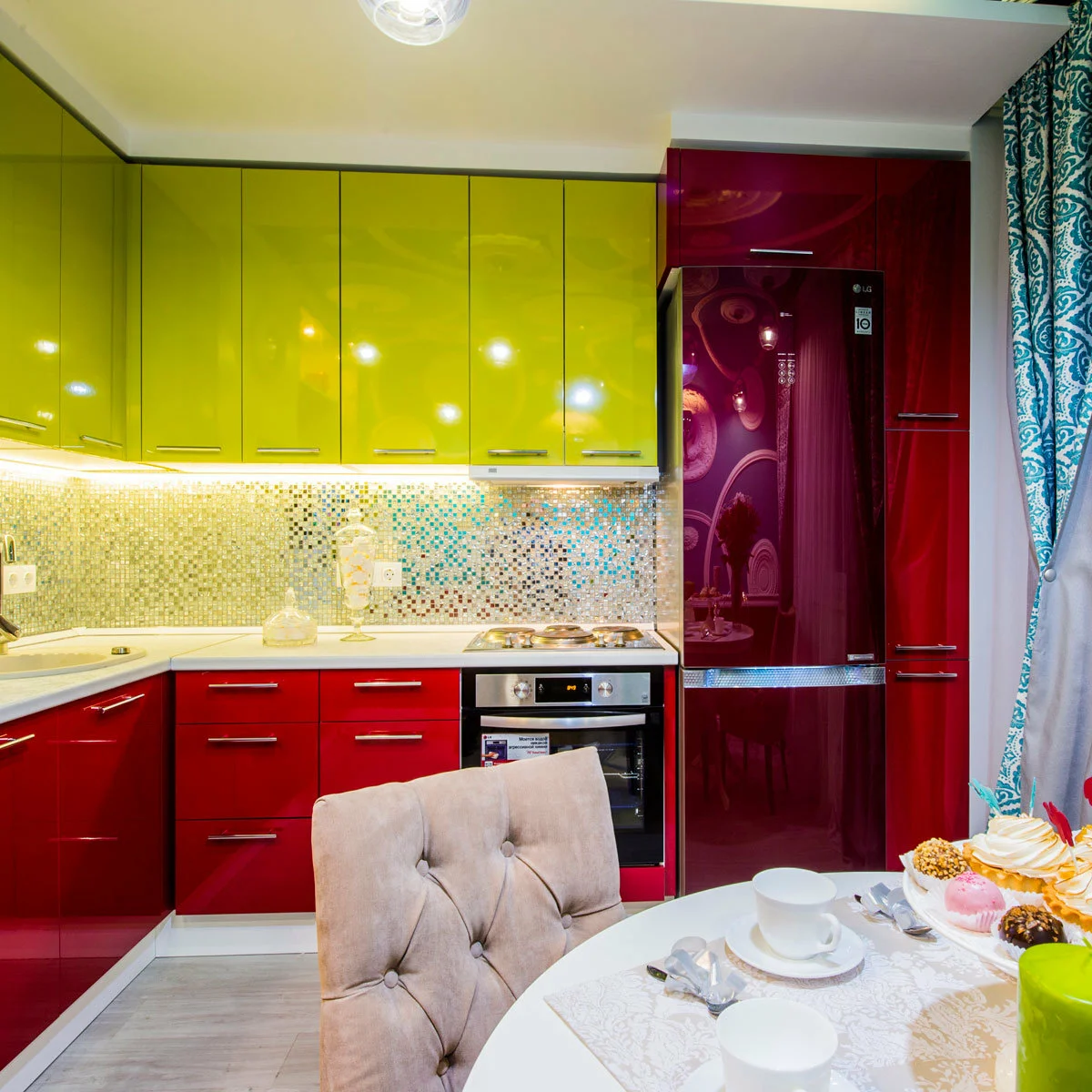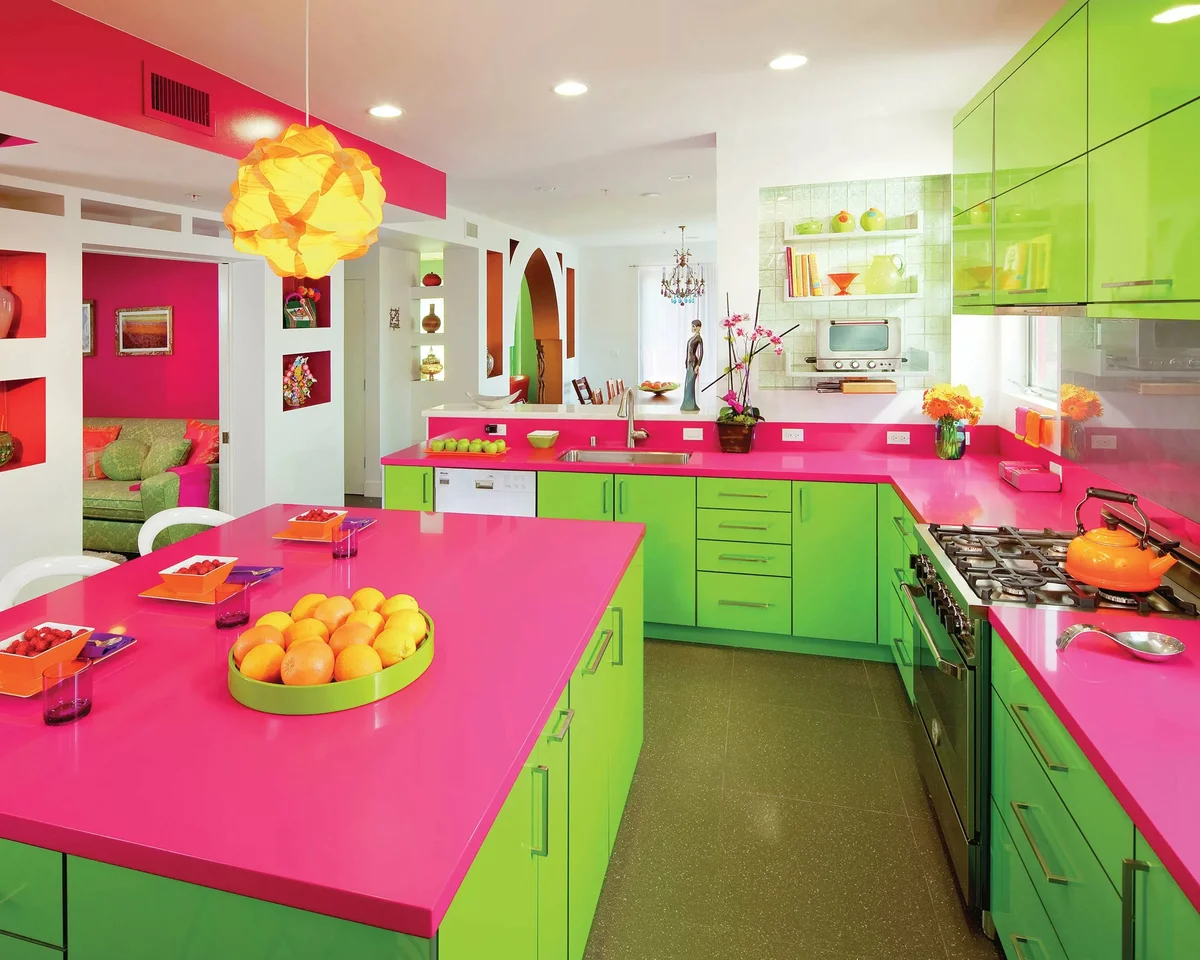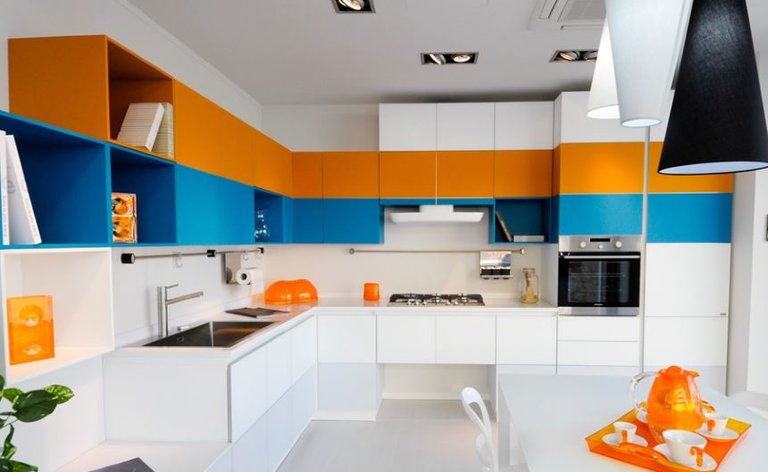 A good solution for a bright kitchen interior would be a combination of light walls, creating the illusion of expanding space, and colorful accessories: from headset facades to napkins, potholders and an apron. And remember, the hostess's positive mood improves the taste of the dishes!
Pros of a bright kitchen design:
+

Bright colors enliven the interior, create a festive mood, relieve depression.

+

They improve appetite and activate all processes in the body, including the digestive one.

+

The colorful kitchen is conducive to friendly, informal communication – guests will love the vibrant colors in the interior.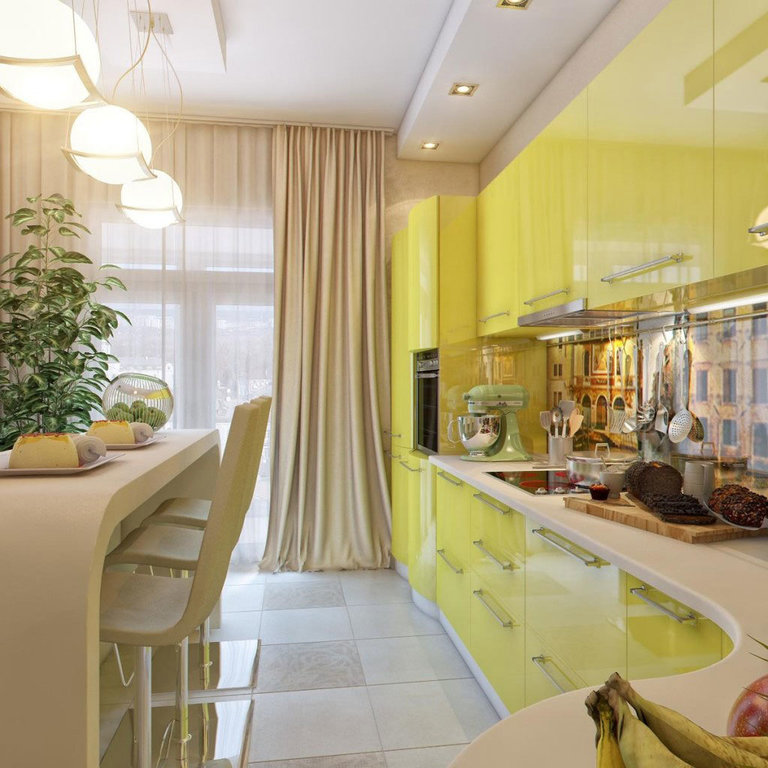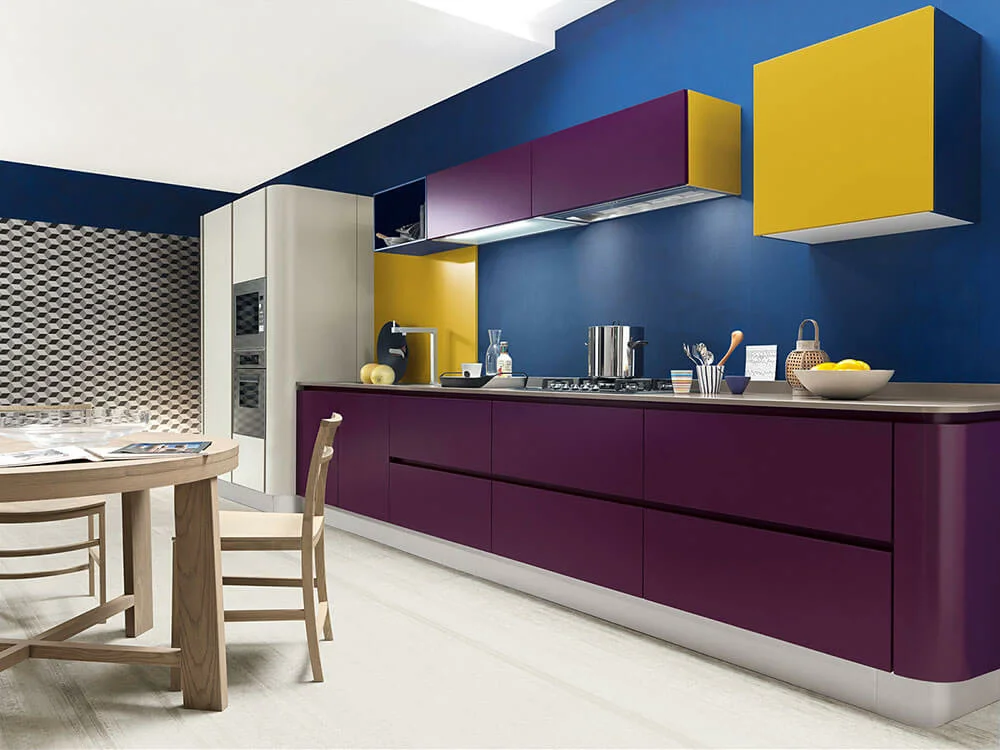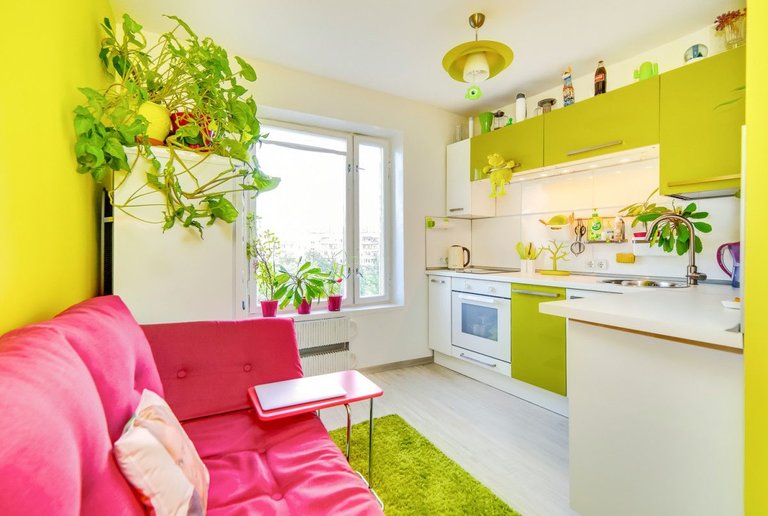 Cons of bright kitchens:
–

The abuse of bright color accents causes irritation, overexcitation of the nervous system.

–

Excessive enthusiasm for warm shades (red, orange) carries the danger of overeating and gaining excess weight.

–

The predominance of cold tones provokes apathy.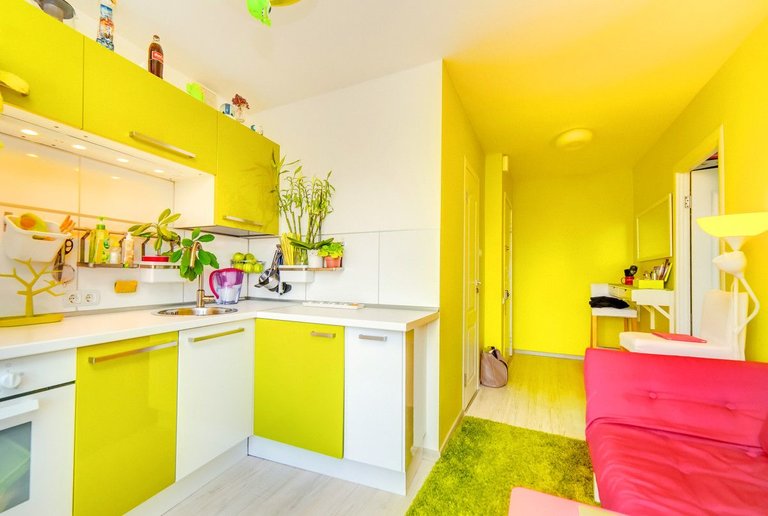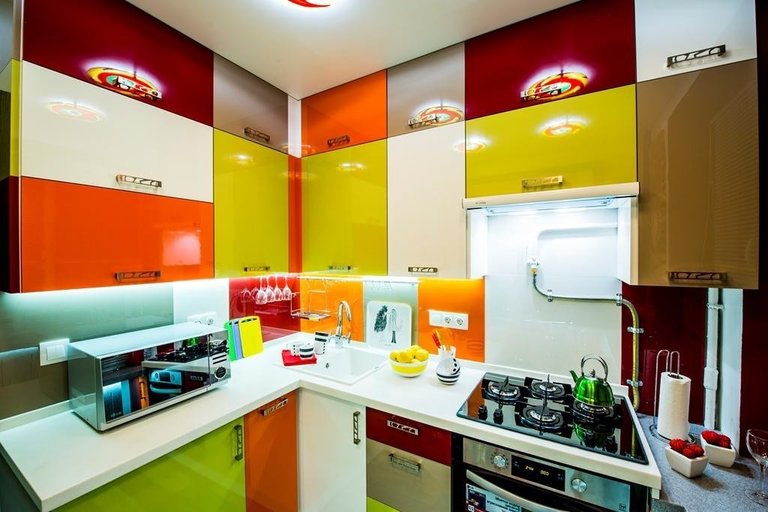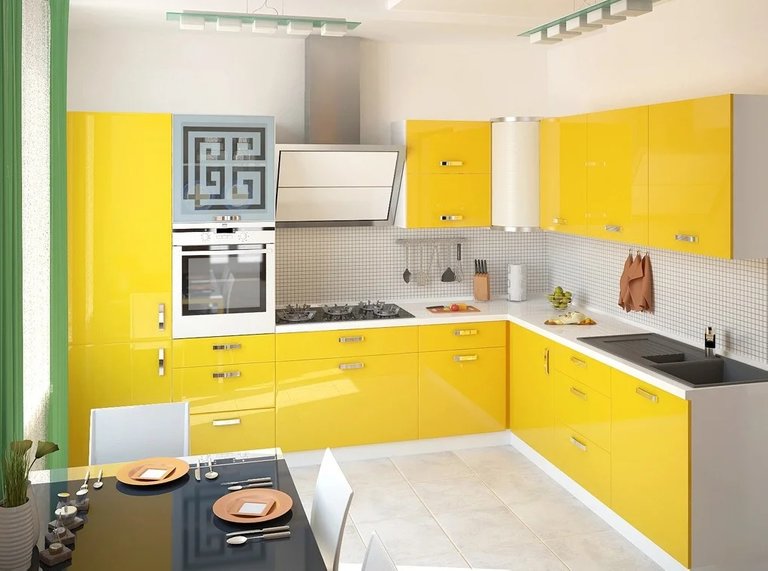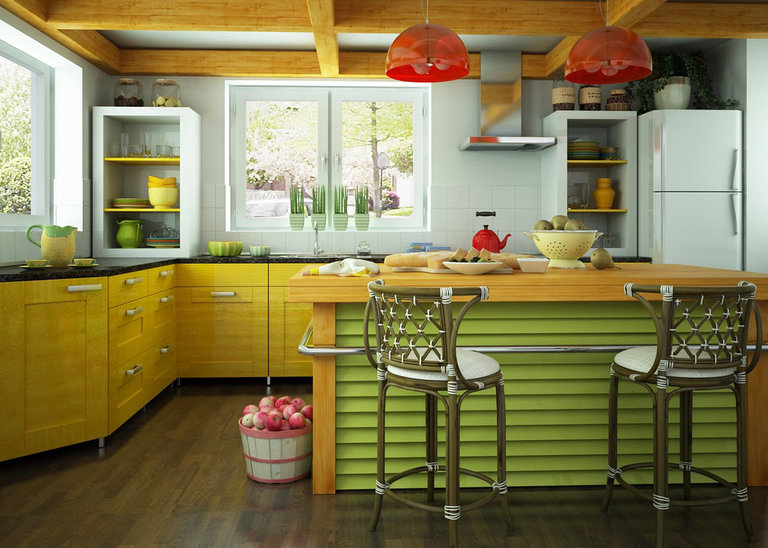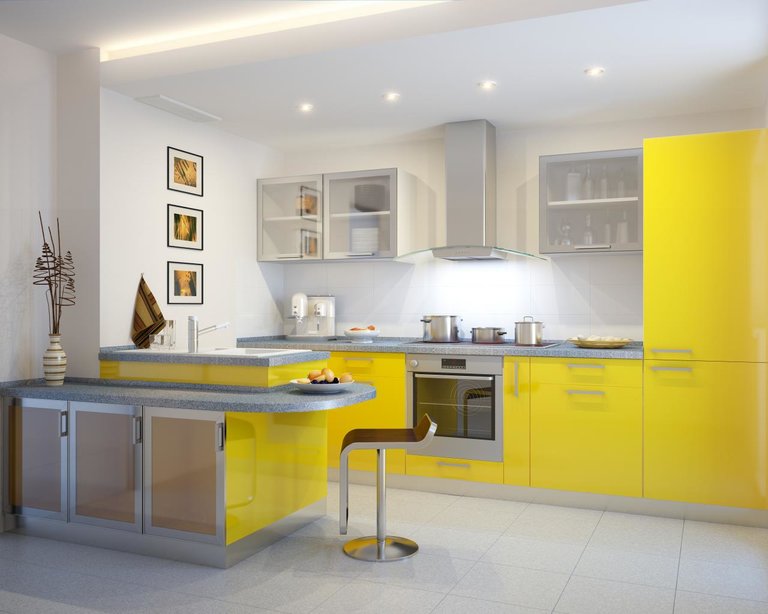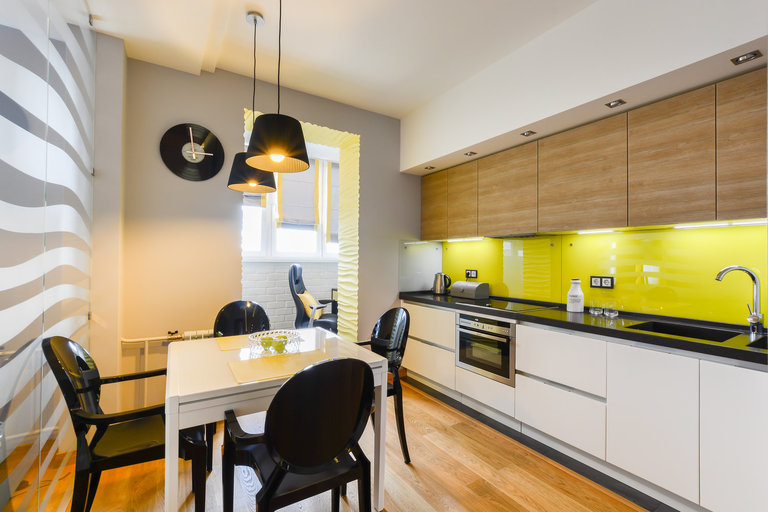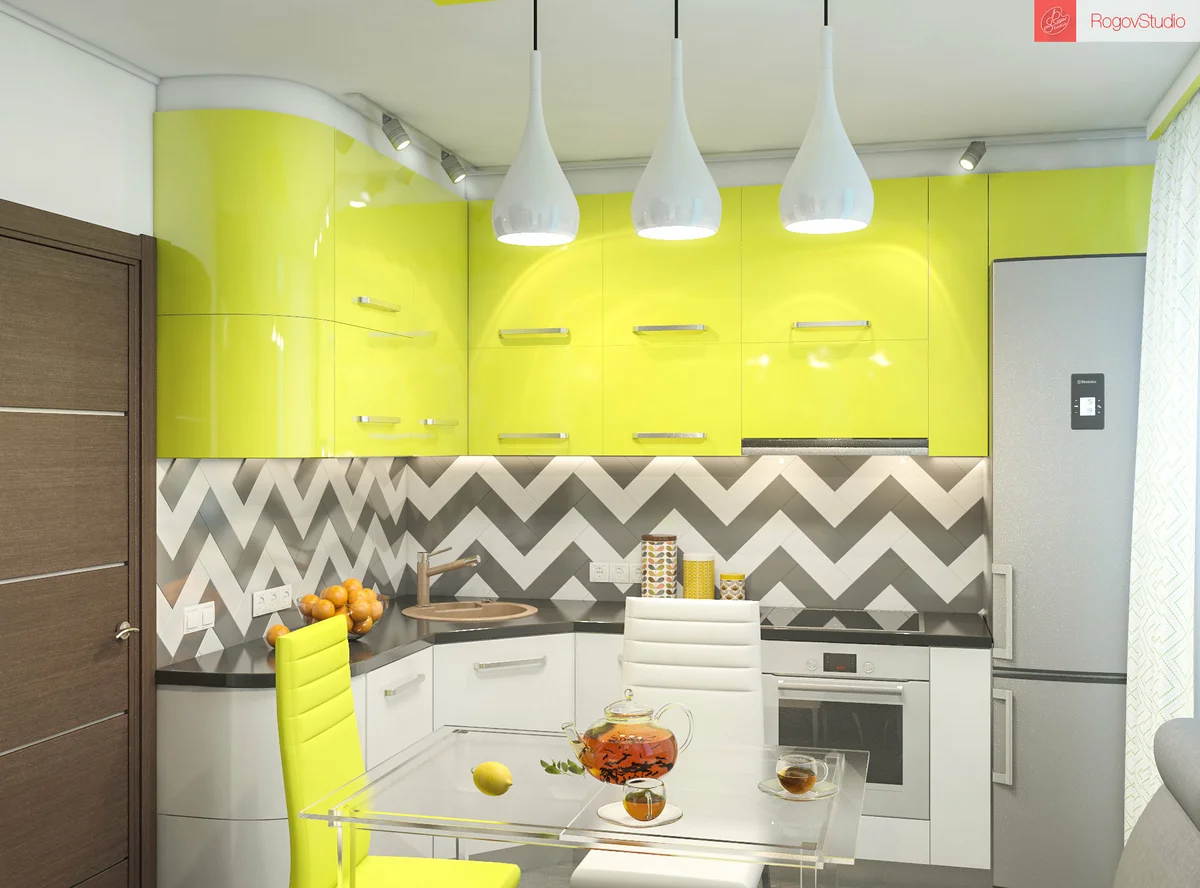 Despite some shortcomings, there are more pluses in a bright interior design than minuses.
Would you dare to paint your dream kitchen with rainbow colors?