Welcome to our updated post 50 photos of kitchen design options 15 sq. m. (+ new items in 2020)
.
In this article we will describe for you all sorts of kitchen design options 15 sq. m., which will be in trend in 2020, as well as show photos of new products. You will also see specific examples of furniture arrangement in various kitchen styles, fresh ideas and novelties.
What layout features can be in a kitchen of 15 sq. M?
Kitchens of 15 squares are rarely found in typical apartments. Usually, these are either very large "stalinka" apartments, modern new buildings or in a private house. In all these cases, as a rule, these large and spacious kitchens have 2 windows (but not always).
So, what can we recommend in this case?
1. No need to hang a curtain (like tulle), on the whole wall and close window openings. Firstly, it is not very beautiful, and secondly, there will be less light. Better to beat these windows, for example, put some kind of sideboard or shelves between them. And hang a decorative curtain at the very top, just for beauty.
2. Also, we draw attention to such an important point – heating… If you yourself have expanded the kitchen in some way, then do not forget about the need to install an additional radiator. With one battery in the kitchen, 15 square meters will be pretty cool.
3. A few words about kitchens with a balcony. Now it has become fashionable to remove a concrete slab from the balcony and put a window on the floor in its place. Yes, it's very beautiful, but don't forget about safety.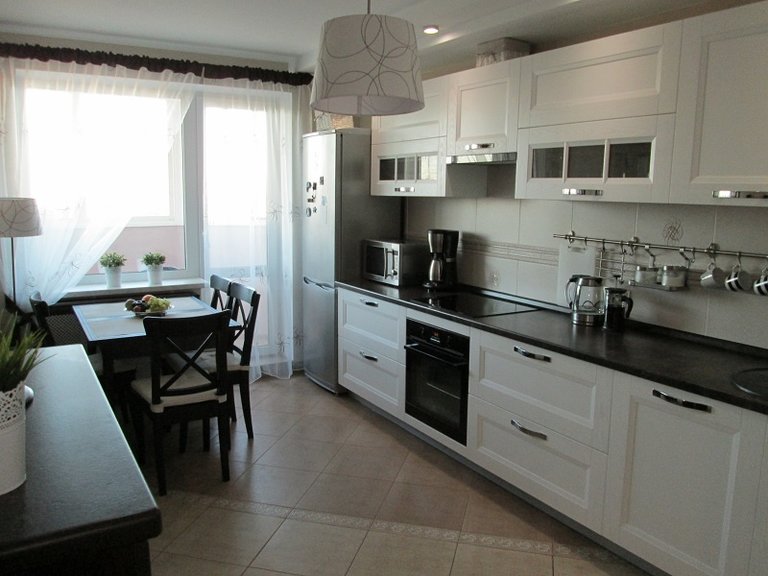 Especially if you have children who have the tendency to stumble, fall, fight … And maybe, on one "not beautiful" day, your child will crash into this very window, which is by no means always armored and strong. Therefore, our advice to you: you better do not take risks.
4. Another important detail – shine… If there is only one window, then take care of additional lighting in the far corners. And in the evening, one chandelier will not be enough for you (although if it is 5-arm, then there will be enough light).
If you have a corner kitchen, and this corner is not lit, then we do not recommend placing a dining area there (although it just asks there, purely visually). It is better to put a table by the window, and a refrigerator and other equipment in a dark corner.
Options for placing a kitchen set on 15 square meters
In this block, we will talk about the layout and placement of the most important thing – the kitchen unit. And already from it you can "dance", forming the further interior of the kitchen. How to furnish the remaining area is much easier to come up with.
So, what options are available to you on such a quadrature?
1. Direct kitchen
2. U-shaped
3. L-shaped
4. Set on both sides of the walls
five. Set + island
6. Bar set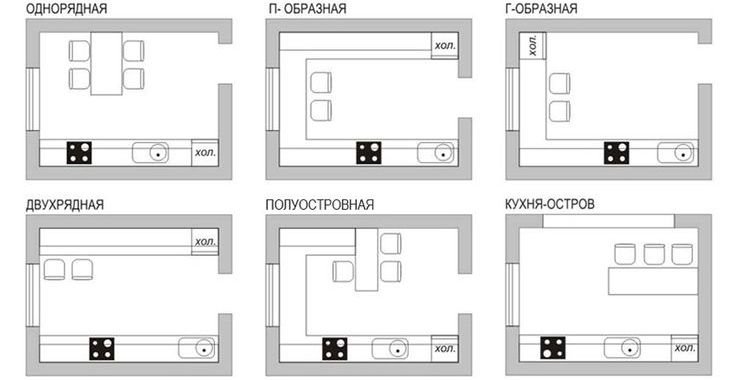 We will devote a separate section and a selection of photos to each of these types of placement (except for linear) so that you can see how it all looks in the interior.
Now let's discuss all the options in more detail.
U-shaped headset placement
The U-shaped kitchen is inaccessible to those whose area does not allow blocking three walls, and at the same time "stealing" the area inside. But this problem does not concern the owners of a kitchen of 15 square meters. Here, on the contrary, the U-shaped arrangement will be very useful, otherwise, the room may look empty and not fully furnished.
But, if we take into account the practical side of the issue, then the U-shaped headset is not at all an essential thing. After all, in fact, where do you get so many utensils to be placed in the numerous drawers? The best option if you equip the lower drawers with the letter P, but on top place open shelves around the entire perimeter. It will be possible to put decorative elements, jars, bottles, etc. on them.
Check out these photos. This is how a 15 sq.m. kitchen design might look like. with a U-shaped headset.
L-shaped
In the case of such an arrangement of furniture, you will have enough space for other elements: a sofa, a sideboard, a coffee table. If you do not intend to put such furniture in the kitchen, then you can make a large dining area with a huge table. You can also place potted flowers such as hibiscus or ficus on the floor.
See how such a kitchen might look like with the location of the headset letter G.
On two sides
Let's say right away, if your kitchen is square, then we do not recommend choosing such an arrangement, since the room will look more elongated and narrow.
But if the room is long and narrow, then it will be very reasonable to place the headset on both sides. Just place it across, on short walls.
With an "island" in the middle
"Island" is fashionable, but … Is it convenient? By and large, such a piece of furniture is good for 20 squares, but at 15 – it just takes up extra space and deprives you of the opportunity to equip a large dining area.
Well, think for yourself, how miniature this "island" should be, so as not to interfere with anything else? And if it is small, then there is no special kind in it, no convenience.
You can't place a sink in it, it's impossible to cook on it, or sit down to eat, because your legs will rest on the drawers … Please, look at the photo of how kitchens with an "island" look on such a square.
Look and think, is this beauty worth the comfort? After all, instead of "under-island" you could put a comfortable sofa, for example. It's convenient, yes! You cook, and your husband is lying on the couch and morally "supports" you =)
With a bar counter
In such an area, you can fit a bar counter. But, it will be more appropriate if the kitchen is not separate, but combined with the living room, for example. Then the bar counter acts as a divider, looks stylish and does not "steal" the usable area.
In this case, it even goes out into the kitchen-dining room, where the headset, the dining area and the sofa with the TV can easily fit. Or maybe it will be just a kitchen-living room of 15 square meters, in which, instead of a dining table, a counter and bar stools.
Although, we do not recommend this option for large families. Dine sitting in a row at the counter is inconvenient. Instead of putting some kind of dish in the middle of the table where everyone can take their own food, you will pass the plates to each other in a chain.
But, if your family is of two people, for example, then you can do that.
Take a look at the photo below and you might like some design ideas.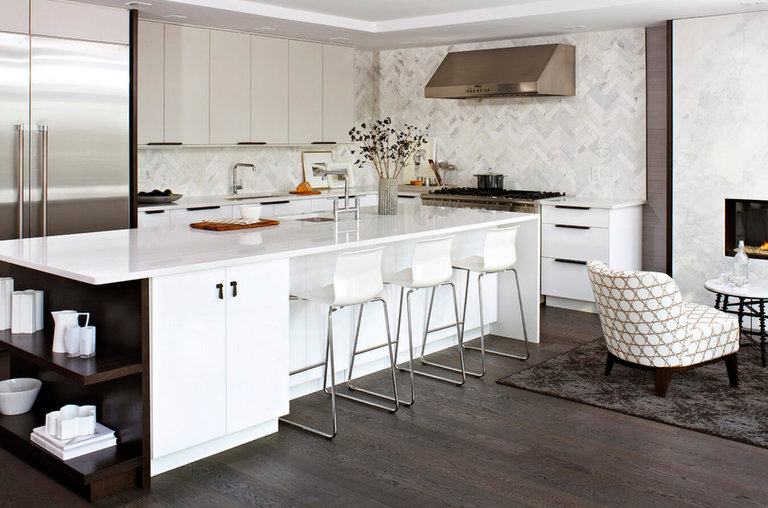 Well, now that we have considered all possible options for placing the main furniture in the kitchen, let's move on to specific examples and styles. After all, zoning is not everything. The main thing is style.
Minimalism
In a modern style, which is "minimalism", equipping a large kitchen is not very interesting. It will look overly empty and boring. This style does not imply any beautiful, interesting details and it is difficult to choose something interesting in order to diversify the situation.
But, if you really like minimalism and the whole apartment is made in it, then we suggest you look at the photos that we have selected.
As you can see, there is nothing much to advise here and to focus on any details – too. The only thing that cannot be ignored is the technique. In a kitchen of this style, you can put a maximum of technology, and it will not look inorganic (for example, as in Provence or country styles).
Vanguard
But this is already an interesting option. Here, in the free space, you can put a lot of interesting decors. For example, sofas that are made in the form of half a car. Or, instead of a cupboard, there is a decorative telephone booth, like in England, on every corner.
Here are a few photos of large kitchens in this style:
Fusion
Fusion is a large number of different-sized details, colors and other "philistinism". The more there is, the better and more stylish the final look. In such a kitchen you can put a sideboard, chests, benches, whatnots, shelves, floor lamps …
Textiles should be bright, lamps should be as unusual as possible. Mixing styles is not welcome here. Everything should be in the old version.
Classic
A real, cast-iron stove-potbelly stove just asks for a classic kitchen. But it should be high, with carved details. For the price, such a thing is very expensive, but it's worth it. If you don't want to buy a ready-made one in an antique store, you can lay out a fake ceramic tile stove or make a semblance of a fireplace, for example.
You can put a chair next to it, it will look very natural.
Do not forget that the headset furniture must also match. Kitchens in the style of modern classics that are sold in stores (in the form of dark furniture with friezes and nets) are not at all the classics that were before. It is better not to buy this parody, but to order furniture that will really look out of place if you are making a classic interior. Also, put brass mixers, do not forget about cornices, a chandelier and other little things.
In the photo below, interesting options for decorating a kitchen of 15 square meters in a classic style.
Provence
Just an indispensable element in such a kitchen is a sideboard with dishes, and always old. Without it, Provence is not Provence, therefore, be sure to buy it.
As a budget alternative, any old sideboard, scratched and unpresentable, that you can paint yourself white and wear on it, is suitable. It is not difficult and you can find master classes on the Internet.
Be sure to hang curtains, lay a tablecloth on the table. If the kitchen has two windows, it will be beautiful if you place a sink right under the window.
Country
In country-style kitchens, a mini-oven would be appropriate, under the Russian one. Also, various chests, shops, earthenware and cast-iron dishes look good there.
Check out the large country-style kitchens in these photos.
Retro
The main thing here is to choose the appropriate technique. Now you can find both ovens and refrigerators in the style of the 50s. Old radios, rocking chairs, bookshelves with old cookbooks look great in such kitchens.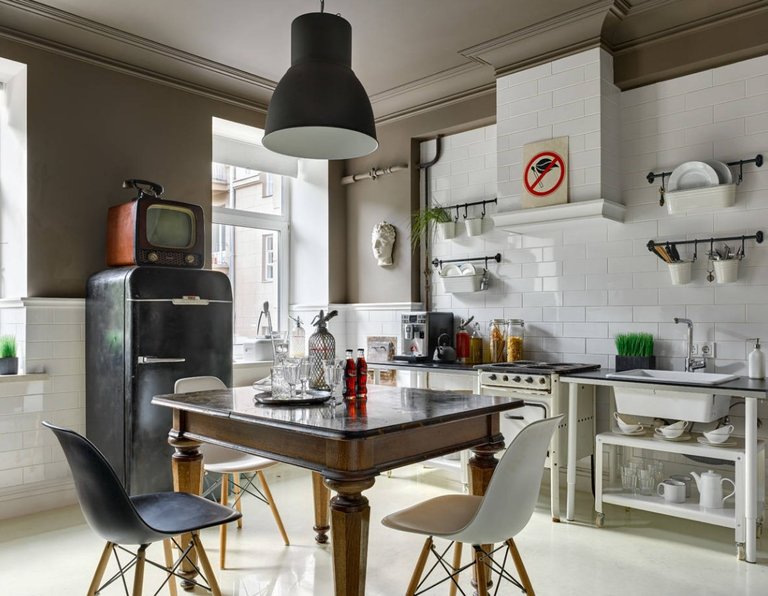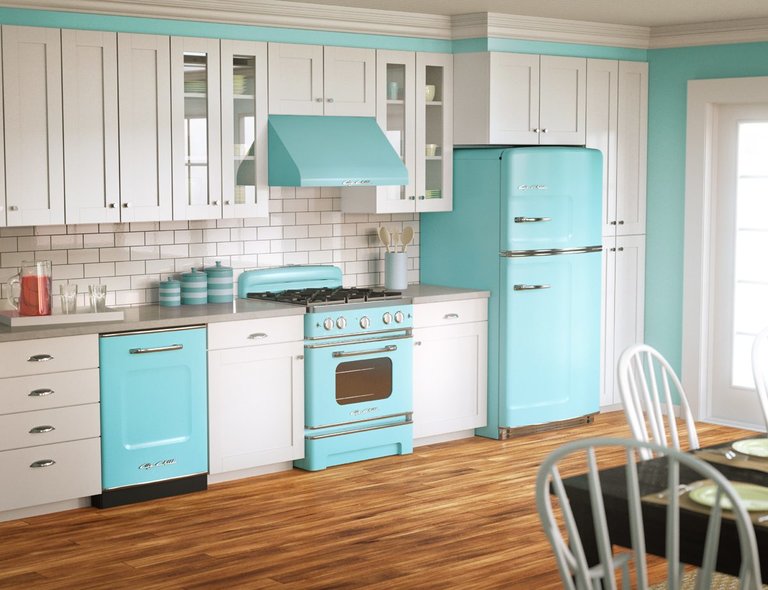 Another thing about the technology: with the refrigerator, things are simple: you can not buy a stylized one, but repaint the old, semicircular one. But the oven is more complicated.
If you can't find a retro oven, then buy at least a hob. Take the built-in oven. The same goes for choosing a washing machine and dishwasher. Nothing modern should be seen, otherwise, the retro charm will no longer come out.
In this article, we looked at kitchen design projects with an area of ​​15 square meters. In 2020, all these options will be relevant both in studio kitchens and in conventional layouts. We are sure that you will definitely like something and the renovation in the apartment will come out great!