Welcome to our updated post 50 photos and modern kitchen design ideas
.
So, the topic of our today's article is modern kitchen design 2020. As you already understood, here you will find modern ideas and practical tips for their implementation (read a more relevant article on the novelties of kitchen design in 2020).
What does modern interior design mean?
Some people think that a modern idea is something in the high-tech style or, at worst, minimalism. But, it's not like that at all. Classic design, rustic, and good old avant-garde can be called a modern solution.
Long gone are the days when designers could amaze consumers with something new and unusual. Now there is just everything and even more!
Yes, from time to time there are some very unusual forms of furniture or decoration, but they turn out to be very for the amateur and cost fabulous money. Therefore, you should not look for something that the world has not yet seen, it is better to learn how to decorate in a modern style, relying on long-known materials and finishes.
For example, combining wallpaper is a modern and unusual move. If you stick it with solid canvases, it's boring. The same goes for furniture, textiles and other furnishings.
Here, look at this photo of kitchen design:
This is a Provence style kitchen design. Doesn't it look modern? Very much. Although, this style was invented 300 years ago!
Or, take the same loft: for us it is modern, but in fact, it is already a hundred years old at lunchtime.
Kitchen layout: fresh ideas
This year kitchen-living rooms are not as relevant as before. Probably because people fully appreciated the inconvenience of living without walls and doors and decided that convenience should be preferred.
In 2020, ordinary kitchens prevail, in which you can close the door and not disturb anyone. But the partitions between the balcony and the kitchen are removed. If you have exactly the case when the kitchen has an exit to the balcony, then you can safely demolish the wall and decorate the room as shown in the photo.
This layout has a plus – it becomes brighter and more spacious. But on the other hand, there is also a minus – the windows are too high. Therefore, in this case, we can advise you one thing: if you take on such a layout, then be sure to cut the concrete slab of the balcony and lower the window to the usual level. So it will be more comfortable, more beautiful, and more convenient.
If this is not done, then the kitchen will not look organic, but simply redone from the balcony.
What kitchen design is trending in 2020?
The priority is simple forms. Curves and wavy cabinets are a thing of the past. Now they do not look so interesting, but rather – just tasteless and old-fashioned.
Also, too glossy surfaces are not very welcome (especially in combination with wavy cabinets). In general, the emphasis should not be on kitchen furniture, but on technology, wall decoration, and textiles. But the furniture should be as simple as possible, but at the same time – from natural materials.
The Scandinavian style is very popular now, in which natural wood predominates, in combination with ordinary, white walls and an apron from a hog tile. Here, look at the photo below:
Simple, but tasteful! It is this simplicity that makes the kitchen design here, and, for all its simplicity, such an environment cannot be called cheap. Standard, bright lockers look much cheaper.
Which style should you choose?
The style of minimalism is still relevant and, in general, it is the embodiment of a modern look. Hi-tech is already losing its relevance, and we cannot recommend it. To be honest, this is a very uncomfortable style and is completely inappropriate for the kitchen.
If you like strict forms, then you can pay attention to the loft. It is much more interesting than high-tech and it has a maneuver for something original. If you are not a fan of such an environment, then you can look towards classics or rustic motives.
Provence, country – are relevant at all times and there is no need to be afraid that your kitchen may not look modern.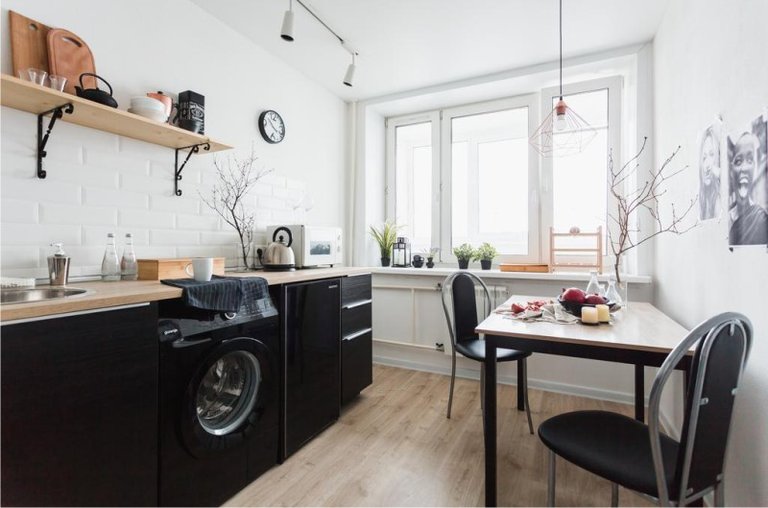 But, remember one thing: in 2020, reliability is important. That is, if you undertake to design in the "Provence" style, then do it efficiently and do not save on furniture. There is nothing nastier than a Provence setting, when old elements are replaced with fake ones …
The same can be said for the classics. If you have already taken this direction, keep it to the end. Otherwise, it looks extremely ridiculous: a kitchen with carvings and at the same time a smooth, chrome-plated mixer and a stainless steel sink. Here you need at least enamel, and better – copper.
What is the most fashionable color combination?
Now it is very unfashionable to select everything exactly in tone. For example, if you have a red kitchen, then it is not at all necessary to buy exactly the same lamp and cover it with red covers – stools. It is much better if the colors are contrasting, but at the same time, they must be combined.
Also, do not forget about the 60-30-10 rule, where 10% is the brightest accent (spot), 30 is a minor tone, and 60 is the main one. In practice, this distribution is usually as follows: 60% – walls, 30% – kitchen furniture and 10% – decorative elements (paintings, textiles and other "spillikins"). You can read more about this here.
And then remember this: if your furniture is bright, for example, an orange kitchen, then the walls must be light and dim. And vice versa. If the kitchen is completely boring, then you can safely add decor to the walls or, even better, make the textiles catchy.
Ceilings
In 2020, simplicity and naturalness are most popular. Glossy stretch ceilings – they still look fashionable, but according to designers, more and more people choose matte canvases.
Wooden ceilings made of caissons or timber are also very relevant. If we talk about color, then it all depends on the height of the ceiling. For example, in a private house with ceilings of 4 meters, ceilings in the color of natural wood are perfect. But in the apartment such – they will "crush" and look inappropriate.
If the lining is painted white, then the view comes out completely different and such a ceiling looks stylish even with a low wall height.
Maybe this sounds unusual, but now it is much more fashionable if the walls and ceiling are simply smoothly plastered and painted, without any decorations and stucco moldings.
Lighting: spotlights or chandeliers?
Spotlights are going out of style. And along with them – multi-tiered ceilings and plasterboard boxes. The priority is simplicity and naturalness. A chandelier will look good in the kitchen, and if it alone is not enough, then you can enhance the lighting with hanging sconces.
Lamps are very fashionable now, which imitate the usual, electric, but the size is 10 times larger. They are hung on long wires and it looks stylish.
Also, stylized lamps are relevant. For example, a chandelier made of forks or a teapot-shaped lampshade, a cup. Look at the photo:
Isn't it much better than sore spots?
Choosing a trendy wall color
The color of the walls directly depends on the color of the headset. If you have it white, then the walls can be in contrast. If bright, then white walls are best. Also, pay attention to the wallpaper. Drawings can be anything, even with a 3D effect.
The only thing to remember is that it will be the focus of the entire kitchen.
And, if you assume a pretentious headset, then it is better to refrain from photo wallpapers, as they will shift the angle and will attract all the attention to themselves.
Look at the photo below, this is how it looks in the interior:
Wall decoration material – original options
If you are not satisfied with the usual painting (and it is still relevant), then you can add something original. For example, it is very fashionable now to decorate walls with stone. But, we are not talking about a plaster cast, but about the very real, natural.
See also: "How to paint the walls in the kitchen with your own hands"
At the same time, it is advisable to take a bright stone, such as onyx. It can be illuminated from the inside and, as a result, the view of the wall is simply fabulous.
In addition to the stone, pay attention to the wooden paneling. It still doesn't go out of style.
But, here I would like to remind: natural stone also presupposes the absence of modern technology. For example, marble looks extremely silly in combination with an ordinary, white refrigerator.
What are the most modern floors?
If you have a minimalist kitchen, self-leveling floors or tiles will be appropriate. And, if we are talking about more home styles, then the tree "rules".
Moreover, plank floors, for example, from a deck board, are considered special chic. They can be painted or simply tinted.
Laminate, linoleum are not the most fashionable coatings. These are, after all, budget options and there is no special kind in them.
Stone floors are also popular, but these are already quite expensive options and not everyone can afford them. If you really like stone, you can choose ceramic tiles that imitate it. It's not such a modern idea, but it looks decent.
Apron – which option is more interesting?
Kitchen aprons now – just darkness! Naturally, the most common option is a tile and, for some reason, they stopped considering it, trying to replace it with something more interesting.
But, if we compare beautiful tiles and the cheapest stone, it turns out that tiles are better, cheaper and more beautiful.
Or, take glass too. What's so beautiful about him to pay that kind of money?
But on aprons made of stainless steel – you should pay attention, it is practical and unusual. True, only if your furniture is combined with this style.
Are the countertops stone, plastic or wood?
If we are talking not only about beauty, but also about convenience, then the best thing is countertops made of artificial stone (for example, acrylic). Natural stone countertops have a lot of advantages, they are beautiful, solid, indestructible, but …
If you carelessly put a cup or plate on such a surface, it will simply burst, since the stone is an excessively hard material. In addition, it is cold, which means that it is not very pleasant to touch such a countertop while cooking.
Wooden countertops are beautiful, but too short-lived. Therefore, it is best to choose an acrylic countertop. Just try not to take everyone's boring "crumb" or "marbled" pattern.
A few words about bar counters: they are losing their relevance. This is especially true for those with chrome. If you put a rack, then some kind of stylized, for example, on brickwork.
Sink and mixer: which design to choose?
If you have a classic kitchen then choose brass mixers. And, if you have a kitchen in a modern style, then there is little room for imagination – chrome and stainless steel.
The only thing you can choose here is the shape of the mixer. There are just a thousand and one of them now, and they are all very fashionable.
By the way, you shouldn't chase after some insanely unusual design of the mixer, regardless of its practicality. The most important thing here is a proven manufacturer.
Household appliances: are there any new items?
The coolest of them we showed earlier in the article "Kitchen of the Future", take a look.
In the light of household appliances – there are always new items. But this does not mean at all that you urgently need to change what you bought five years ago. There are no significant changes in design and functions yet, therefore, there will be no noticeable difference between the old dishwasher and the new one.
Of course, it is advisable to take a refrigerator not just white, but some interesting color. Nowadays, built-in appliances are no less fashionable than open ones, but with an unusual design.
Textiles and decor
Bright accents in the kitchen are usually made with the help of textiles: curtains and tablecloths. The dining area is a very important part of the interior and it is she who is the embodiment of comfort. It is necessary to approach it responsibly and not to rush. The furniture, the combination of colors, the texture of the wall next to which the table stands, and lighting are important here.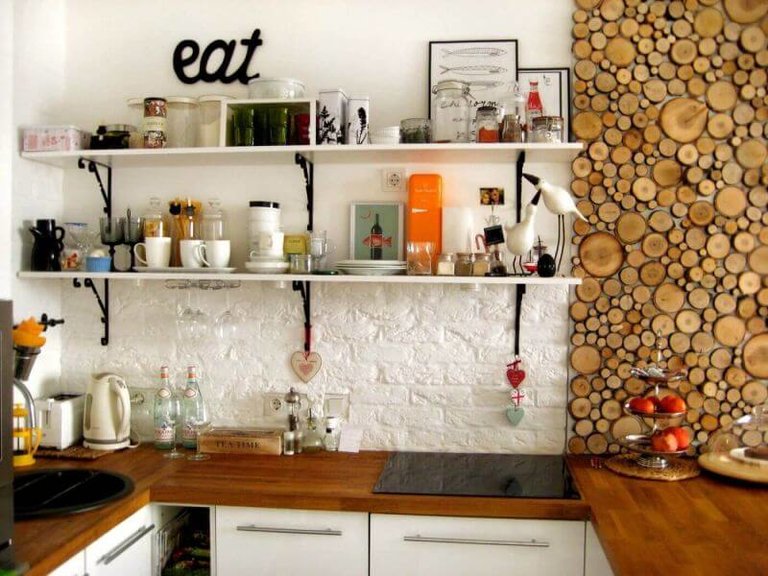 50 modern kitchen design ideas
Well, finally, we offer you a selection of ideas for kitchen decor that seemed to us the most cute in 2020.
We really hope that our material will come in handy and help you in choosing a kitchen design!