Welcome to our new post 40 design projects with photos
.
In this article, we will talk about kitchens with an island: we will understand its capabilities, look at photos in the interior and learn about various design options. Interesting projects and advice from experts will help you arrange the room beautifully and functionally.
What it is?
An independent part of a headset is called a kitchen island. Most often it is placed in the center of the kitchen.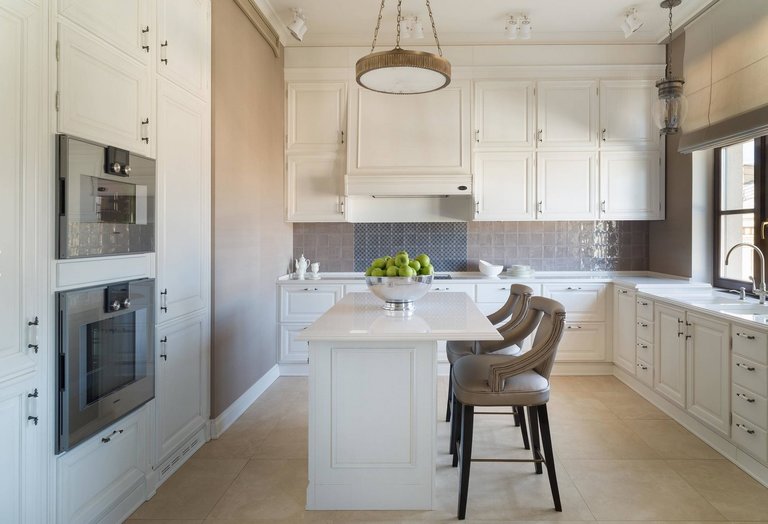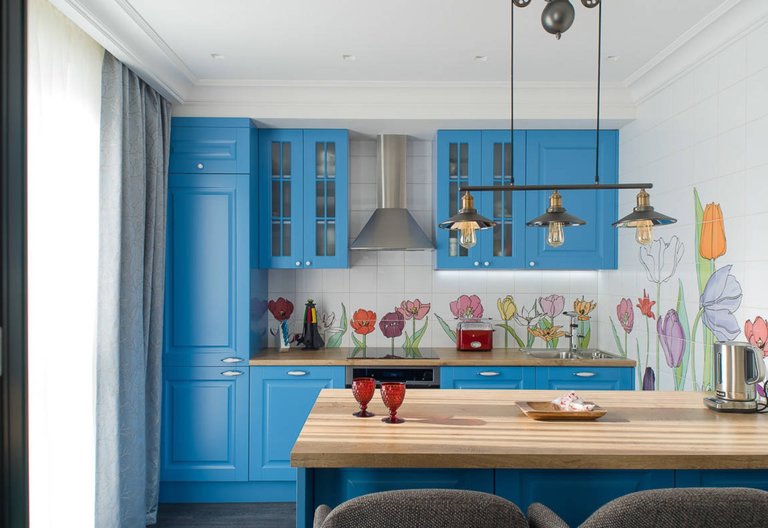 At the same time, this element of furniture can be used in different ways: as a tabletop or as a table, place a stove or sink there, turn it into a kind of bar counter … It all depends on the needs and design project.
The lower part is rarely made hollow: often there are additional boxes for storing kitchen utensils.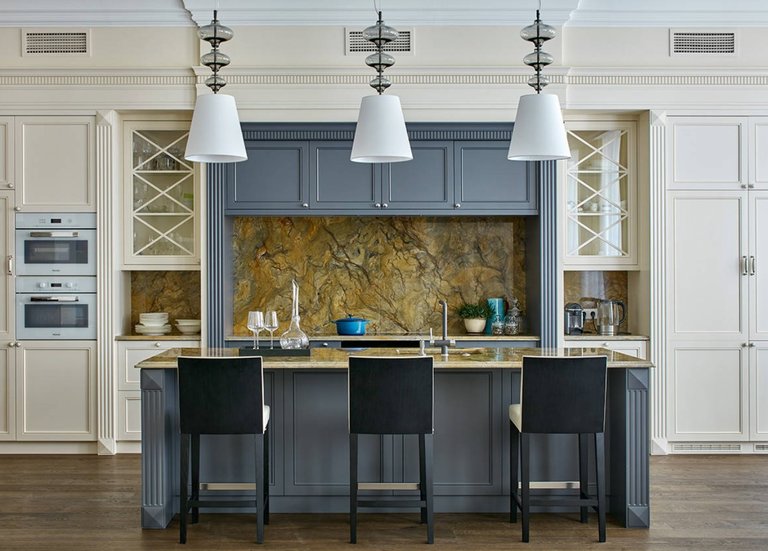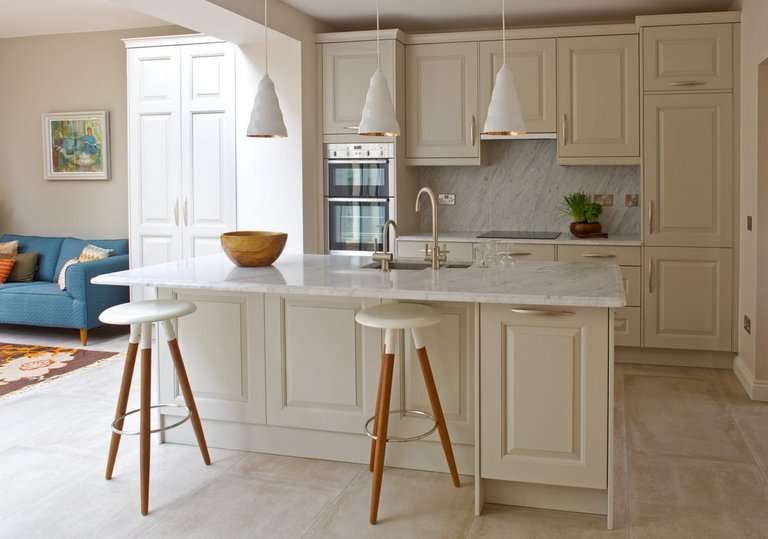 Let's make a reservation right away: it is unrealistic to put it in a small kitchen, since it takes up too much space.
However, usually in small kitchens they use an alternative – peninsula… This is a protruding structure, on one side adjacent to the wall or headset.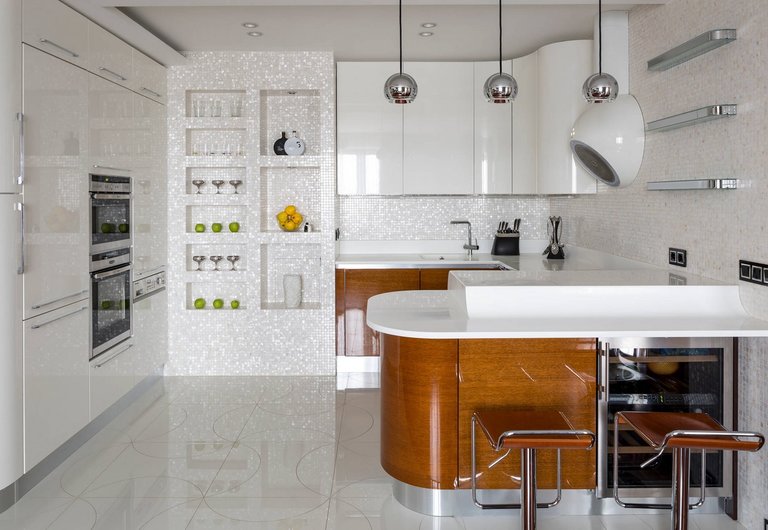 The islands themselves are of two types:
stationary, that is, built into the floor;
and mobile (mobile).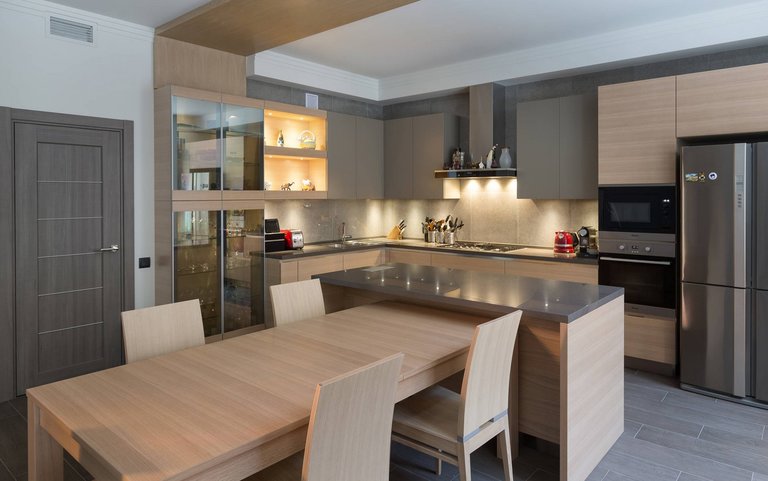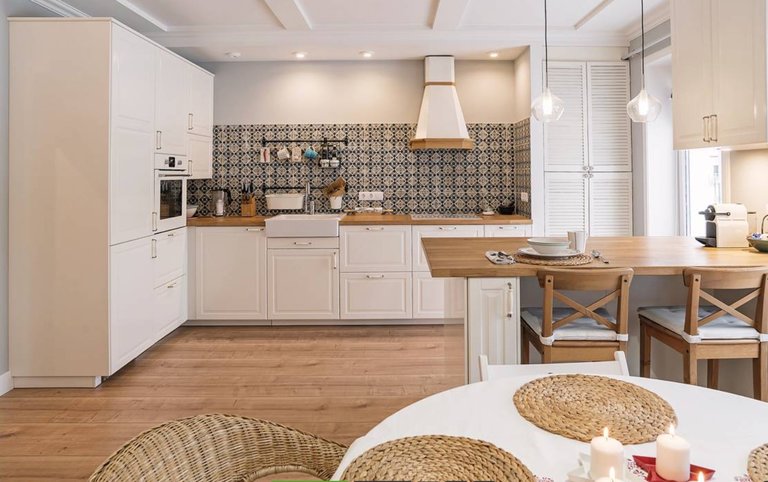 The former are more suitable for a full-fledged work surface with a stove and plumbing, and the latter are more suitable for those who want to equip an additional tabletop.
Features of the layout
It should be noted that these are more tips than immutable rules. However, if you neglect them, the island will simply get in the way.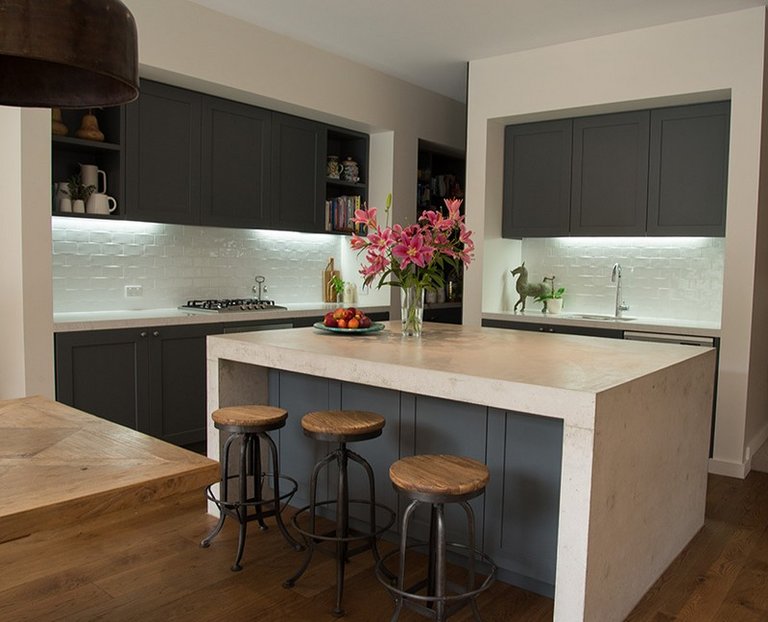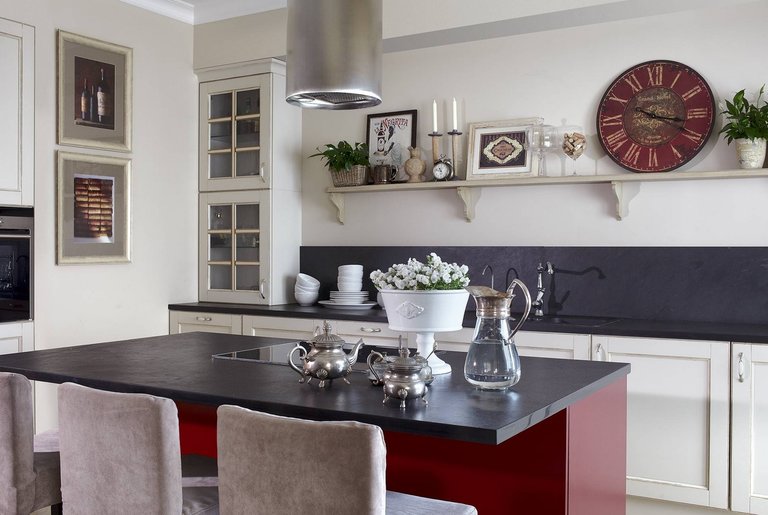 If you want to place a sink or hob on it, communications must be carried out in advance. You will also need an island hood (read what it is in this article). It is more expensive than usual, but it will completely solve the problem of unpleasant odors.
For comfortable movement in the kitchen, indents from the walls and furniture to the island must be made at least 80 centimeters.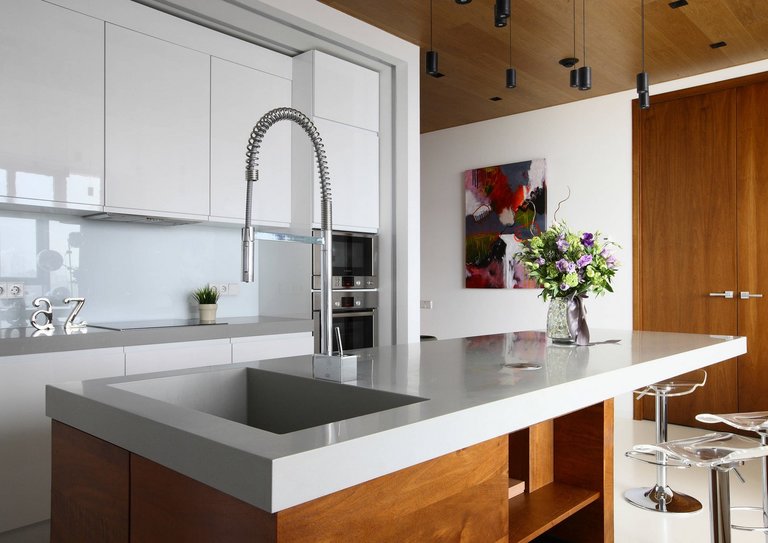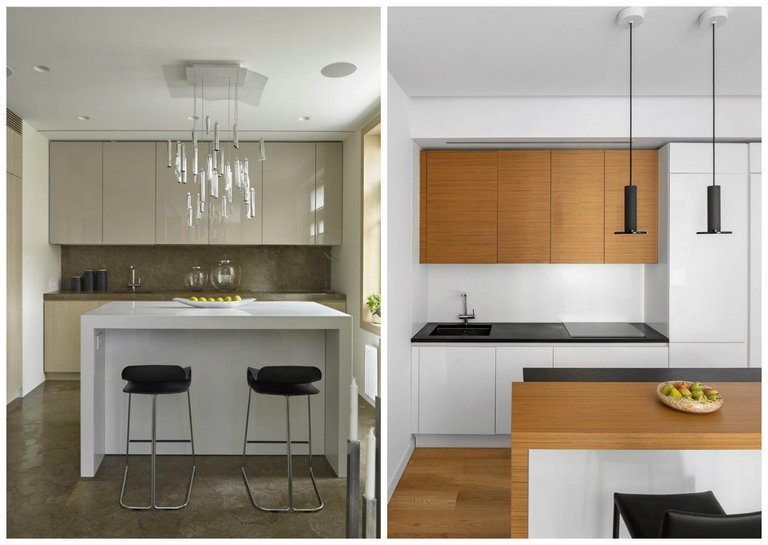 The standard length of the island is from 90 to 120 cm, and the optimal height is about 80-85 centimeters, like the lower section of the headset.
If you want to use the island like a dining tablemake sure that the overhang of the countertop is at least 30 centimeters above the base. Otherwise, it will be uncomfortable to sit. In addition, make sure that nothing will interfere with the drawers or the doors, if provided on the island.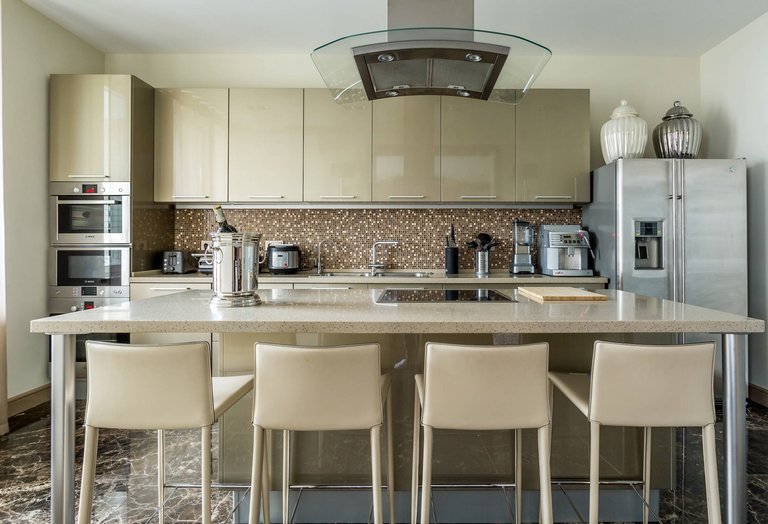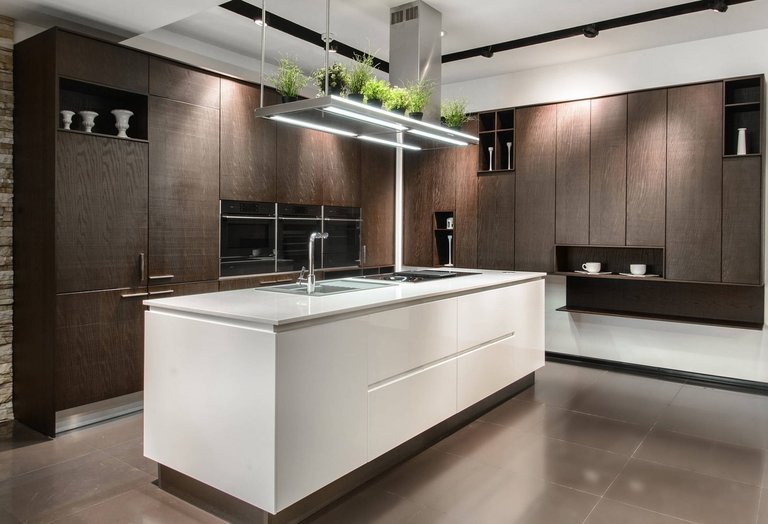 Concerning combining it with the bar, then keep in mind that in this case you will need to make a two-level tabletop. Otherwise, either the stand will be lower than it should be, or it will become inconvenient to work on the island.
Advice: When creating a kitchen design project, it is recommended to evaluate the arrangement not only when viewed from above, but also from the side. So you will understand how comfortable it will be to work and move around the room.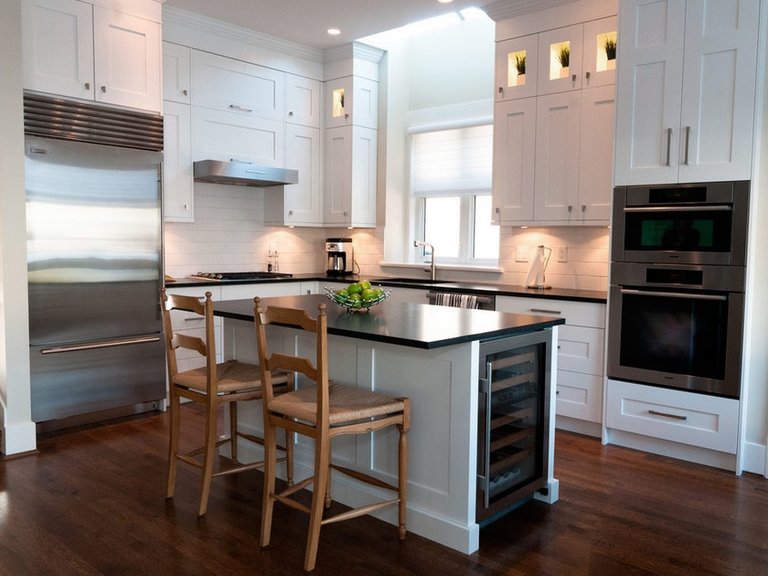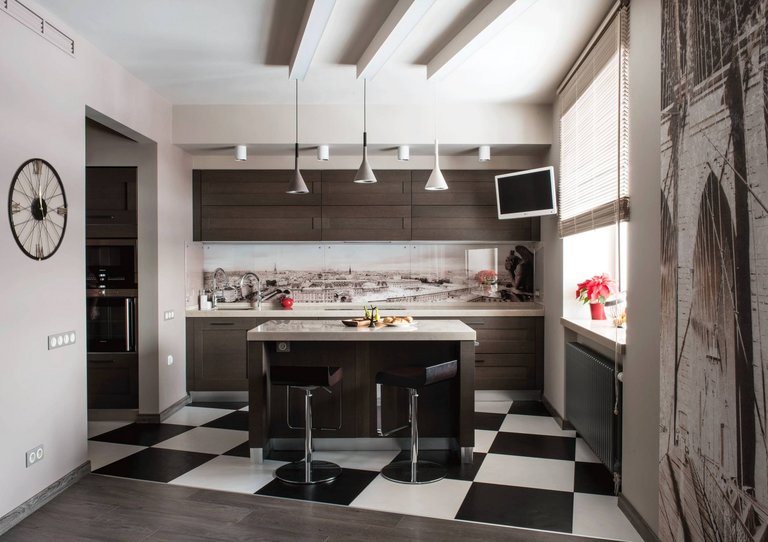 Consider all this when planning your kitchen with an island. Real projects with photos will be shown below – we are sure they will be useful to you.
Is the extra surface worth such restrictions? We'll see now!
Advantages and disadvantages
Like any other furniture, the island has both pros and cons.
"Per"

"Against"

Ergonomics. The island forms a working triangle, making it much easier to move around the kitchen and making cooking more convenient;
Additional storage space for all sorts of little things, which is always in short supply;
In kitchens, living rooms or studios, it acts as a dividing element;
Looks stylish and modern.

Requires a lot of space. Ideally, the kitchen should be at least 20 square meters, unless, of course, you purchased a compact model or a transformer.
The need to carry out communications (if a sink or stove is located on it). It is more difficult in an apartment than in a country house.
The purchase and installation will cost a large amount, even if you order a budget model.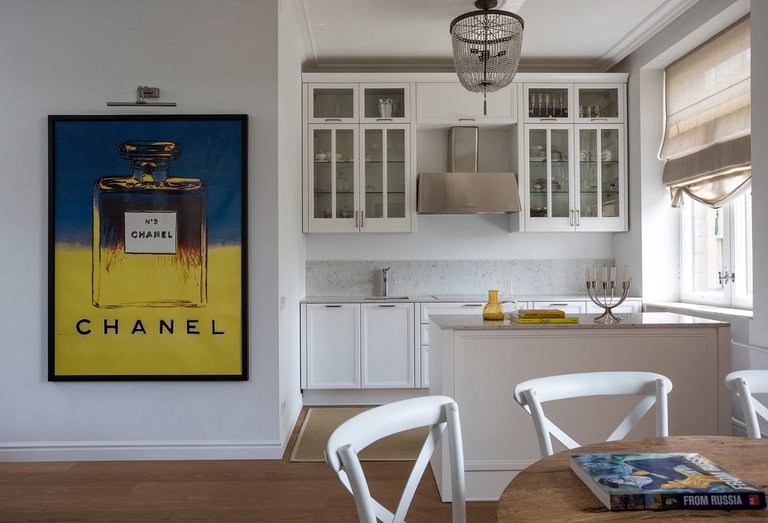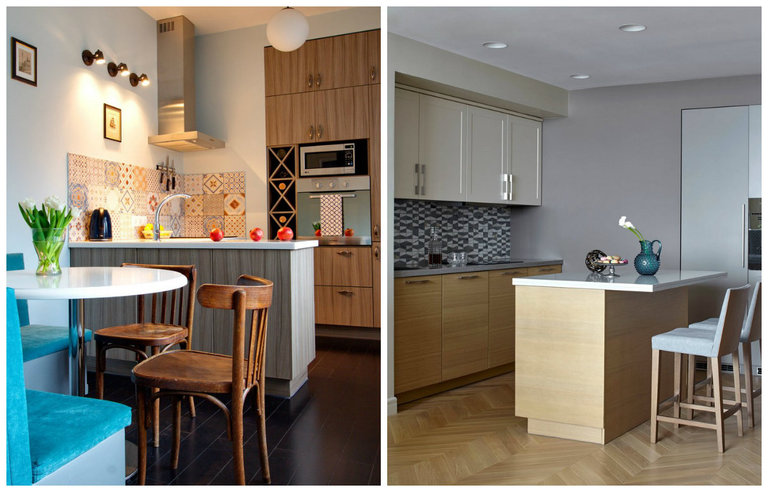 Brief summary: There are, of course, more advantages. In addition, they are all quite weighty. Therefore, if space and finances allow, choose and order the model you like.
Now let's see if there are any restrictions on the area of ​​the room where it will fit.
Island and kitchen area
As mentioned above, this requires a large kitchen. For instance: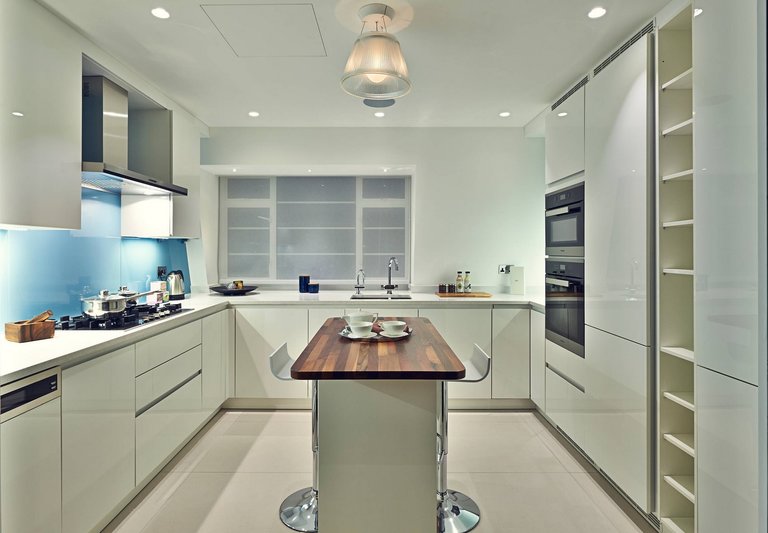 But, for a small kitchen, this condition is bypassed by choosing the correct configuration: compact island or transformer…
Experts advise choosing an option with a pull-out mechanism and a folding table top, which can replace the dining table and provide an additional work surface. And in the "passive" state, such an island is generally invisible, which frees up a lot of space in the room.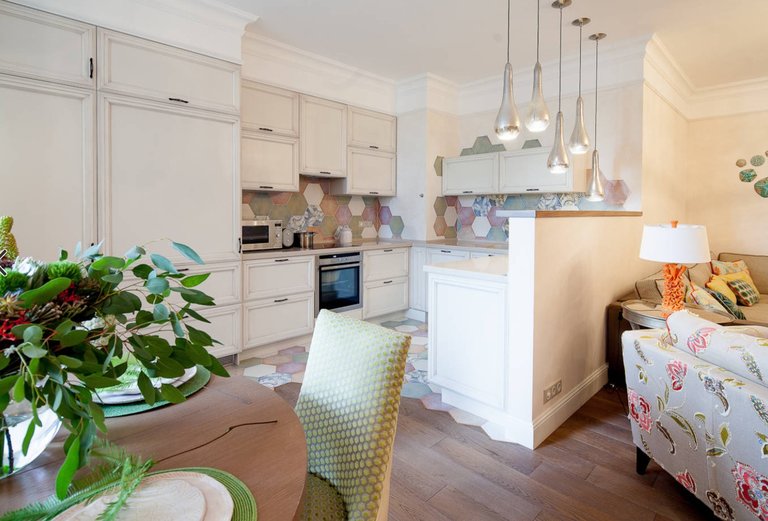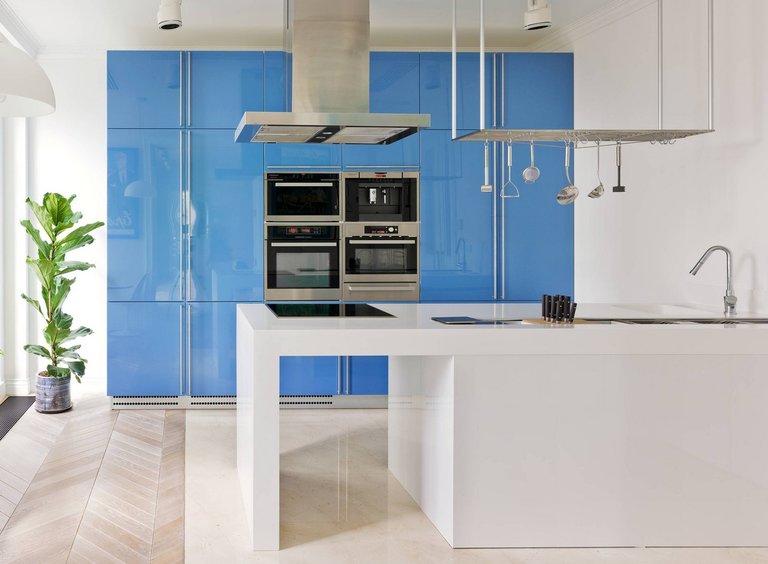 Is it hard to imagine how it looks in practice? Let's see a photo with different types of design.
American style
It is believed that this type of kitchen design came from the USA.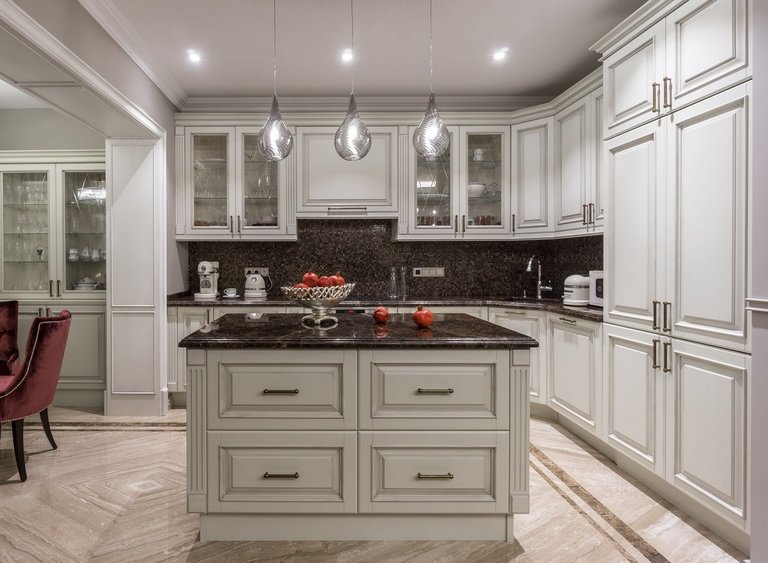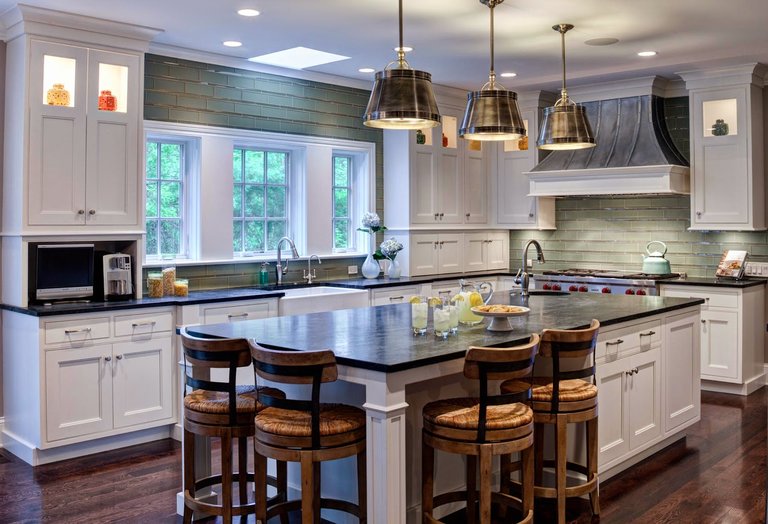 In general, it is characterized by natural materials and a combination of practicality with beauty. Therefore, we recommend decorating the island with light wood facades and marble countertops. Moreover, furniture from IKEA will not work – Americans value monumentality, so you will have to find a really impressive set.
In the kitchen-living room, it makes sense to delimit the zones with the help of a long island with a prominent bar counter. It is convenient, but it looks very unusual. Turn it into a dining table with a protruding countertop. Due to its size, there is enough space even for a large family.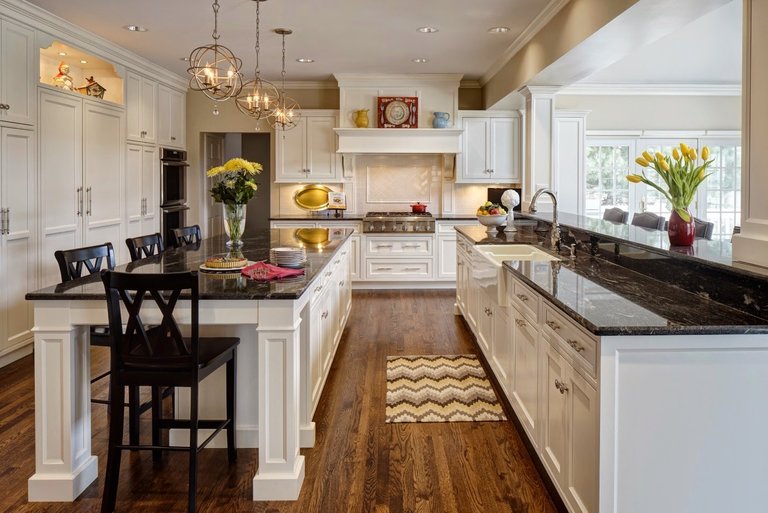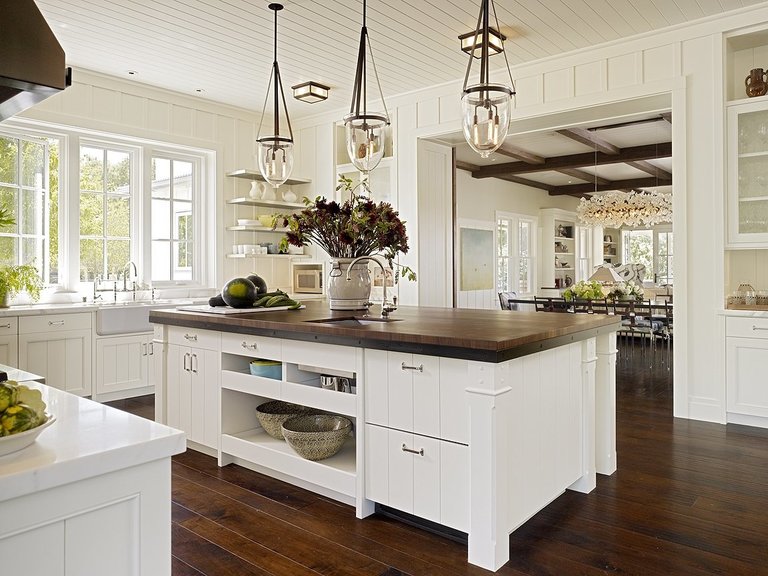 note: According to design standards, it should follow the shape of the room. That is, square for square and rectangular for elongated.
A kitchen in the style of an American classic with a stationary island is not only fashionable, but also practical. Take a closer look at how the chandelier is decorated. It is surrounded by an iron cascade, on which you can hang beautiful dishes and other kitchen utensils.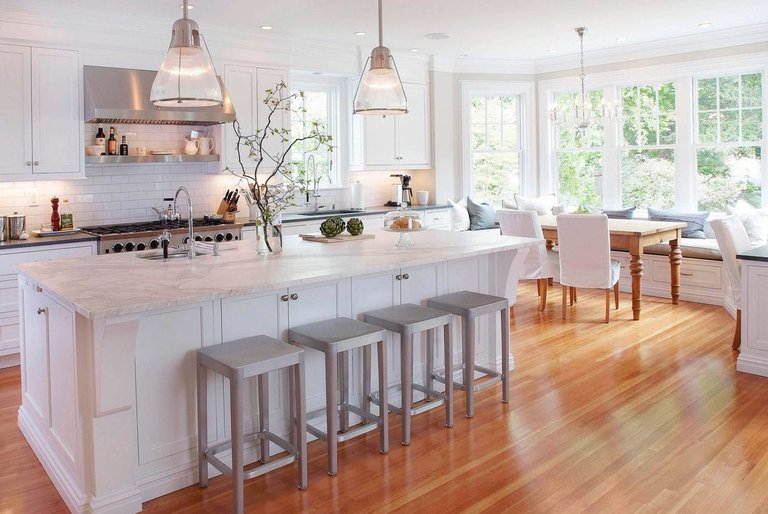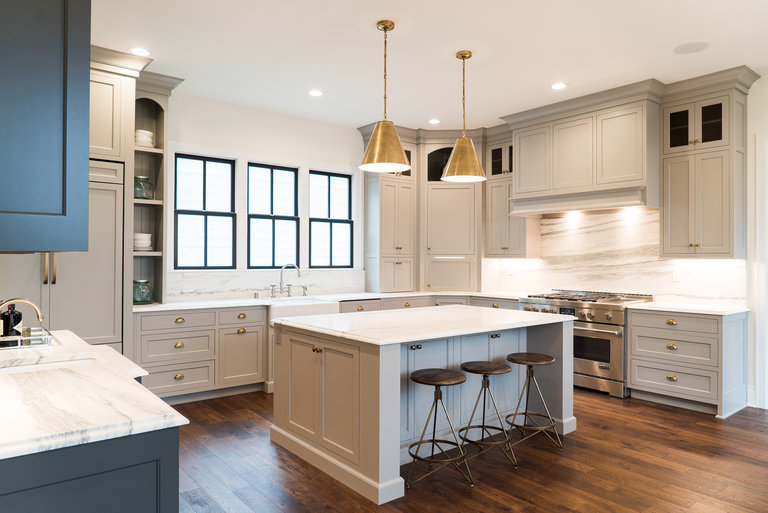 The decor structurally repeats the main set – pay attention to the patina on the facades. But the color scheme is matched in contrast. This technique makes the room visually more spacious. In this case, the main emphasis goes to the center of the room – black wood is emphasized with a white background.
Provence style
You will need to use light, light colors and natural materials. We also advise you to choose furniture that is not too heavy in appearance, without complex textures and decorative curls.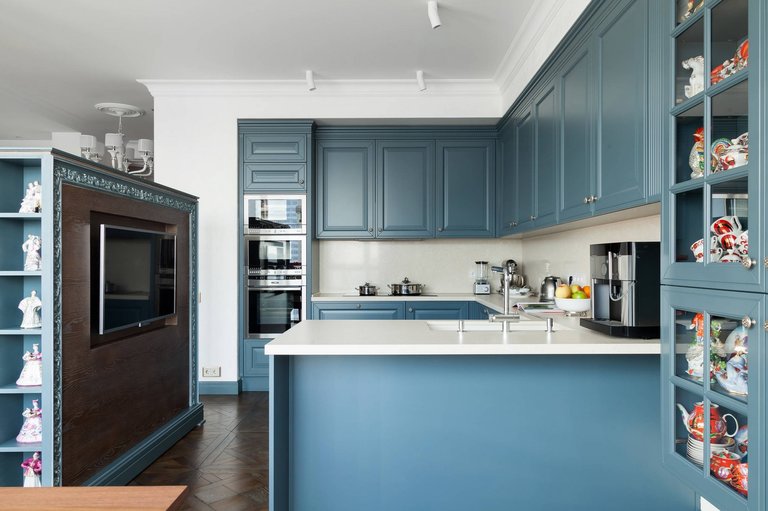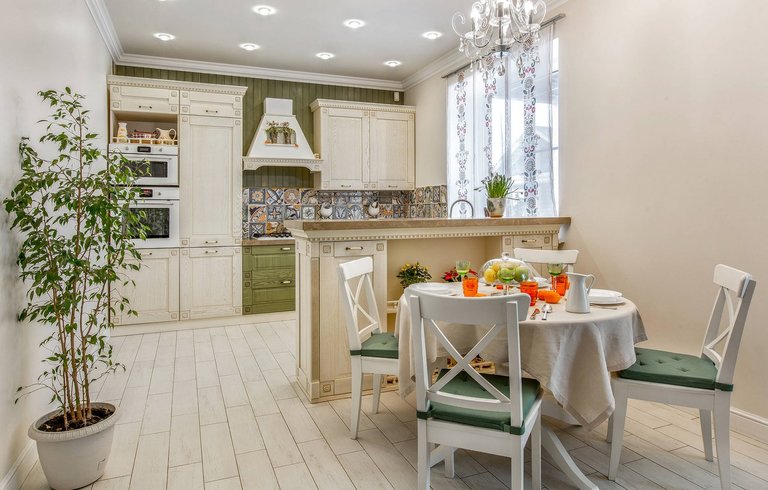 Let's start with a very unexpected decision. Remember we wrote about the desired dimensions of the room? Meanwhile, some find a way out even for a small area of ​​12 square meters!
A sink is taken out on a miniature island and space is left for a small cutting surface. This allows you to narrow your main headset. True, in this case, you will have to do with a two-burner hob.
The built-in navy blue peninsula also looks beautiful. Such furniture does not clutter up the center, making it possible to equip a full-fledged kitchen-dining room. It is best to use this technique in large rooms with at least two windows – one for each zone.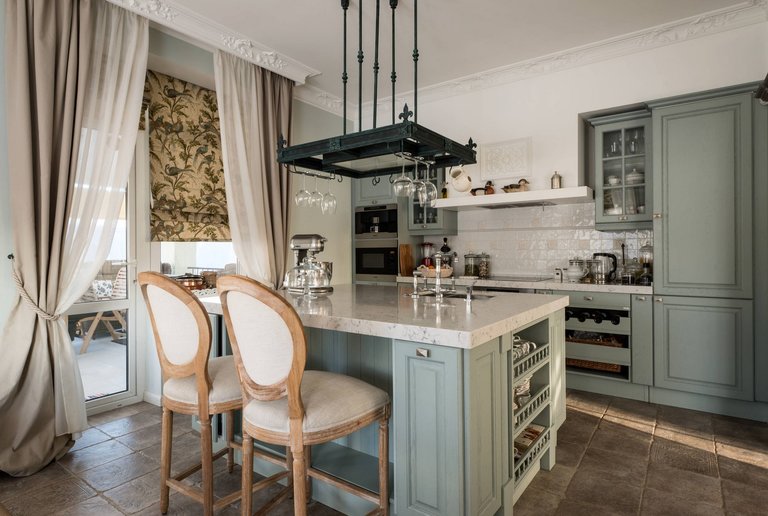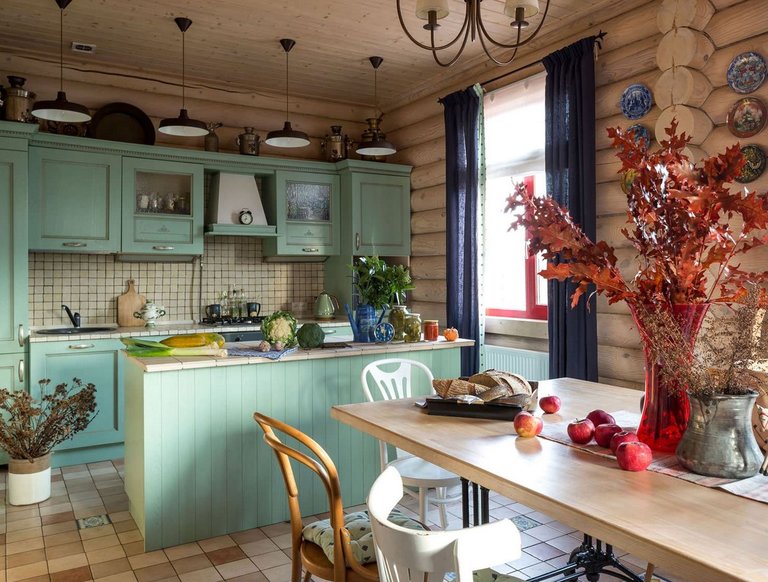 Modern idea: This configuration is convenient if you need both a dining table and additional storage space. In addition, it is not difficult to do it yourself.
Classic style
The island is also appropriate in interiors decorated in restrained traditional motives. Try a light colored kitchen with white fronts and stone countertops. Delicate patina, elegant details look amazing, especially on this scale.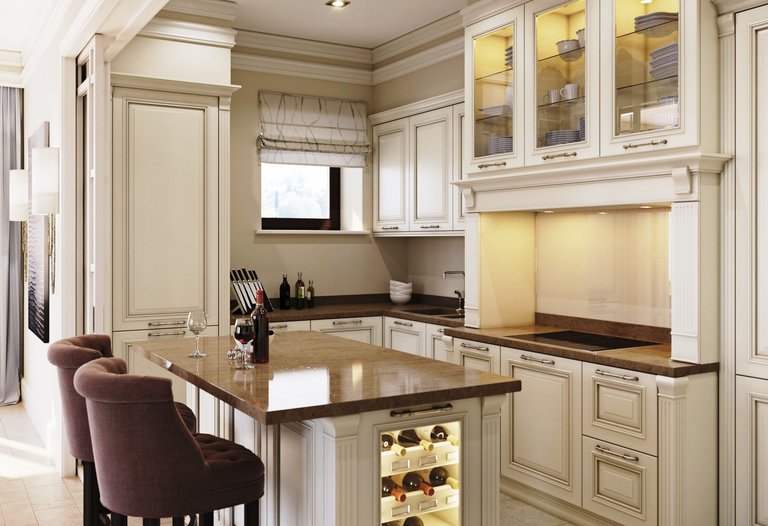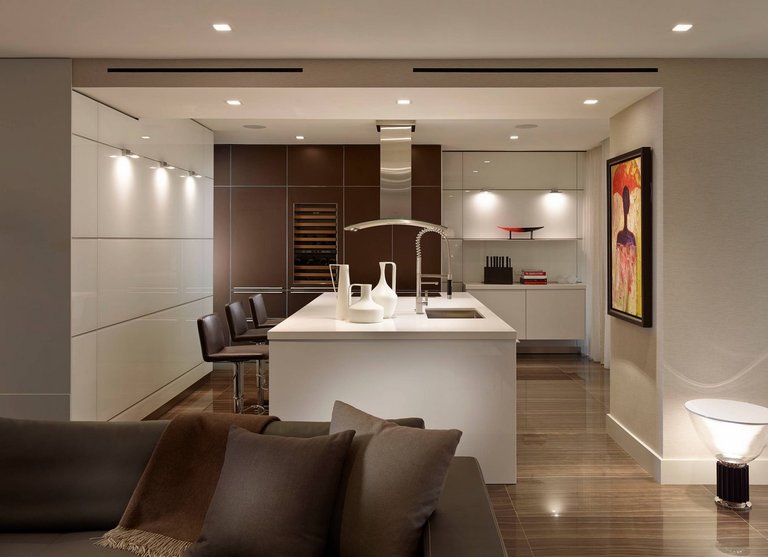 Little advice: Place the curly chandelier directly above the kitchen island. It will become the main decoration, while providing enough light above the work surface.
In the style of modern classics, the addition of non-standard textures or bright colors is encouraged. We offer you this option: an island that acts as a dining table on one side, and a traditional surface with drawers on the other. Chairs of an unexpected color – for example, lilac – will help to dilute the white and beige palette.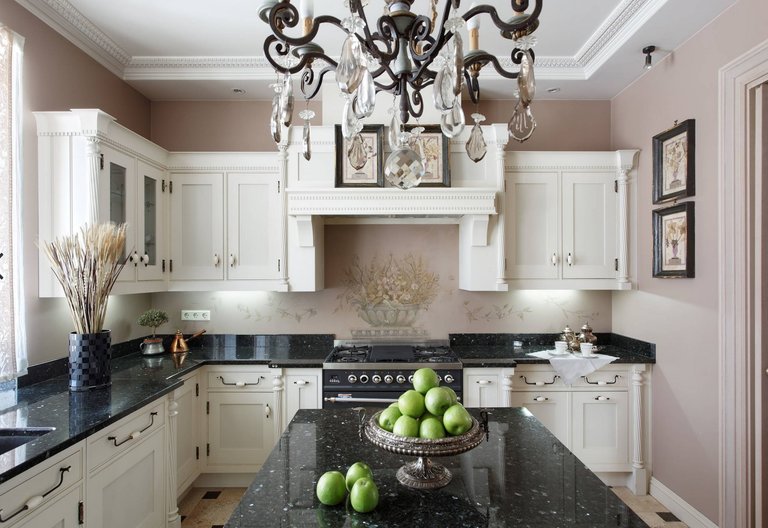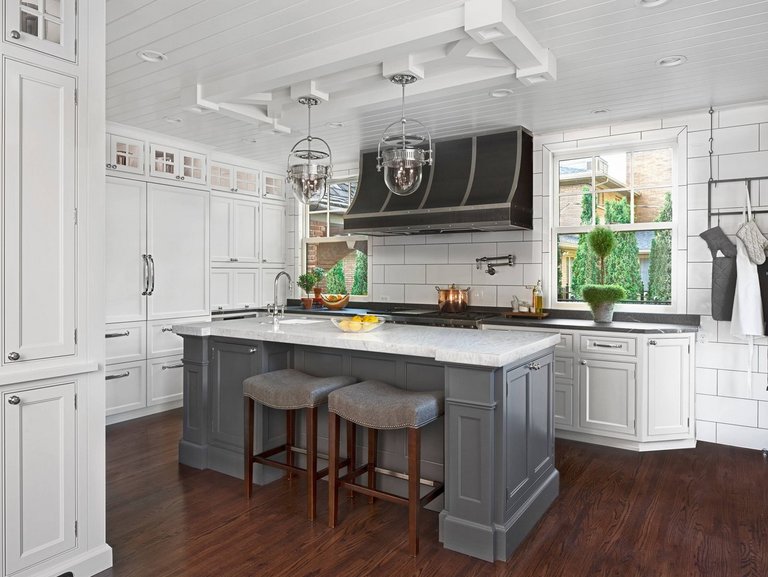 If you decide to remove the wall between the kitchen and the room, it can be a perfectly worthy replacement. Place it on the border to emphasize the transition between the zones.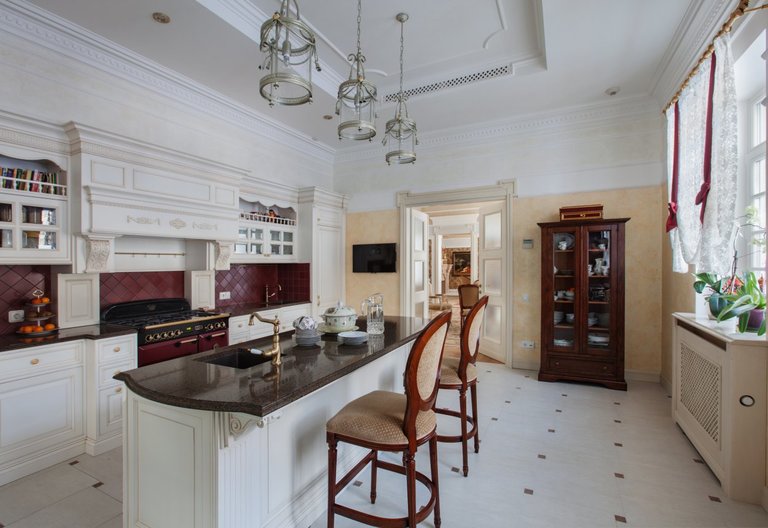 A good move is a suspended structure with a stucco bas-relief. It is not only beautiful, but also practical – hang pots and pans on it. True, for this they must have an appropriate look – old dishes are unlikely to decorate the interior.
Scandinavian style
Light and airy kitchens are ideal for island accommodation. Don't believe me? Let's prove it now!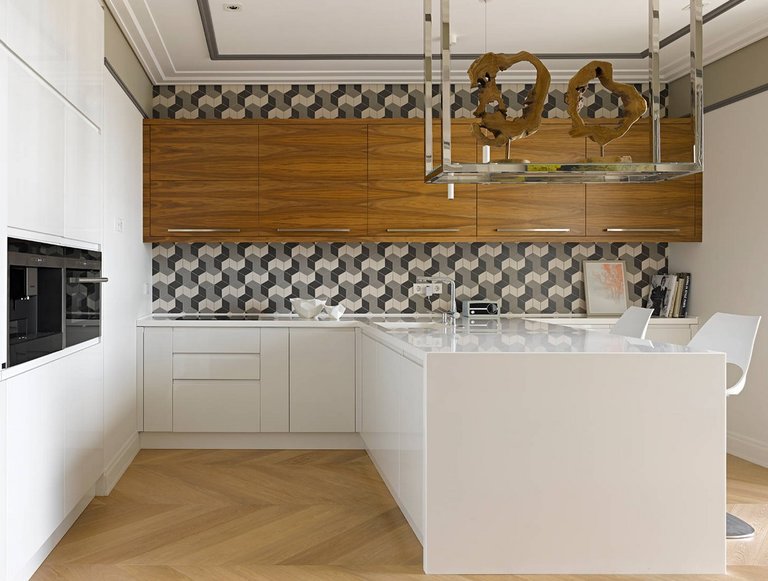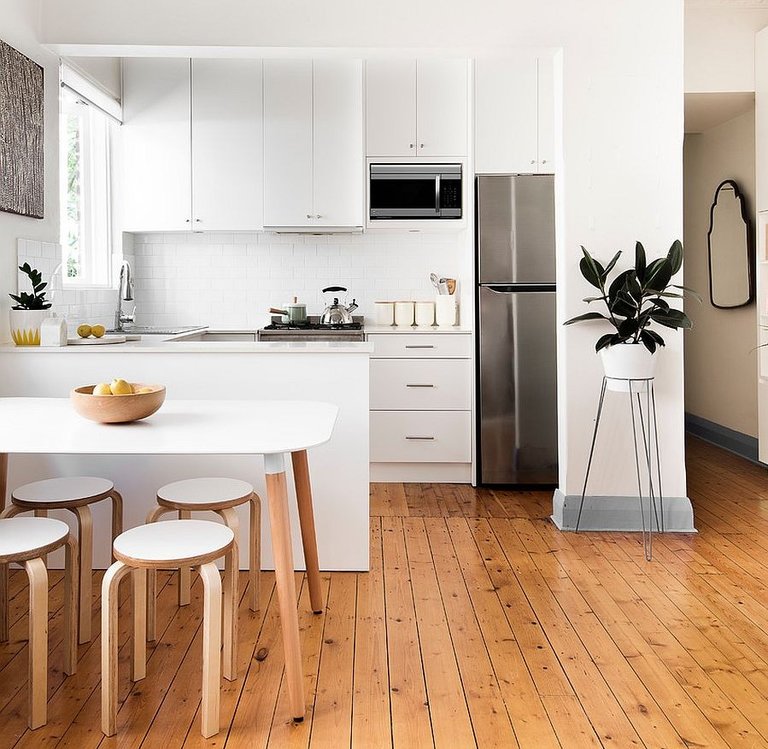 Give preference to natural textures such as wood. Notice how versatile the small island is. It combines a sink, work surface, dining table and storage space for books and all sorts of little things. This is the perfect solution for small spaces.
Think twice before installing a bar-counter island. If you place the tabletop at the optimal height for the bar, it can be awkward to work on. Therefore, consider right away if you can cook without discomfort.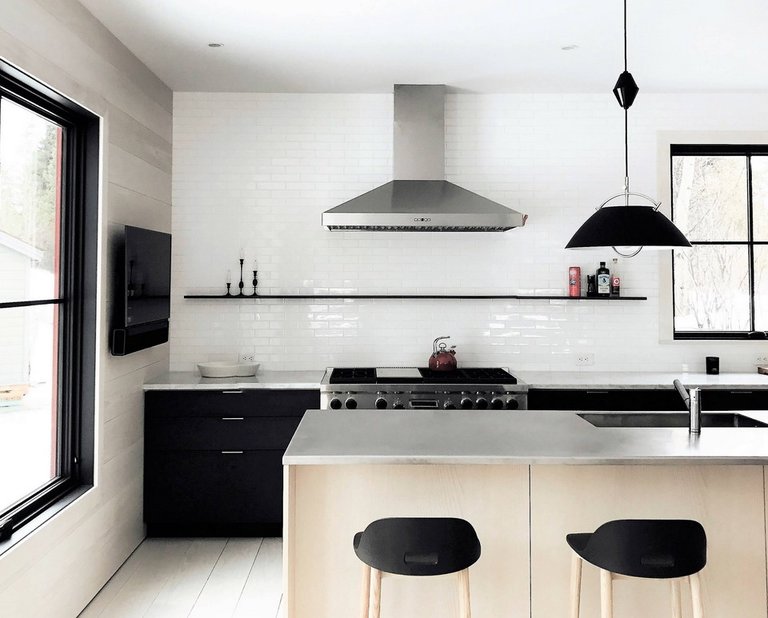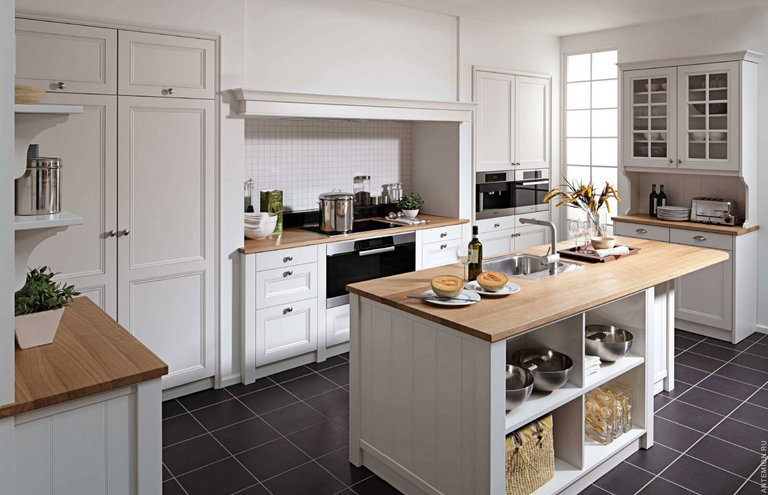 You don't have to make it big. Miniature models also look very stylish. Especially if you add an unexpected element when decorating – for example, make the legs from rough, untreated brick. They look interesting and peculiar on a glossy snow-white background.
But for a spacious kitchen-living-dining room, a huge island is suitable, which combines several functions. For example, a table and a wide work surface. It is better to make it from natural materials. Wood worktops, for example, are all the rage now.
Modern style
We like this option. Minimalism in design emphasizes beautiful textures of countertops and whiteness of facades. In a large enough room, every centimeter is involved – rationally, don't you think?
It is better to make the table as simple as possible, but functional. Try to combine several purposes in it – a dining area, storage space, a wide work surface.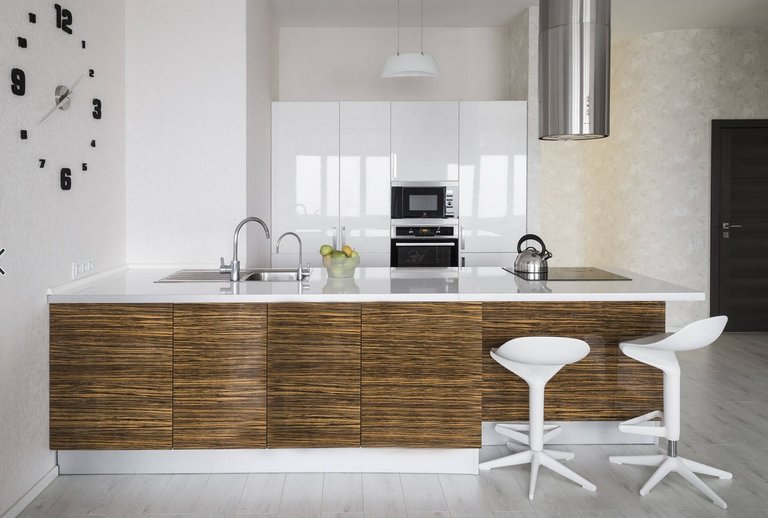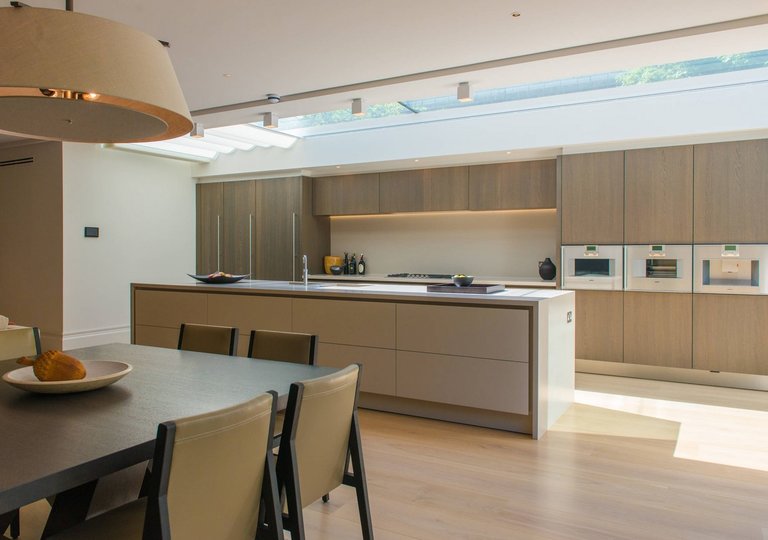 In classic styles, rectangular or square is more often used. However, you should not be limited to them – round, wavy, zigzag. All this is quite realizable, especially if the area allows. We love this red and white design. She looks very stylish and catchy, becoming the dominant element of the interior.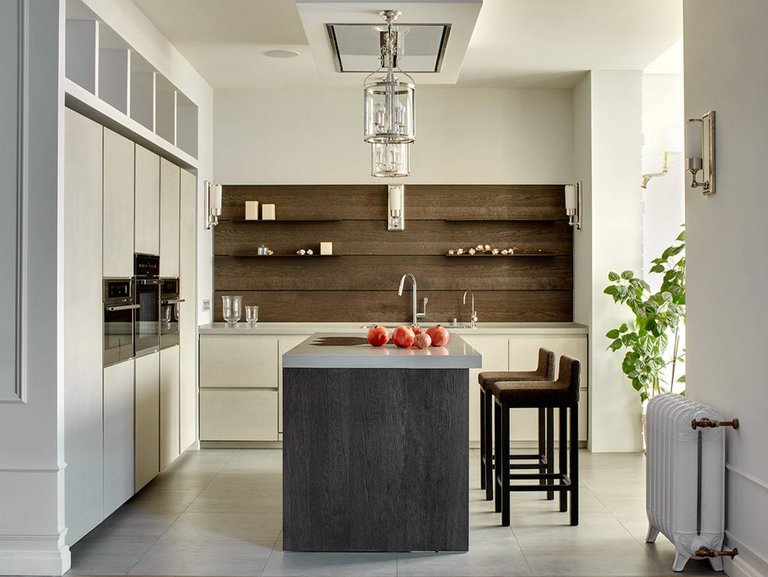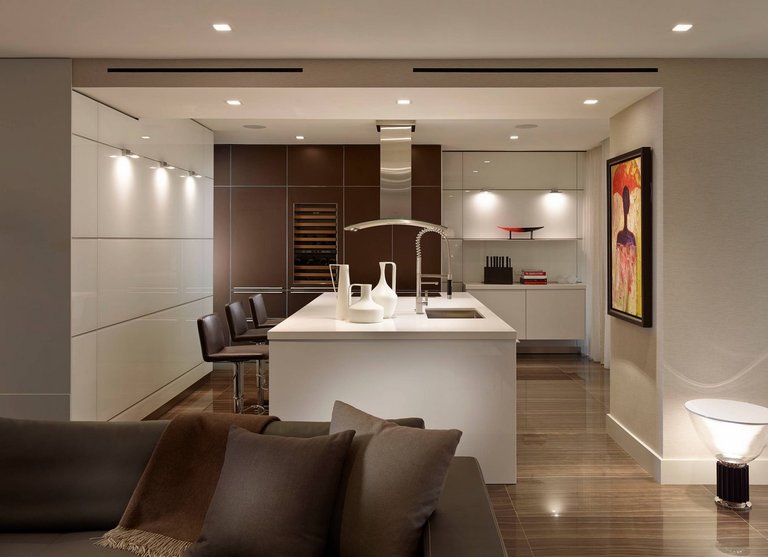 Another option is an abstract island design. Smooth lines and elements flowing into each other attract the eye. If you do not want to force the room with furniture, turn it into a full-fledged work surface. A small sink, a modern hob, which at first seems to be an unusual countertop decor. Fashionable and modern, isn't it?
The modern kitchen design with an island on 9 squares is also definitely worthy of attention. A rounded corner set and a tiny island look organic, and the right set of tones makes the room visually spacious.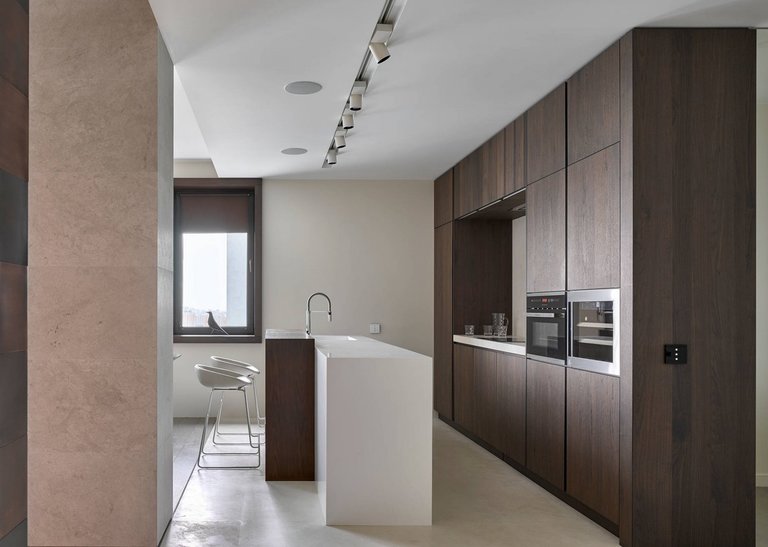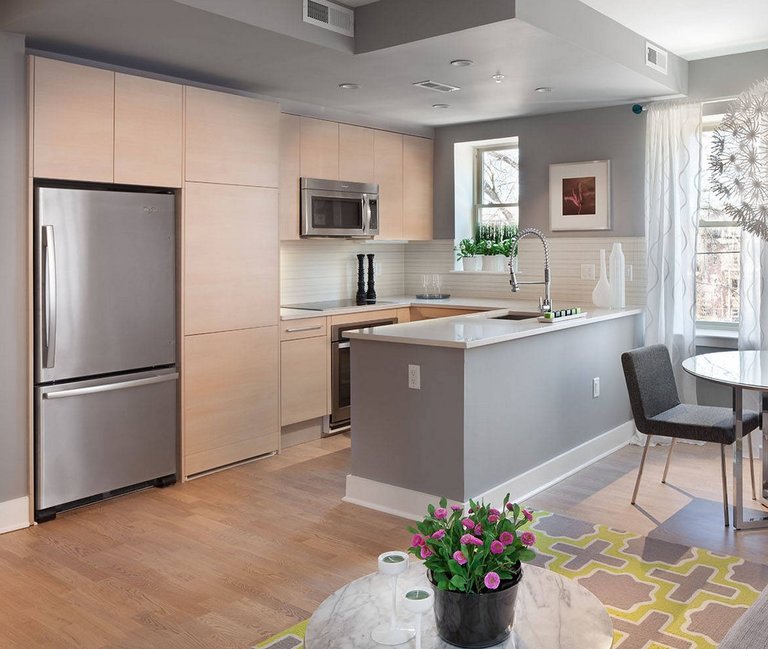 The combined island surface is another trendy trick. Divide it visually into three zones: cooking, work surface and countertop, which will act as a dining table. Of course, you can hardly put such a structure in a small room. But in a large one, it will be appropriate.
Loft style
The idea of ​​decentralization is typical for the loft, so the installation of the island is the correct and logical move.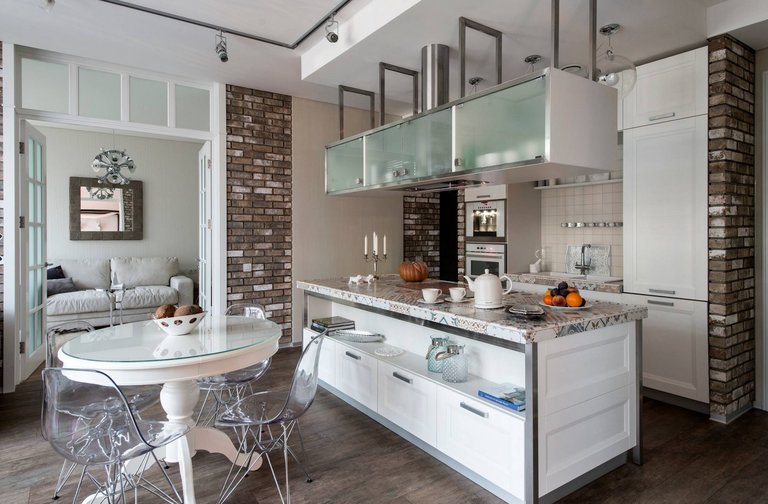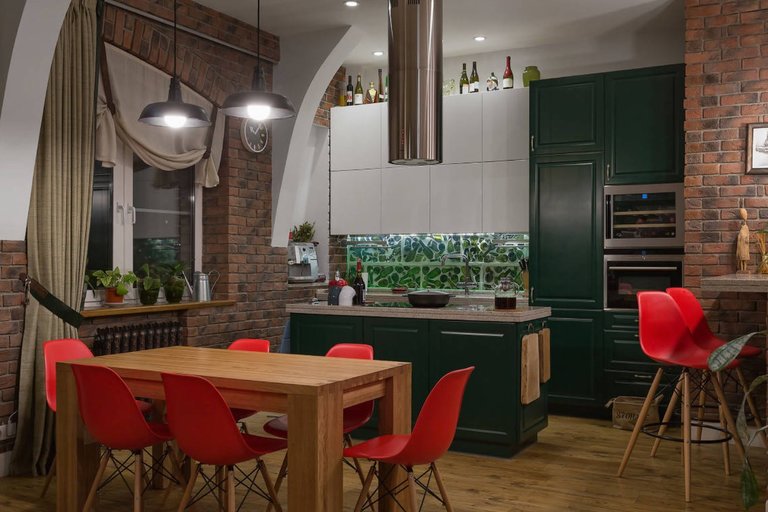 If the kitchen is located in the attic, select it in width flush with the flat part of the ceiling, and install a U-shaped set around the perimeter of the room. It seems to be nothing complicated, but the room immediately seems stylish and modern. Use for decoration traditional materials of this style – wood, brick, concrete.
The bright island with a hob combines the functions of a dining area and a hob. This is convenient, but you need to remember about safety: there is still no need to cook and have a snack at the table, there is a risk of getting burned.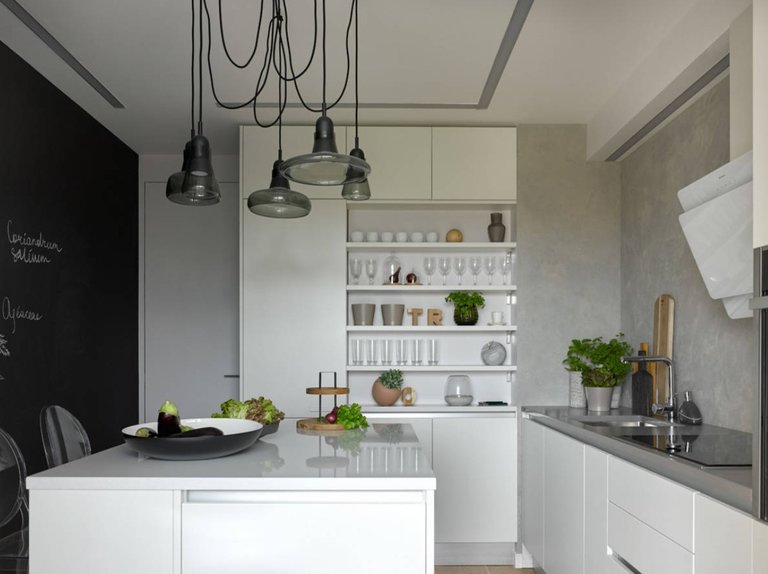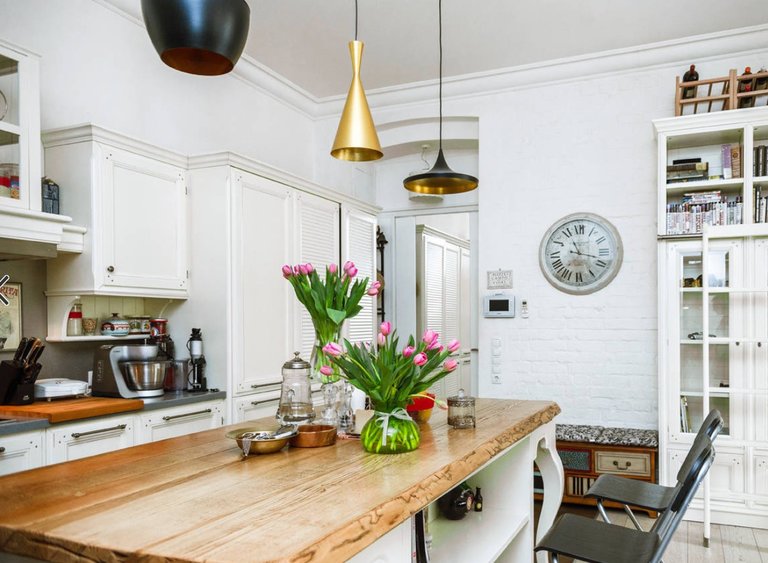 In a white kitchen, we recommend that you do not overload the interior with an overly complex shape of the kitchen island. It is better to limit yourself to a simple set, and focus on wall decoration and decorative elements. In a private home, replace one of the partitions with a large window.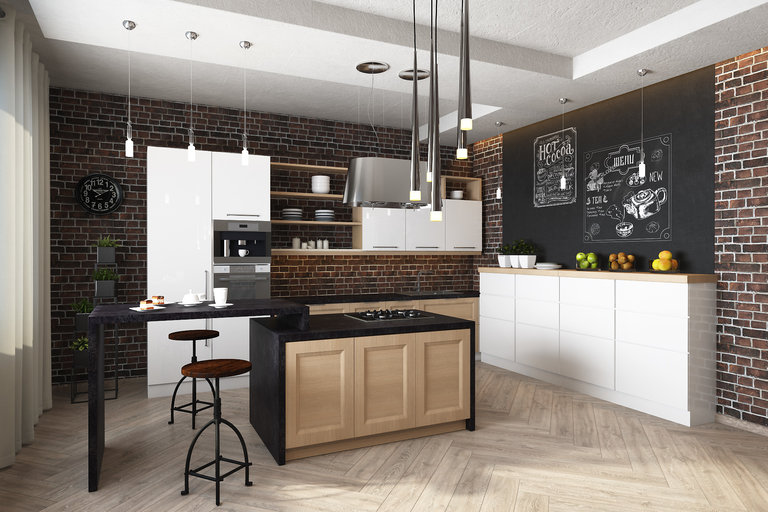 Summing up, we note that the kitchen island requires a serious approach. You will have to draw up a design project, think over the arrangement of furniture and carefully select all the elements.
However, if you are not afraid of difficulties, but the space allows (or there is an idea how to install it in a small kitchen), then we definitely recommend buying it! It is not only beautiful and comfortable, but also very fashionable.