Welcome to our recent post Modern children's room designs, elegance and joy in your children's rooms
.
The finest modern children's room designs are provided by the "Dear Kids" company
Where the company offers a group of modern children's room designs, distinguished by attractive colors, lines, and delightful modern designs, from the best Italian children's room designs.
We see through this group an interest in providing all means of comfort, beauty and joy for the child in his room furniture, which the designers have been keen to master every detail, especially since children's rooms represent an important place in the home and must be taken care of, decorated and decorated to the fullest, it is the kingdom of the child and it makes the child feel With happiness, safety and peace in it, vitality and beauty must be embodied in every piece of furniture and decor inside the child's room, from the bed to the study desk to the library to the wardrobe.
We offer you a group of kids room designs with modern designs that will surely satisfy you and your love.
A children's room design in cheerful colors and features built-in storage units inside, in which toys, books or any belongings for children's rooms can be placed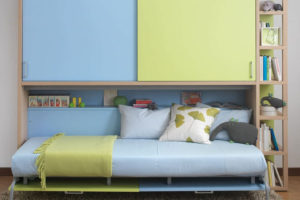 A multi-purpose design, or as the designers call it a complex, where more than one furniture unit is combined together as one piece, so we see a storage wardrobe with a bed with library shelves, which is one of the most common features in modern children's room designs.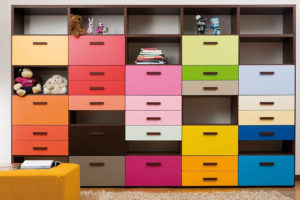 Here is a large piece that brought together the cupboard represented by the defective drawers and the library represented by the shelves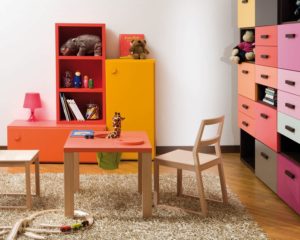 Designing for furniture in a modern children's room characterized by bright colors that appeal to children, as colors are one of the most comfortable elements in children's room designs, so they must always be characterized by joy and freshness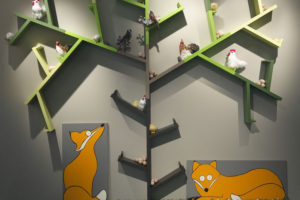 Here is an innovative design for the library, where the shelves appear in the image of three-dimensional tree souls on the wall, a design inspired by the cartoon and the fictional world, but in a modern way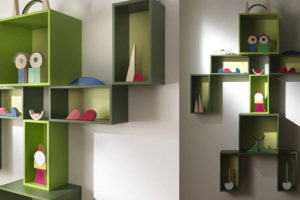 Another cartoon design for children's rooms library
Here is a superimposed design for a modern children's room, which is very suitable for small children's room designs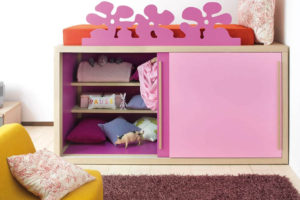 And here is a design for a piece of furniture for storage inside children's rooms that has a sliding door that does not occupy the space and is divided from the inside into shelves so that they accommodate as much as possible of things and belongings, and do not forget to note the beauty of the bright color paper of the piece, which is of course suitable for girls 'room decor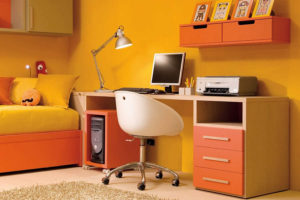 As for children's room desks, we see several modern and practical designs that help and comfort the child while studying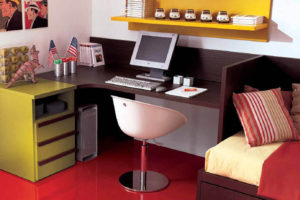 Design for a modern and practical children's room office that takes up a large space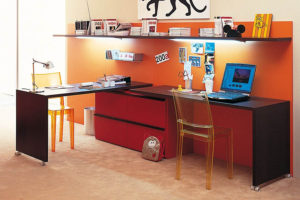 There are also some office designs suitable for children's rooms that accommodate two children, so we can see the overlay office prepared for two children.
Distinctive designs for children's rooms and their furniture that combine simplicity, beauty and modernity.
Check out another collection of the latest designs for children's rooms
You can also see the coolest and latest girls' room designs from here
You also see the finest children's bedrooms this year from here
Don't forget to send this post with friends and family !