Welcome to our new post 100+ bright design ideas
.
Even now, in our extremely dynamic time, the black and red duet in the interior is perceived ambiguously. For some it is too gloomy, for others too defiant.
For those who love risk and do not tolerate rules, this is the most correct decision when decorating a kitchen. However, even quiet melancholic people can afford to experiment with the color scheme of the space.
The main thing is to remember about the obvious benefits and hidden dangers of this choice.
A room made in this color scheme will always look stylish;
A charge of additional positive energy is guaranteed;
The room will feel warmer than it actually is, especially if the kitchen faces north or northwest.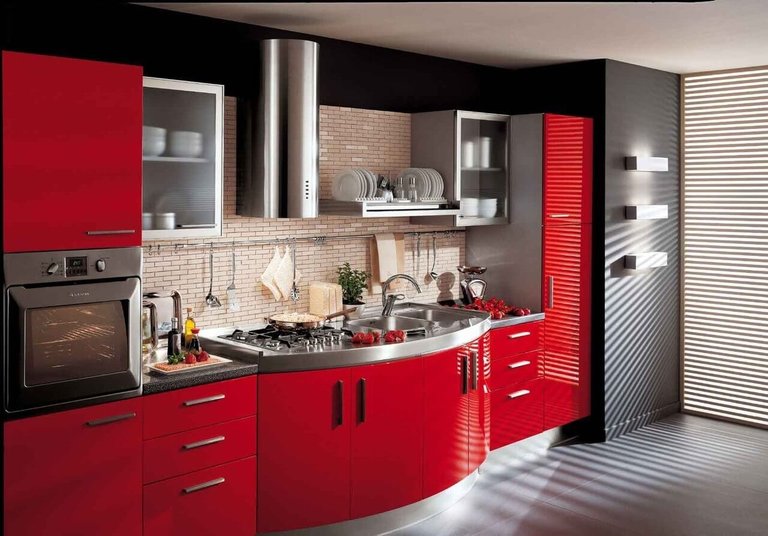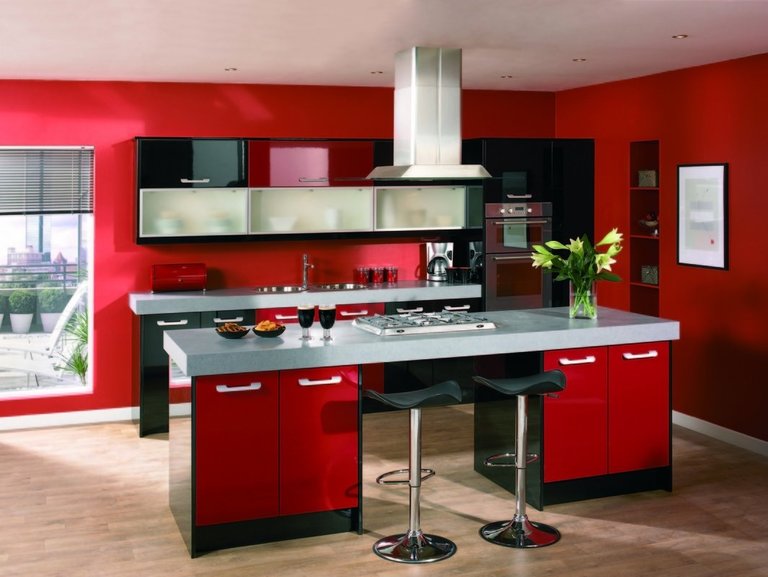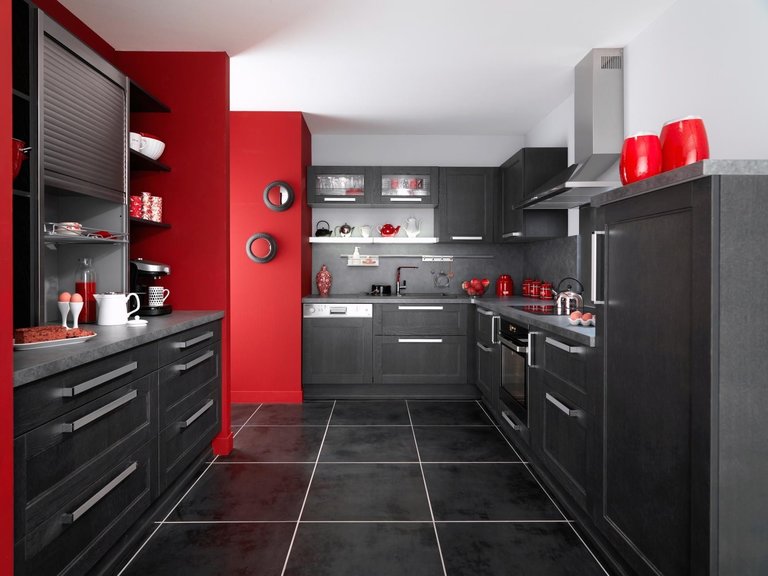 Simplicity and sophistication
If you decide that your kitchen should be only red and black and nothing else, you should decide on the choice of style. Unfortunately, this color scheme will somewhat limit your options.
You will have to forget about pretentious modernity and classicism, Victorian style and Biedermeier are also not for you. But before you is a huge selection of modern design solutions.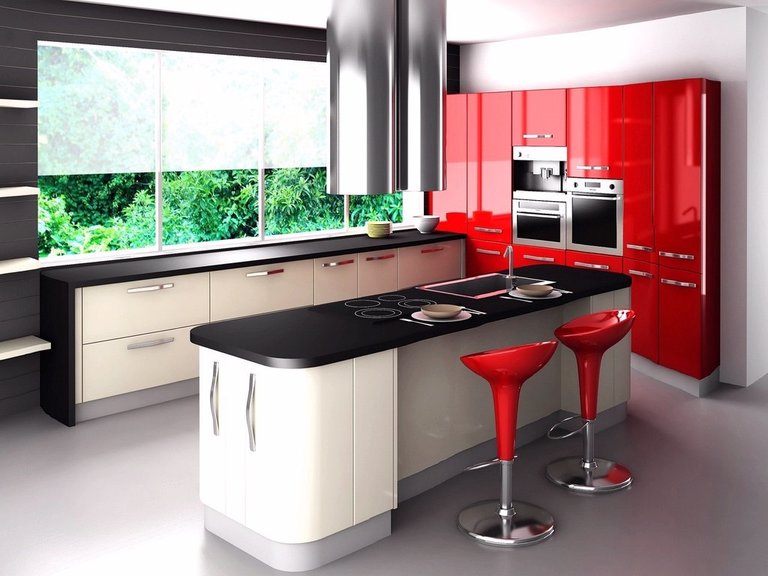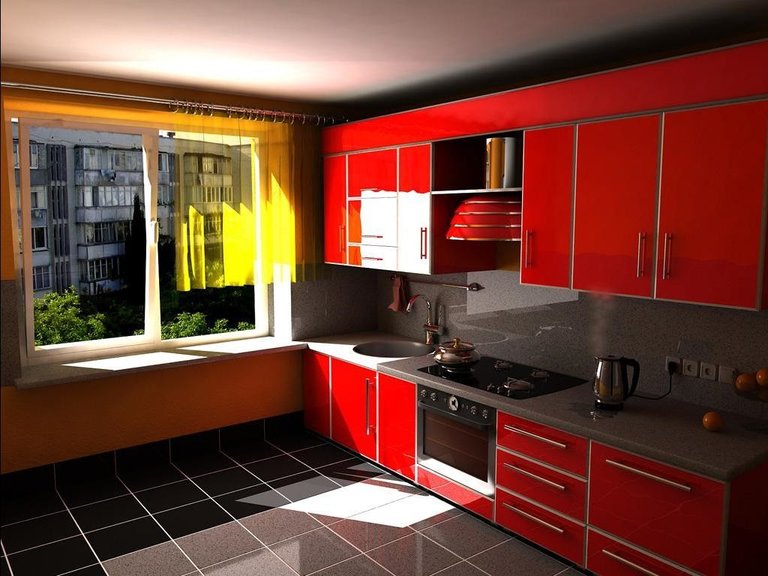 1 Minimalism: color is everything
This style emerged at the dawn of the 20th century. The main thing is simplicity of forms and lines with a minimum of expressive means. Simple geometric shapes, straight lines, natural materials. Zoning of the premises is carried out, if possible, without additional partitions due to the play of light.
The main condition for maintaining style is the functionality of the kitchen layout. Modern minimalism is characterized by a precise modeling of space, using only the necessary items.
This style is characterized by the use of the play of light as an additional design tool.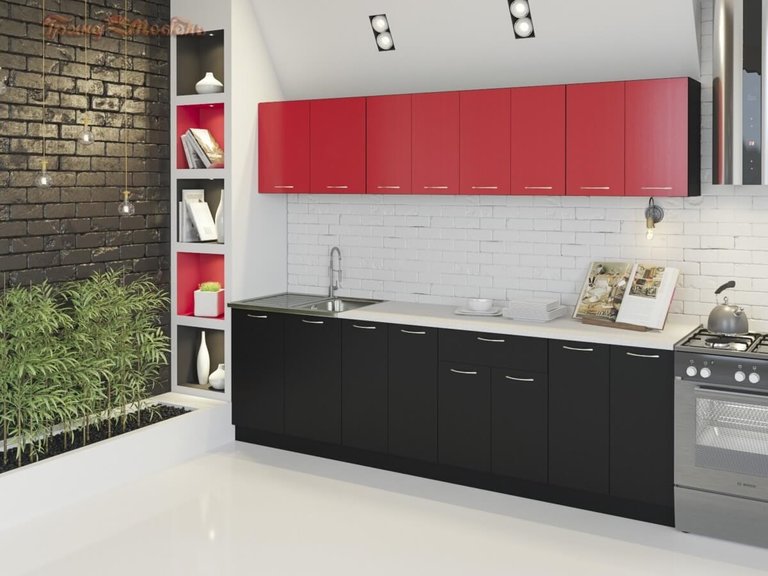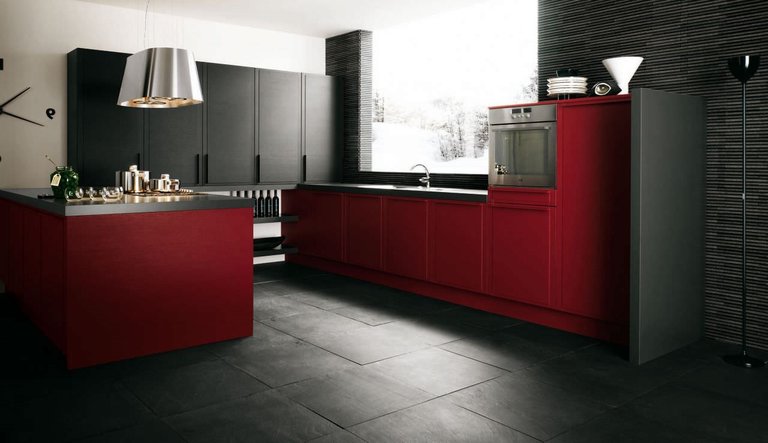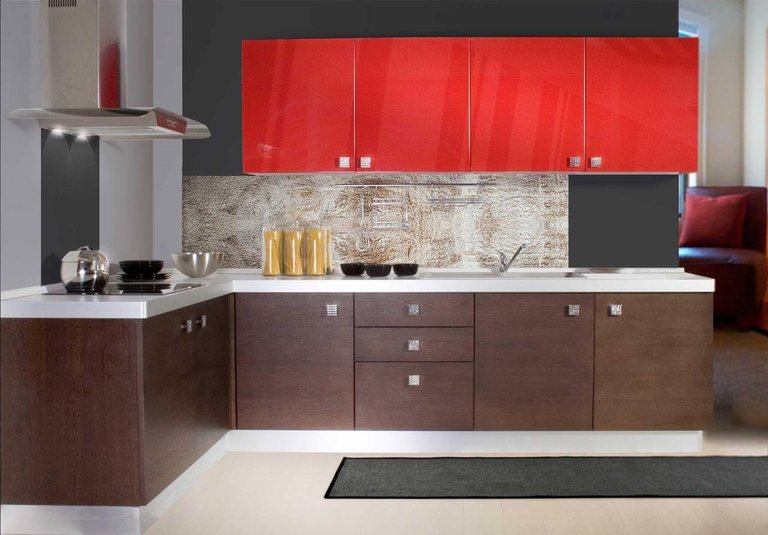 Even a small kitchen in "Khrushchev" decorated in "minimal style" will look like a masterpiece of design art. You just need to correctly calculate the amount of red and black, as well as choose the right background.
2 New wave – we combine the incompatible
This is a fairly new trend in interior design that emerged in the second half of the 20th century. Initially, it was a fashionable trend in music, painting and cinema. From there it smoothly flowed into architecture.
A characteristic feature of this style is the combination of technical innovations and ethnic motives. However, this style is very laconic. According to this stylistic concept, the space should expand from the "epicenter of the explosion".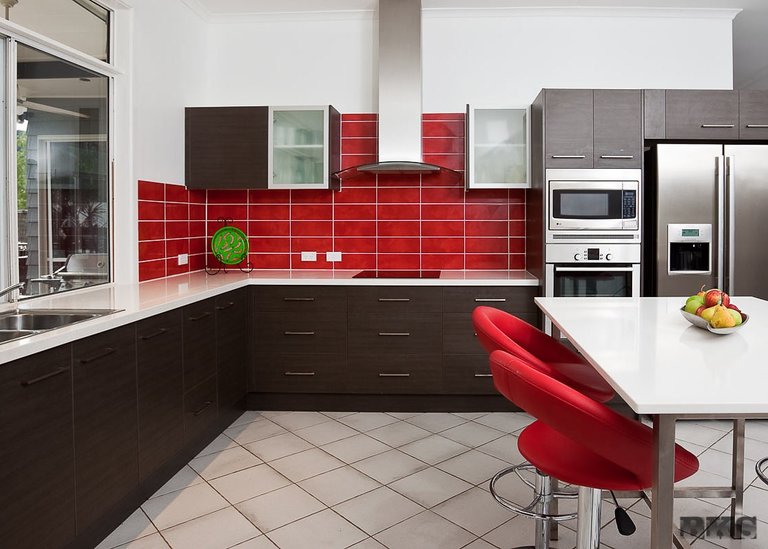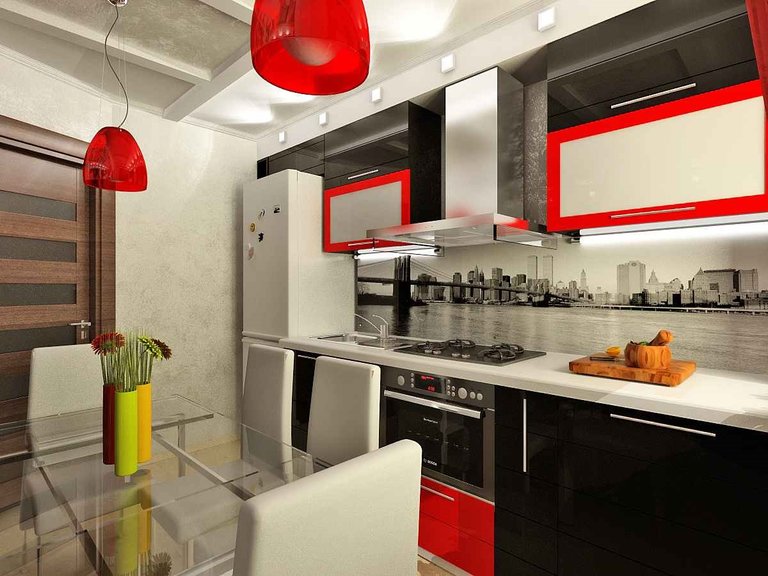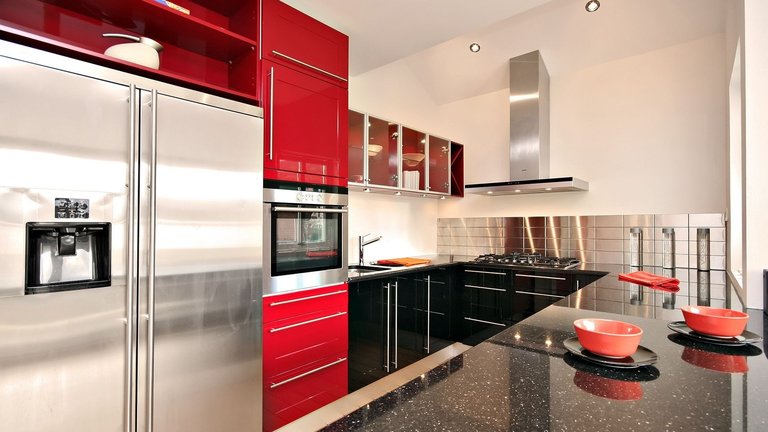 By the way, this may not necessarily be the center of the room. A very bright wall that grabs attention, kitchen furniture fronts, or an island can be such a center. At the same time, considerable attention is paid to the selection of the base background, and the details fade into the background.
Furniture should be low, rough, curved lines, as if flowing. What is important, preference is given to design with a minimum of prints. If it's a color, then by itself.
3 Japanese style
Interest in Japanese style is not new. Sushi and rolls have long been firmly established in our diet. And after them came the desire to decorate the kitchen in this exotic style.
The fundamental principle of this direction is simplicity, a minimum of furnishings and a clear organization and functionality. However, when choosing this style to decorate your kitchen in black and red tones, keep in mind the symbolism of these colors in Japanese culture.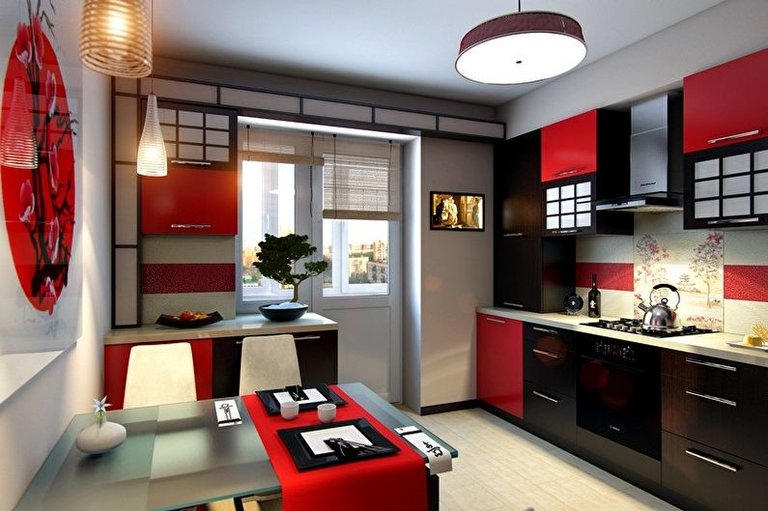 Black was originally masculine, the color of the warrior's clothing, and also the color of death. Red symbolizes security, well-being, family prosperity and power.
Therefore, in Japan there are many temple complexes in red, but the interior decoration of the premises does not imply the intensive use of these particular colors. After all, the house should contribute to tranquility, tranquility and merging with nature. If there are too many aggressive colors around, it will be more difficult to achieve perfection.
4 More expression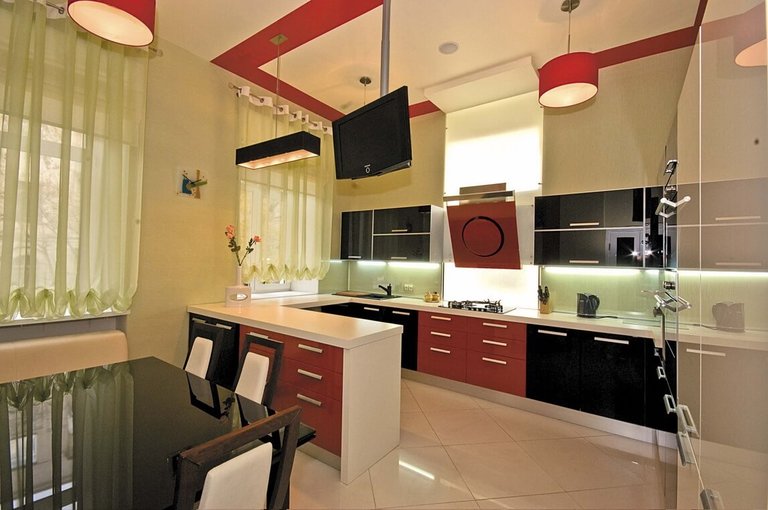 Oddly enough it sounds, but the most emotional style – expressionism – can be suitable for decorating a kitchen in a red-black combination. Only one important condition, self-confident, liberated and independent individuals can afford to choose such an interior.
For a family with children, this design direction is contraindicated – it can have too strong an emotional impact on a fragile child's psyche: children can be capricious, being in such an environment, be hyper-active and will often get sick.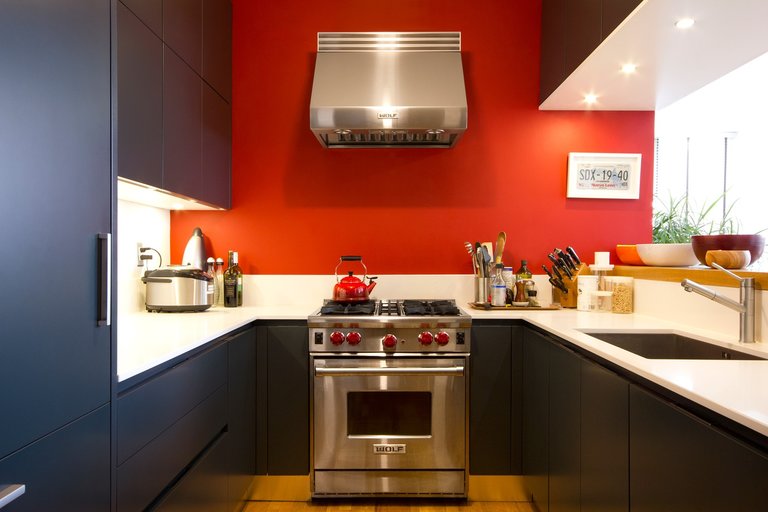 For those who have no barriers, this style will suit the most. The philosophy of this trend is to create more emotions. Parts of the interior have a pretentious shape, change the perception of space and objects in it.
Kitchen cabinets that are traditional in shape will go well with a fancy bar counter or upholstered furniture of strange shapes. Lamps will also help achieve the desired effect.
Who is in charge in the house
The choice of interior style will also depend on which of the colors of this red-black duo will be dominant. More often, the leading part is performed by the red one.
It is a dynamic color that grabs attention even in small quantities. Dominant black will create an overly gloomy atmosphere if not balanced with an additional neutralizing color.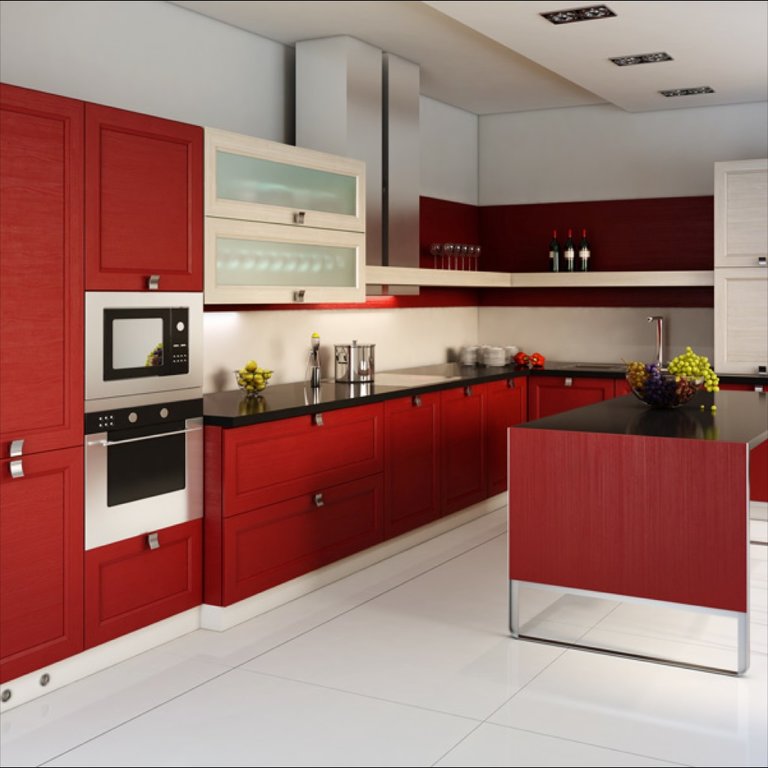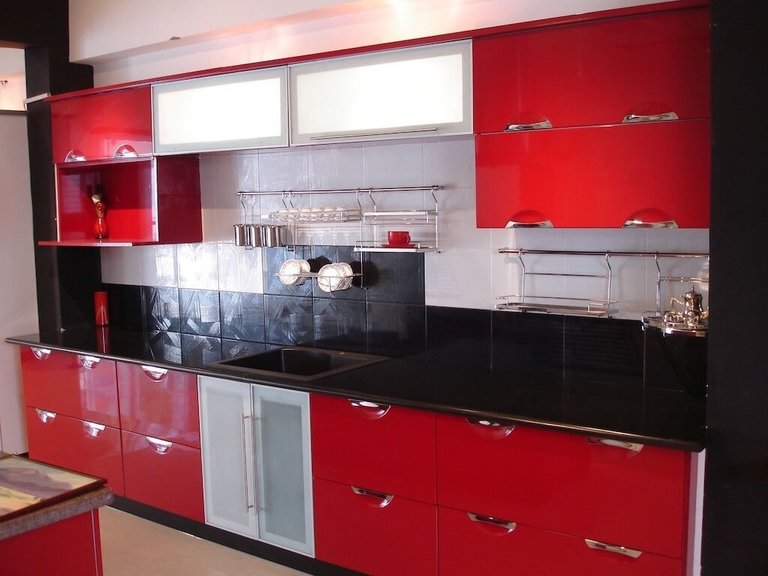 When decorating a room, it should be borne in mind that this color combination is self-sufficient and completely excludes the use of any fancy fittings, curls and stucco moldings – only simple, strict lines.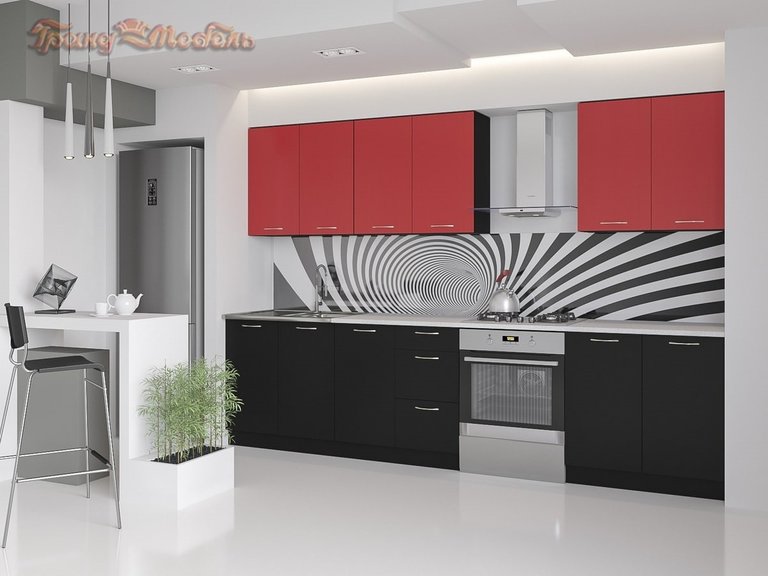 The red-black duo can vary: black top – red bottom, red top – black bottom, the main thing is to maintain balance. Many designers advise achieving balance by incorporating a background color. For example, as in this photo.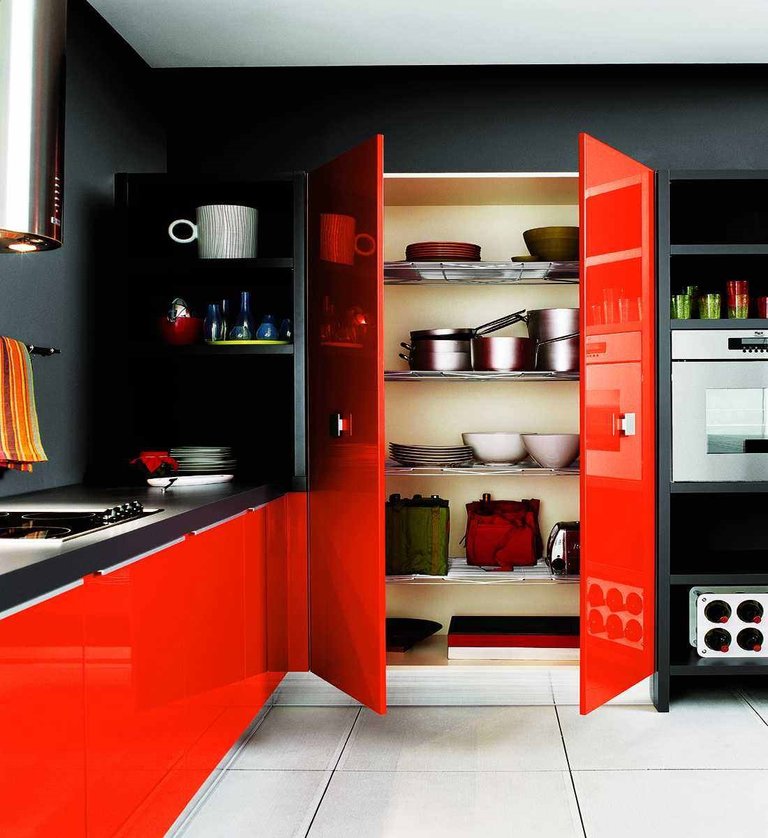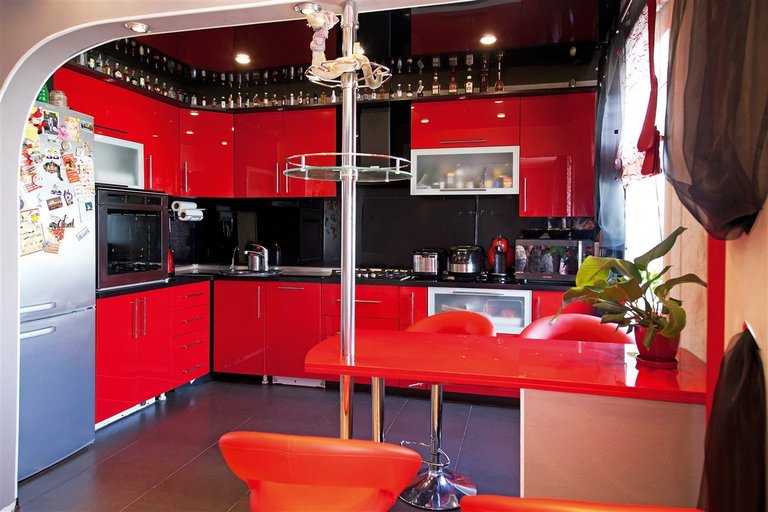 The third is not superfluous
The choice of background color for a black and red kitchen should be approached very carefully. Milky white, cream, pearl gray, pearl ashy and ivory are appropriate here.
These tones will visually enlarge the space, soften the harshness of the dominant duo.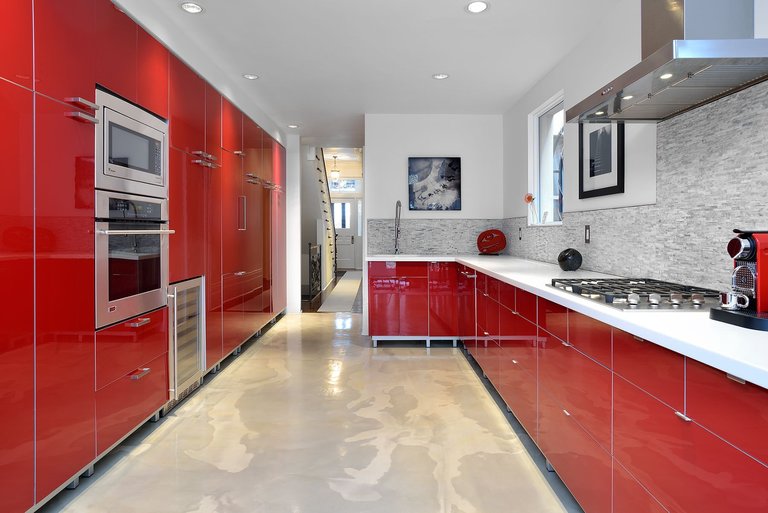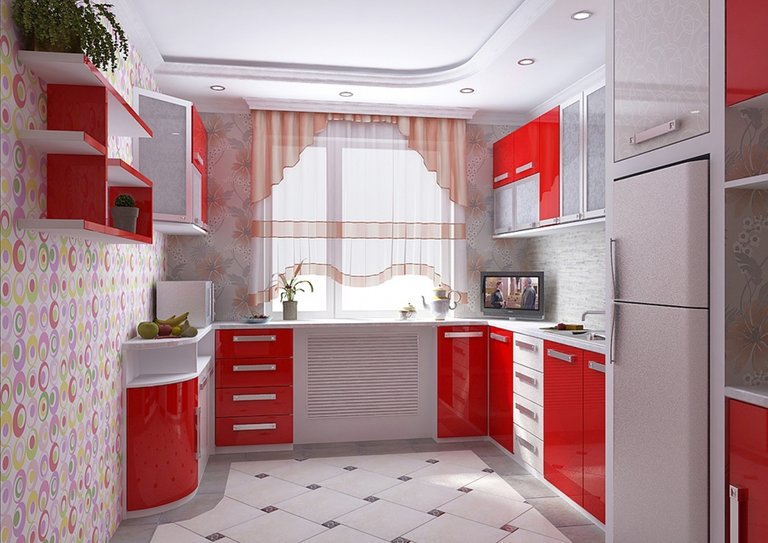 The black and red kitchen looks very good in this solution: a white and black floor made of ceramic tiles, milky white walls and ceiling, black matte facades of the lower cabinets, glossy facades of wall cabinets (some of them can be combined with matte glass inserts).
The apron can be either one of the dominant colors (in contrast) or a background tone with a two-color ornament or pattern.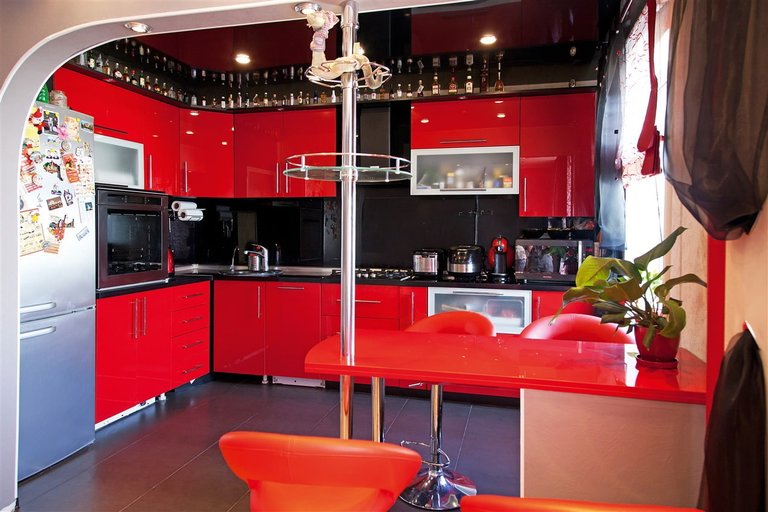 When choosing a countertop as a work surface, keep in mind that it should contrast with the facades for balance. The dining table and chairs are preferred over a neutral color, but by no means a complementary fourth color.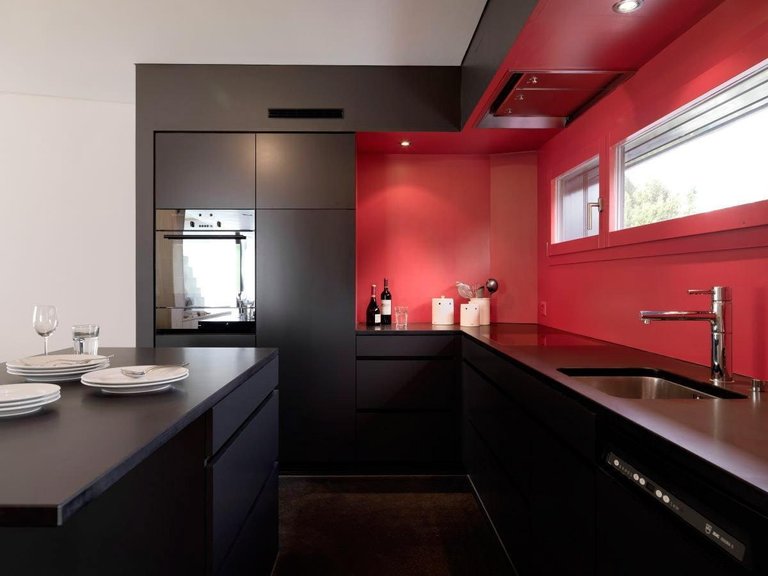 With this color scheme of the interior, considerable attention is paid to the selection of kitchen utensils and accessories.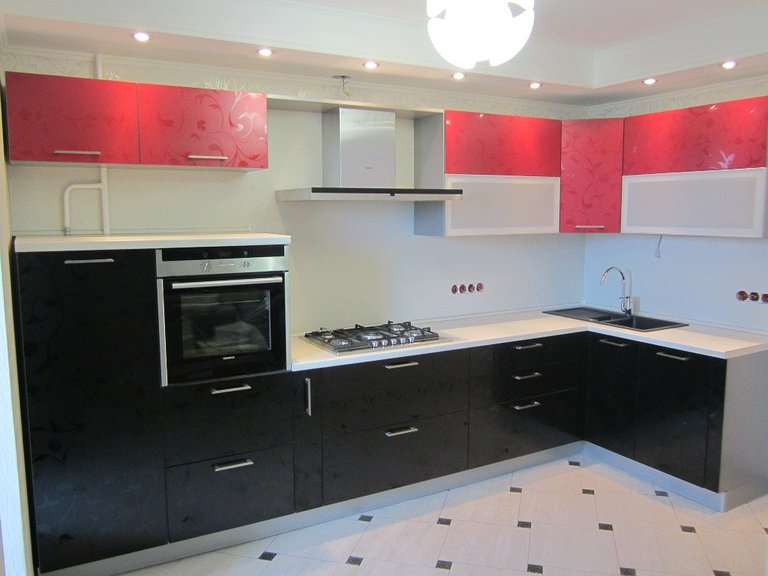 Chrome-plated dishes are preferable for cooking, tableware can be either traditional white or red and black. It is important to remember that she should create a single ensemble, but at the same time not look clumsy.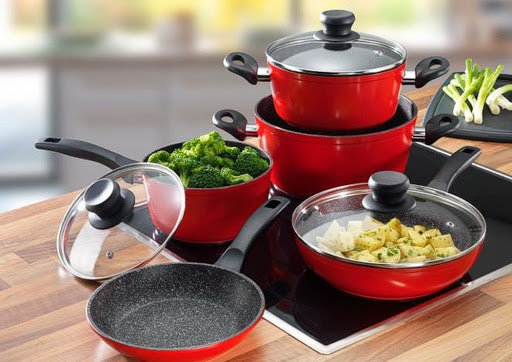 Lamps also play an important role in the design of the kitchen.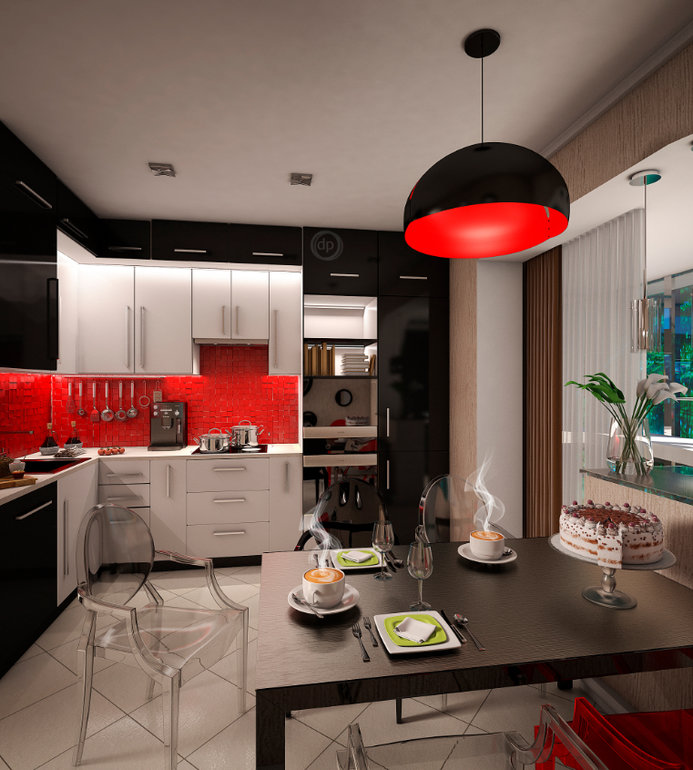 Depending on the style chosen, it can be spot lighting, matte milk-white balls or small crystal lamps (a too massive crystal chandelier will be completely out of place).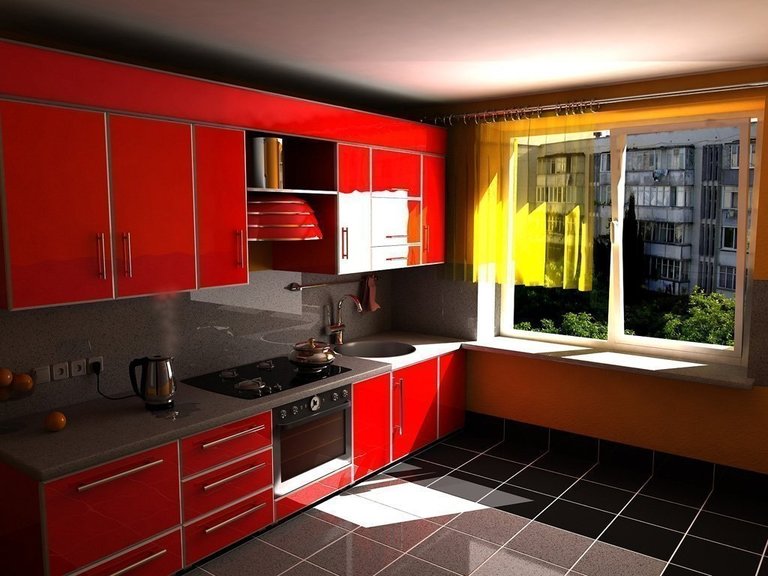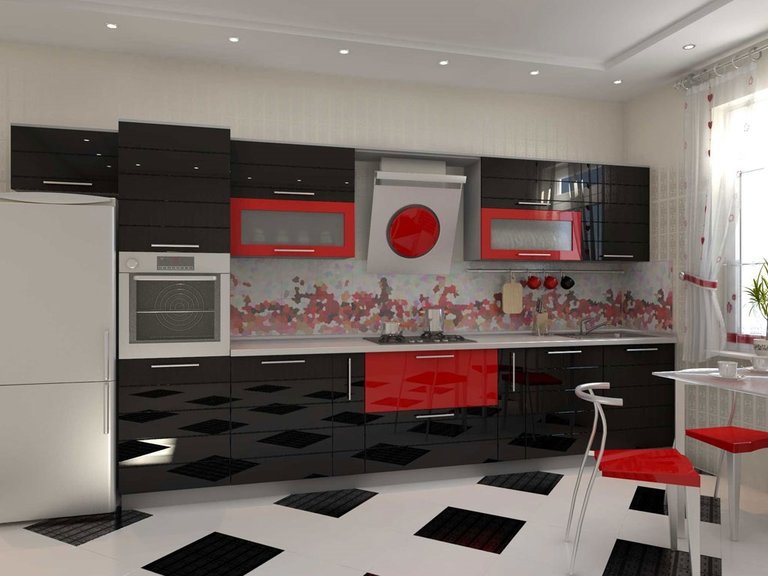 Modern style
Black is a great backdrop for an extraordinary color like red. Thanks to him, bright, saturated shades will look even more impressive and non-trivial.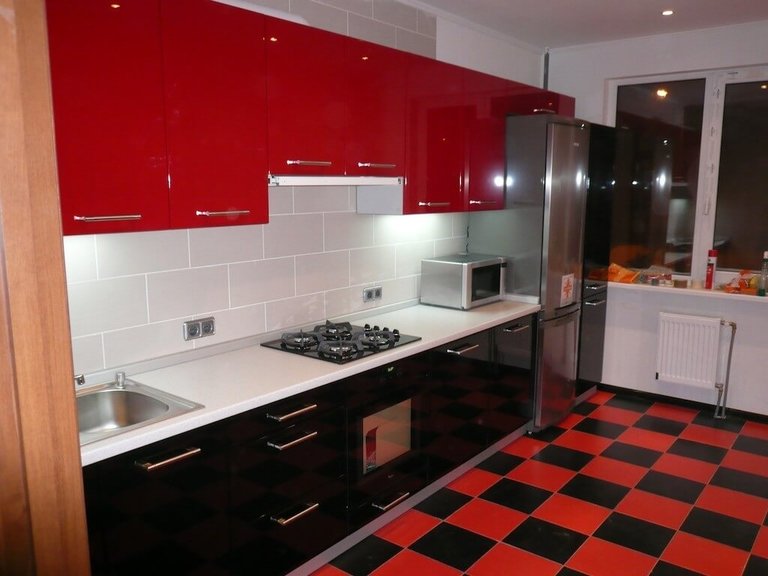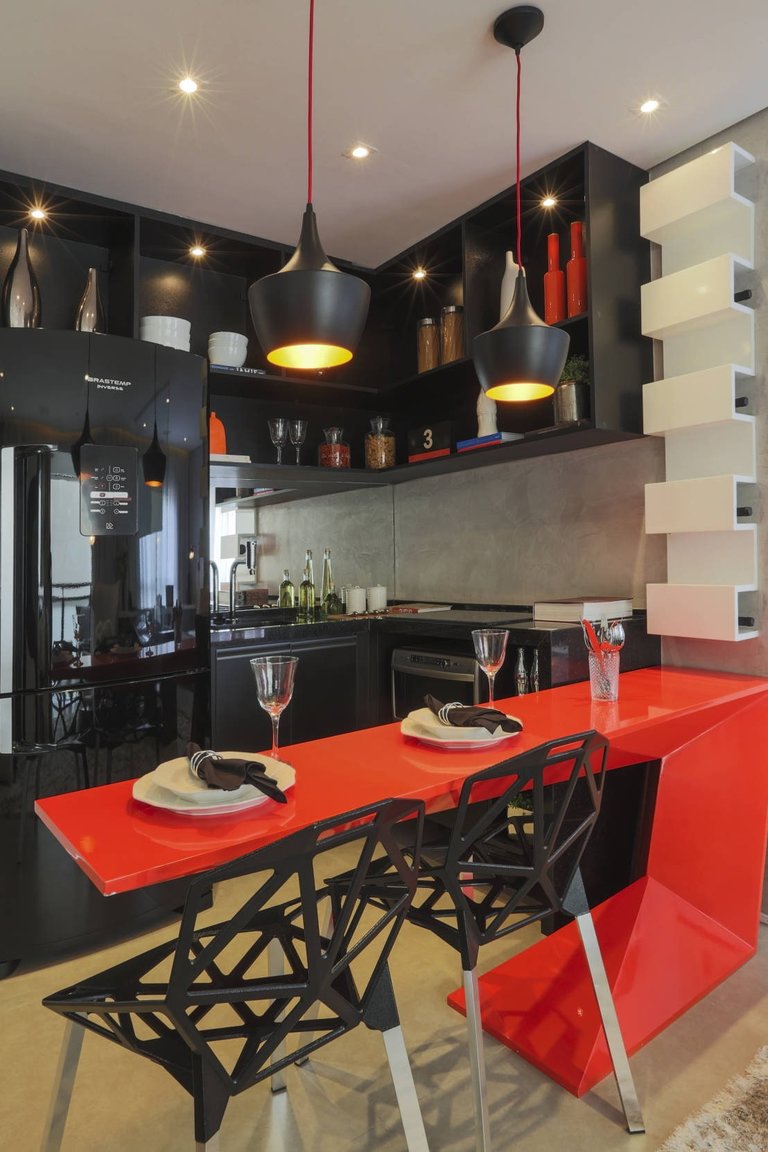 Black and red kitchen in a modern style is characterized by consistency. It contains clear geometric shapes, without rounding, monograms, or stucco moldings.
The most popular solution is a red top and a black bottom. If you are afraid of such bold experiments, think about how to decorate the bottom with a saturated color, and close the facades of the upper cabinets with doors with frosted glass.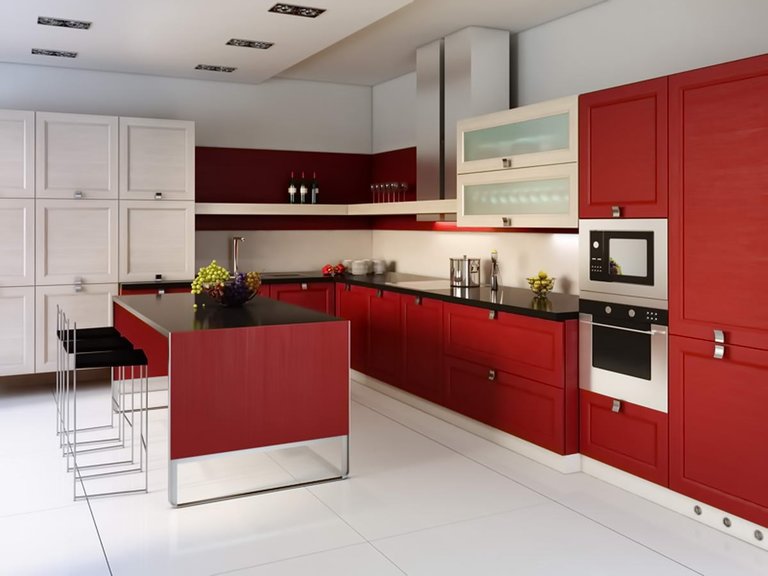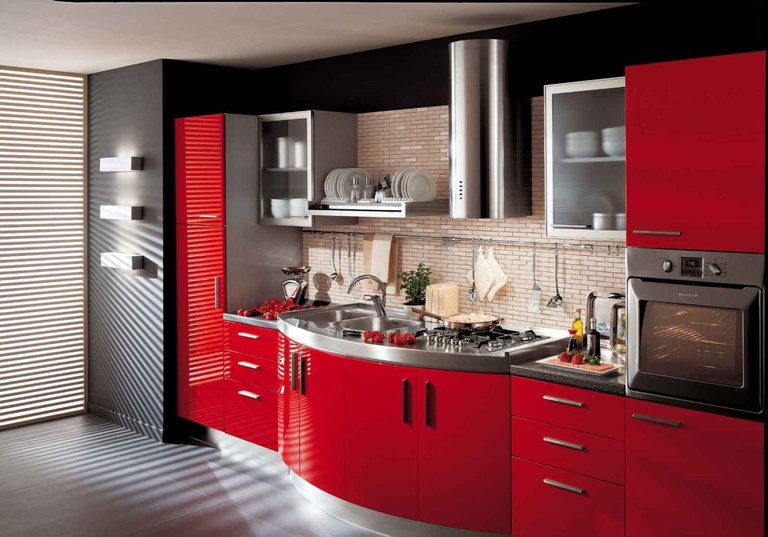 Shiny, glossy headsets in these shades are harmoniously combined with metal fittings and accessories, including chrome ones.
It is not so easy to equip such a kitchen in a modern style, because you are dealing with two extremely active shades. Each of them is self-sufficient, so it is important to maintain perfect harmony.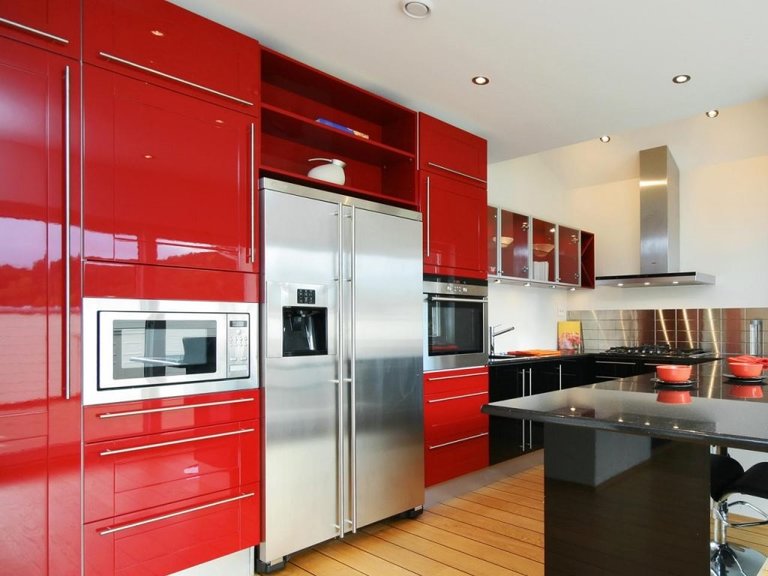 The inclusion of additional colors is not allowed. The only exception is white. Use it as background.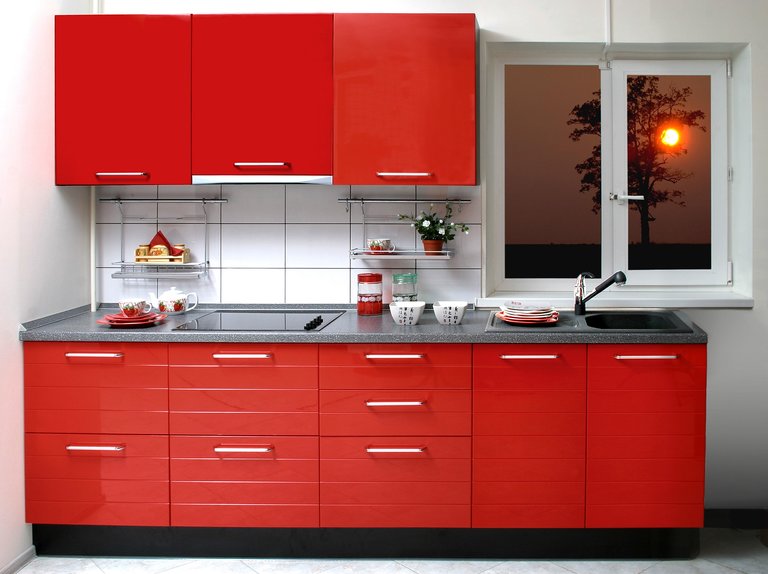 But these colors allow you to experiment with plenty of textures: matte and glossy, chrome and mirror. Rough surfaces look very impressive.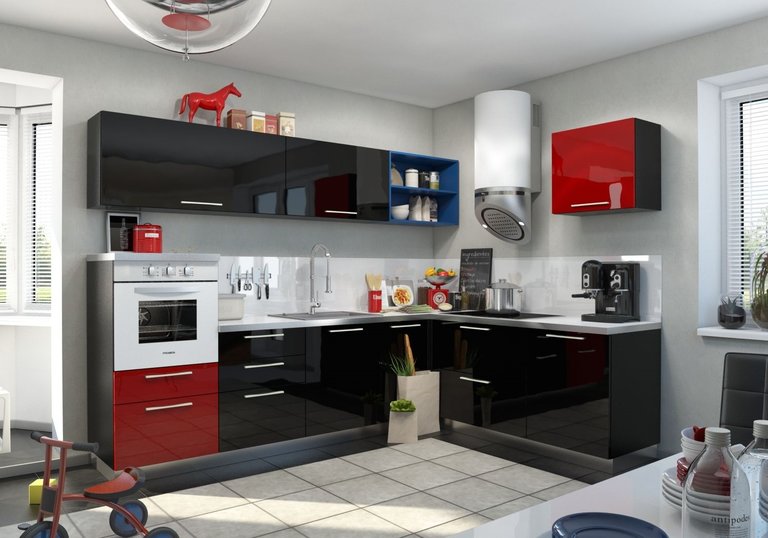 In modern spacious kitchens, the red and black palette can also be used in the design of the dining group.
In classic interiors
The black and red kitchen can also be equipped with classic interior solutions. Pretentious baroque, empire and rococo will look most impressive and unique in rich burgundy and cherry shades.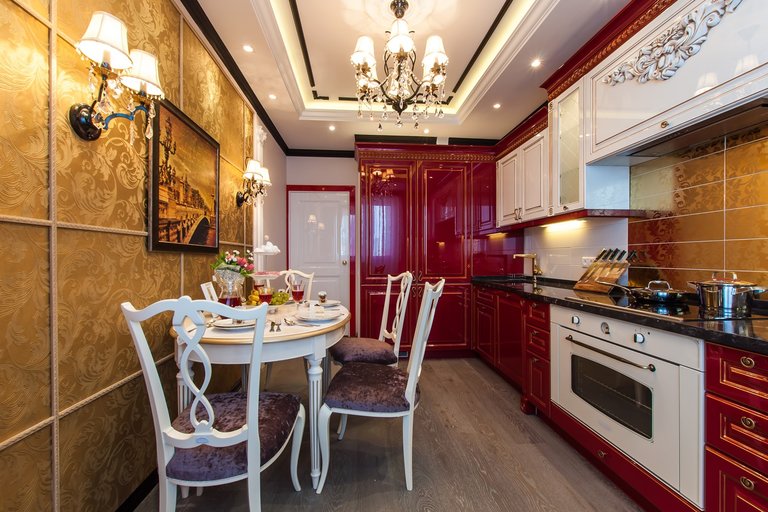 Additional aristocratic surroundings will add a golden finish. It can be exquisite stucco molding on facades, fittings, frames of lighting devices, decorative elements.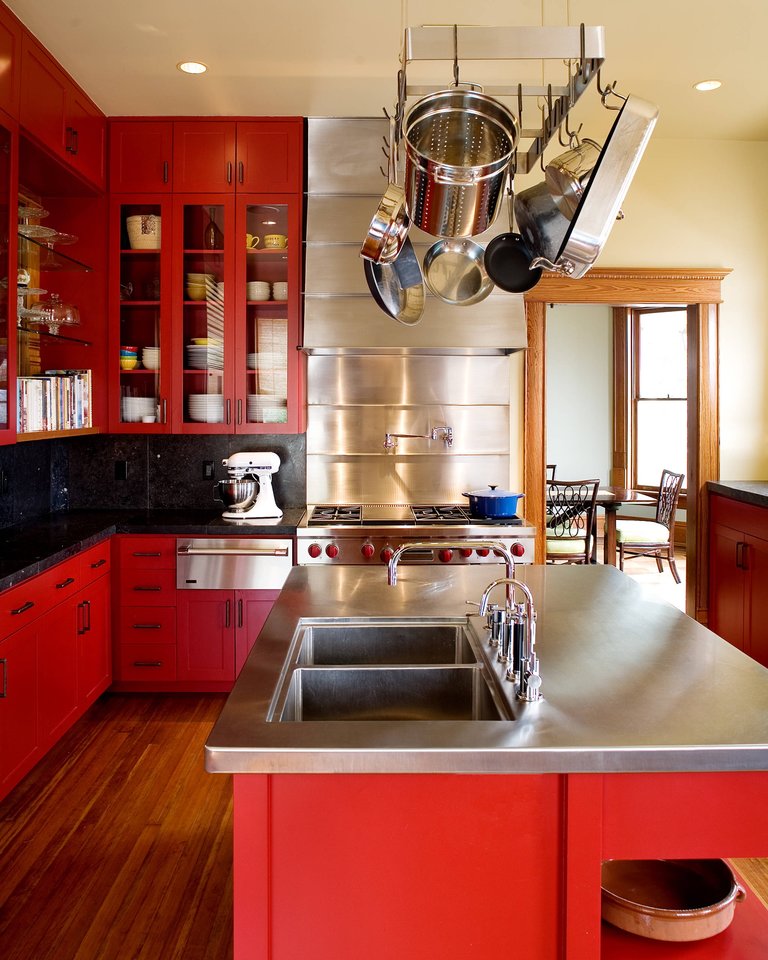 Do you want to surround yourself with naturalness and naturalness? Mahogany opens up unlimited possibilities for expressing your own ideas and fantasies. It is able to convey the sophistication and richness of luxury of the classic interior style as accurately as possible.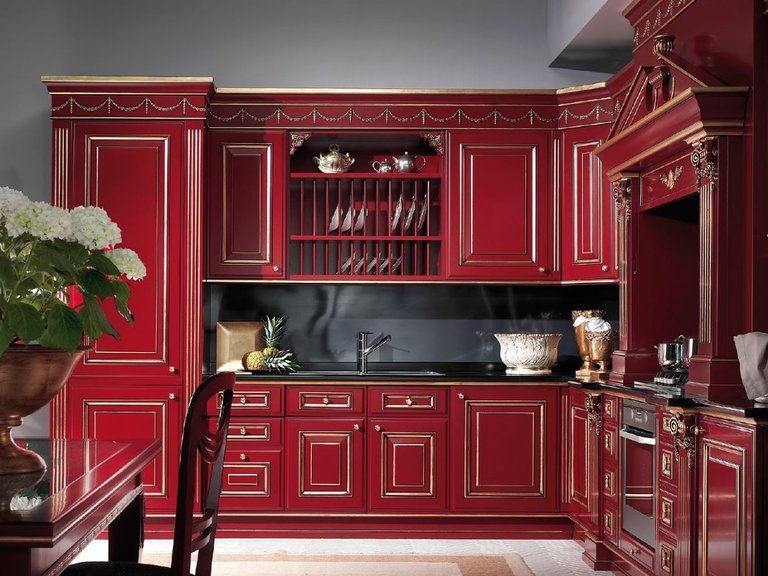 A more concise and simple solution is the kitchen, which is decorated in warm reds with minor splashes of black. A great example of such an interior is shown in this photo:
Heavy curtains interspersed with golden threads will help to complement the refined and sophisticated interior. The color of the canvas should be chosen so that it is effectively combined with the shade of red used in furniture or wall decoration.
Small kitchens
By saturating a small kitchen too much with bright colors, you will make it even smaller. Therefore, the first rule that should be observed when designing small-sized premises is not to overdo it.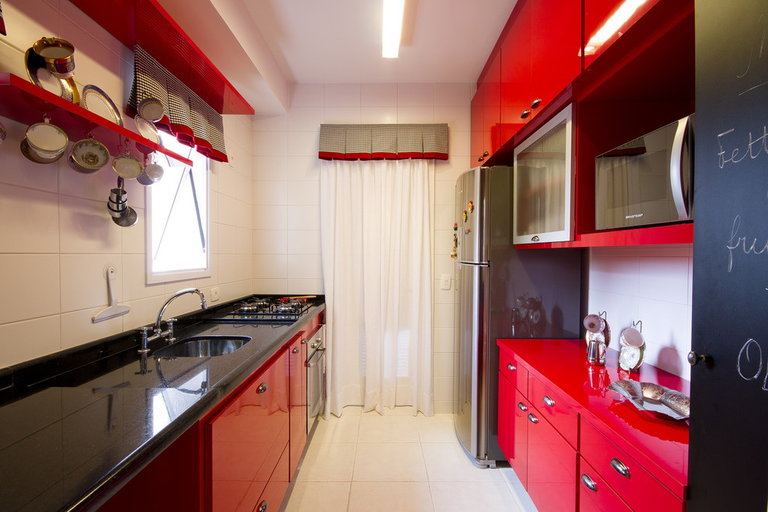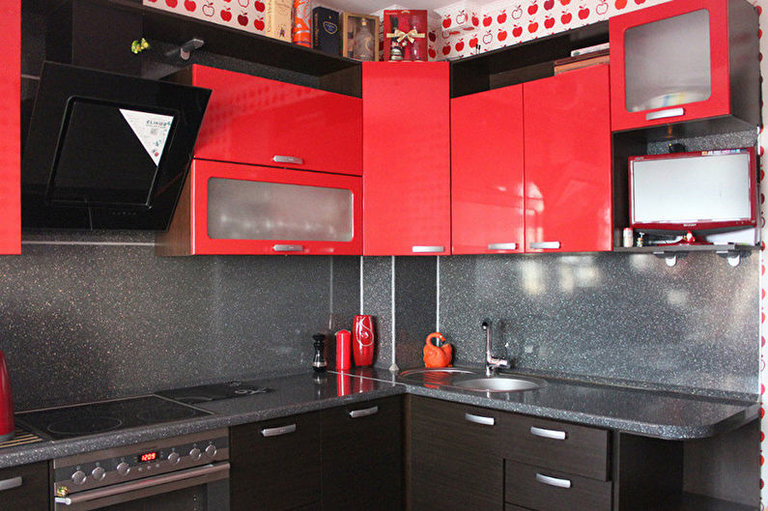 Red is best used in doses, as accents. So you will not overload the surrounding space, but add a touch of sophistication, energy, and originality to it.
Look for red chairs, dishes, textiles, decorative elements, household appliances. You can use this shade to decorate one of the walls, a work apron.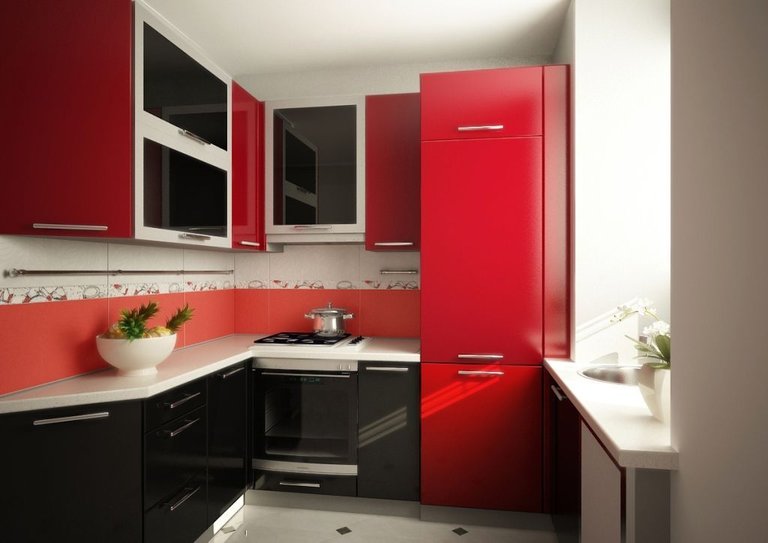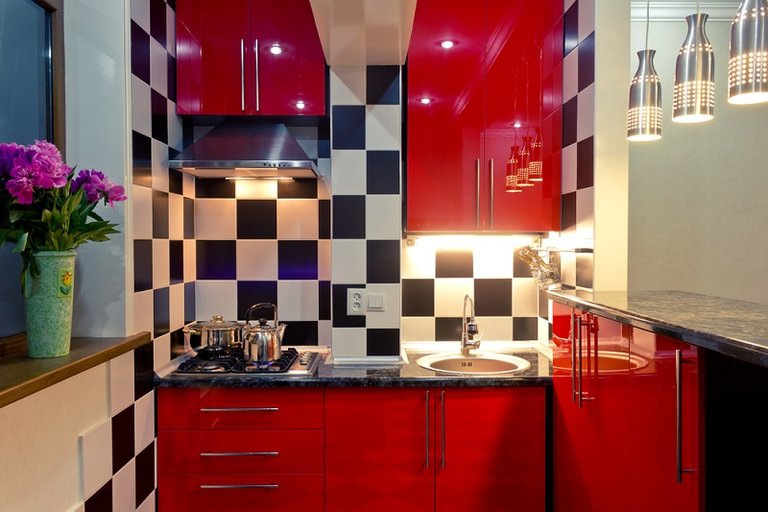 If you want a red kitchen set is not a problem, but it is better to use a neutral tone in the decoration of the walls. White is the ideal solution.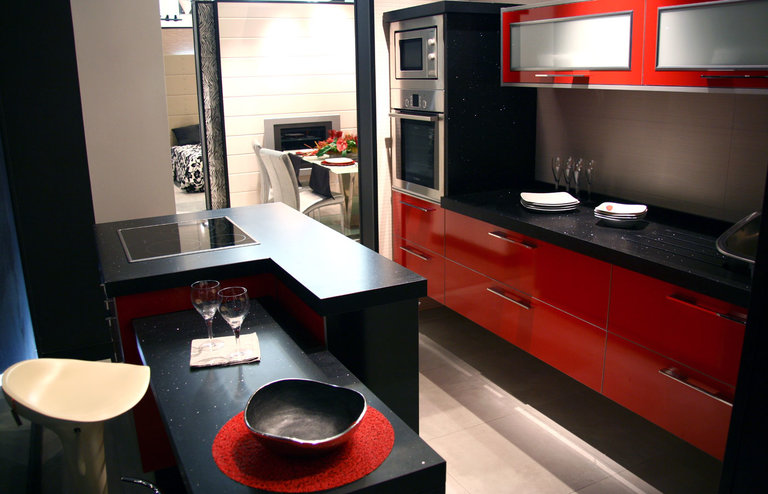 Black can be used for floor decoration, work apron. You can look for a dining table and chairs in this color.
A glass table with a black top will be ideal for a small kitchen in a modern style.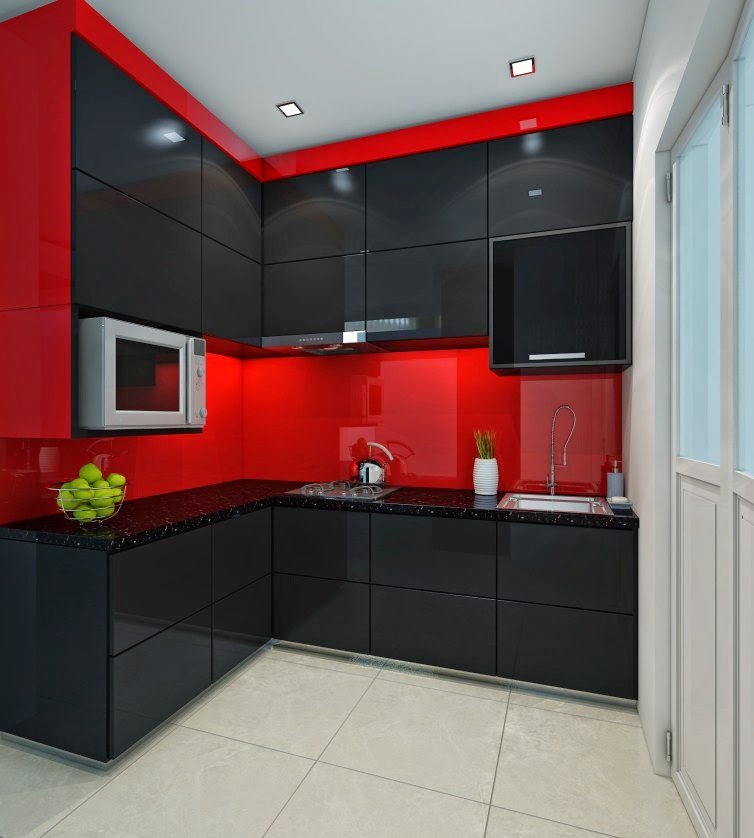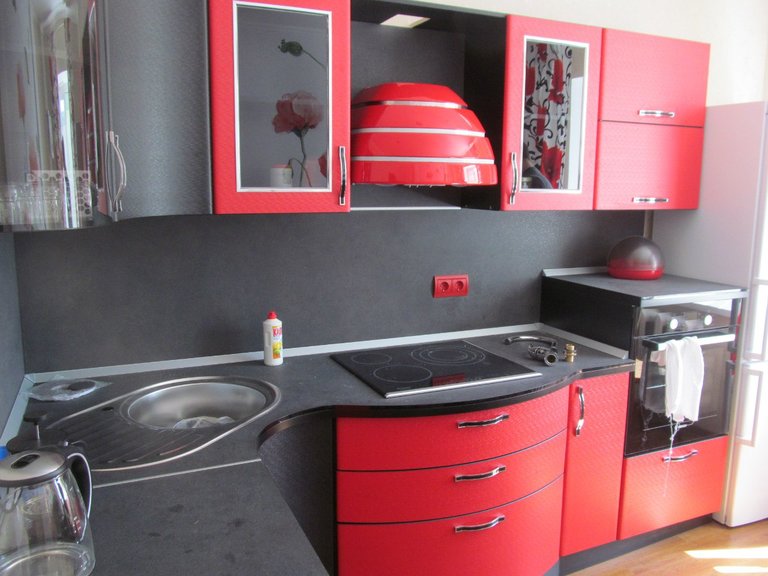 It can also be used when arranging glossy stretch ceilings. In them, as in a mirror, everything that is in the kitchen will be reflected. In this case, the ceiling as such will not be visible at all. Correctly selected lamps will help to add sophistication.
In a private house
The red and black kitchen will also be ideal for those who want to design a rustic kitchen in their private home.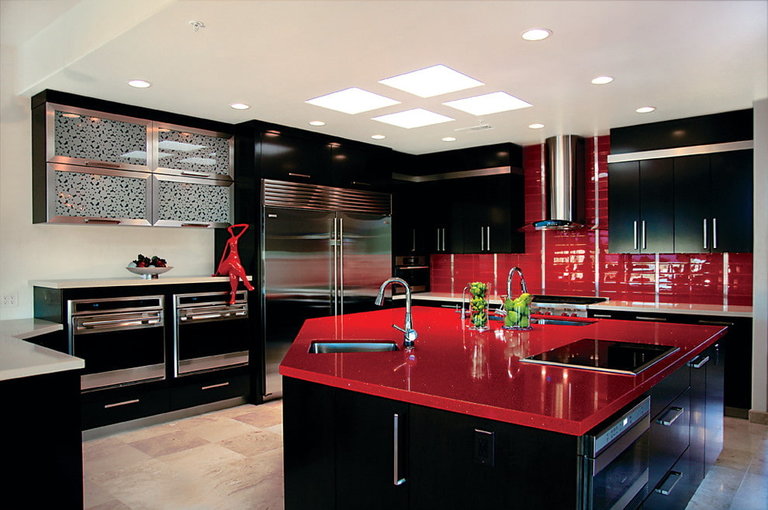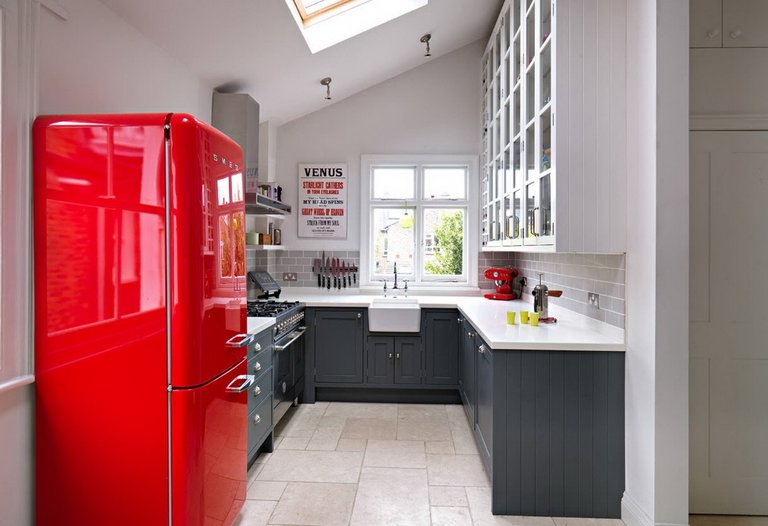 Colorful facades, patterned curtains will effectively set off the white finish. To decorate the floor, it will be possible to use a light-colored laminate with a rich texture of natural wood.
For a private house, it is not necessary to use scarlet shades, because red can be completely different, ranging from dark cherry to bright crimson.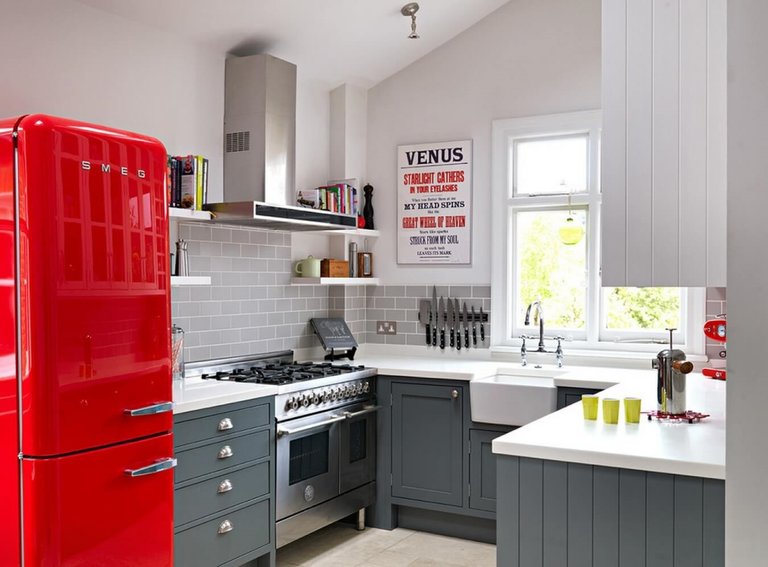 It is worth choosing the right shade based on the size of the room. For large, spacious kitchens with an area of ​​more than 20 square meters, you can use bright red facades in combination with a black glossy worktop.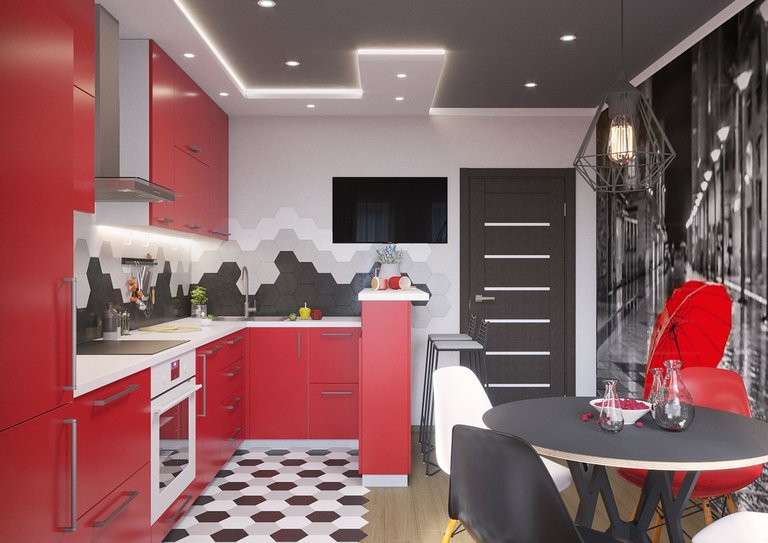 The black and white palette of small rooms should be diluted with white without fail. This will make the kitchen look brighter and more spacious.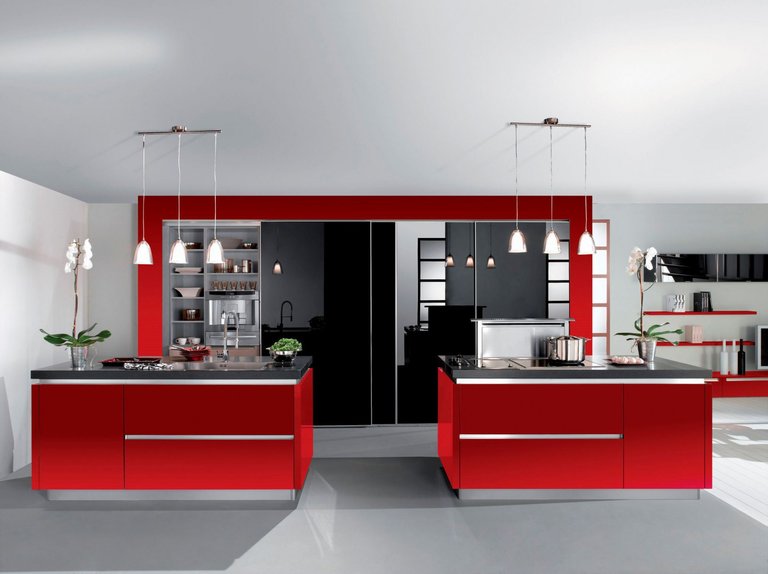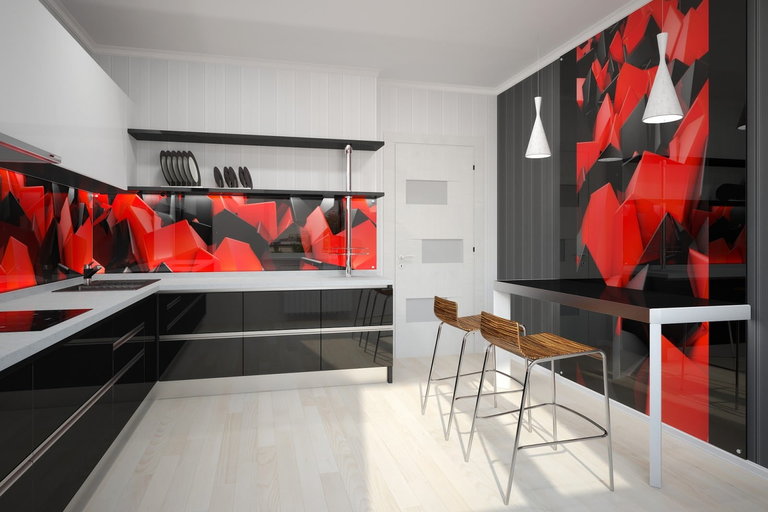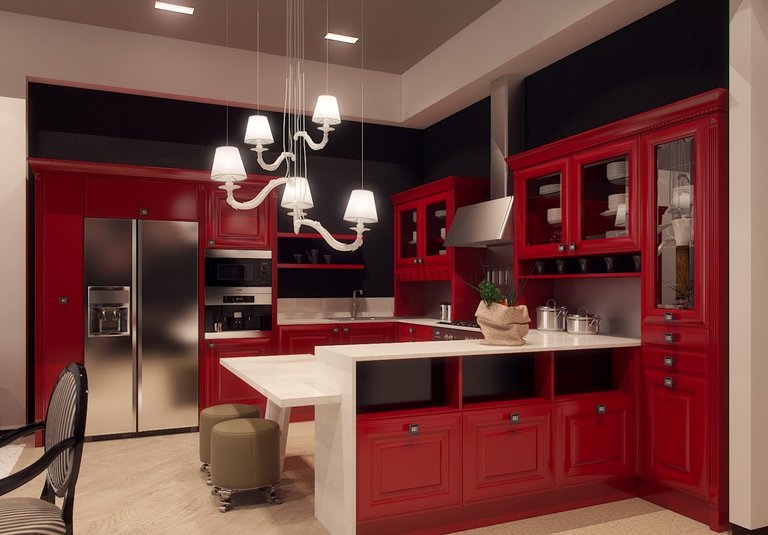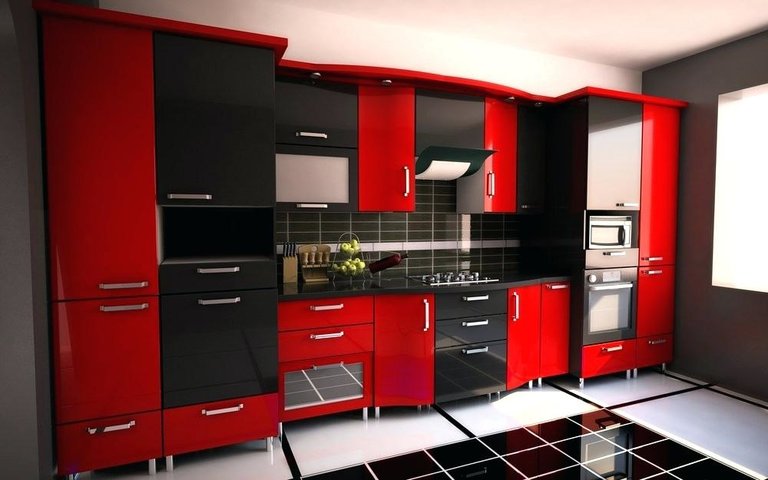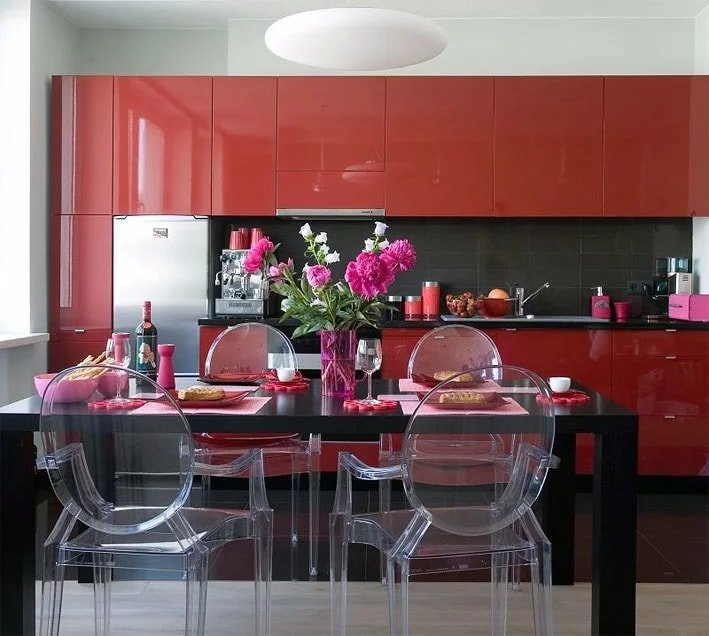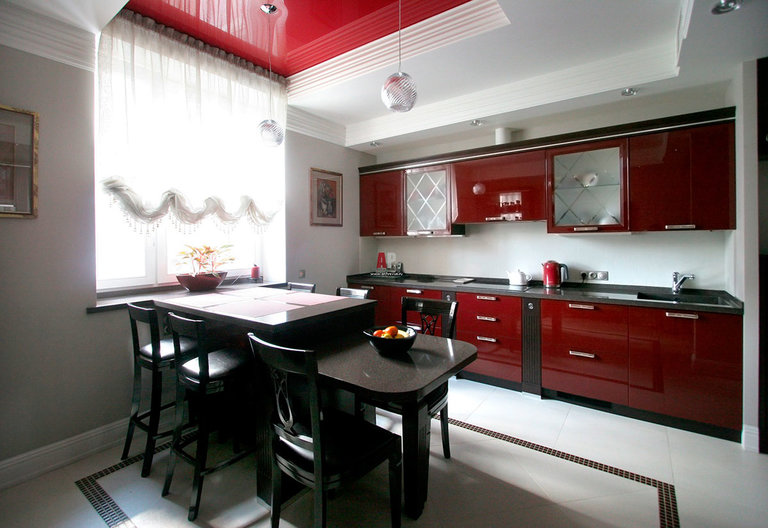 Choosing a red and black kitchen is one of the most risky and responsible. It takes a lot of courage and a sense of proportion, color and shape to adequately decorate the interior of a room in these colors. It's like dancing tango – passion, rhythm and desperate courage give birth to harmony and a real work of art.